One thing you'll notice in small apartments is that people use room dividers. They want to separate one room into a few smaller ones. For example, that often happens between the kitchen and the living area. Or people separate the entry hall from the living area. I've also seen bedrooms separated from the living area.
The best thing about room dividers is that you save space. That's their primary purpose: to separate two rooms without putting a wall between them that will eat up your precious space. Today, we will look at several different design ideas. I hope you'll find an idea you can utilize in your home as well.
1. Vintage Window Room Dividers
Starting off with a simple and popular idea: windows. In addition to separating two rooms, windows make the space look more spacious. And you allow both rooms to benefit from natural light sources.
2. Decorative Wood Wall Room Divider
I told you the bedroom can also be separated from the living room. And you can do that just by adding a good headboard. Your headboard can actually serve as a wall between the two rooms. Make it decorative, and it looks even better.
3. Storage Room Divider from Plastic Crates
Some people want to take DIY projects to the next level. This is one such project. The beauty of this divider is that you get tons of storage space—a two-in-one solution (for those of you keeping score).
4. Colorful Hanging Acrylic Panels
You can find lots of similar panels in the store. They are definitely one of the most beautiful ways to separate your living area from the entry hall. The downside is that you don't get storage space, something that you can with other arrangements.
5. Iron Pipe Planter Divider
Again, you get a multifunctional divider. In a way, you can say that you get three rooms by using this divider: the bedroom, the living room, and a garden inside your home. Such a great way to add greenery and color into an all-white interior.
6. Bookcase Divider
The bookcase divider is one of my favorites. But what can I do, I love books! And you can't argue the fact that books are always visually appealing and decorative. So, there you go!
7.  Wood Partition for Boxes as Display Units and Storage Cabinet Dividers
This is something you will have to order from a furniture store. And it looks awesome in the interior. Just be careful, as this is more of a contemporary and modern design. It doesn't work in any other design style.
8. Contemporary Living Room Divider with Beige Curtain
In this case, we have a large apartment (as you can see, room dividers are not only for small apartments). Both the living room and the dining room are spacious. But the divider is just there to add even more flair to the interior.
9. Metal Pipe and Wood TV Stand Room Divider
The TV stand is often used as a room divider. But while most people opt for something that completely blocks out the other room, in this case, we have a more transparent setting. To be fair, it might be hard to watch TV in this case.
10. Rose Patterned Decorative Glass Hanging Room Divider
I said at the beginning that glass is always a good idea. And there are so many different options when it comes to glass. You can go modern, as in this case with some rose patterns, or you can go classic. It really depends on what you want and the rooms you want to separate.
11. Macramé Room Divider
Macramé might be a difficult technique to master. I don't know many people who have mastered it. But once you get the hang of it, macramé is great for creating so many different things in your home. For example, a macramé wall. And that's just the beginning.
12. Metal Divider with Leafy Design
I've said it a number of times: dividers are not only practical, they are visually stunning as well. Most of the ideas you'll find here are more decorative than practical. This one is in the former group.
13. Simple White Curtain as Divider
Sometimes you just want to keep things simple and use the divider for its main purpose, which is to divide two rooms. You cannot go simpler than a white curtain as a faux wall.
14. Wooden Plank Divider with Cherry Tree Design
This owner has certainly gone to a higher level. You have not one, but two different dividers in the same spirit. When you master room dividers, you definitely can make your interior look that much more beautiful.
15. Hanging Sisal Rope Divider
When I was young and going clubbing on a daily basis, I saw a couple of these designs. They also have similar designs in world-class restaurants (for example, when they want to separate the luxurious from the less luxurious part of the restaurant). And if you want to make your home look glamorous, few things beat this design.
16. Glass Sculpture Divider
Taking the glass approach to a whole new level here, are we? You can argue that this divider does almost nothing, as it serves only as a decoration. You don't even know where one room finishes and the next starts. But the sculpture is stunning.
17. Freestanding Divider Wall with Window
I said at the beginning that the goal of dividers is to eliminate the wall between the rooms. But that doesn't mean you can't have something resembling a wall. Like this one, for example.
18. Geometric Timber Partition
Geometrics are a popular trend in recent years. Especially with the rise in popularity of the Scandinavian design style. One of the main characteristics of the style is geometric figures and designs. That certainly works in this contemporary setting.
19. Mid-Century Modern Bookcase Divider
We had a bookcase divider at the beginning. But that was more of a modern design. This time, we go retro and vintage—and that means quality wood. And it fits perfectly in the modern interior.
20. Rope Wall Divider
I just want to show you that ropes are not luxurious all the time. But that doesn't mean that this design isn't good. Quite the opposite. But the luxurious look depends on the quality of the ropes. Remember that restaurant-style rope divider we had earlier?
21. Colorful Hanging Panel Room Divider
You just need a blank panel, and then just go nuts. You can decorate this divider any way you like. There are no limits to your creativity.
22. Encompassing Bedroom Curtain Divider
There is a way to completely divide your rooms. And we have exactly that here. Curtains are the only way to do it. At least the only way I can think of.
23. Laser-Cut Acrylic Panel Dividers
This one might cost you a bit, since you'll need to find a studio to make them. But they look awesome, and you'll have a unique piece in your home. It definitely blends in with the interior.
24. Half Wall with Column Dividers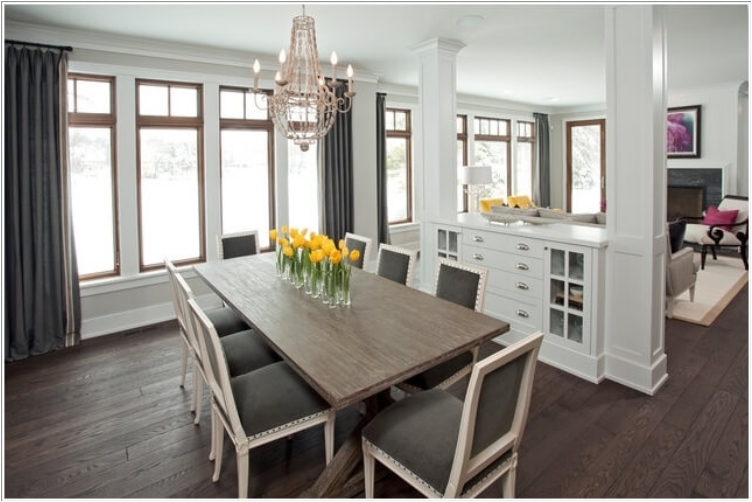 This one might be one of my favorite ideas. And that's because it resembles the French country style a lot. For those of you who don't know, French country is one of my favorite styles lately. A great mix between romantic and modern.
25. Sliding Doors Divider
When you think of practical dividers, two things stand out. The first one is curtains, and the other is sliding doors. Those are two ways you can separate the rooms, but still have the divider "invisible."
26. Birch Tree Room Divider
Some people want to be unique, but sometimes it's hard to come up with a way to stand out. However, if you invest in a design like this one, your guests will definitely notice. If that's your goal, I won't stop you.
27. Textured Wall Room Divider
Texture is one of the trends in interior design lately. We use texture to add depth and character to the room. You can transform any simple room into a more decorative room with texture. And there are many ways you can add texture to the room, and room dividers are just one of those ways.
28. Wood Partition
We had several wooden dividers up to this point. There's a simple reason for that. Wood is one of the most versatile materials, as it fits in almost any design style. You want a modern style? You can use wood! You want a more rustic and vintage style? Wood helps again. There are so many different designs, patterns, and quality levels of wood that make it versatile enough for any room.
29. Rhomboidal Bookcase Divider
We go back to those geometric designs and patterns I talked about previously. Thanks to the Scandinavian style, we have many different geometric designs entering our apartment. Gone are the days of simple cubes, triangles, and squares.
30. Hanging Canvas Room Divider
I said it previously: you can absolutely go the simple route with your room divider. For separating the living area from the bedroom, we had white curtains. Now, since we want to separate the living area from the entryway, we go a different route.
31. Wood Pallet Room Divider
Whenever I find an item made from wooden pallets I can use in an article, I jump on the opportunity. The reason is simple—wood is so very versatile! Wooden pallets are one of the best ingredients for DIY projects in your home. There are so many things you can make out of them, and a room divider is just one project. You can check my website for more wooden pallet ideas.
32. Hanging Circle Curtain Divider
At first glance, this one looks very simple. But in reality, it's a modern way to separate two rooms. And the best part is that you can easily make the divider yourself. The ingredients are cheap and easy to find.
33. Rotating Wooden Divider
You can use this divider in two ways. You want a more transparent faux wall? You get one. You want to completely block out the view? Well, you can do that as well. I love versatile furniture pieces.
34. Link Chain Curtain Divider
If you remember earlier, we had a very glamorous rope design as a room divider. But ropes are not the only luxurious ingredient you can use. Chains are right there too. To be fair, it's a bit too much for my taste, but link chains certainly fit the bill.
35. Cascading Garden Room Divider
Being that I am a huge supporter of greenery in the apartment (actually, greenery everywhere), we finish off with a garden faux wall.
That would be all for today. If you have any suggestions or questions, feel free to ping me.