I have a friend who is focused on illumination at the moment. She is almost done decorating her new apartment. And for the past two months, we've been to I don't know how many shops that sell lamps. I've seen almost every lamp there is. And in that spirit, today I want to share some lamp ideas.
Now, I'm sure you're wondering why you need a decorative lamp. A lamp is a lamp. And all you need for it to do is to illuminate your space. But why not add some unique, decorative pieces? Wall lamps are a perfect way to make your space more beautiful.
And the best part is, with these lamps, you don't have to make a choice between functionality and decor. They bring both aspects to the interior.
1. Glowing Basketball in a Hoop Lamp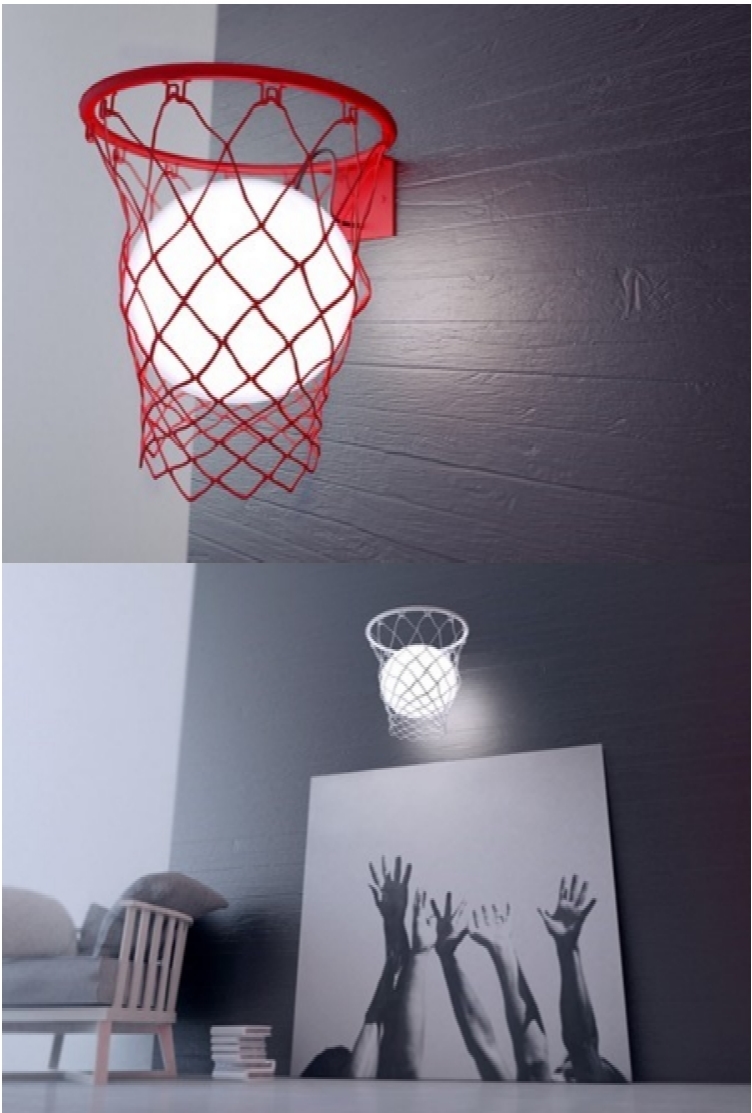 If you didn't know the second you saw this lamp, I'm a huge basketball fan. I love watching basketball (although I'm not much of a player). Now, this lamp might not be interesting to someone who isn't a hoops fan. But hey, for my fellow fans, let's get this party started!
2. Candles on a Twisted Rope, Nordic Retro Lamp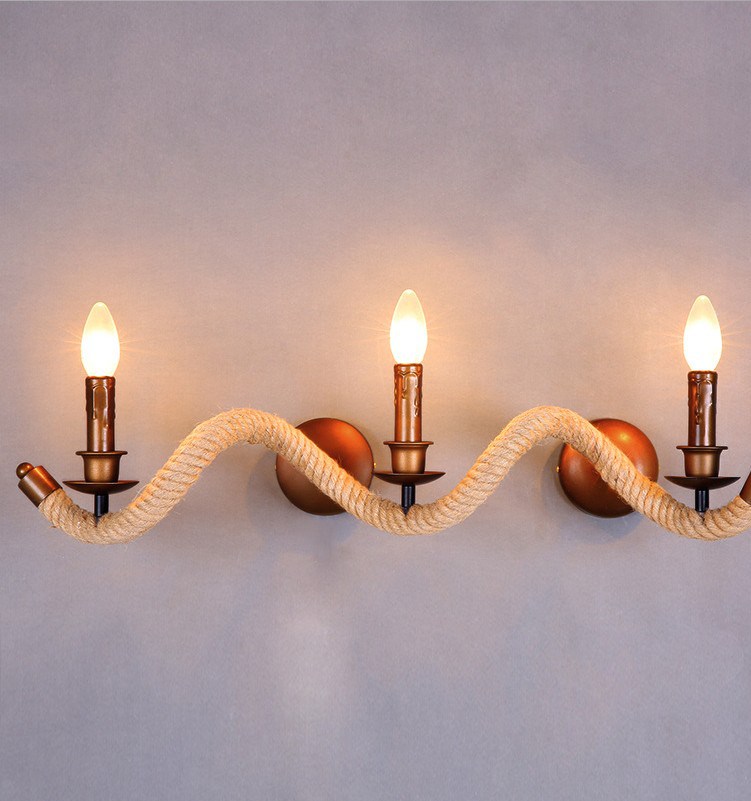 Speaking of my friend, her partner is a retro fan. She hates it, but he loves it. My friend wants modern stuff, but since her partner is more of a retro guy, we visited some shops where we found items like this one. I like it, to be honest.
3. Contemporary Stainless Steel Sconces for Exterior Lighting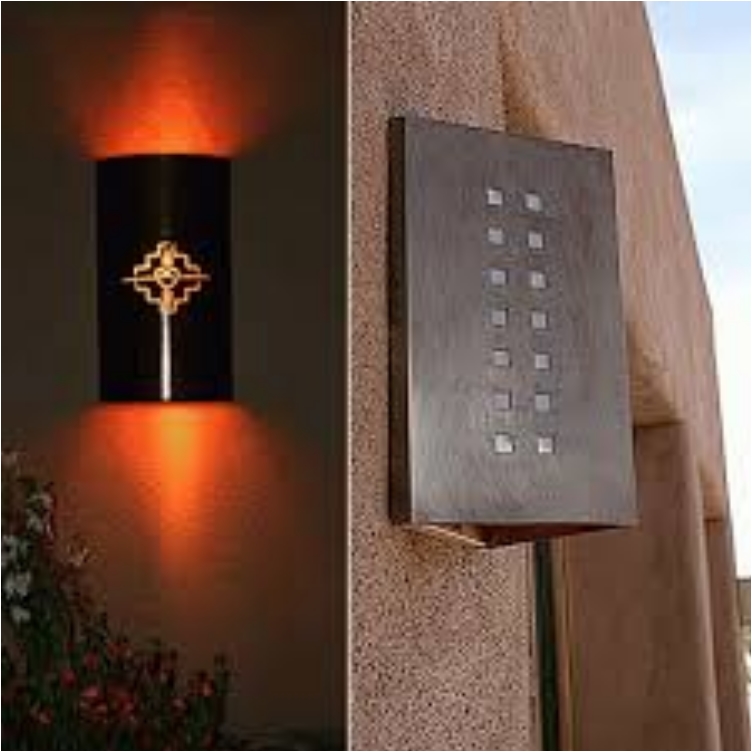 And now we have the contemporary lighting solution. Bonus tip: contemporary lighting works best in a monochromatic space, preferably an all-white interior. Or, you can go a different route, and mix contemporary illumination with a wooden background.
4. Parecchi Lighting Art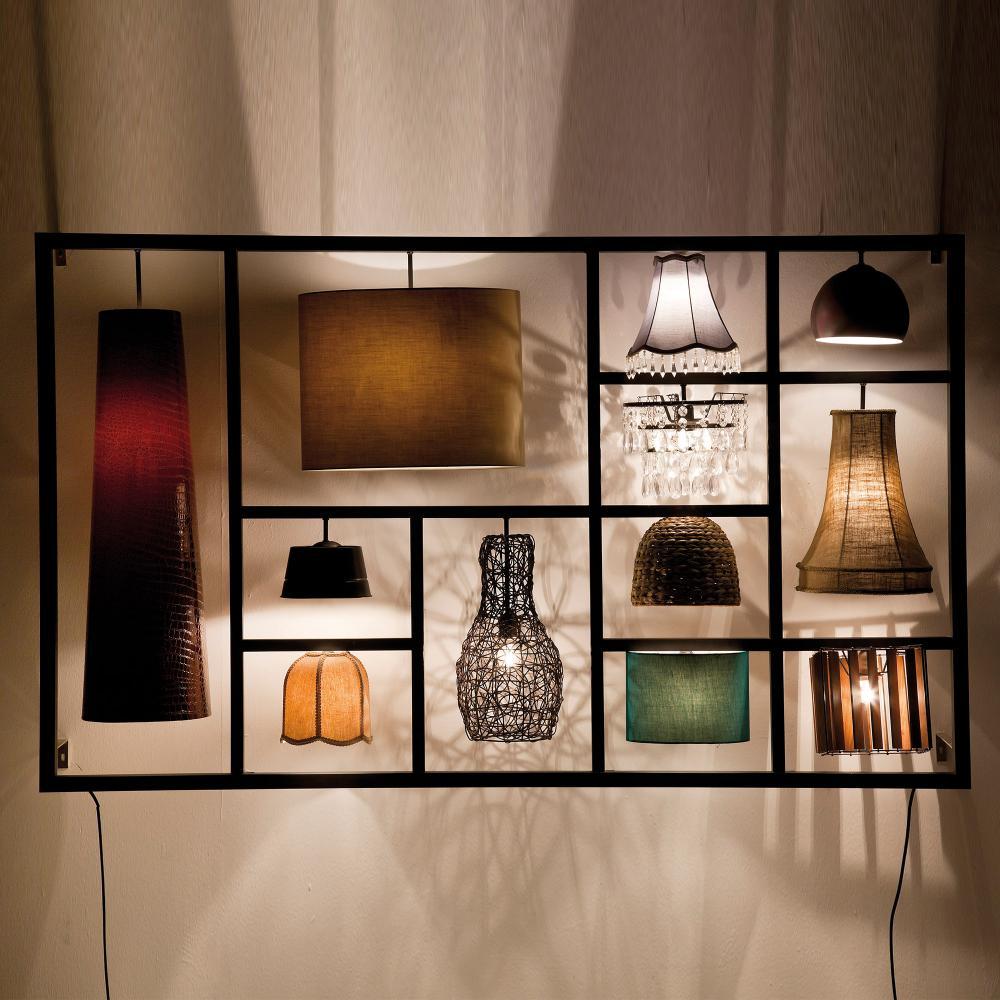 If you are confused, "parecchi" means several in English. We use the Italian word to describe several objects grouped as one. And that is exactly what this illumination solution is. The more diverse it is, the better.
5. Minimalist Wall Lamp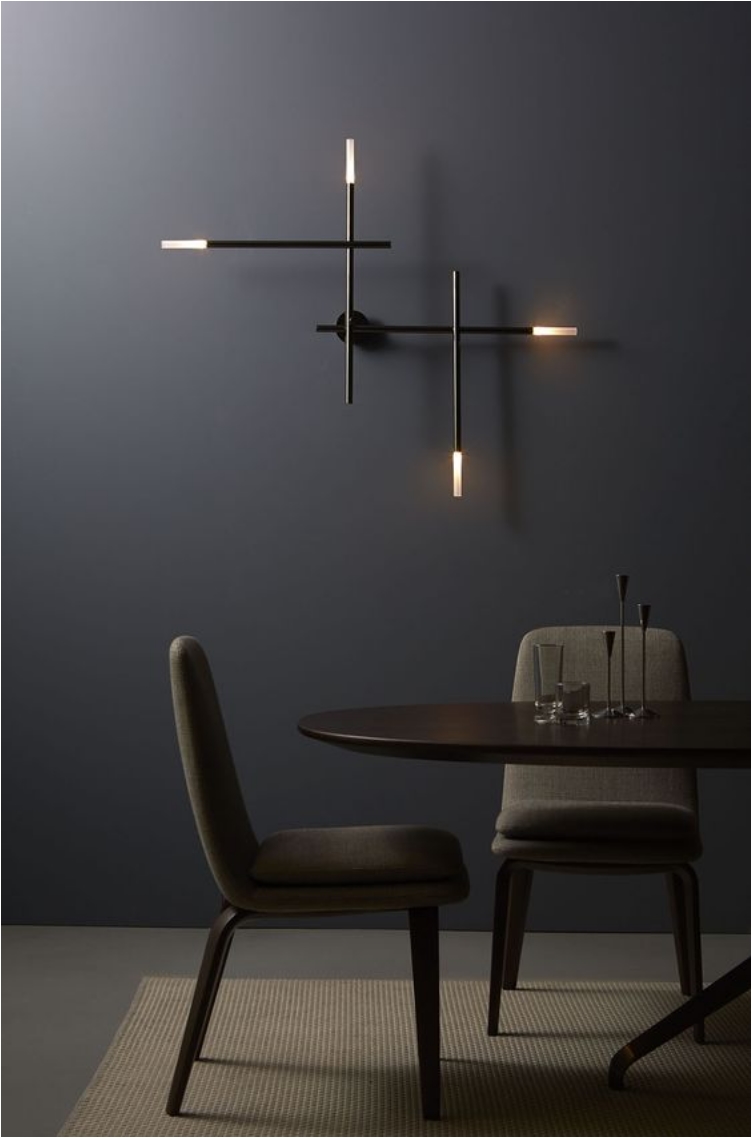 If you ask me, this is the best way to decorate your home. Now, I might be a bit prejudiced, as minimalism is my favorite style. I stick to it in every area, be it interior design or fashion choice. I love to have just one small accessory that pops. And this lamp certainly fits the bill.
6. Creative Metal Welles Wall Sconce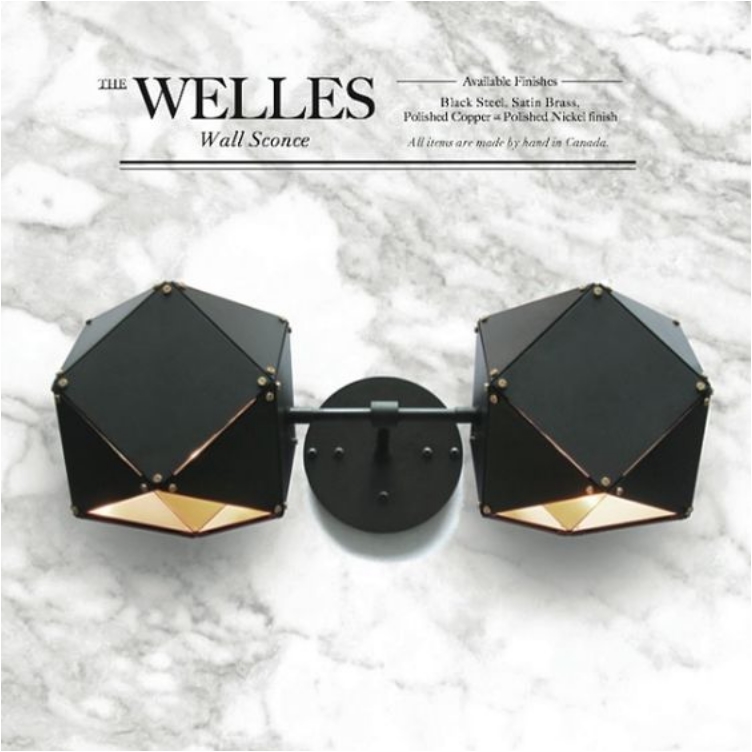 One thing I've noticed in the past few months is that lamps are no longer a standard shape. That's my main takeaway from going to so many stores. We live in an era of unconventional and unique style. And that applies very much to shapes and forms lately.
7. Pipe Wall Lamp Turning a Corner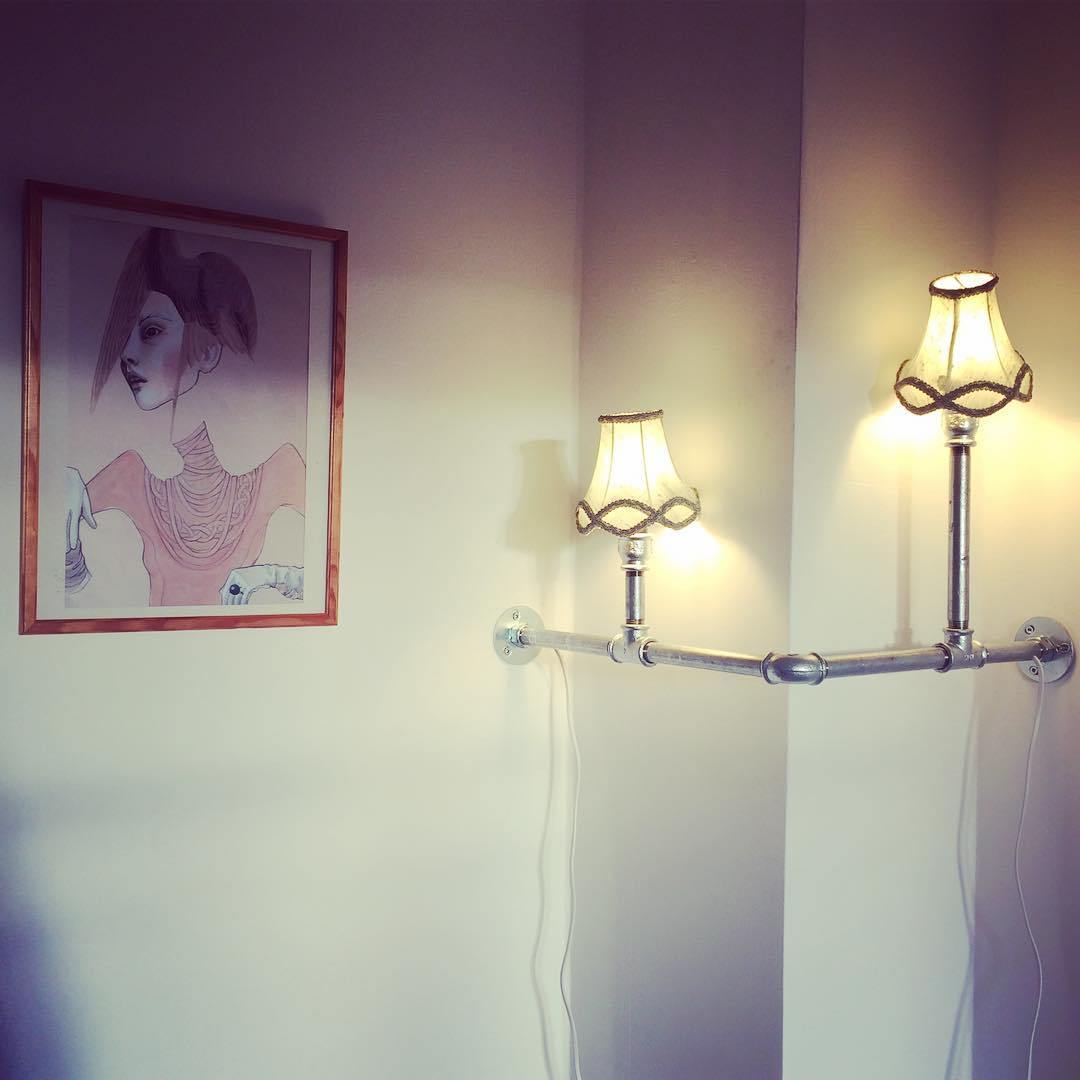 If you are following the trends in interior design, you've probably noticed that the industrial style is gaining popularity. Now, some people want just a touch of it, and illumination is the easiest way to introduce some industrial style into your home. With so many similar wall lamps featuring copper pipes, industrial illumination has become a thing.
8. Wall Sconce Creating a Starry Sky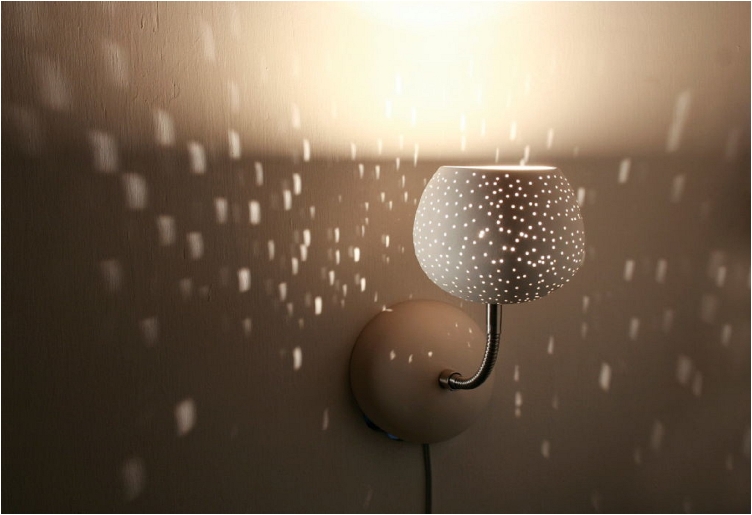 This is a design similar to what my friend fell in love with. And I must say, the sky is definitely something you might want in your bedroom. Or in your living room. The design certainly brings peacefulness and tranquility to the interior.
9. Retro Iron Cage Wall Lamp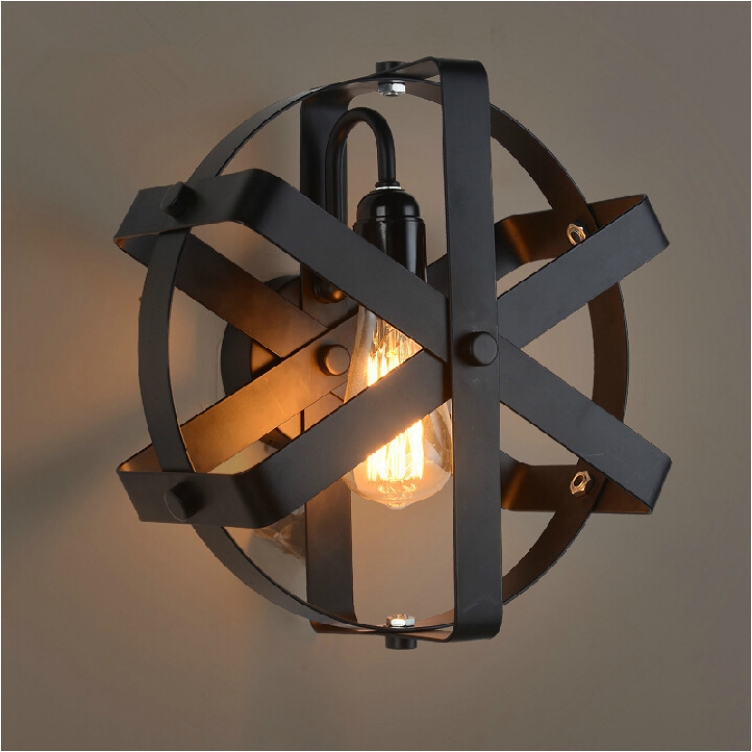 I've noticed so many similar designs in my journey through stores. And to be honest, I've noticed many similar designs in cafes and restaurants lately. This mix between retro and industrial certainly has become popular lately.
10. Rustic Chic Pulley Wall Lamp with Bottles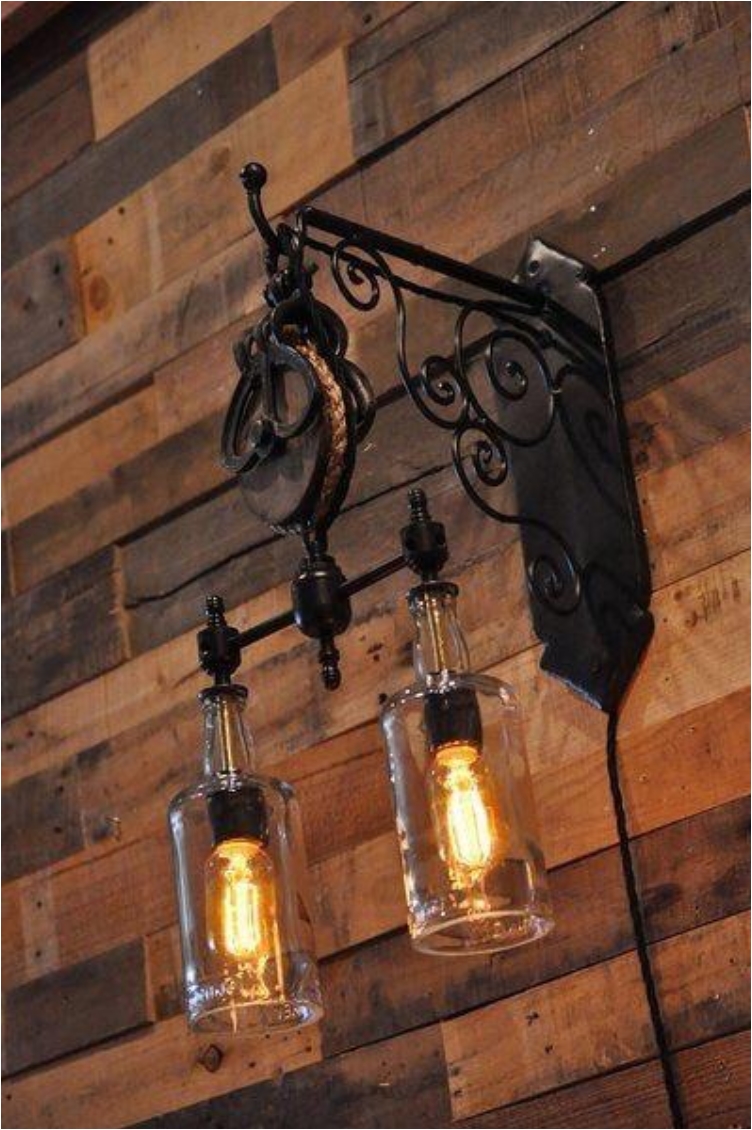 A combination of rustic and vintage is another trend you'll see nowadays. But what I've noticed lately is that lamps are perfect for adding just a touch of any style you want. They are so versatile, and they fit the interior seamlessly.
11. Upcycled Skateboard Wall Lamp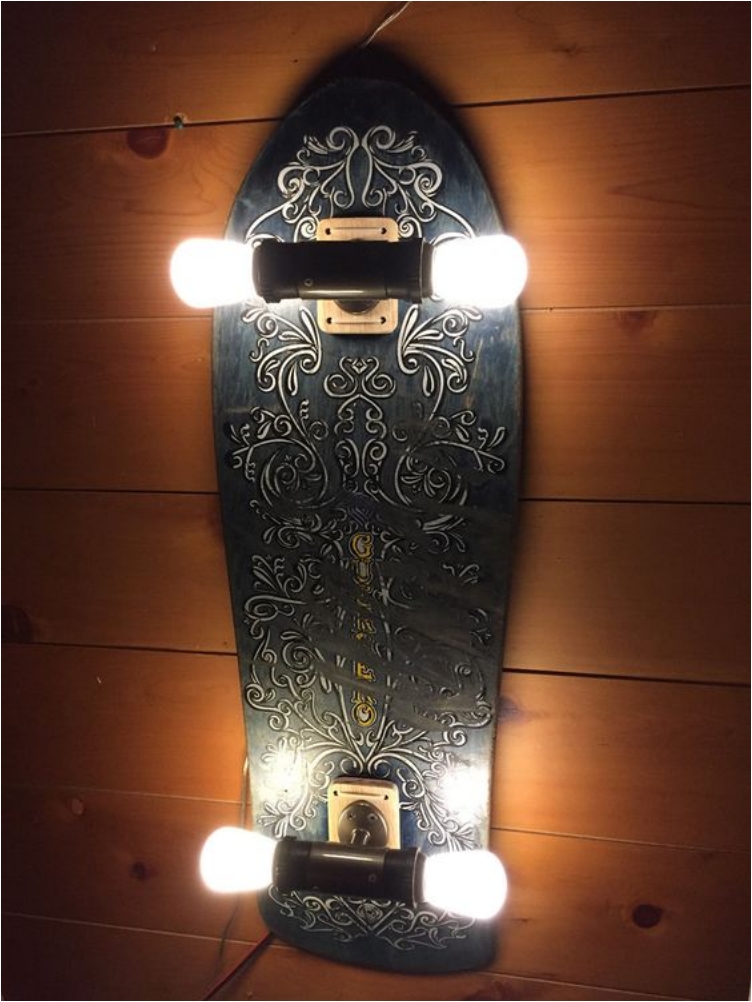 Just as I know there are hoops fans, I know there are skateboard fans as well. Especially among men (no, I'm not being stereotypical). I know some of you will love this item in your home. And I want to show you it's possible.
12. Wall Pendant Lamps with Coat Hangers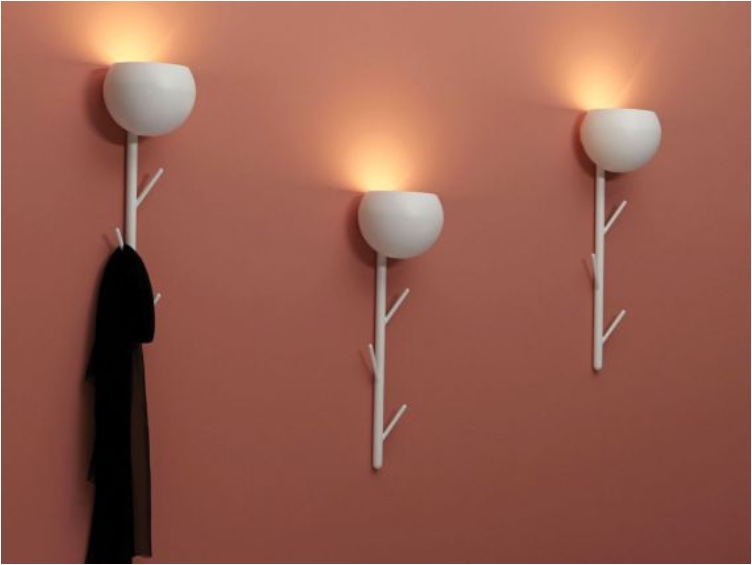 We've seen a rise in the popularity of multifunctional furniture in the past few years. We all want more from our furniture. It's not enough for lamps to illuminate any more. Noooo, we want more—we want them to serve an additional purpose as well. And this one can provide you some space for your coats.
13. Modern Shadow-Casting Wall Lamp with Leafy Design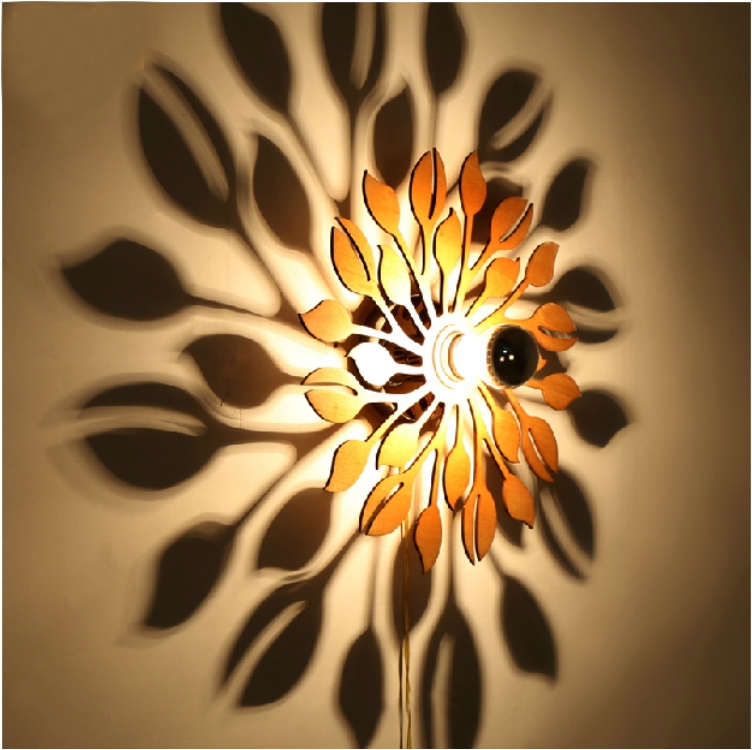 Personally, the thing I love the most about this design is the color. The sunny and vibrant yellow is definitely something that attracts me. And we all know yellow brings energy to the room. So there you have it.
14. Vintage-Style Saxophone Wall Lamp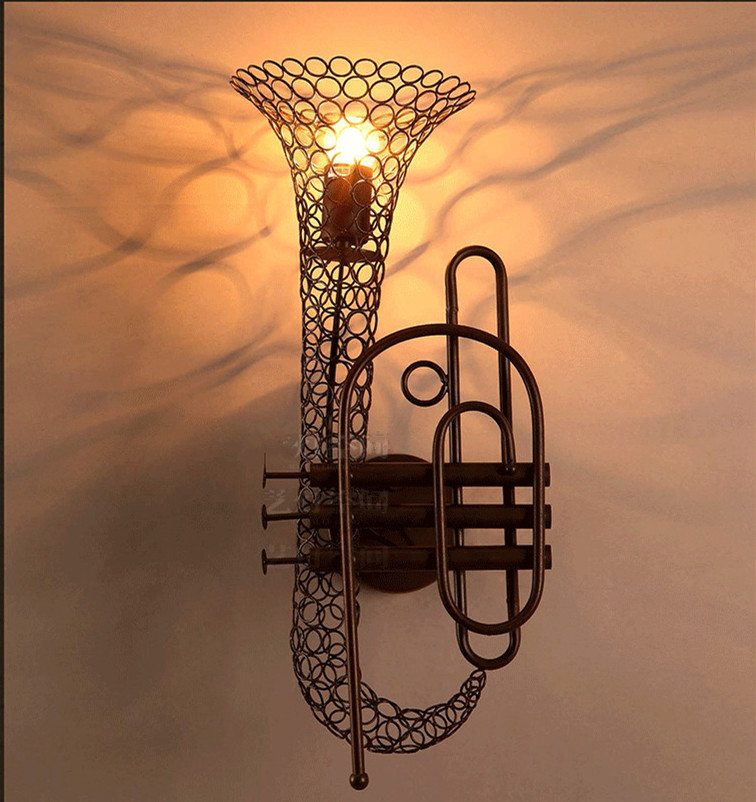 I said a number of times that there are so many different shapes and forms of lamps lately. We had hoops, we had a skateboard, and now we get a saxophone for all you music and jazz lovers. I promised you versatility at the beginning!
15. Lucellino Angel Light Bulb Lamp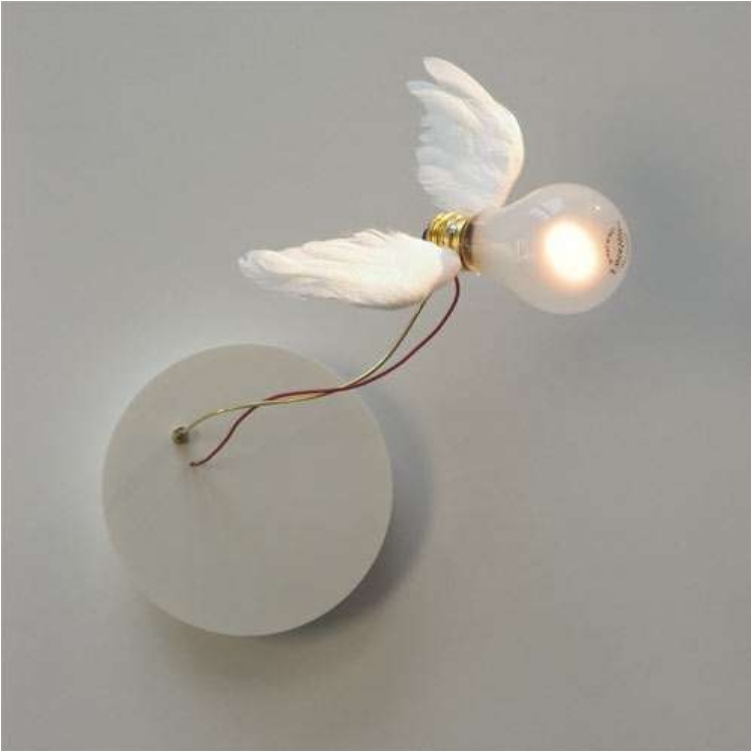 Lucellino is a popular name in the illumination world. There are some designs that are just instantly recognizable, and this one is one of them. A subtle yet ordinary lamp at first glance, but so decorative.
16. Eclipsing Circle Sconce Lamps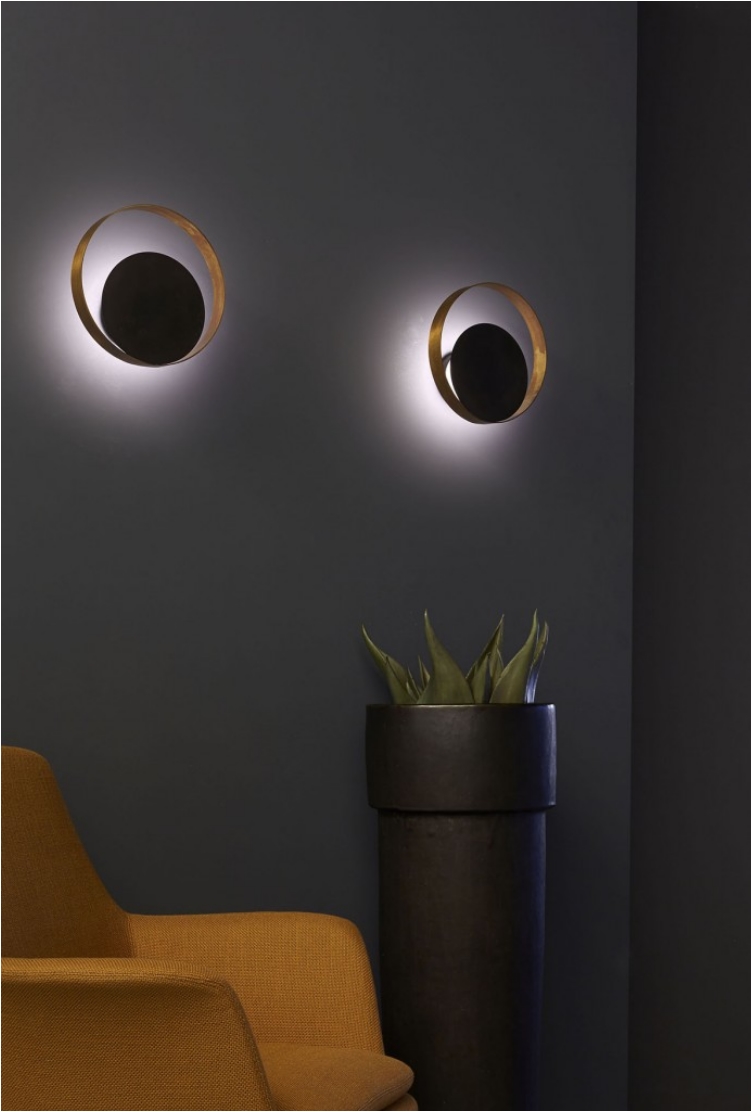 Here we have another object that is tailor-made for me. I said at the beginning that I'm a huge fan of minimalism. And whenever I see a small object that brings so much decoration, I fall in love with it. I just can't help it!
17. Retro Metal Bicycle Chain Wall Lamp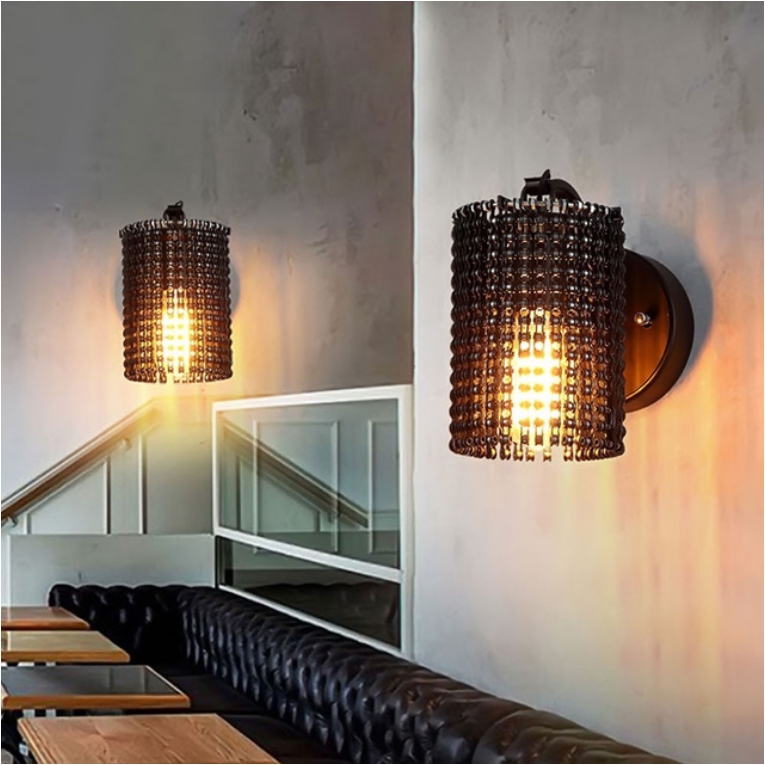 Medieval times are here. And they're here to stay. If you've ever been to a medieval castle, you've probably noticed similar lamps. I've already noted that every style is welcome in illumination. And people find inspiration in different things.
18. Semi-Hidden Wall Lamps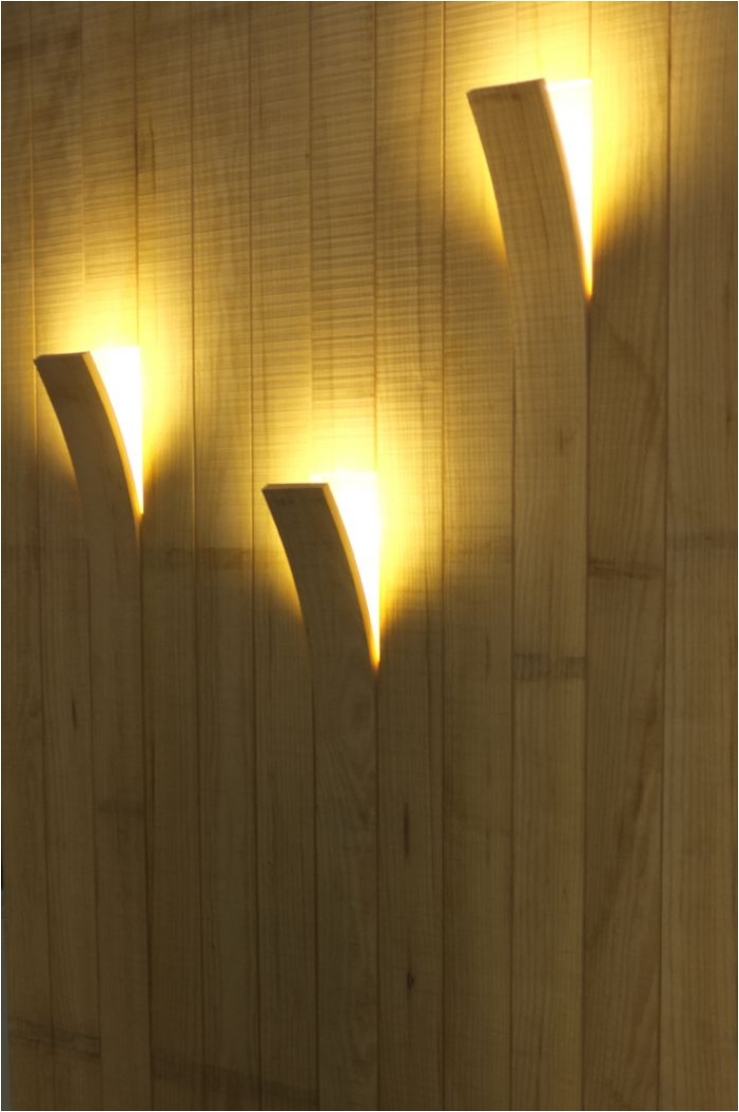 Another popular trend in recent years is hidden illumination. Or semi-hidden, in this case. For example, you've probably seen illumination under floating objects. This lamp is in the same spirit. Only, instead of a floating furniture piece, we have a wall lamp.
19. Foscarini Fields Wall Lamp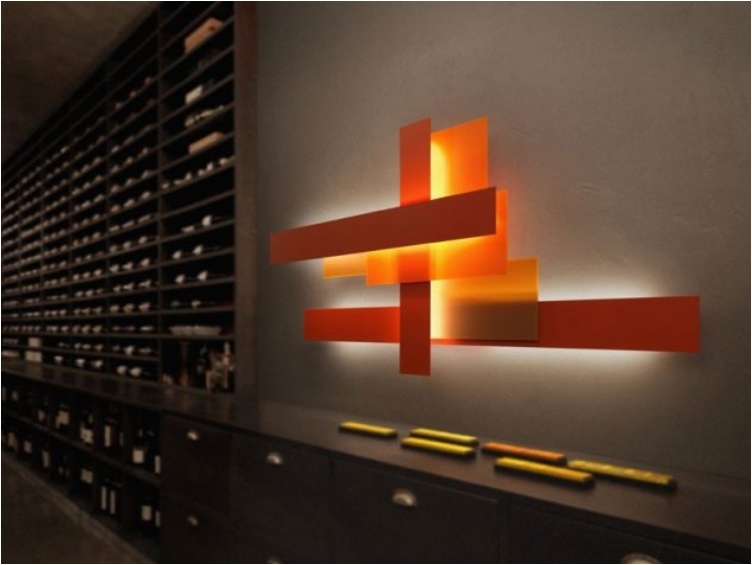 Foscarini is another design studio that has become a staple in illumination. The studio has so many different designs you can choose from. In this case, I chose the "fields wall lamp." The reason is simple: I wanted to give you some modern ideas. After all, we had retro, vintage, and so many other styles. And I know most of you are into modern and contemporary design.
20. Bedroom Wall Lamp with Small Extendable Reading Light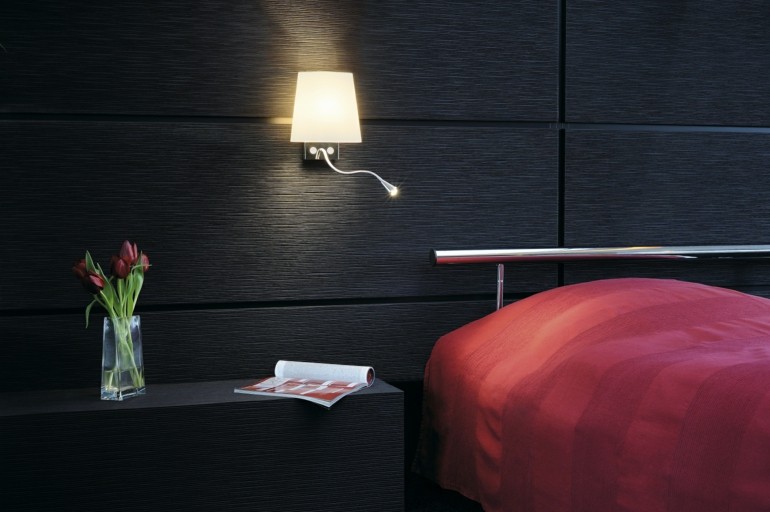 Think of it as the perfect book light. And we all need one of those in the bedroom. Even those who don't read books in bed need a lamp in the bedroom. So why not this one?
21. Wall Mounted Light Sculpture by Niamh Barry
I'm not a big fan of the contemporary style. But even I can be dazzled at times by a unique design. And this is definitely one of those designs. You just have to love this lamp. Now, the only downside is that the lamp doesn't fit every room; you definitely need a spacious living room!
22. Birds on Wire Wall Lamp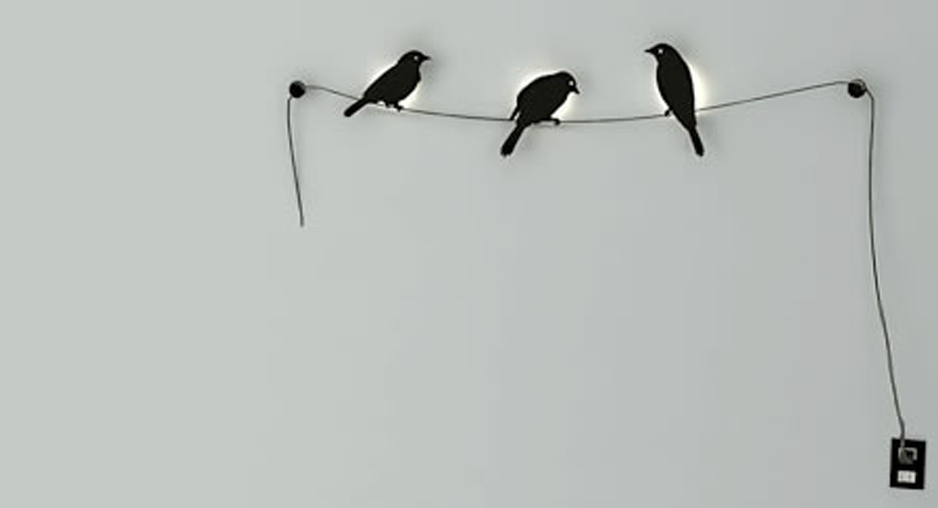 Modern lamps can have a little of bit of a nature spirit to them. Take this lamp, for example—the birds make us think of nature. And the lamp is in the modern / minimalism style. A perfect example of mixing and matching styles.
23. Buddha's Hand Wall Lamp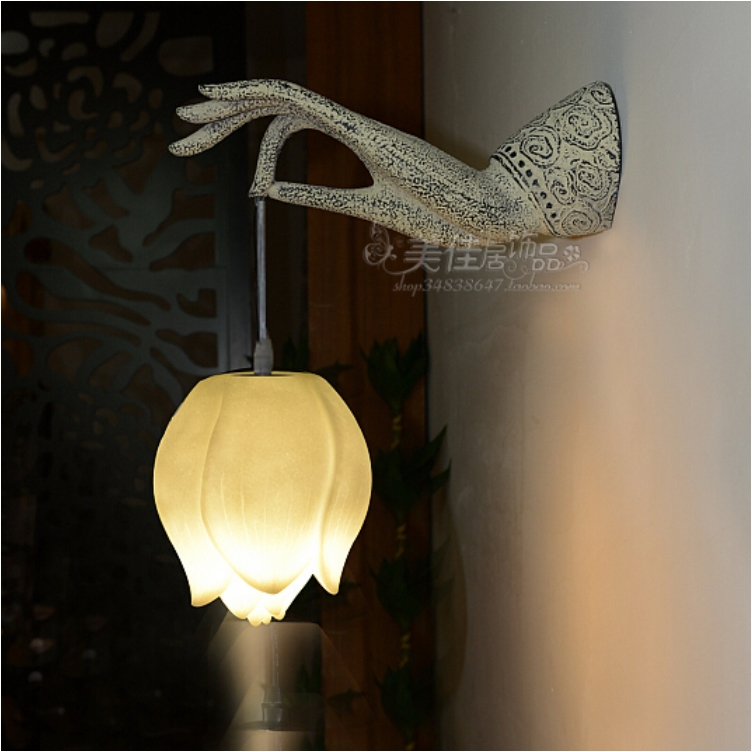 With so many different styles, I almost forgot about the Oriental style. Buddha might not be your first association of an Oriental style, but he fits perfectly in that spirit. And the best part is that this lamp can easily fit in almost any setting (you can't integrate this lamp in a rustic or French country-style setting, though).
24. Wall Lamp with Half Shelf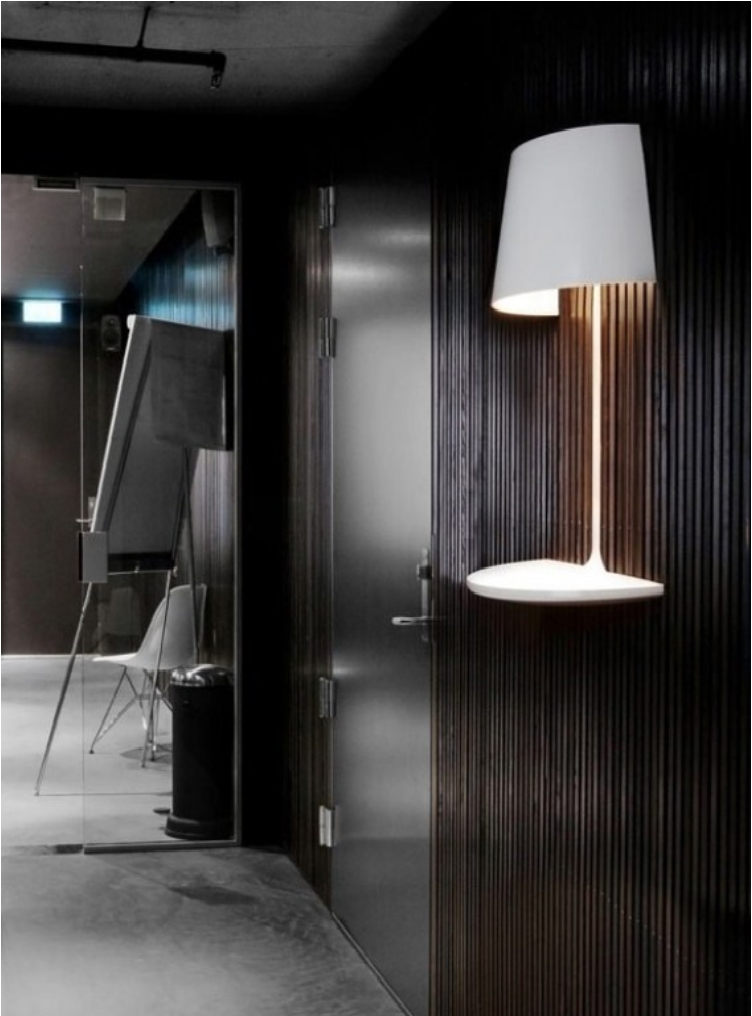 For some reason, designers cut their furniture pieces in half. And because of that, we get half of a lamp. Don't get me wrong—I like the design. I just don't understand the story behind it. But hey, we don't always need to understand something to appreciate its beauty.
25. Fish Lamps by Frank Gehry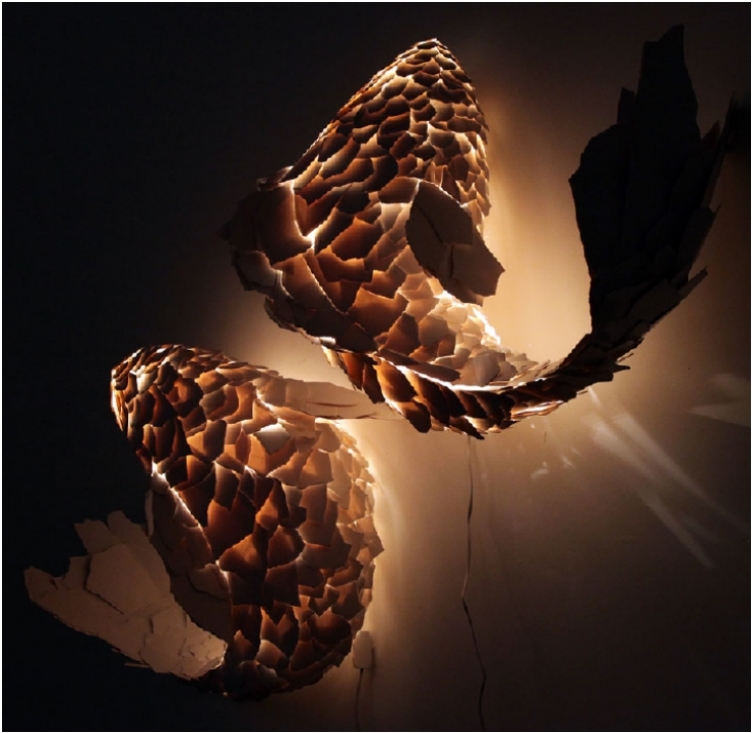 Fish haven't been a popular shape and form these past several years; it seems like we've moved on to other animals. I remember some 10 to 15 years ago, when I was a teenager, fish were very popular. In everything, not just in interior design. So, in that spirit, I want to show you how beautiful they can look.
26. Modern Design Wall Lamps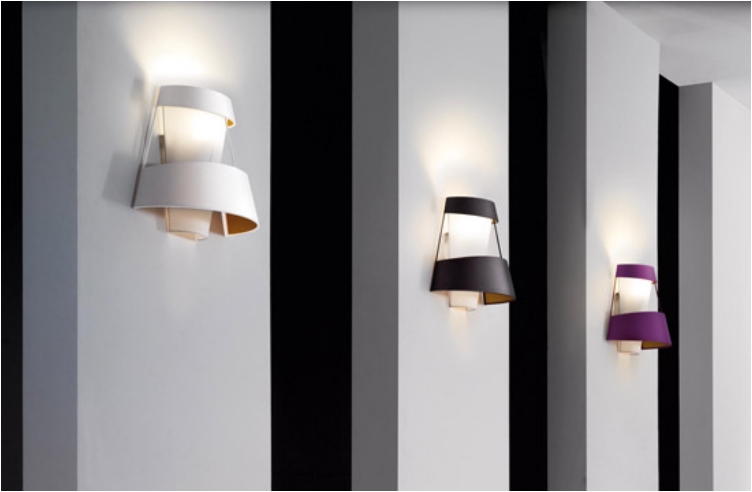 The main aspect of modern design is that everything needs to fit smoothly within the interior. You want a smooth and simple interior. In that spirit, we have lamps that don't pop. You might not even notice them at first glance. But I like how the designer used different colors to break up the black and white colorless setting.
27. Luxurious Crystal and Feathers Wall Lamps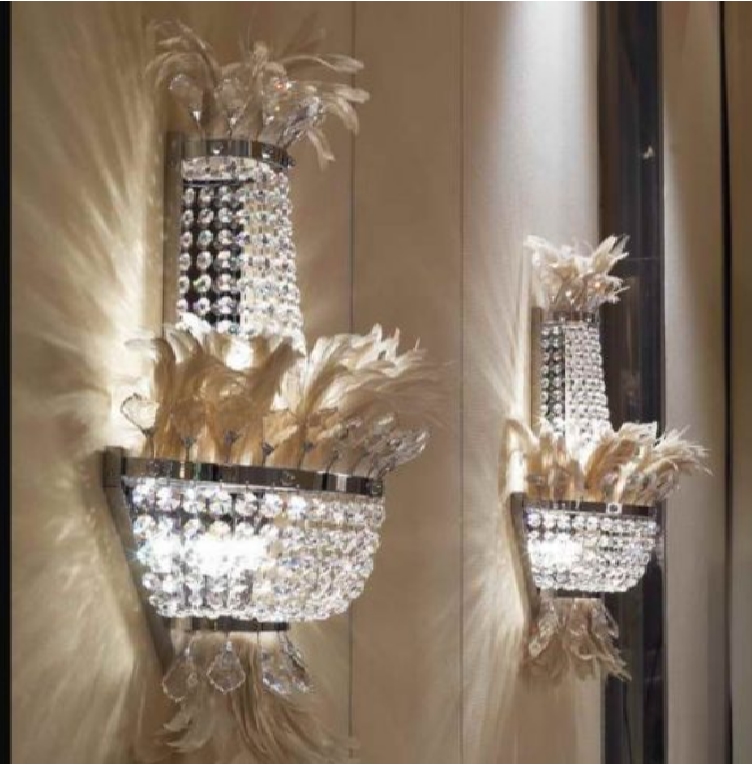 I almost forgot about my friend. In addition to looking for modern lamps, we also looked for luxurious lamps. Chandeliers, to be exact. And I told her one thing: not everyone can pull off luxurious illumination. It's one of the biggest challenges in interior design. If you opt for something like this, be sure to consult an expert. Even the most luxurious piece can look cheap if not paired perfectly with the background.
28. Paint-Dipped Wooden Wall Lamp with Crocheted Lampshade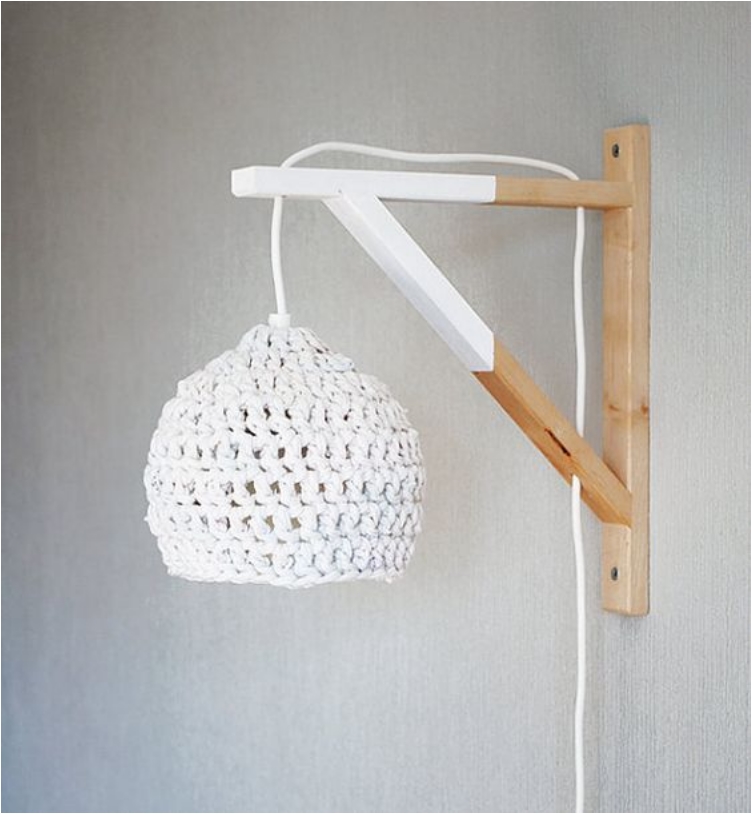 Simple, elegant, and does the job. Sometimes, that's all you want and need from a lamp.
29. Rectangular Wall Lamp with Hanging Crystal Shade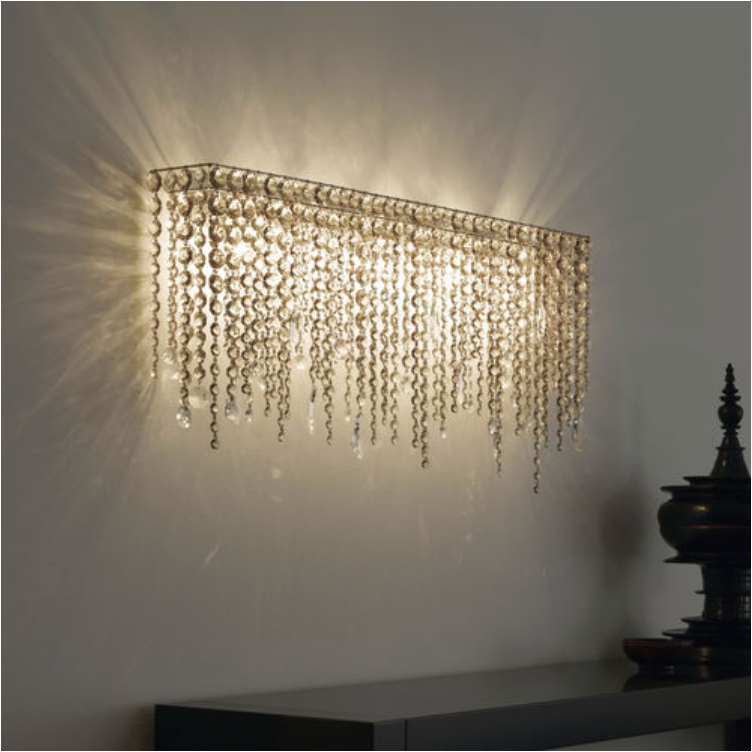 Being that most people want modern and contemporary illumination, we finish off with a lamp in that style. Few things beat crystals. And with a contemporary style, you definitely want some crystals in the interior.
That's all for today. I hope you enjoyed my ideas, and feel free to share yours!