It's an age-old saying: "beautiful things come in small packages." I've heard it over and over, and it is true for some things. For example, perfumes are packed in small bottles, and diamonds come in small sizes. In terms of houses, we've seen a trend in the past few years that small houses can be comfortable living options.
For years, people in Manhattan, New York, have lived in 250 to 350 square foot apartments. But that's an apartment in one of the most densely populated areas in New York. When you think of a house, you think of something spacious, with a big yard and so on.
The thing is, you can actually get all the luxuries of a regular house in a small house. Yes, some of us dream of living in a big house with every possible convenience. We can blame the media for that (and Disney, with its princess movies). But when you see the beauty of a small house, you might change your opinion. The following houses certainly bring some flair to house living. Check them out.
1. Northwest Haven

Size isn't everything. You can get a small house and decorate it in a perfect way to be comfortable. And besides, when you opt for a smaller house, you get more yard space. It all comes down to being smart and practical with your living arrangements. In this case, you can see the house is divided on two floors.
2. Atlas Tiny House on Wheels

When you think of IKEA and multifunctional furniture, this is what comes to mind. The beauty of this house is that you can travel with it. You just need a car to pull it, and you can travel the world living in your own house. Thanks to multifunctional furniture, you can execute all the important rooms: kitchen, bedroom, and living room.
3. Mayne Island Cob House

Some people want to live in a crowded, densely populated neighborhood, while others prefer peace and quiet. In this case, you have a house that is perfectly situated for living in the woods. The exterior just screams wooden house. But once you enter, you are greeted by a lavish, luxurious interior.
4. Eco-Perch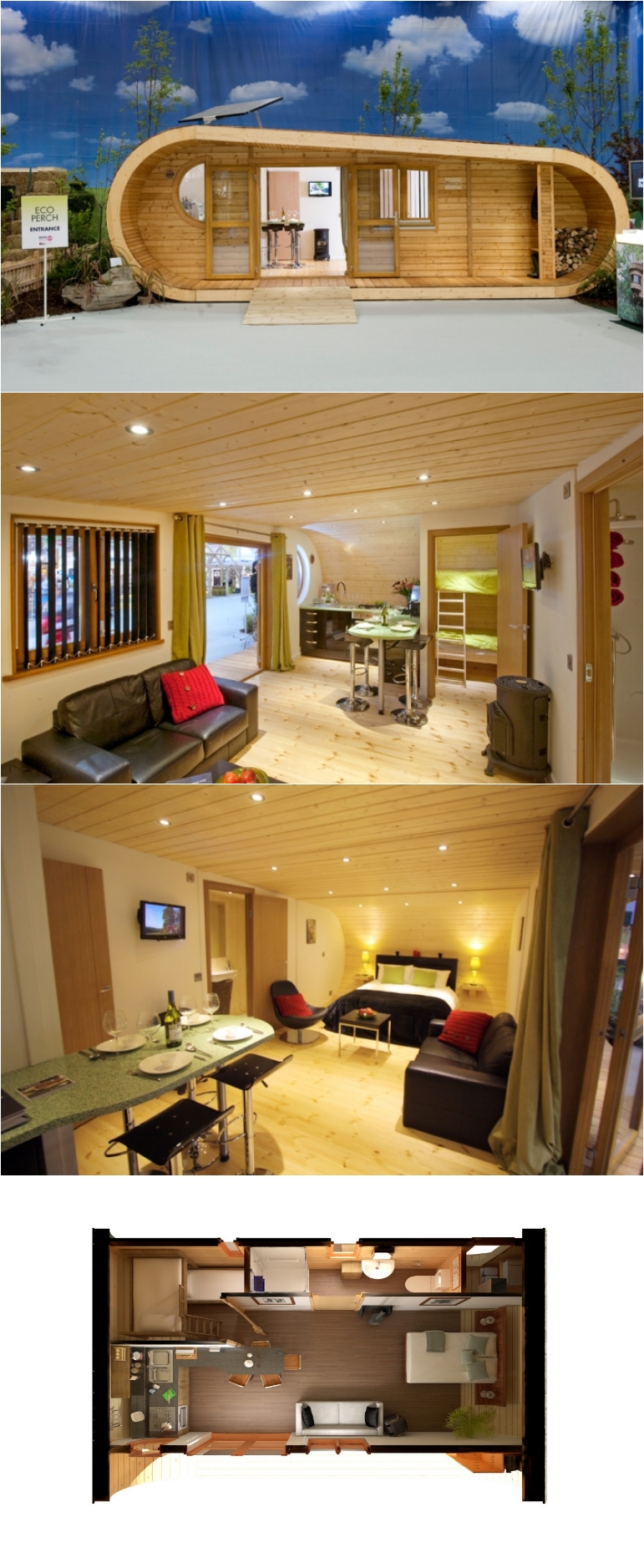 Simply said, you get everything a home needs. You have a comfortable bedroom, a dining room, a living room, and a kitchen. Oh yes, and a bathroom that can fit two people. What more you need? Everything else is a luxury.
5. Genevieve's Tiny House in Portland

Yes, it can be weird and awkward to go to the toilet in the living room. But hey, at least the owner has taken full advantage of the space. When you are living in a tiny house, it all comes down to how to utilize the space in the best possible way. For some people, that means a toilet in the living room.