It's an age-old saying: "beautiful things come in small packages." I've heard it over and over, and it is true for some things. For example, perfumes are packed in small bottles, and diamonds come in small sizes. In terms of houses, we've seen a trend in the past few years that small houses can be comfortable living options.
For years, people in Manhattan, New York, have lived in 250 to 350 square foot apartments. But that's an apartment in one of the most densely populated areas in New York. When you think of a house, you think of something spacious, with a big yard and so on.
The thing is, you can actually get all the luxuries of a regular house in a small house. Yes, some of us dream of living in a big house with every possible convenience. We can blame the media for that (and Disney, with its princess movies). But when you see the beauty of a small house, you might change your opinion. The following houses certainly bring some flair to house living. Check them out.
1. Northwest Haven

Size isn't everything. You can get a small house and decorate it in a perfect way to be comfortable. And besides, when you opt for a smaller house, you get more yard space. It all comes down to being smart and practical with your living arrangements. In this case, you can see the house is divided on two floors.
2. Atlas Tiny House on Wheels

When you think of IKEA and multifunctional furniture, this is what comes to mind. The beauty of this house is that you can travel with it. You just need a car to pull it, and you can travel the world living in your own house. Thanks to multifunctional furniture, you can execute all the important rooms: kitchen, bedroom, and living room.
3. Mayne Island Cob House

Some people want to live in a crowded, densely populated neighborhood, while others prefer peace and quiet. In this case, you have a house that is perfectly situated for living in the woods. The exterior just screams wooden house. But once you enter, you are greeted by a lavish, luxurious interior.
4. Eco-Perch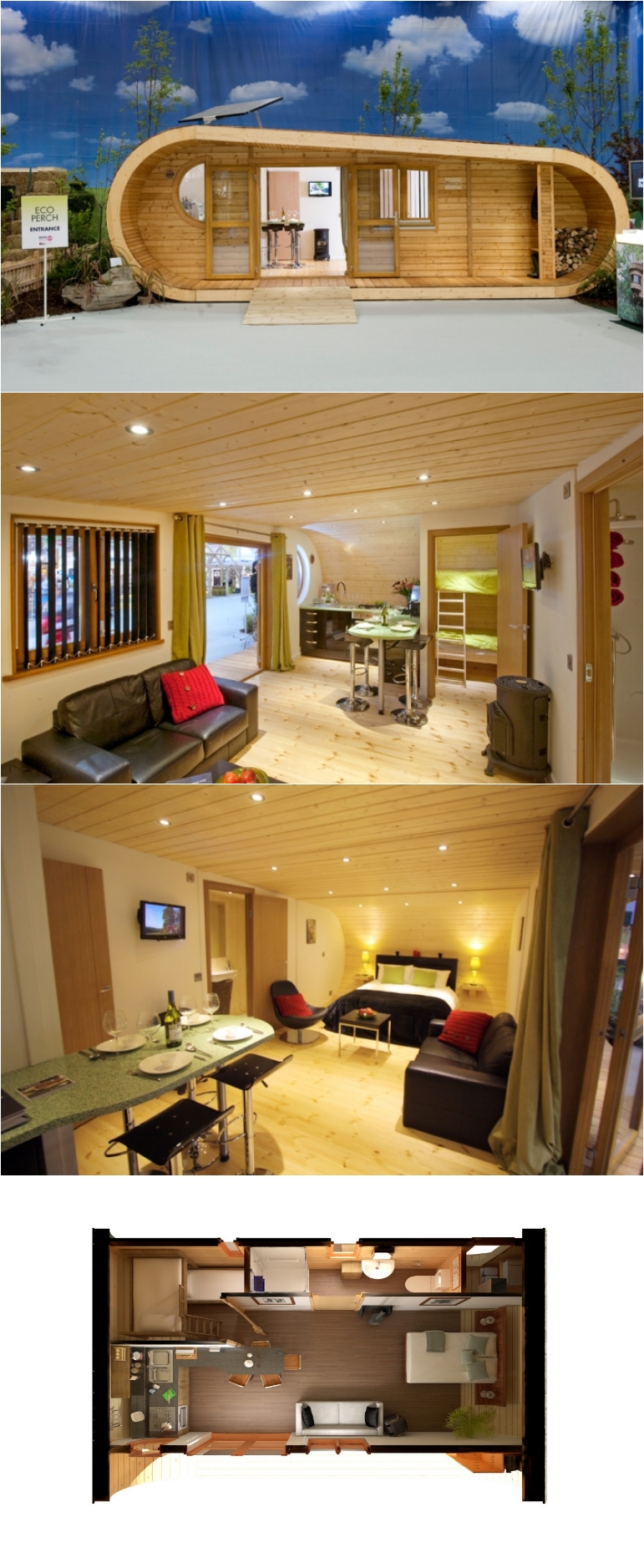 Simply said, you get everything a home needs. You have a comfortable bedroom, a dining room, a living room, and a kitchen. Oh yes, and a bathroom that can fit two people. What more you need? Everything else is a luxury.
5. Genevieve's Tiny House in Portland

Yes, it can be weird and awkward to go to the toilet in the living room. But hey, at least the owner has taken full advantage of the space. When you are living in a tiny house, it all comes down to how to utilize the space in the best possible way. For some people, that means a toilet in the living room.
6. Movable Luxury Caravan House with Outdoor Tub

Taking flexible living and traveling to a whole new level, this house offers all the luxuries of a glamorous home. Just imagine how awesome it would be to travel around the world in this home. Forget five-star hotels, you've got one on wheels! Just make sure to check where you can park your home.
7. Reflection of Mineral

Who says that small houses can't be contemporary design masterpieces? In the past few years, we've seen the rise of contemporary art, contemporary design and everything else contemporary. Notice the smooth lines, the white colors, the reflection, the use of mirrors. Those are all characteristics of contemporary interior design style.
8. Micro Compact Home

The definition of compact is "smaller than other things of the same kind." But that doesn't mean it isn't just as rich and just as functional. Truth be told, you want this house parked in a deserted location, where you can enjoy your peace and quiet.
9. The Traveler XL Home

With our third traveler home on the list, we need to mention the nomad lifestyle, which has become more and more popular in the past few years. The simple way of explaining it is people sell everything they own, move into a small, movable house, and travel the world. Some transform their van into a home, and some go a step further, getting a home like this one. There's a lot of technology inside, and the wooden interior looks so very glamorous!
10. Tiny Barn Cabin

Long gone are the days when barns were something you found only on a farm. Nowadays, barns have become popular homes you can find everywhere. Several years ago, "barn" was a synonym for a farmhouse. But they've evolved, from the interior to the exterior. Some key features are still there, but there is no denying that barns look modern nowadays.
11. FY Nyth Redux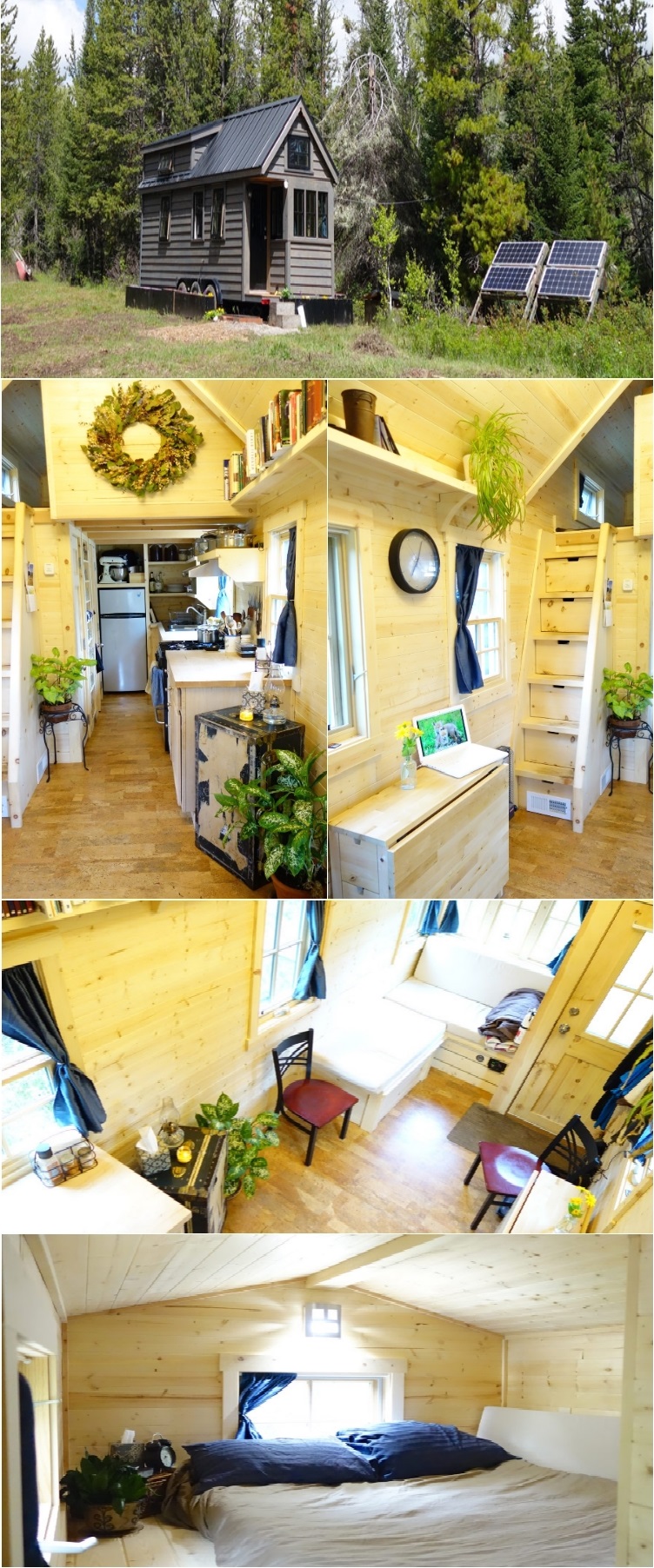 Now this is a house that completely utilizes outdoor living. With solar panels, this house belongs in the technologically-advanced group. But when you live outside, away from civilization, you have to find a way to get power and electricity.
12. Couples' Wandering on Wheels Tiny Home

The word nomad comes from a Greek word meaning "one who wanders for pasture." But nowadays, nomads wander to see the world, to learn about different cultures, to meet new and interesting people. Some do it alone, some prefer to do it as a couple. Some say it is better in pairs, and this home can fit two people without any problems.
13. Cozy A-Frame Cabin in the Redwoods

If you've ever gone skiing, you've probably slept in a house like this. Typically, these cabins are part of ski centers. But you can actually live in one as well. Even if you're not into skiing, a house like this in the woods will provide you with a peaceful, calm environment.
14. St. George Island Tiny House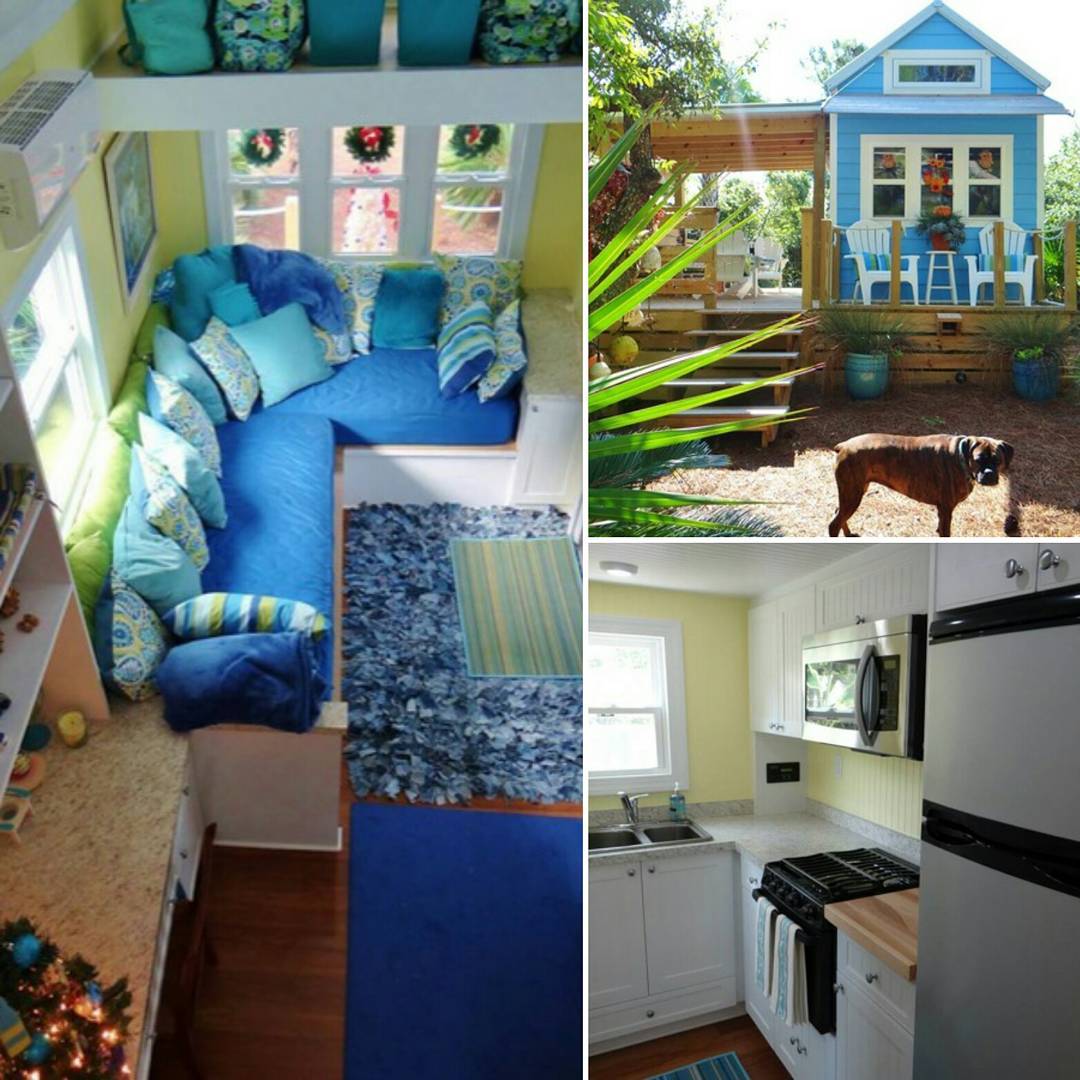 House cabins and condos are popular rentals on St. George, an island in the northern Gulf of Mexico. Some people, however, prefer to live there. Living on an island is definitely a good idea, especially when it's a populated island.
15. Repurposed Grain Silo into Tiny House

A grain silo is tall—very tall. That means that even though it occupies a small space, you can actually get a spacious house. One grain silo can probably fit three to four floors, and that's three to four different rooms. Now isn't that something we call luxury and comfort?
16. Rustic Tiny Log Cabin in British Columbia

One of the biggest trends in interior design in the past few years is the rustic style. People like to go back in time, evoking that warmth and comfort a rustic style provides. And if you're living in the wilderness, a rustic home definitely fits the location.
17. The HemLoft Compact Tree House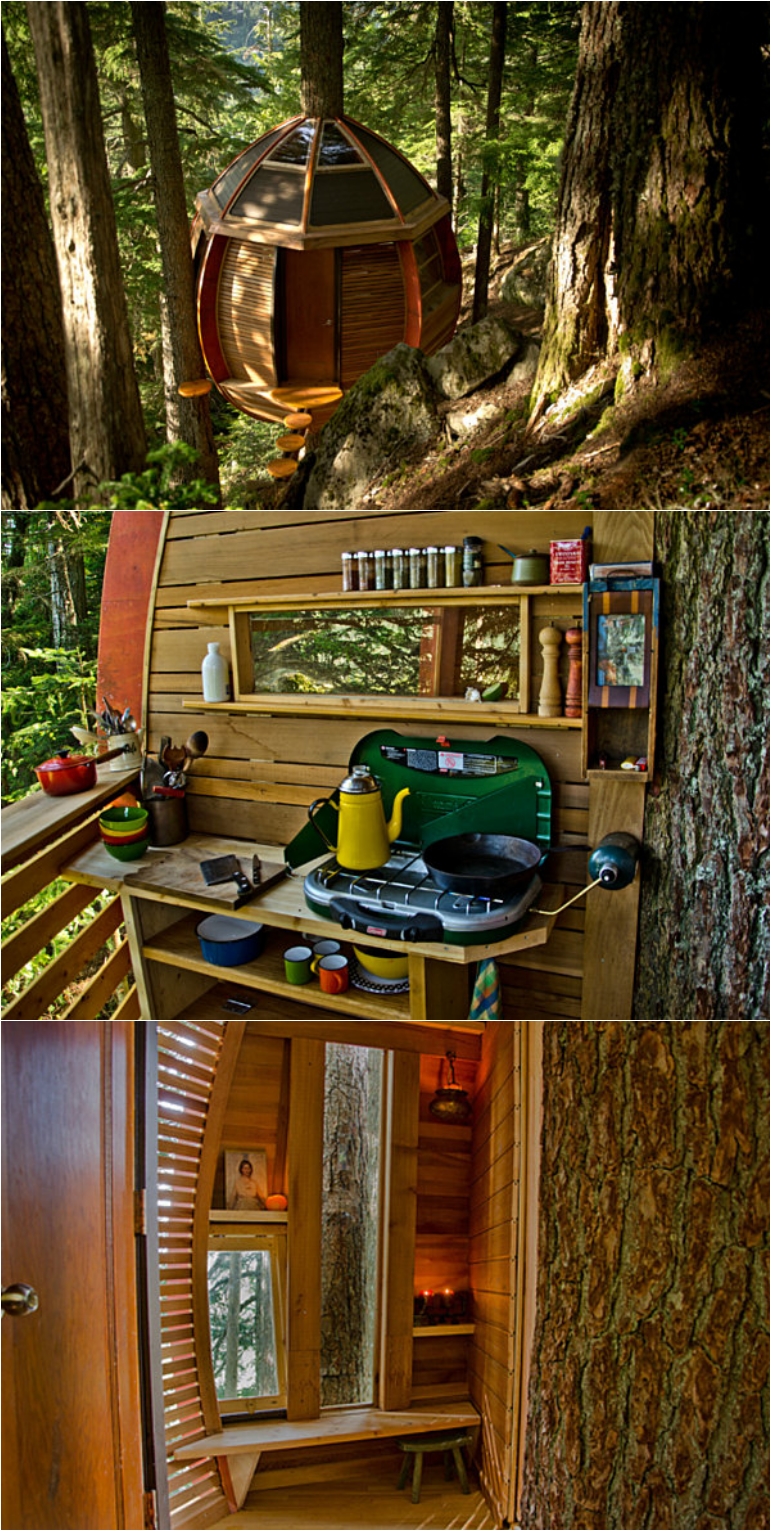 There are tribes in Africa, South America, and even Asia that live exclusively in the trees. They build tree houses to get a better view of who and what is coming (for safety measures). Living up in the trees can definitely be a worthwhile experience. If you think of yourself as an adventurous person, try it.
18. Greenmoxie Tiny House with a Drawbridge Deck

I talked about multifunctional furniture for the inside of the home, but the outside can benefit from it as well. We have a perfect exhibit here, as the drawbridge deck provides you with an outside patio.
19. Tiny House in Kirby, Vermont

It might look packed, but I'm sure it's comfortable. But for me, the exterior is what makes it great. This is just a perfect example of American-style houses. Many people in America actually do live in such small homes.
20. Bird House in
 Downtown Asheville

Another typical American house, and, thanks to its height, this one can fit two floors. The inside is even more beautiful due to some rustic elements like the wardrobe in the bedroom. And as you can see, every inch of the house is utilized (for example, the space under the stairs).
21. The Narrowest House in the World

When a house is as narrow as this one, you might think, "Hey, how can people live in it?" Do they have space inside to pass each other? Don't worry, it's fairly comfortable.
I hope I've brought small houses to your attention. It's definitely a trend that will become even bigger in the coming years.