You know the deal. Red is the boldest, most courageous and fierce color you can choose. When you want to go bold, you go red. It's as simple as that.
In terms of your manicure, red is usually the color associated with sexy, provocative nails. There is no denying that red nails will improve your sex appeal. But there are also designs that are elegant, not just sexy. Let's take a look at some of them.
1. Red V-Shape and Silver Half Moon Line on Beige Nails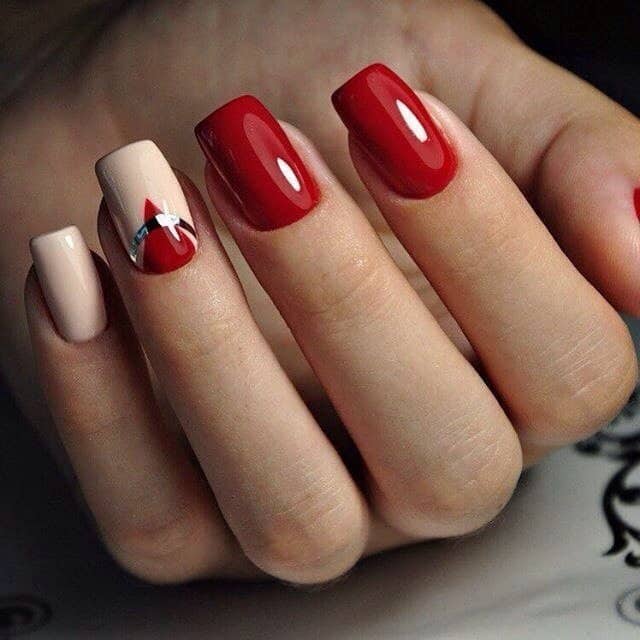 We start you off with an elegant pairing. If you want to reduce the provocative aspect of red nails, combine them with beige. The latter is a very neutral, balancing color. For the sex appeal, get a focal nail with a V-shape moon.
2. Red Nails with Leopard Pattern Accent Nail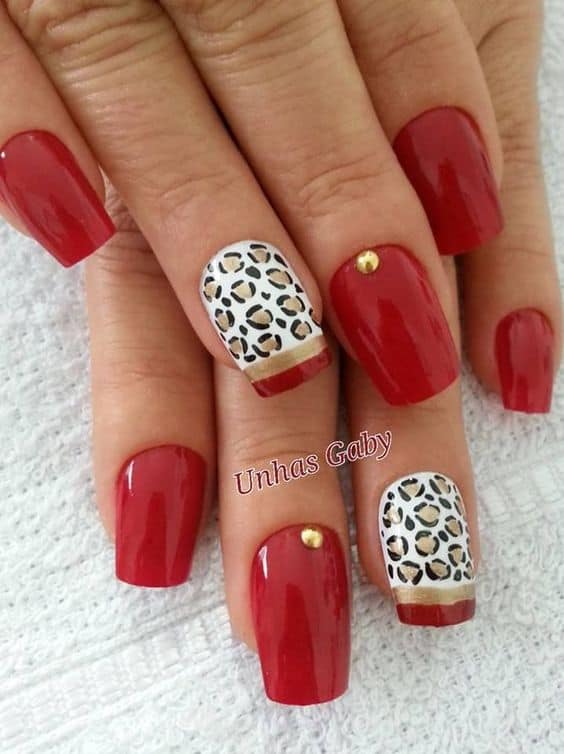 Red is the color of sexy. And leopard or any other animal print further emphasizes your sex appeal. We know that animal prints became a popular way to look sexy during the past few years. So why not try them on your nails?
3. Red Matte Stiletto Nails with Red Rhinestones
Another way to make red nails even sexier is to opt for a stiletto shape. No matter what nail color you choose, stiletto nails are sexy. But red takes them to the next level.
4. Red Nails with Naked Hearts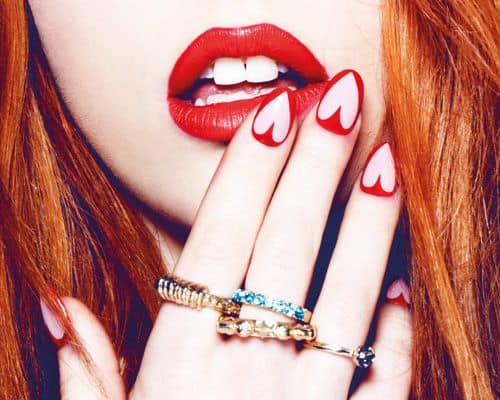 I said at the beginning that red nails can be sexy, but also cute and adorable. Not all red nails are provocative. You can get a cute and adorable design, like this one with hearts.
5. Red Nails with Silver Glitter Half Moons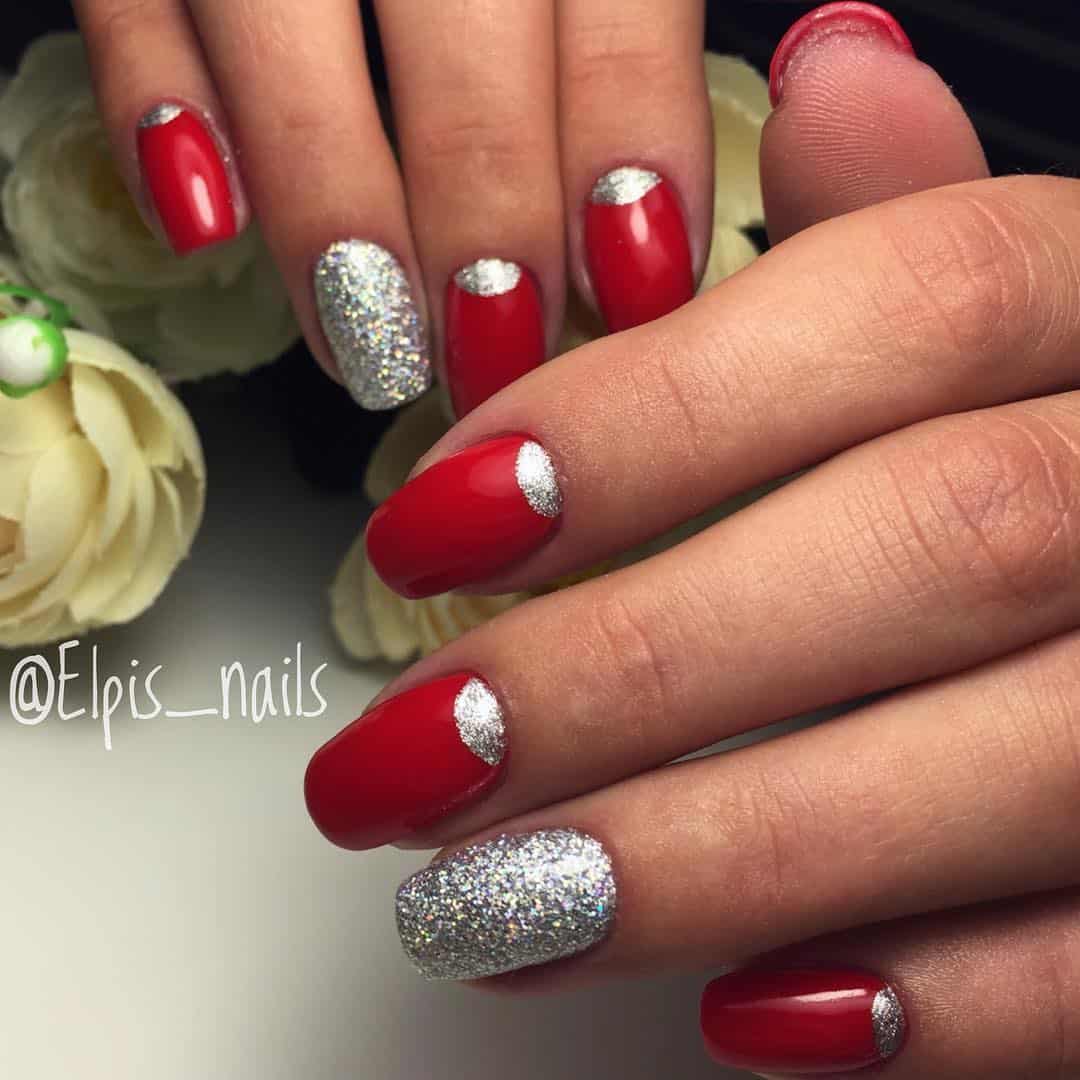 Somewhere in the middle between cute and sexy, there is glitter. In most cases, glitter is a synonym for girly. But in this case, glitter gives the manicure a touch of elegance.
6. Red with Pink and White Chevron and Roses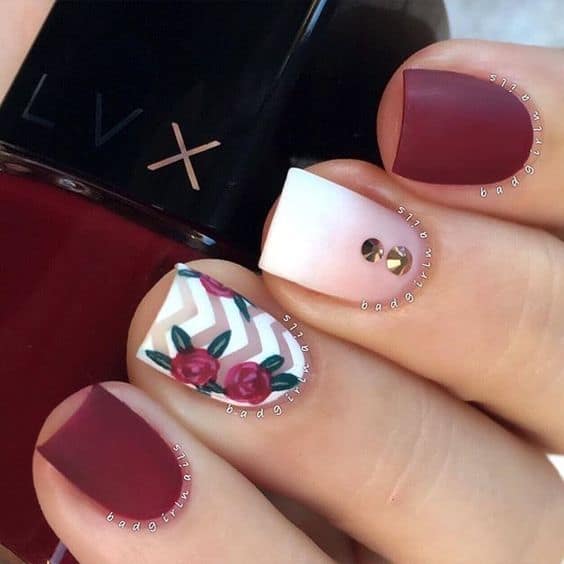 I like how every nail tells a different story. But the best part has to be that chevron nail with roses. You just can't escape the chevron symbol. It looks so elegant, yet simple at the same time.
7. Red Metallic Stiletto Nails with Black Vines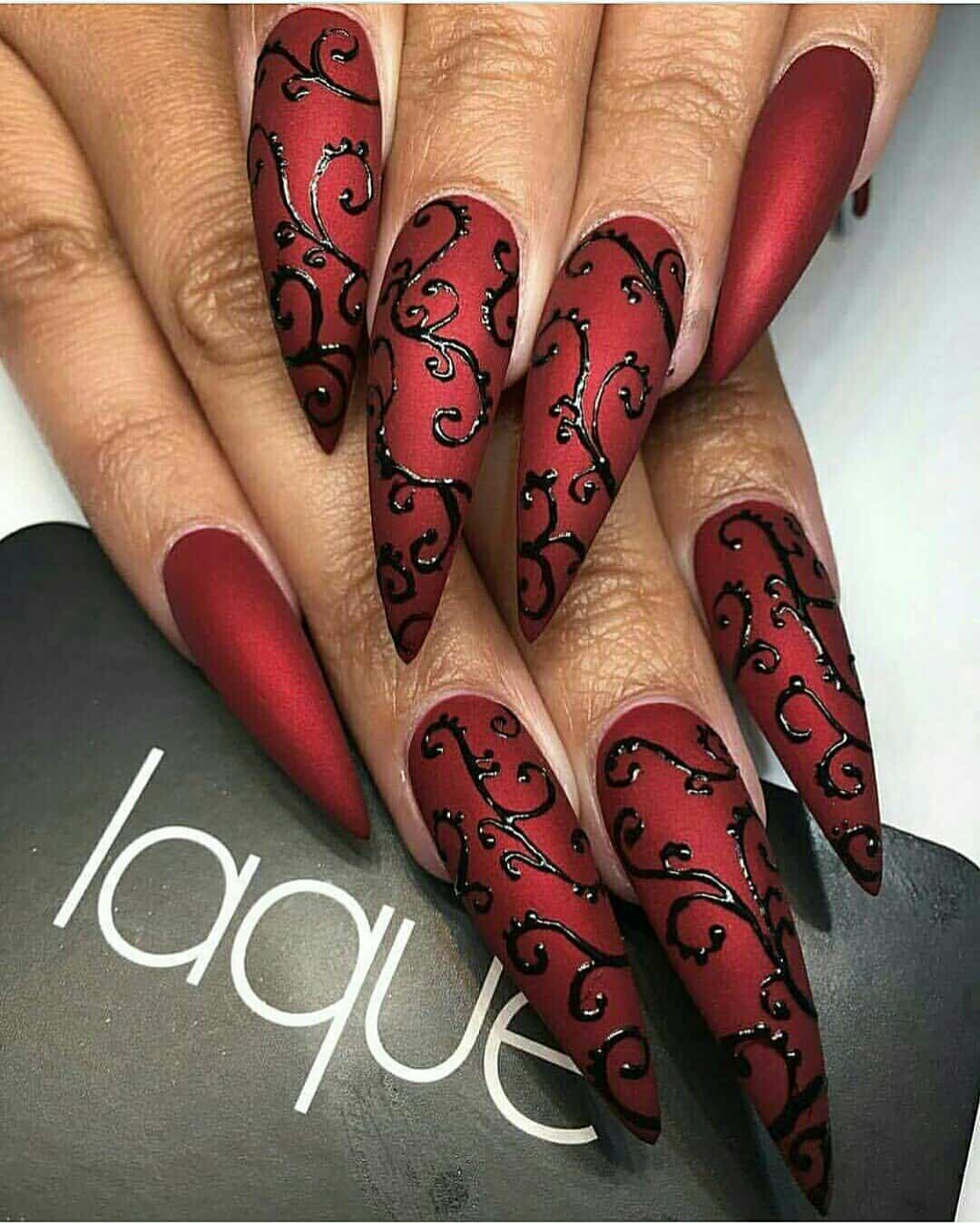 I dare you to find a more provocative manicure than this one. I'm sure you'll have hard time finding one.
8. Red Nails with Pink French Mani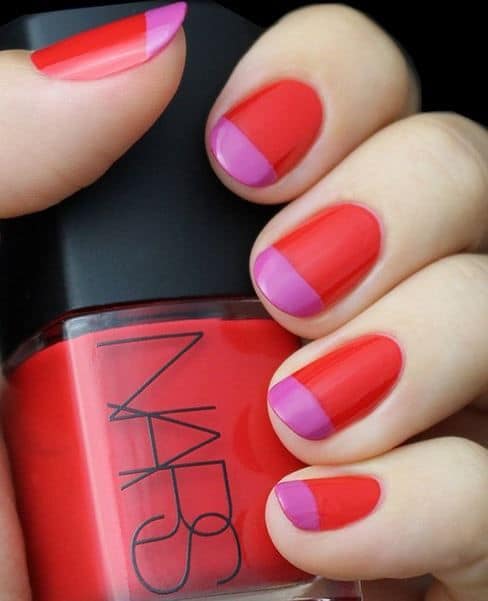 Who says you can't have a red French manicure? The common standard is nude nails with a white French mani. But that's just for those who follow rules. Get outside the box, and get creative.
9. White Nails with Red Flowers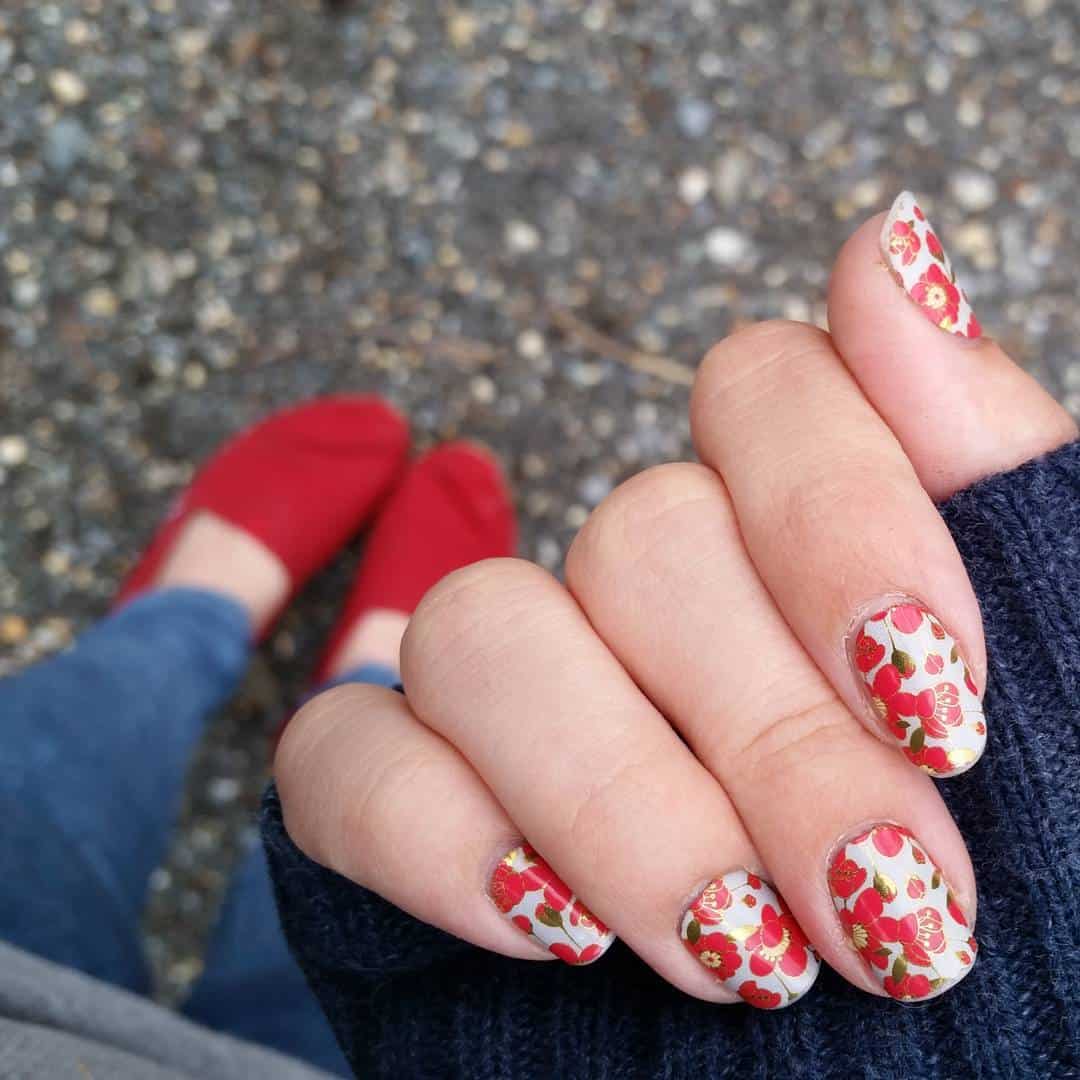 I've said it before in other articles. White is the best base for experimenting with your nails. Nothing beats white as a base, and you can try many different designs with it. If you feel romantic and in love, flowers are a great way to express your emotions.
10. Red and Gray Nails with Rhinestones and Glitter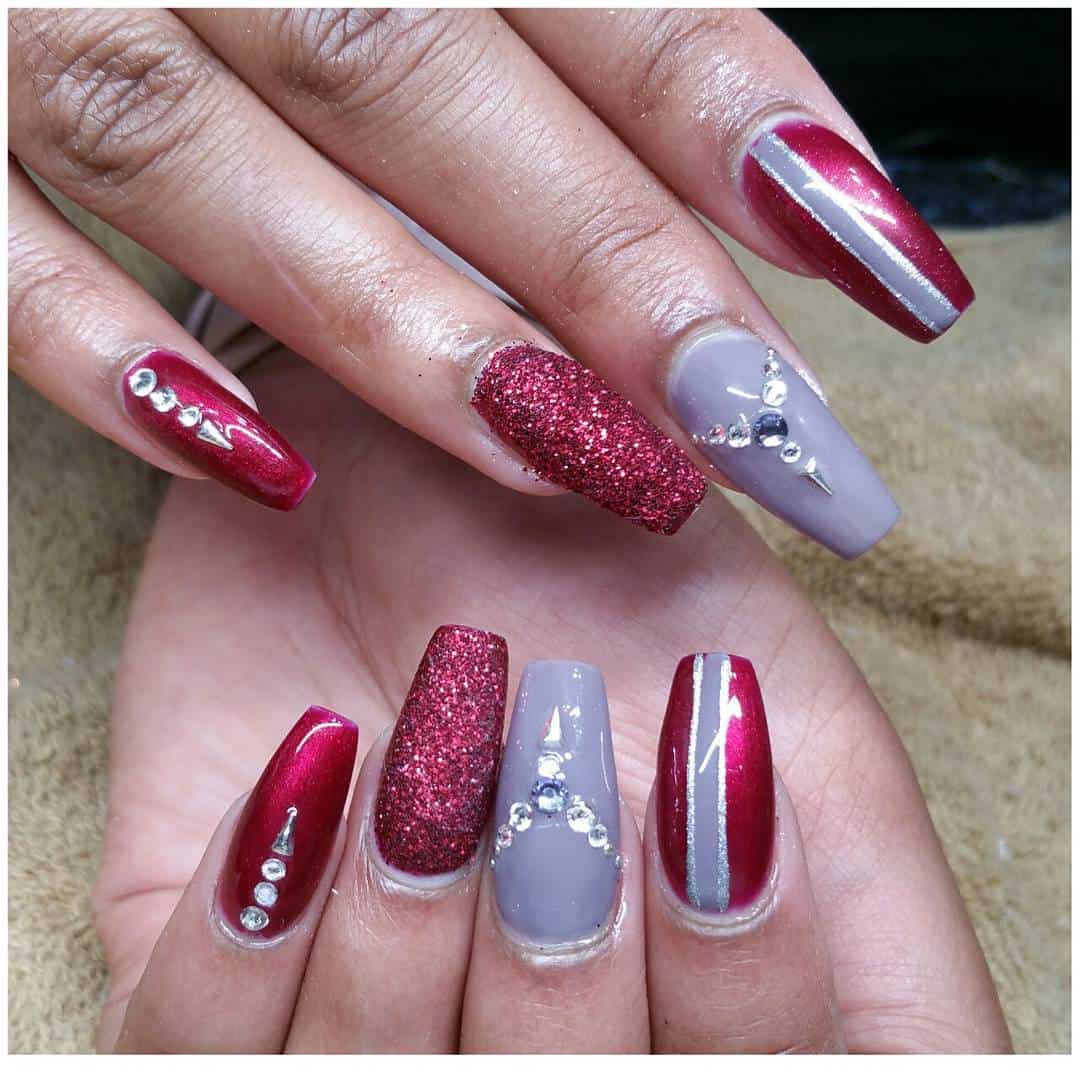 There will be some who say that gray is just not that sexy a color—and that you should absolutely avoid it on your nails. Well, just show them this example, and you'll beat them in a heated argument. Or even better, try this manicure, and show them how awesome gray looks with red.
11. Red French Mani on Naked Nails with Black Dots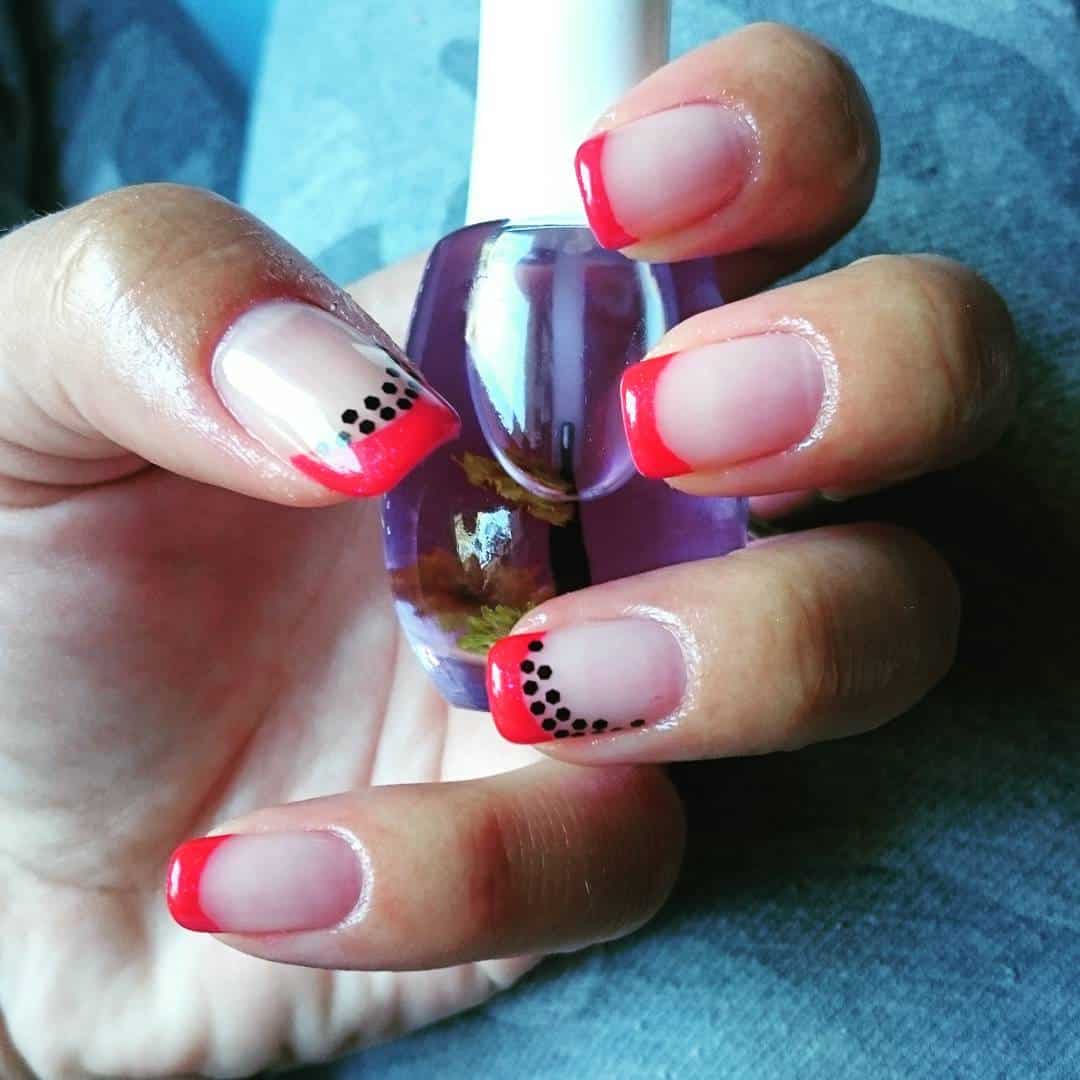 We had red as the base for a French manicure, and now we have it as the top. Point being: red is versatile and can work either way. Top it off with some dots, and you have a very cute, good-looking manicure.
12. Red Cat Nails with Candy Swirl Accent Nail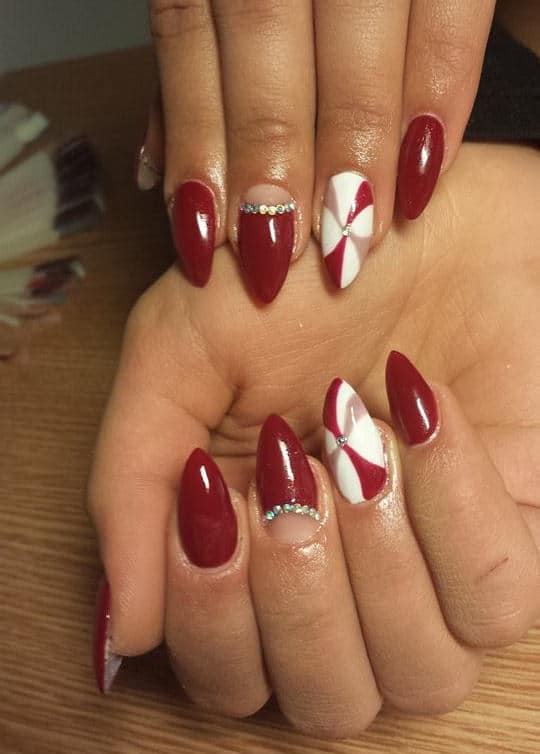 One thing that's been trending the past few years is a focal nail, i.e., one nail that brings everything together. In that spirit, a swirl definitely brings things together.
13. Red and White Nails with Heart-Shaped Rhinestone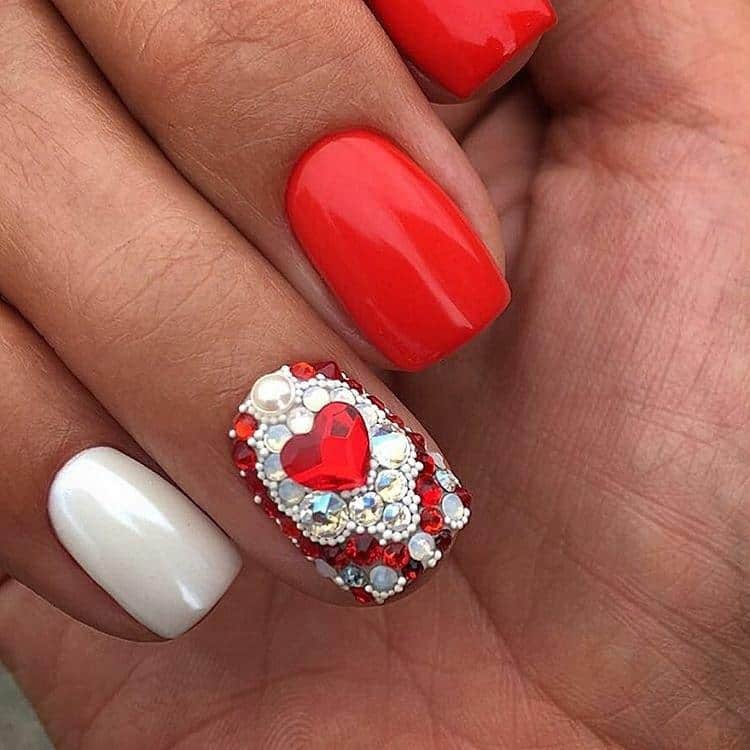 There are a bit too many rhinestones for my taste here. But I don't judge. I fully understand that there are some women out there who want to decorate their nails. And we've already established that rhinestones make the best accessories.
14. Shiny and Matte Black and Red Playing Card Pattern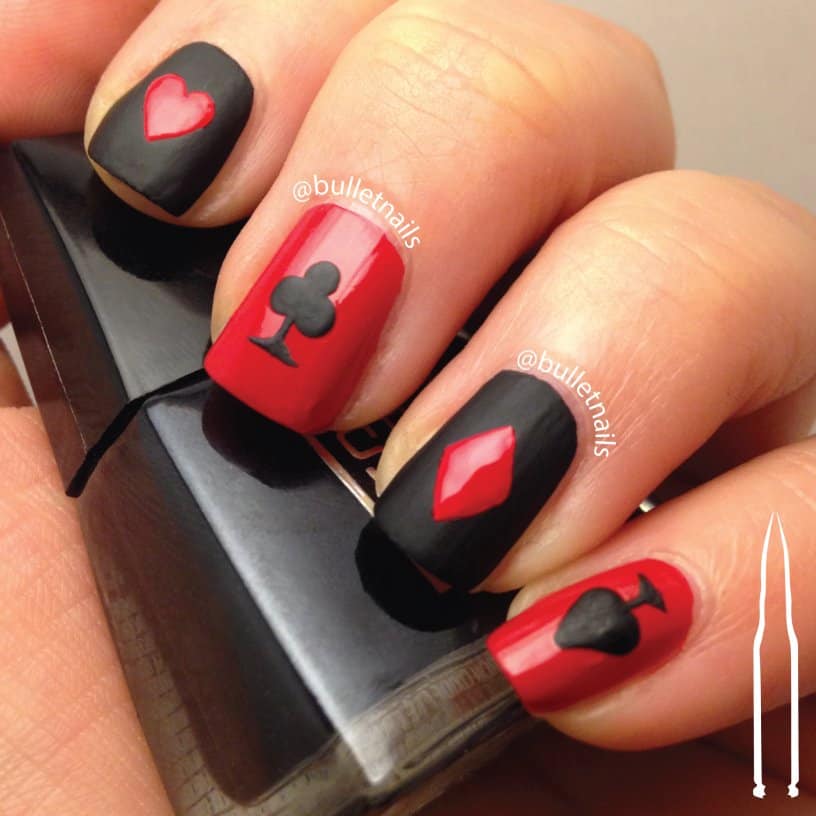 You can find inspiration in anything. Sometimes, all you have to do is play cards, and you'll find inspiration for your next manicure. Such is the case here. And black and red is a perfect combination to maximize the look.
15. Red Flower Stiletto Nail Design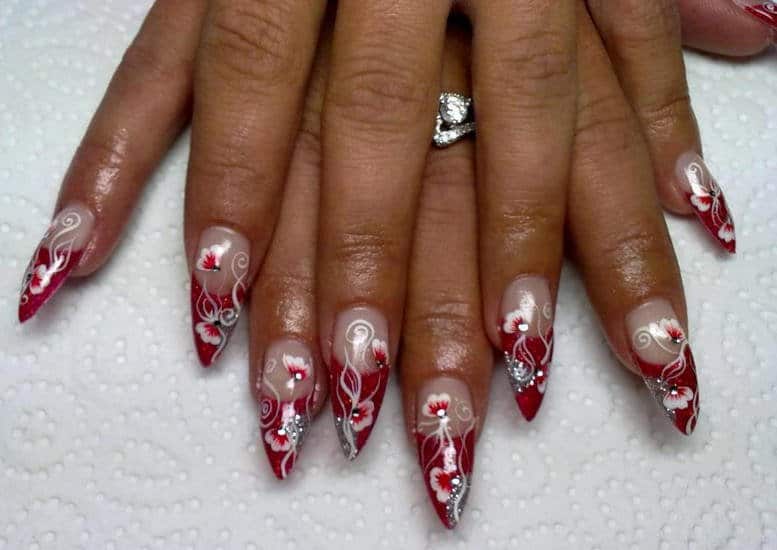 As you've noticed by now, stiletto nails are the sexiest nails. It's like you can't go wrong with stiletto nails (if your goal is to look sexy and attractive, that is!). Combine stiletto and red, and you have a winning combination.
16. Gradient and Glitter Red and White Nails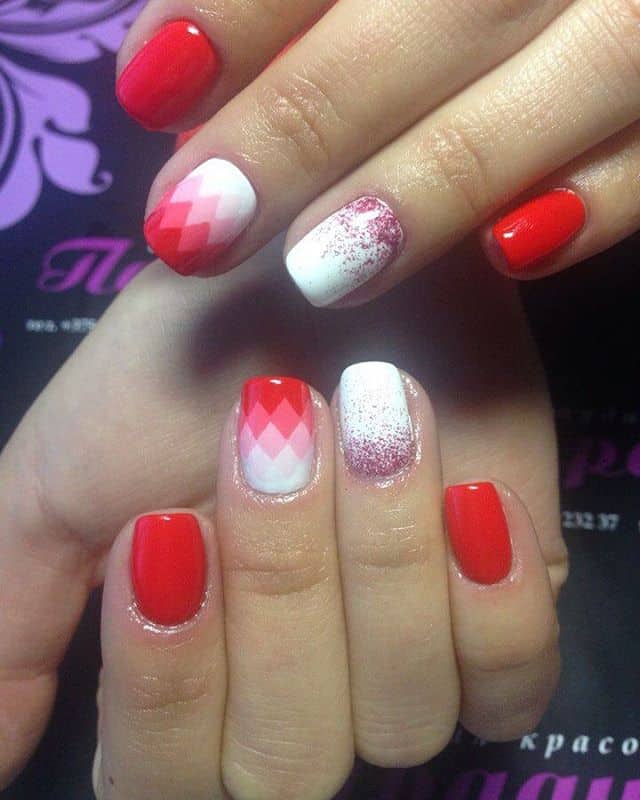 You can combine several different styles on your nails, and this is a living proof of that. You have glitter, and then you have gradient nails. The latter is different shades of the same color.
17. Minnie Mouse Stiletto Pattern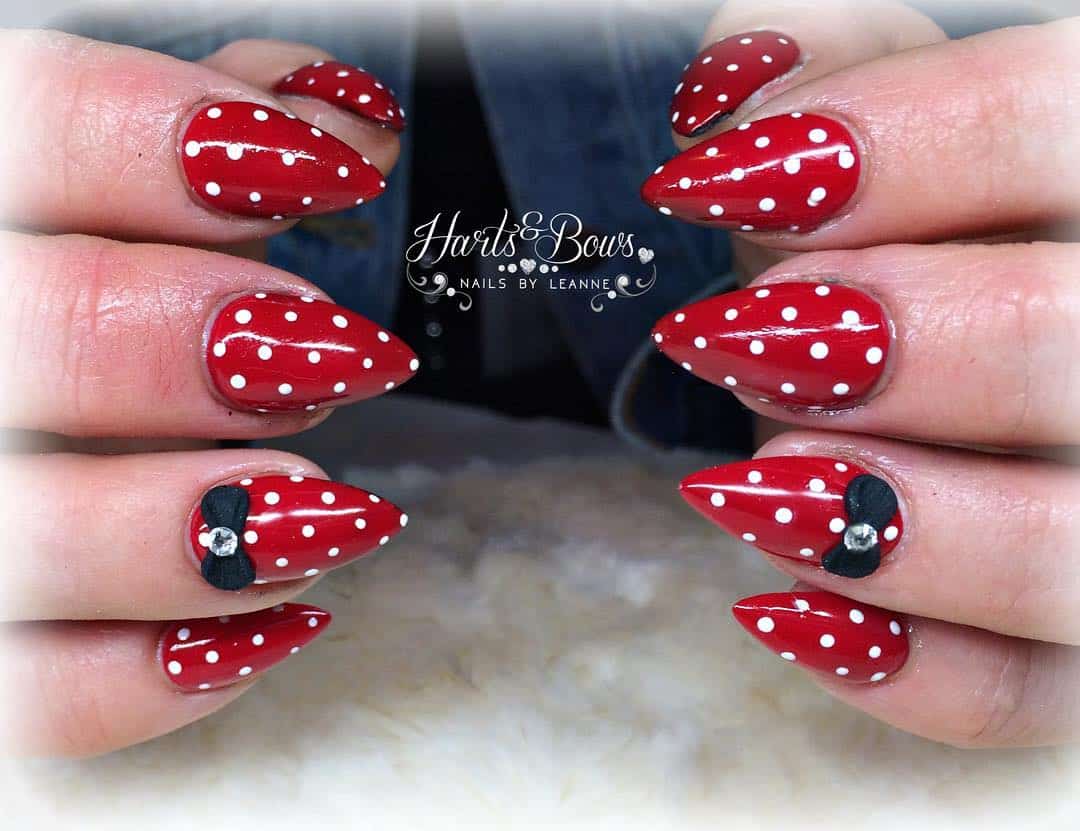 To be fair, you can't try red without some Minnie Mouse in there. The Disney character is one of the most popular feminine symbols. Plus, the polka dots look amazing.
18. Black with Glitter Tips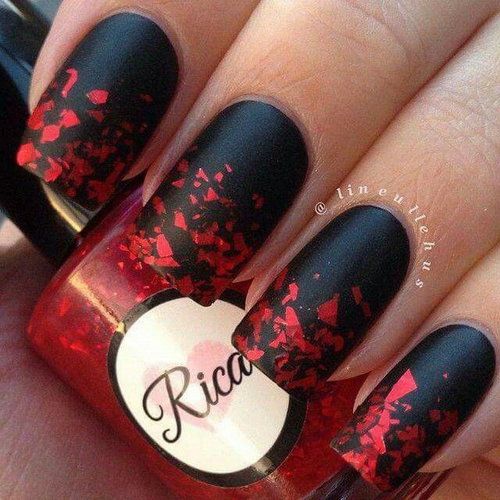 In most cases, we had red as the base of the manicure. But in this case, we have red as the accessory. It just shows that you can use the color any way you want.
19. Red Nails with White Roses and Ballerina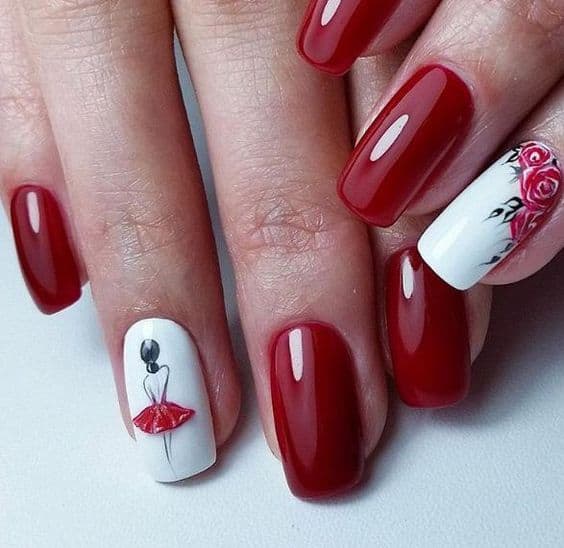 The thing I love the most here is not the ballerina. She's beautiful, don't get me wrong. But what I love the most is the shiny red color. It just glows. As for the ballerina and the roses, they are just an elegant touch of romance.
20. Matte and Shiny Red Nails with Rhinestones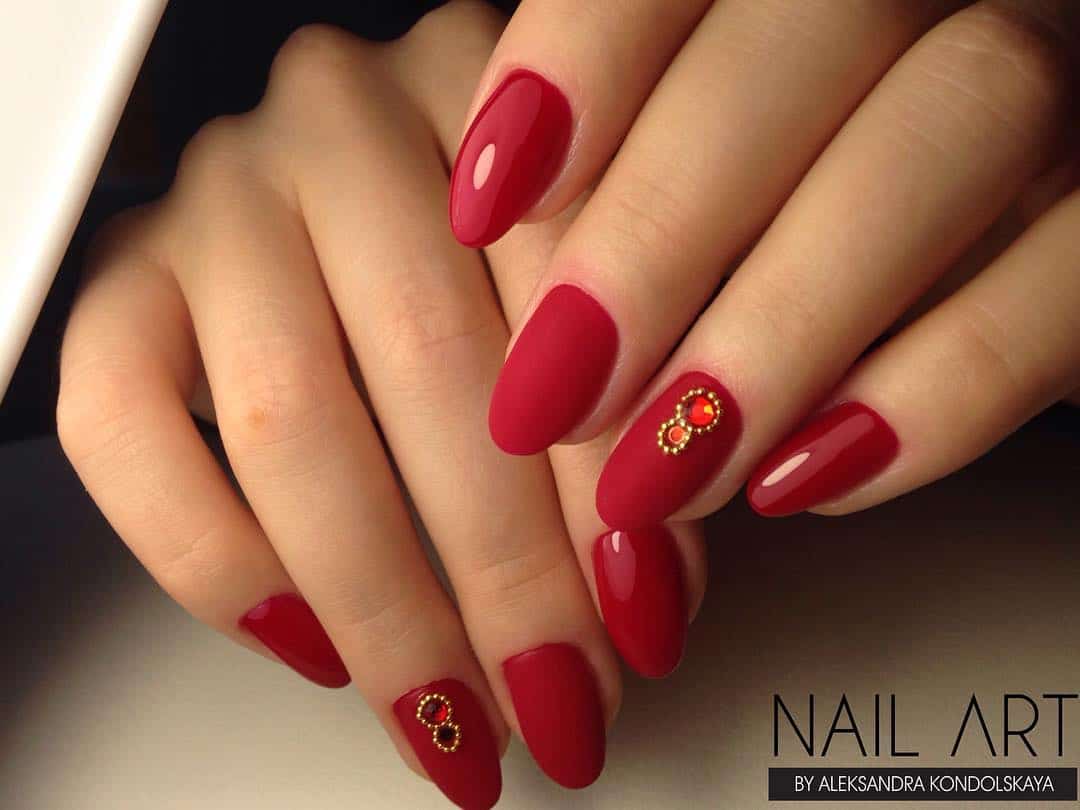 You'll see a lot of shiny red nails. And you'll see a lot of matte red nails. But you'll rarely see the two combined together, which is what makes this manicure unique. Rhinestones are a nice touch as well.
21. Red, Pink and Gold Rose on White Base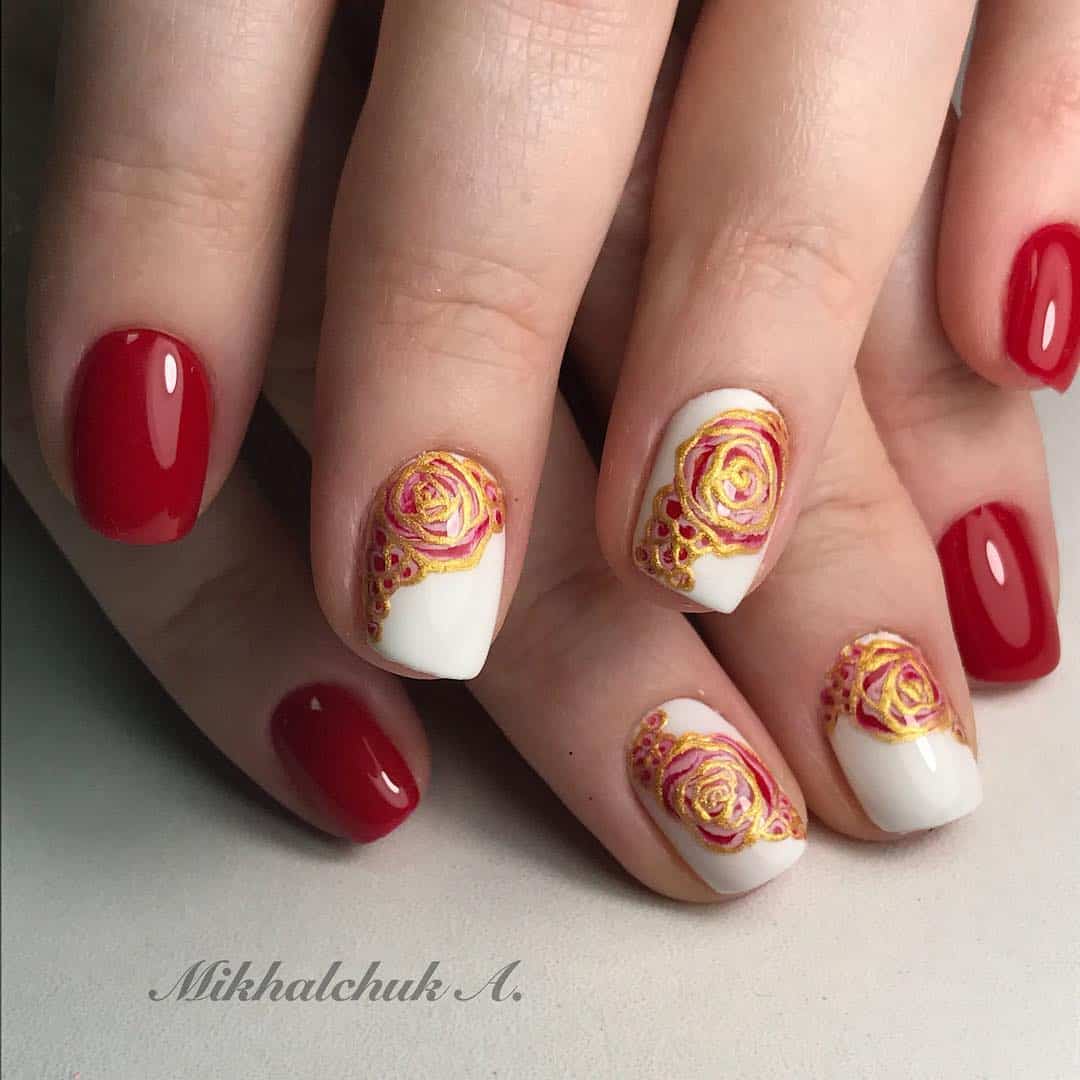 Red and white. That's a combination that you can always try. And then you have an artistic rose in the middle. The manicure is just flawless.
22. Clear Red and White Nails with Diamond-Shaped Rhinestones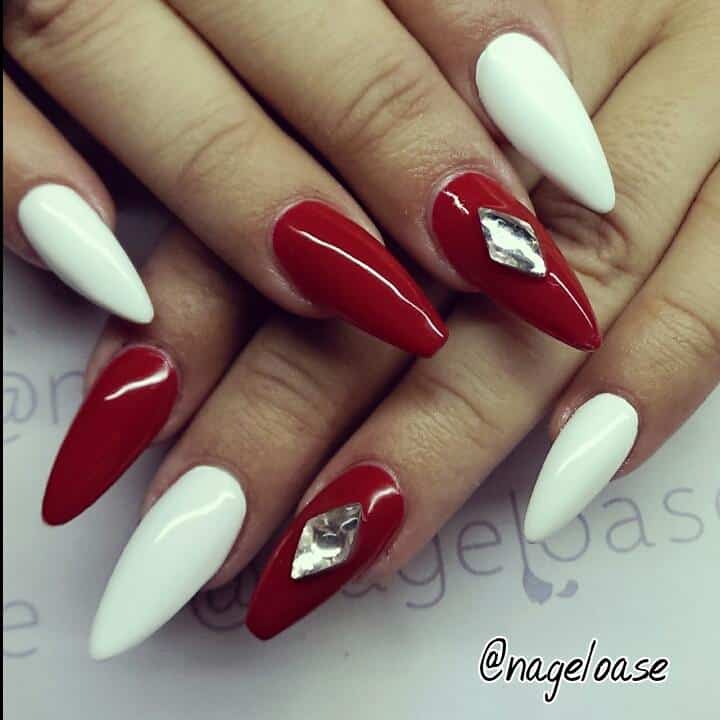 Another red and white manicure, and another different idea. Just look at how many different ideas we had with just a plain white and red manicure. In this case, the goal is to look elegant. Diamonds are a girl's best friend, so it's only fitting that we have some on this elegant manicure.
23. Red Gel Nails with Colorful Dots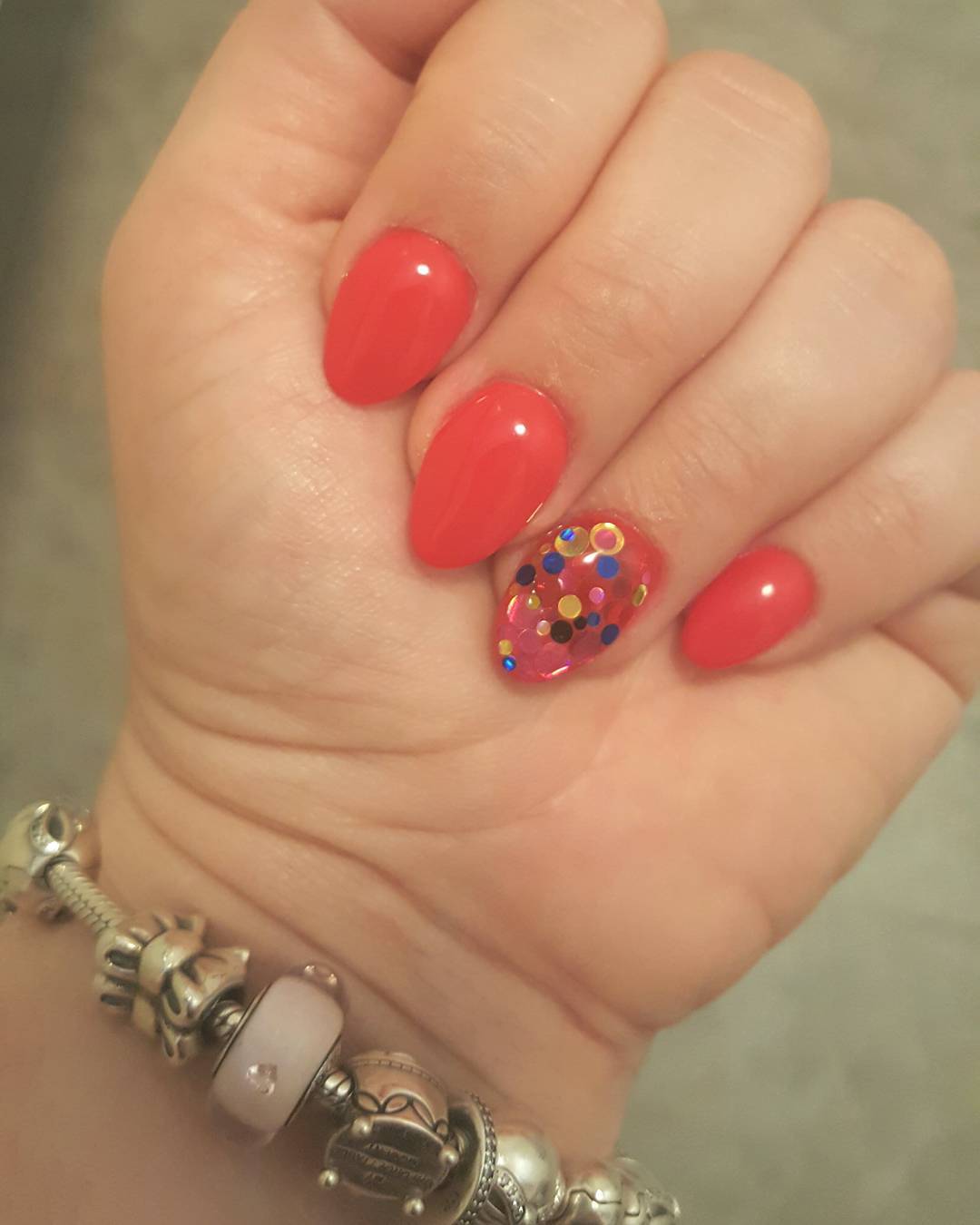 As you can see, there are different ways you can do polka dots on a red manicure. Going the Minnie Mouse path is not the only one. You can get all the colors of the rainbow on your nails. As simple as that.
24. Reverse French Mani on Red and White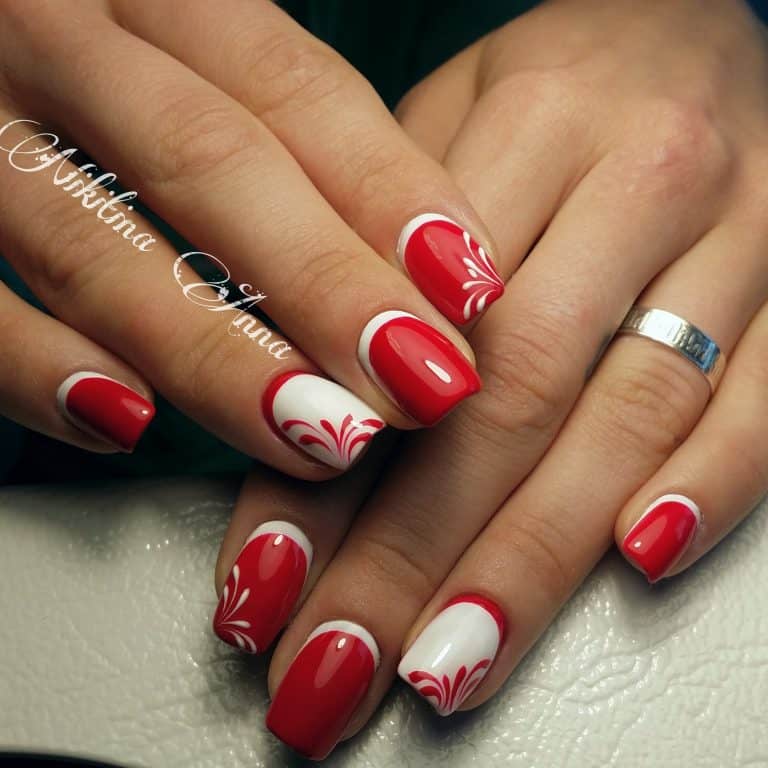 We had a French mani with red as the base, and a French mani with red as the top. And now, we have a reverse French manicure. I have to say, French is one of the most versatile, simple manicures. You can try so many different designs.
25. Short Red Nails with Glitter Accent Nail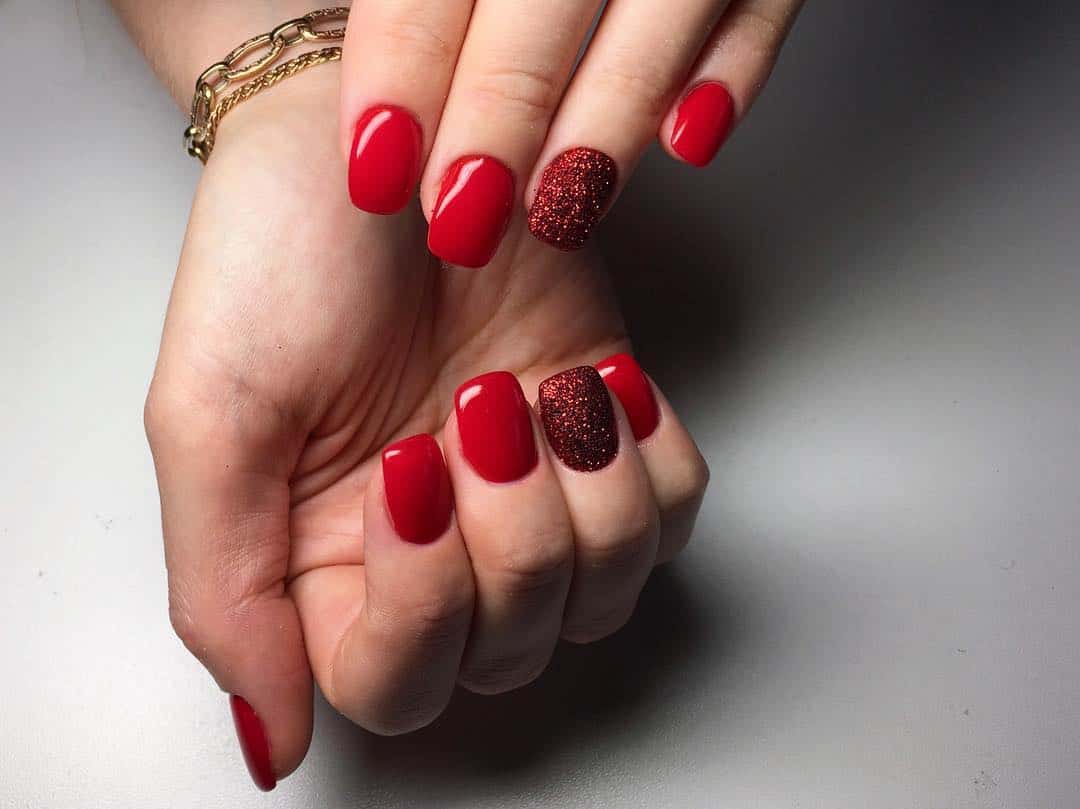 When you have short nails, you're limited in the way you can decorate them. Short nails look dull and boring. Which is why you should find a way to add something unique. Glitter is one of the simplest ways you can do that.
26. Red Nails with Black and White Lace Stamp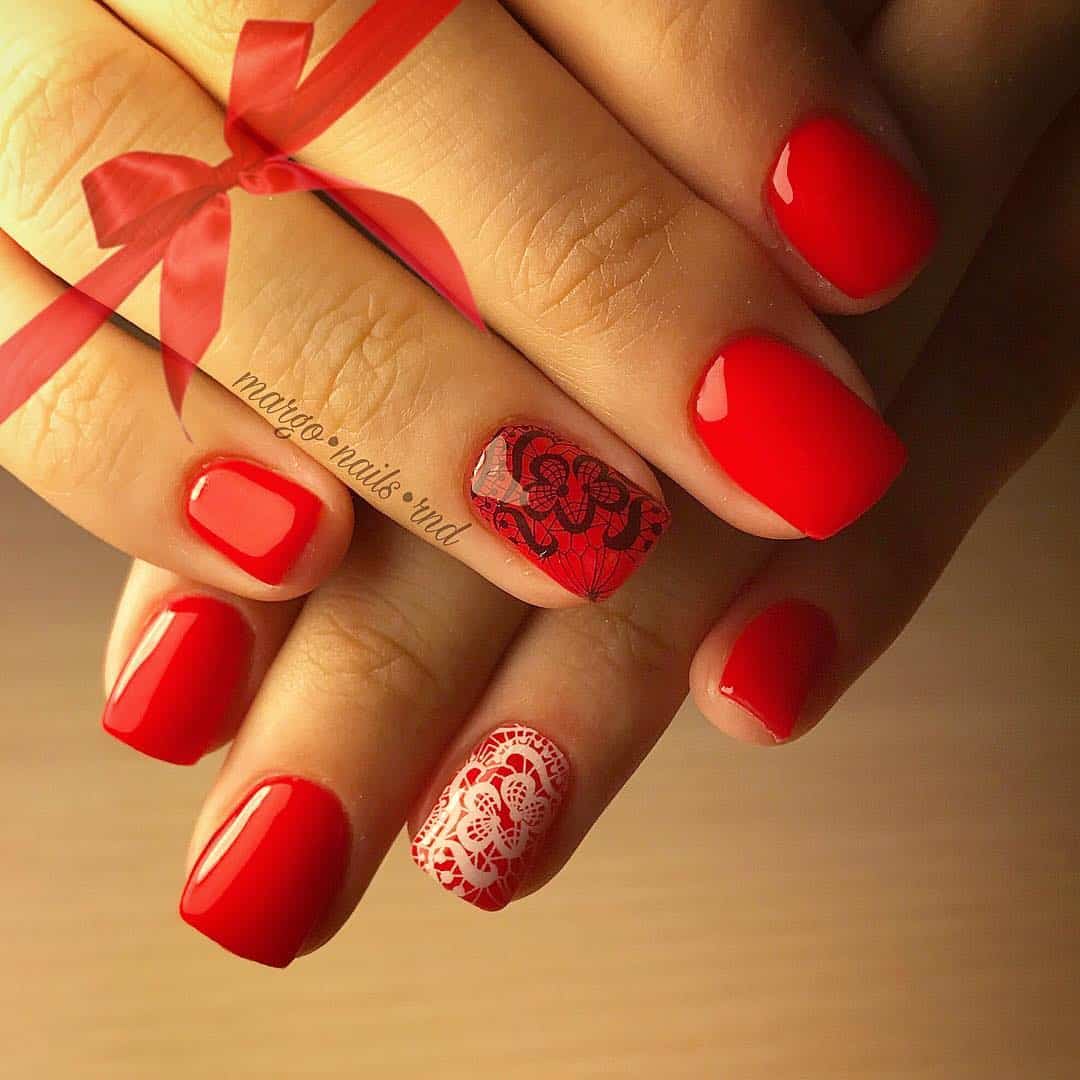 Another perfect design for short nails. All you have to do is accent one nail with a lace decoration, and that's that. I love how one hand gets white lace and the other black lace.
27. Black and White Swirls and Red Center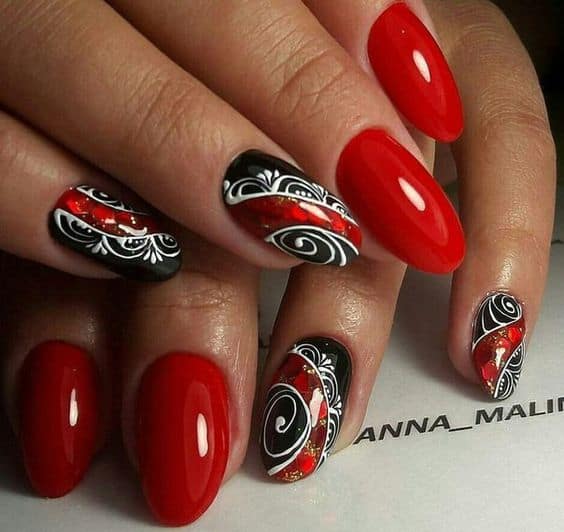 You can be sure people will stare at your nails for minutes. The design is definitely unique—one that you rarely see. And if you thought it would take a lot of time and effort to get it, think again.
28. Red with Gel 3D Dots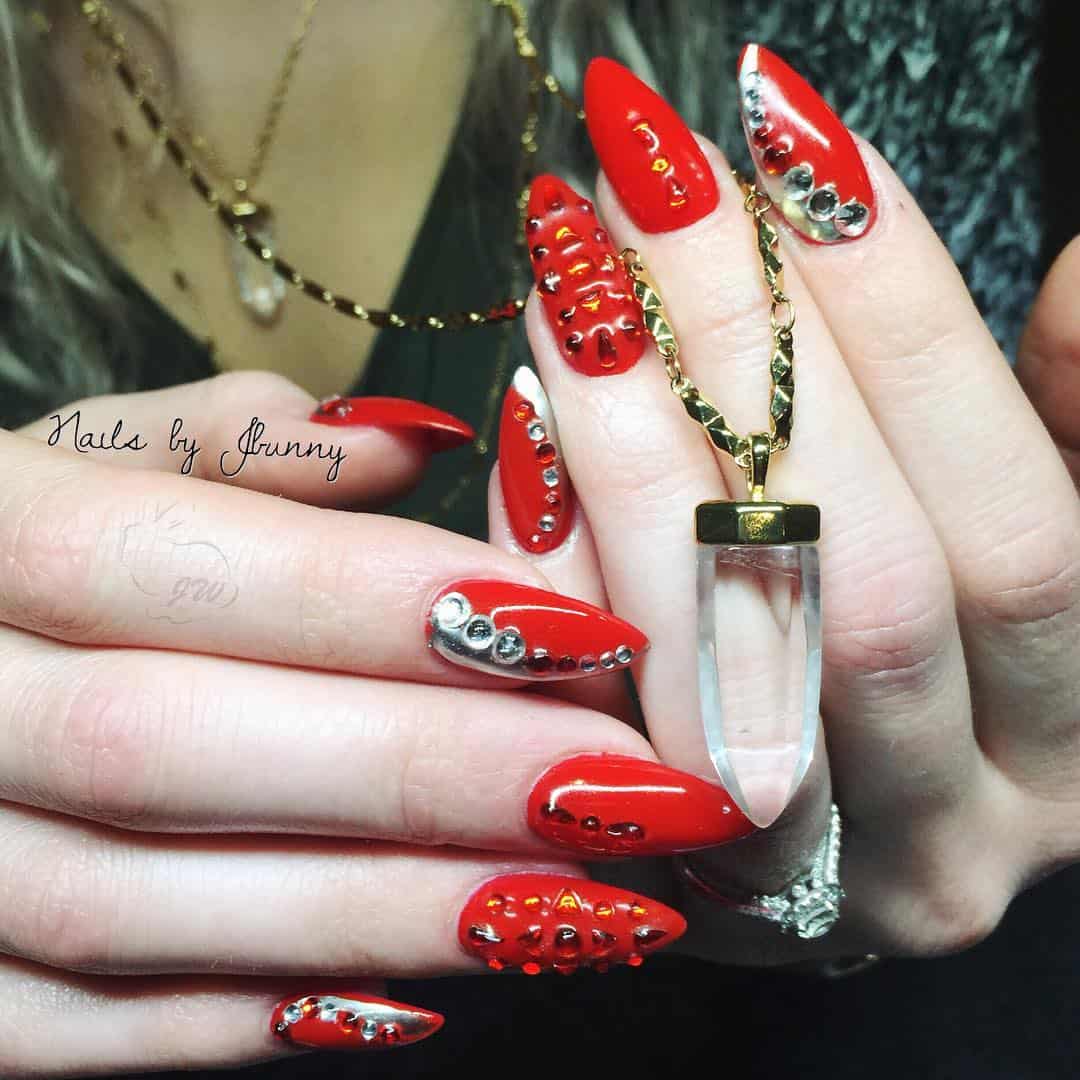 I've noticed that people aren't satisfied with just two dimensions anymore. They want a third dimension. The trend came into the world of manicures as well. Personally, I don't know why would you need a third dimension to add depth to your nails. But hey, some people want it. And this is just one idea.
29. Red with Poppy Flower Design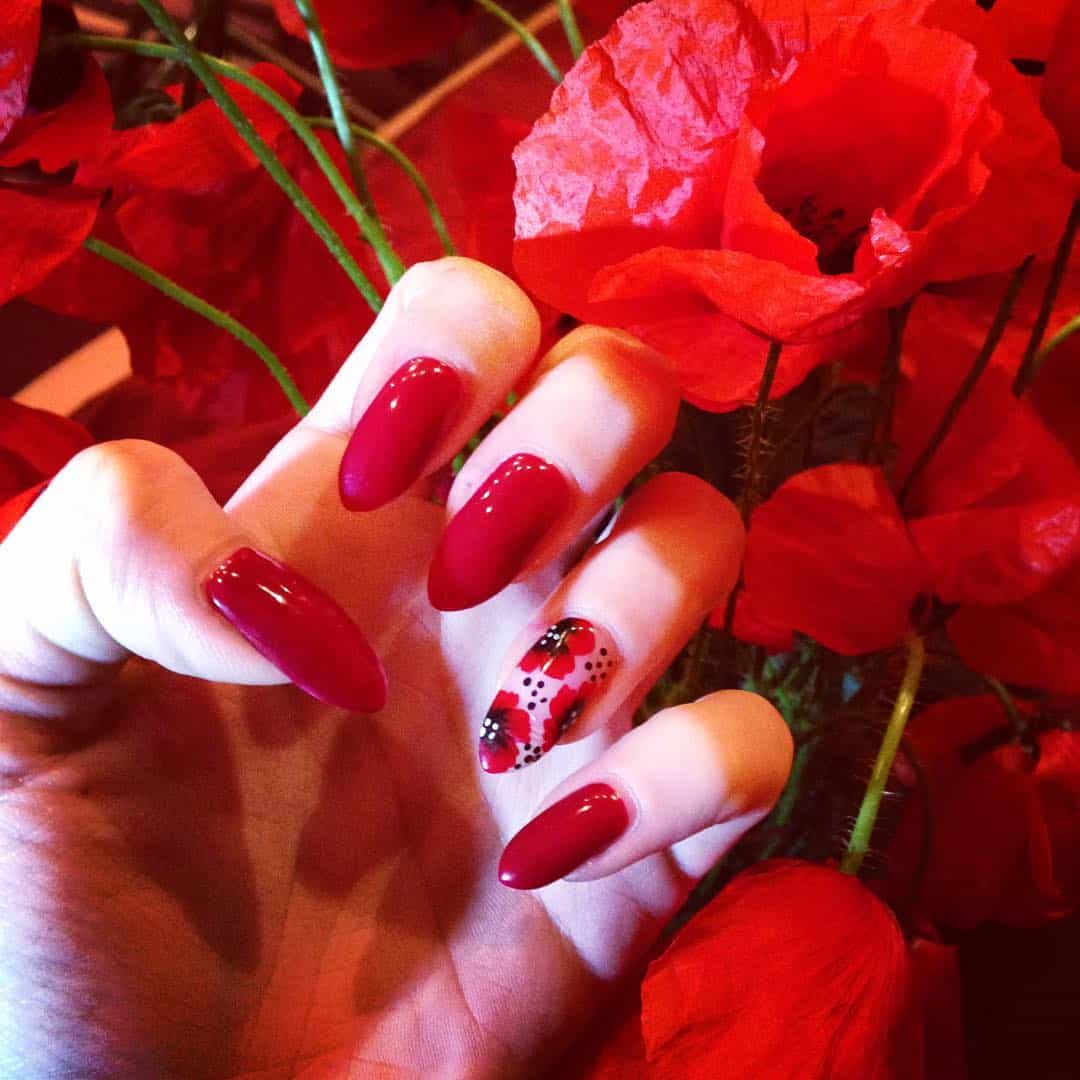 One of the simplest ways to make your nails pop is to add a flower. And red nails benefit from that as well. Truth be told, red nails pop enough on their own. The flower in this case serves more for balancing things out, and less for popping out.
30. Red Nails with Ladybug on Skin-Colored Nails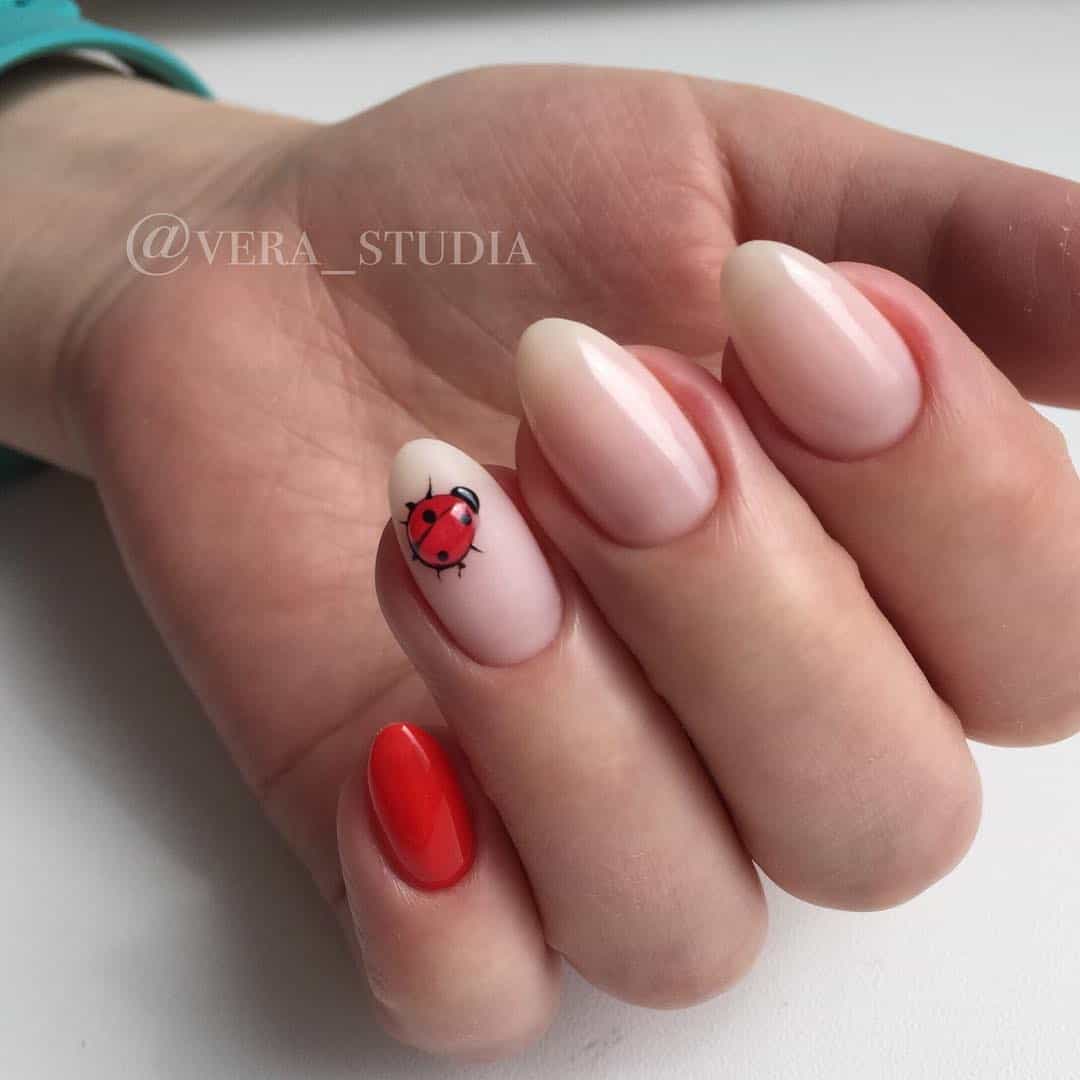 I would like to finish off with a simple, yet very good-looking, design. The ladybug is red, so it's only logical that you could use it to add color to nude nails. As I mentioned at the beginning, not all red nails are provocative and sexy. There are some designs that strive to just be adorable.