One of the household names for home and natural remedies is peppermint oil (and it is also a natural cleanser in the house). The oil is derived from the peppermint plant, a plant that is a cross between the spearmint plant and the water mint plant. Peppermint plants thrive in North America and Europe.
Peppermint oil uses include food flavoring, beverage flavoring, as an ingredient in fragrances and soaps, and much more. But peppermint oil can also be used for health conditions, skin issues, and in the household for cleaning.
Benefits of Peppermint Oil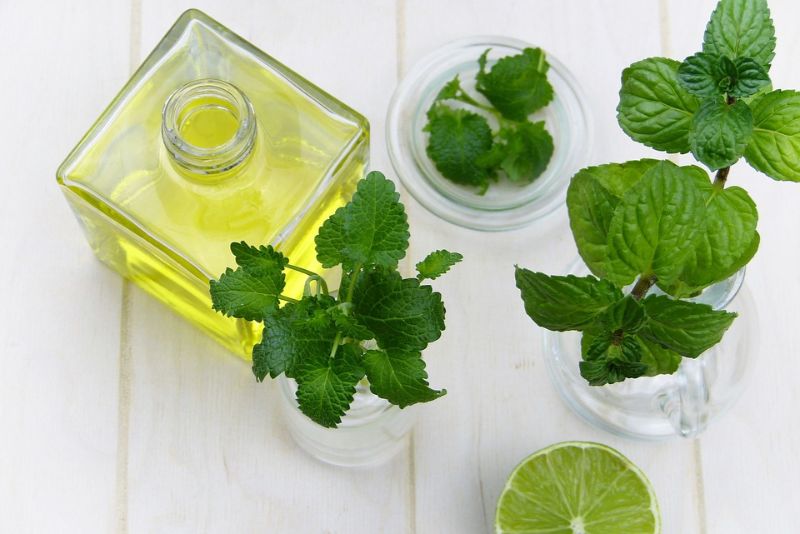 Before we take a look at peppermint oil's many uses, let's list some of its benefits (note that the oil that can be taken both as a supplement and in its natural, raw form):
Antimicrobial properties
Freshens bad breath
Soothes the digestive system
Boosts energy
Improves mental focus
Reduces stomach aches
Releases tight muscles
Clears the respiratory tract
With that being said, there is absolutely no reason you should not have peppermint oil in your medicine cabinet.
Let's take a look at peppermint oil's uses.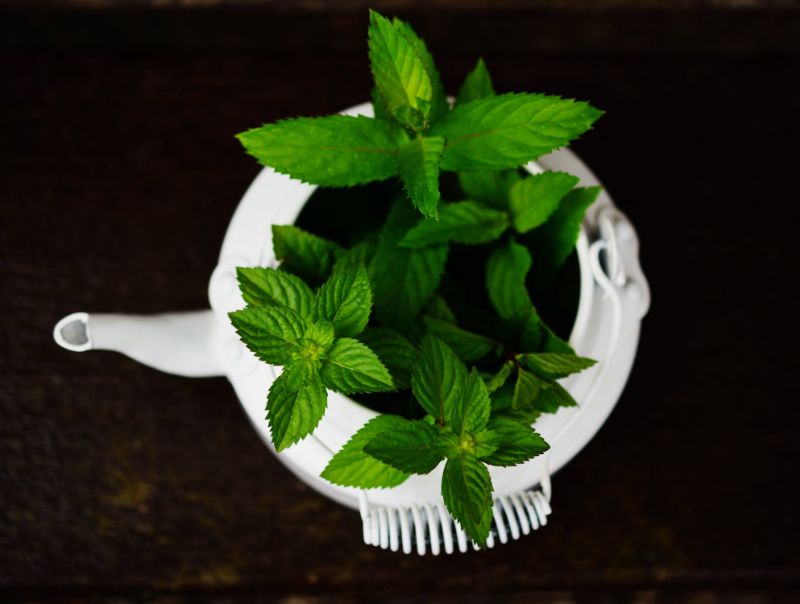 1. Peppermint oil can be used for treating nausea and vomiting. A simple inhalation of peppermint oil will instantly reduce the symptoms of nausea.
2. Morning sickness is a condition in which peppermint oil can be a great help. Pregnant women could use peppermint oil in their first two to three months to alleviate the pain and symptoms of morning sickness.
3. One of the most common uses of peppermint oil is for muscle pain relief. The oil can be classified as natural painkiller and muscle relaxant. Peppermint oil comes in handy for sore muscles and aching backs.
4. Headaches and migraines go away instantly with the use of peppermint oil. You can apply the oil topically on your forehead and watch the pain go away.
5. Speaking of headaches, peppermint oil is also helpful with sinus problems. The trick here is to inhale peppermint oil diluted in some water or diffused. The oil will provide relief for your sinuses while clearing them of mucus.
6. Sinus problems usually appear during allergy season, which is why peppermint oil can also be used for allergy relief. Be it caused by sinus issues or something else, peppermint oil relaxes the muscles in the nasal passages, essentially clearing the pollen from your nasal passages. You can mix peppermint oil with eucalyptus and clove oil during allergy season for maximum effect.
7. Peppermint oil in general helps with respiratory problems. Symptoms of bronchitis and asthma can be relieved with a homemade vapor made with ¼ cup olive oil, ½ cup coconut oil, and ¼ beeswax, peppermint and eucalyptus oil. Place the olive oil, beeswax and coconut oil in a jar, and then place the jar in a saucepan filled with an inch of water. Reduce heat to low, and allow the oils to melt. Once melted, add the essential oils, and then use the mixture for a vapor rub.
8. While on the subject of pain, joint pain is one of the most common problems of people older than 35 years old. The modern dynamic of our lifestyle is often the cause for joint pain. And when your joints get achy, all you need to do is topically apply some peppermint oil on them. You can mix the oil with lavender oil for maximum results.
9. Diarrhea, one of the most exhausting conditions that happen as a result of bacterial or viral infection, can also be cured with the use of peppermint oil.
10. And because peppermint oil helps with the abdomen, the oil can also help cramps in the upper gastrointestinal tract.
11. Peppermint oil essentially targets bacteria in the small intestine, preventing their growth and reproduction.
12. For people on a diet, peppermint oil is great way to reduce hunger cravings when you're trying to lose weight. In most diets, people go through a period of starvation, and when those hunger cravings kick in, inhaling peppermint oil staves off the munchies and helps you feel full.
13. At the same time, peppermint oil works as an energy booster, providing you with a natural way to increase your energy levels. If you need an energy drink, just take a whiff of peppermint oil.
14. Speaking of energy improvement, peppermint oil helps people with chronic fatigue syndrome, improving their concentration and focus, and letting them fall asleep easily.
15. Colds and coughs are a thing of the past when inhaling peppermint oil. During the cold season, peppermint oil can become your best friend and excellent travel companion. Use it anytime, anywhere.
16. The oil can also be used to treat fever in small children. Mix peppermint oil and coconut oil, and then rub the solution on the bottom of your children's feet and on their neck. This will stabilize the fever, often acting more effectively than some antibiotics.
17. One of the side effects of a cough and cold that peppermint oil also helps with is inflammation of the throat and mouth.
18. When suffering from a toothache, one of the ways to reduce the pain is peppermint oil. Dip a cotton swab in some peppermint oil, and apply it topically on the problematic tooth.
19. For skin conditions, some of the many peppermint oil uses include helping with allergic rash and mosquitoes bites. The oil relieves the itching.
20. Another skin problem is skin inflammation, for which you need to mix lavender oil into body lotion. The solution will provide a cooling sensation and relief.
21. When applied topically, a mixture of lavender oil and peppermint oil can help with some skin conditions like psoriasis and eczema.
22. For sunburn relief, mix peppermint oil with coconut oil, and then apply topically. The mixture will help hydrate the skin as well as relieve the pain.
23. Acne treatment is another area where peppermint oil helps by applying it topically to your face. Dilute the oil with a pinch of water, and enjoy the cleansing effects of the anti-microbial oil.
24. For better concentration, spritz some peppermint oil on your shirt before study time. If you don't want to "ruin" your shirt, just place a drop of essential oil under your nose or tongue.
25. As part of your dental hygiene, peppermint oil can be used to reduce cavities. Mix peppermint oil and tea tree oil in equal amounts, add spring water, and then use the solution as a mouthwash.
26. To refresh your breath, add a drop of peppermint oil under your tongue and then drink a glass of water.
27. For small children and infants, a mixture of peppermint oil and coconut oil helps with teething and pain caused by it. Rub the gum area with the mixture.
28. Peppermint oil is an essential ingredient in many hair growth products and general hair care products. A mixture of peppermint oil, rosemary oil, a tablespoon of baking soda, 3 tablespoons of olive oil and some aloe vera gel can be used as a homemade shampoo for hair growth.
29. A simple shampoo can also be improved by adding few drops of peppermint oil. The mixture will remove dandruff and stimulate the scalp.
30. Some doctors recommend taking peppermint oil capsules for treating irritable bowel syndrome.
31. In general, peppermint oil can help with bloating and indigestion. For this, you need to brew a peppermint oil tea or add some peppermint oil to a glass of water and drink it before meals.

32. You can also calm an upset tummy by rubbing few drops of peppermint oil on the stomach.
Make sure to dilute the oil with coconut oil.
33. To get rid of bugs, ants, cockroaches, mice, and even mosquitoes, add some drops of peppermint oil to a cup of water and place the cup in your room to repel bugs.
34. To soothe the muscles after a tough workout, prepare a mixture of vegetable oil and peppermint oil. Massage your body with the mixture for a refreshing feeling.
35. Inhale some peppermint oil before your workout and your senses will awake in a minute. This will get you in the right mood for exercising, and you won't ask the question "Should I work out today?" anymore.
36. You can also prepare a home spa by adding peppermint and eucalyptus oil to a hot bath.
37. For stress relief, mix peppermint oil, geranium and lavender essential oils. Add the oils to a warm bath to relieve stiffness caused by stress.
38. Calm your feet after a long day standing or wearing hard-soled shoes by adding peppermint oil to a cold water compress. Apply the compress on your tootsies.
39. When applied topically, peppermint oil can reduce the chances of fungal nail infection thanks to its anti-fungal properties.
40. One of the ways to improve all cooking recipes is by adding some peppermint oil. You can add peppermint oil to hot chocolate, in brownie frosting, in red velvet cupcakes, peppermint cream cheese, and much more.
41. To improve your blood circulation, integrate peppermint oil into your daily routine. Your pulse rate and circulation will improve the second peppermint oil and its vapor touches your skin and comes into contact with the olfactory nerve endings.