Japanese symbols, art, calligraphy, and designs look exotic. Going for a Japanese traditional symbol helps you get a unique tattoo.
Sometimes, traditional designs can be a bit too traditional. But in the world of tattoos, there is no such thing as too traditional. Tattoo artists find a way to modernize everything, Japanese tradition included. That being said, let's take a look at several traditional Japanese designs that you can put on your body.
1. Phoenix Bird and Koi Fish on Back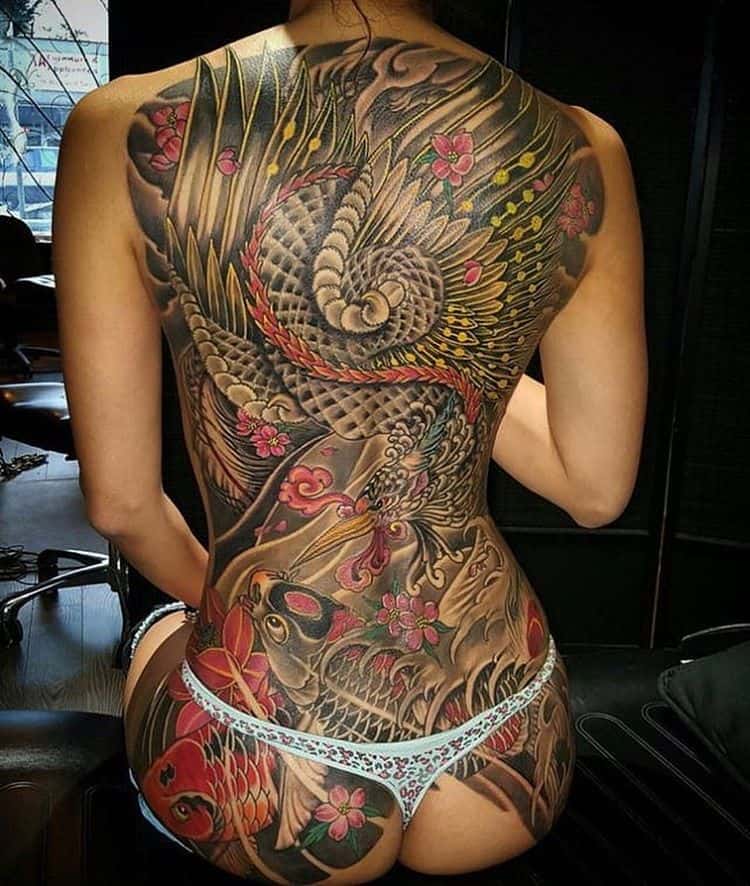 The phoenix bird is one of the more popular choices. After all, it symbolizes rebirth, an idea most of us cherish. A phoenix rising from the ashes. You've heard that line probably a million times, be it in songs, poems, books, etc. The koi fish is another popular option, and blended together, these two deliver a colorful and unique tattoo.
2. Full Sleeves Wolf and Oni (Demon)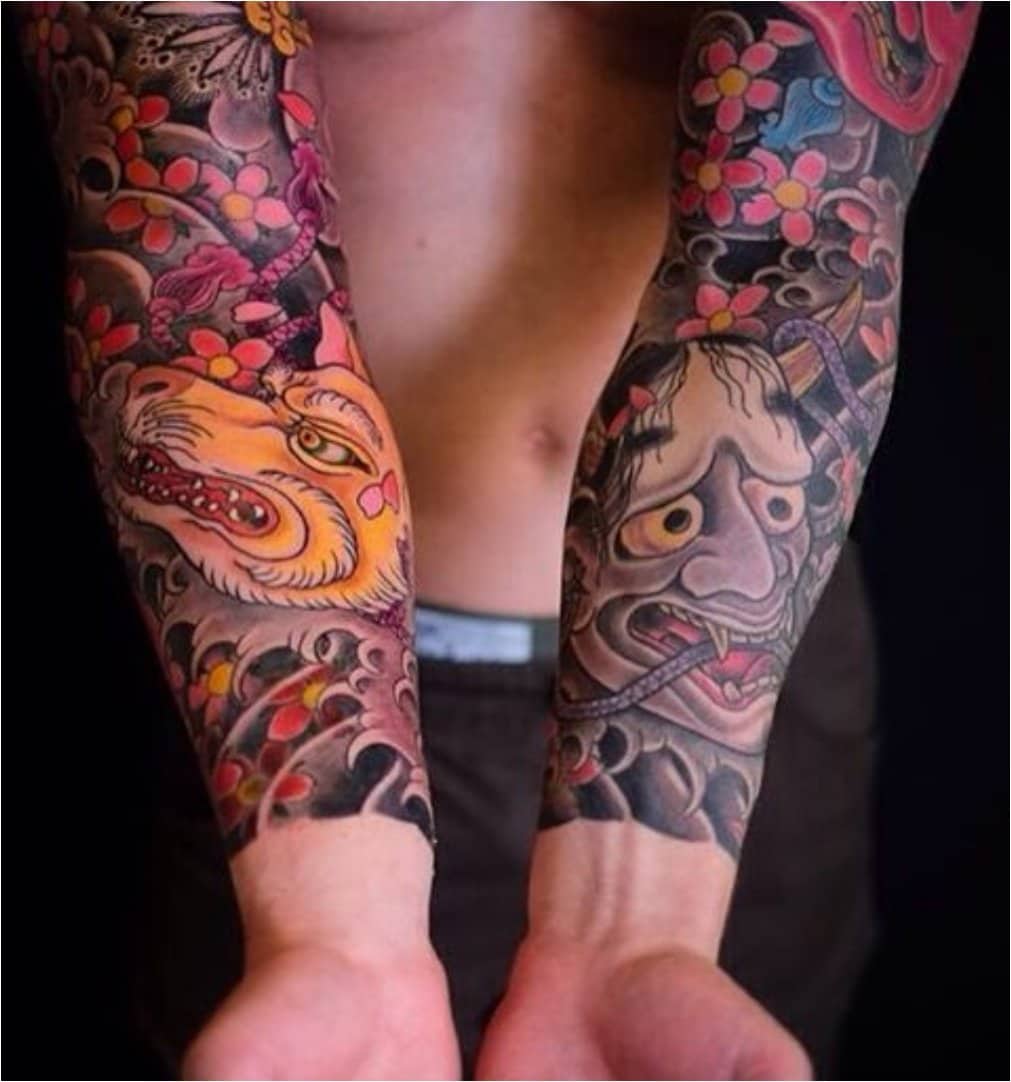 Oni is one of the most popular aspects of the Japanese folklore. They translate as trolls, demons, ogres, and such. You can find many Oni statues in Japan, and they all have different appearances. Some are scary, others are comical. The latter applies here, giving the tattoo a perfect balance to the fearsome wolf.
3. Blue Oni, Waves and Koi on Leg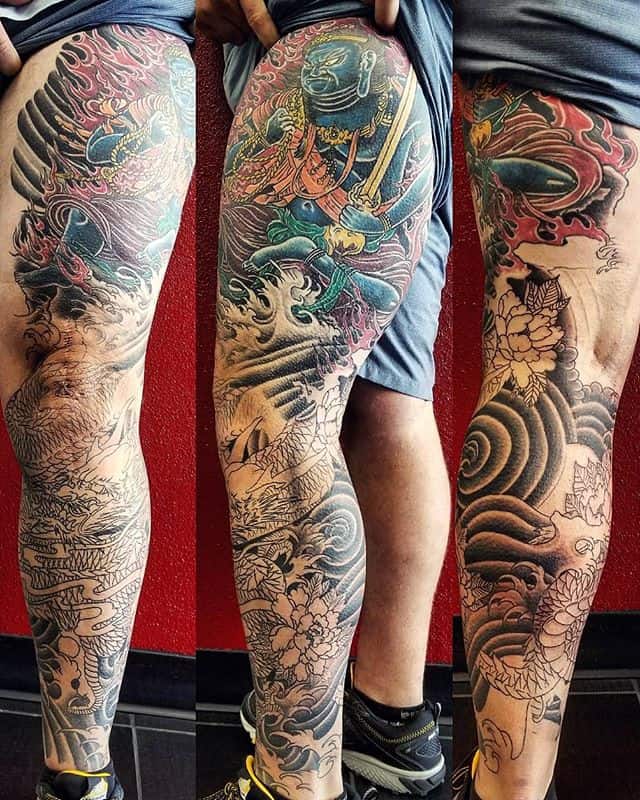 This Oni, on the other hand, is more scary and stoic. As mentioned previously, there are different ways to get an Oni on your body. It all comes down to your character.
4. Red Japanese Style Flower on Arm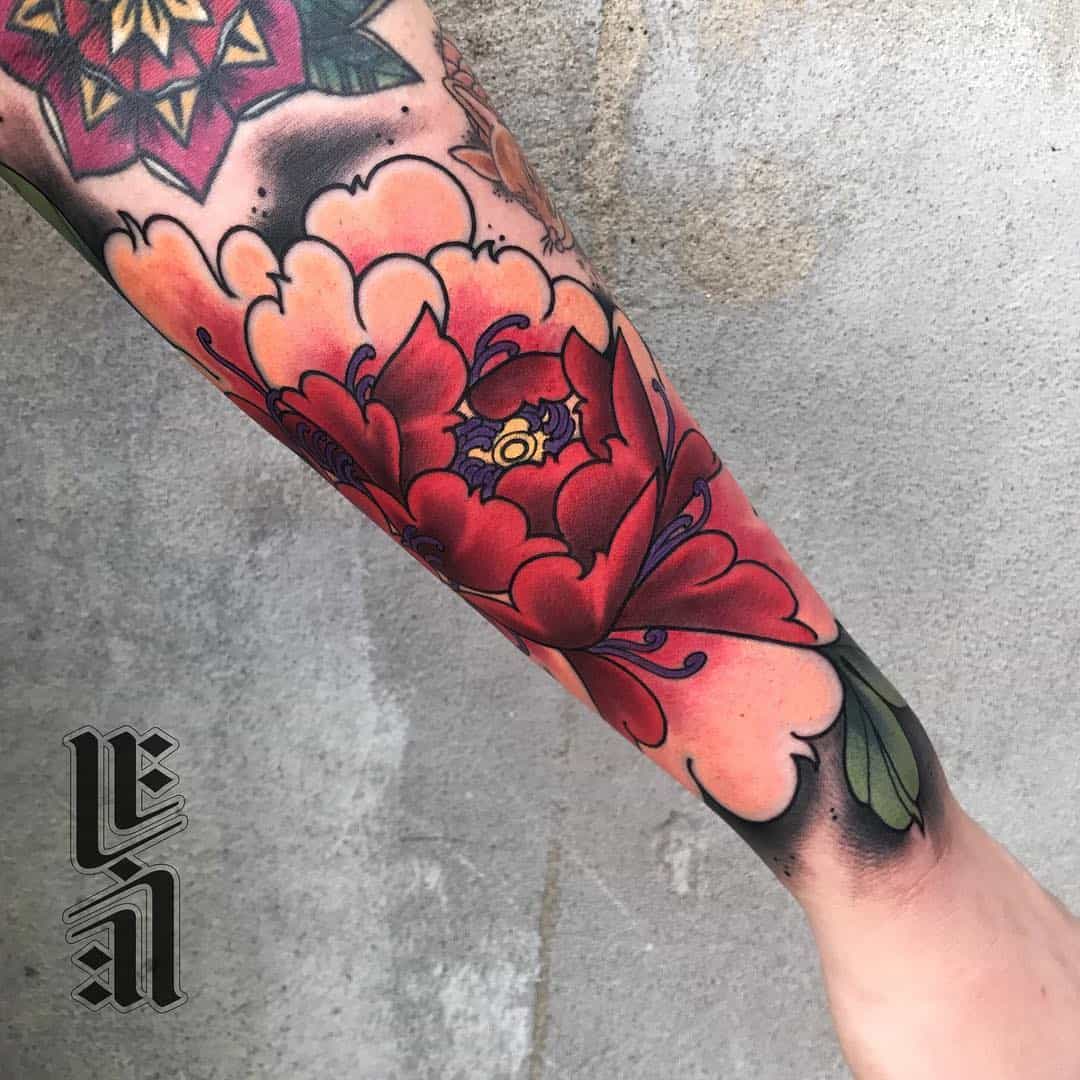 Japan is famous for its cherry blossom festival, and flowers are another huge part of Japanese tradition and culture. And the good news is that flowers look unique in Japan. If you want flowers, but you want to get away from the common Western choices, a Japanese flower is a great choice.
5. Black Sleeves with Yellow Flowers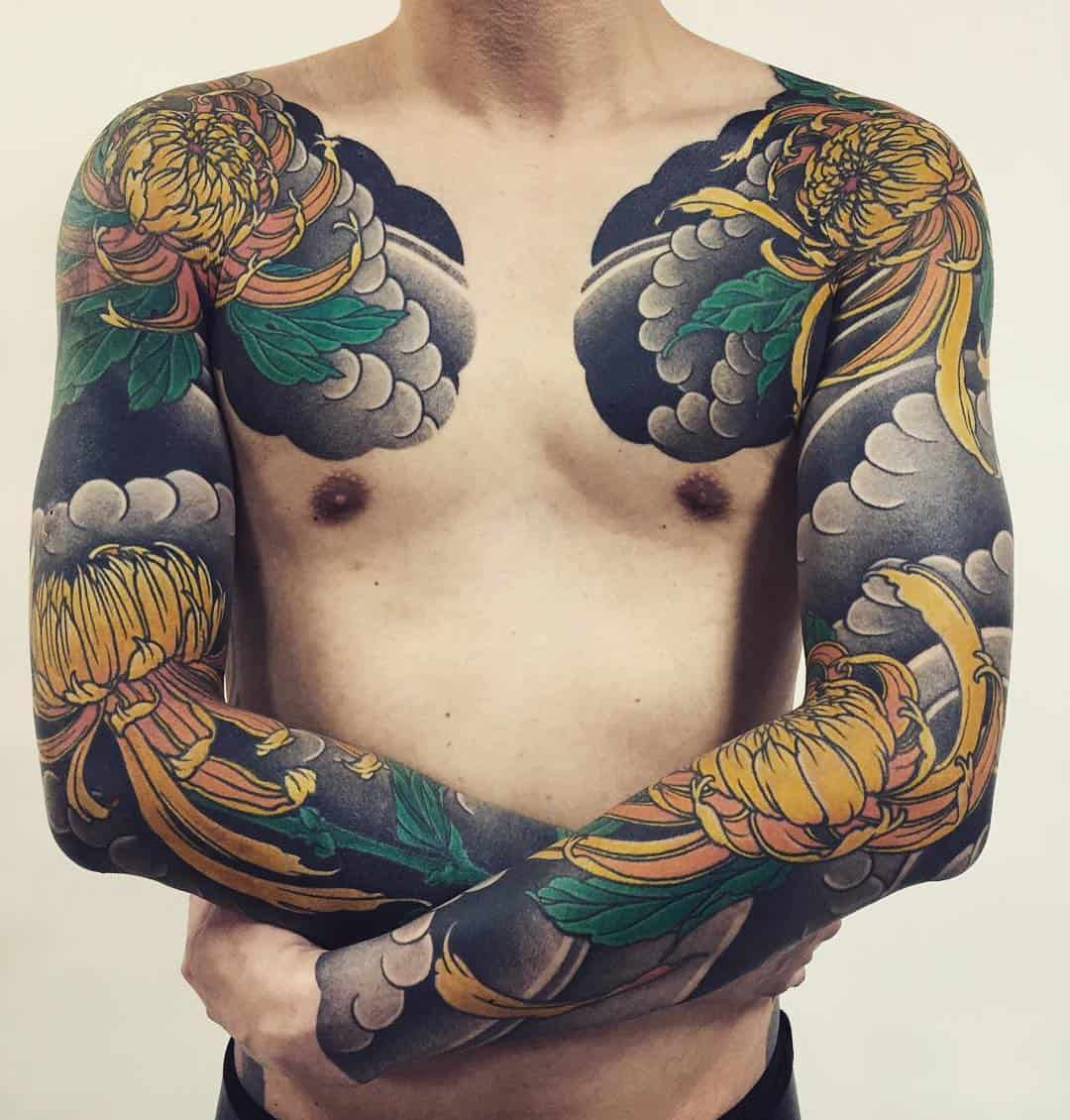 Speaking of flowers, here is another great example. Some people want to set up a black base for colorful flowers, and this is such a tattoo.
6. Black and White Dragon Sleeve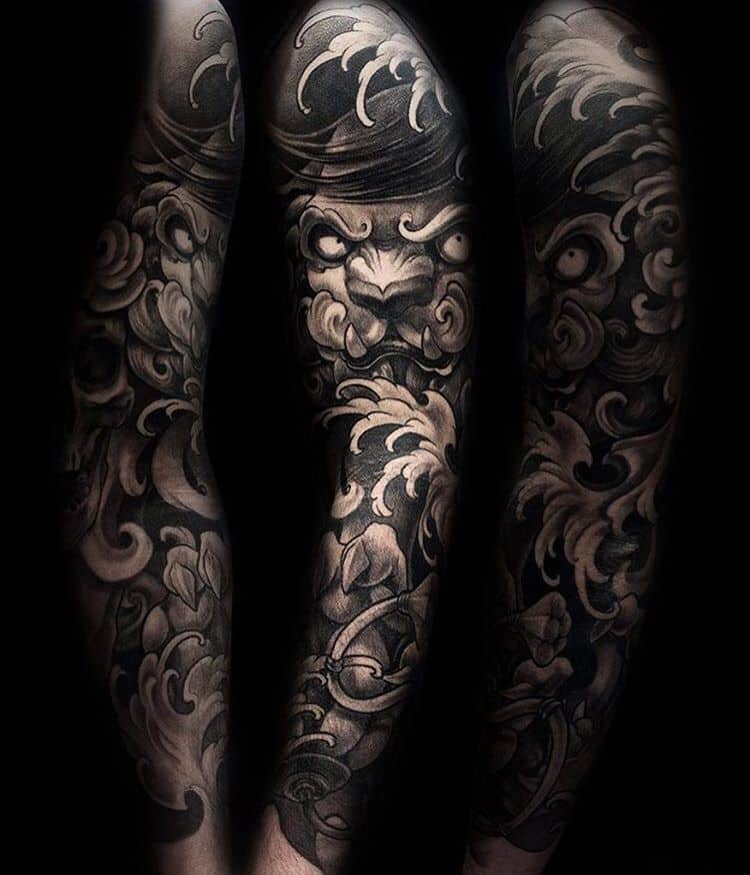 You can't do a Japanese ink list without some dragons. Truth be told, dragons are more common in Chinese tradition. But China and Japan are two very closely related countries. They have different traditions, but they are neighbors, so there are some fusions. Speaking of the dragon, it's all about being dark and scary in this case.
7. Tiger on Back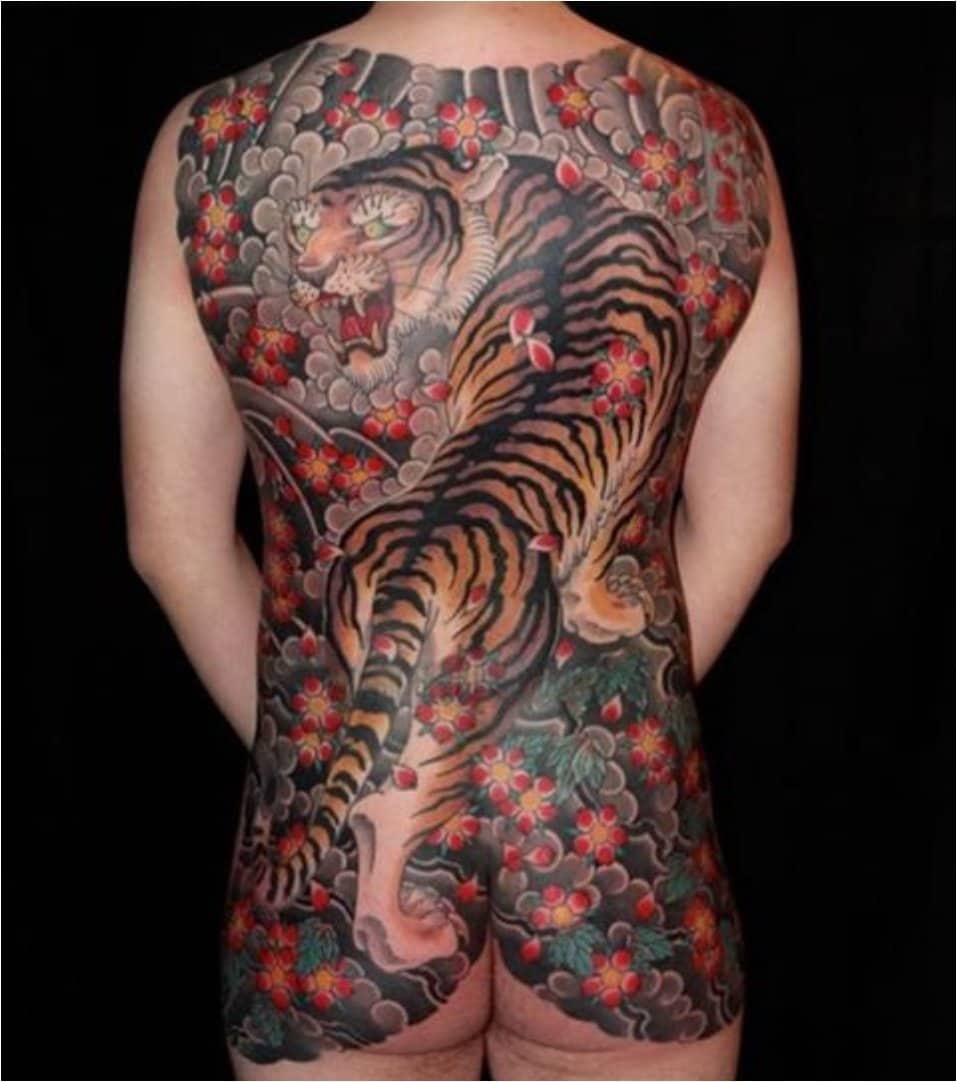 The tiger is another common animal in Japanese folklore and culture. And when you go for a tiger, it has to be scary. No matter that the tiger is surrounded with flowers and colors, it's still scary.
8. Koi Fish and Flowers Sleeve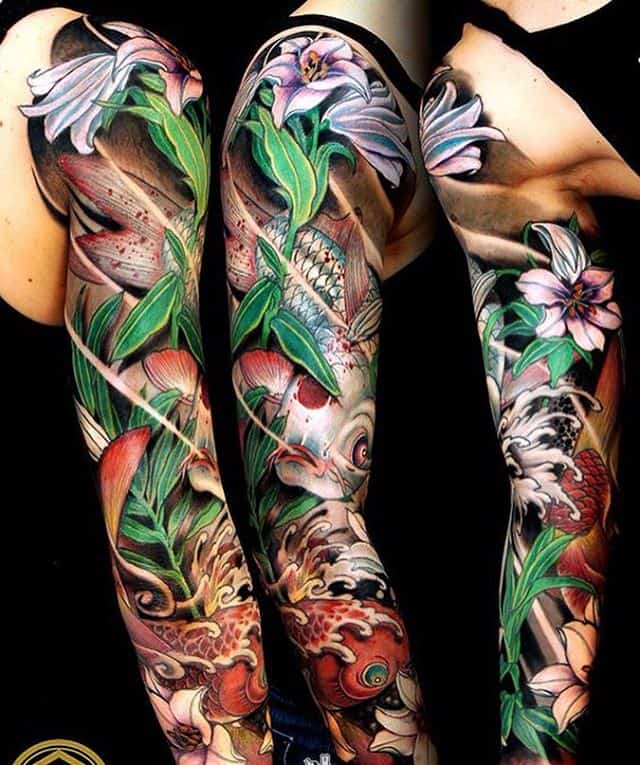 If you are wondering why the koi fish is such a common choice for tattoos, the answer is simple: it all comes down to what the tattoo represents. In the case of koi, this is a tattoo that represents "overcoming adversity." Stories are told in Japan how the koi fish can climb waterfalls with a strong current.
9. Red Flower Sleeves and Stomach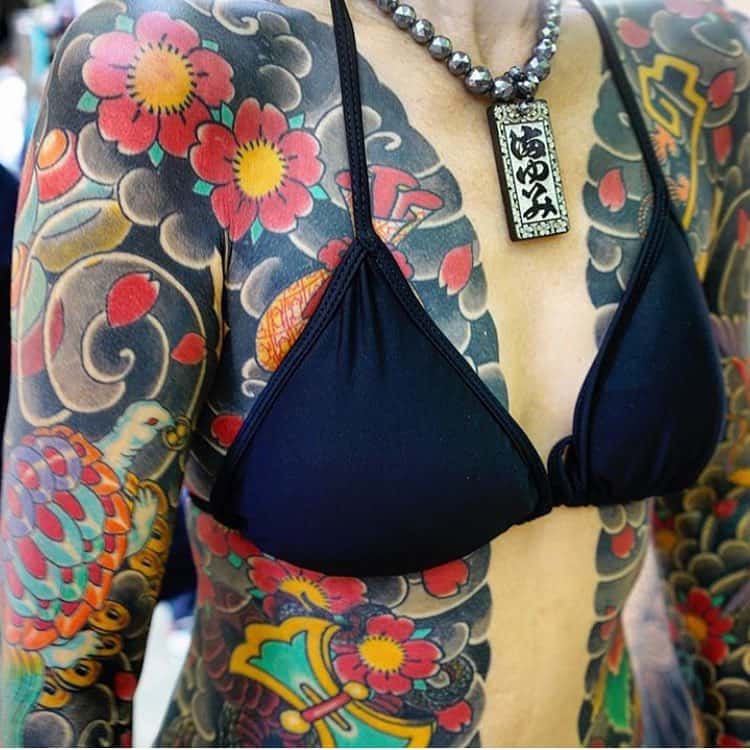 We go back to the flowers for a moment. The best part about Japanese flowers is that they bring so many different colors to your tattoo. Simple, colorful, and very elegant at the same time, these flowers are a joy to look at.
10. Black and Red Dragon Sleeve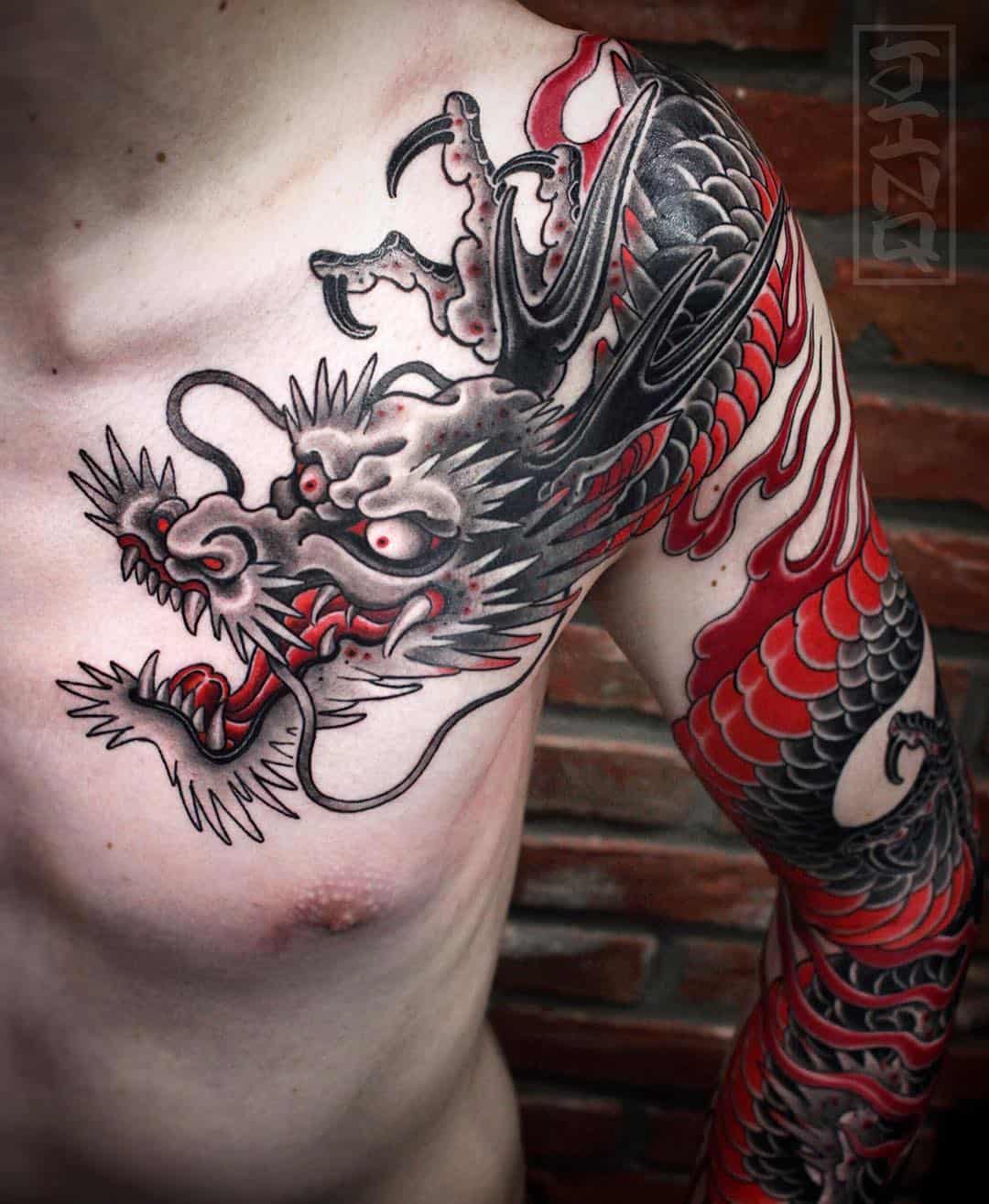 The dragon is a mythical animal in Japan. In Japan, the dragon is called Ryu, and he is very similar to the Long in China and Yong in Korea. A big, fantastic animal, the Japanese dragon looks like a serpent, and fits nicely on your hand as a tattoo.
11. Stone Dragon on Hand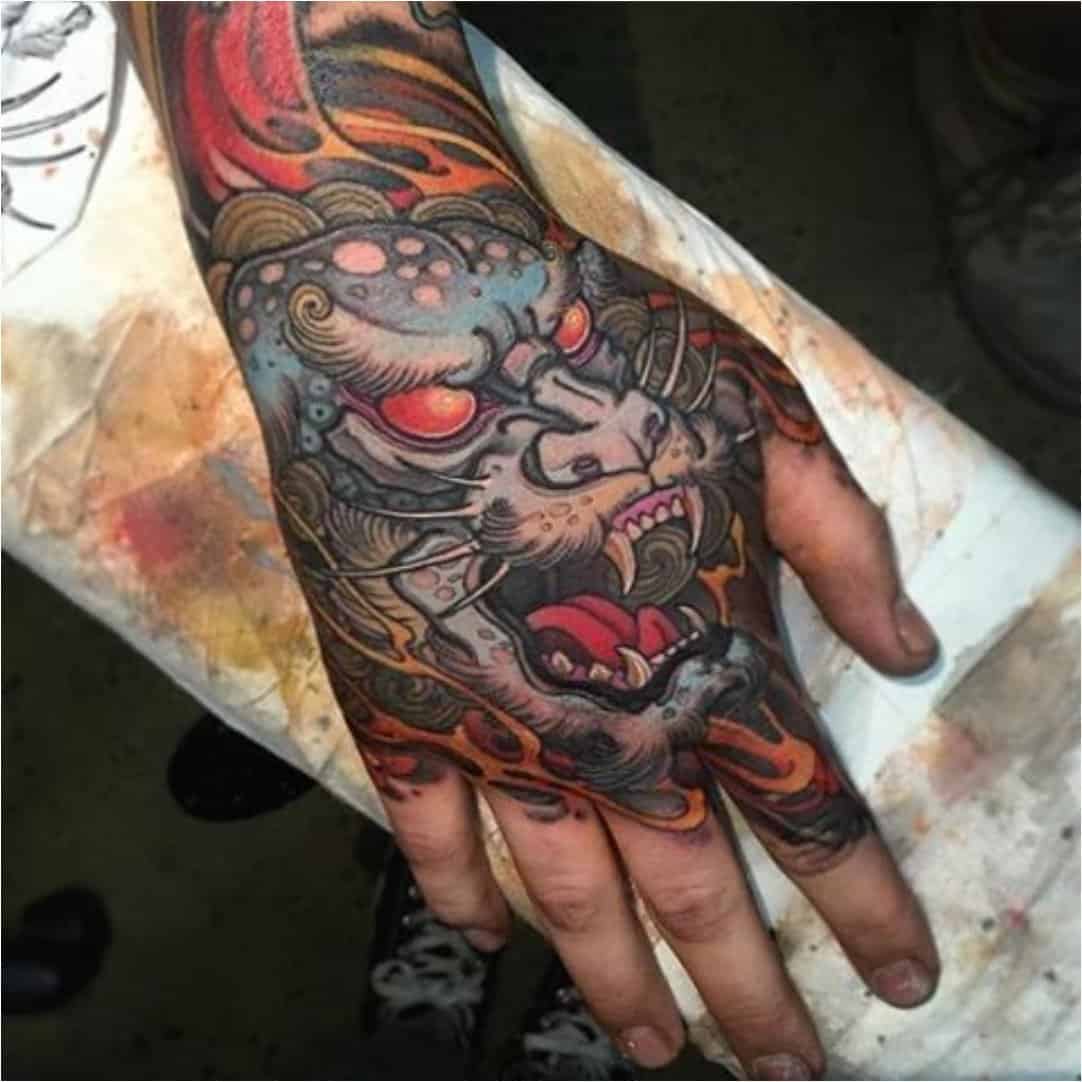 There are two ways you can have a dragon as a tattoo. The first one is a monochrome (or two-color) dragon. Black and white, black and red, and similar combinations. The second way, which we see here, is to go for many colors. Impossible to say which one is better.
12. Connected Half Sleeves with Snakes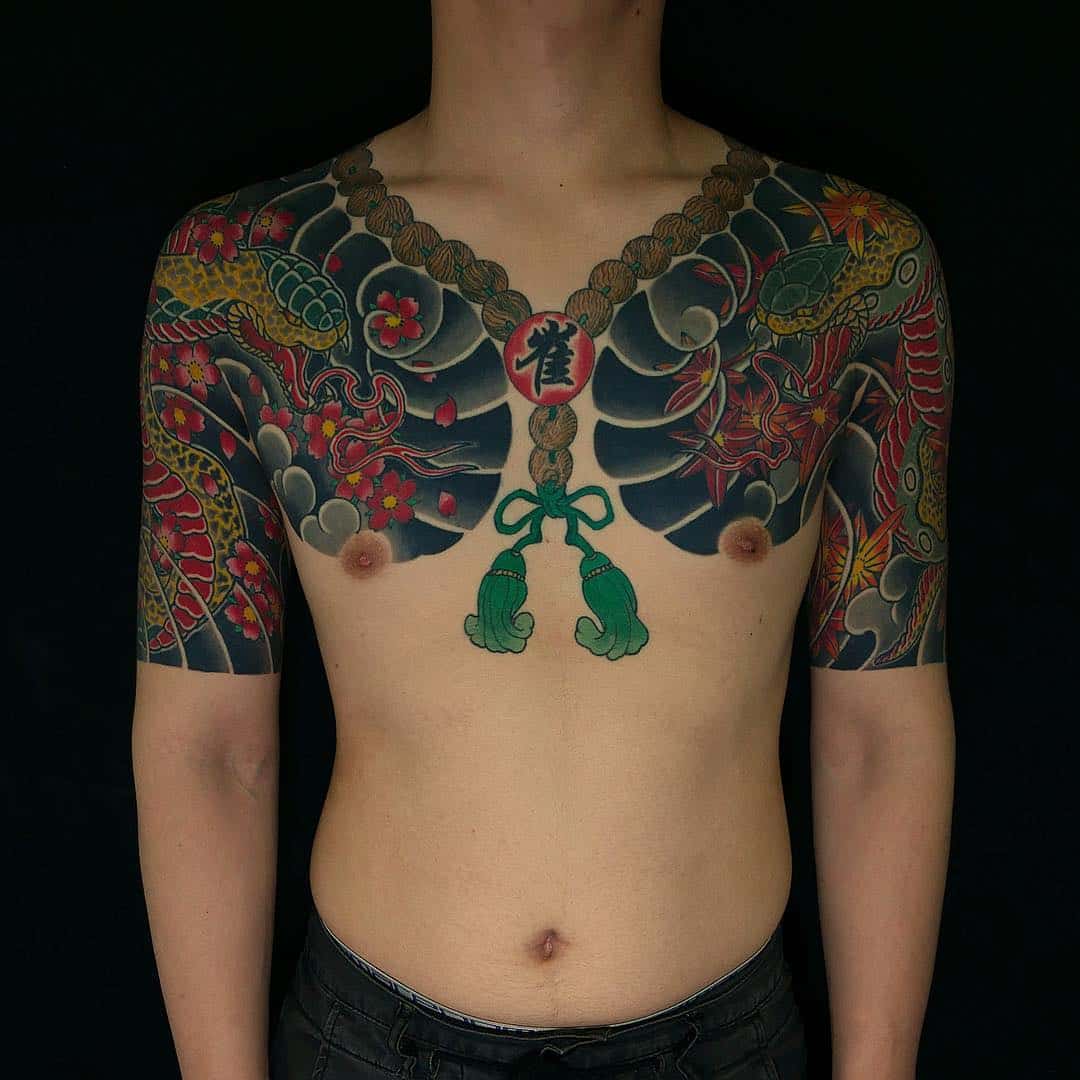 Japan has several native snakes. With its humid climate, Japan is a perfect breeding ground for reptiles. And it comes as no surprise that snakes are some of the most common Japanese animals for a tattoo.
13. Full Sleeves with Flowers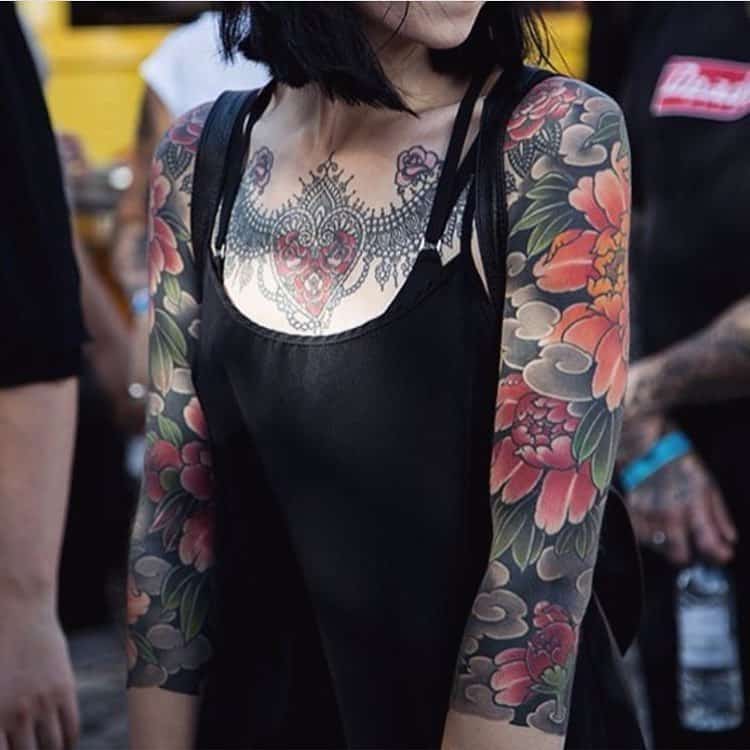 You'll find a lot of flowered Japanese ink designs. As mentioned previously, Japan is known for its unique flowers.
14. Tiger and Dragon Sleeves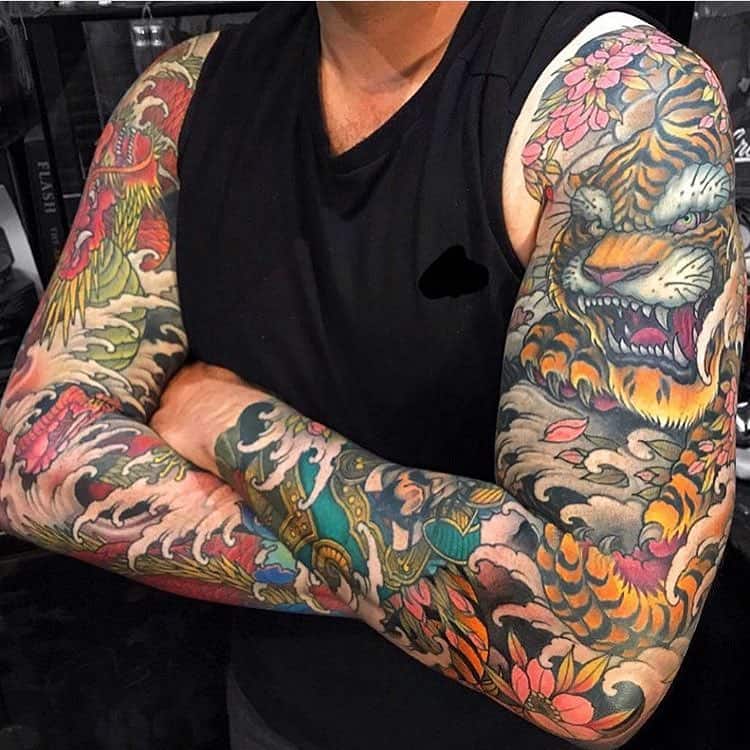 If you want your tattoos to strike fear, there's no better way than going for a dragon-tiger combination. Both creatures are fearsome, and both look awesome. And the best part is, both come with a wide palette of colors that will make your body a walking masterpiece.
15. Full Back Dancing Geisha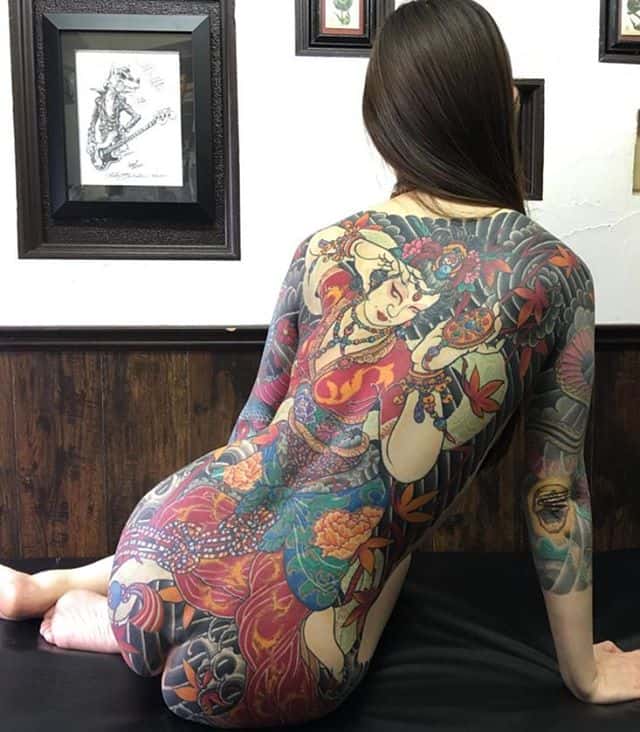 When you speak of Japanese culture, folklore, and tradition, there's no escaping the Geisha. A traditional hostess who acts as an entertainer, the Geisha is still popular in Japan. Centuries ago, girls were trained in the Geisha way from the time they were two or three years old. And no, they were not prostitutes. Geishas were trained to entertain with dancing, singing, and talking.
16. Stone Dragon on Back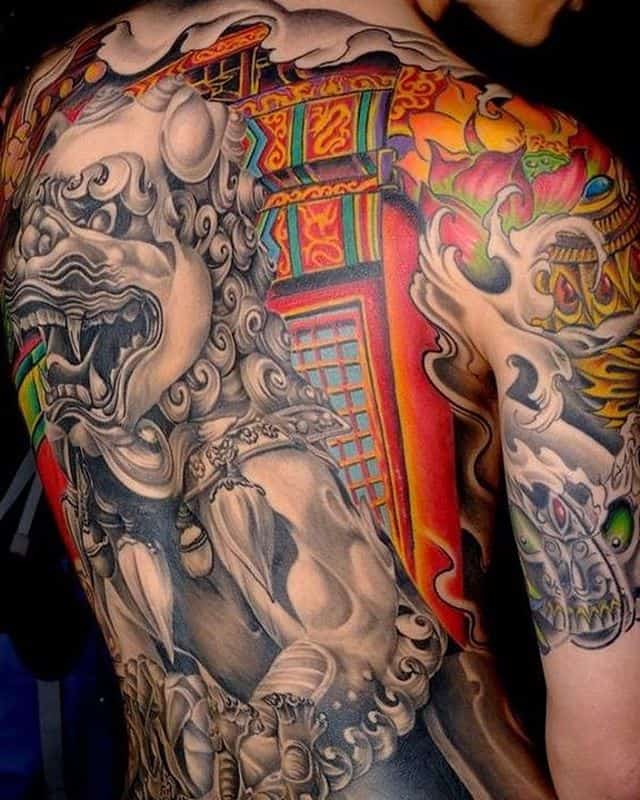 Just look at how that dragon looks like he is popping out of your back. Truth be told, when it comes to the dragon tattoo, most people go for the arm. But the back looks like a nice, suitable option as well.
17. Geisha Sleeve and Dragon on Side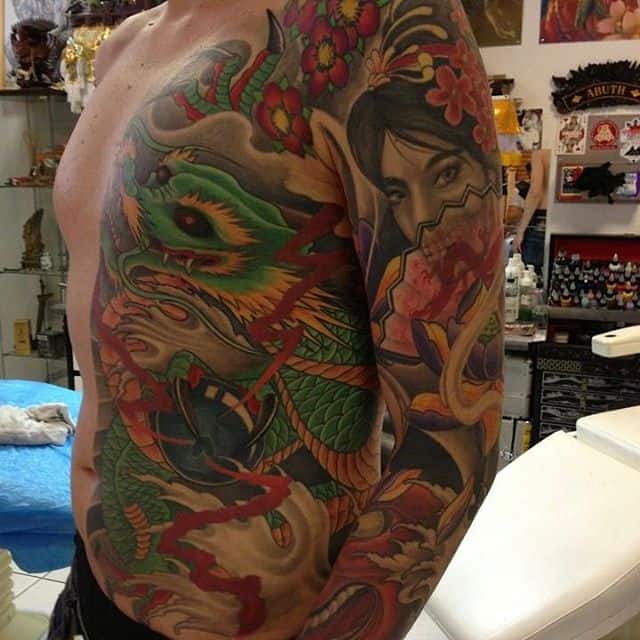 Call it the perfect balance. Geishas are adorable, cute, innocent, and gentle. On the other hand, you have the dragon, a fearsome warrior who strikes fear. A yin-yang combination, if you like.
18. Japanese Flower on Thigh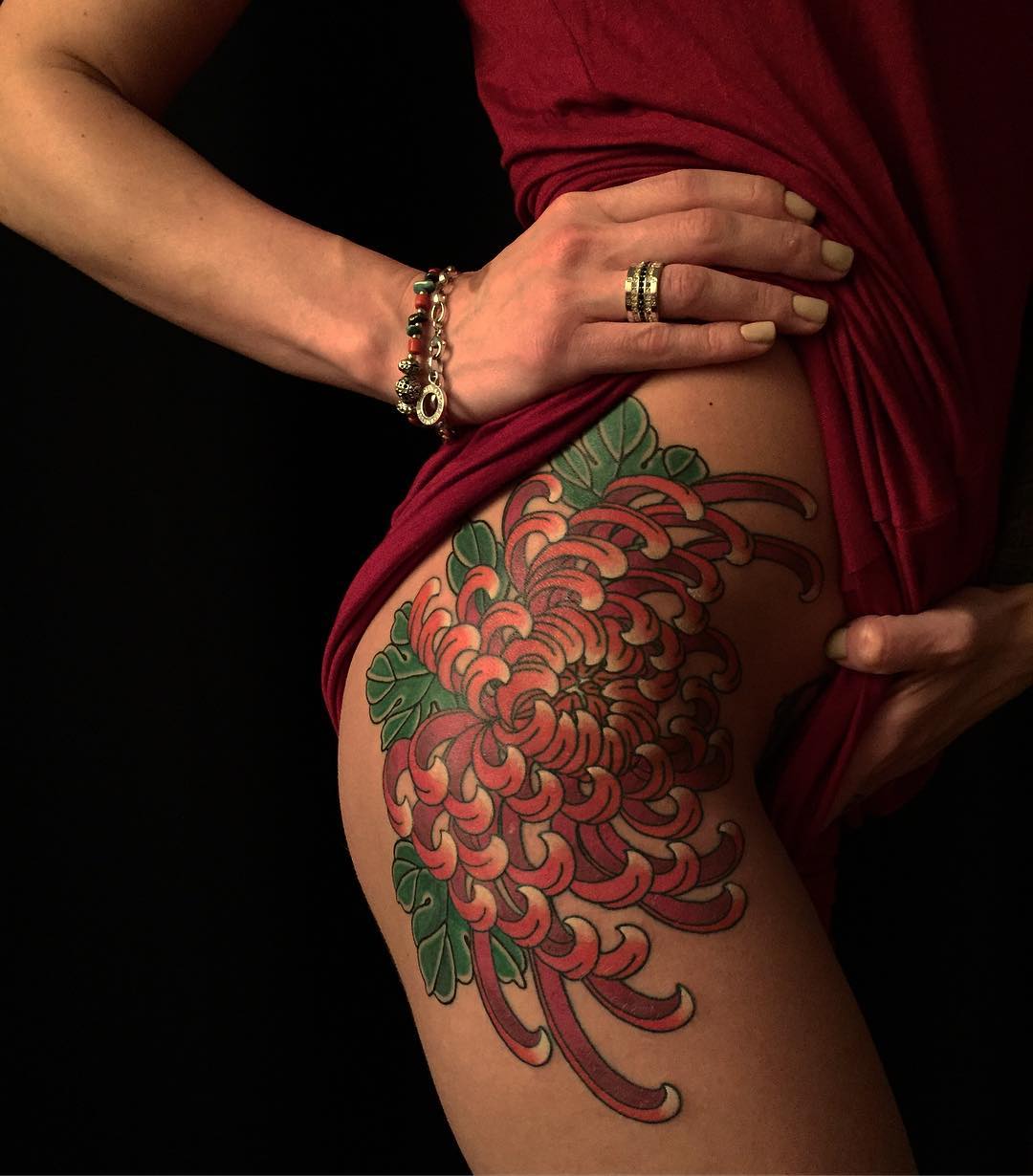 As you might have noticed, most of the Japanese ink designs are very large, complex, and with a large variety of colors. But that doesn't mean you can't go for something small and simple, as is the case with this Japanese flower.
19. Coiling Snakes Sleeves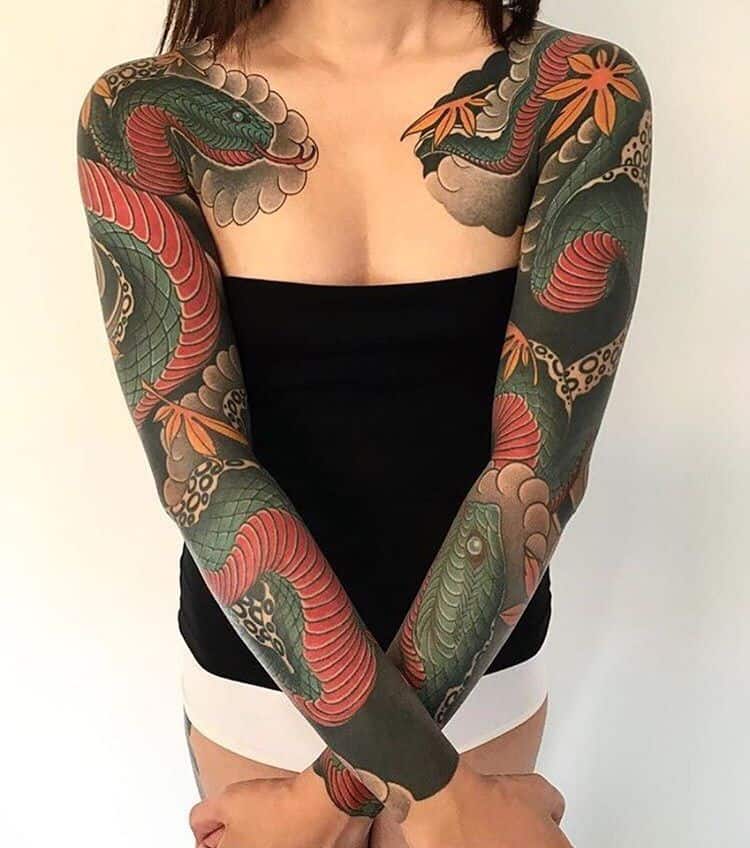 We said previously that snakes are popular in Japan. There are a total of 47 snakes native to Japan, making them a very popular tattoo choice. The best part is there are so many different colors and designs you can choose from.
20. Red Oni and Blue Dragon on Thigh and Leg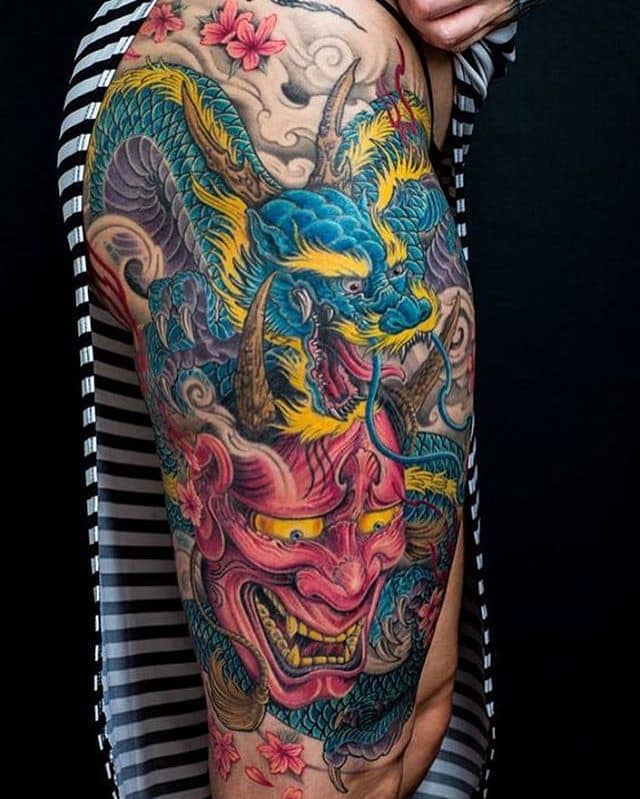 Red and blue are two of the primary colors. And they mix and match perfectly. The same applies to the dragon and the Oni.
21. Samurai with Sword on Back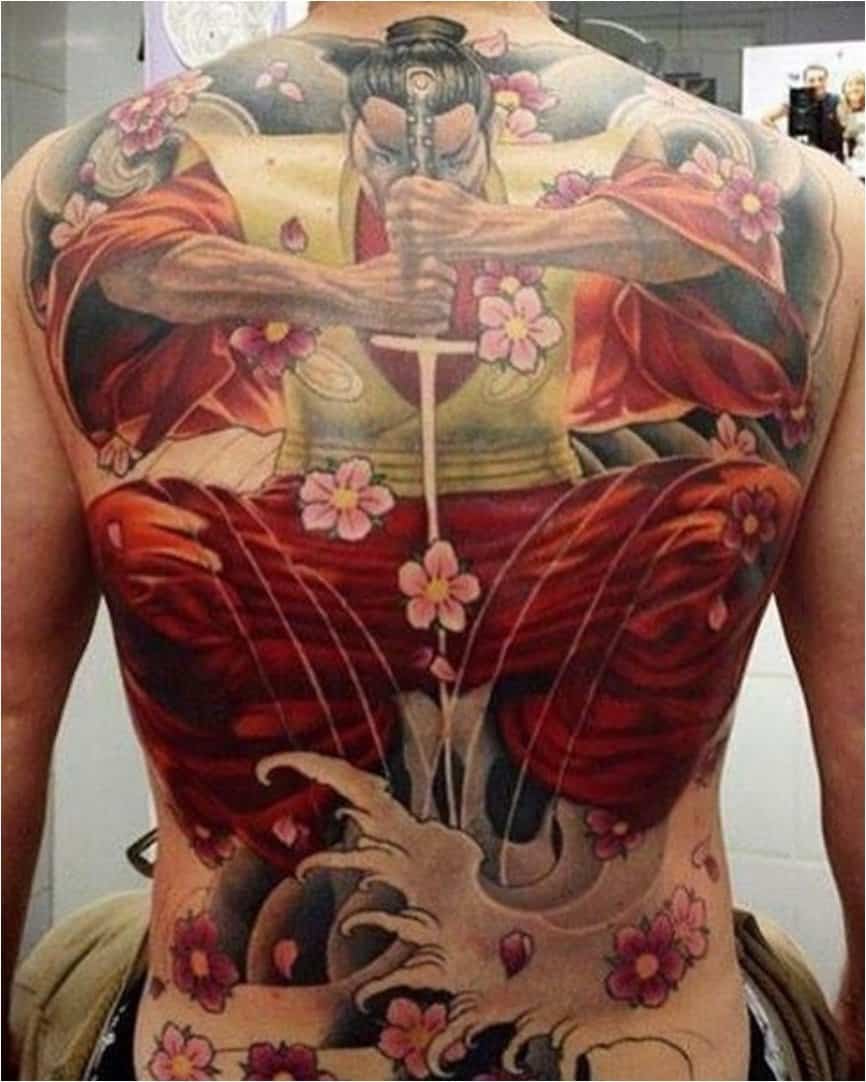 We almost forgot the most popular Japanese symbol: the Samurai. Traditional Japanese warriors, Samurai are deeply embedded in Japanese folklore. Years ago, these warriors were protectors of the country and the government. Now, they are a legend—one that is welcomed on your body as art.
22. Flowers and Dragon Half Sleeve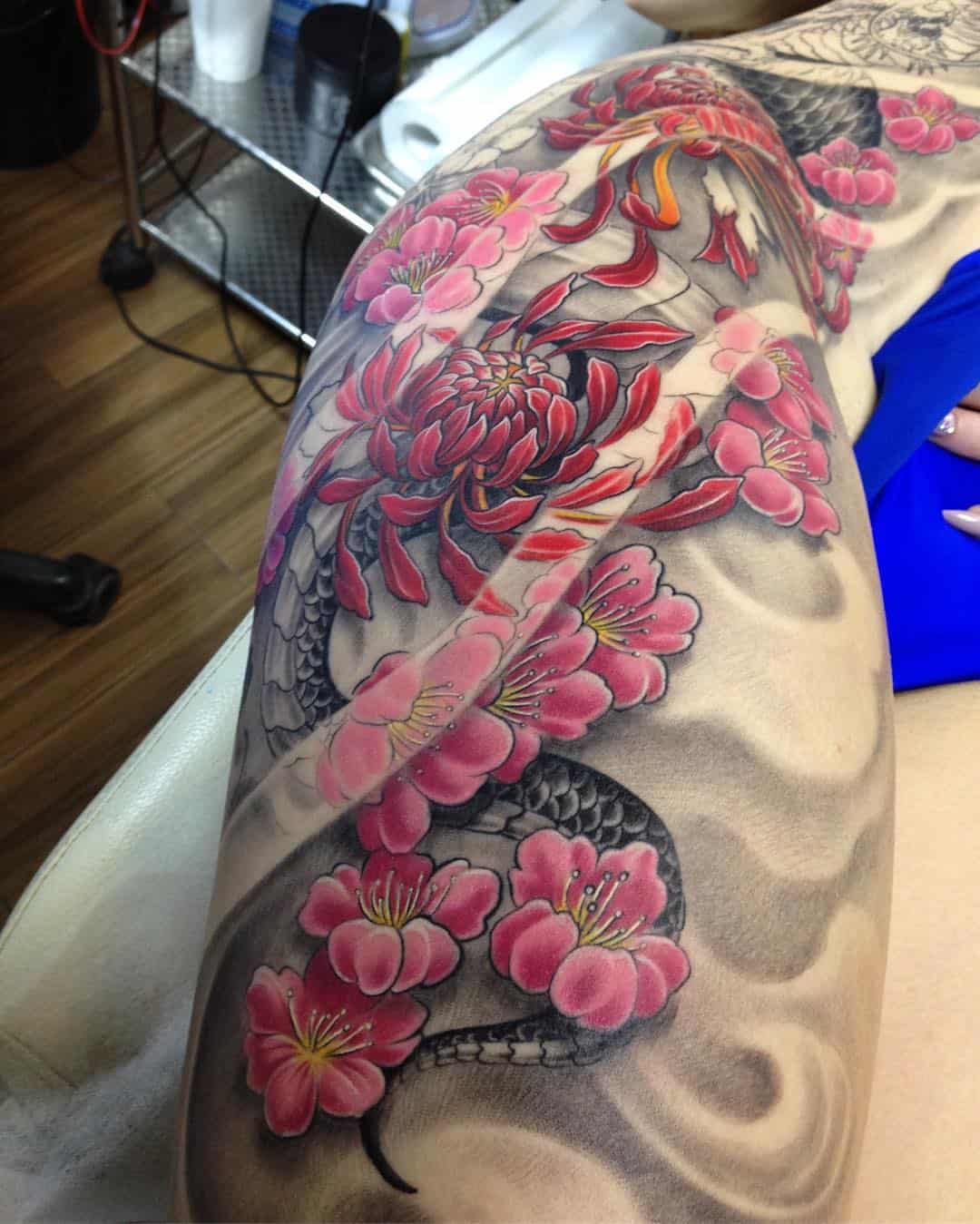 Probably one of the best aspects of Japanese ink designs is versatility—you can combine two different things that look impossible to match at first glance. For example, who would've thought dragons go in the same sentence as flowers?
23. Flowers and Waves Sleeves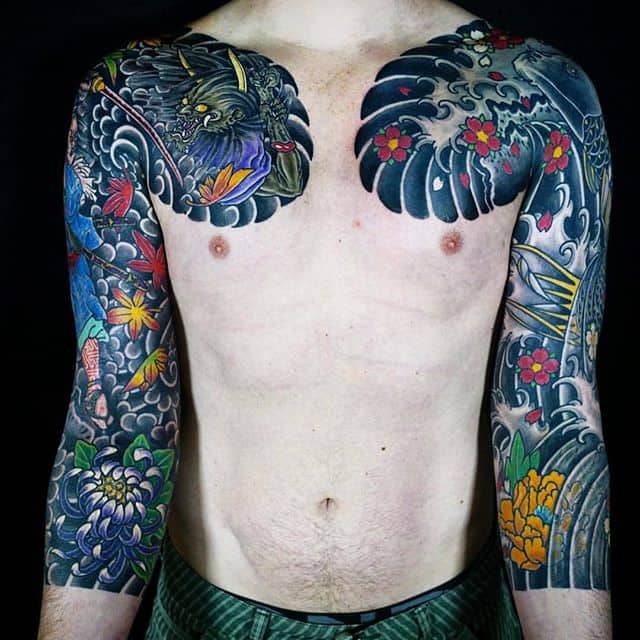 Speaking of flowers, they are the best base for any other Japanese tattoo. You can combine them with almost anything else from Japanese folklore and culture.
24. Black and White Dragon in Waves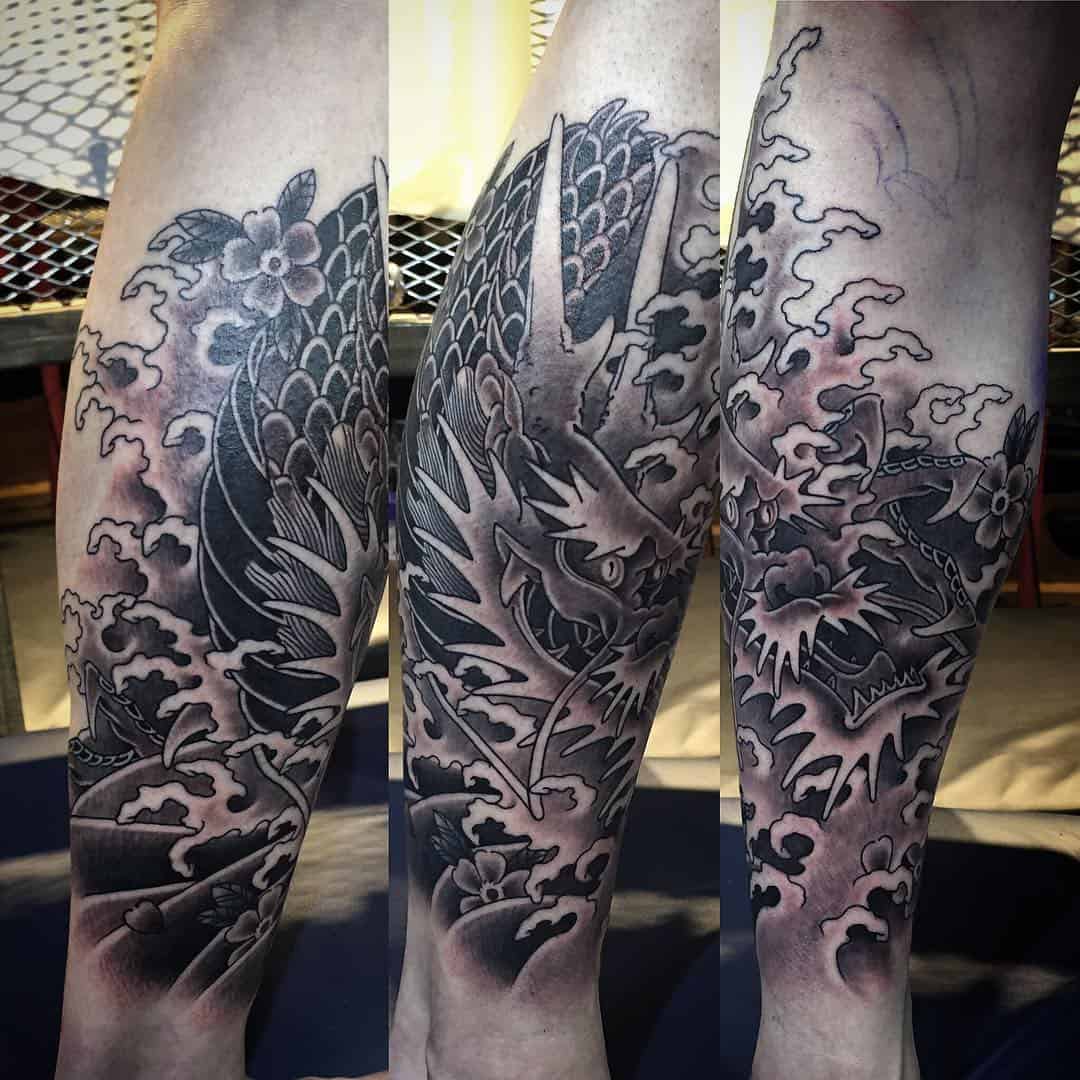 Given the fact that Japan is an island, it's no surprise that we see a lot of wave themes. After all, the sea is a synonym for Japan.
25. Geisha on Back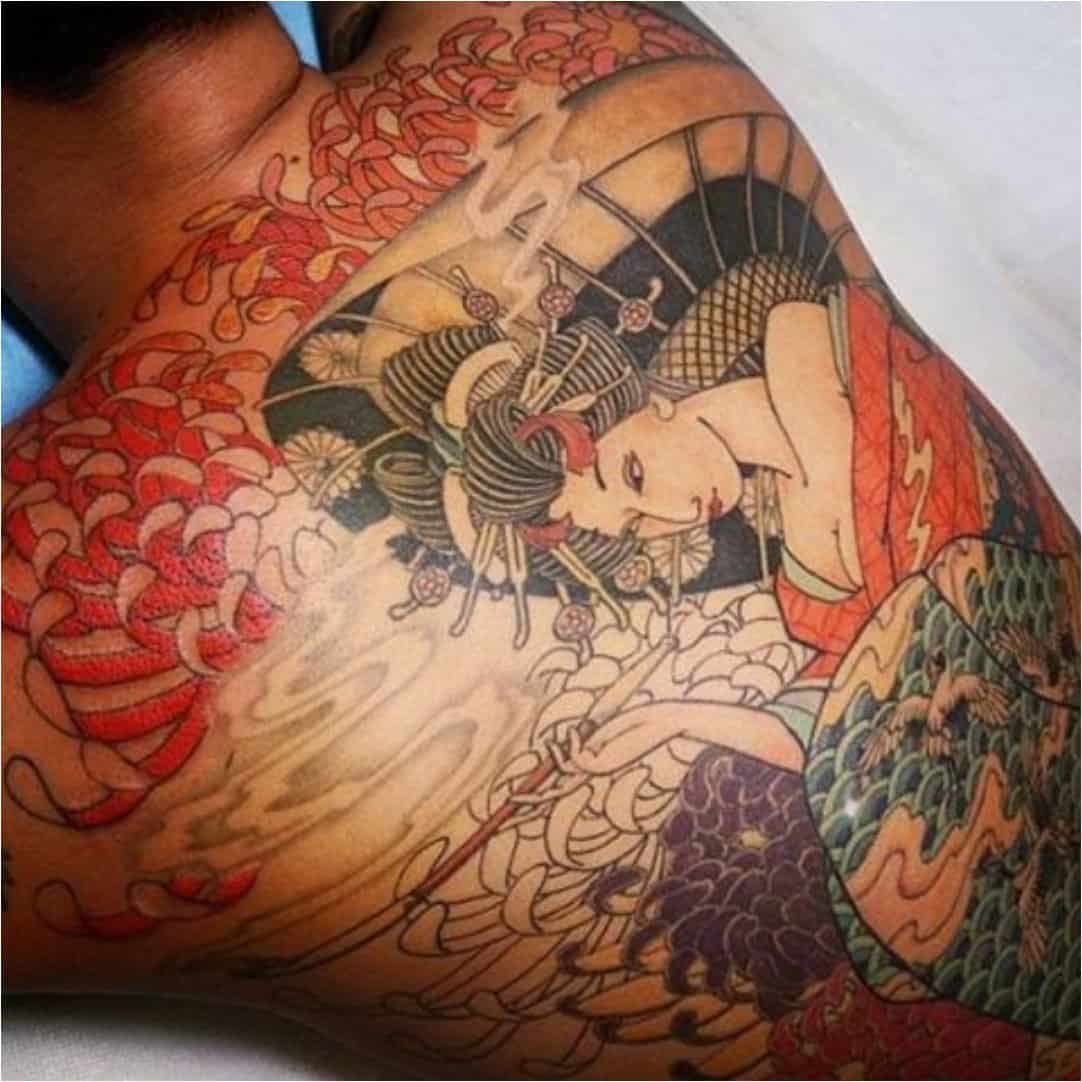 We had quite a few Geisha designs. They are all different and unique in their own way.
26. Large Red Flower Sleeves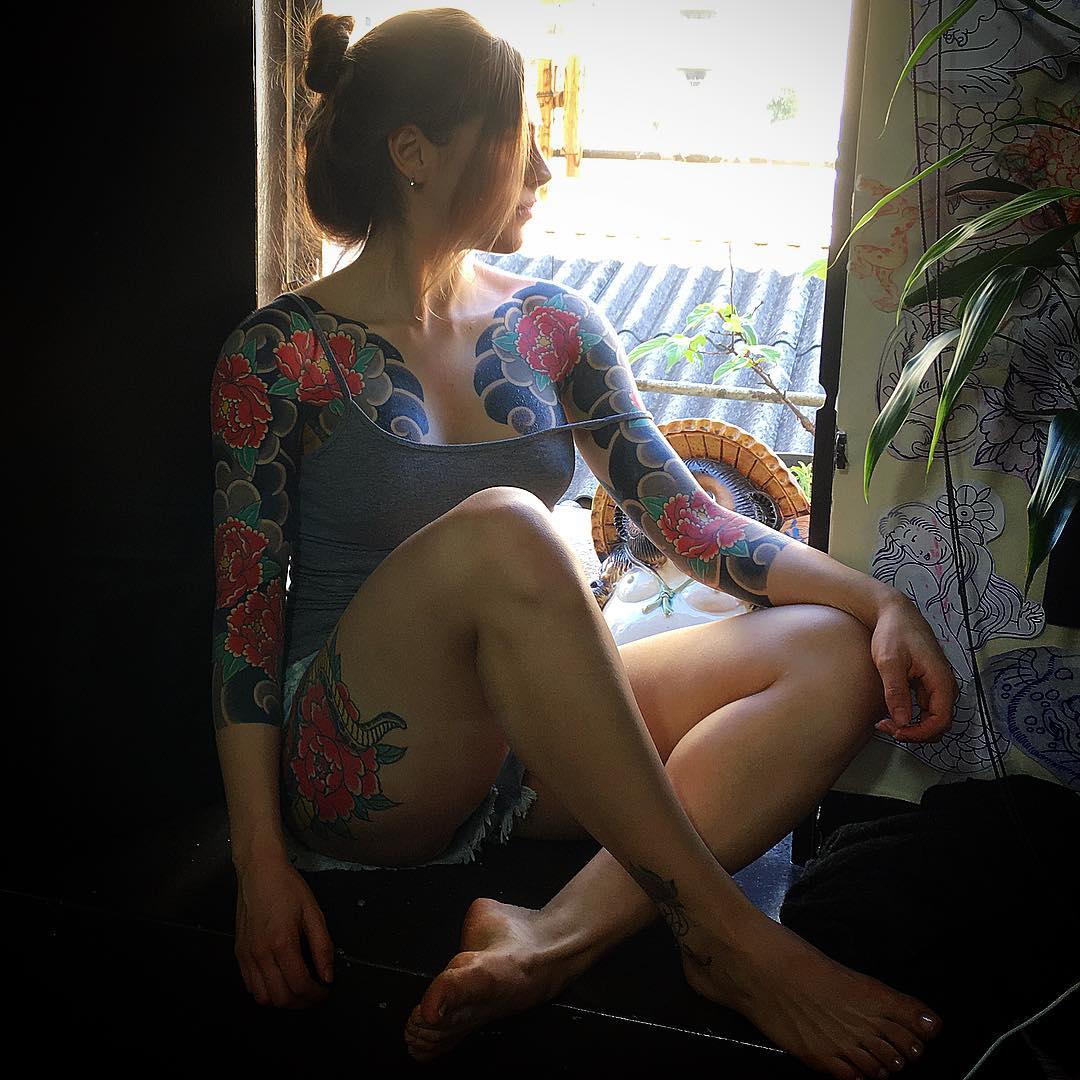 As mentioned time and time again, Japanese flowers are a perfect option for your sleeves. They transform your body into a living, moving masterpiece.
27. Full Back Samurai and Geisha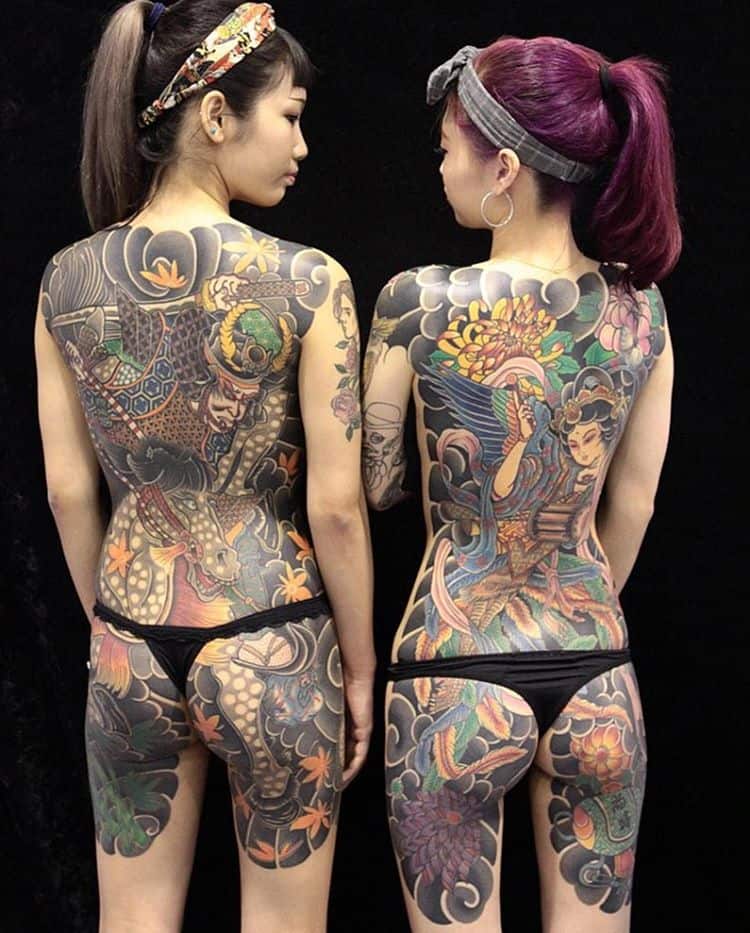 It is only fitting that we finish off with the two most iconic characters from Japanese folklore: the Samurai and the Geisha are just impossible to ignore when you think of Japan.
I hope you enjoyed, and that you found a new masterpiece for your tattoo.