At certain times, we all want our hair to grow faster or regrow. Ask yourself the following question: What would you do to grow an inch of your hair in just seven days? Would you try an unconventional method? Do you even believe in unconventional methods?
Well, if you do, there is one, called inversion method, that helps people grow or regrow their hair faster. Don't laugh. This method actually dates back to ancient times, although the Western world has discovered it just recently. The inversion method is quite simple, actually. All you need to do is apply some oil on your scalp, hang with your head upside down, and that's it. The idea is that the increased blood flow reinvigorates the hair follicles, which in essence increases hair growth. Let's take a look at the origin of the method, its benefits, and how you can do it.
Origin of the inversion method
As mentioned, the inversion method dates back to ancient times. Only then, it wasn't used to promote hair growth. Instead, Hippocrates used the inversion method sometime around 400 BC to relieve his patients' back pain.
Hippocrates, the father of medicine, used a system of ladders and pulleys to hang his patients upside down, with the body at a slightly inverted angle. Hippocrates argued that this treatment slows down the aging of the spine, stretches the spine naturally, increases circulation, enhances glandular system functions, and stimulates brain function.
When to avoid the inversion method
In essence, the inversion method is a safe and secure procedure for hair growth. However, there are times when you should absolutely avoid it.
Avoid the inversion method if you are suffering from low or high blood pressure, hernia, glaucoma, conjunctivitis, swollen joints, osteoporosis, ear infection, obesity, or if you are otherwise unhealthy. Pregnant women should also avoid using the inversion method.
If you feel dizzy, sleepy, drowsy, or abnormal in any way during the inversion procedure, make sure to slowly move out of the position. And you should rethink whether you should continue the method or not.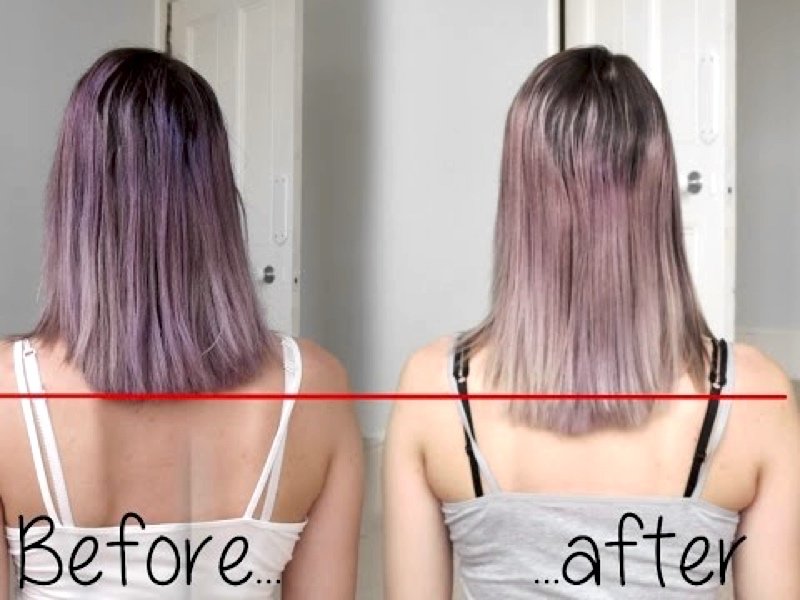 Step-by-step guide
How does the inversion process work? Let's explain how you can do this process in the convenience of your own home, step-by-step:
Start by choosing your oil. There is no commonly accepted oil as the best one. Some of the oils that have been proven successful and beneficial include olive oil, coconut oil, Moroccan argon oil, castor oil, and grape seed oil. What's most important is that you choose one that you find soothing (you can also choose a scented oil).
Warm the oil in hot water. You need approximately 4 tablespoons of oil, or somewhere between 50ml and 60ml. Stir the oil in the water for one minute. Since you need to increase circulation, warm oil works better, as it increases the blood retention in the scalp cells. But make sure not to overheat the oil, since you will be putting it on your scalp.
Apply the oil on your scalp and gently massage your hair. After that, use a comb to apply the oil to the rest of your hair, making sure to spread the oil throughout your hair. For those with curly hair, be gentle when working with the curls.
Once you've applied the oil throughout your hair, massage gently with the tips of your fingers. Move in circles, both clockwise and counterclockwise. You can use your palms as well in the massage. Focus on troublesome areas, but make sure to cover all of your hair. Massage for just five minutes.
The last step is to tip your head upside down. There are a number of ways you can do this. You can tip your head over a sink, or over a bathtub, or you can sit upside down on a chair with your legs over the back of the chair. No matter where and how you do it, the important thing is to let your hair hang loosely for five minutes. Beginners should be careful not to perform the inversion method at a severe angle. You can start at a very slight angle, and adjust from there. You should also call a friend or a relative to watch over you, as you might get dizzy.
After holding the position for five minutes, sit up. You don't want to remain in the inverted position for too long, as it can cause a spike in blood pressure.
For those with a dry scalp, you can actually leave the oil on for a few more hours, or even overnight (cover your head with a shower cap). But be careful: don't leave it on your hair for a very long period of time. This is especially true for people with a normal scalp, as it might make your hair too oily (which will do more harm than good).
Wash your hair thoroughly to remove the oil. Don't use a harsh shampoo for washing your hair after the inversion method. Instead, use a shampoo with a pH value lower than 7.
Last, but not least, repeat this process once every month. Results vary depending on the person; some see results instantly, while others see results later.
Answers to common questions
For every treatment, be it natural or traditional medicine, people have questions. Here are answers to some of the most commonly asked questions
No, you cannot do the treatment every day for one month. If you repeat the process every day, your body and hair will get used to it, adjust, and there will be no benefits. Try it once every month.
Yes, you can mix two different oils together. You can mix all the oils if you like, as long as you do not use vegetable oil.
Don't wash your hair before trying the method. It's easier for the oil to penetrate into the follicles if the hair is dry.
The inversion method works for any hair style.
Bonus tips
Following are a few bonus tips to ensure that the method works for you and you get maximum results.
When trying the inversion method, it is important that you minimize other products to avoid product build-up.
As mentioned several times, do not overuse the inversion method. Once every month is more than enough. If you experience migraines and/or dizziness, you can try it once every two months
Do not shampoo your hair every day, no matter the hair color, ethnicity or hair type. For those with wavy and straight hair, shampoo and wash the oil out after 3 hours of trying the inversion method. Those with curly and kinky hair, on the other hand, can go up to two or three days before needing to rinse and wash their hair.
Use 100% natural oils for best results. If you want to go the extra mile, you can use organic and extra virgin oils.