THIS POST CONTAINS AFFILIATE LINKS.
This article is going to instruct you on how to easily create your own blog and how to start a WordPress blog. The platform we will be using is Bluehost, founded in 2003. Tools similar to Bluehost are an important part of your WordPress setup strategy. In order to "host" your blog after registering your blog/business, you will need a platform to help make your blog live, this is how everyone will be able to view it.
Bluehost is perfect for this as is easy to setup, navigate around, and it won't cost you too much either.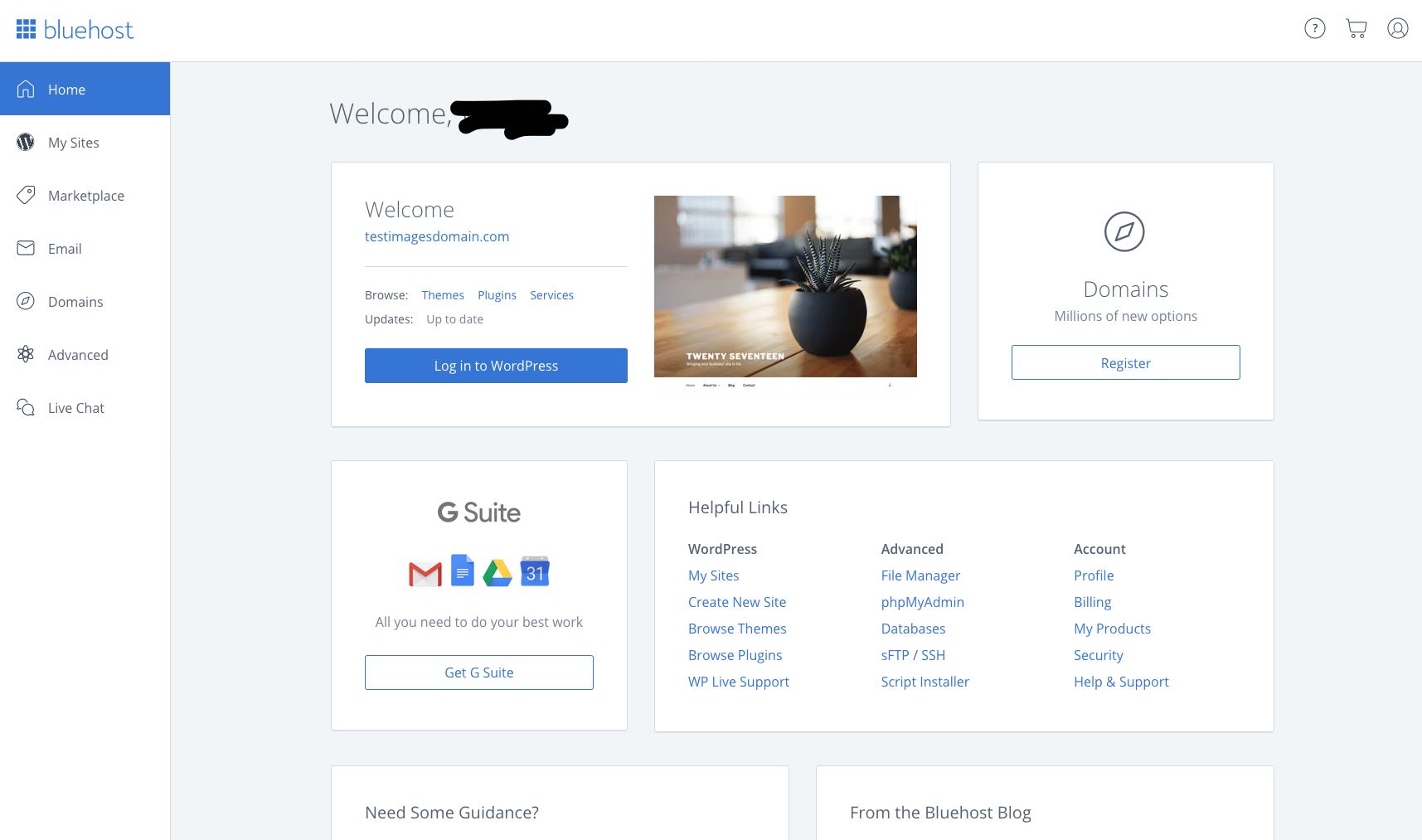 We even negotiated with Bluehost personally to give you the option to start using Bluehost for cheap at less than half the original price. Not only that, using this link you will receive a free blog domain which could prove to be costly otherwise.
However, these low prices may not last long so act quickly!
You may be wondering why you should set up a blog? Blogging can give you flexibility as you are able to work from home, whilst you are abroad and at your desired time in the day.
When done well you will soon be able to make the money spent on blog hosting back as well as exceed it. I certainly did.
And why Bluehost? As of 2018 Bluehost is classed as one of the top web hosting companies, and you can begin your blog for a low price (through this link only).
How to Begin a WordPress Blog on Bluehost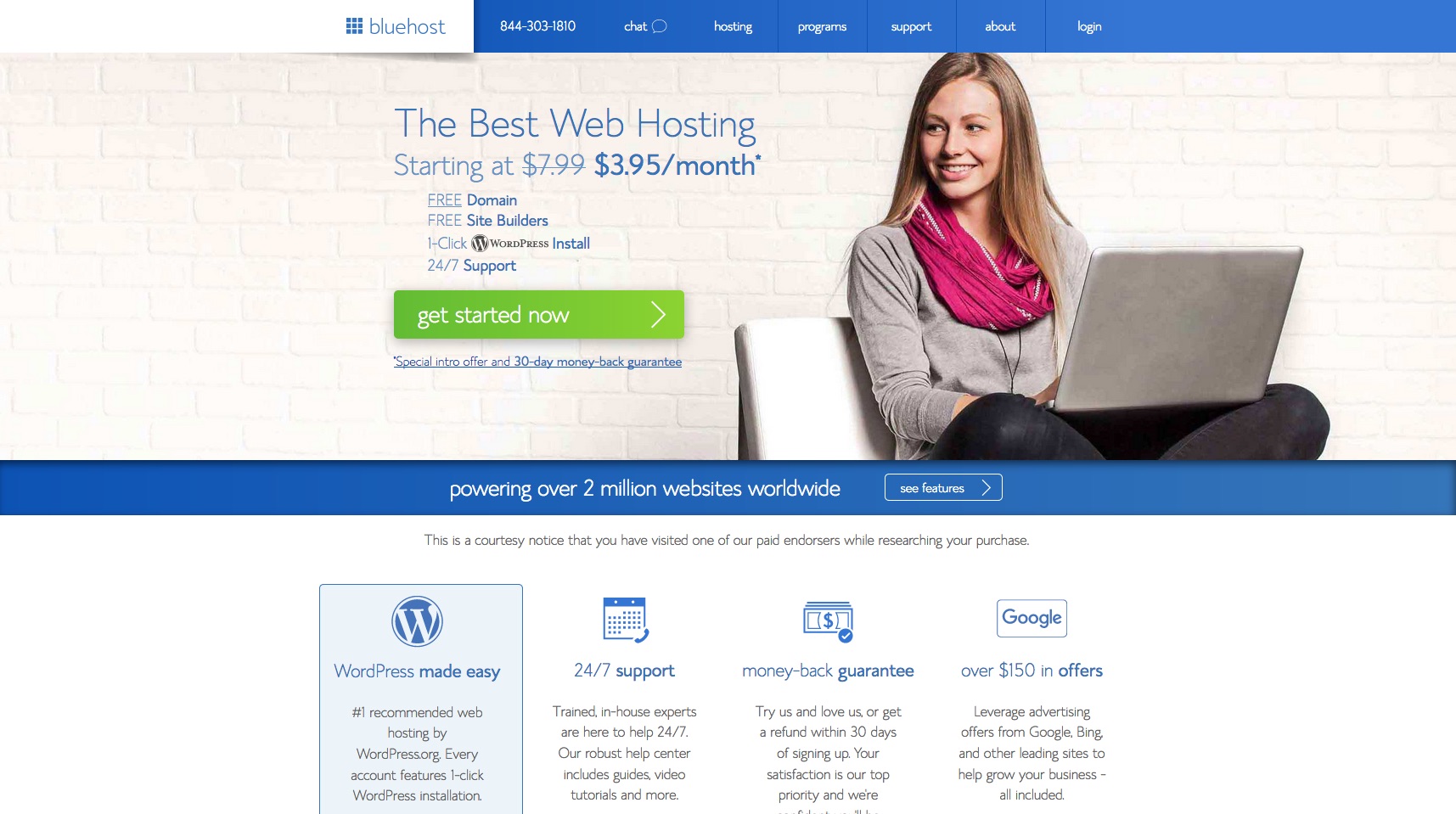 1. Select your plan and Register your domain name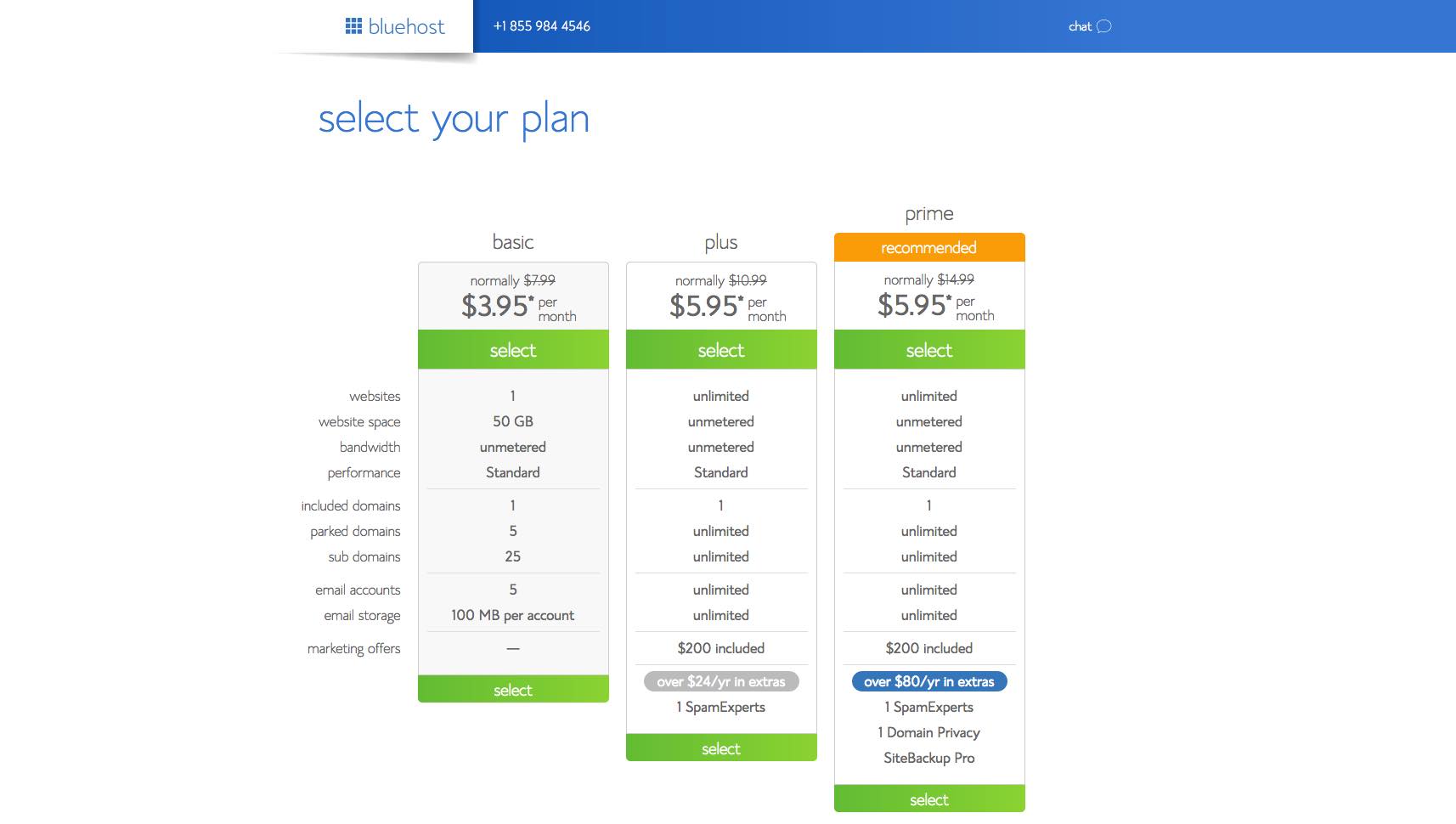 Firstly, before anything else, you will need to come up with a domain name for your WordPress blog on Bluehost. This can be difficult and therefore requires serious thought.
Here are some tips which may help:
Make it easy to type/spell out to people
Keep it short
Avoid numbers and hyphens
Research it first to ensure it doesn't already exist
Make it memorable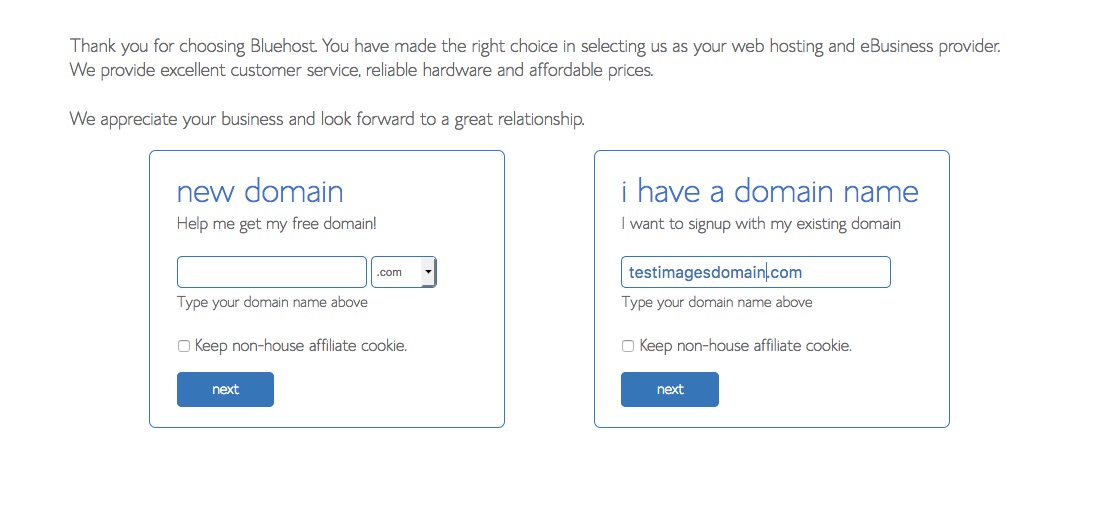 To purchase a domain name and create a blog click here.
By using Bluehost you can purchase your domain name directly. By doing this, as long as you purchase 12 months worth of web hosting, you are entitled to a free domain for the first year.
Therefore, it is suggested that you sign up for at least 12 months as this deal could save you money. Alternatively, you can take a look at the different options below that are available to you.
2. Purchase hosting for your blog
If you are looking for the cheapest plan to start your blog, choosing "basic" will do the job. However, it is important to consider all of your options, be it basic, plus or prime.
Personally, I would recommend the cheaper plans to begin with until you are certain Bluehost is what you want to use. However, this is only an opinion and if you change your mind, you can always change your plan later by simply paying the difference.
Consider investing in Domain Privacy Protection. This costs $0.99 a month and will ensure your contact information stays safe.
Realistically, other than the above mentioned, you are unlikely to require any of the added extras included on Blueshot, so it may be worth unticking them before continuing.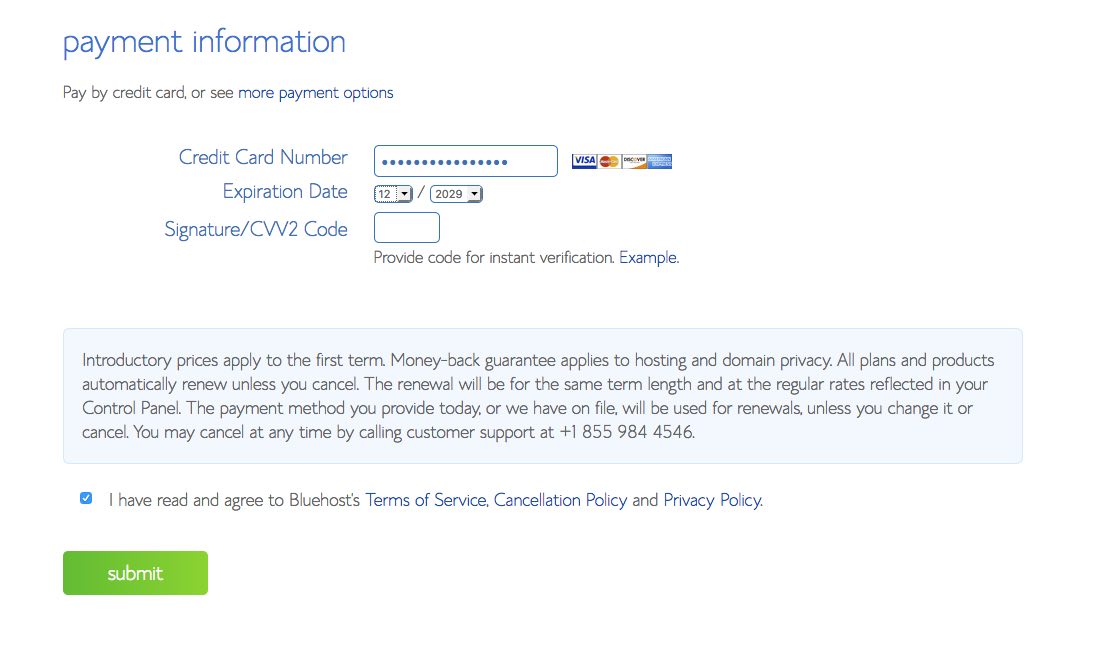 3.Set up your account

You will be required to set up a password for your account. This needs to be secure as it will hold your payment information.
Therefore, why not use a random password generator to generate a combination of numbers and letters which is difficult to guess – just make sure to note it down somewhere safe!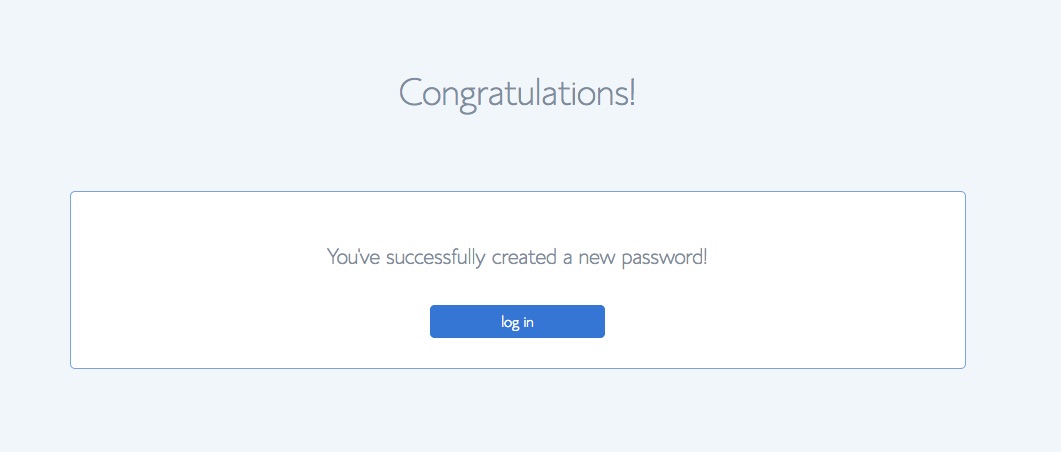 4. Connect your domain to your hosting
Note: If you have purchased your domain directly through Bluehost you can skip this section
If you have purchased a domain through services such as Go Daddy, you will need to connect your domain to your hosting account.
How this can be done can be found on the individual companies websites as each provider may differ. For example, if using Go Daddy you will need to have a read through this link.
Here is how you can modify your DNS Nameservers. For this example, we are going to be referring to Go Daddy as the domain and Bluehost for the hosting:
1. Log into your Go Daddy account
2. Locate the Domain Names drop-down menu and select Manage Domains
3. Select the specific domain name you are wanting to modify using the tick boxes, then select Set Name Servers
4. Update your name server information seen under the Name Servers heading. Then ensure you click save. What you enter should look similar to ns1.bluehost.com or ns2.bluehost.com
Next, visit Bluehost and add your purchased domain to your Bluehost hosting as an addon domain. This can easily be done by click Domains followed by Assign. You should then be introduced to a short set of instructions.
5. Install WordPress onto Bluehost
And here we are, the final step! Soon you will be on your way to writing some money making blogs.
Thankfully, creating a WordPress blog is very easy and free.
1. Firstly create a password, Bluehost will then guide you through the relevant steps to help you start your blog
2. Pick a theme for your blog. If you are indecisive no need to worry, you can always change it later if you change your mind. Alternatively, you can just skip the step completely and come back to it later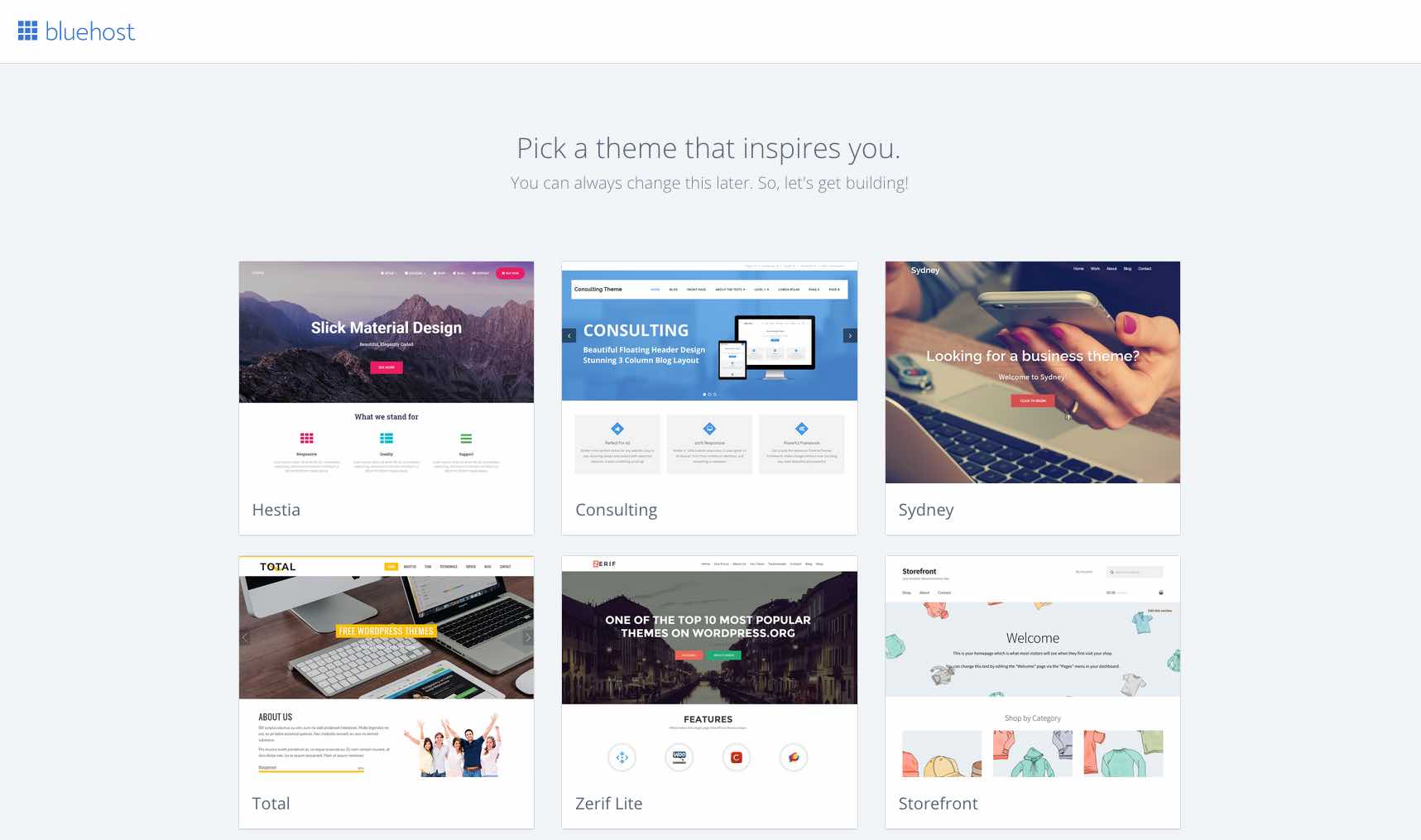 3. Start Building


4. You will be required to choose either Business or Personal. This is up to you, or simply select "I don't need help"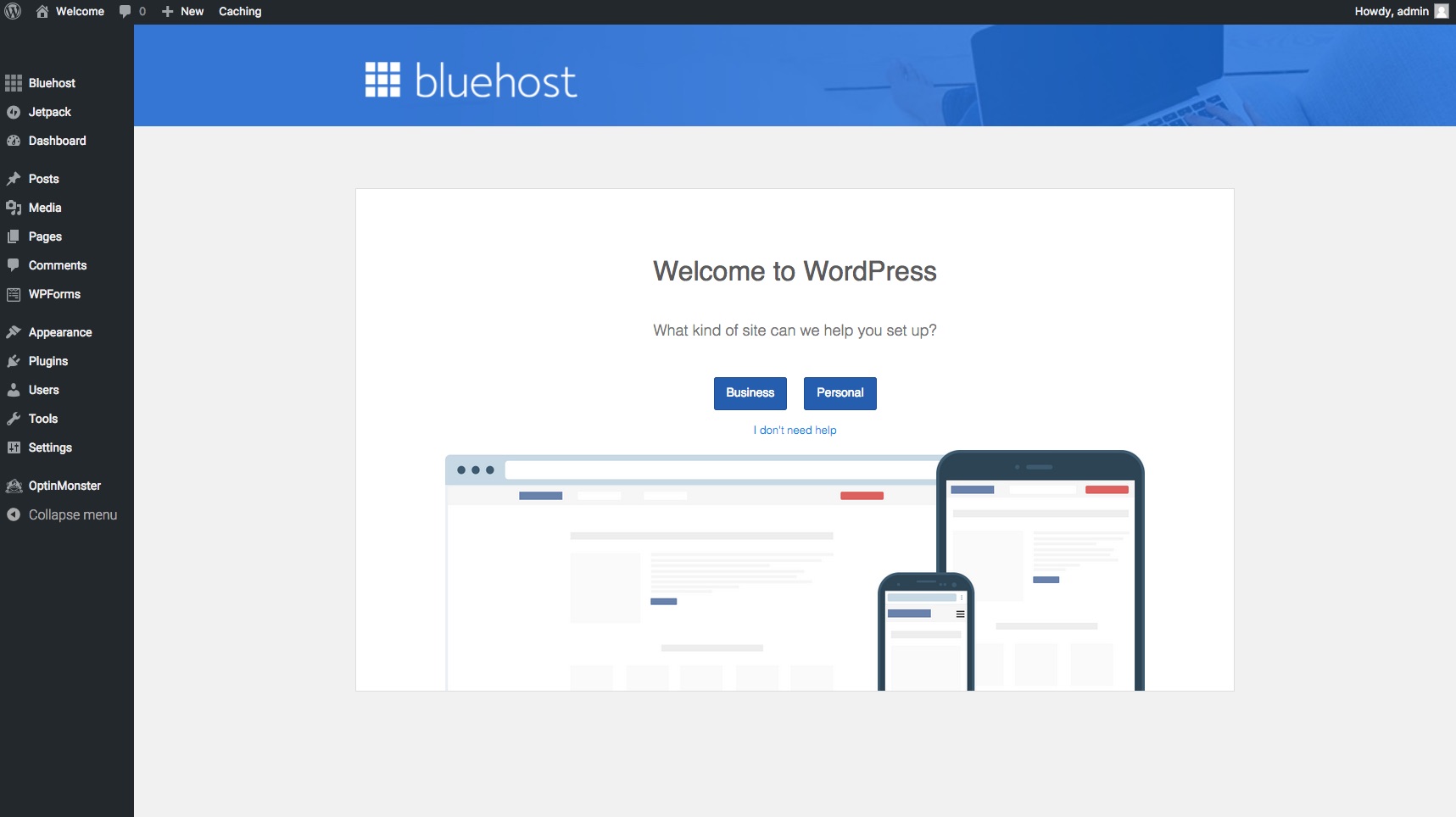 5. Once this is all done select "launch" to publish your site.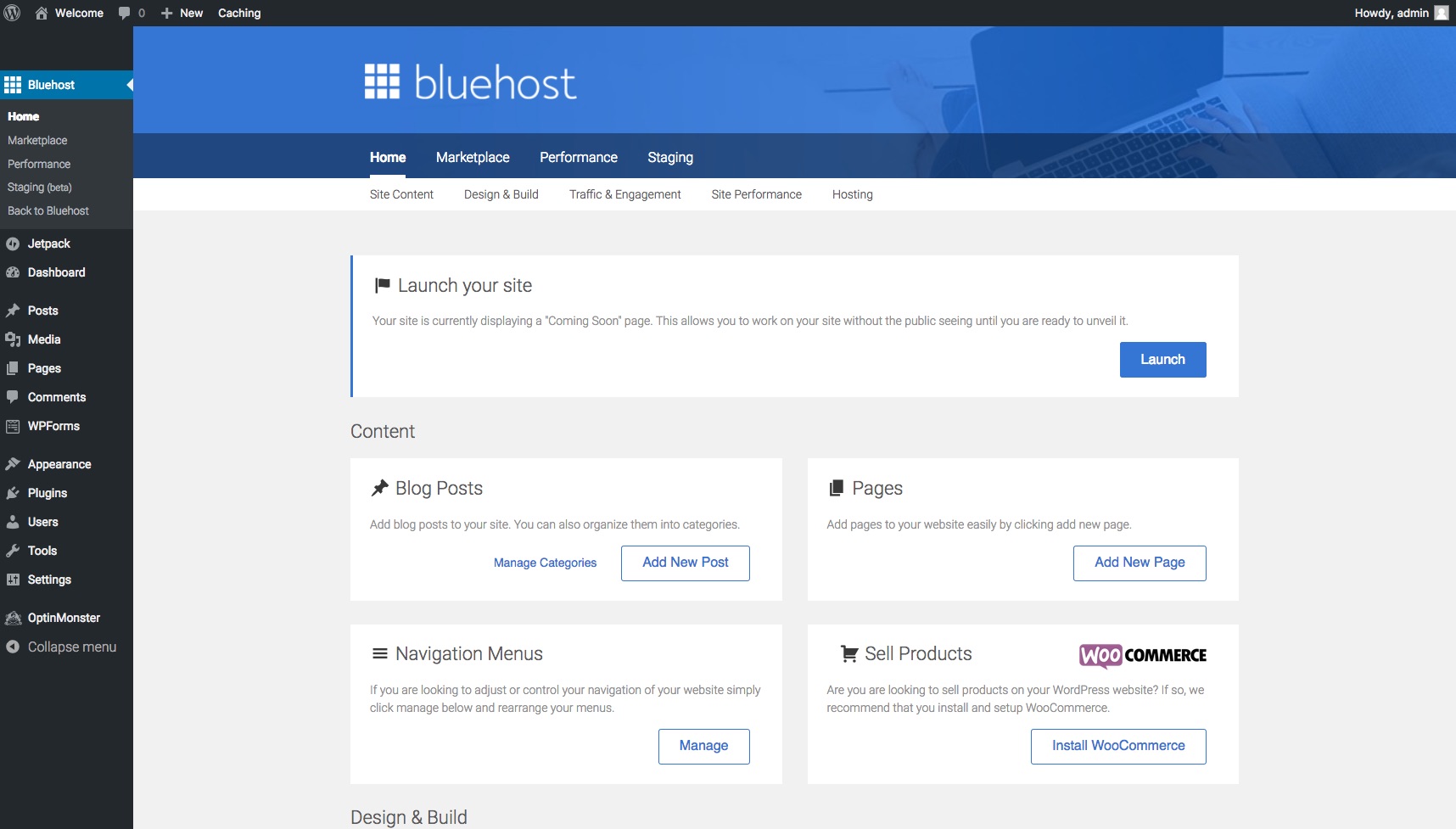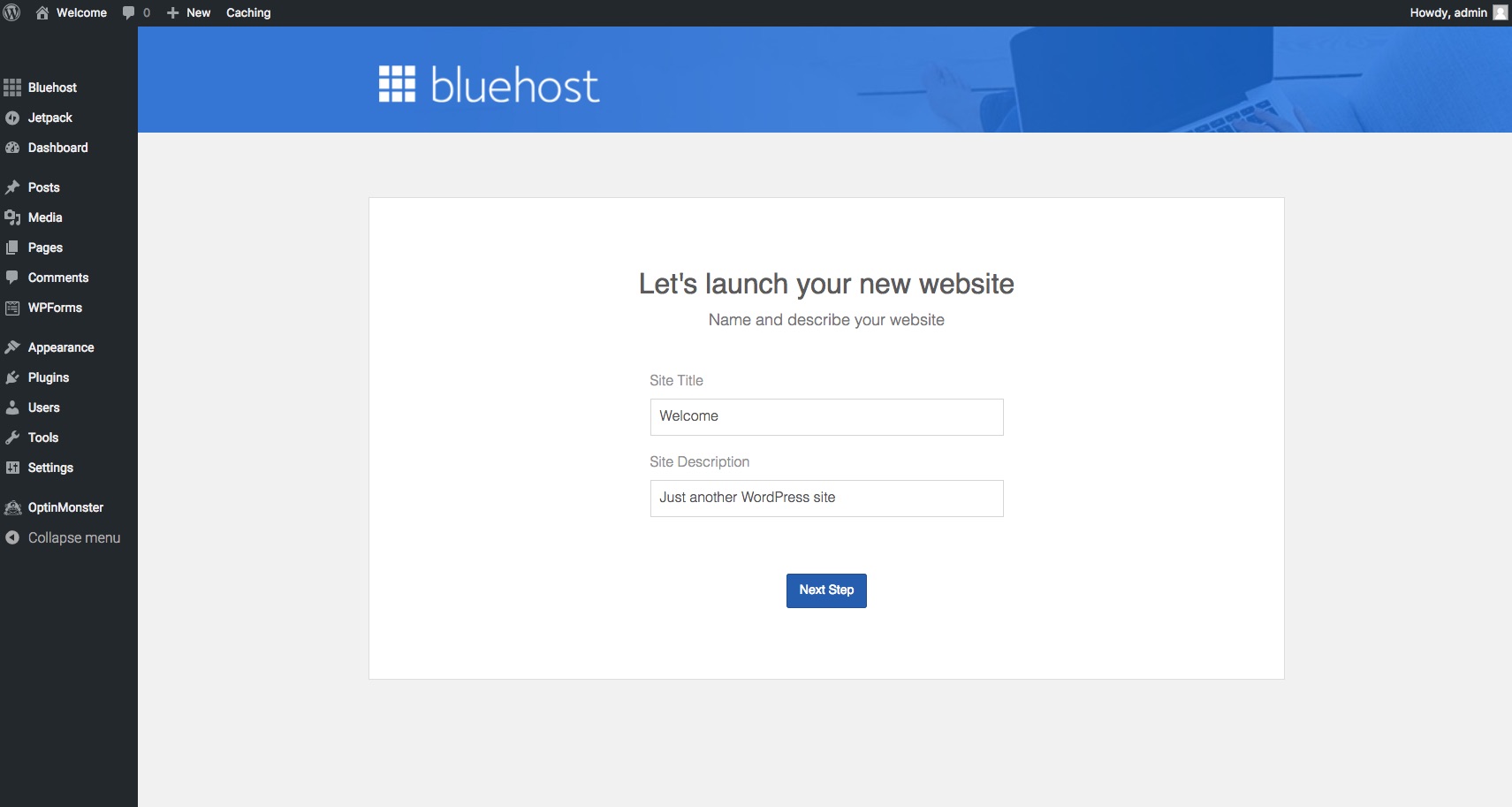 And just like that, you are ready to begin working on the design and producing impressive content.
Conclusion
Overall, hopefully after following these steps you have successfully started your own WordPress blog on Bluehost.
If you are completely new to WordPress and are slightly intimidated by it here are some general useful tips:
Create a new post – Select "Posts" located on the left-hand side bar
Customise appearence – Select "Appearence" followed by "Widgets". This will allow you to customise and order items on your sidebar, header and more.
Add an image – When you are writing a post select "Add Media" located under the highlited blue permalink at the top of the page.
It may also be worth investigating SEO tools that can help your blog to reach a larger audience as well as to help it rank higher. One free recommended tool is Yoast SEO which will help you improve your SEO score as well as the readability of the content you are creating. It will offer you advice whilst writing, pointing out both problems and improvements. Therefore, it can be a highly beneficial tool if SEO is new to you.
Additionally, if you are working alone, consider downloading Grammarly. This is because it will proofread your work as you go along. Pointing out both spelling and grammatical errors. This is crucial and can save you lots of time.