Originally made by American Indians, dream catchers help the bearer sleep well. Back in the day, dream catchers were made with willow hoop, on which a net or web was woven. They were handmade items believed to give the owner good dreams.
Sometimes, the dream catcher included a sacred item like certain feathers. Nowadays, dream catchers are part of the legend and mystery. But they look awesome. If you want to carry a symbol of peaceful slumber on your body, I have some tattoo ideas for you.
Say goodbye to the fear of nightmares with these lovely designs!
1. Deer Skull Dream Catcher on Thigh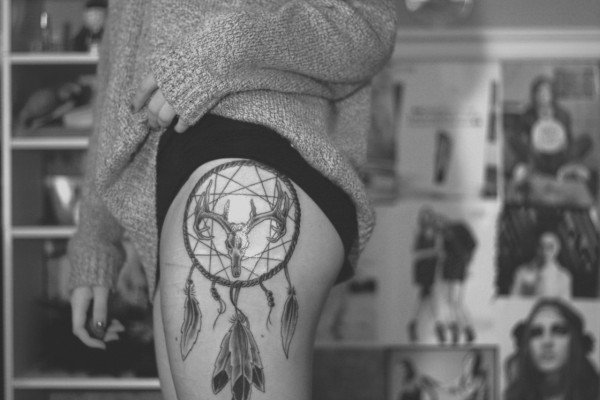 As I mentioned, sometimes the dream catcher includes a sacred item in the middle. And a deer is certainly one of those items. Bonus points: the deer looks fearsome and scary at the same time.
2. Matching Palm Beach Dream Catchers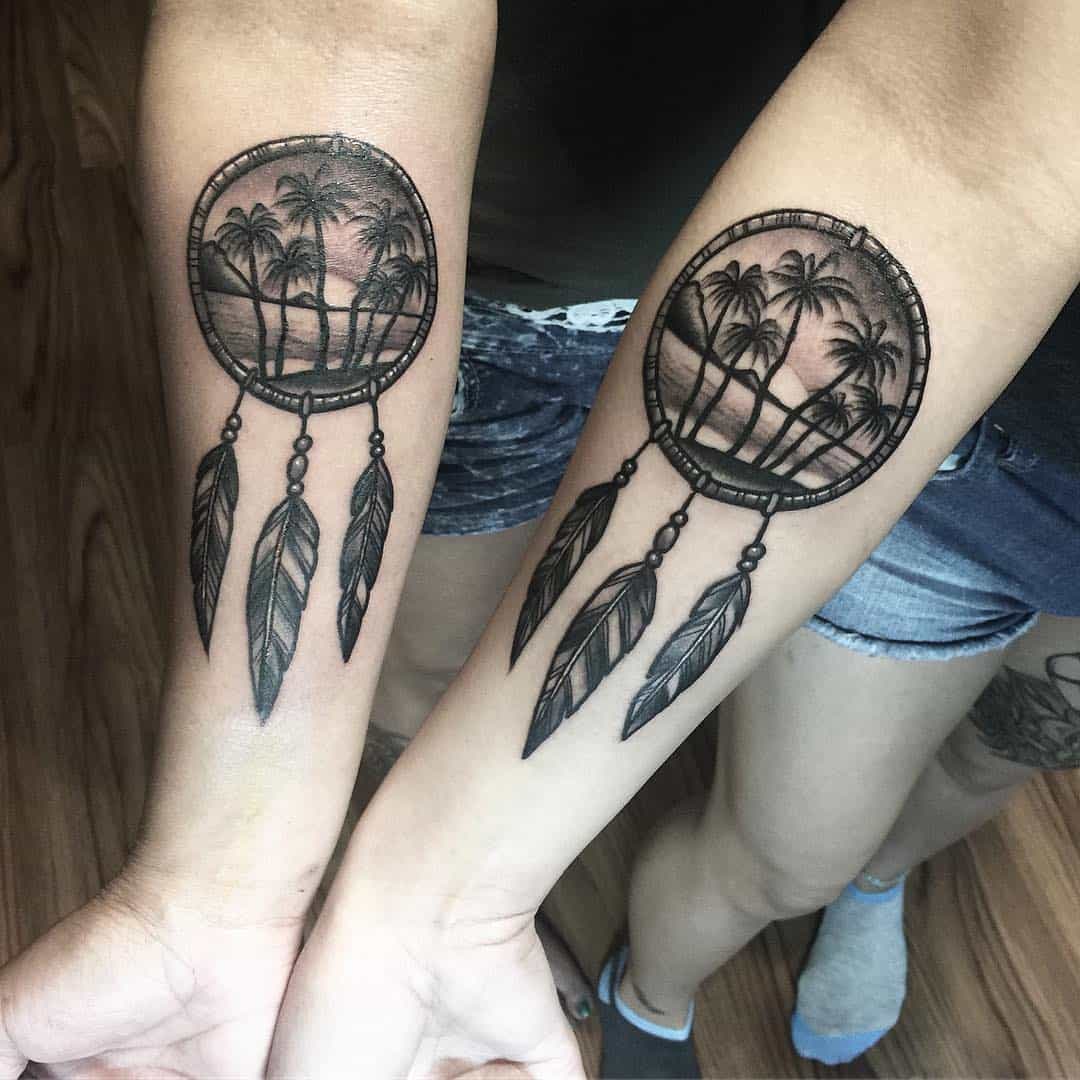 Who doesn't want to dream of a beautiful, sandy beach? No one around to bother you. Just you, the sand, and the sea. Talk about a peaceful environment—and you can carry one on your body!
3. Double Dream Catcher on Back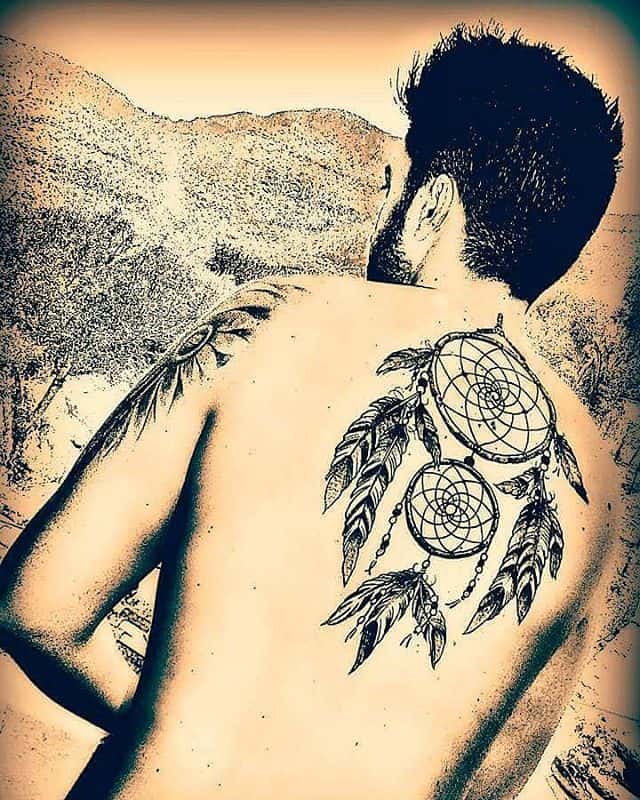 Taking the whole dream catcher idea to the next level is easy. Just put two on instead of one. And the back gives you more than enough space to fit two items.
4. Indian Elephant Dream Catcher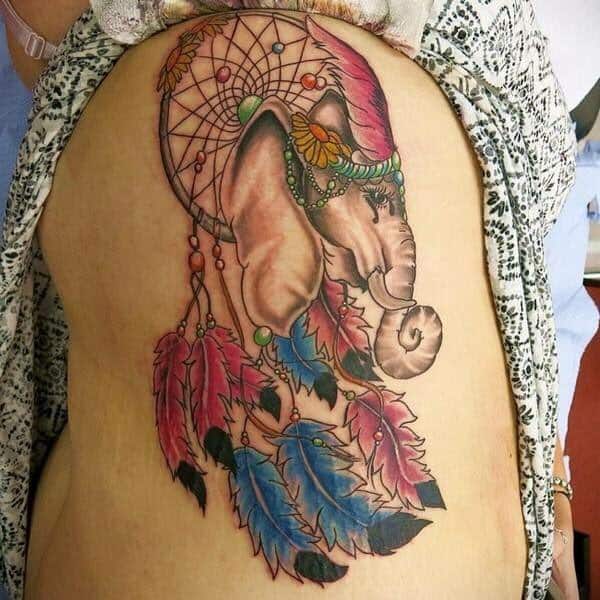 Native Americans were not the only culture and nation that believed in the dream catcher legend. People in India believe in it as well, which is why we have India's sacred animal in a dream catcher tattoo.
5. Freehand Henna Design Dream Catcher Sleeve Tattoo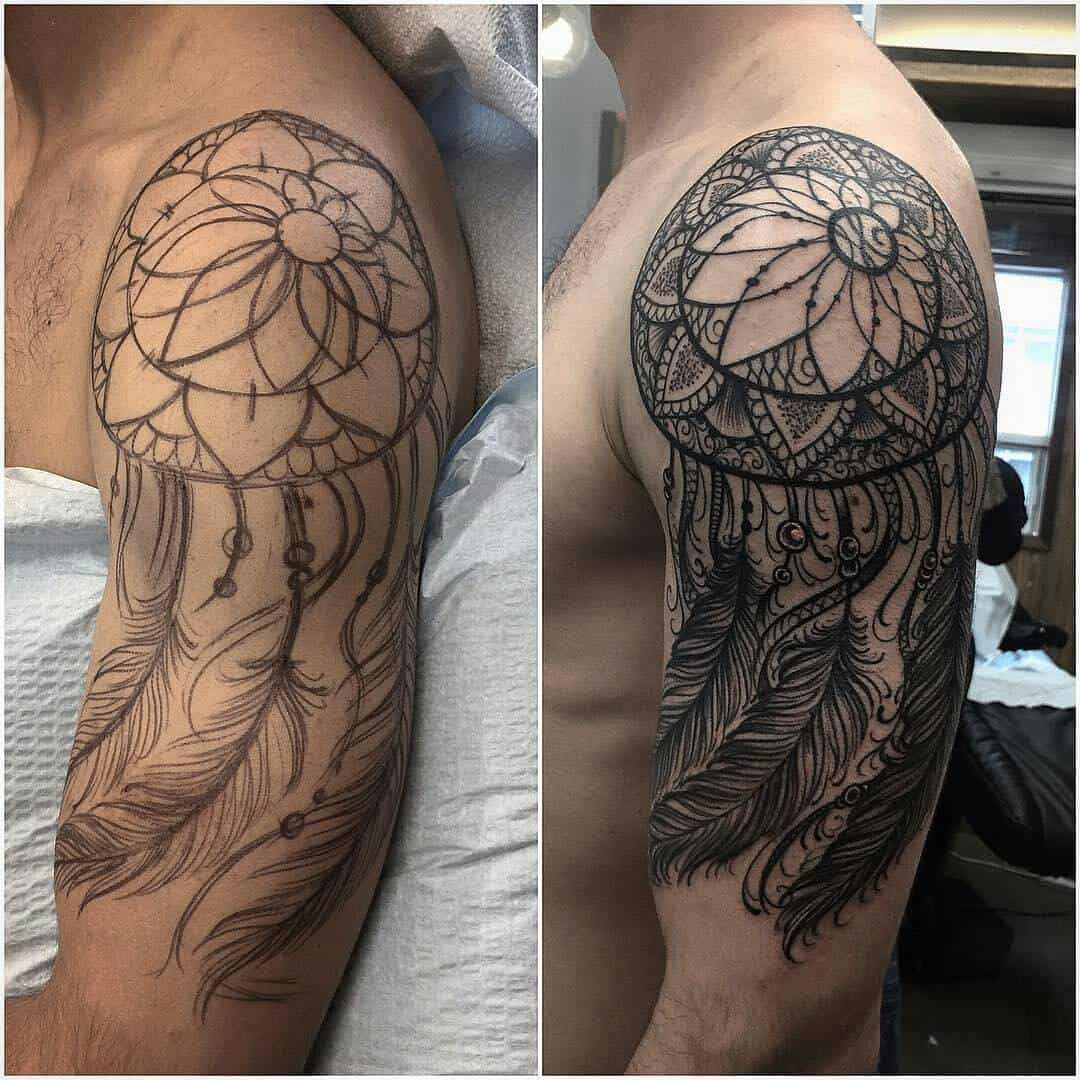 In the past few years, henna has become a popular way of getting a tattoo. Henna gives the tattoo a bit of a darker tone and more distinct lines.
6. Compass Dream Catcher on Back
Some people want guidance in their life; they need someone to tell them where to go. And in that spirit, a compass is the best item you can get. After all, the whole meaning behind the compass is feeling lost and looking for someone or something to give you directions.
7. Wolf Dream Catcher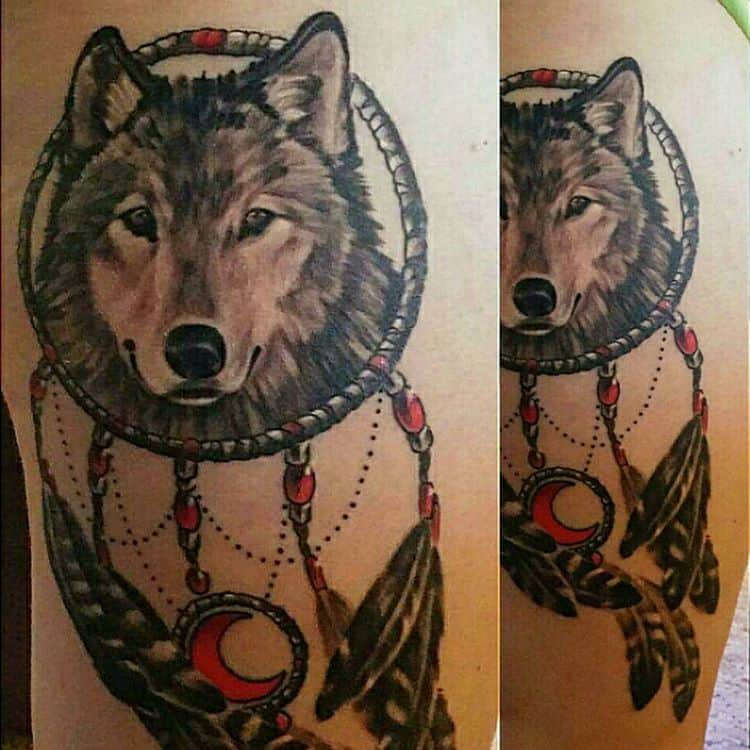 The wolf was a huge part of the Native American culture and tradition. It's no surprise we see him on the dream catcher tattoo as well. When you go for the wolf, be sure to get a serious look like this one. You want your wolf to strike fear and respect.
8. Wavy Energy Dream Catcher on Back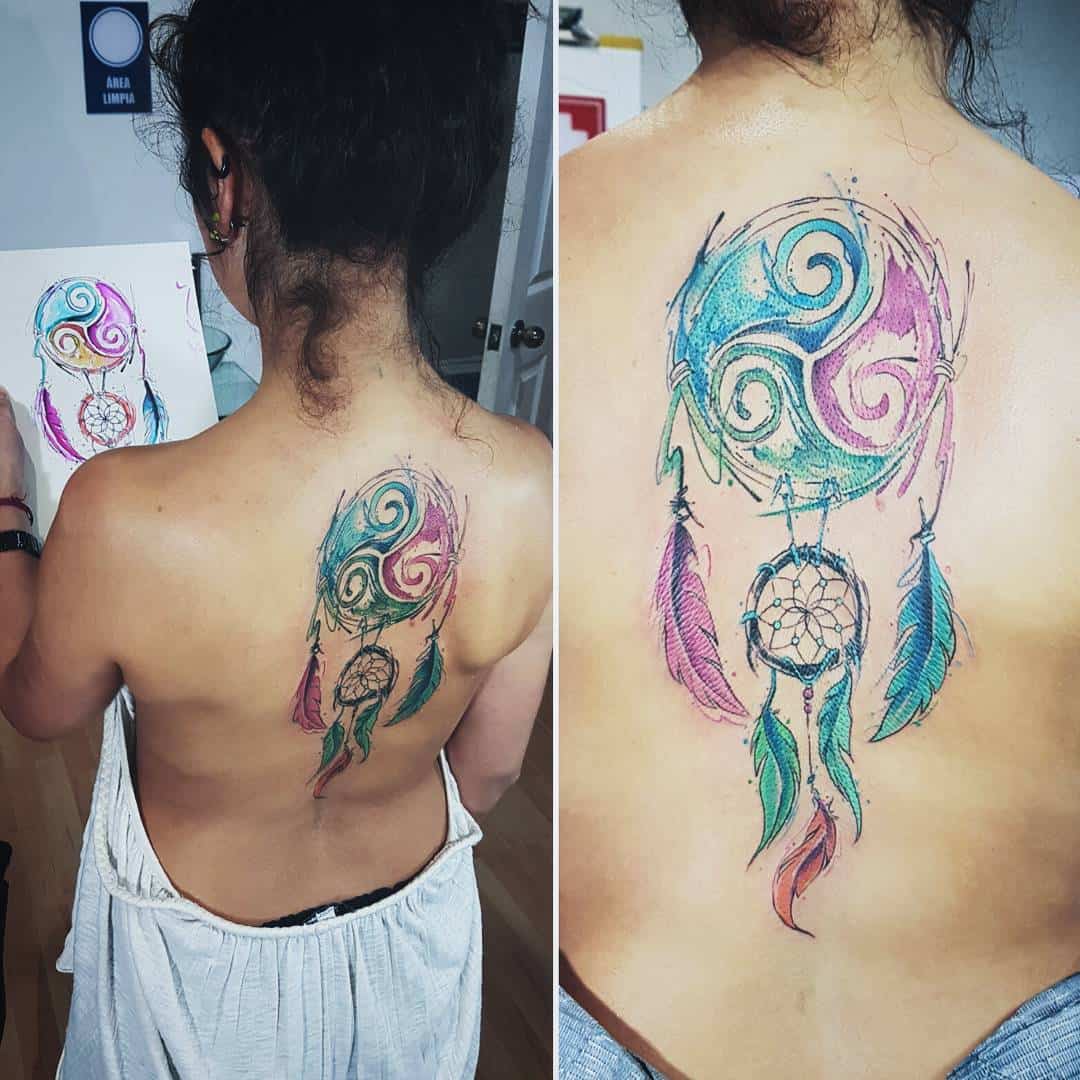 One of the best parts about the dream catcher tattoo is its versatility. Most people opt for Native American symbols and signs. But you can also go in a different direction, like this colorful and whimsical tattoo, for example.
9. Sea-Themed Dream Catcher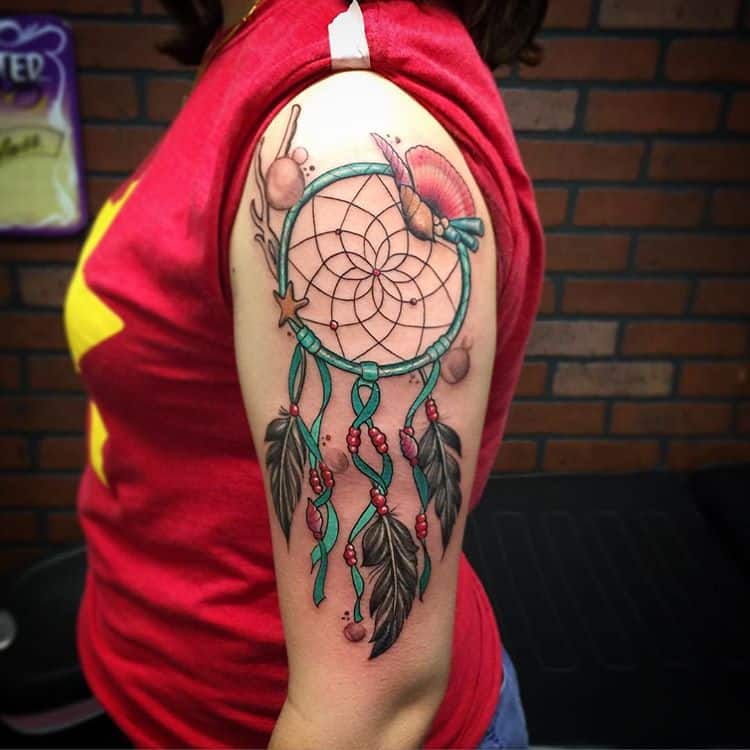 Speaking of other aspects of the dream catcher, you can find inspiration anywhere. If you dig the beach and the sea, you can go in that direction.
10. Heart-Shaped Dream Catcher on Thigh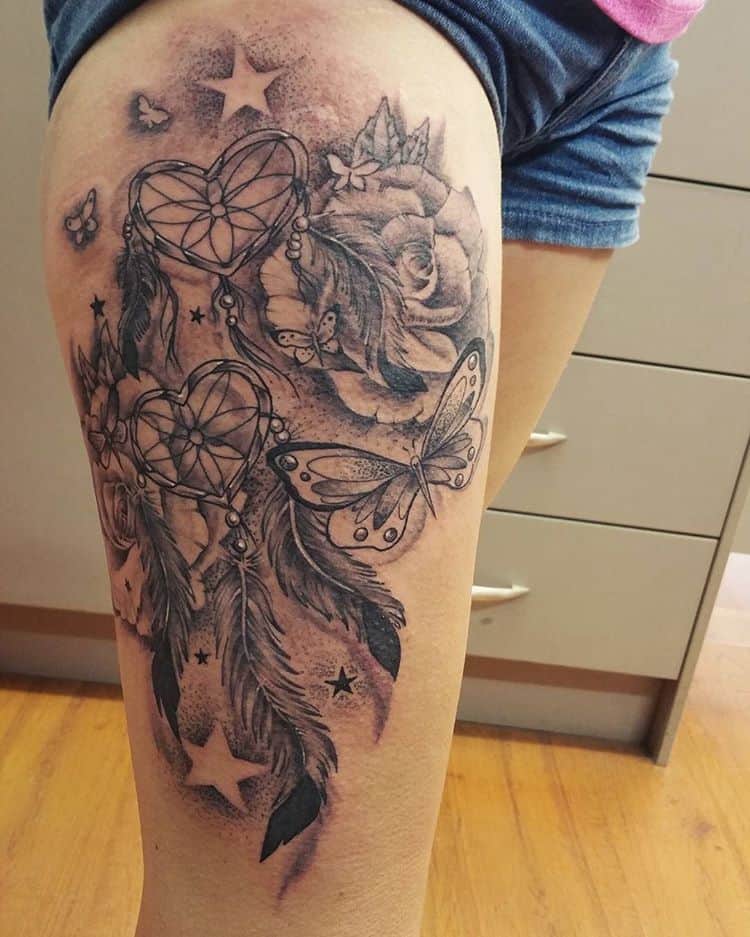 You can never escape the romantic theme, no matter how hard you try. You can be romantic and mushy with every tattoo design, including the dream catcher. But you also have to admit that this heart-shaped tattoo is exceptionally good!
11. Under Breast Dream Catcher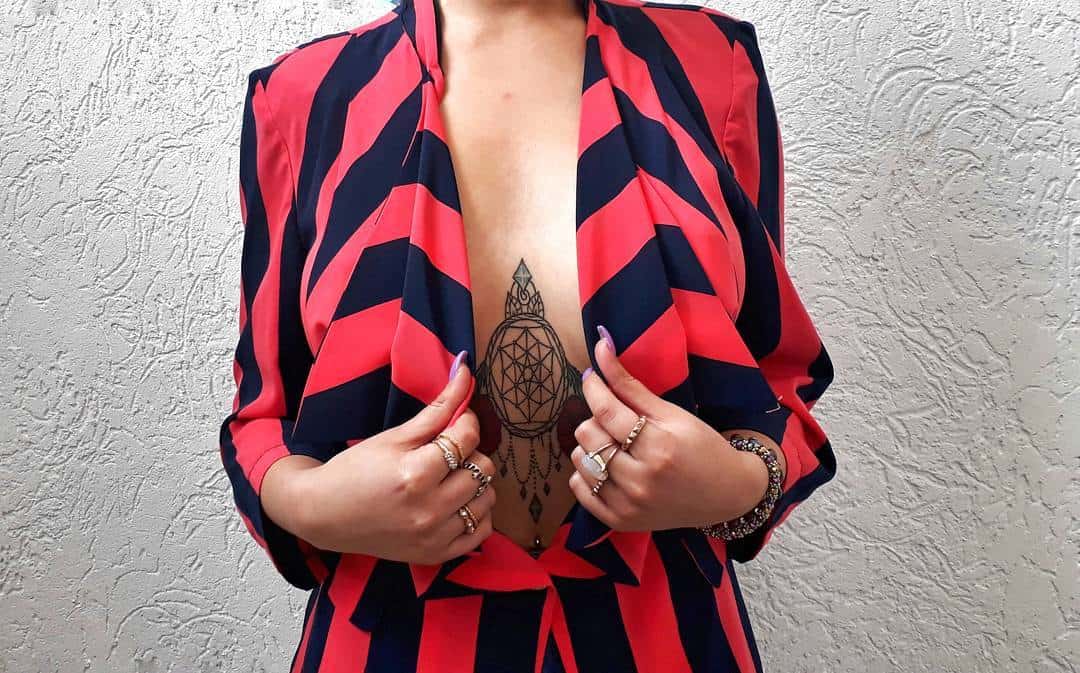 The area under the breasts has become a popular area for tattoos in the past few years. The dream catcher fits that area nicely. The tattoo has length, depth, and width.
12. Pink Flower Dream Catcher on Thigh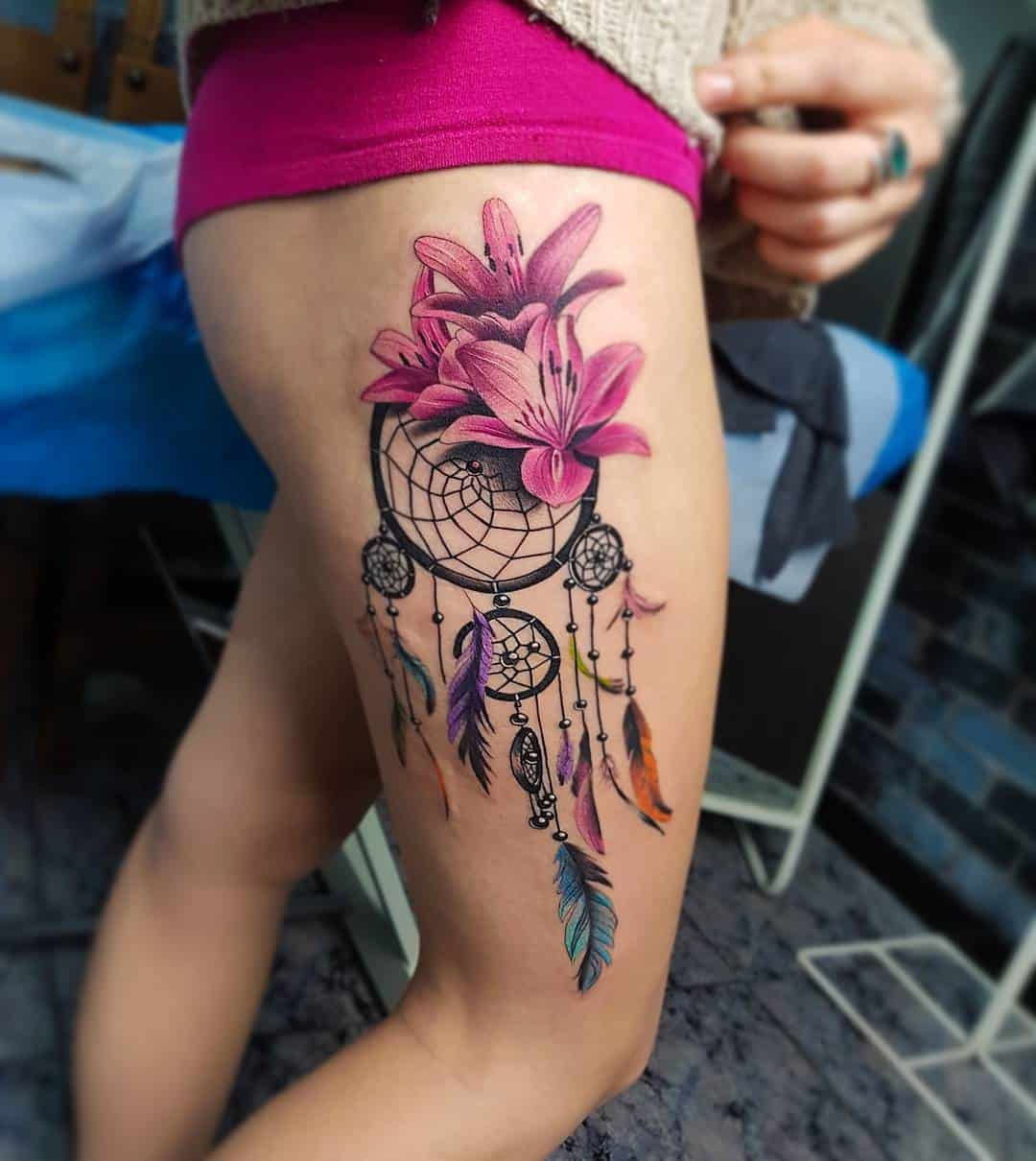 No matter the theme, you can't escape some girly tattoos. Some people just want colors, and they want their tattoo to be colorful and playful. Nothing wrong there. We all have different ideas, and that's the goal here—to give you lots of ideas so that you can choose the best for you.
13. Black and White Dream Catcher with Indian Girl on Back of Shoulder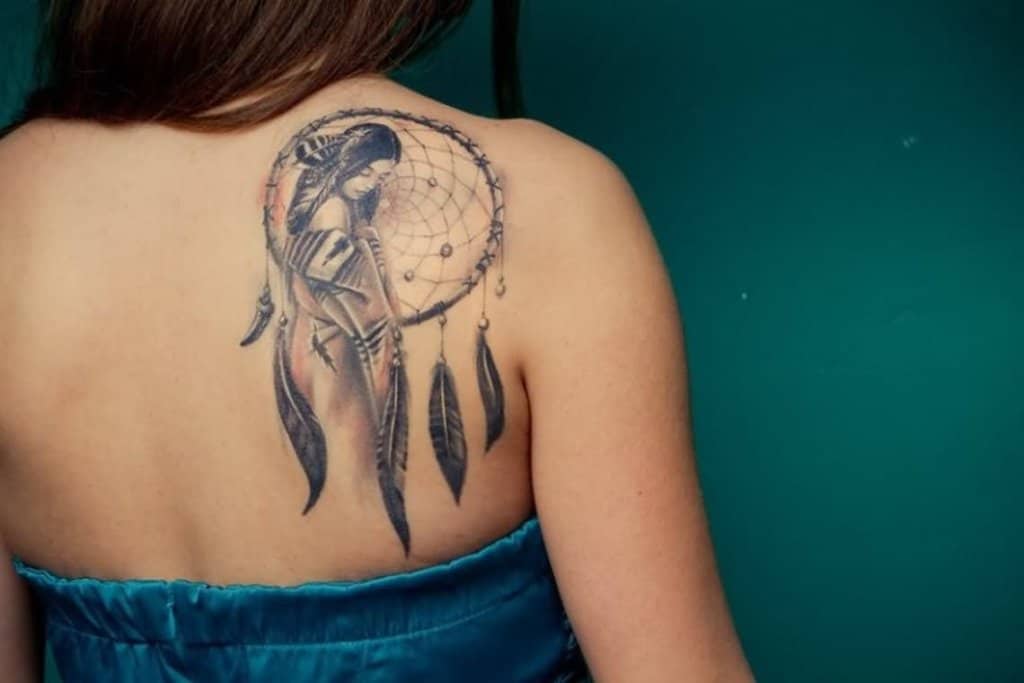 We go back to the Indian motif for a moment. A Native American girl looks awesome inside the dream catcher. It's like she is your very own fairy, making sure you sleep tight.
14. "You Only Live Once" Rose Dream Catcher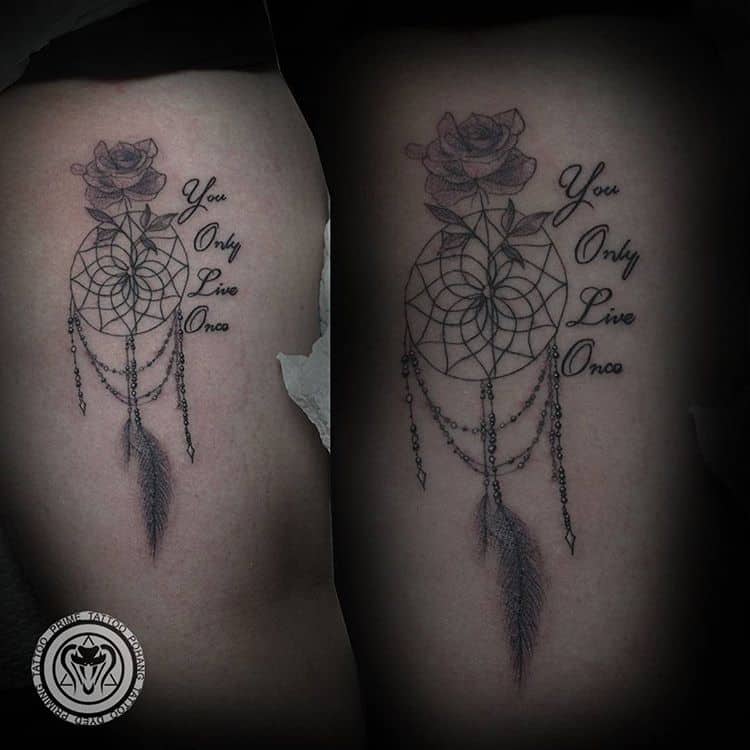 When you want to send a message with your tattoo, there are two ways. One, you can go for some symbolism, but not many people will get it. If you don't want to be subtle, you go for words, as there's no more direct way of sending your message.
15. 3D Howling Wolf Dream Catcher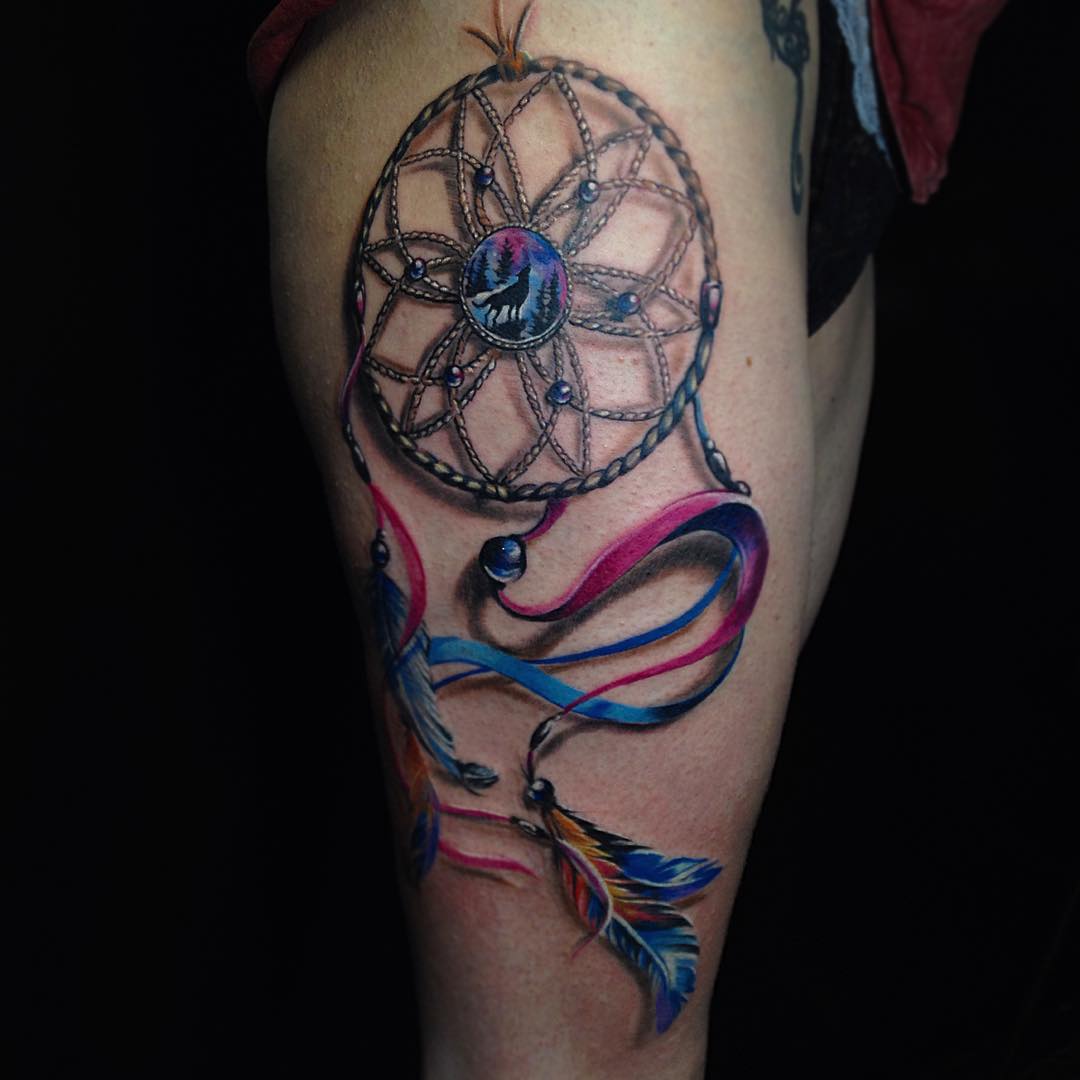 You can make every tattoo in 3D. Adding an extra dimension makes your tattoo unique. And truth be told, it's very easy to do. A little depth goes a long way.
16. Black Tree of Life Dream Catcher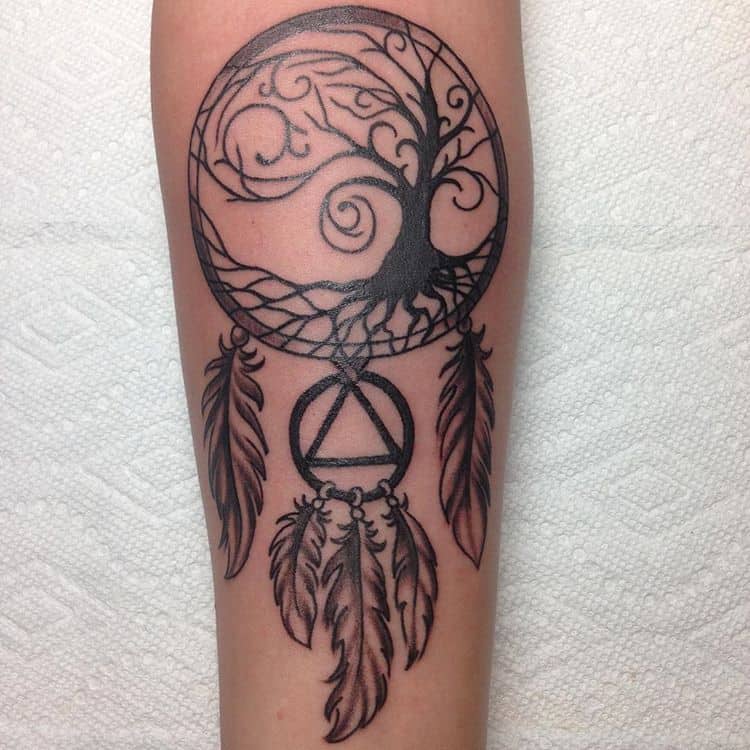 The tree of life is like a tailor-made symbol for the dream catcher tattoo. After all, the tree symbolizes rebirth, and we are born again every time we wake up. You go to sleep, you fall into the world of dreams, and then you wake up in the morning. That's the cycle of life.
17. Henna Design Dream Catcher with Birds on Forearm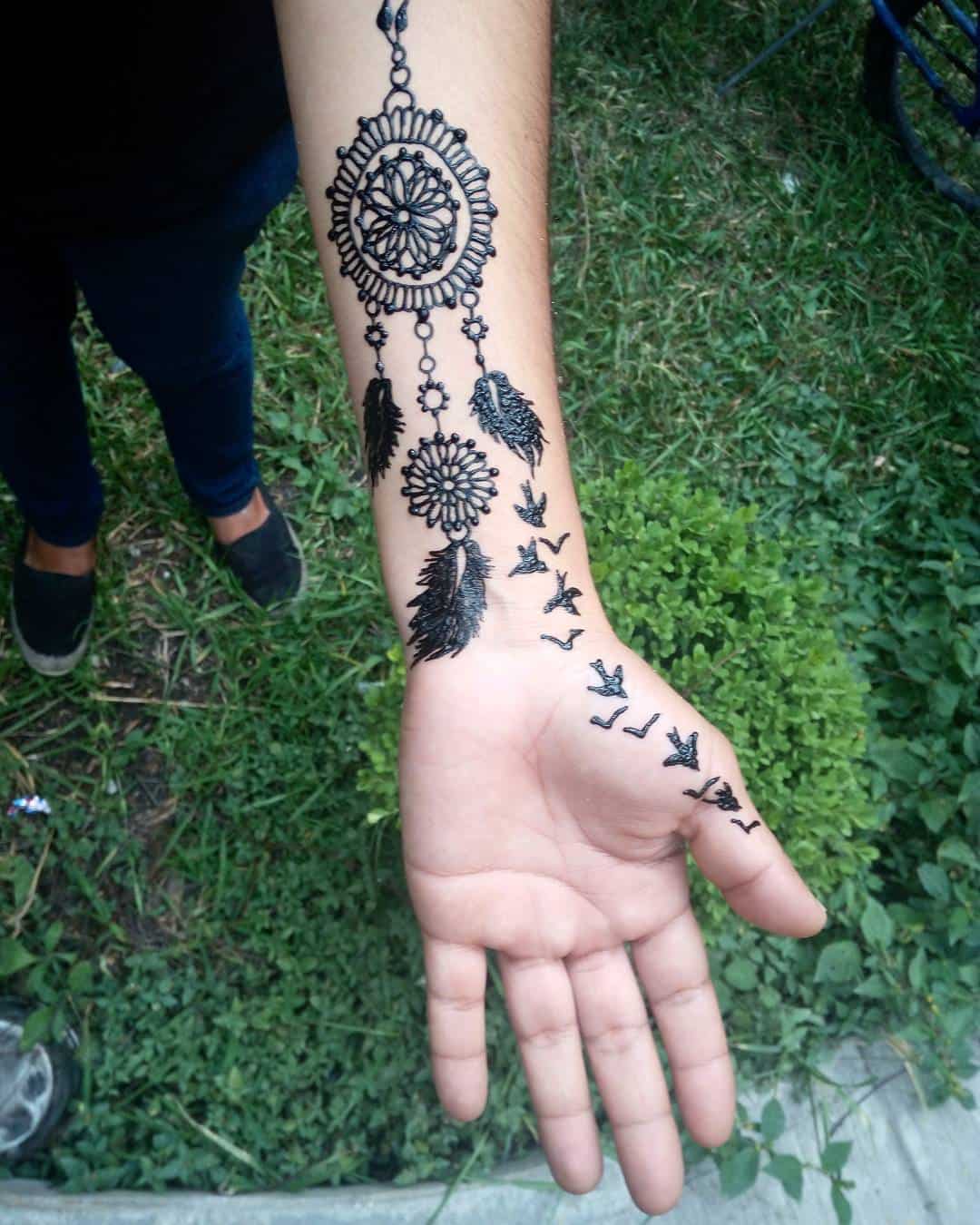 Birds are another popular design we've seen in the past few years. Birds fly freely, and you want your dreams to be as free as possible. When you are free in the world of dreams, you can be sure there will be no nightmares.
18. Angel-Winged Dream Catcher on Back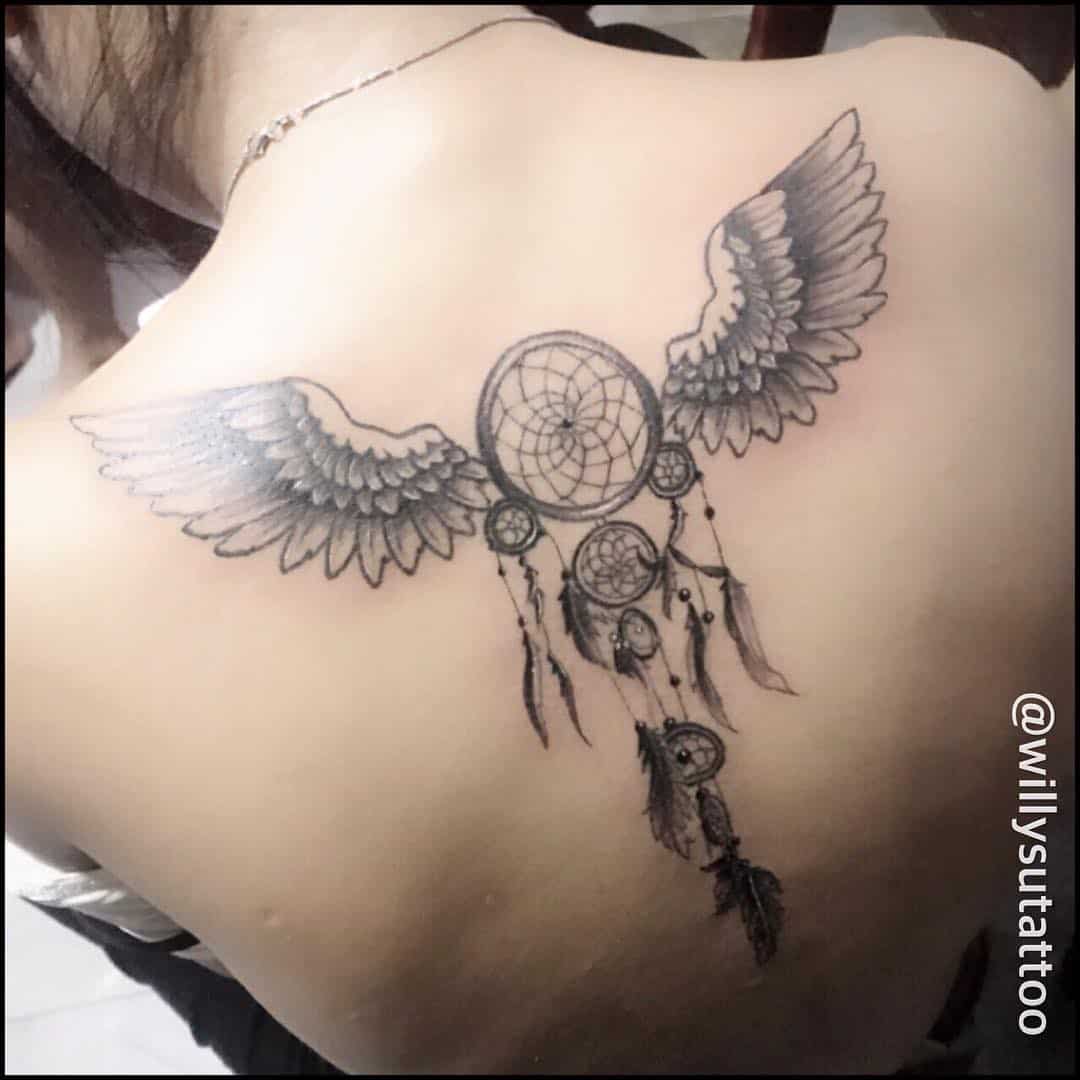 An angel is the person who takes care of us. A guardian angel keeps us safe, making sure we sleep tight and have good dreams. Therefore, carry your guardian angel with you all the time.
19. Watercolor Rustic Dream Catcher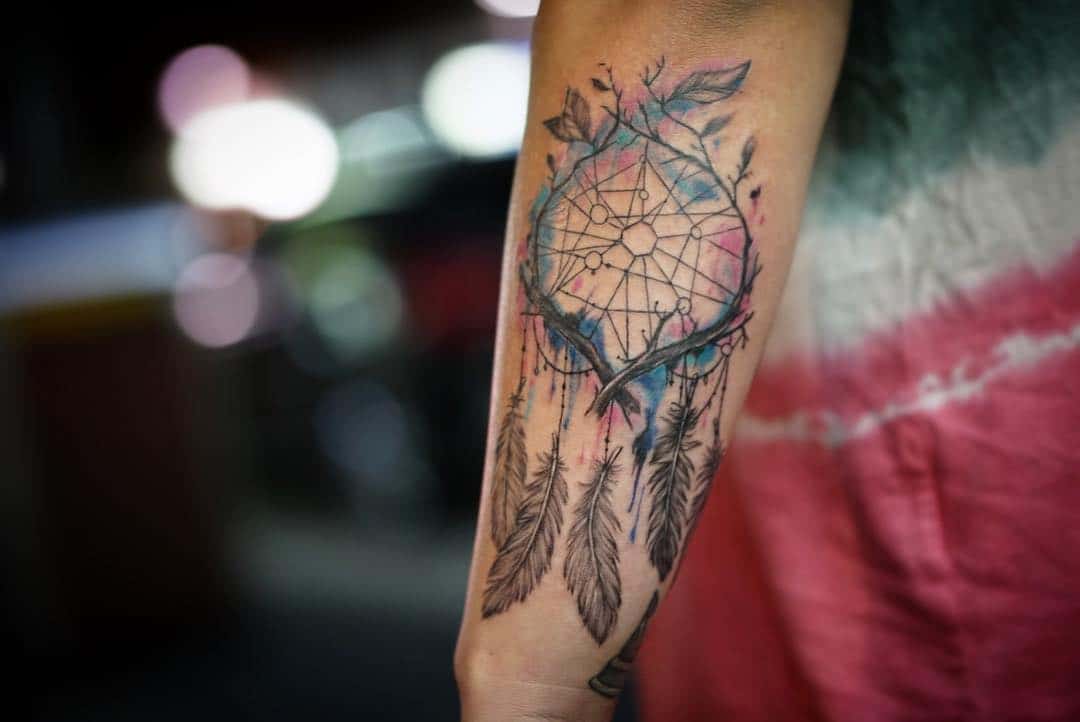 I noted that some people want a colorful tattoo. And the beauty of the dream catcher is that you can try different styles. For example, even one that includes watercolors and is done in a rustic style.
20. Lotus-Shaped Dream Catcher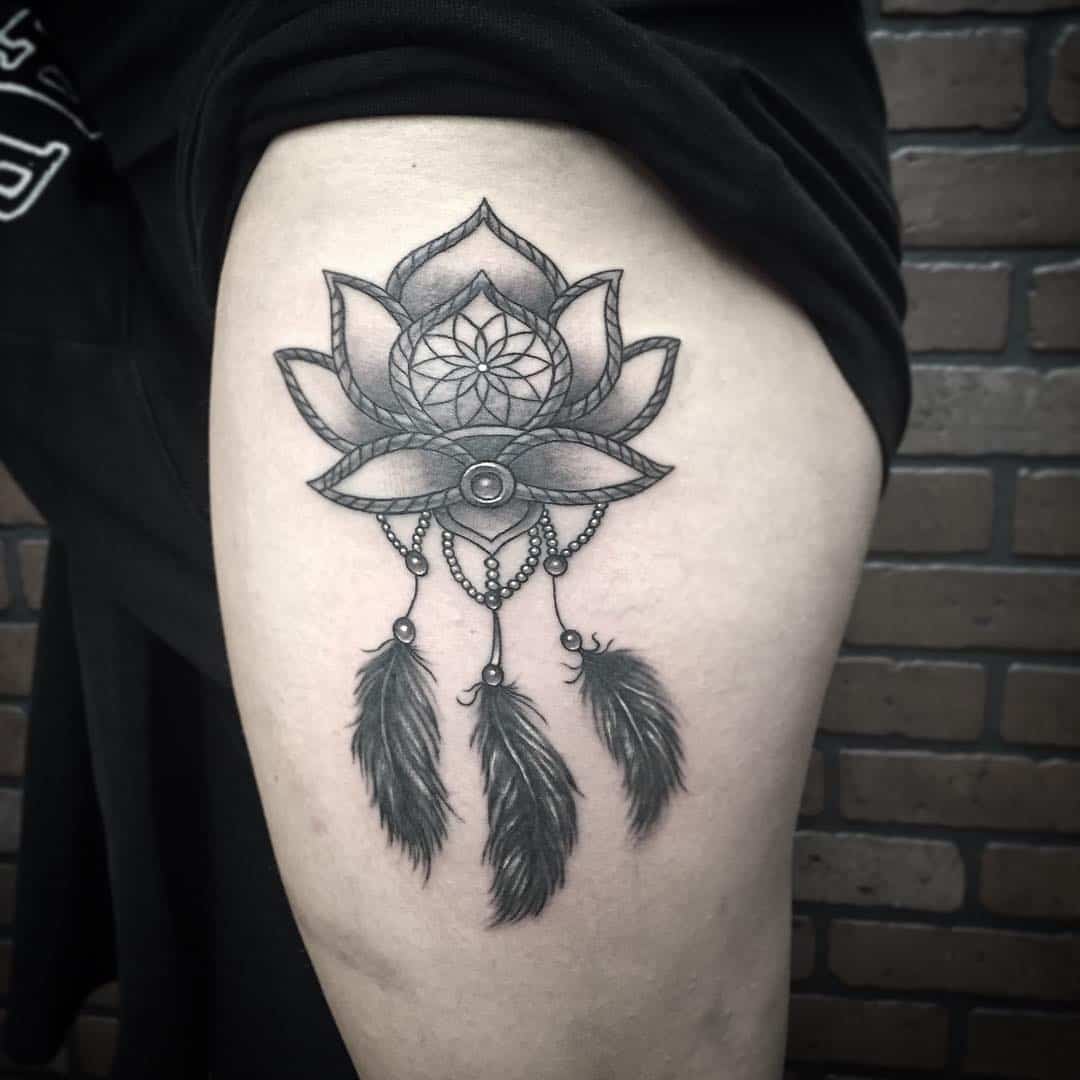 Contrary to popular belief, the dream catcher can be simple and elegant, and this lotus-shaped tattoo is the perfect example. You don't need many elements: simple and distinct lines make this design very visually appealing.
21. Gray and Colored Crossover Dream Catcher on Forearm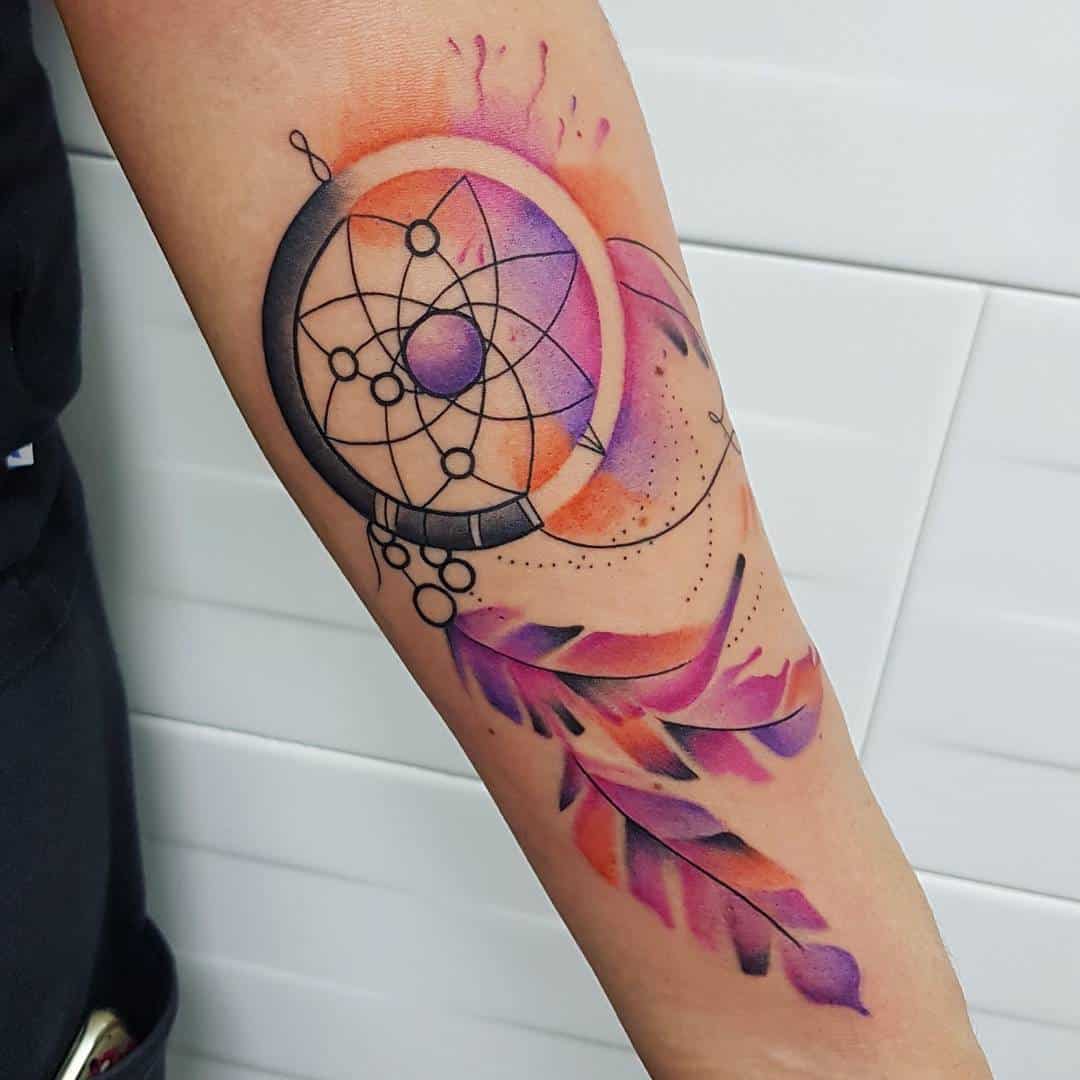 The fact that the dream catcher can be simple doesn't mean it should be. As I've said numerous times, you can always paint it in different colors. What I love here is the combination of colors. Purple and orange are definitely two colors that work perfectly together.
22. Ankle Bracelet Dream Catcher Tattoo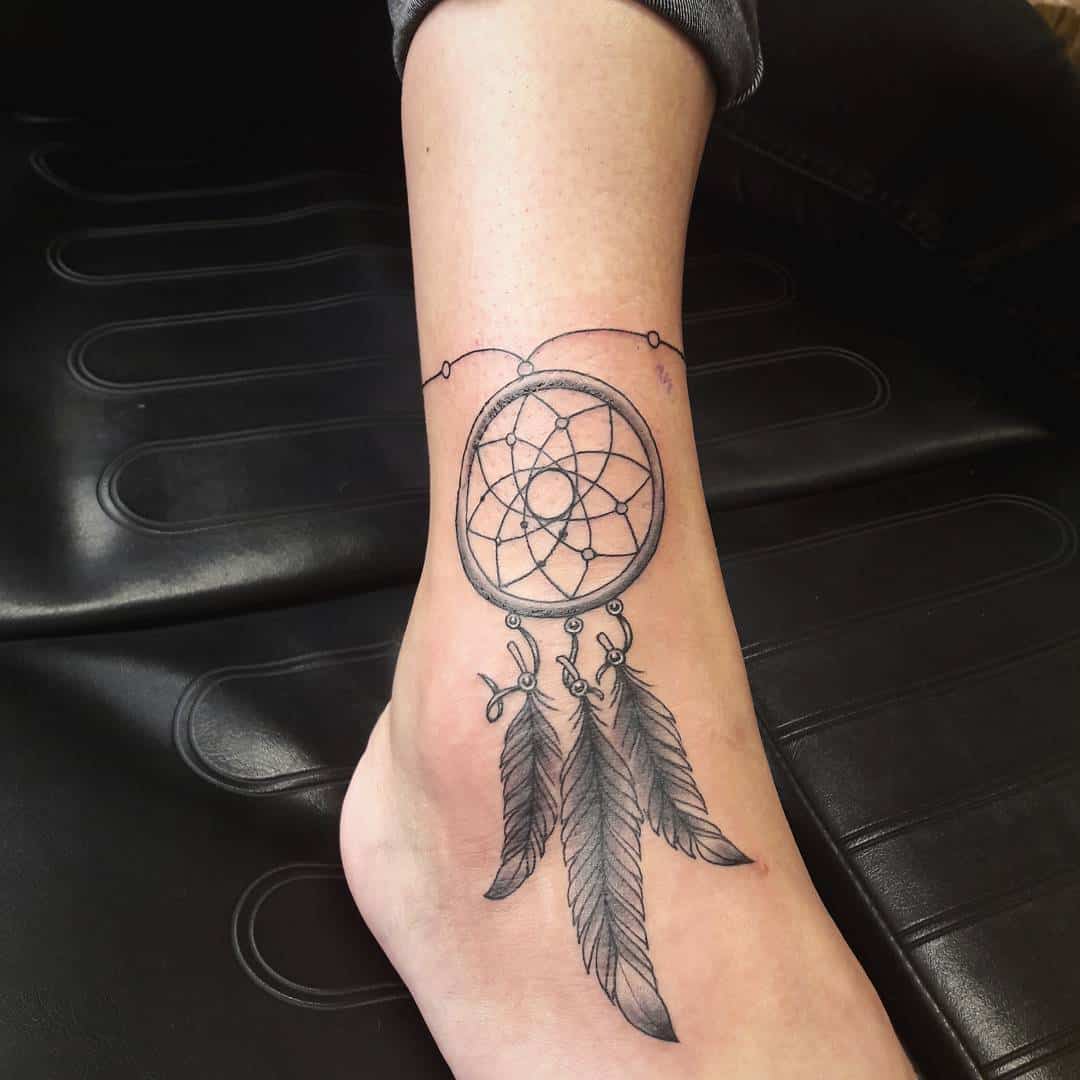 Another great aspect of the dream catcher is location versatility. We saw the tattoo on the back, thigh, arm, leg, and now, we have one on the ankle. It might look like a small area for a big tattoo, but you can definitely make it work.
23. Script Dream Catcher on Shoulder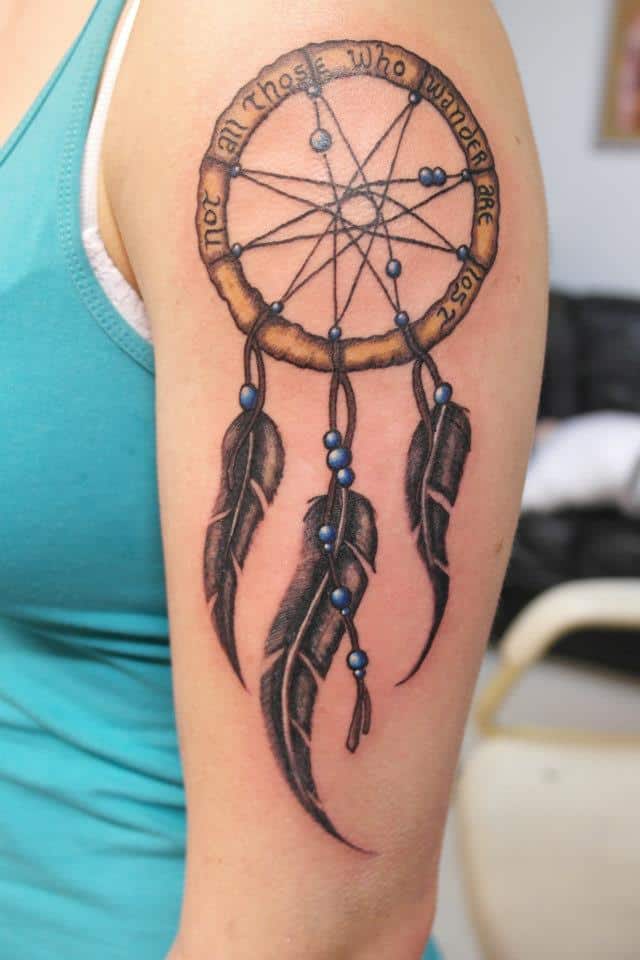 Very nicely done tattoo, and on a perfect place for it. You just have to love the flow of the tattoo and how the feather falls down the arm.
24. Unicorn Pony Dream Catcher on Ribs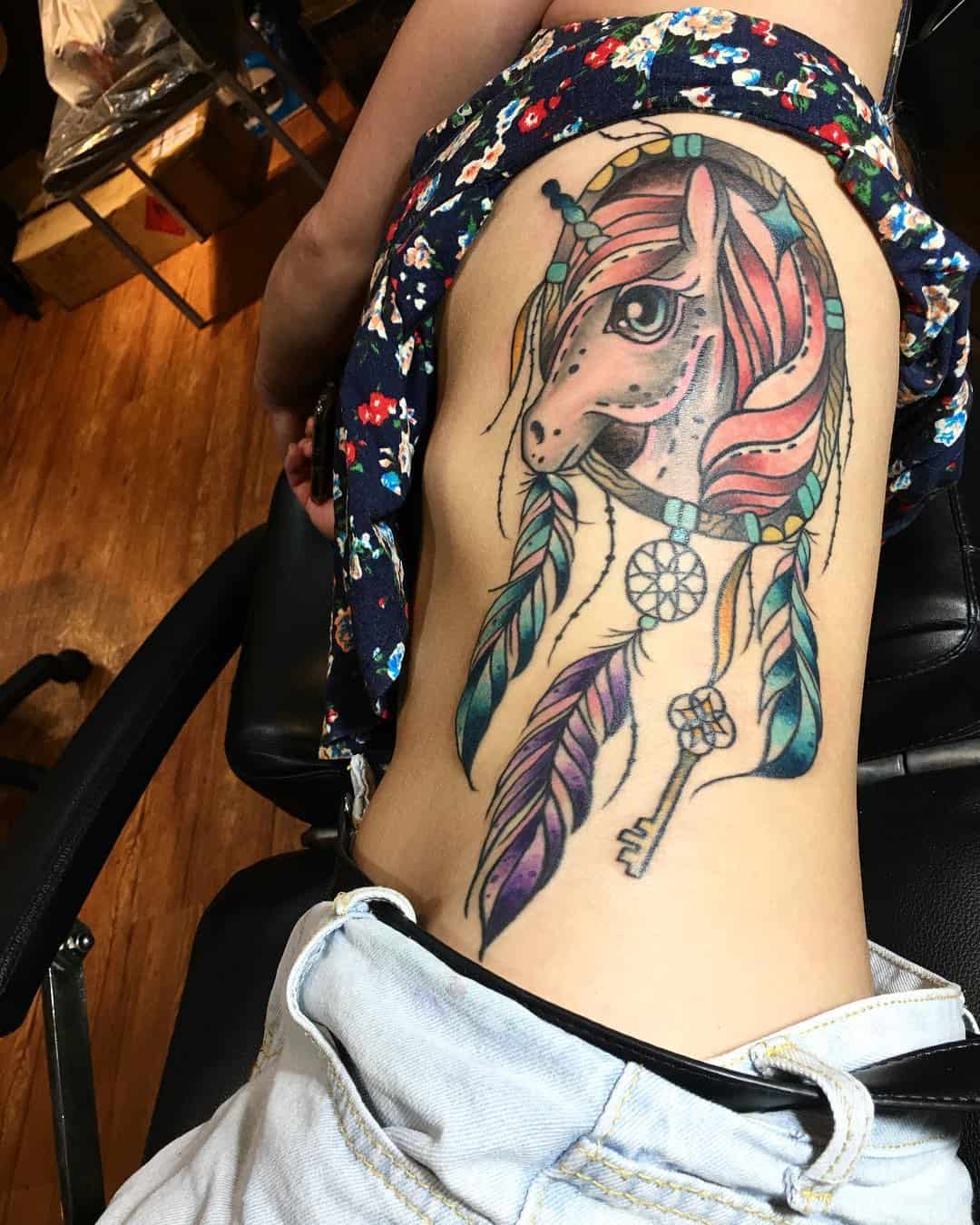 I must say, a unicorn is probably the last thing I expect to see in a dream catcher tattoo. After all, it's more of a culture- and tradition-inspired tattoo. However, there is always some wiggle room. In this case, that means a colorful unicorn.
25. Intricate Black Dream Catcher on Forearm
What you can be sure of with this tattoo is that your tattoo artist will hate you. And you will definitely spend a lot of time in the chair, waiting for the tattoo to be completed. There are just so many details that require precise painting and coloring.
26. Red Henna Dream Catcher on Back of Hand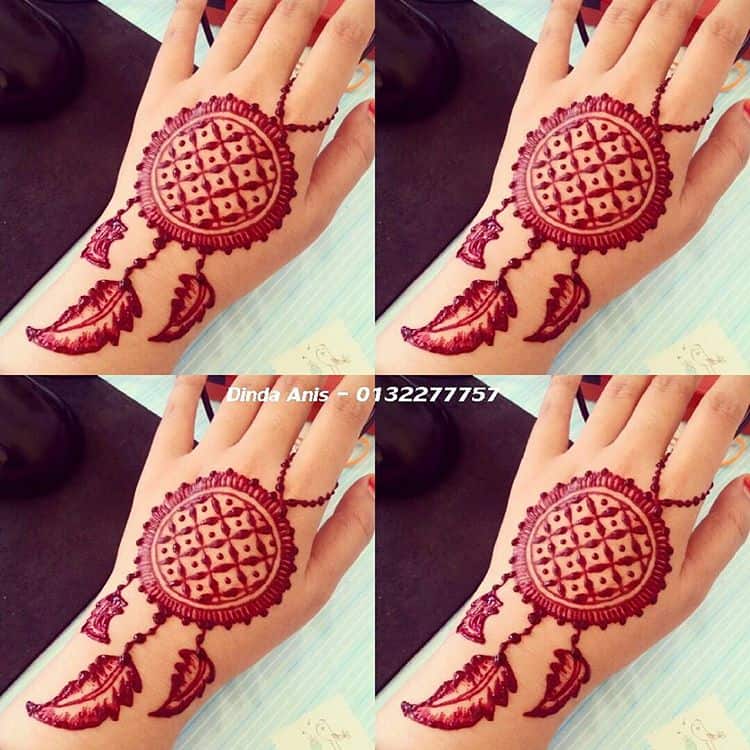 Most people think of a black color when they think of henna tattoos. Truth be told, red works great as well. You can even get away with white henna too.
27. Half Sleeve Dream Catcher Design with Sunflower, Skull and Butterfly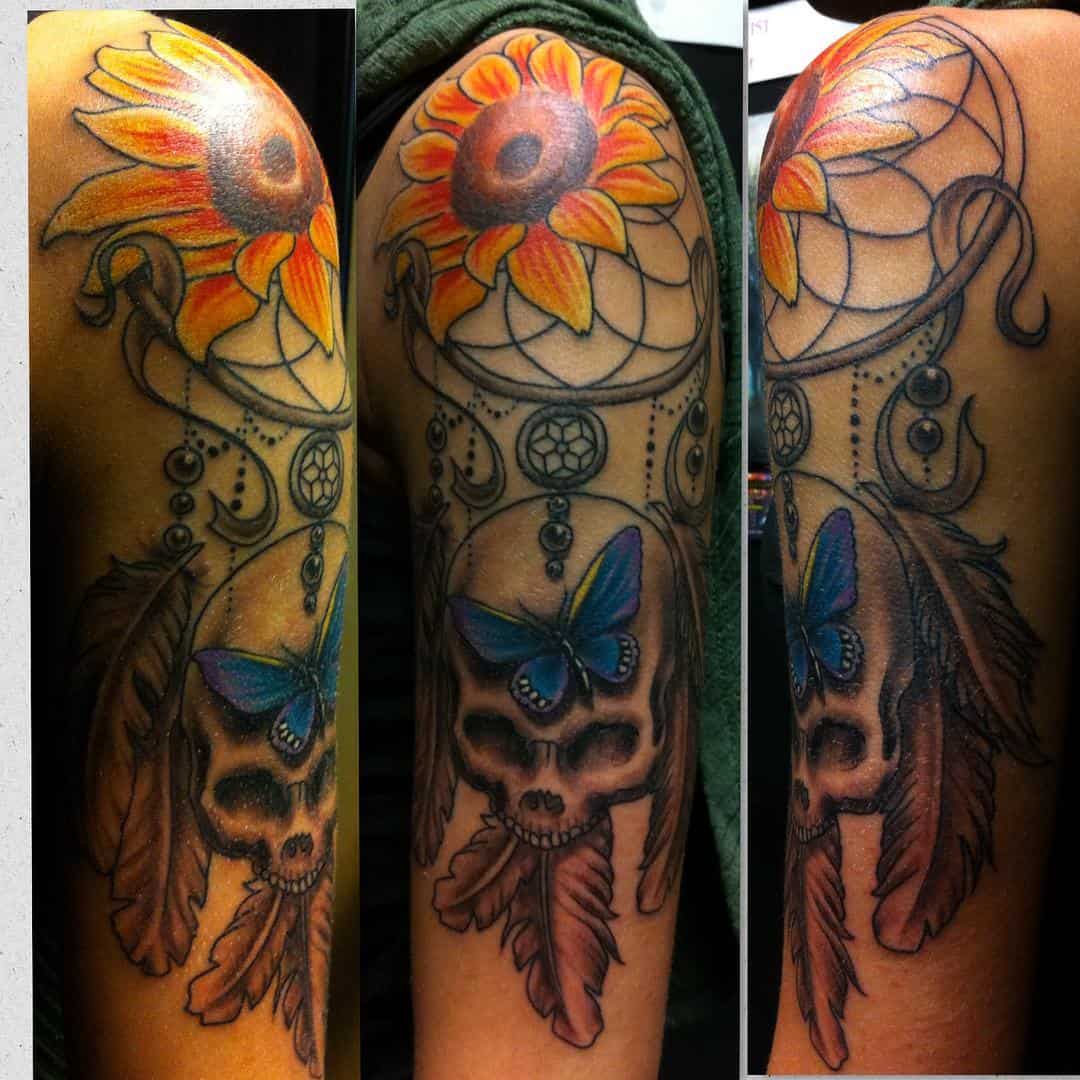 Talk about a unique pairing. Is there any other way you could put the words sunflower, butterfly, and skull in the same sentence? Probably not. But one thing is certain: this tattoo looks scary!
28. Flower-Lined Dream Catcher on Forearm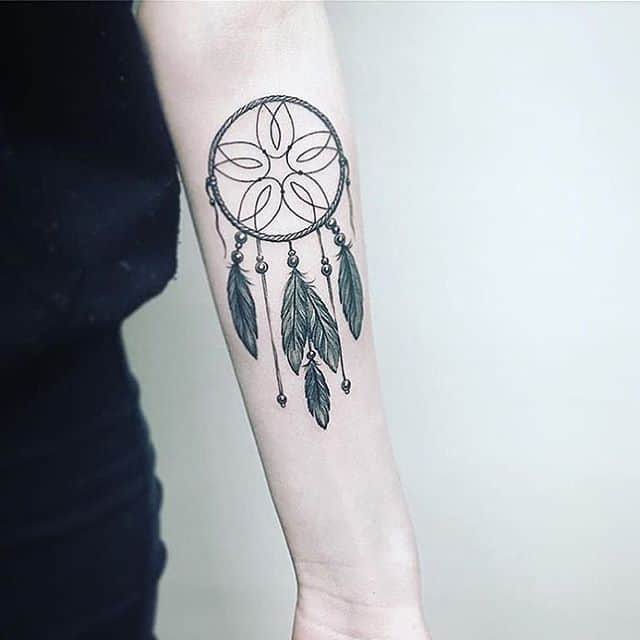 I must say, I am a big fan of subtle, simple tattoos, but not much of a fan of big, space-eating tattoos. And that's why I love these small, elegant designs.
29. Crescent Moon-Shaped Dream Catcher on Back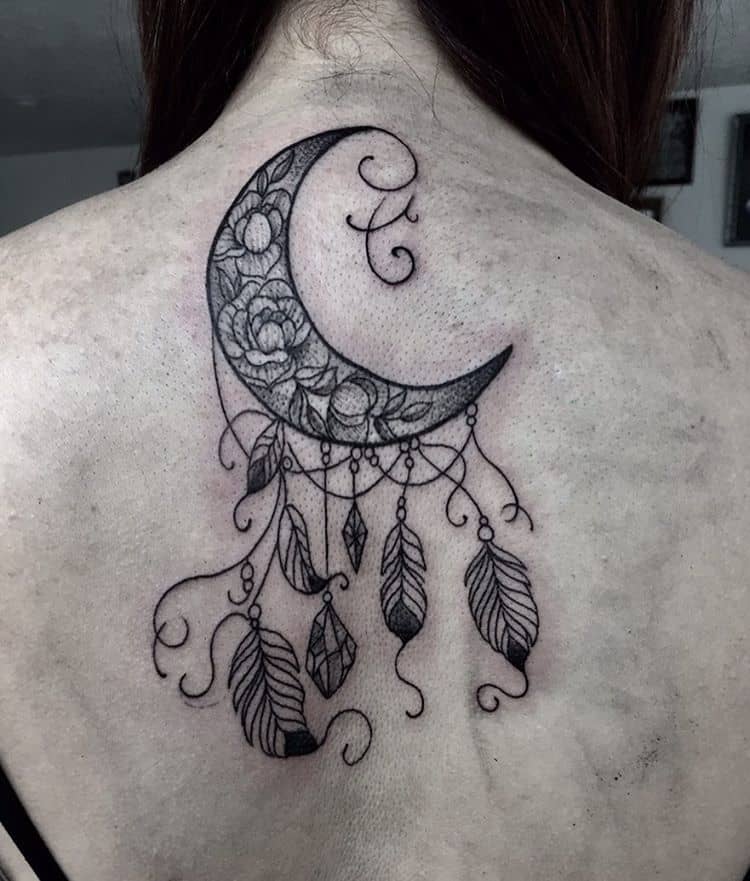 Most of the dream catcher tattoos are inspired by some symbolism. The crescent moon, for example, symbolizes growth and creativity. One thing is certain: the design is creative and unique.
30. Small Dream Catcher with Flowers on Ribs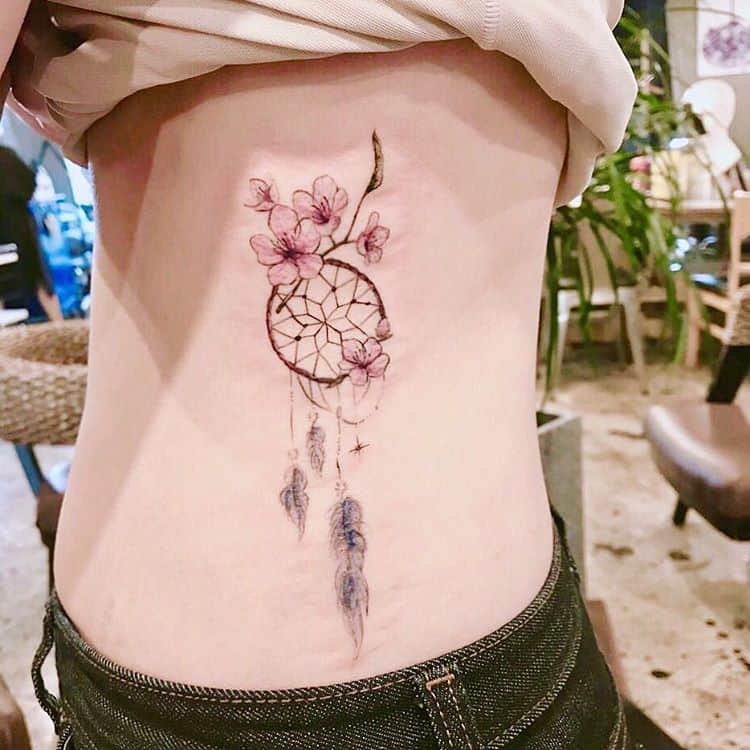 We had the unicorn tattoo on the rib cage. And that was a great example of how you can cover the entire area with one tattoo. But if you thought a small tattoo wouldn't work on the ribs, think again.
31. Colorful Dream Catcher with Various Religious Symbols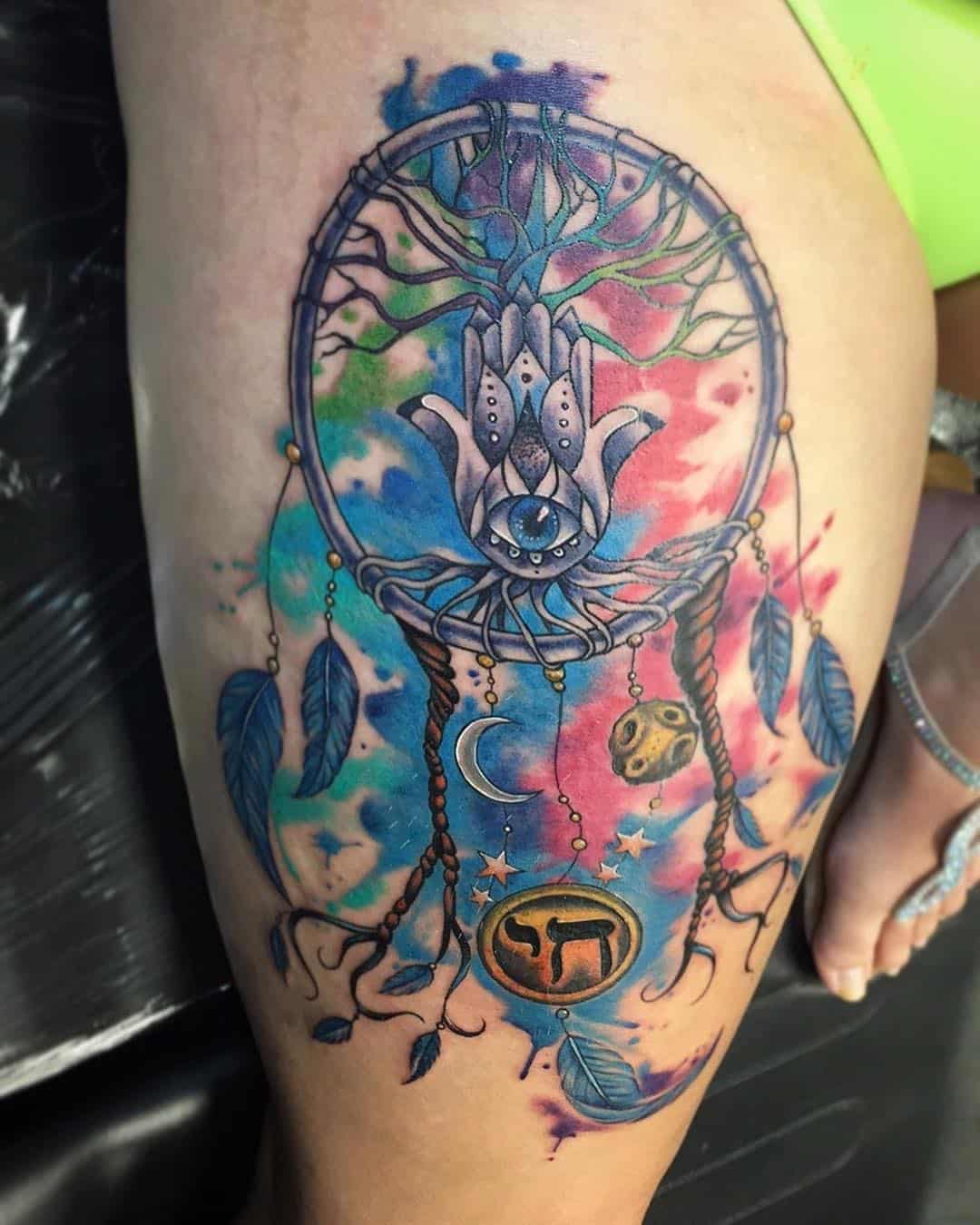 The eye, the crescent moon, the tree of life. Those are just some of the symbols you'll find in this tattoo. But the thing I love the most is that all of the symbols come from a different religion. For example, the tree of life comes from Celtic and Nordic mythology.
32. Behind the Ear Dream Catcher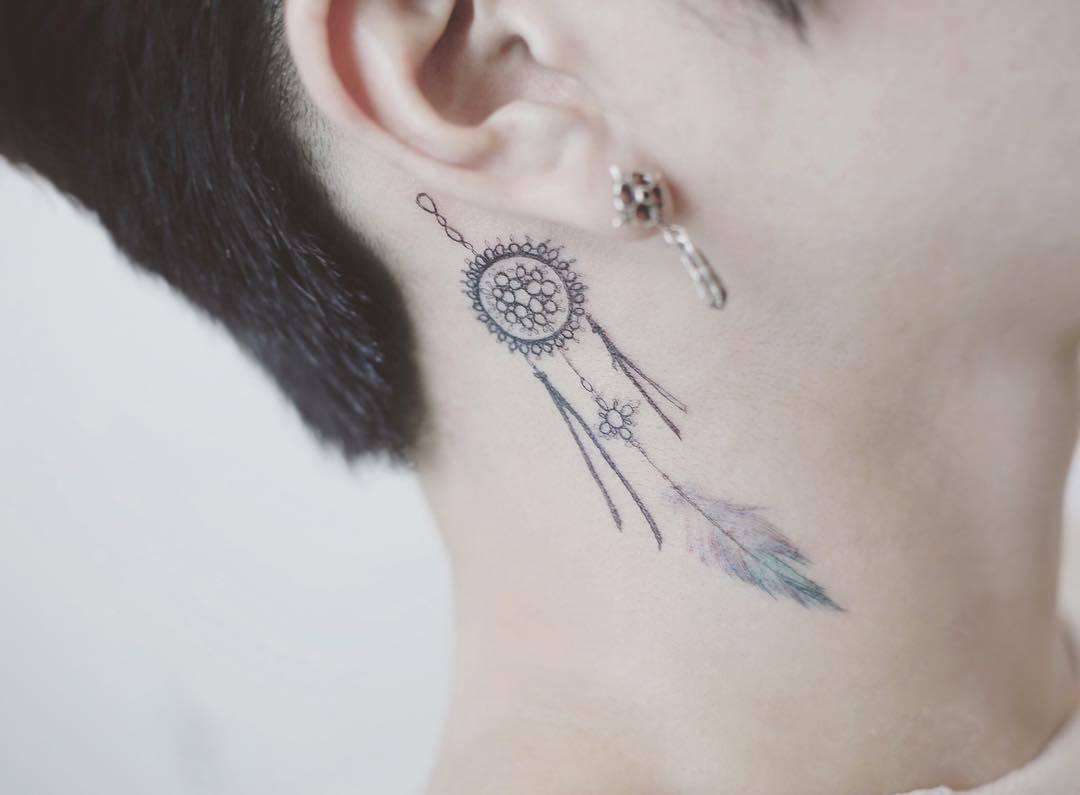 This is the best example of a small dream catcher tattoo design. Truth be told, I didn't believe you could fit a dream catcher behind the ear. But it does look amazing!
33. Colorful Abstract Dream Catcher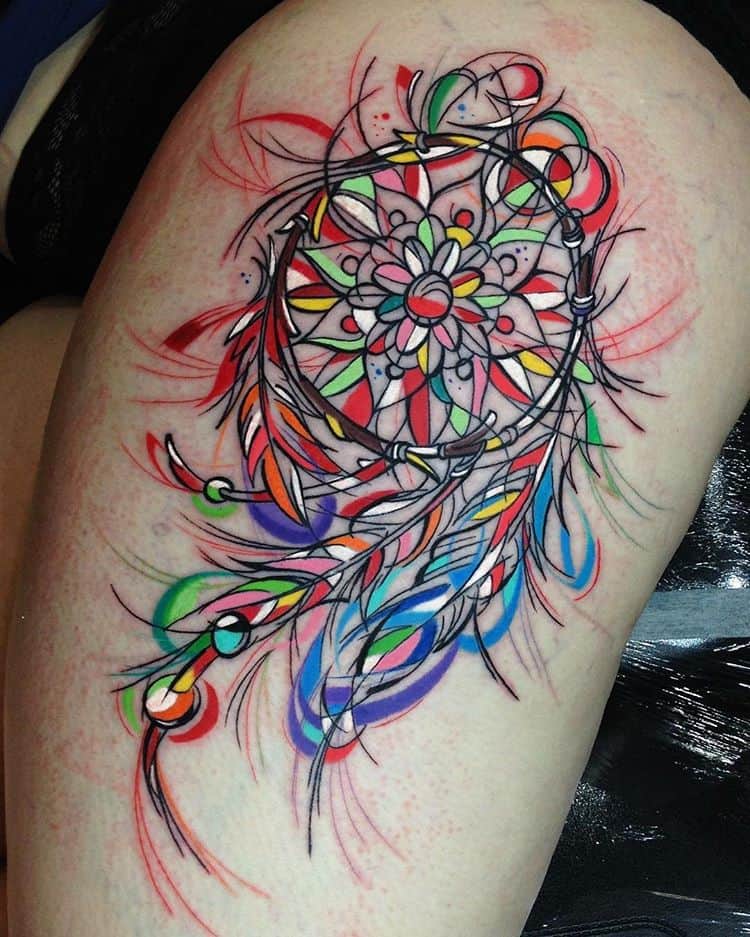 There is a saying, "Some people just want to watch the world burn." That means they thrive on chaos and in situations where there is no special or true meaning. That's the case here. So many colors in one tattoo, and yet there is no clear meaning.
34. Dotted Lion Dream Catcher on Ribs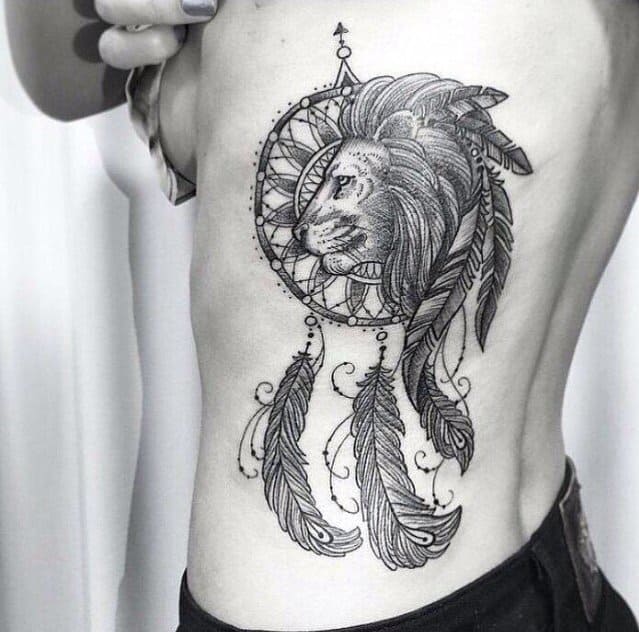 The King of the Jungle makes his way to the world of dreams! You can think of many reasons why you would put a lion on your dream catcher tattoo. For example, one explanation might be your zodiac sign. But let's not get into the meaning.
35. Dreamer Dream Catcher on Chest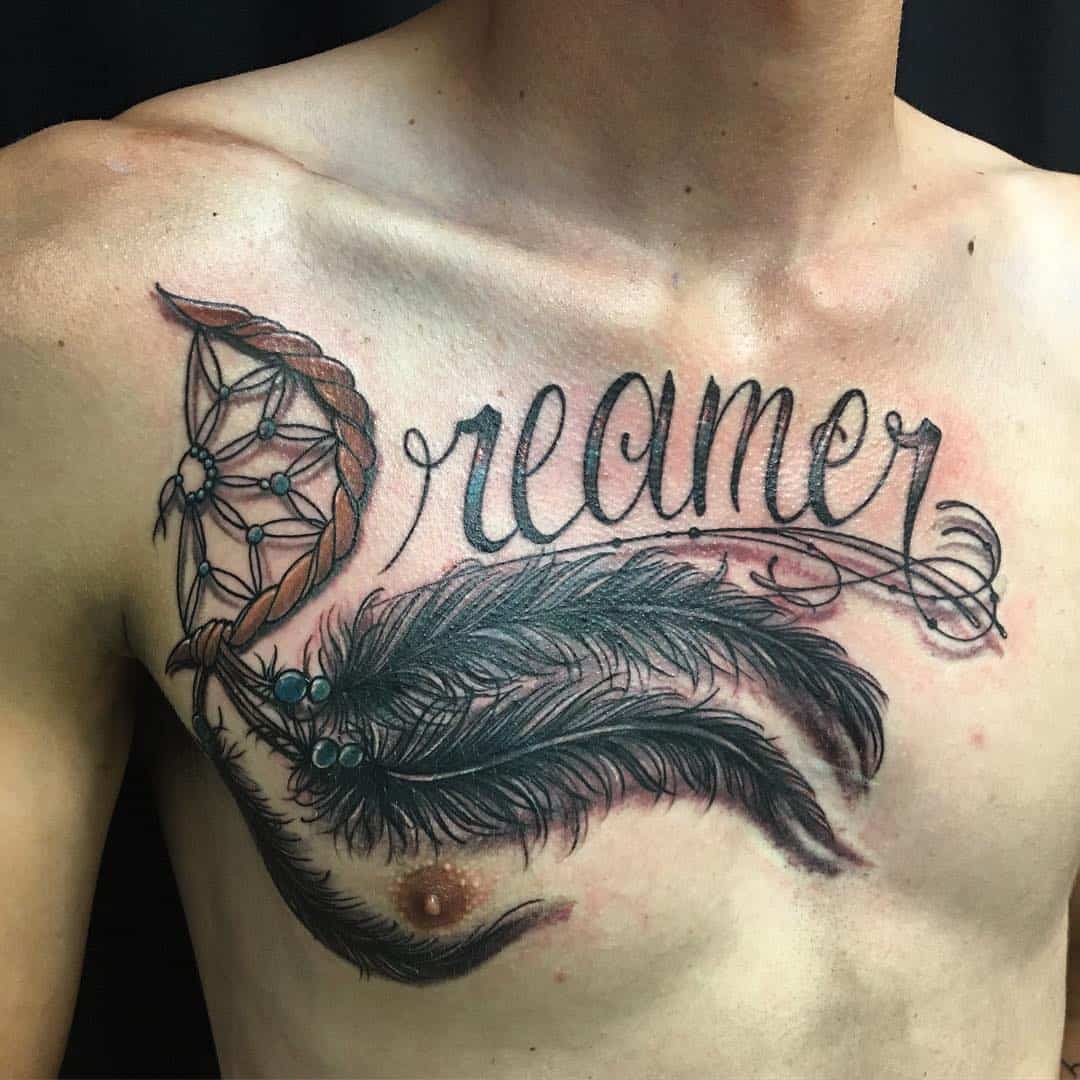 It's only fitting that we finish off the list with a dreamer. After all, the whole point of a dream catcher is to make sure we sleep and dream well.
That's all for the tattoo designs. But if you have any idea or design that I failed to include, feel free to share with the rest of us in the comments section.