This 9-year-old junior rugby player is his opponents' nightmare in the field. 
The video of Meaalofa Te'o steamrolling at every kid in the field who's trying to tackle him during a junior rugby tournament in Canberra has set the internet alight. He's using his size and amazing agility to outrun every opponent that comes his way.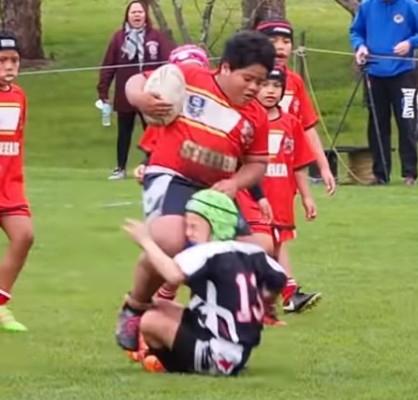 Maori Sidestep
Australian Te'o who's now 11 years old stockpiled 30 million views on the Facebook video showing him playing on 'Beast Mode' at an under nine's rugby league grand final in the country. Any smaller kid who's blocking him off gets knocked out in an instant.
Meaalofa employed what's known in rugby as "the Maori sidestep," running straight over the opposing player rather than trying to move to the right or left of them. Obviously due to his size and power, the darling of the internet was able to surpass them all.
In an interview with The Land, the wonder kid who's also been nicknamed "tank" and "little beast" was asked about the most number of players he's beaten on the way to the try line.
"25" he replied."But aren't there only 15 players in a team?" asked the staff.
"Yeah, some came again"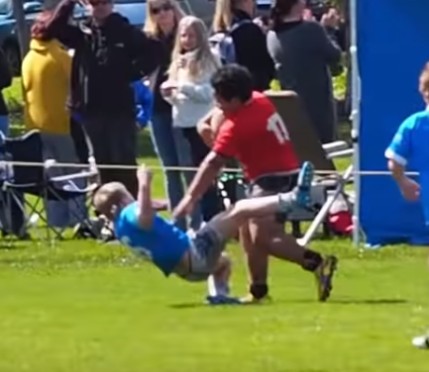 Play Strong
While a lot admires his dominance on the field, others argue he is a perfect example of why junior rugby leagues should be divided into various weight classes. Some social media users think his performance is  'hardly impressive' since he 'weighs twice as much as his opponents.'
Masi Tusitala, a family friend of the Te'o's whose son played alongside Meaalofa in Canberra during the gala day competition in 2016, said the eleven-year-old was a 'devastating ball carrier.'
Talking to Daily Mail Australia, Tusitala shared his personal knowledge of the wonder kid's rugby play.
"It was a trip away and it was fun for Meaalofa, he could do what he loves – running around and bowling kids over. All his development has come from his father…"
"The direction is based on what his father is telling him: "you have to play strong and hard and not be scared."
Meaalofa's auntie, Maria Siologa, also defended the junior player, saying he isn't the bully his size and performance in the field suggest he is.
"He is the type of player who will check to see if the boy is alright when he knows that the boy could be hurt. He has good sportsmanship and is never a bully on the field, he just does his job as a prop."
Featured Image Credit: Youtube/Jukin Media