President Donald Trump is the new Drama Queen. Simply put, you get a minimum of 5 memes form every Trump's speech. Whenever Trump goes out in the public and does anything, or says anything, you get a meme.
But with that in mind, someone out there took it to the next level. Why wait for Trump to do something, when you can do something? It is like in that do not what the country can do for you, ask what you can do for your country.
Well, a photoshop master out there is photoshoping Trump's face on Queen's Elizabeth body. And the result is just hilarious. We should all thank Michal Krauthamer, a graphic designer who wants to show the "magic of photoshop" and make you laugh in the process. Well, we can safely say he managed to make us laugh. Take a look at some of his masterpieces.
1.With the royal family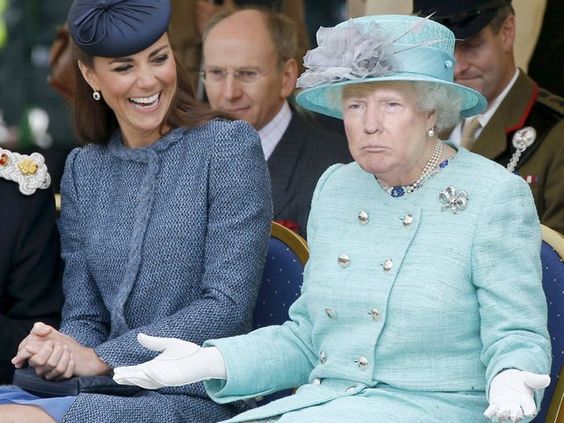 Let's start with a picture of Donald, ahhhh, Queen Elizabeth and parts of the Royal Family. The reaction of Kate Middleton to Trump's face is just priceless. And that is a genuine reaction. It is not photoshoped.
2. Trump wears a crown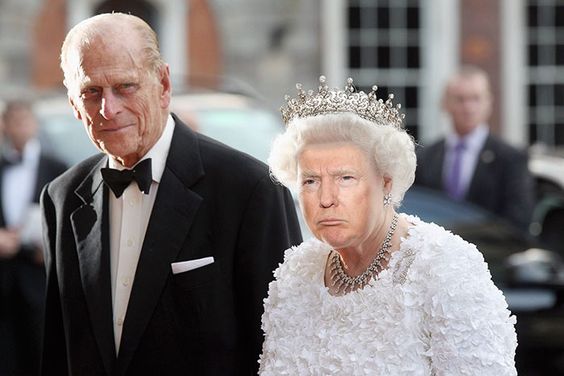 You can say that Trump looks natural in this picture. After all, his ego is enormous. He always wanted to wear a crown. And finally, he gets to fulfil his dream of wearing a crown. No matter it is a Queen's crown.
3. Just smile and wave
If you've seen Madagascar, you probably remember this quote. Just like the penguins stood calm and waved, Trump smiles and waves. It is a role best suited for him.
4. Angry Donald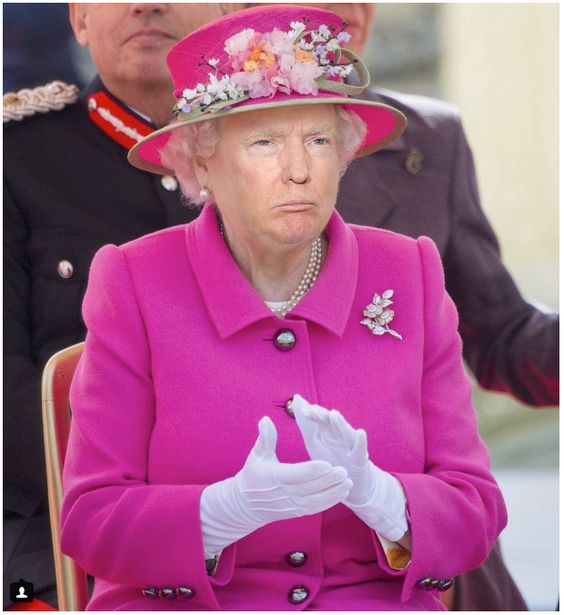 Donald Trump's angry face is just priceless. We must say, he looks downright ugly and prissy. Even a 92 year old woman looks better than him. Get Donald out, and put Elizabeth back in boys and girls.
5. Is this my trophy?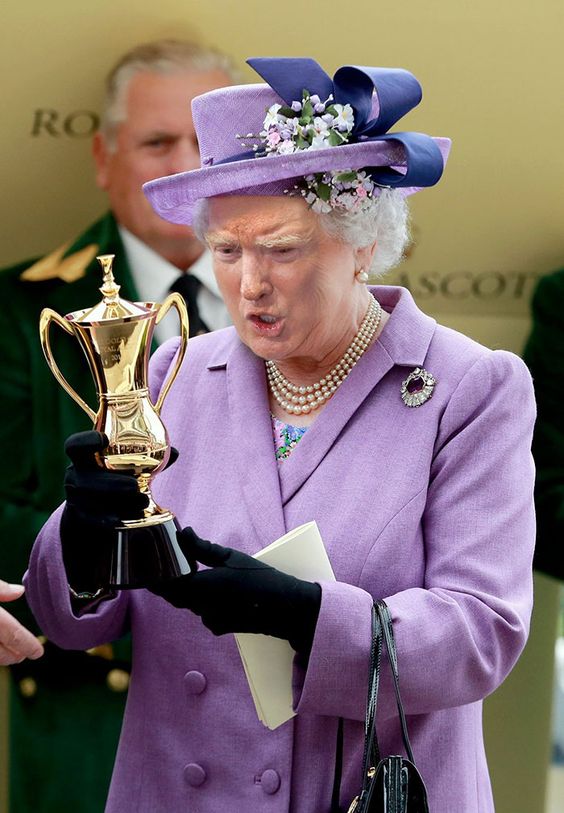 Some of the responsibilities of the Queen is to present winners of tournaments with the trophy. But when you put Trump in her place, chances are he will run away with the trophy. Donald doesn't want to give and share anything with others. We all know that.
6. Sunshine Donald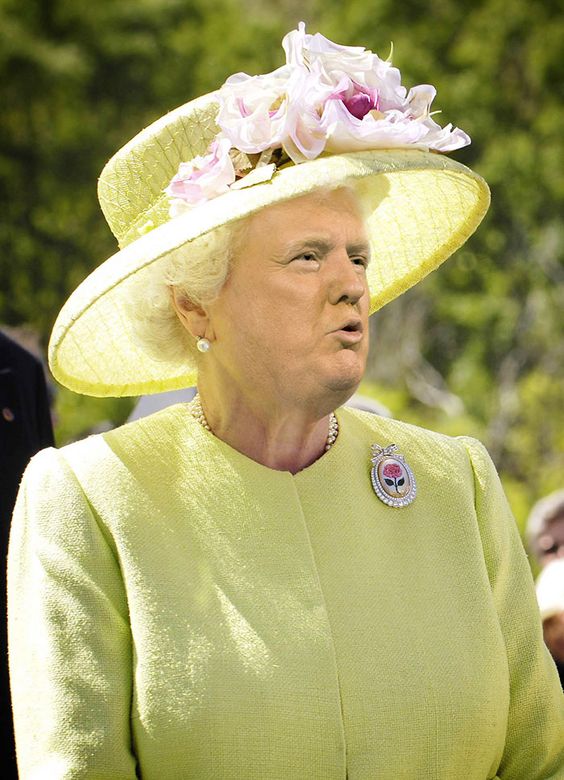 Queen Elizabeth loves to wear sunshine yellow attire. But Donald doesn't look nearly as good in those clothes. It is one of the rare photos where Donald looks downright vulnerable.
7. Young Queen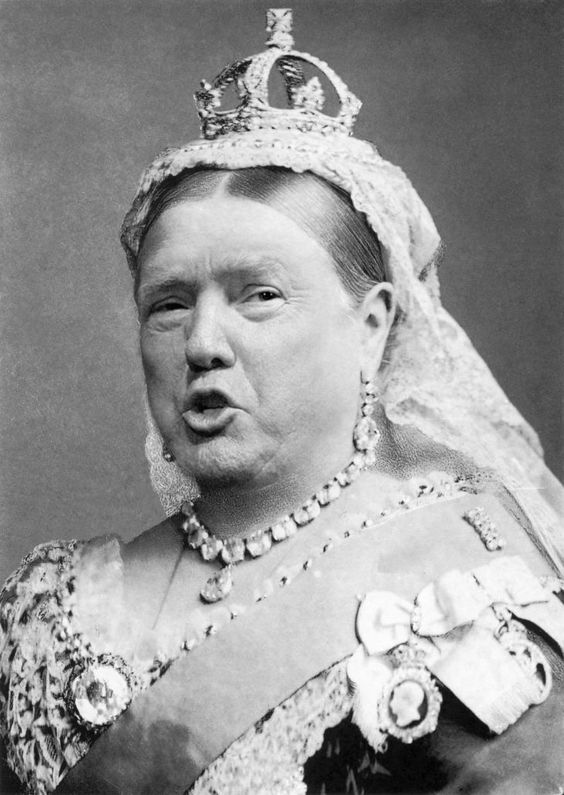 The black and white photo of Donald as the young Queen is just gold. You cannot stay calm when watching at the photo. I mean, common, how awesome does this look?
8. Classy Donald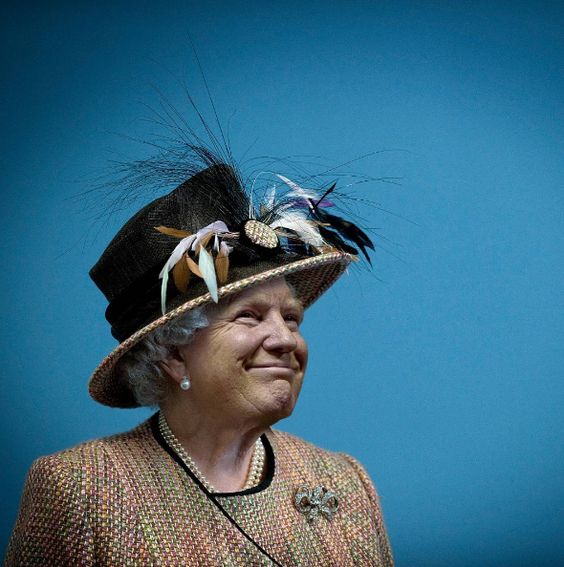 At least you can say Donald is smiling on this picture, which is a rare sight. On most of these photoshoped Donald Trump photos, the US president just cannot give us a smile. It is like he knows he looks awful and we are smiling nevertheless.
9. High Commander Donald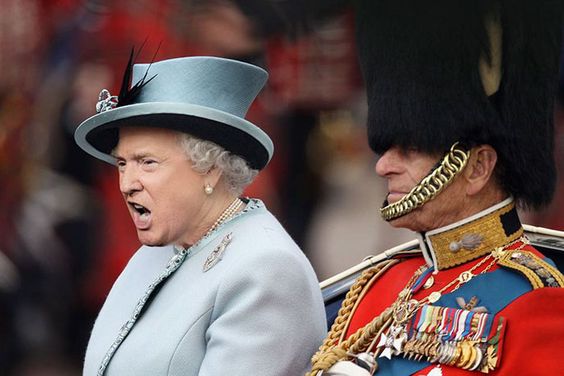 Now this is a role Donald is very accustomed to. We all know Trump loves to give orders and have people follow them without questioning. Well, the Queen's Army soldiers definitely follow orders.
10. Put the crown there
You can just see Trump's face and how excited he is to be crowned. He was the same when he was elected president. It was like his biggest dream came true.
11. Is that a duck?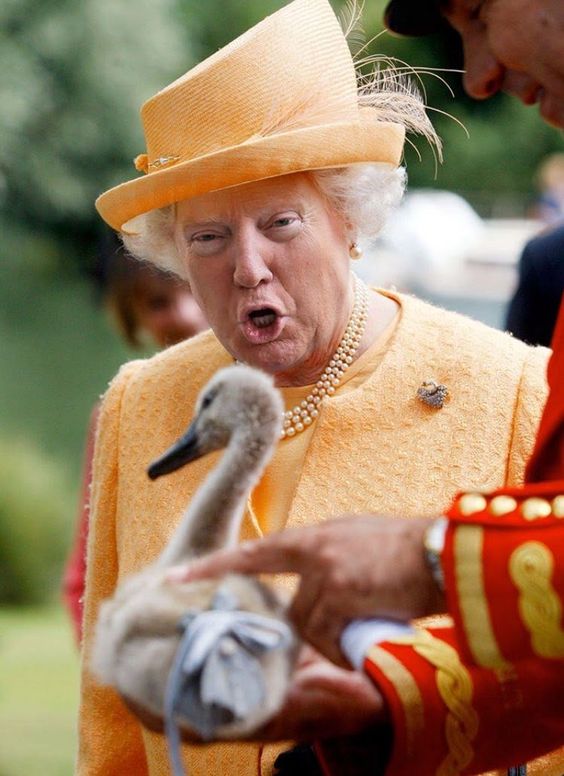 Donald Trump and ducks. Now ain't that an irony. To make matters worse, he is wearing an orange suit. I mean, I just cannot stop laughing at the picture. And Trump's face, like he has never seen a duck before, is just priceless.
12. Looking calm and ready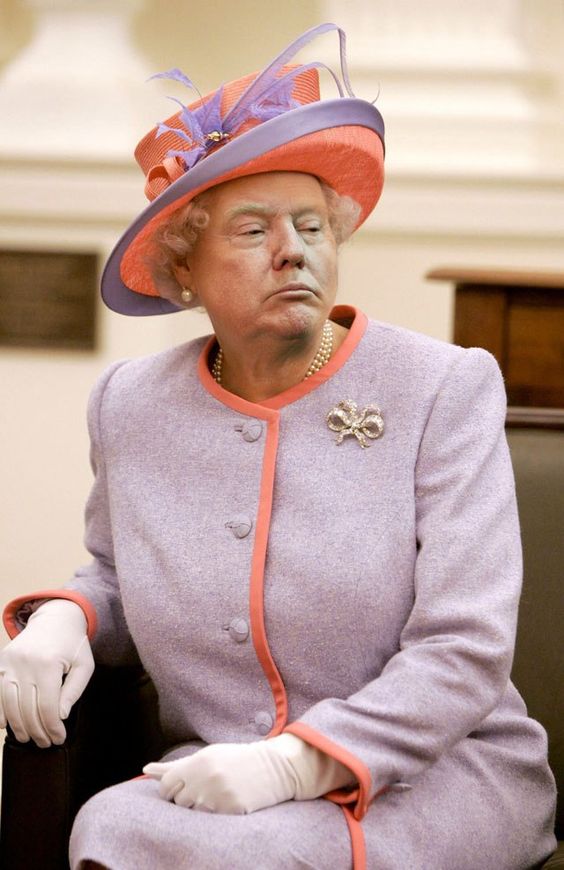 What do you know, even Trump can look calm on a photo. Now this must be a photoshop. Have you ever seen Trump looking calm and waiting for something/someone? That is just impossible to imagine.
13. Well, hello there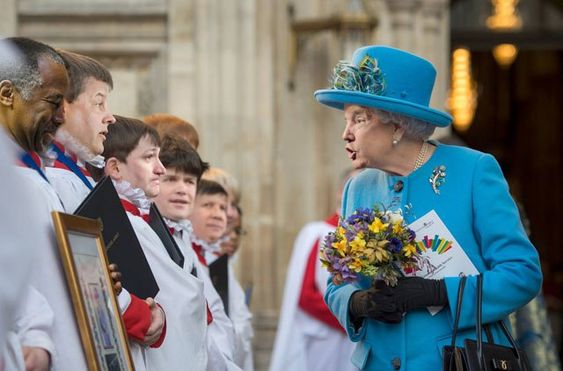 Can you imagine how many memes would Trump produce if he was the Queen of the United Kingdom? With so many roles and tasks, and so many events he has to attend, that would be rich. Not to say he doesn't have many tasks and roles as the President of the United States, but these official events are just something else in the UK.
14. Winter cap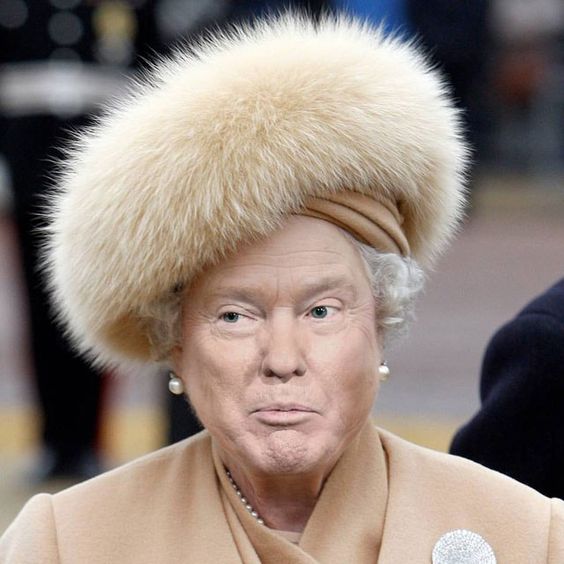 We must say, Trump looks good in winter attire. Maybe next time, someone should photoshop Trump as the president of Russia, or some other cold country where he has to wear a winter coat? Think of Trump in the role as ruler of Winterfell. Now that would be awesome.
15. Trump and his army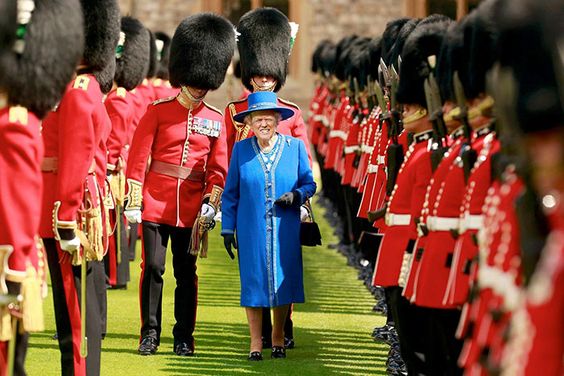 We talked previously how Trump would fit perfectly in this role. He loves to have an army following him everywhere he goes. After all, we know how much tax money he spends on his beloved secret service escort.
16. Official garments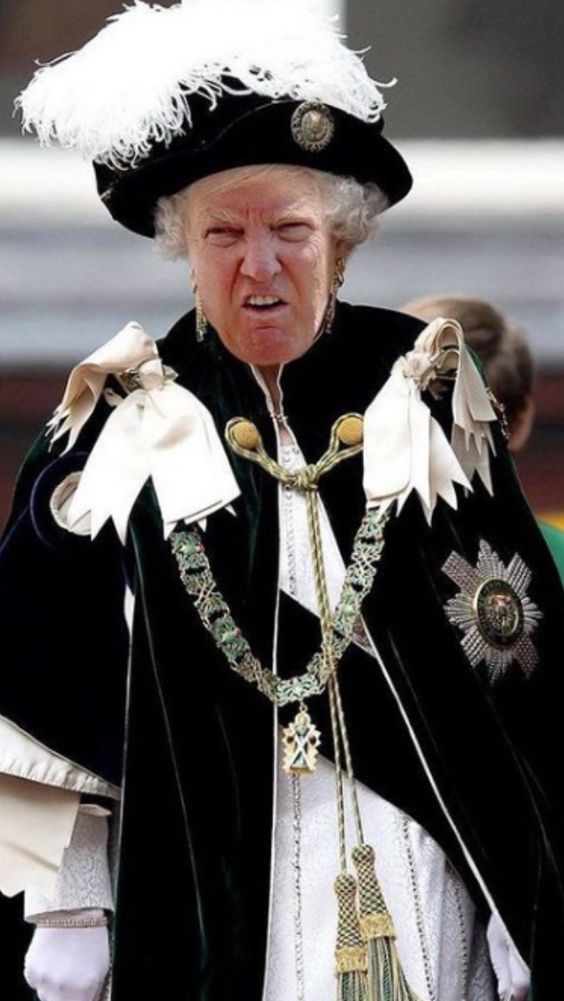 One thing is certain, Donald does look good in the garments. We must admit, he does bring a certain flair and style to the garments.
17. A Queen for the People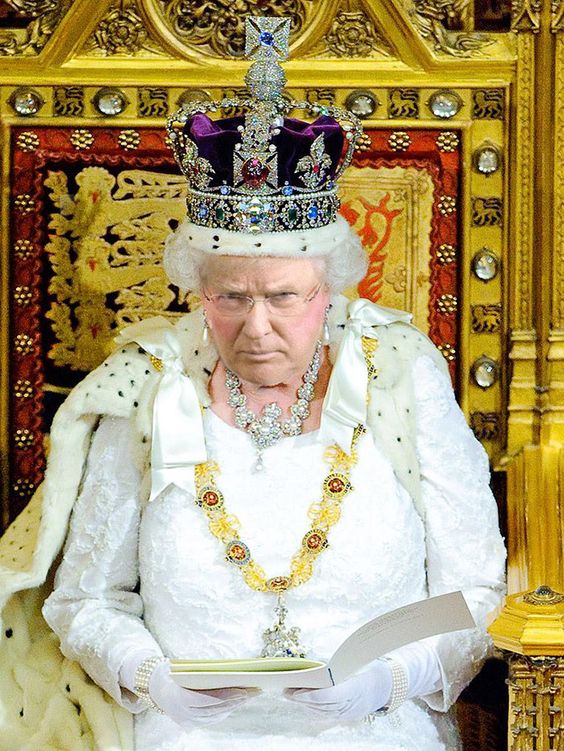 Well, Trump is not a young fellow himself. Therefore, it is only logical that he looks like a granny from fairy tales in Queen's official royal garments.
18. Make America Great Britain Again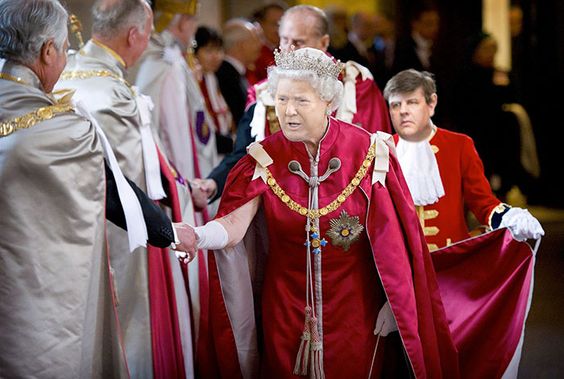 Now that would be an awesome slogan, don't you think. With Trump as elected president, he vowed to make America great again. But thanks to photoshop, we can see how would it look if Trump made America Great Britain again. Jokes aside, the pictures are just amazing.
19. Who is that person there?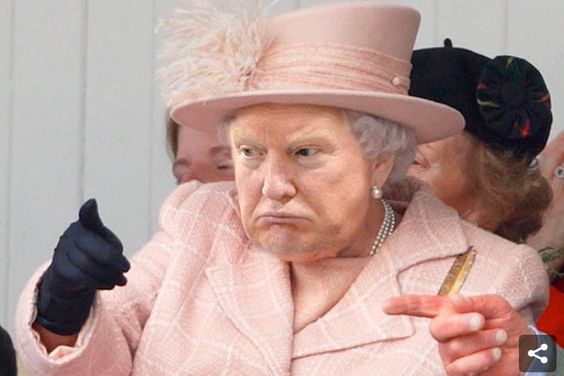 Donald Trump has some of the best face expressions we have ever seen. It is no surprise that his face can fit in almost any situation. He is like the next level Nicholas Cage.
20. So, someone is photoshoping my face?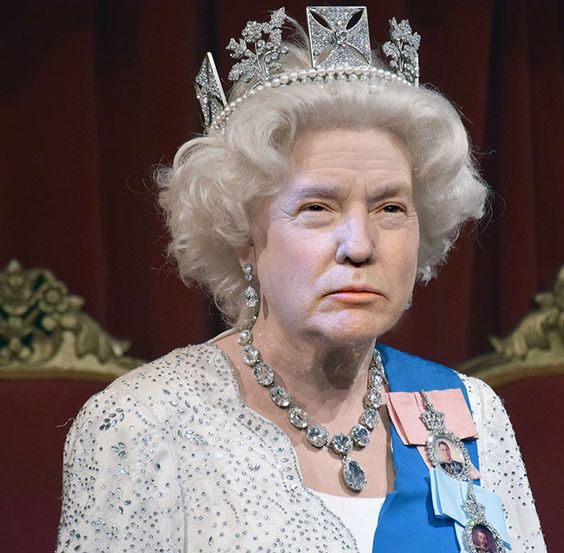 Let's finish with a picture of Trump saying "someone is photoshoping me, tell me more". It's like he knows!!!!