Picture this scenario: You are out for a dinner in an exclusive restaurant, and you order a bottle of wine. The first question the sommelier will ask you is, "Do you want to smell the cork?" You see, just by the smell of the cork, you know whether the wine is good or not.
But that's if you are a wine expert. If you just want to enjoy a good bottle of wine like I do, without getting too deep into corks and stuff, don't worry. What I want to show you today is that a wine's cork can do much more than determine whether the wine is good or not.
So don't throw wine corks away any more. They can be such an asset in your DIY projects, and you'll be surprised what can you do with them. The next time you enjoy a bottle or two of wine with your friends, keep the corks!
Originally, garlands were made out of flowers or leaves. They represented a decorative object you put over your neck for festive reasons. But when it comes to festivals, you're free to do whatever you like. And believe me, a wine cork might look corny at first sight, but once you get used to the fact that you're wearing wine corks, you'll be fine. And besides, you want to pay tribute to Dionysus, the Greek god of wine.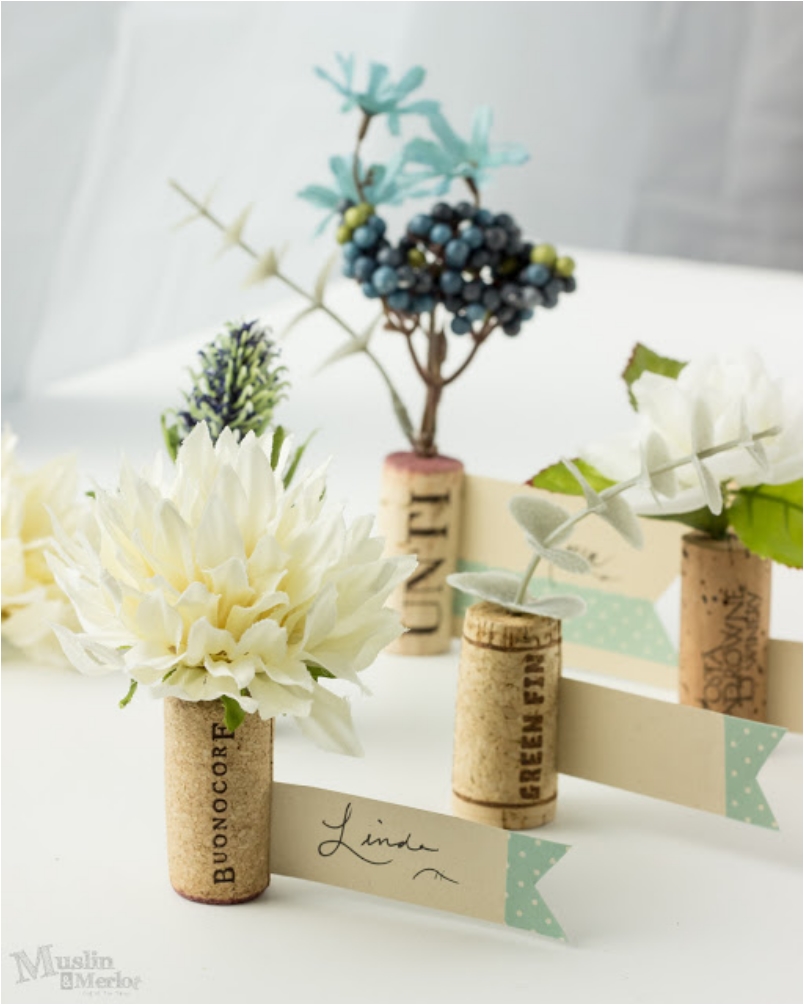 People in the decorative industry are always looking for the next best thing they can make. I understand that; they have so many events to plan and decorate during the year, they are in dire need of fresh ideas. A while ago, I saw wine cork place cards at a ceremony. I liked it, and inquired how I could make them myself. And there you have it—a DIY project was born!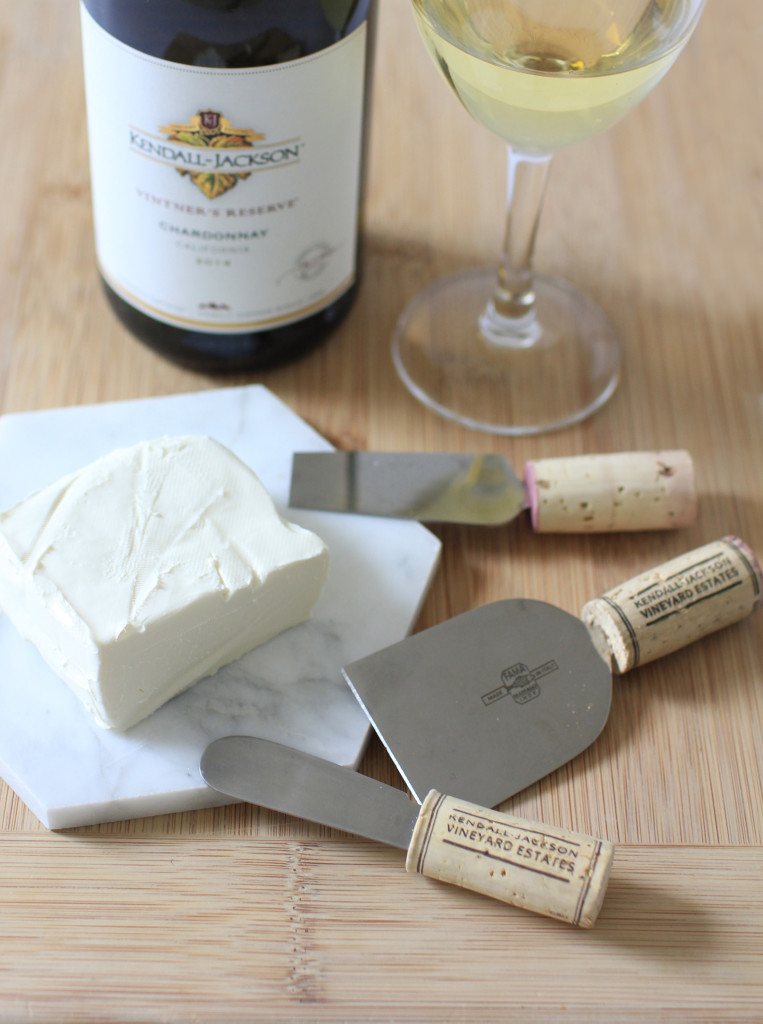 Wine and cheese is as classic a combination as they come. It's like the little black dress of food and wine tasting. You can't go wrong with wine and cheese for a home party. And if you want to bring that party to the next level, I suggest some wine cork knives.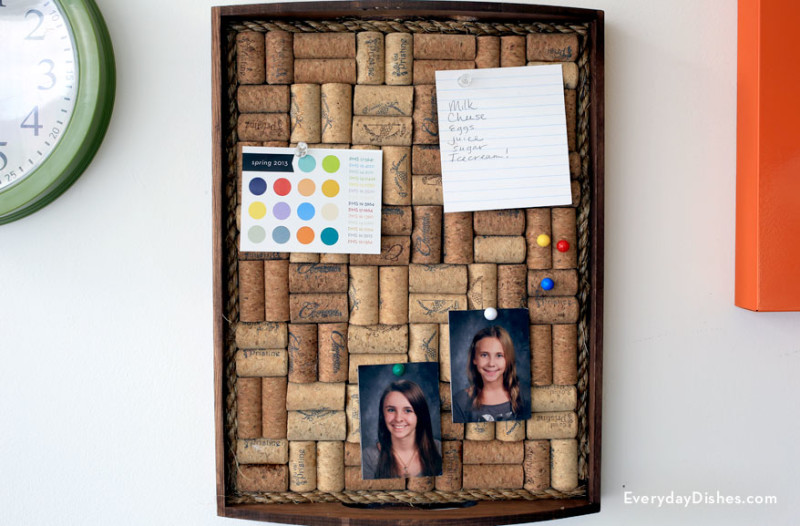 We're now into the school project business. If you have little children at home, this will be one of their favorite projects. Of course, you can't give them wine to drink (after all, they are too young). But they can help you make a corkboard at home where you can pin notes, assignments, tasks, schedules and everything else.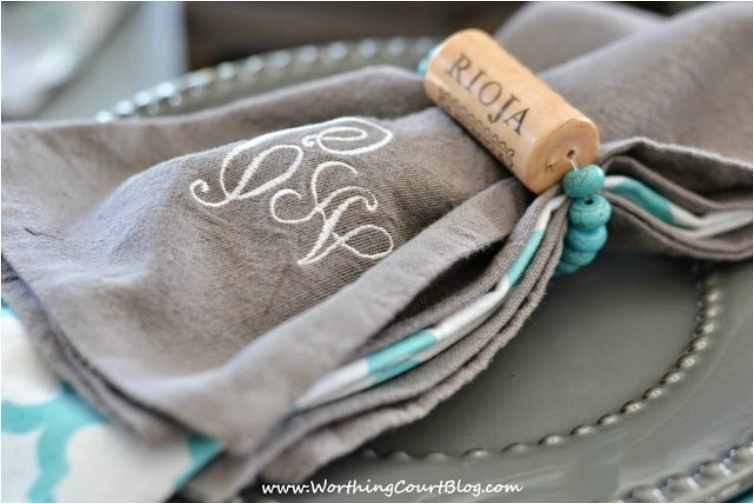 This is another project I discovered at a ceremony. It looks so classy, elegant, sophisticated and sleek. And you don't have to wait for a wedding to get them. When you throw a dinner party, your guests appreciate the little things, like an elegant napkin ring.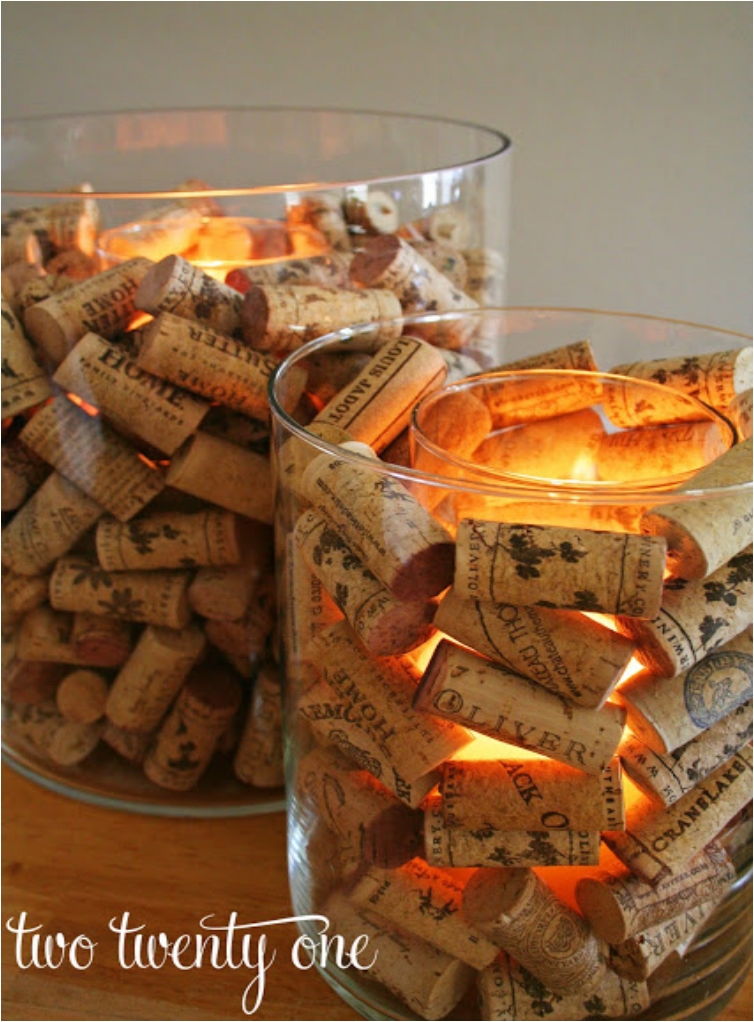 Let's be honest for a moment. Chances are, your candle won't move left or right or up and down in the jar, bottle or whatever box you put it in. But when you surround it with some wine corks, you get a bit of a romantic feeling. It's all about enhancing the feeling and ambience of your home.
For people who lose their keys all the time, this key chain is one of the best things you can come up with. Basically, you'll feel the cork in your pocket, and you'll know your key is there also. And it looks fun too.
This is a project that will give your home a genuinely traditional touch. If you want to bring a warm touch to the interior, you can always go with wood and wine. There's no better combination than that.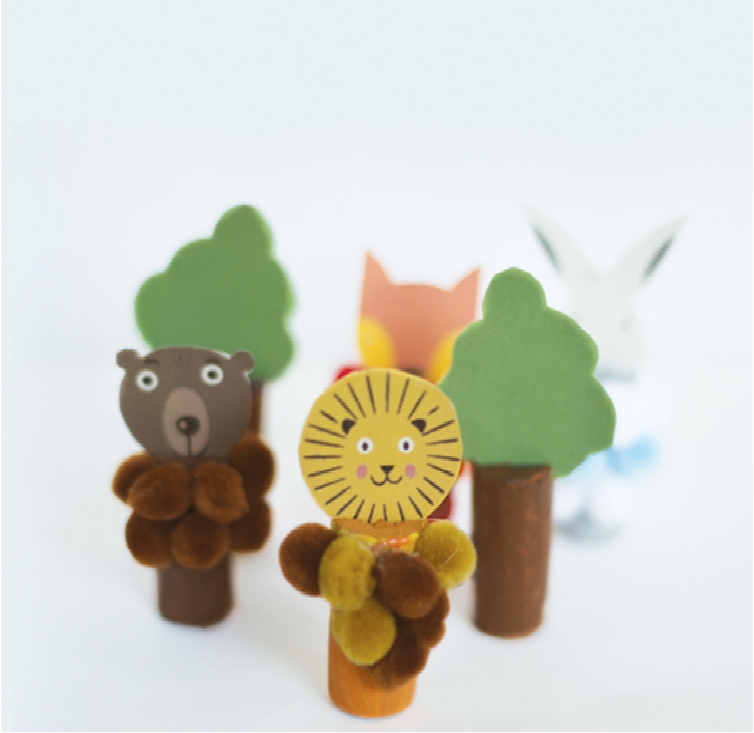 Back to the children again. They love it when you let them tag along on a project. So why not make some toys for them to play with? And let them make the toys themselves? You can just sit back and guide them through the process. Let them choose the face, shape, and everything else for their new puppet. There is no greater joy for children than to play with a toy they've made themselves.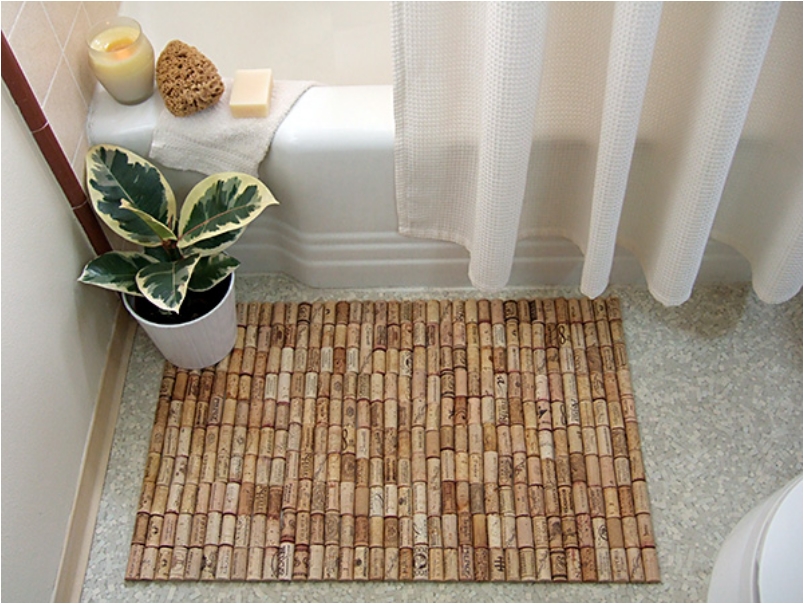 As with the baseboard, you can bring a warmer touch to the interior of your bathroom with a cork bath mat. I know it will take a lot of wine corks and a bit of time to get this thing done, but the result is well worth it. As for cleaning, you can just dip it in water and let it air dry.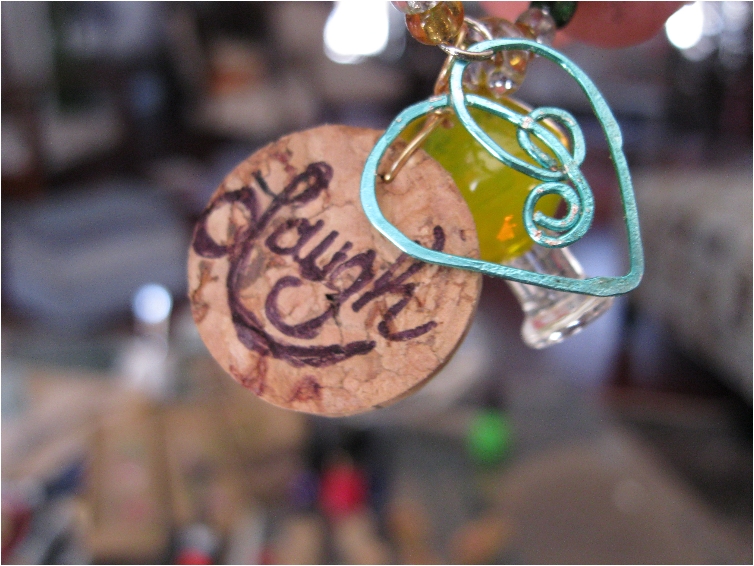 If you are like me, and you love giving gifts to your friends, you know that most of the time, it's the little things that matter. We all love a token of appreciation from our friends—a charm here, a key chain there, and we are all good. Make someone's day better by giving them this small gift.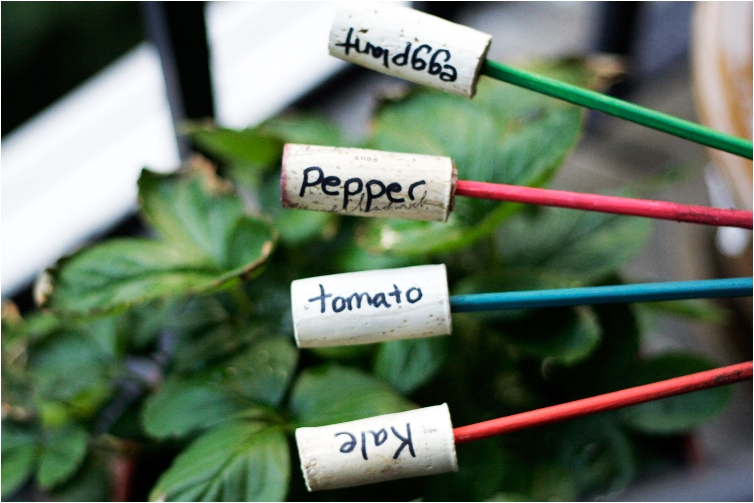 Another thing I love is being practical. And you cannot get more practical than by using wine corks to identify the plants and herbs in your garden. I know many people can recognize plants and herbs with a single glance, but many of us can't. Some of us need markers, and wine corks make great ones.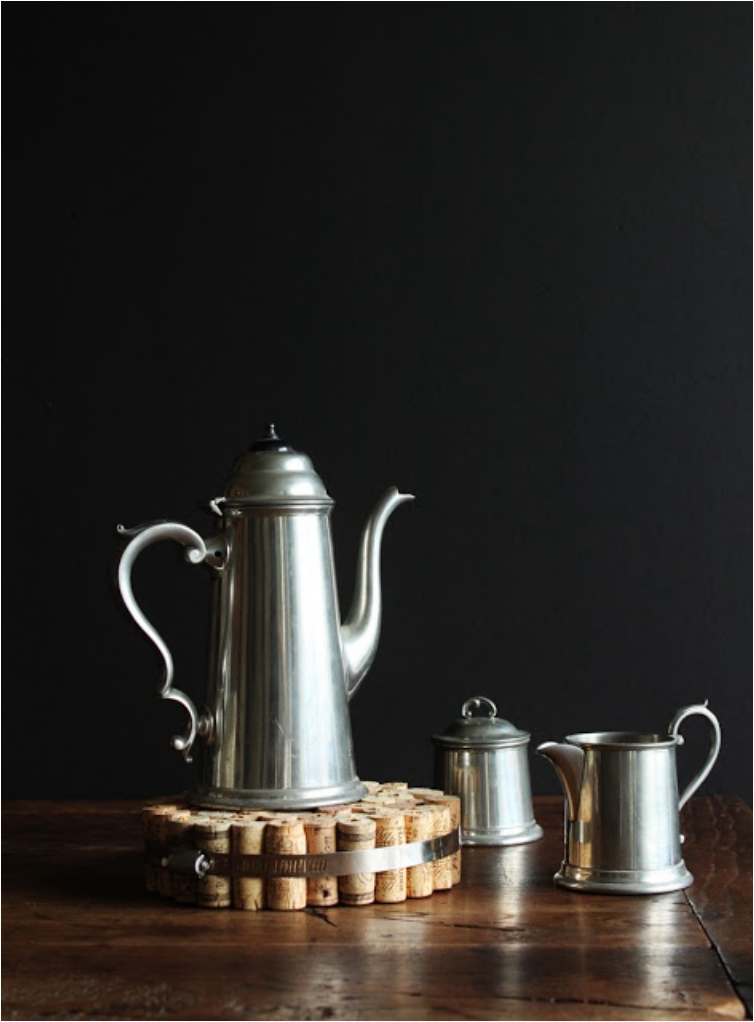 Another practical item that you'll find of great use. When you want to protect your tables from hot bowls, hot cups of tea and other hot servings, you need a trivet. You can buy one at the store, but doesn't this wine cork trivet look so much better?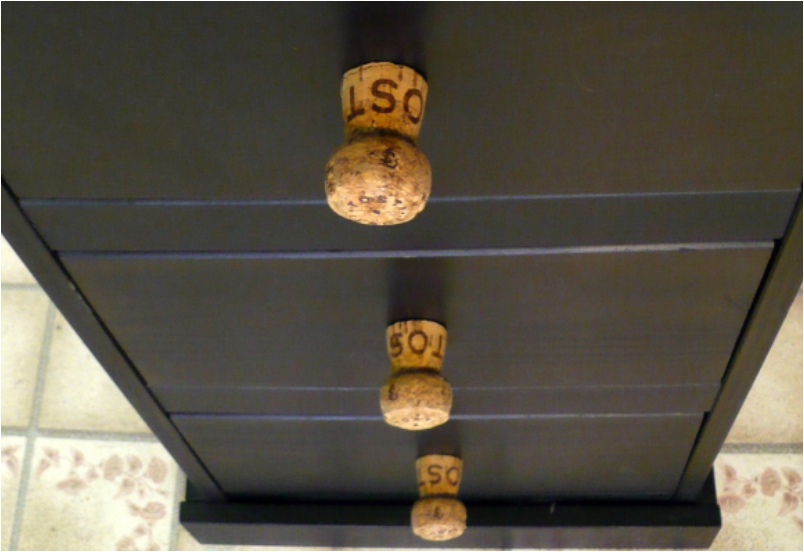 You're probably wondering why you should use wine corks for drawer knobs when you can get some in the store. Or why would you need them in the first place, when drawers usually come with knobs when you buy from the store? Well, over time, some people want to change their interior; a small tweak here and there can completely change the spirit and ambience of your home. Wine corks work great in a modern interior, giving it a bit of a vintage touch.
Hey, you don't even need to make a necklace—you can go so many different routes. It all comes down to your creative mind and what you can think of. But wine corks will sure help.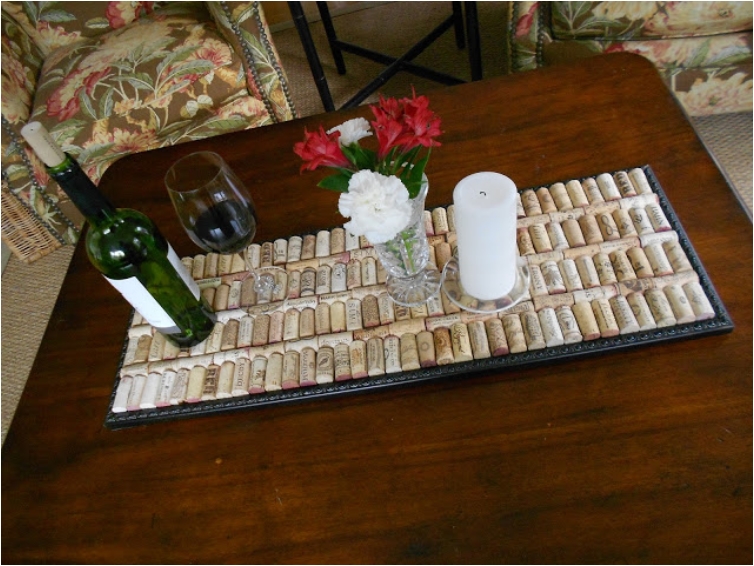 Another decorative object you can use in your household. When you host guests, you don't want to place everything directly on the table; it looks common and plain. When you have tray, or a trivet as we previously saw, it looks classier. And it makes you stand out in the crowd.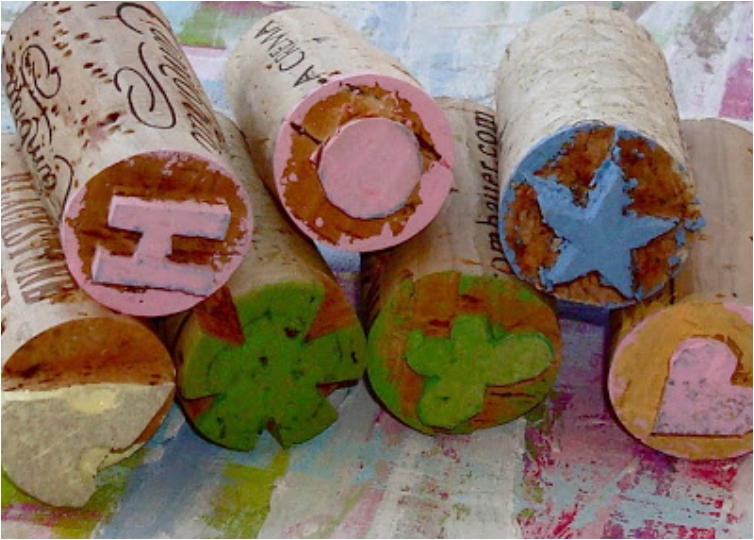 We go back to projects for children. Kids love stamps. When I was a little girl, I had hundreds of stamps—I loved to put stamps on everything. I'm not saying you shouldn't buy stamps for your kids, but if you can spare a few minutes, you can make your own stamps. And your kids will love them.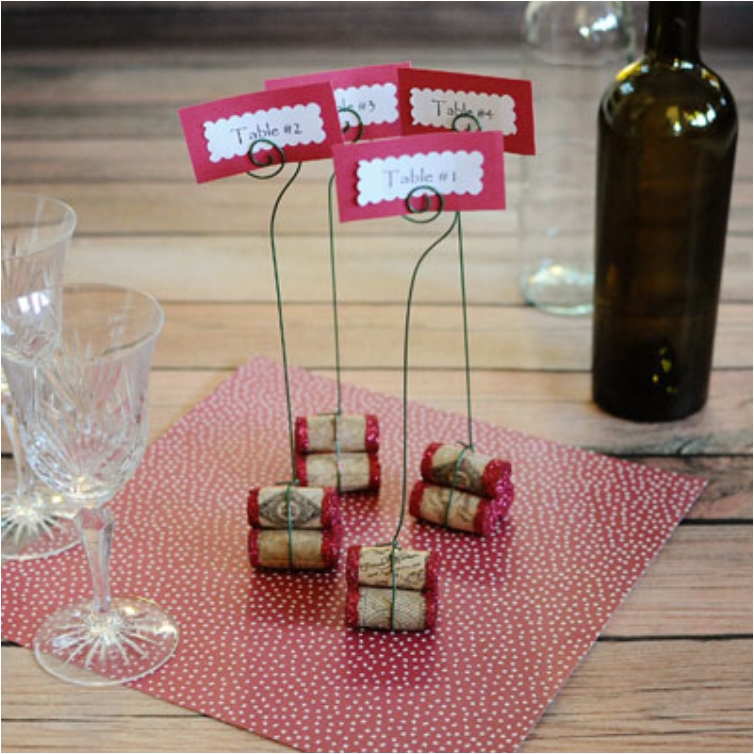 As you've noticed by now, there are quite a few decorative objects you can make from wine corks that you can use for a wedding reception or other ceremonies. But I suggest you use these objects for whenever you throw a party just in your own home.
Nowadays, you can think of a hundred ways to make a vase. You can make a vase from a mason jar, a wine bottle, and—a wine cork! There are just so many different methods, and it all comes down to your preference and how you want your interior to look and feel. If you want a warm touch, wine corks are the way to go.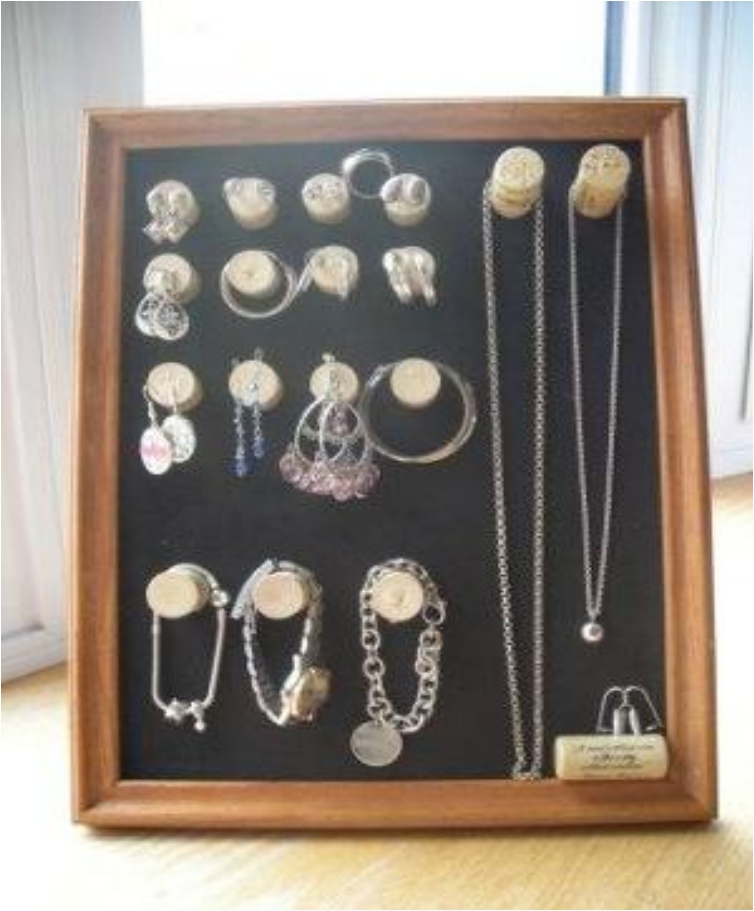 One of the biggest problems for women, aside from finding the perfect shoes to wear from a closet with more than 30 pairs, is where to keep their jewelry. And how to display the jewelry in a way that is visible, convenient, and practical while not taking up all of our space. Well, I have a solution that might help.
This is the most picnic-related thing you can make. If you like having picnics in the park, a wine cork basket will fit the occasion perfectly.
We had a candle holder previously. But you can also use wine corks to make candles. Simple and easy, it gives you more ways to create a romantic atmosphere.
I know it looks like a bit too much. I get it. But just wait for a moment. There are people who love to display their liquor bottles. And what better surface to have your hard liquor lined up on than on wine corks?
The season for wreaths is almost at our door—Christmas wreaths and many more. But if you want to stay simple, you can also do wonders with a wine cork wreath.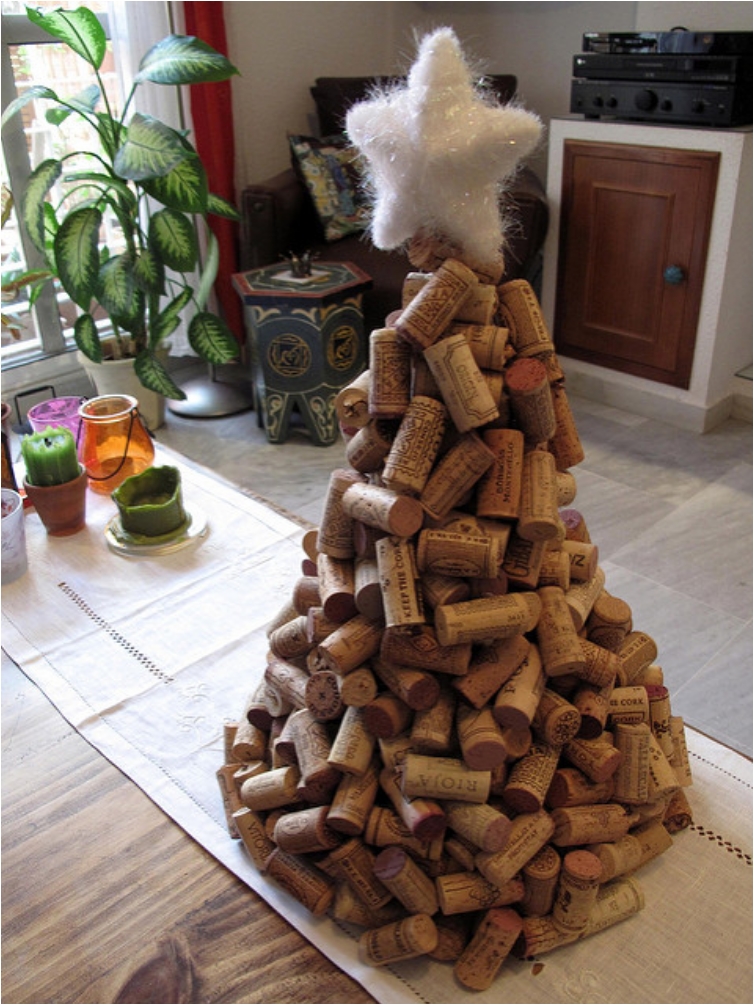 Before you know it, Christmas will be here. Time flies, and you have to be prepared. So, looking ahead to Christmas, I suggest an alternate Christmas tree. Not as your main tree, of course, but you can place it in the kitchen or in some other small room.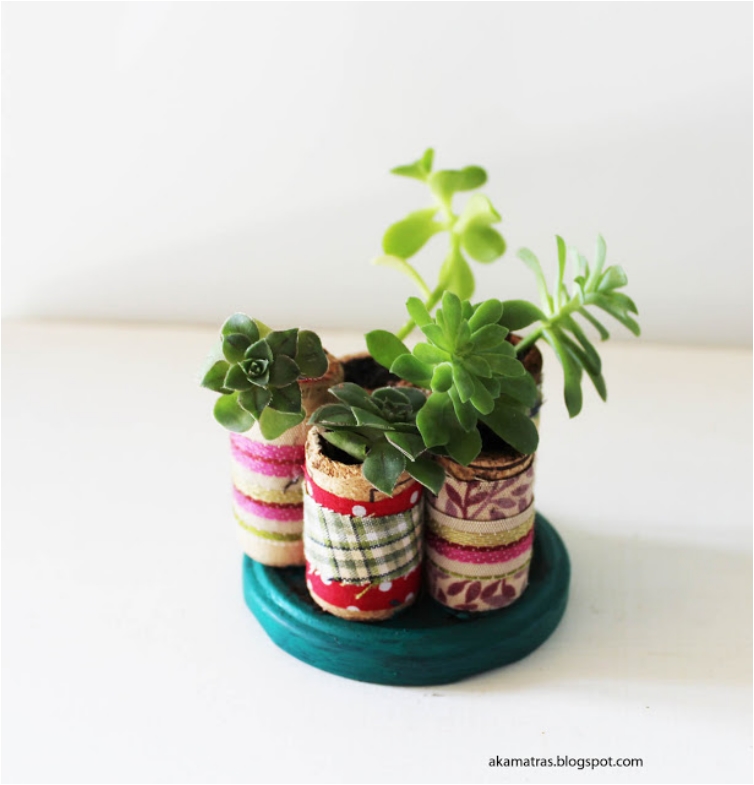 Yes, you can even grow plants in wine corks. I know you think these are miniature plants, but everything starts small and then grows larger. Same with your plants. And wine corks make for a great environment for plants. They keep the soil and moisture in, making it a perfect place to thrive.
We had a couple of decorative objects already. But I would like to give you one more, just for the fun of it. And these coasters are smaller than those earlier, perfect for a wine glass.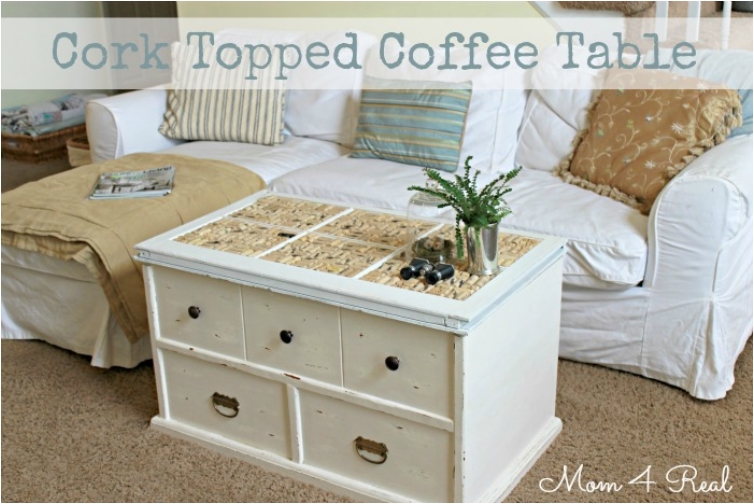 I mentioned previously how you can transform your interior with just a few small tweaks. Replacing the surface of your coffee table is definitely something to consider. Even if it is a wooden coffee table, a wine cork surface looks that much more genuine and unique.
I know it might be little impractical to write with pens that wide, but you cannot ignore the fact they are unique. At least give it a try before you dismiss the idea.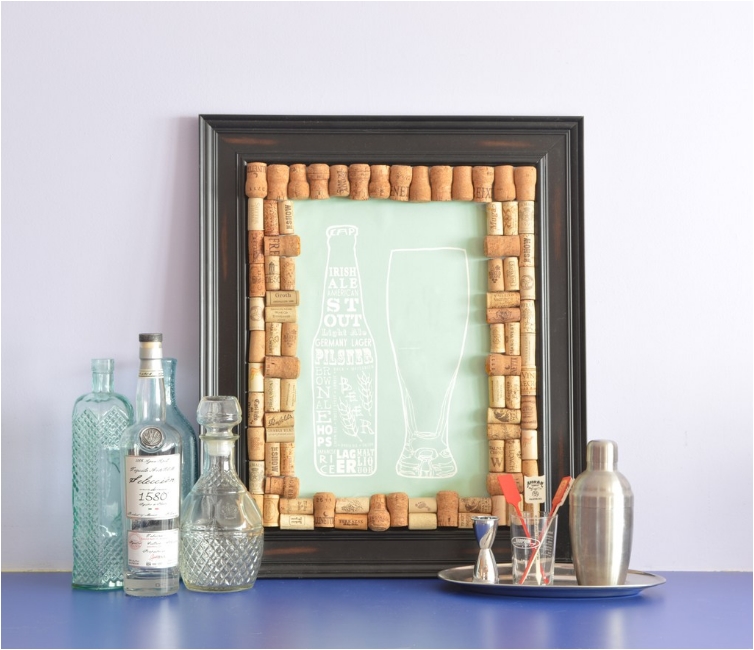 This works wonders for a picture that is not exactly a picture. If you have a picture with faces and people, a wine cork frame might not be the best idea. But if the picture is a drawing or text, wine corks will make it that much more spectacular and visually appealing.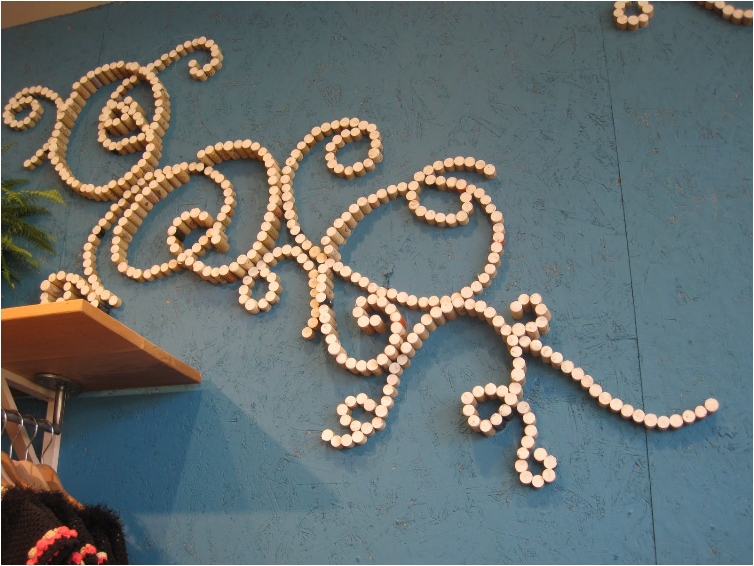 We're finishing off with a piece of wall art. It's a bit of a harder project to complete, but one that will make your home look awesome.
I hope you enjoyed these projects, and if you have any more ideas, feel free to share with the rest of us.
READ THIS NEXT: 20 Wine Bottle Craft Ideas to Put Your Wine Bottles to Good Use