It looks like Jon Jones is somewhat sensitive about the subject, at least when he was directly asked about it last night…
It's been an exhausting week of headlines and scientific theories surrounding Jon Jones and his latest USADA drama. It was revealed this past Sunday that Jones' December 9 drug screen presented an "abnormal" finding. The word picogram has been thrown around a lot, and UFC vice president of athlete testing and health Jeff Novitsky did his best to explain what happened.
Whatever the case, the entire event was moved from Las Vegas to Los Angeles on six days notice. That massive shift has been met with an equally large backlash from the MMA community.
UFC 232 Press Conference Was Eventful
The UFC 232 press conference went down last night, suitably fraught with heckling fans and Jon Jones explaining his latest drama. One interesting point to note here, on September 29, the UFC announced they would no longer be announcing drug test issues until they were completely resolved.
Seems innocent enough, as constant news of fighters being flagged but later being proven innocent, in some cases, did nobody any favours.
When you consider the fact the UFC has actually known about elevated levels of oral Turinabol in Jones' system since AUGUST, this doesn't appear just as innocent, as per Shaheen Al-Shatti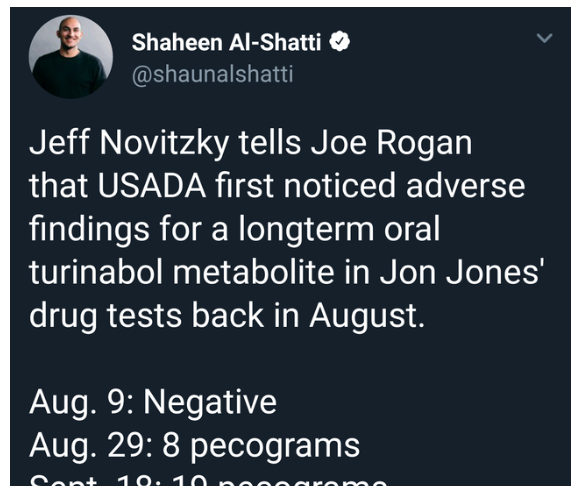 Jones Shuts Down Reporter (Video Below)
So, we thought, here was an opportunity for "Bones" to repair his public image, but we were wrong. In a segment of the press conference that the UFC appears to have edited out of the full video posted on Youtube, Jones shuts down a reporter who asks a legitimate question about his drug test history.
"Bones" also asked the crowd to boo the reporter, which of course they did:
Jon Jones isn't doing himself any favors in repairing his image with the public with this response to a reporter just doing her job. pic.twitter.com/A9K1B3IUEF

— Kip Smithers (@Chughes612) December 27, 2018
Well, that didn't look shady at all. With Jones basically refusing to answer the question, acting like a child, and the UFC then appearing to edit out the footage, nobody comes out looking clean. Should we just stop asking about Jones' steroid tests and get on with it?