It's been more than 5 years since Rihanna popularized the undercut hairstyle. But it looks like the undercut is not going anywhere. In fact, the hairstyle is getting more and more popular. And people are experimenting with different tweaks.
Back when Rihanna tried the undercut, it was to express her wild side. That reasoning is still valid today. If you want to show your wild side and turn your hair into artwork, the undercut is one of the best options. Here are some ideas to get your juices flowing.
1. Colorful Mermaid Undercut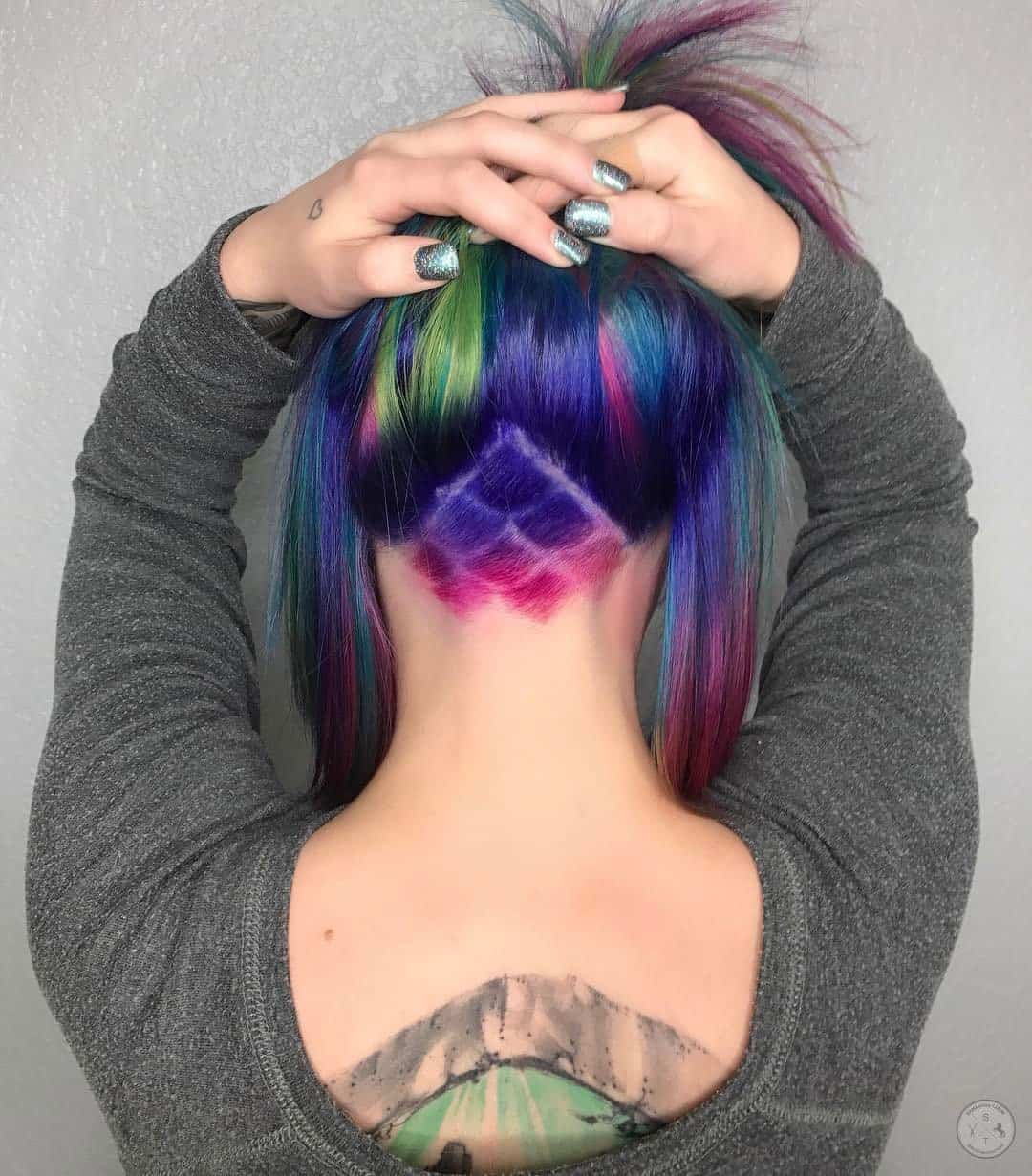 Mermaids might be cute and adorable creatures, but add an undercut, and you instantly become something else. Or, better said, something much wilder and more spontaneous.
2. Spiderweb Undercut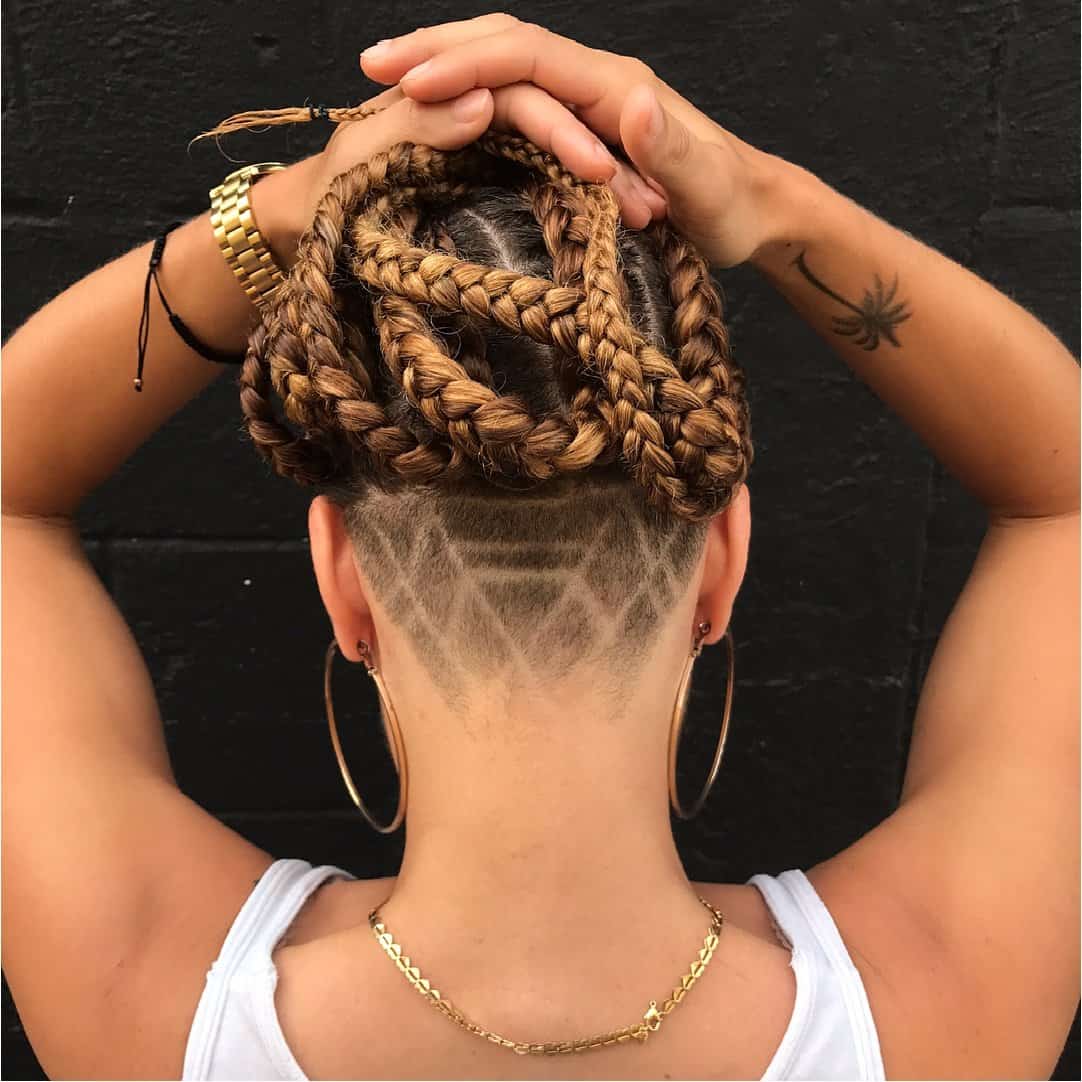 You'll notice a lot of artwork on the undercut, which is no longer just the shaved part of your head under your hair. Nowadays, people are using the undercut to display artwork. And in this case, we have a spider web.
3. Pink Sunny Flower Undercut
As I've said, the undercut is a great place to express your wild side and to show off something unique and unconventional. In that spirit, just look at how that pink pops out!
4. Half Star Undercut on Side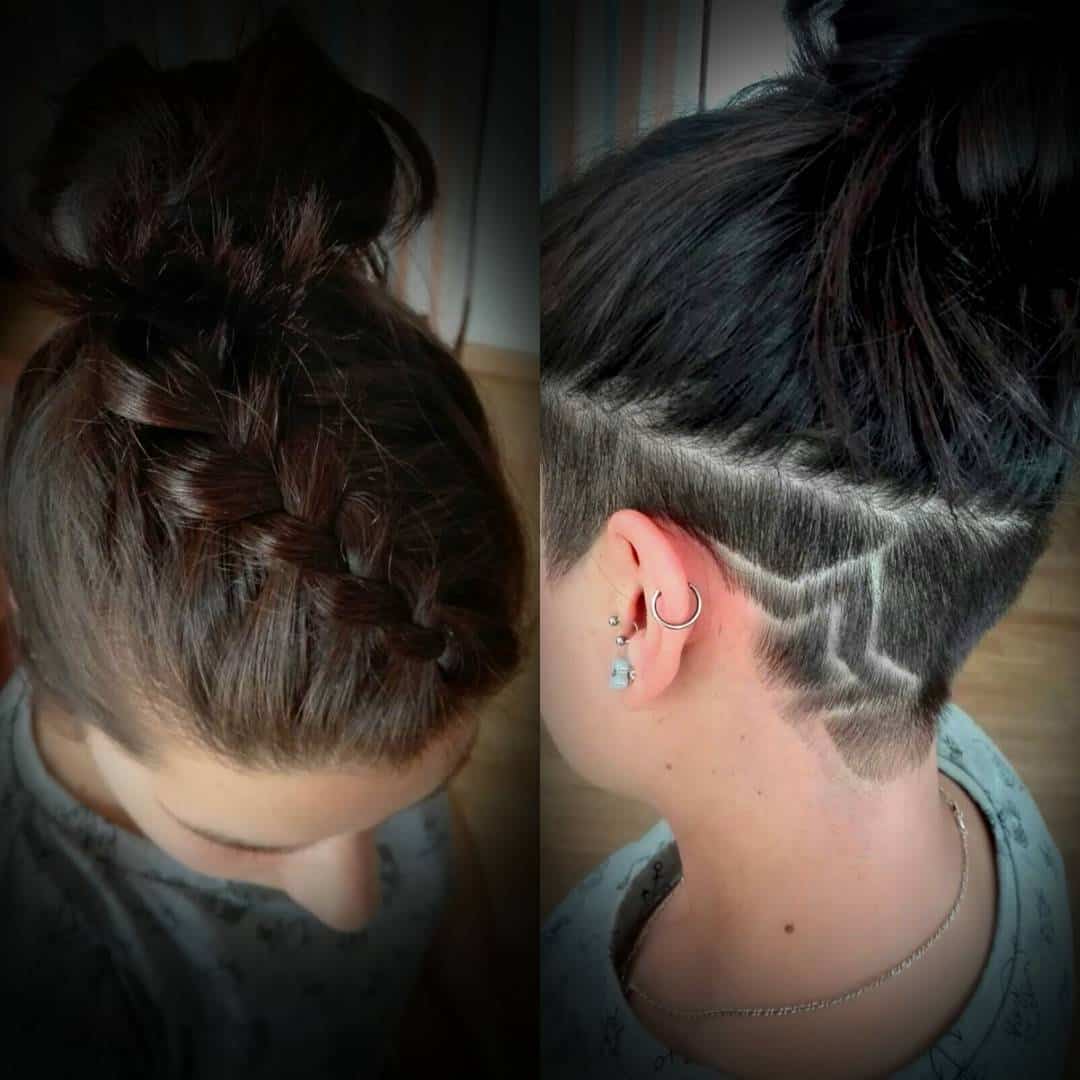 The one side undercut is closest to what Rihanna did five years ago. But you can go a step further, and add a symbol to your undercut. A star is a viable option. You can try something else as well.
5. Peach Candy Hair with Peach Symbol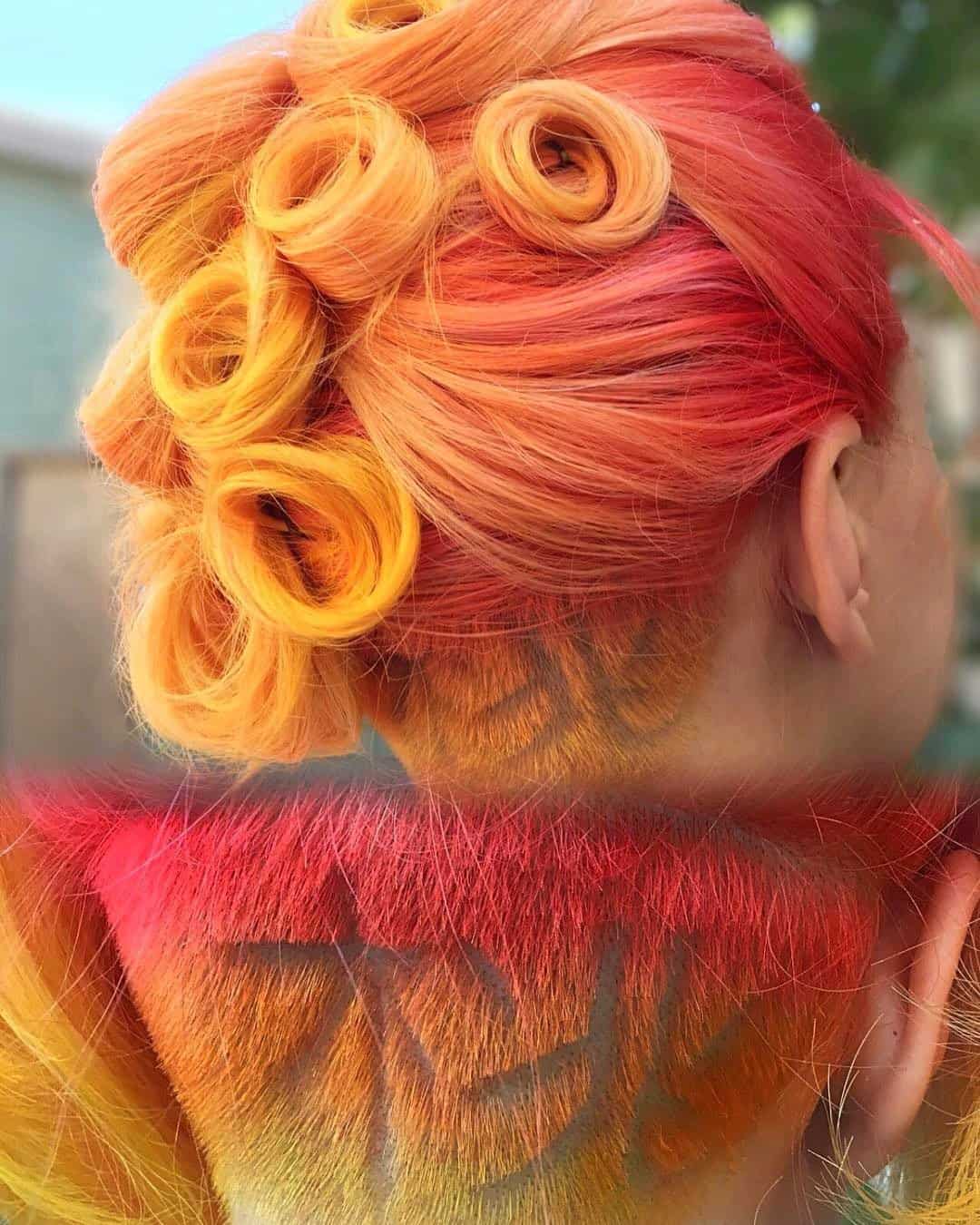 You might think that the undercut is the hairstyle for the new wave of hippies. And you will be partly correct. Just look at this hairstyle—doesn't it remind you of the hippie era? I thought so.
6. Daisy-Shaped Flower Undercut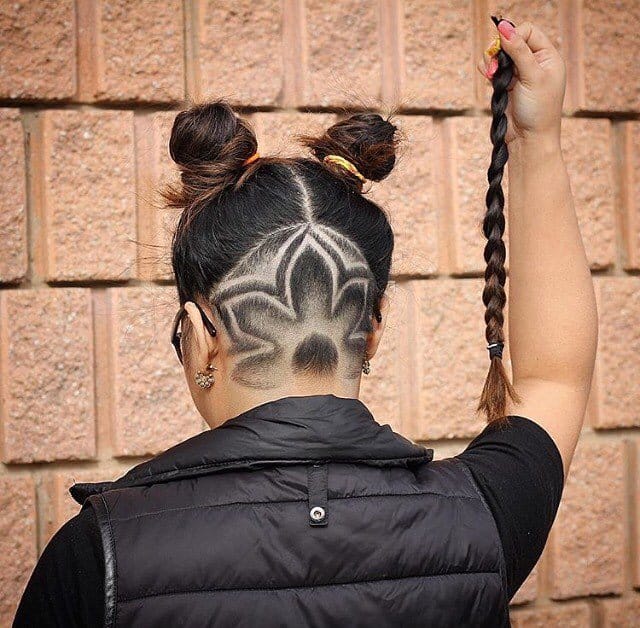 However, sometimes you can have a cute and adorable undercut. That's the beauty of the hairstyle. The undercut is a versatile hairstyle that you can adapt to your personal style and character. If you are more of a romance-type girl, a flower is the way to go.
7. Half Flower Undercut with Diamond Center
I said that the undercut allows you to transform your head into a piece of art. Look at this combination of a diamond and a flower—doesn't it look artistic? I know it does. And I know there are many other options you can try.
8. Purple and Blue Geometric Pattern Undercut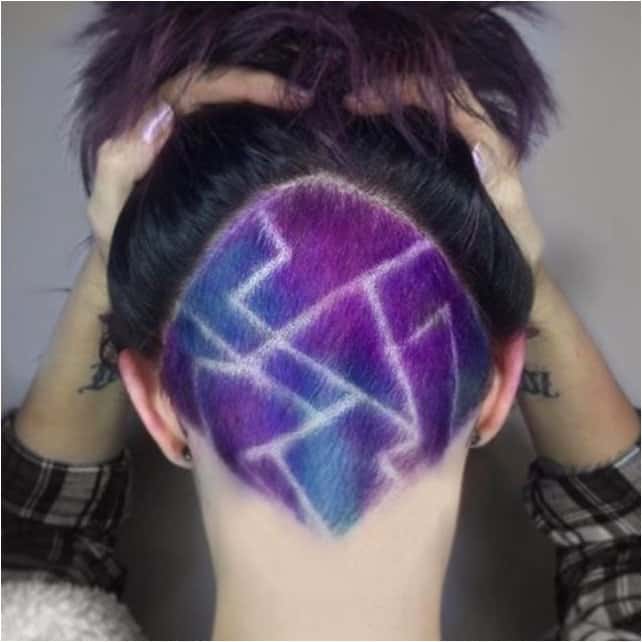 It's only logical to expect a geometric tweak to the undercut hairstyle. After all, geometry has become such a huge part of our lives recently. We've seen geometry as a theme in interior design, fashion, and now, in beauty and hairstyles as well.
9. Realistic Black and White Flower Undercut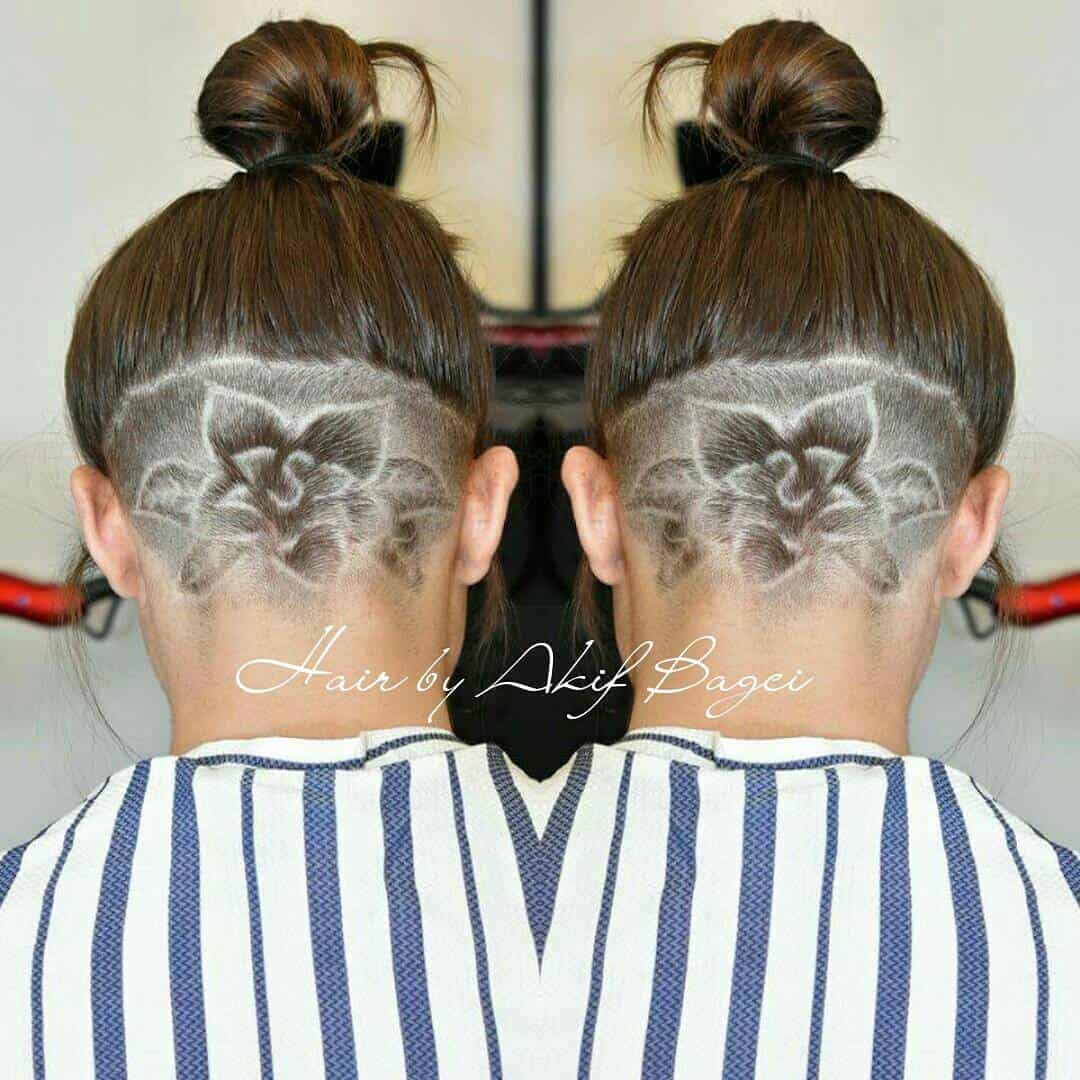 You can never go wrong with black and white. And you can never go wrong with a flower. Combine those two together, and you have a simple, yet elegant, undercut hairstyle.
10. Sunset Undercut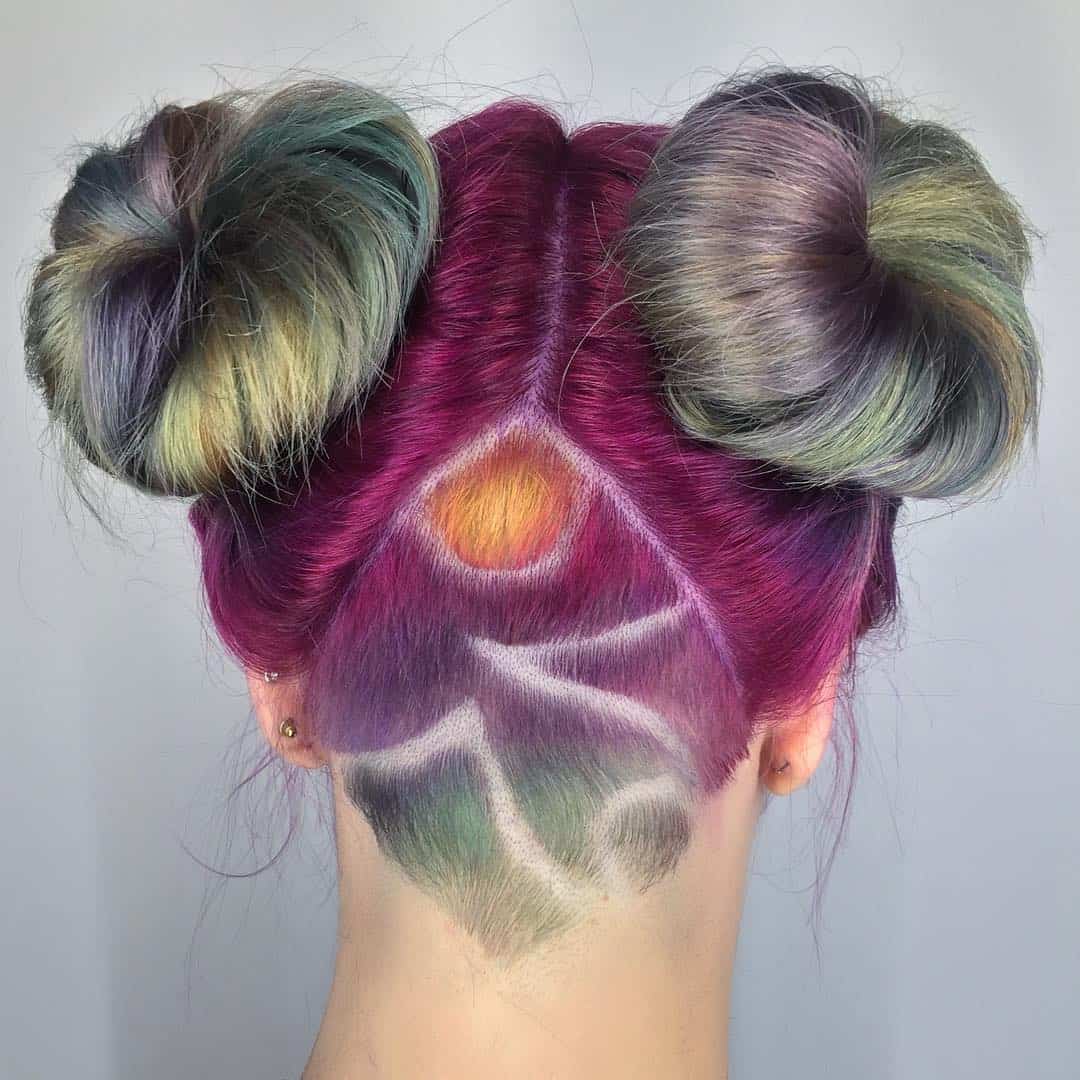 The undercut allows you to add any theme you like. And carry any image you can think of with you at all times. For example, if the sunset is something you love, why not carry it with you? After all, the sunset does looks stunningly beautiful.
11. Subtle Undercover Mermaid Do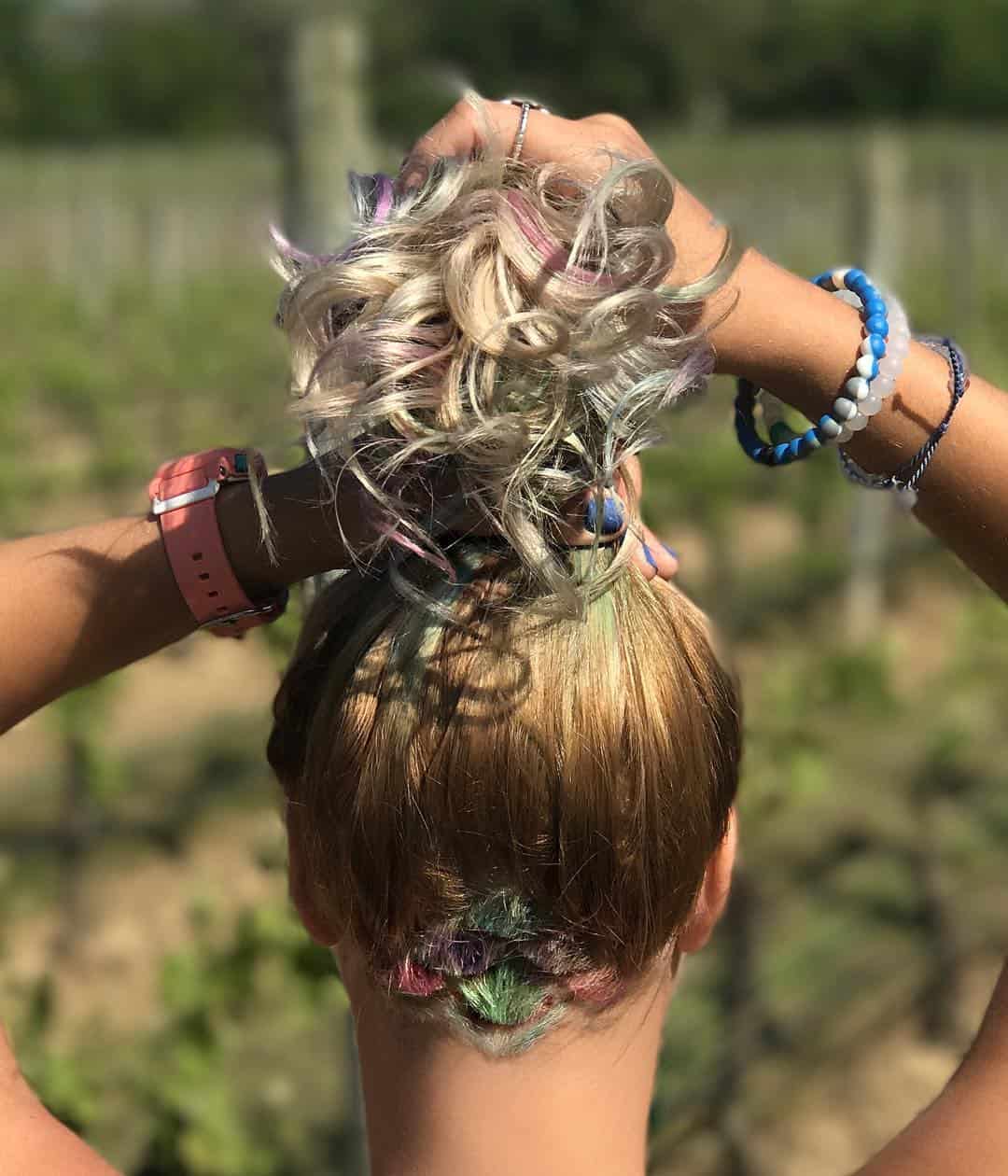 We had an inspiring mermaid theme before. And there will be more mermaids along the way. The reason is simple: a mermaid theme allows you to play with colors. And what better way to express your wild side than going all colorful?
12. Two-Toned Chevron Undercut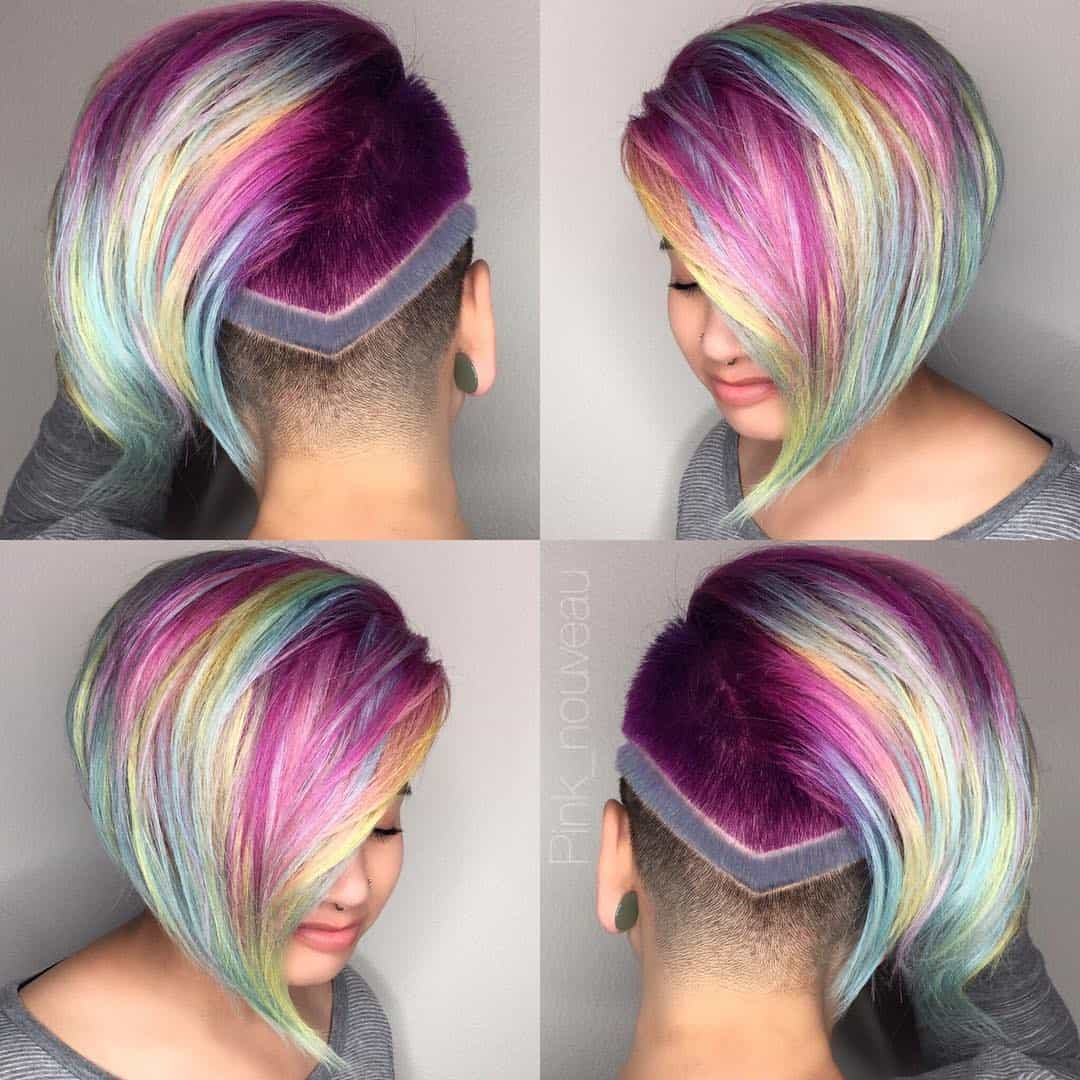 The chevron sign has practically become a legend. You can say that the sign is the best marketing asset Chevron has in its arsenal. In the past several years, the chevron theme has been part of interior design, inspiration for fashion clothing, and much more. It is a classic sign you can put anywhere—your undercut hairstyle included.
13. Indigo Flower Design Undercut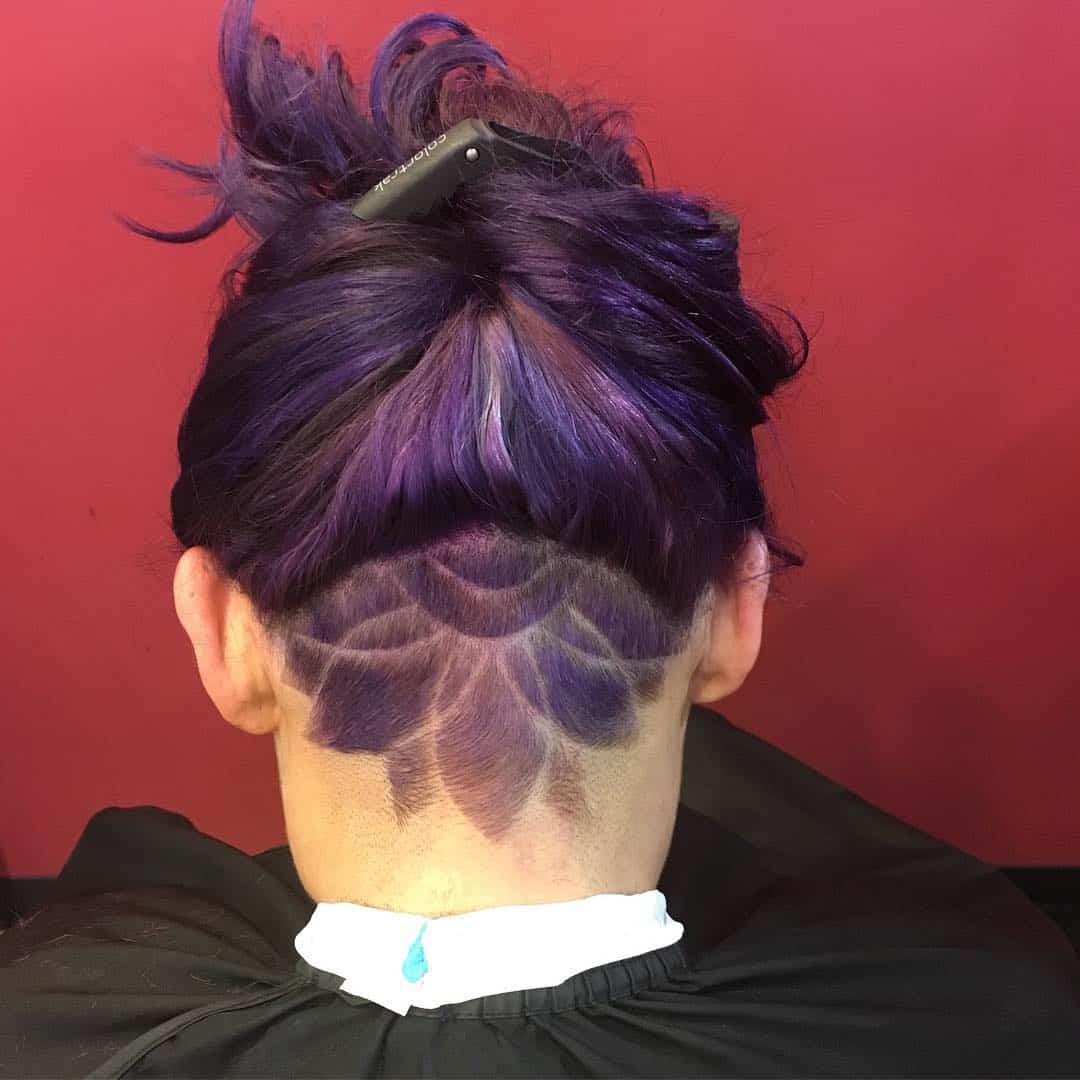 Rightfully so, the flower theme is one of the most popular undercut themes. After all, not many women are ready to go totally wild. The flower allows you to follow a certain trend, but still keep it girly and feminine.
14. Full Heart Undercut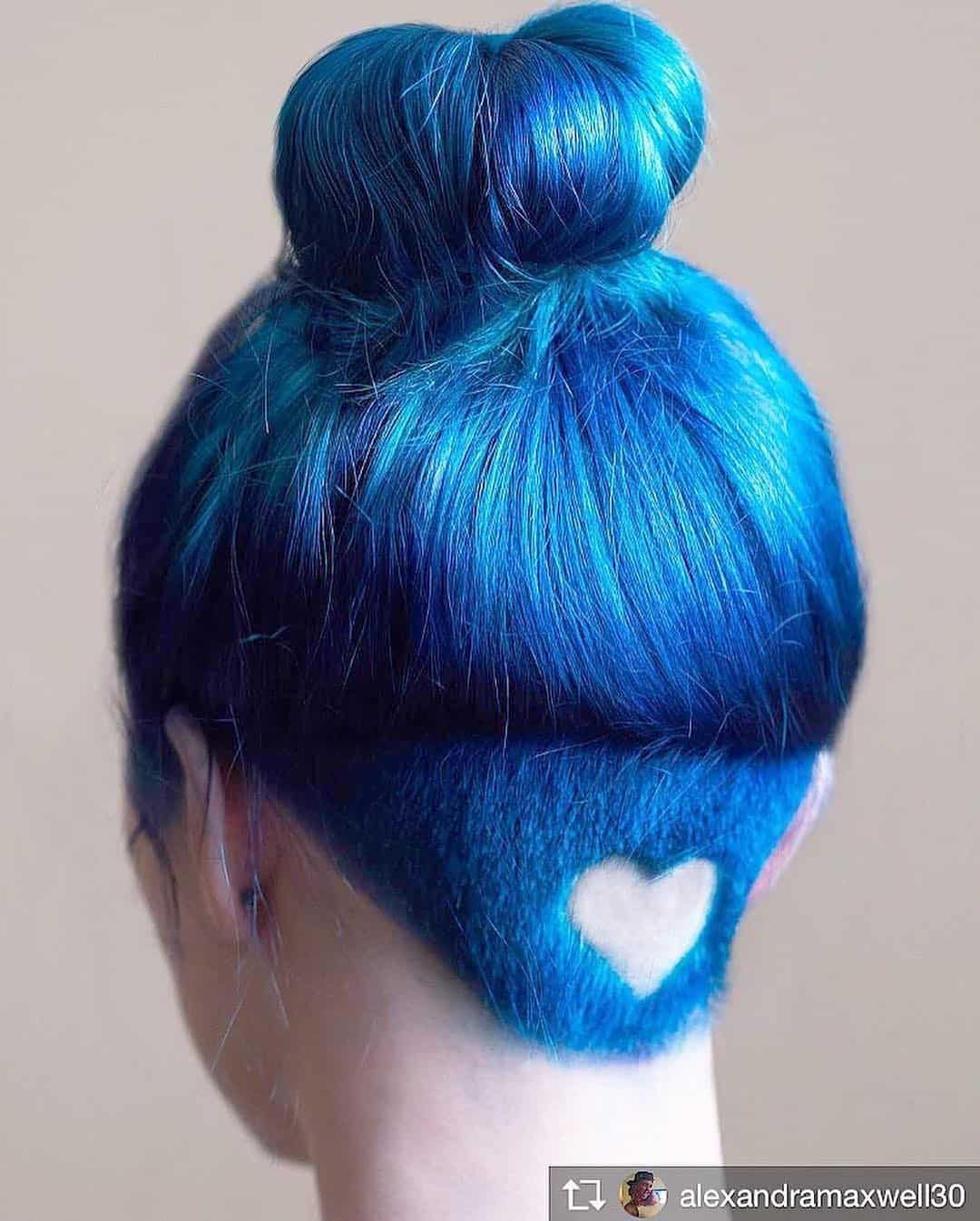 Speaking of being feminine and girly, the heart is right there in that same sentence. Bonus points for the hair color.
15. Dream Catcher Undercut Design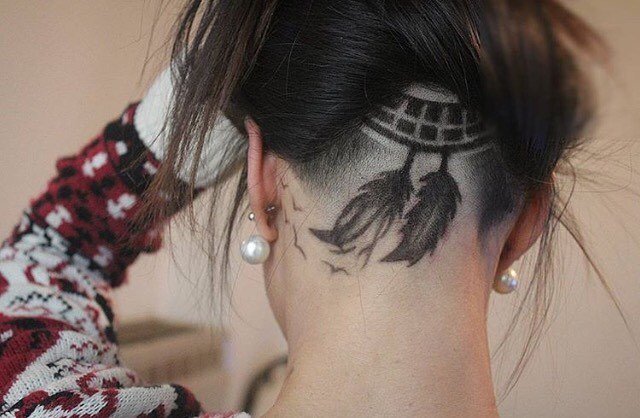 Speaking of popular signs and symbols, the dream catcher is in its own world; it's a popular tattoo idea. So why not as an undercut idea as well? The design certainly makes you unique.
16. Half Lotus Undercut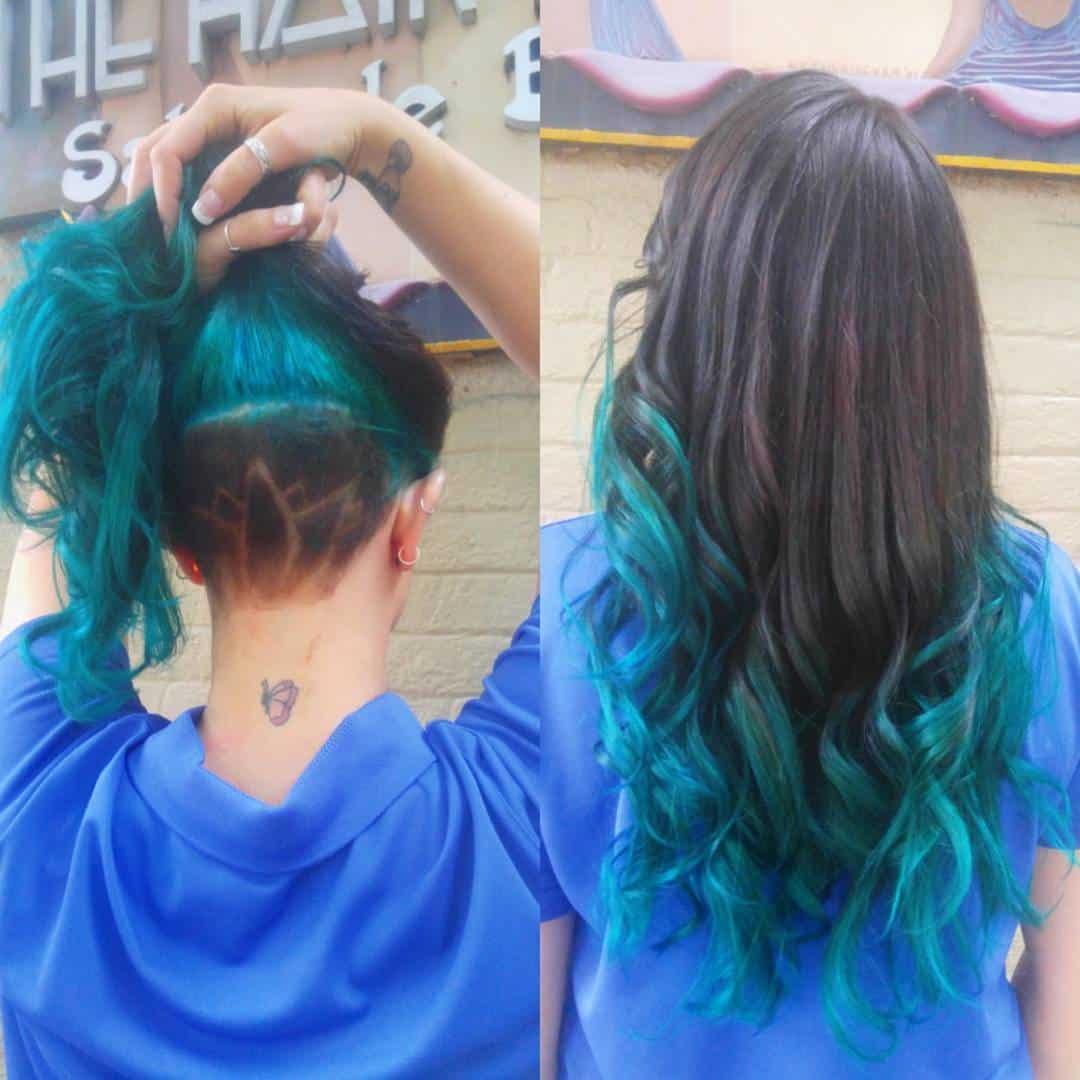 I said that flowers are perfect for women who want to stay feminine and still get an undercut. The lotus is one of those flowers that never goes out of fashion. Simple, feminine, and adorable at the same time.
17. Half Flower Design Undercut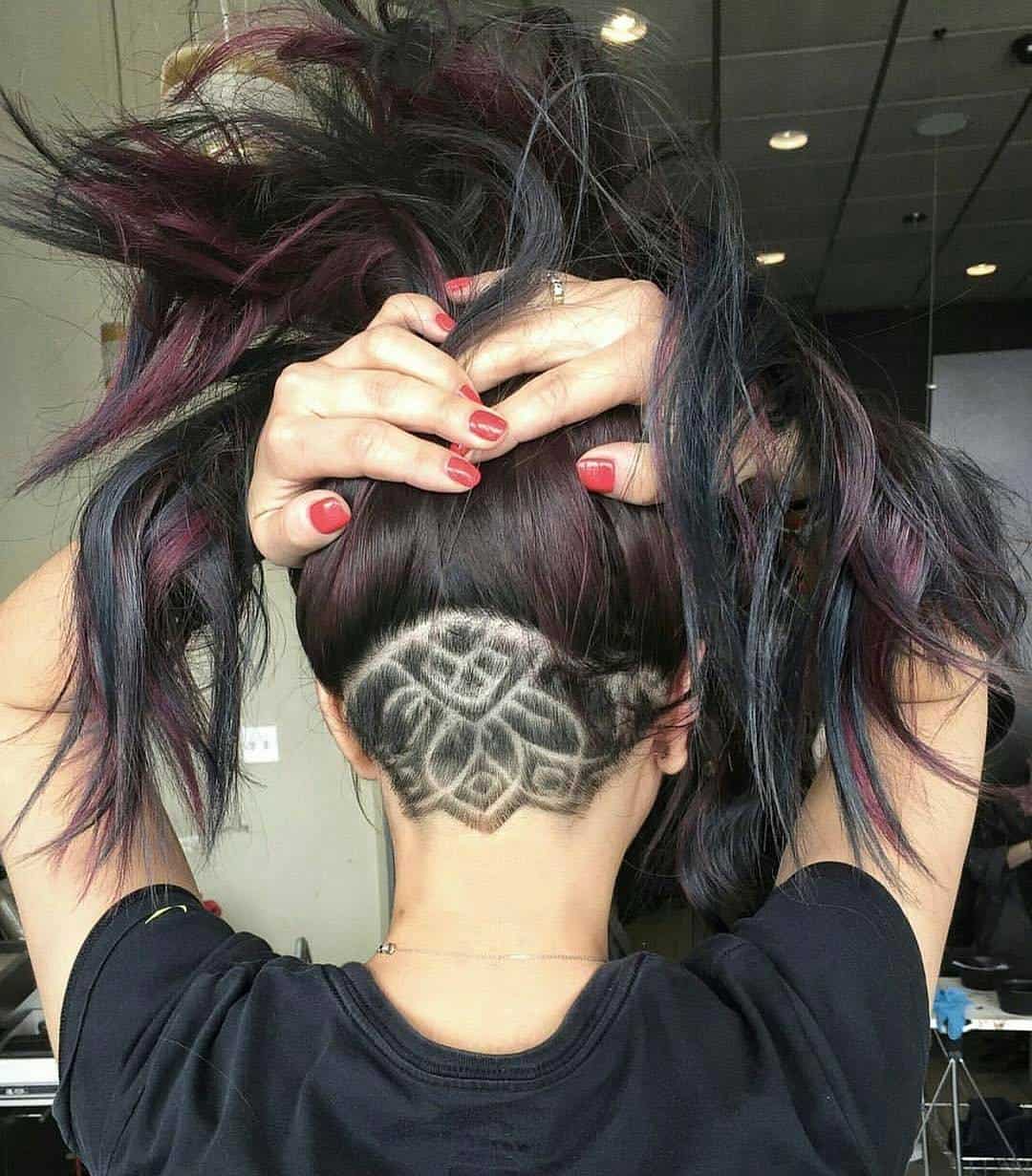 The best part about a half flower is that people will gaze at the design and have a hard time figuring it out. A half flower looks unique and artistic at the same time. If your goal is to have people wondering what it is you have under your hair, a half flower is definitely one of the better options.
18. Colored Rose Undercut
With so many flowers, we almost forgot the rose. A classic flower—one that never goes out of style—the rose is a symbol for being sexy and sensual at the same time. Bonus points for bringing some color to the undercut.
19. Wavy Lines Undercut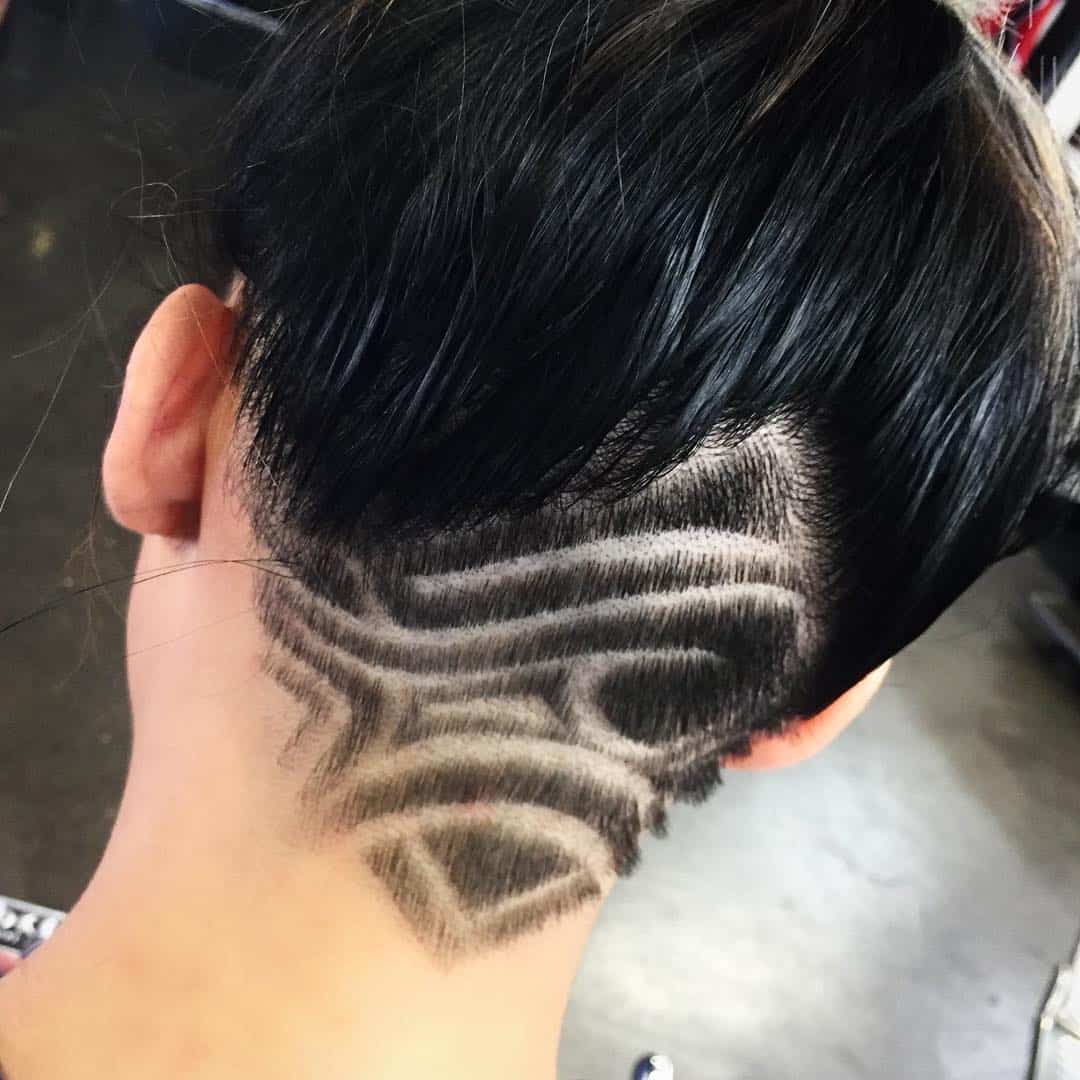 Most people complicate the undercut. Sometimes, the best idea is a simple one. For example, just several wavy lines might be all that you need and want. There is no denying that the design looks beautiful.
20. Side Sun and Flower Design Undercut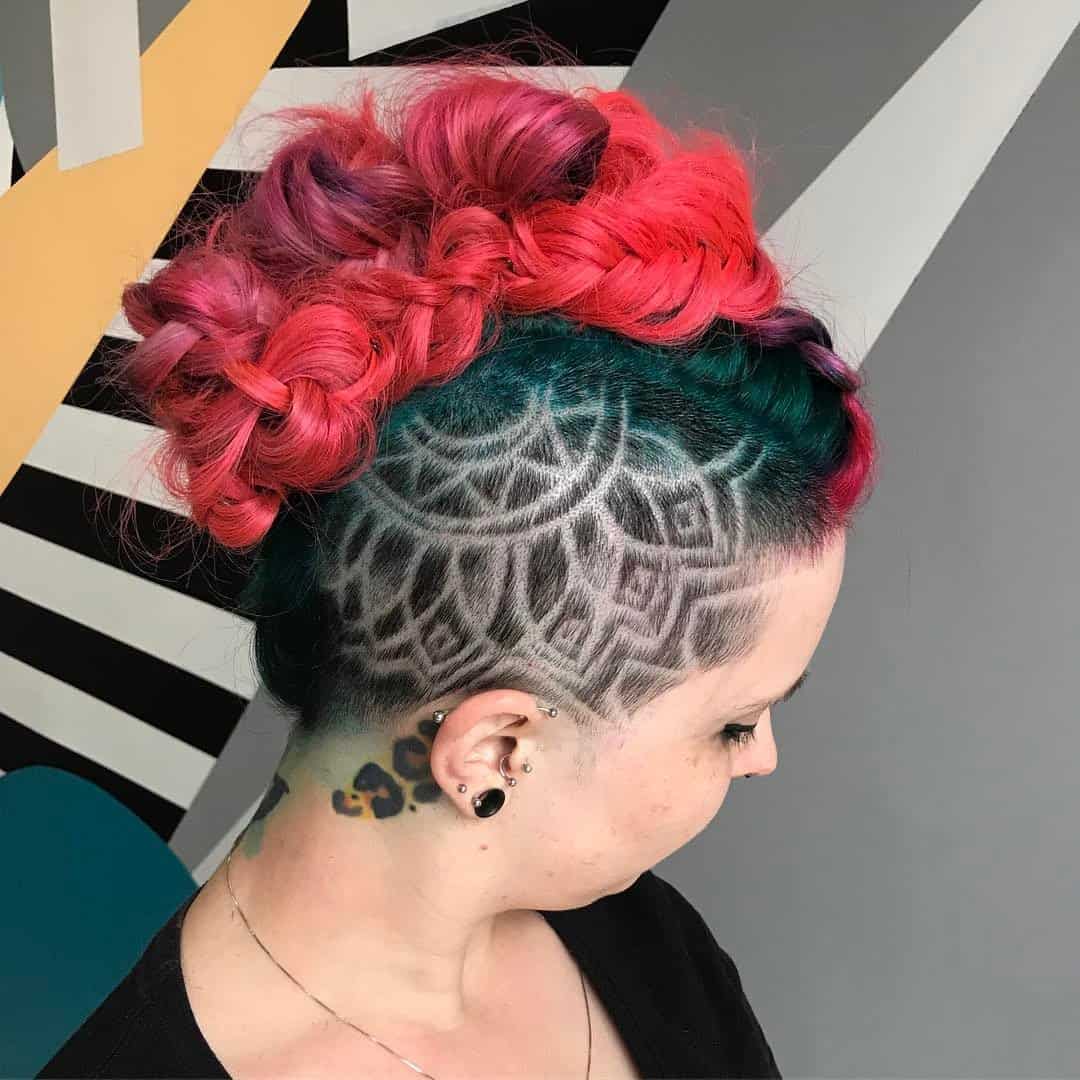 For most people, this idea might be a bit too much. After all, you need to shave nearly half of your head. But if you are ready for such a step, the design looks flawless.
21. Lines of Cubes Undercut
I noted previously that sometimes simplicity beats everything else. And that's true in this case as well. To be fair, it all comes down to your personal style. If you are someone who wants to keep things simple and subtle, this is the way to go.
22. Purple Flower Undercut Under Red Hair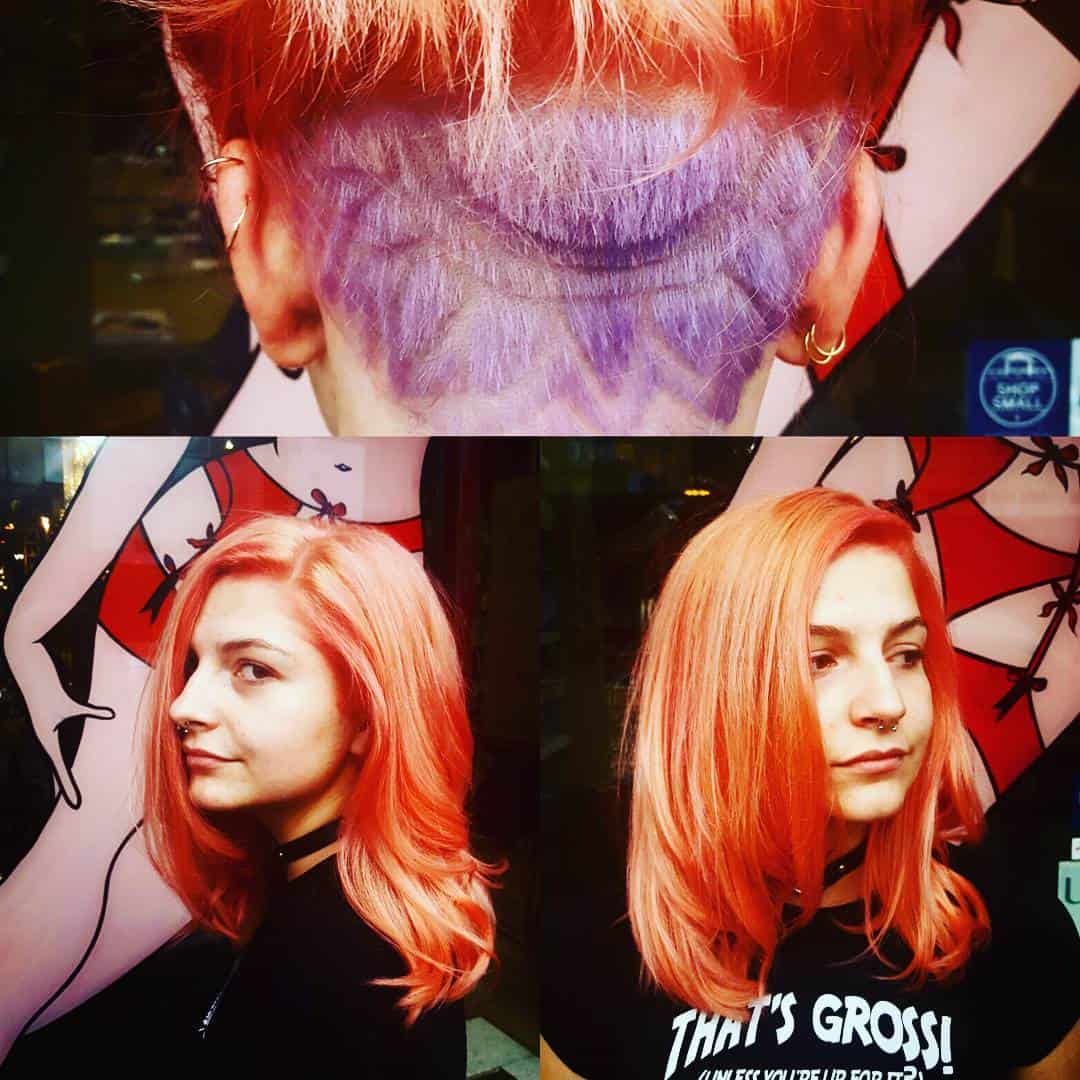 The beauty of this design is in the combination of colors. When you think of it, red and purple are not complementary colors. But it's that contrast that makes this design pop and shine.
23. Tribal Design Undercut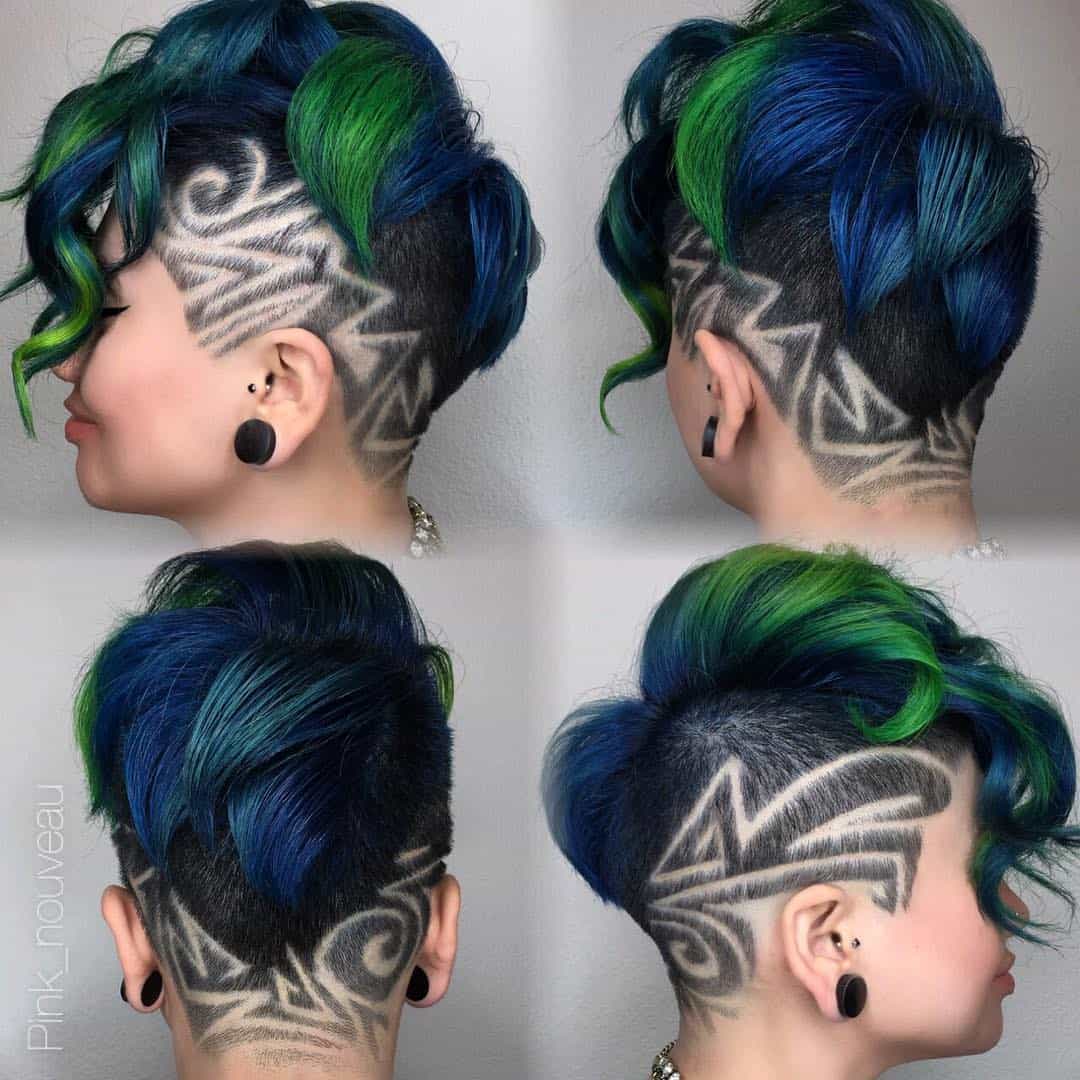 One theme you can't escape is tribal. And I must say, this is probably one of the best combinations of hair color and undercut theme that I've seen. The tribal works so wonderfully with the blue and green hair color. You just look at it, and you know you have a wild person behind the design.
24. Rose Design Undercut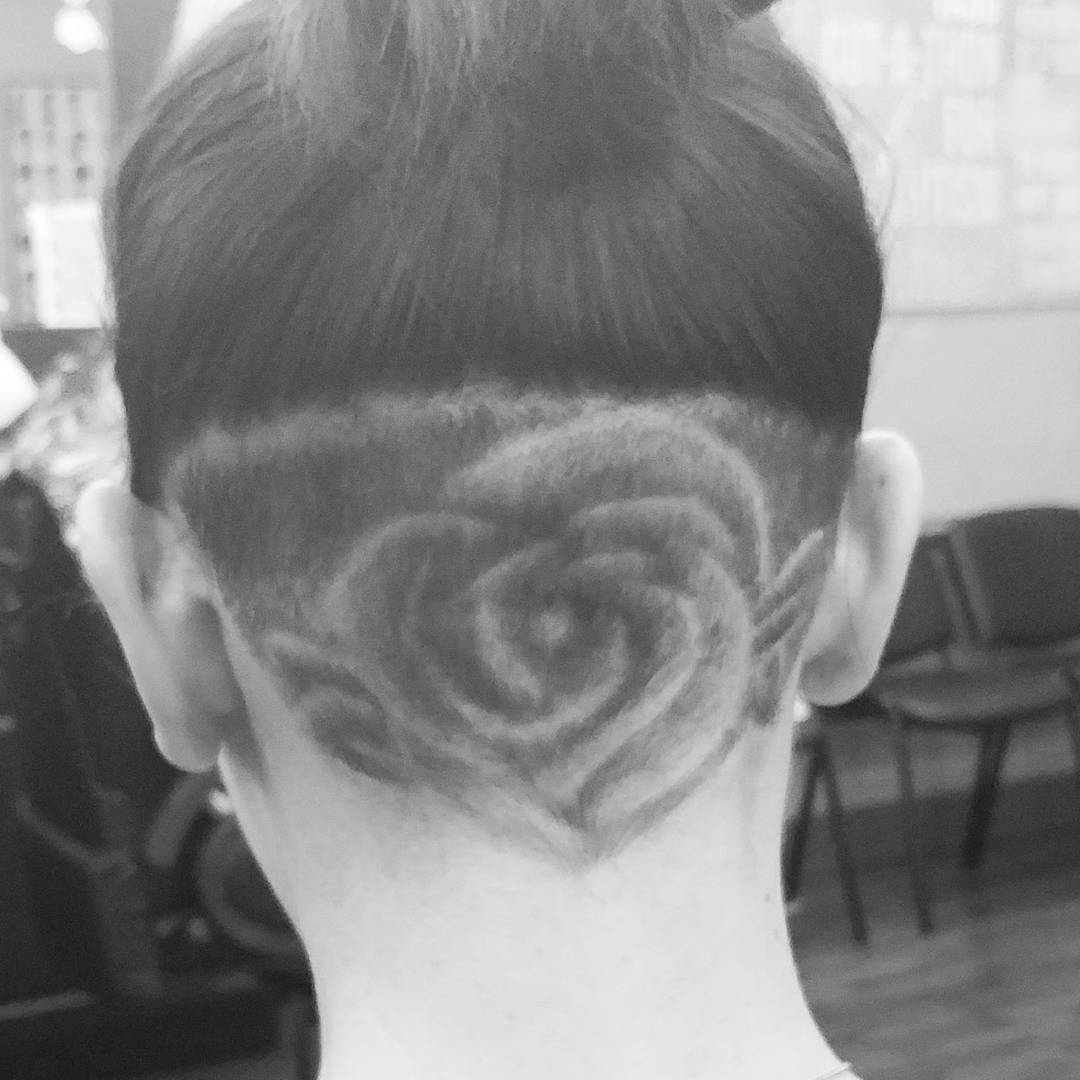 We had a colorful rose design. And now I give you the black and white rose design. I want to you to have options; the more options you have, the easier it is to find something that works. And since I know many women want roses, I have two different options for you.
25. Geometric Mirrored Rainbow Undercut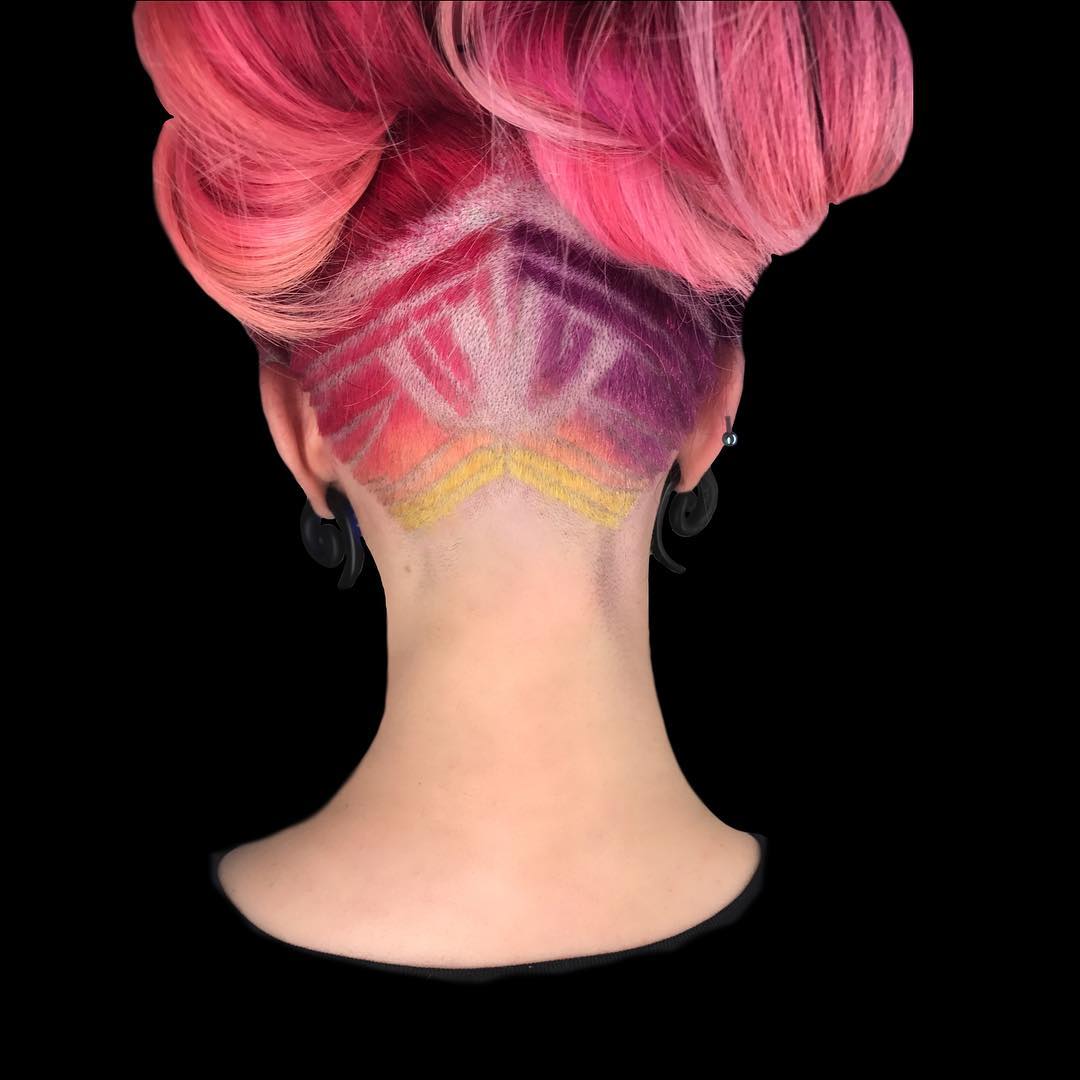 The best part about this idea is the colors. All of the colors are just something you would never think of putting on your hair. Just look at them. Yellow, red, orange, purple, and pink—all in the same design. Now, that's a bit too much for some people, but there is a buyer for every product, this one included.
26. Crisscross Lined Undercut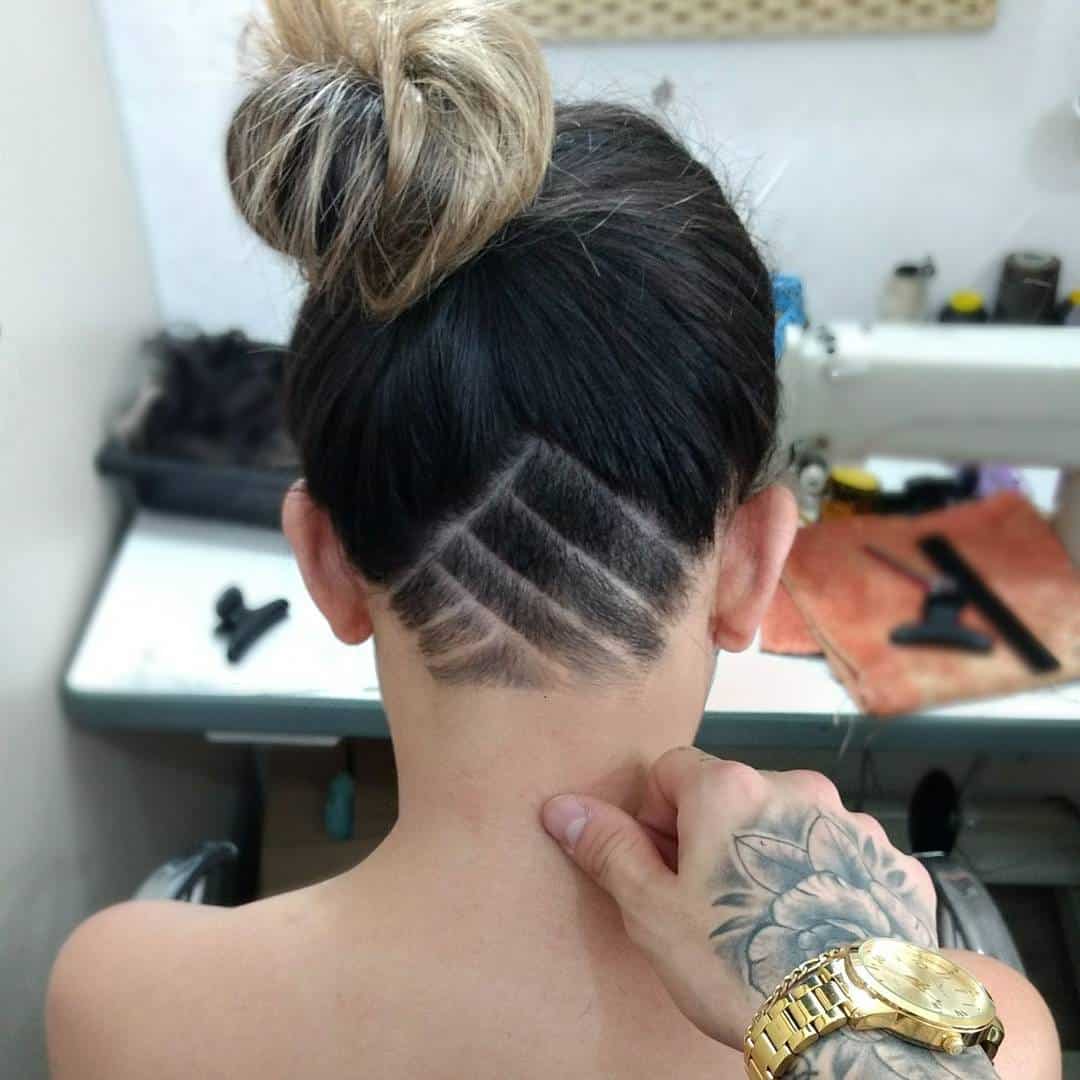 I said previously that you don't have to complicate things with an undercut. There are several simple designs you can find. One of them is the crisscross, and it is one that definitely looks sharp.
27. Butterfly Side Undercut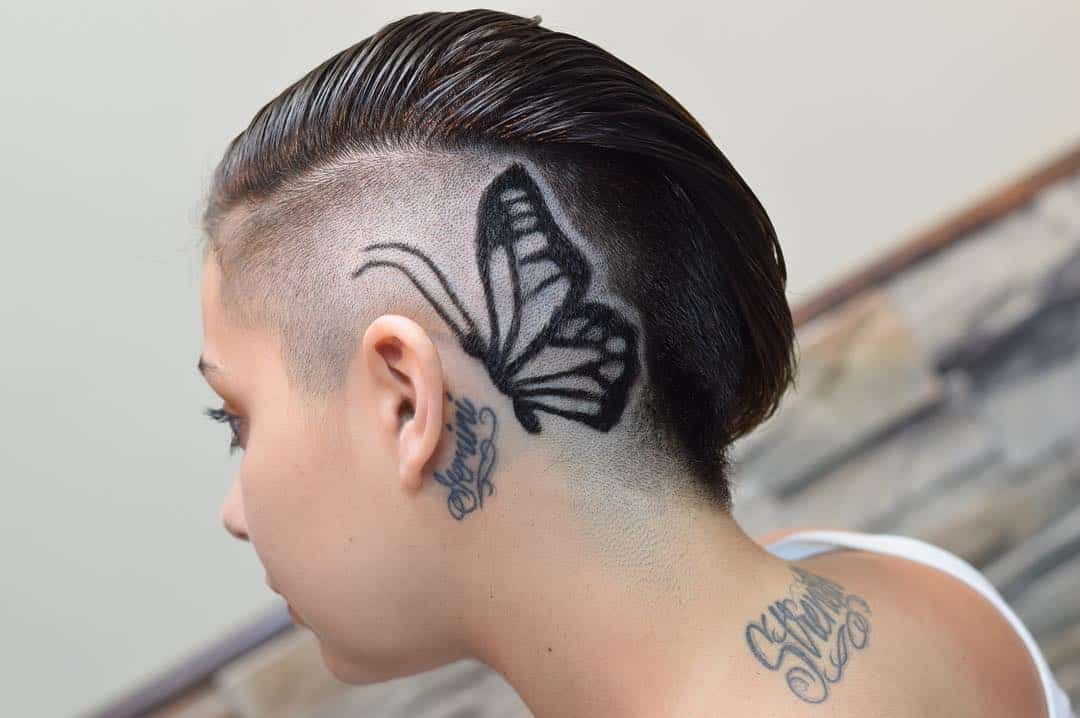 Women and butterflies go hand in hand. That much is true. And in that spirit, we just couldn't ignore the butterfly for an undercut hairstyle.
28. Colorful Triangular Geometric Undercut for Short Hair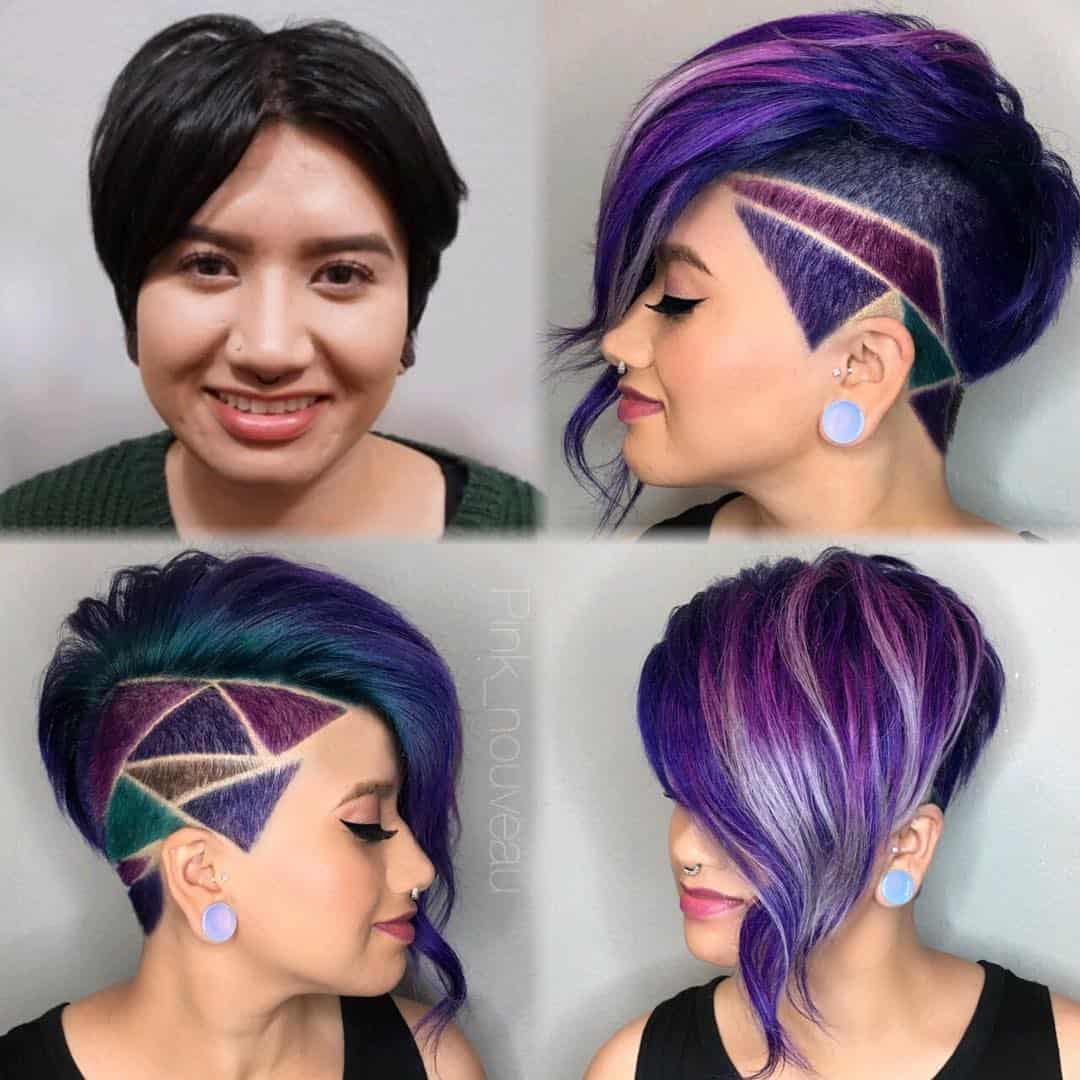 We've seen several geometric-inspired ideas so far. But this one takes things to the next level. And it's all about the colors. This is probably one of the most whimsical undercut designs I've seen.
29. Hearts and Lines Side Undercut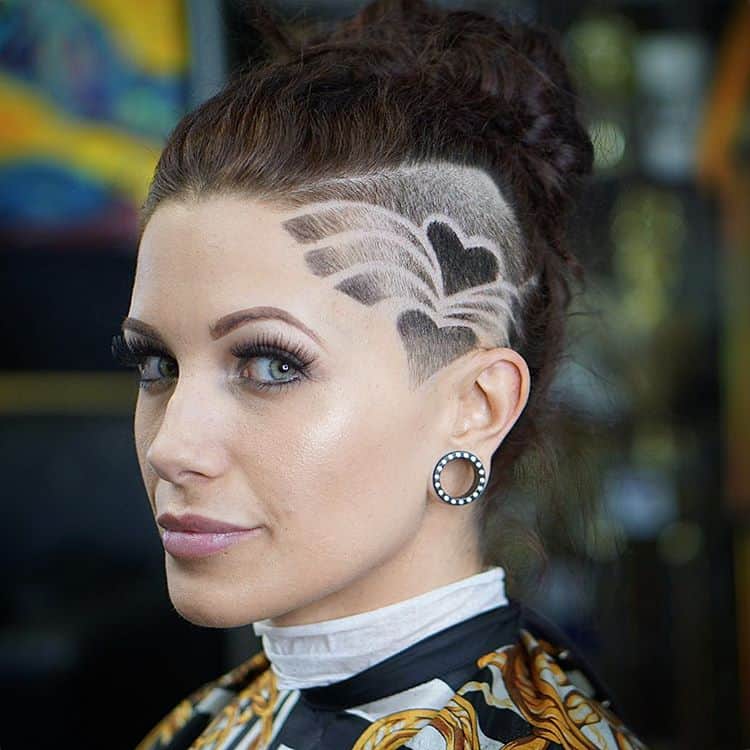 Mix and match, that's all I can say. What you have here is the simplicity of lines and a feminine element like the heart. The result is a stunningly simple undercut that makes you look sharp, elegant, and sexy at the same time.
30. Colorful Swirly Flower Undercut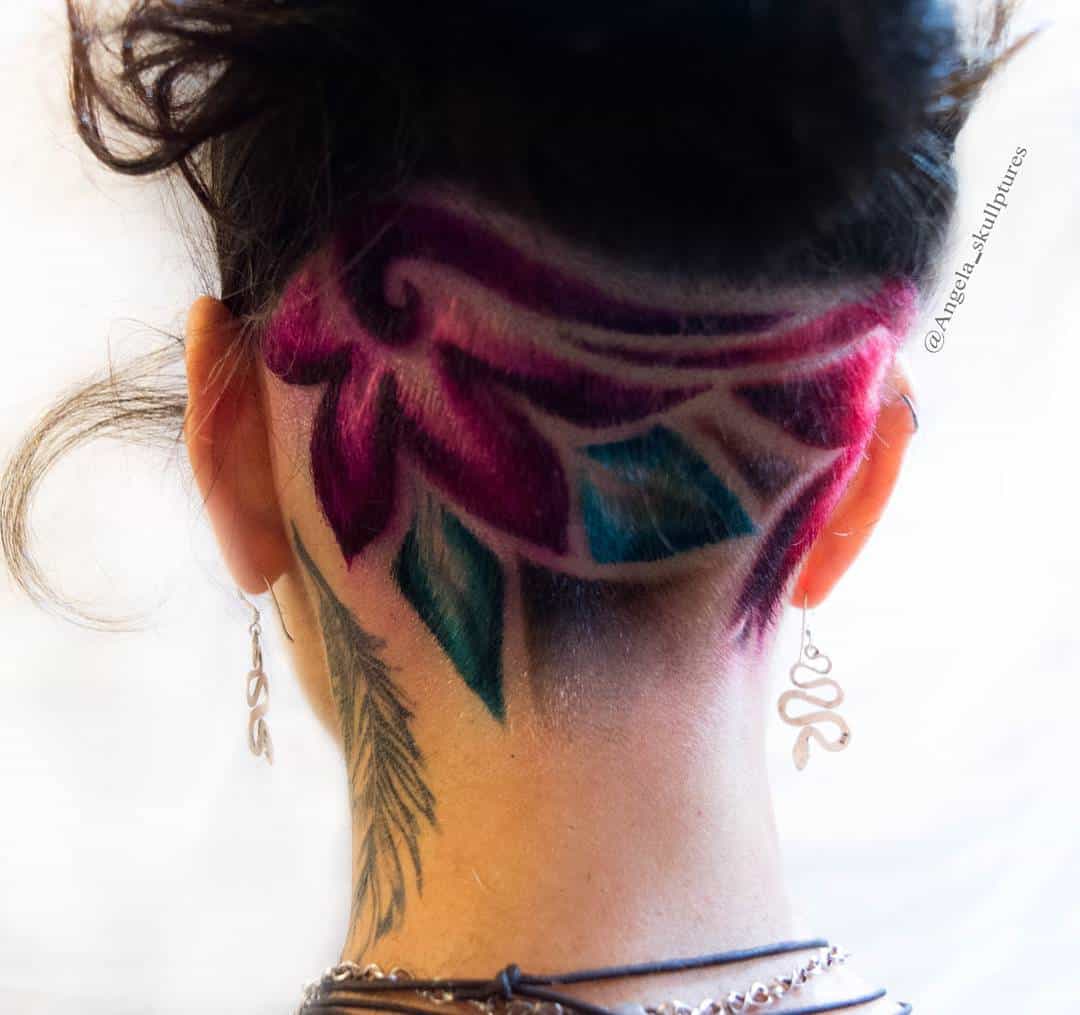 I've said it previously: colors make everything look more beautiful. But it's all about finding the right match of colors. For example, many would say that dark-colored hair looks great with a light-colored undercut design. However, I believe that dark goes better with dark, as in this case.
31. Rainbow Hair with Lightning Bolt Undercut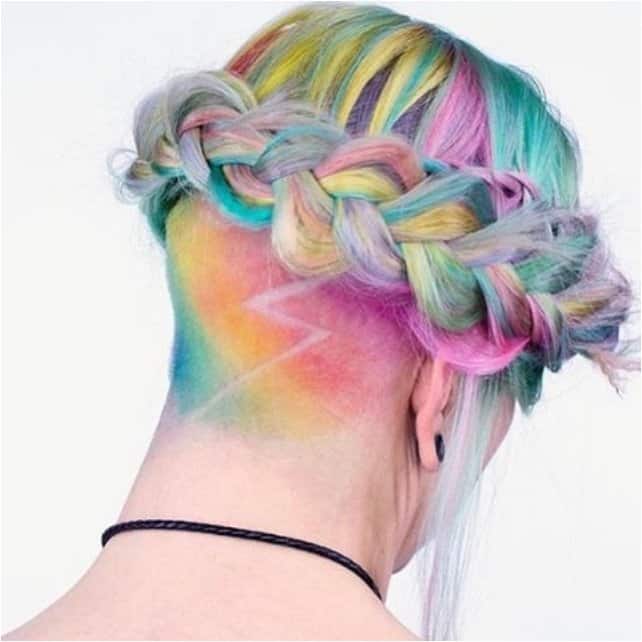 Drawing some inspiration from The Flash comics and TV show, the lightning bolt is probably one of the simplest and smallest elements you can add. Truth be told, the lightning bolt looks a little bit lost here.
32. Diamond Heart Geometric Undercut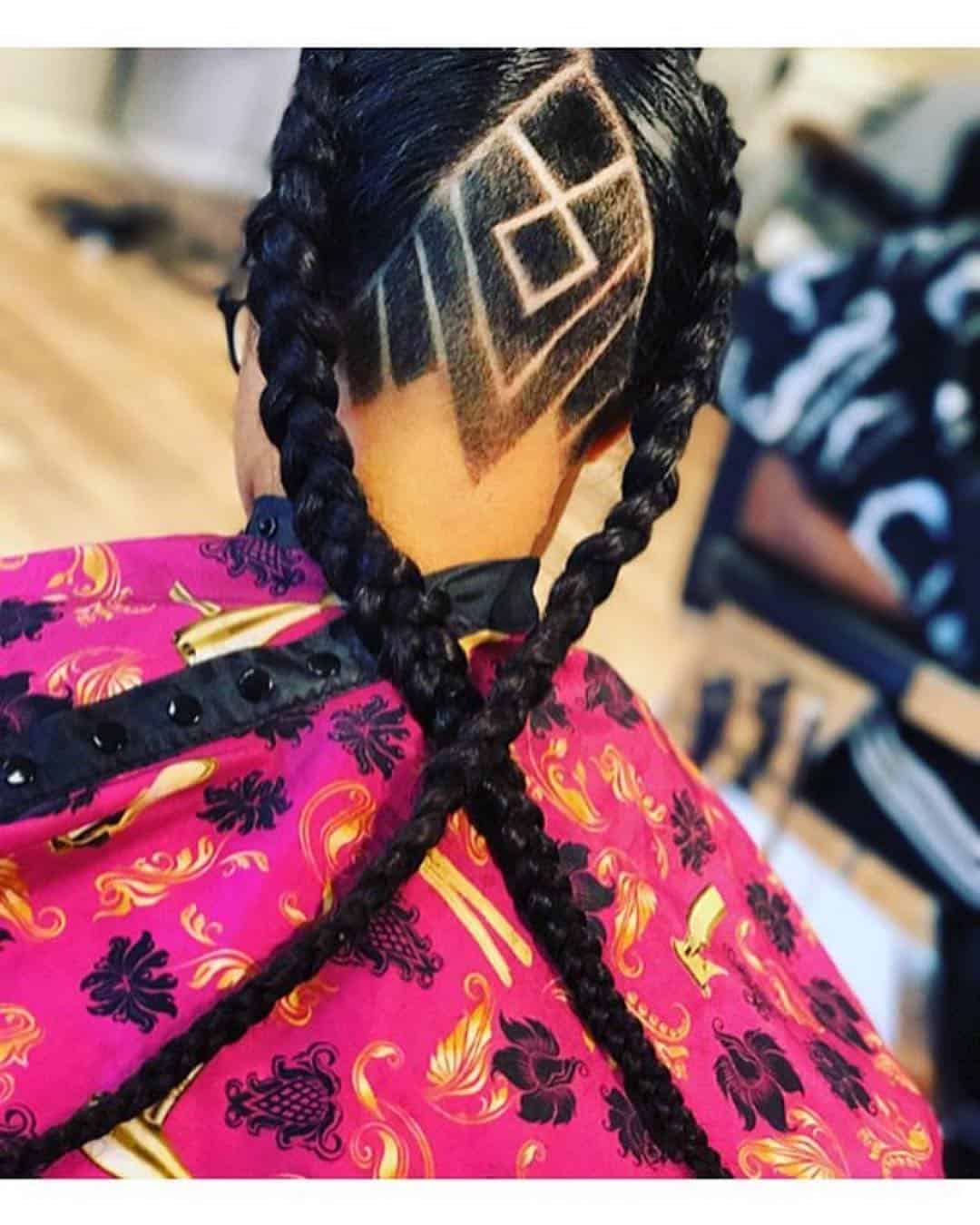 I just love how the undercut hairstyle works with the braids. Definitely a favorite of mine.
33. Cool and Simple Undercut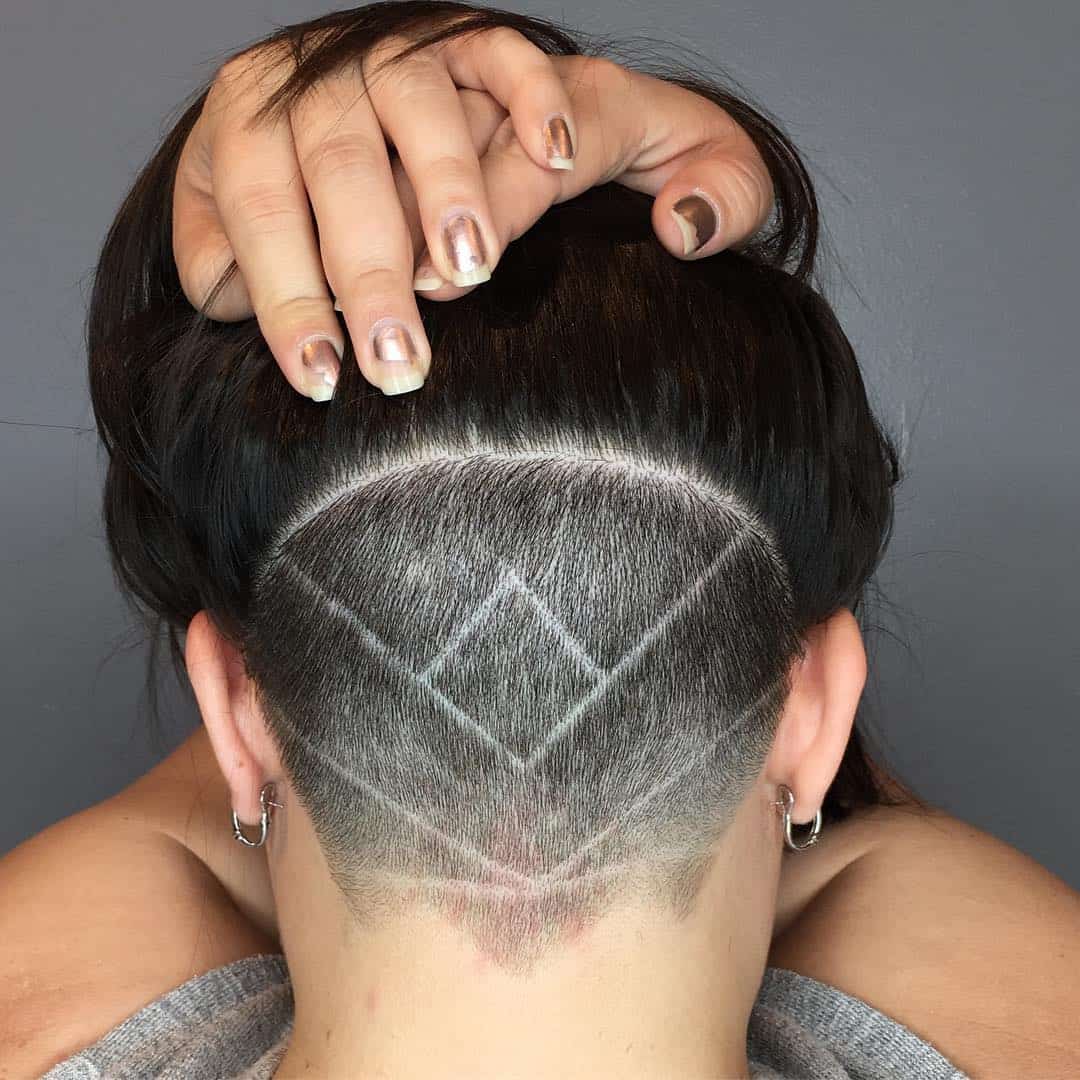 As I've said over and over, a simple undercut can go a long way. If that's your style, don't change it. Just find something that's suitable for your character.
34. Intricate Flower Undercut Design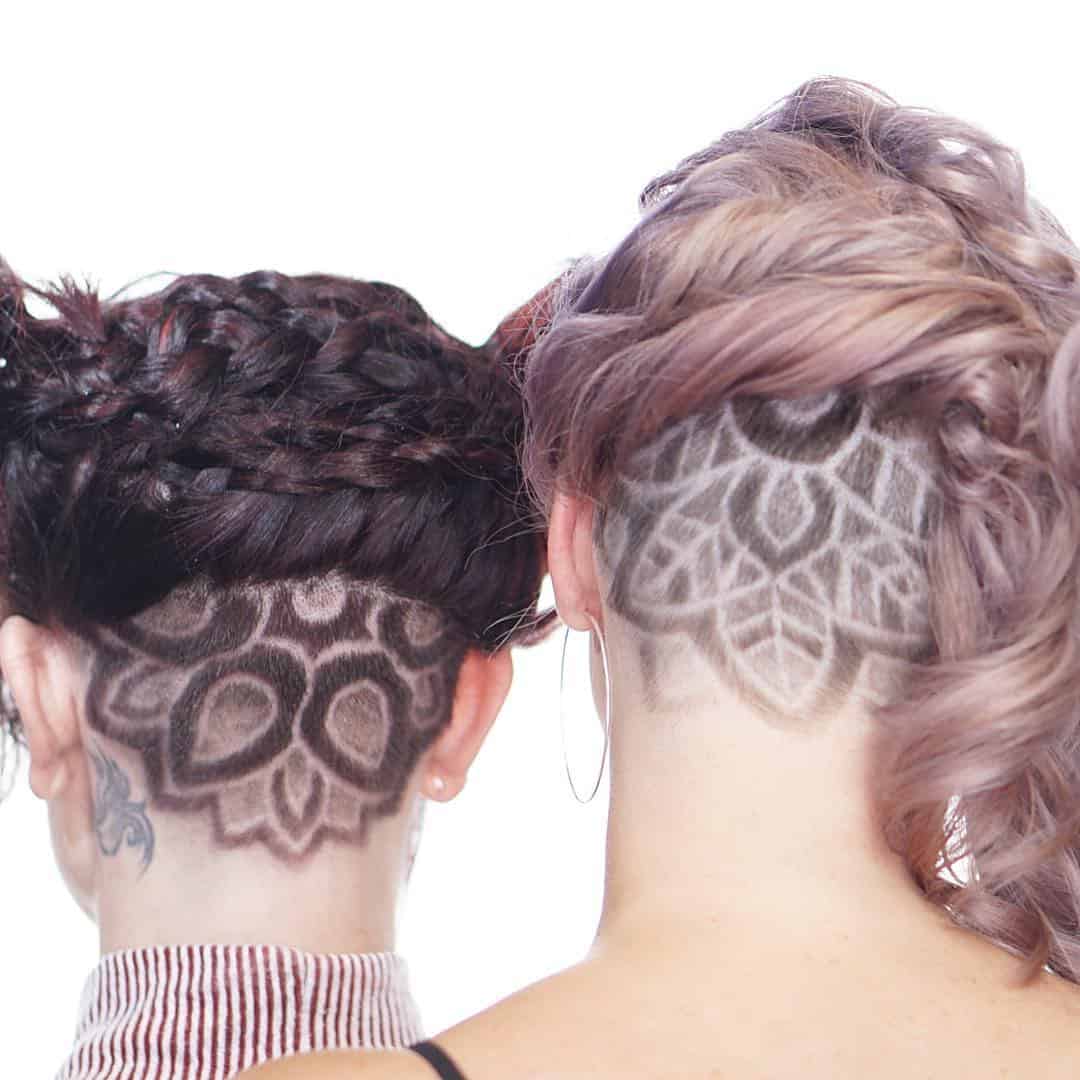 From the wide palette of flower designs comes another very detailed look. It's all about paying attention to the smallest detail. And that's what makes this design so good.
35. Mosaic Side Pattern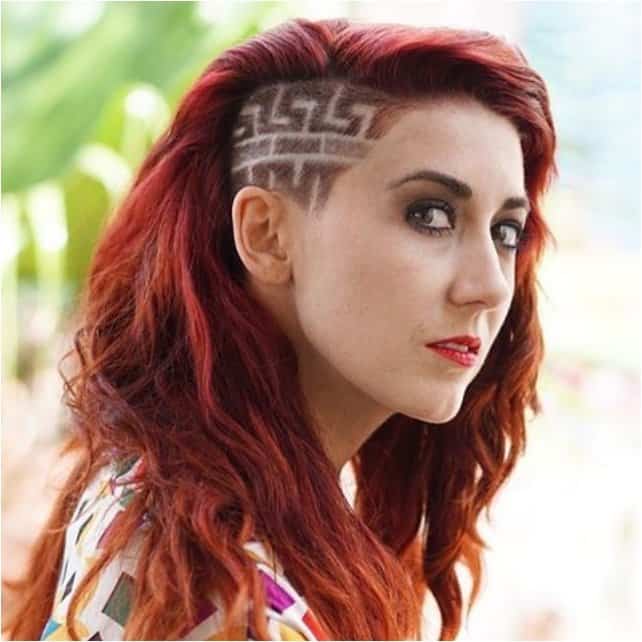 We finish off with something simple, yet very elegant. At the very end, I give you one of the better looking side undercut designs. After all, it was a side undercut that Rihanna debuted several years ago.
That being said, if you have any other undercut ideas, the comments section is the place to share them!