An all-British boxing showdown will not happen this April as Tyson Fury's camp has declined the offer to fight Anthony Joshua. 
Eddie Hearn recently revealed that he has given the "Gypsy King" an offer to challenge AJ for the IBF, WBA, WBO, and IBO titles on April 13, but Fury's promoter, Frank Warren, dismissed the proposal, calling it "ridiculous" and "derisory," which left Dillian Whyte and Jarell Miller as the remaining options for the unified champ.
The Offer
Anthony Joshua will defend his four championship belts on April 13 at Wembley Stadium, but his opponent has yet to be determined. On Monday, his promoter claimed that Tyson Fury was being considered as one of the top picks to challenge the unified champion.
AJ insisted last month that the Deontay Wilder bout is the only fight he wants, but the WBC heavyweight champion has not been responding to any of the proposals from the British star's camp. Expanding their options, Hearn made an offer to Fury to star in an all-British fight opposite Joshua.
"Well, to say Deontay Wilder's camp has gone quiet, that's saying it lightly. Probably up to six unanswered emails now. In fact, I sent one a couple of days ago, saying I just want to check these haven't gone into your Spam items."
"I think right now, there's more chance of fighting Tyson Fury. There's a man that knows he can have this fight if he wants it. I've spoken to him. He knows if he wants to fight Joshua, it can happen April 13."
Rubbish
Following reports of Fury receiving an offer to fight Joshua, his promoter, Frank Warren, immediately aired their side, confirming that they will not accept the offer as it was a 60/40 split in favour of AJ. He also revealed that the rematch with the "Bronze Bomber" is now on the works.
"I've never seen that. That offer's never been sent to me and I'm his promoter. He did send something to Tyson, but that was a derisory offer. What we're working on is the fight with Deontay Wilder, but there's certainly no 60/40 offer to us, that's rubbish. Where do they get the 60/40 from?"
"Any deal with Tyson Fury is gonna be a 50/50 deal, simple as that. When they did Parker, they settled on 67½/32½. You're telling me that Tyson Fury's worth [only] 7½% more than Parker? It's ridiculous."
Heres what @frankwarren_tv just told me pic.twitter.com/3Z0bOgN5kC

— Gareth A Davies (@GarethADaviesDT) January 15, 2019
While the negotiations for the Fury-Wilder rematch is now underway, the lineal heavyweight champion is already preparing for what could be another all-out war with the American champ.
The British boxer is going an extra mile in his training for a potential rematch with the current WBC heavyweight champion as a video of him sparring with his trainer Ben Davison surfaced online last week.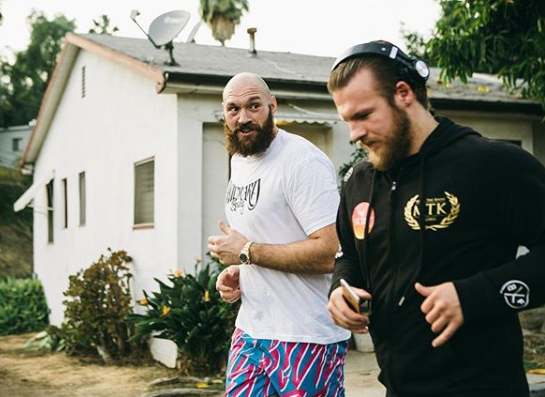 Fury settled for a controversial split decision draw with Wilder in their first encounter last month. Despite getting knocked down twice, he believes that he won the fight after dominating the early rounds.
"I've already beaten Wilder so that's one down, and I'll do the same to Joshua if given the chance. But I don't think it's going to happen, sorry to disappoint the sports fans," Fury told BT Sports.
(Featured Image Source: Instagram/Tyson Fury and Anthony Joshua)