Street painting, commonly known as pavement art and street art, is a performance art of rendering artistic designs on pavements such as streets, sidewalks, and town squares. Artists use only chalk, or in some case other materials as well. The five talented 3D sidewalk artists on the list are just phenomenal 3D street artists.
The list features artists like Edgar Mueller, Julian Beever, Manfred Stader, Eduardo Rolero, and Kurt Wenner. All of these make sidewalk chalk art easy, but that is not the case. Just try to learn how to draw 3d chalk art, and you'll see how hard it is.
That is why we appreciate greatness and talent when we see it.
Being that sidewalk chart illusion is all about tricking the eye of passersby into seeing 3 dimensional sceneries on a completely flat asphalt, we have to say that in some cases, the pictures don't do justice to the real project.
Nevertheless, we hope you appreciate the talent and greatness of these talented 3D sidewalk artists as much as we do.
Edgar Mueller
Considered one of the "world's top 3d illusionist street painters", Edgar is regarded as "maestro madonnari", a title given to street artists.. He was born on July 10, 1968, and grew up in a rural city on the western edge of Germany. Thanks to his YouTube videos, you can truly appreciate his greatness. He became fascinated with painting early in his childhood, painting rural scenes of his city. At 25, he devoted himself completely to street painting, and traveled all over Europe.
1.Lava Burst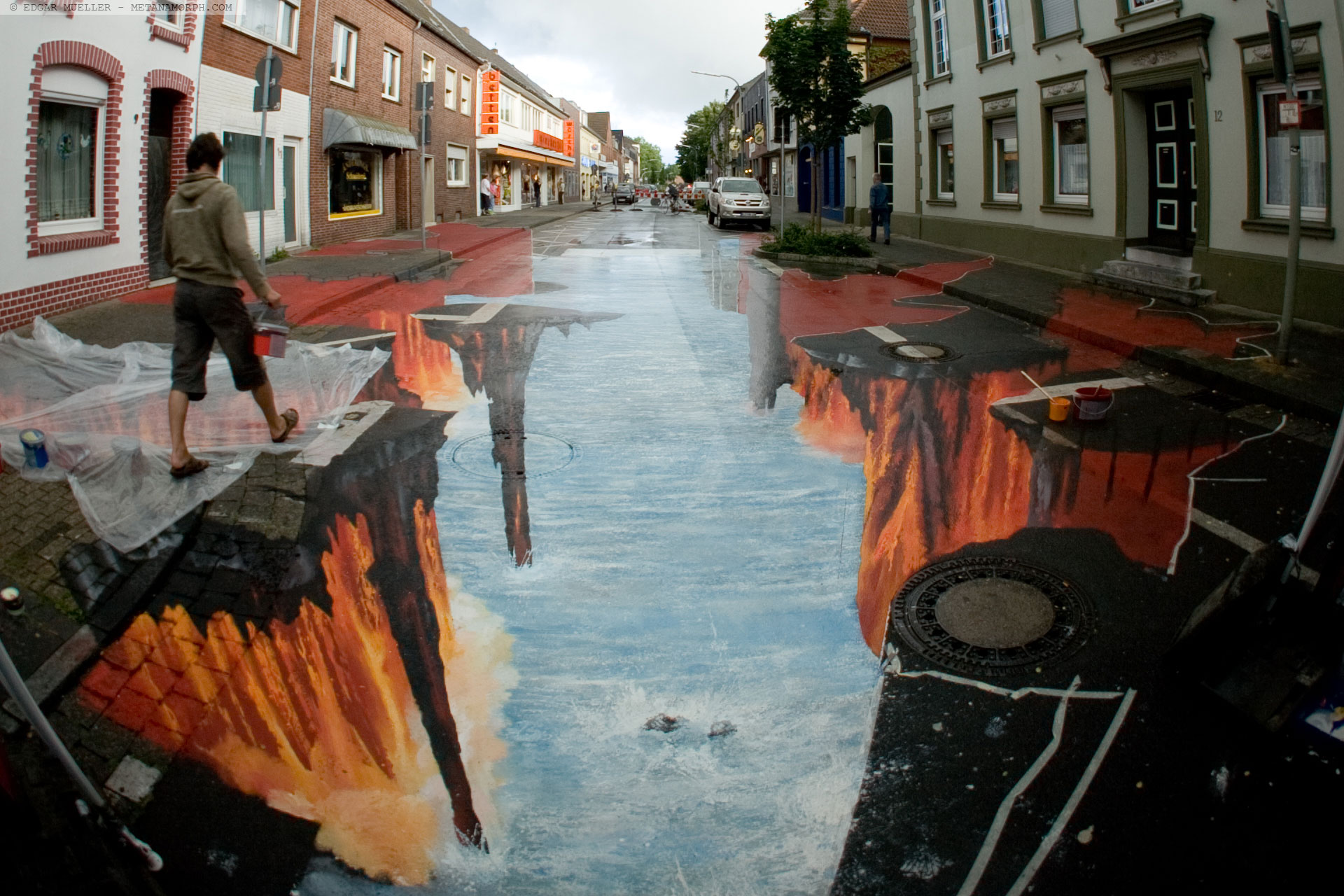 Edgar painted his large sized, three-dimensional picture of a scenery appearing apocalyptic on the 30th anniversary of the international street painting Festival. That was back in 2008, and the scenery was put in Germany.
2. Waterfall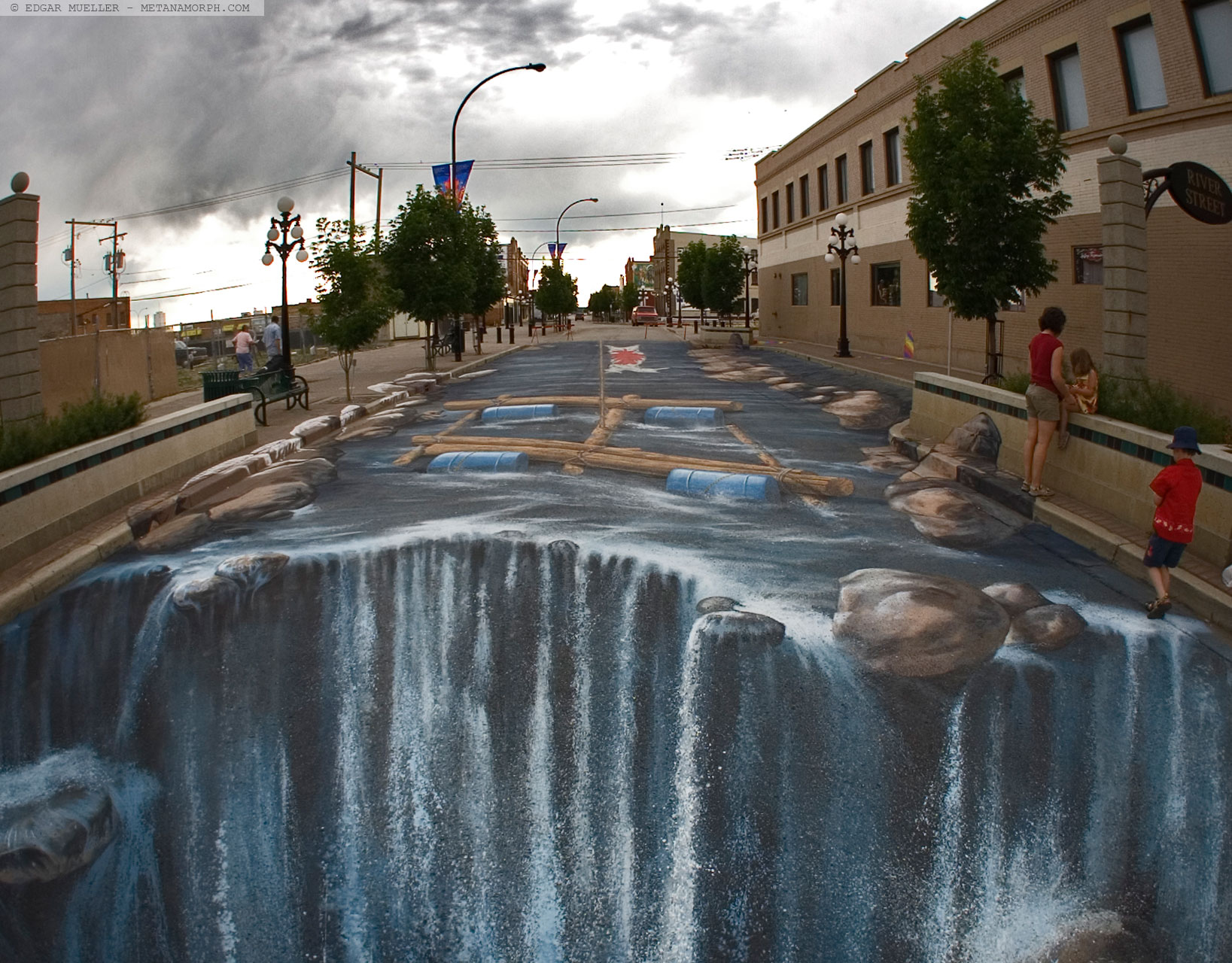 This is the first of the series of large-sized street paintings. He put it in Moose Jaw (Canada), on the occasion of the Prairie Arts festival in the summer of 2007. He wanted to turn Riverstreet into a River, as he covered 280 m2 with paint.
3. The Crevasse
During the Festival of World Culture in Dun Laoghaire in August 2008, Mueller accepted an invitation and transformed a huge slice of the East Pier into a dramatic ice age scene.
4. The Tree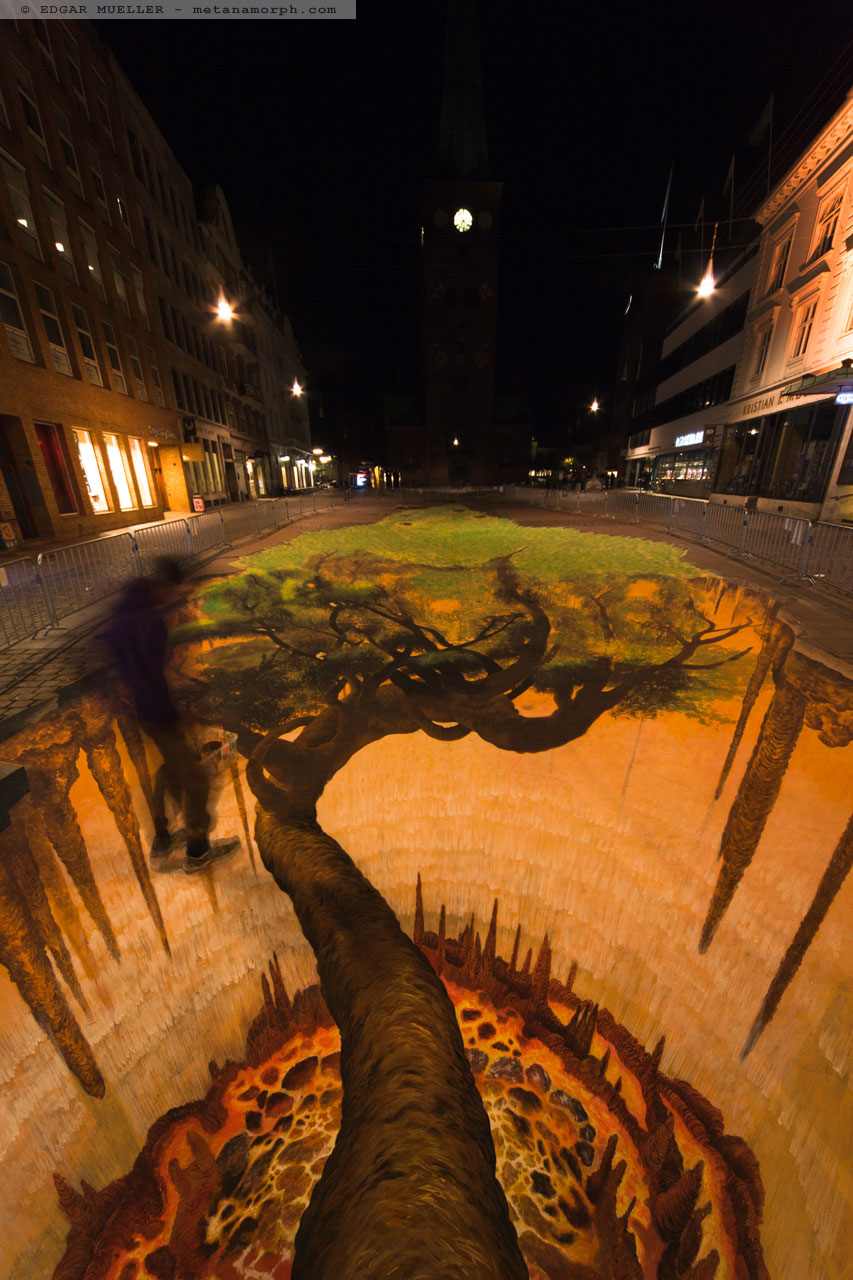 This is one of his latest works, done in August 2011. He joined a large cultural event in Scandinavia, the Aarhus Festuge. The slogan was "beautiful mistakes". Edgar had an urge to do something spontaneously, and that is how the tree was created.
Kurt Wenner
Before Kurt started creating 3d sidewalk art optical illusion, he was working for NASA as an advanced scientific space illustrator. He left NASA in 1982 in order to follow his passion for classical art. His interest in Renaissance classicism is what you can see in his 3d street art images.
1.Giant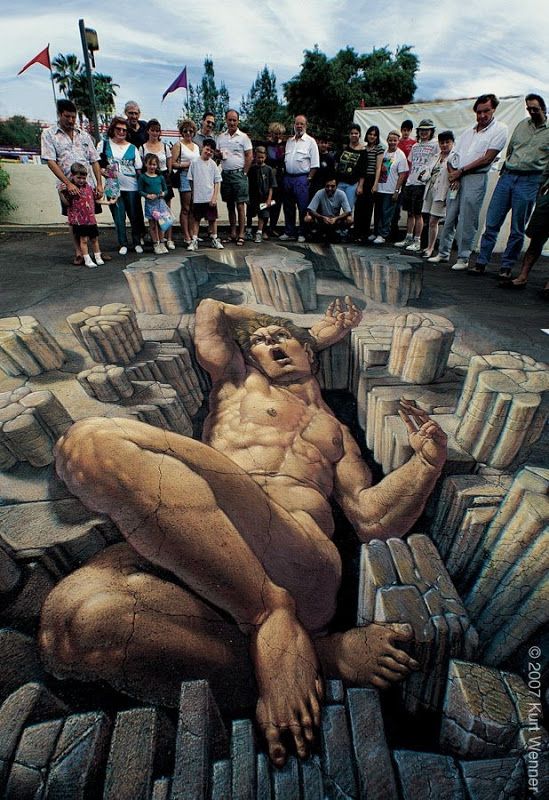 During the period of Renaissance, artists turned toward the human body for inspiration. And while it is nowadays perfectly normal to have a naked man represent art, it was blasphemy back in the days.
2. A feast for all men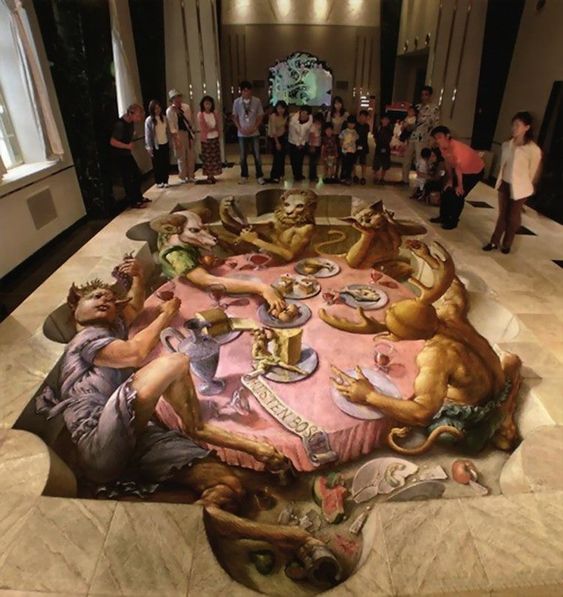 Feasts were also very popular during the Renaissance period. Especially in Italy, where Kurt went to study classical art. That is where he draws his inspiration from.
3. Smoothie add
While most of his 3d street art images are inspired by the Renaissance, Kurt can also do commercial pavement art. A great example is this smoothie add.
Julian Beever
You can say that Julian was one of the first talented 3D sidewalk artists. He started creating drawings on pavements surfaces in the mid-1990s. He uses a technique called "anamorphosis" to create the illusion of three dimensions when viewed from the correct angle.
1.Swimming pool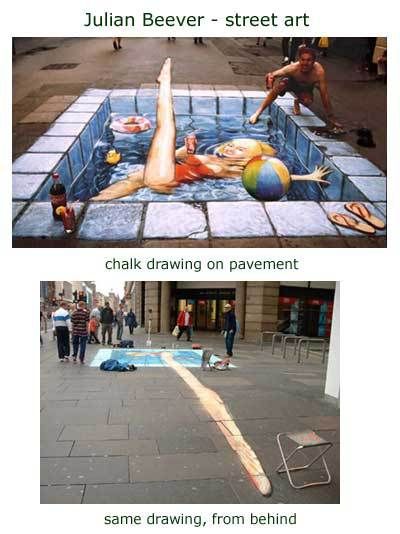 This is one of the best examples that when viewed from the wrong angle, a 3d pavement art might look stupid. One of the most important things in order to appreciate the greatness is to view things from the right angle.
2. Crazy painting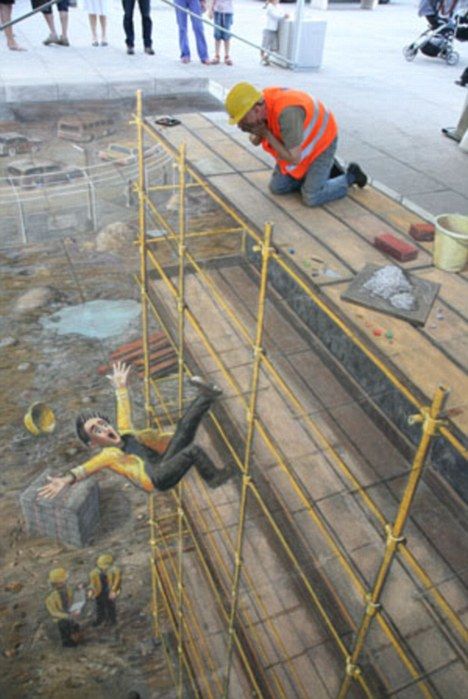 Julian uses his paintings to cheer people up. While this might sound ironic, as the painting represents a man falling from a building, he creates paintings using nothing more than chalk.
3. Coca Cola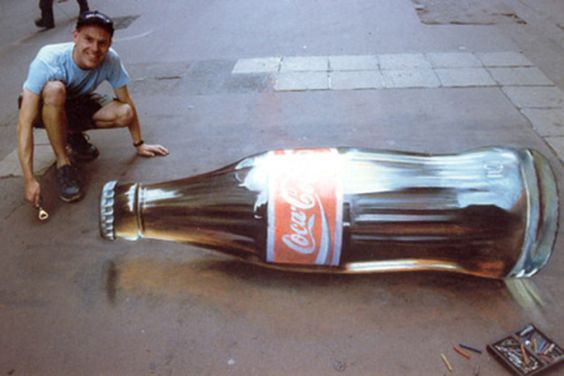 As mentioned previously, these talented 3d sidewalk artists know how to use commercial products to boost their popularity. A bottle of the most recognizable drink in the world certainly does the trick.
Manfred Stader
Manfred began street painting in the early 1980s. He became one of the first and few master street painters by 1985. That was the year he was awarded "Master Madonnaro"" by the largest international street painting competition in Grazie di Curtatone in Italy. He is unique by focusing more on commercial paintings, like using coffee, cars, and beverages.
1.Coffee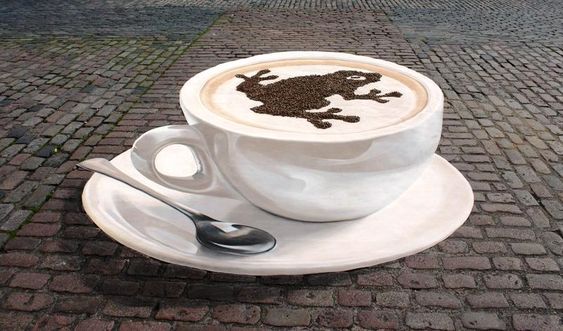 Most of us cannot imagine their day without a cup of coffee in the morning. Manfred used that as an inspiration to put a cup of coffee on the pavement. Just imagine, waking up in the morning, and on your way to work, being greeted by a cup of coffee on the street.
2. Whiskey
We know Red and Black Label, but Manfred went with Green Label. You can say in a way, it looks to raise awareness regarding ecology and environment.
3. Car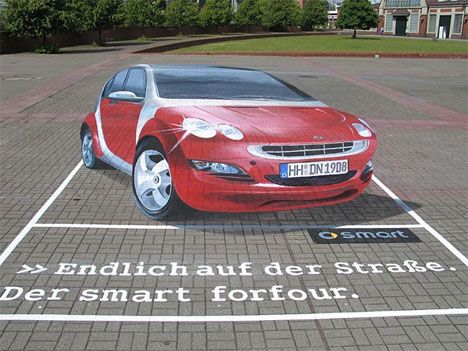 We said that Manfred likes to use popular objects for his amazing 3d art. And few vehicles are more popular than the "Smart", a small and convenient city car.
Eduardo Rolero
An Argentinian artist, Eduardo travels the world and shares his gift of surreal imagery on the streets. He live in Rosario, Spain, and it is there where he uses themes of social criticism and satire. Of the 5 most talented 3d sidewalk artists, Eduardo is the one that uses art for activism purposes.
1.Upside down feet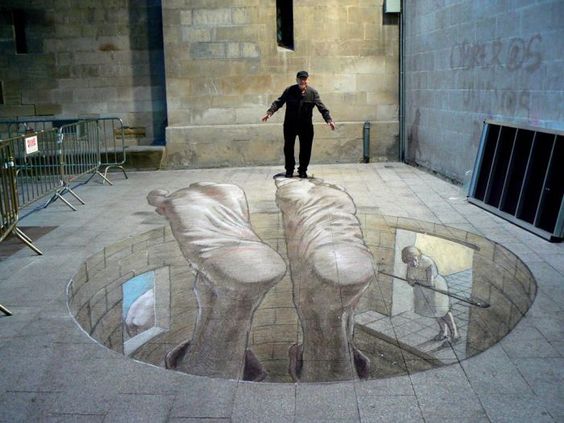 Think of Eduardo as the Salvador Dali of 3d chalk art. It takes time to understand his paintings and not everyone can get the point. They all have a social message behind them, and it is up to you to find it out.
2. Hurt man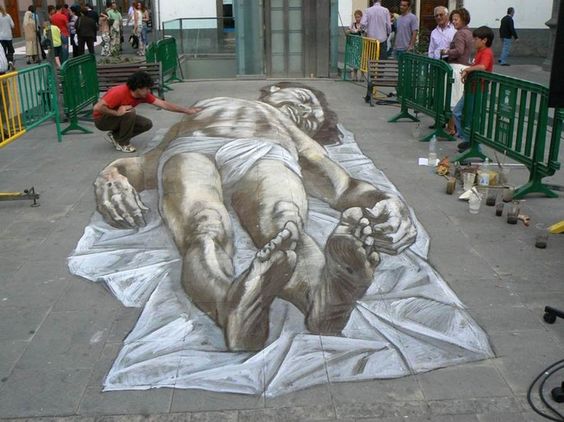 A powerful painting showing how much society hurts people. And how many of us are ready to come down and help a man in need.