In 2016, Wendy's became the world's third largest hamburger fast food chain in the world. The company has more than 6500 fast food restaurants around the world. With that, they are only behind McDonald's and Burger King.
But with the rate Wendy is going, they might overcome McDonalds and Burger King. If in nothing else, on Twitter for sure. Wendys twitter account is one you definitely need to follow. For a daily dose of laughing and some jokes, Wendy delivers on their promise.
Their Twitter account is as signature and as popular as their Frosty, a soft-serve frozen dairy dessert. Let's take a look at some of the best responses by Wendys twitter.
1.Start the McDonald's fight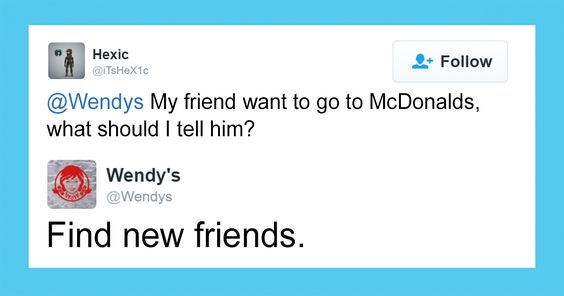 Let's start with the biggest "beef" on Twitter, and that is between Wendys twitter and McDonald's followers. Anytime you ask Wendy about McDonalds, expect a brutal response. After all, the fast food chain restaurant believes they are much better than the "clown restaurant".
2. Never joke with Wendy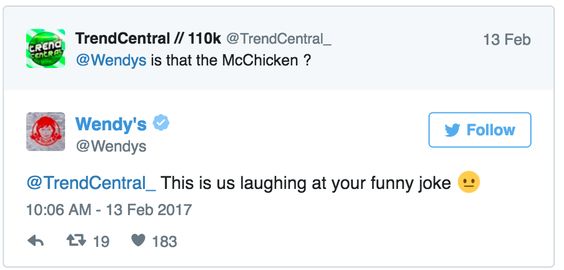 The fun thing is, people are constantly trying to roast Wendys twitter account. And we must admit, there are some clever and unique responses that can rival Wendy's. But most often than not, you will end up on the wrong side of the joke.
3. Ready for battle
There is no bad time for roasting people on Twitter. Wendy is ready to go to battle anytime, and with anyone. No matter if that is just a regular troll, or some rap expert.
4. The original Wendy's roast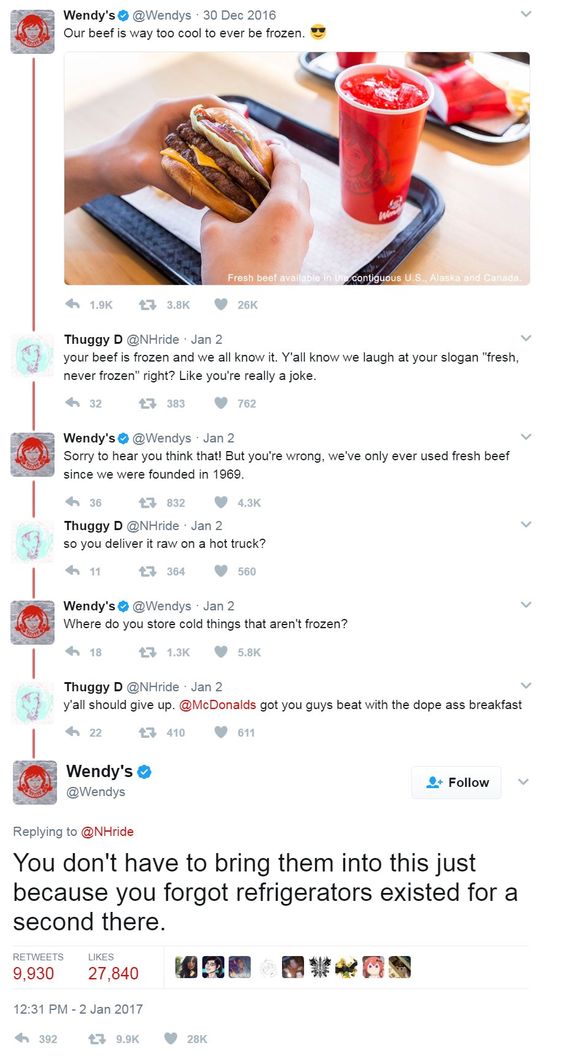 According to some stories, this was the first of the Twitter roasts by Wendy's. It all started with an employee browsing through Twitter and turning some negative PR into a positive one. A clever joke to get started, right?
5. Quality over quantity

One of the popular items on the menu at Wendy's is their 4 for 4. There are times when other fast food restaurants are trying to up them. But Wendy always has a response that is fitting for the occasion.
6. Food in trash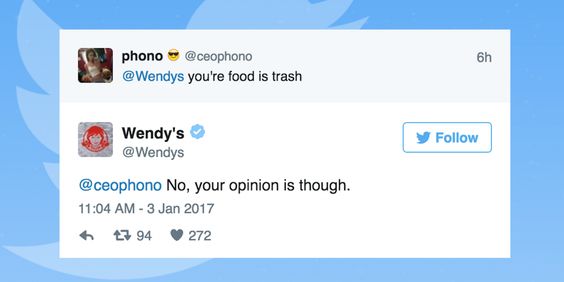 At times, Wendy is just pure evil. Truth be told, people's opinions matter. But when it comes to Wendy, it seems that only the positive ones matter.
7. Relationship advice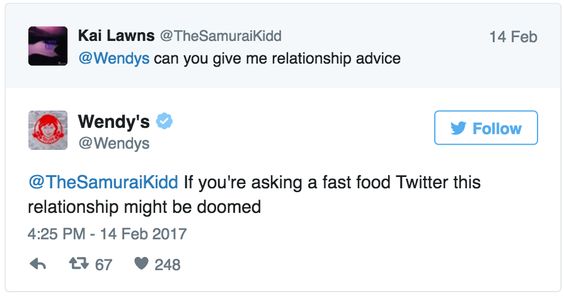 Some people do not know where to look for an advice. But if you are looking for a relationship from a fast food chain restaurant, something is really wrong with you. You are better off asking your friends, or even a stranger on the bus.
8. Fresh and hot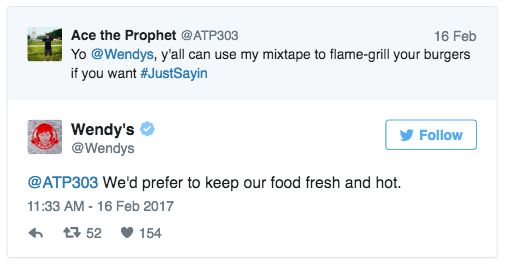 People often ask favors from Wendys twitter. And while some get credentials, others are burned for their preposterous request.
9. Meme trend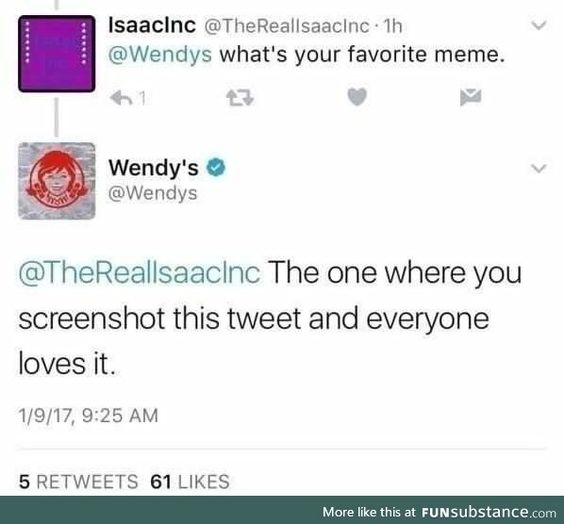 There was a time when it became a trend to post Wendy's tweets. Wendy became a meme, and the world was never the same again.
10. Take a quiz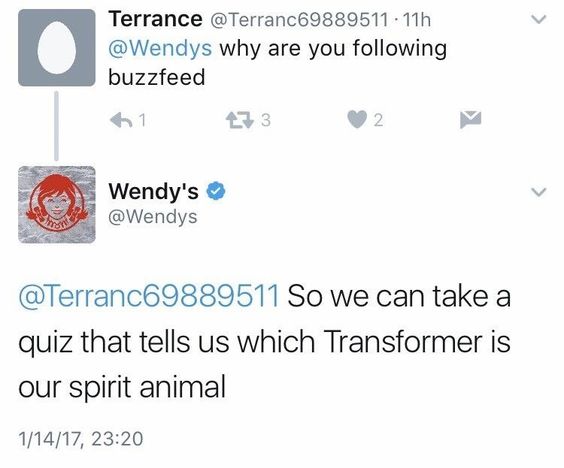 Wendy loves to play with other popular Twitter accounts. They even follow Buzzfeed. It might look strange at first glance, but there is a reason behind every action. And in this case, Wendy has a great answer for their reasoning.
11. Apologize to your friends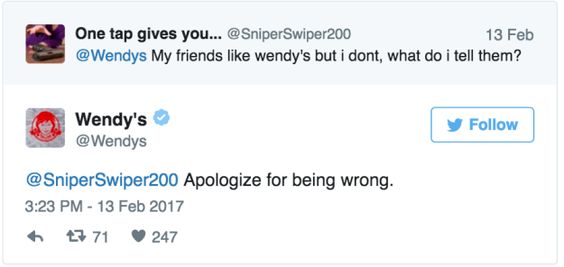 When you are wrong, you should apologize. It is that simple. No matter if it something you did wrong, or something you said. With that in mind, Wendy thinks it is wrong to argue with your friends about which is better, McDonalds or Wendys. It is best that you apologize.
12. Bringing hope to people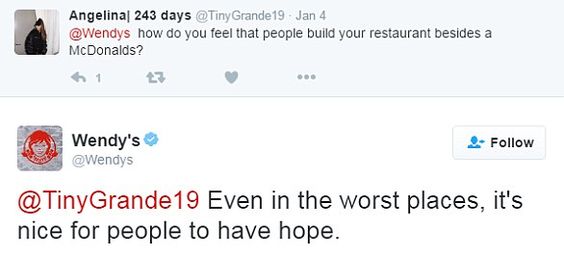 Wendy's and McDonald's are rivals, and Wendy firmly believes they are winning the battle. That is why they take every opportunity to fire at McDonald's. Some of their best twitter responses to trolls are regarding McDonalds.
13. Wendy is your friend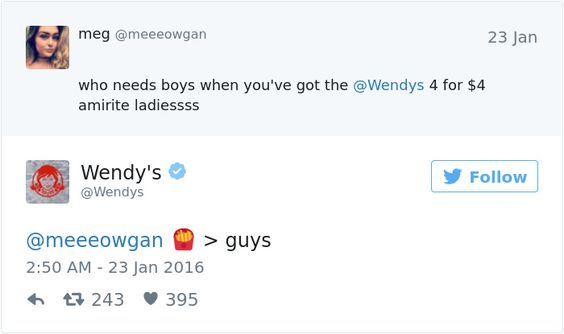 When people are nice to Wendy, Wendy is nice to them. That is one way to build a lasting relationship with someone who will always have your back.
14. Work at Wendy's
When you look how active Wendys twitter account is, you are probably wondering how many people work there. Well, if you want, you can work for Wendy's as well. That is, as long as you meet the job requirements.
15. The price of a burger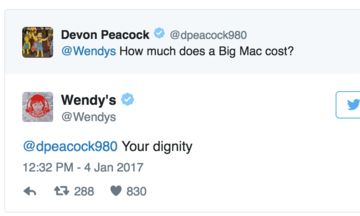 Every restaurant has its prices for their burgers. Some are cheaper, some are more expensive. But there is a price behind the price. And according to Wendy's, eating at McDonald's will cost you more than just your money.
16. The secret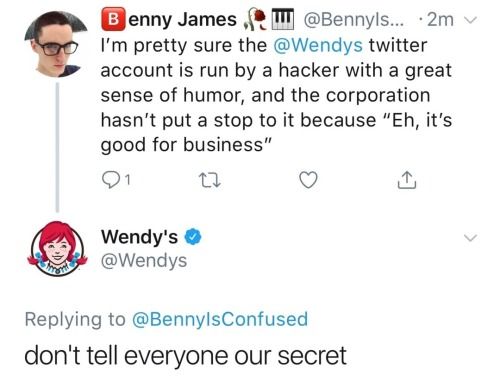 There have been many conspiracy theories about who is running Wendys twitter. This one is one of the funnier ones. And as always, Wendy knows how to respond to trolls.
17. Rap battle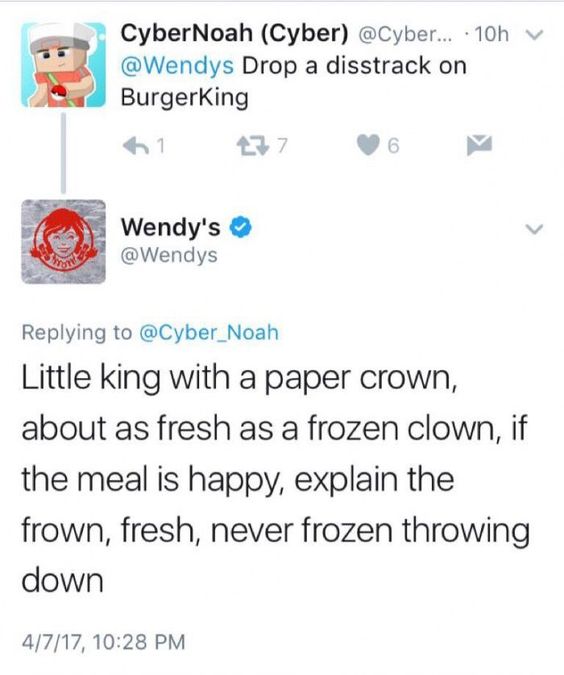 Wendy can diss you in a number of ways. They can roast you with a single line, or they can drop a diss track on you. Truth be told, either way, it is funny as hell.
18. The ice machine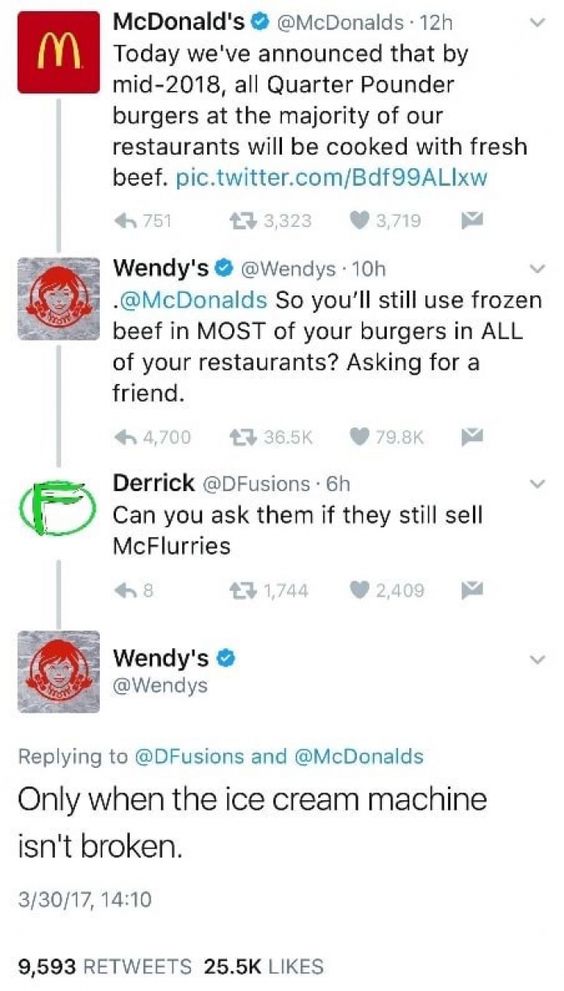 Continuing the long battle between McDonald's and Wendy's, the company even replies to trolls on McDonald's status. Now that is dedication. No matter if you think they are funny or not, the fact of the matter is folks at Wendy's are dedicated to fighting all trolls.
19. Wendy the grammar troll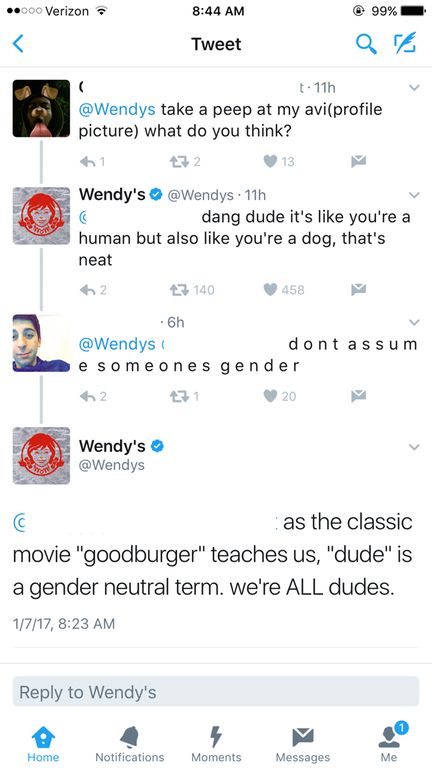 One thing is certain, the folks working for the Wendys twitter account are well educated. They know their grammar. And you cannot joke with someone who is not just a regular troll, but a grammar troll as well.
20. Participation trophy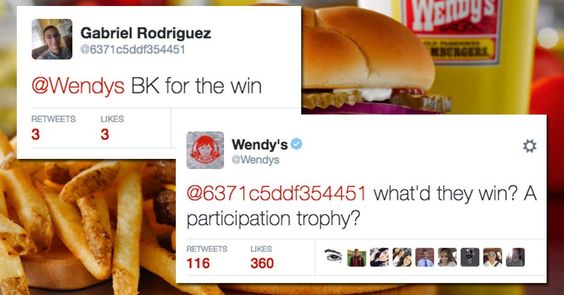 Some folks just do not like Wendy. They prefer Burger King and McDonald's. But do not try to make them winners in the big picture. Everyone has their own favorite.
21. Music followers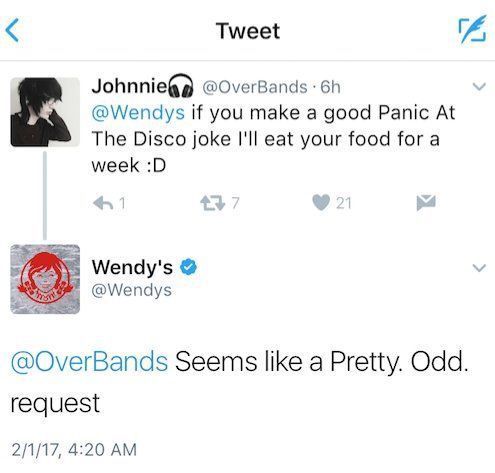 Another classic example that the folks at Wendys are well educated in all fields. No matter if you try a movie joke, a music joke, a theater joke, or anything in between, they know how to reply.
22. Every meme has its lifespan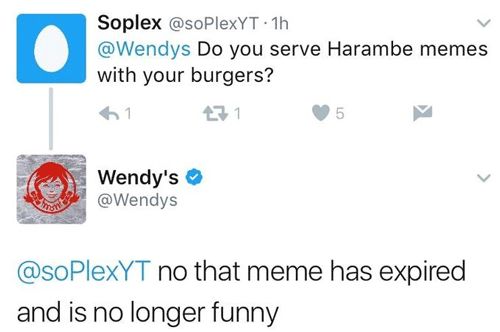 The internet is dynamic. Everything has its lifespan, even the best memes. When will Wendys twitter popularity expire? We do not know. As long as it produces classic roasts like the ones on this list, we would love it to continue.