In the past several years, cats have become an internet sensation. Not only they are cute and adorable, but they are also funny as hell. That is why we've had a number of cat memes. That includes the business cat. Thanks to the business cat meme generator, we have a number of comics that will show you how an office would look if the CEO was a cat.
And we are sure these comics will brighten up your Monday. Who doesn't need a good laugh to start off the week?
1.The original meme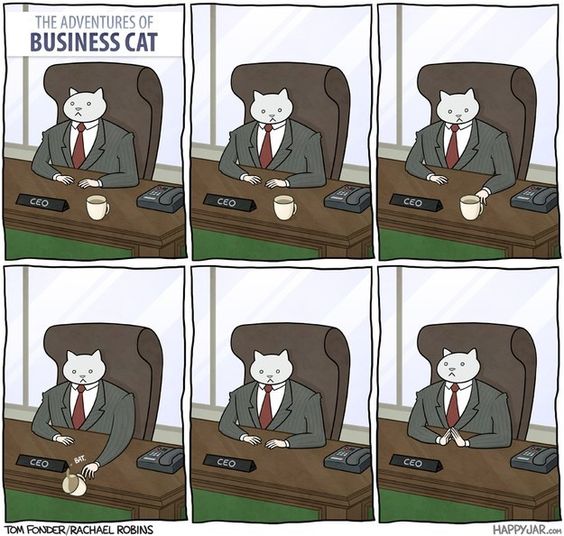 When business cat meme first came out, nobody could have explained what is so funny about it. But several years later, cat boss meme is still one of the funniest things you can browse online. And to get you started for Monday, here are some of the best of business cat memes.
2. Cat and a mouse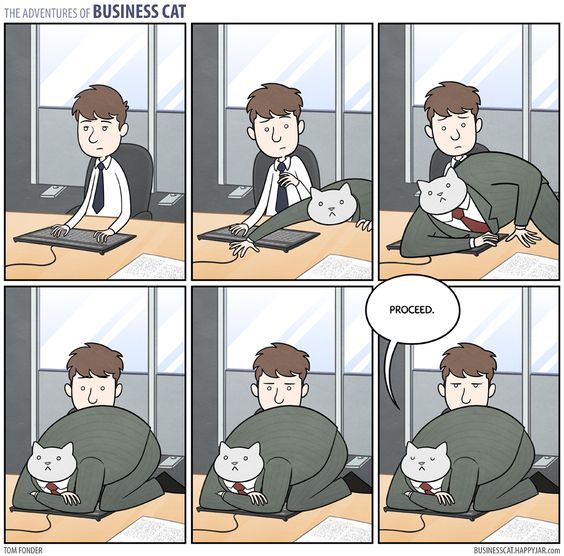 Technology might advance further to the point we no longer need a "mouse" at work. To be fair, some of us are used to working on a laptop with a touchpad. But just imagine your boss being a cat, and you have to "use" the mouse on a daily basis. Now that would be some fun.
3. The worst nightmare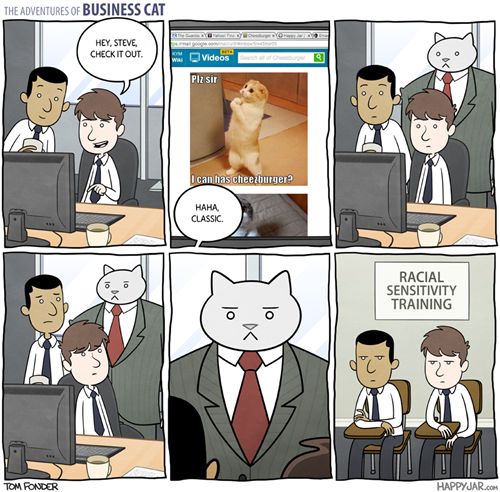 One of the worst things that can happen if your boss was a cat, there would be no more chances for watching cat memes. In the past few years, cats have become an internet sensation. They can cheer us up, make us emotional, and brings up and down on a daily basis. But if your boss is a cat, watching funny cat memes is racial.
4. An altercation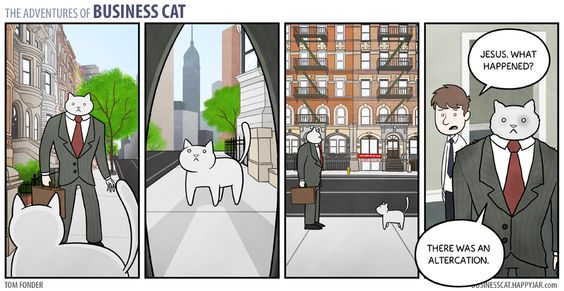 Being that our streets are crowded with cats, when your CEO is a cat, there might be some altercations on the way to work. And that means your boss might be late, or come to work hurt and injured.
5. Biggest fear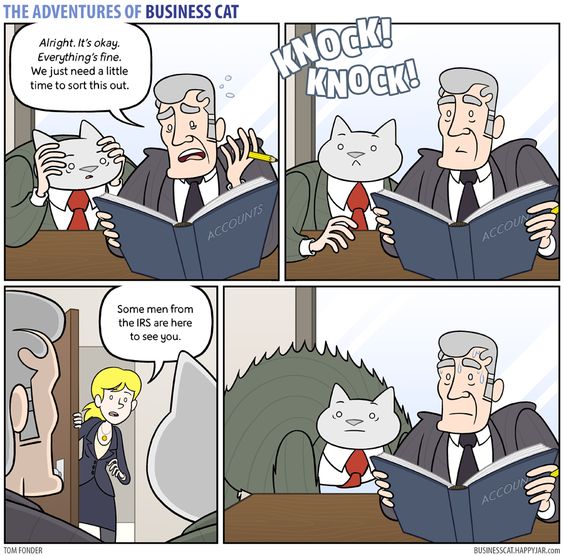 Just do not let the secretary disturb your boss cat. He might get his back up, and they will be even more afraid.
6. Being late to work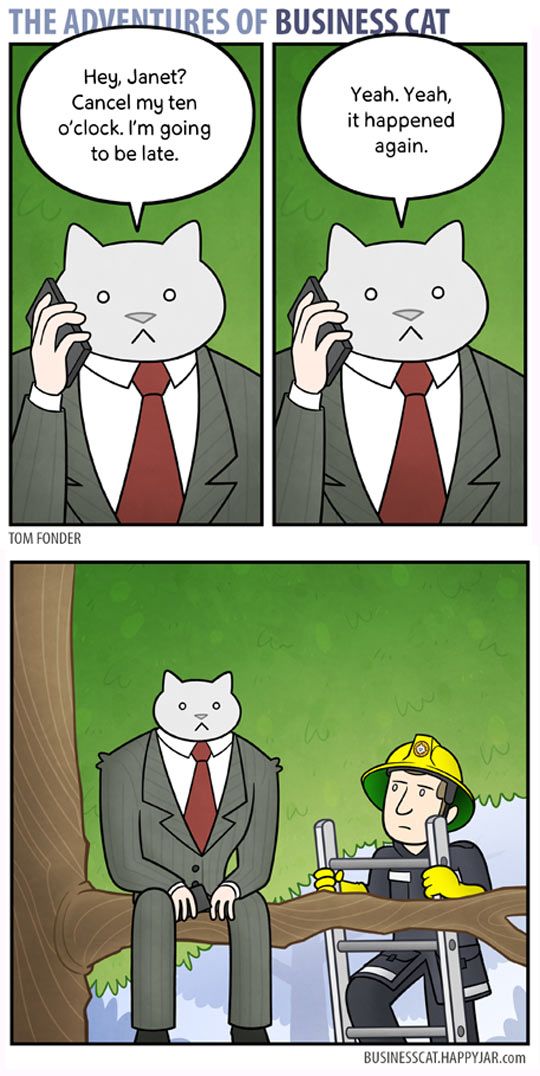 We all know cats love to climb to trees. And when that happens, your boss would be late to work. Have some understanding. After all, he is a cat.
7. Cuddling and petting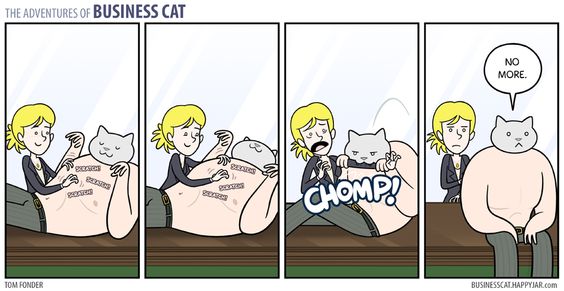 This is probably one of the best of business cat memes. The question is can you handle all the "work" required by a business cat? On the flip side, you won't have to say nice things to your boss so that he likes you. There is a new type of flattering needed here, and that is petting his/hers belly.
8. Cleaning himself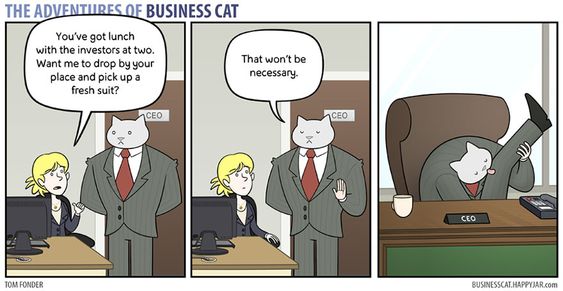 The good news if your boss was a cat, he would have his suit fresh and clean at all times. Cats are very clean and hygienic animals. They clean themselves at all times. And you will be the beneficiary of that. No more picking up fresh suits at working hours.
9. Where is the stapler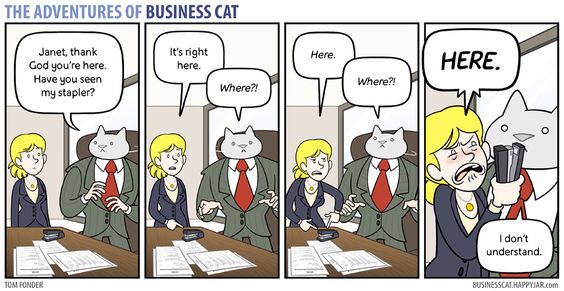 There are good things, and there are bad things when your boss is a cat. One of the bad things is that he will probably have troubles finding certain objects in the office. And it can get irritating to show him what is in front of him at all times.
10. Transport issues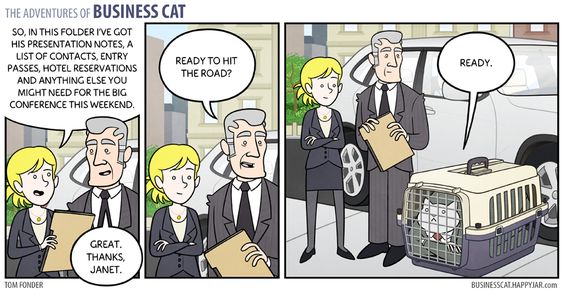 Cats need their own transportation. You will have to carry your boss. And that is before you drive him to the spot.
11. Hold the elevator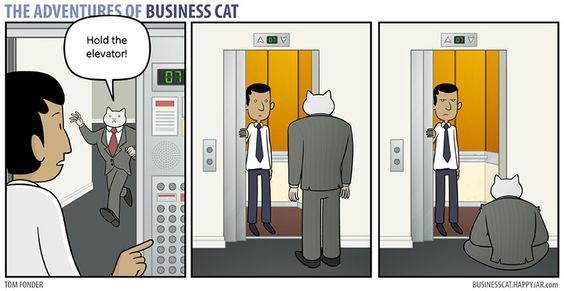 You can expect a number of awkward and weird situations with a boss cat meme. That being said, who would expect this?
12. Sharing is caring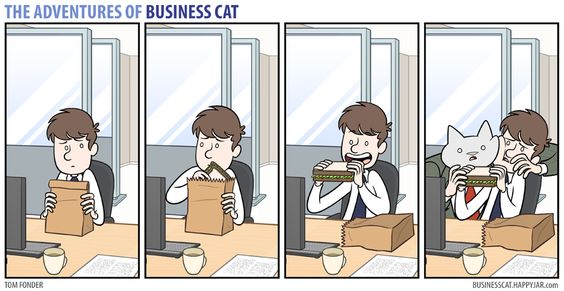 Cats love to share your food. And the boss is not different. You will have hard time finding a peaceful place to eat your lunch with a business cat boss. But that is the price you pay.
13. Someone has to go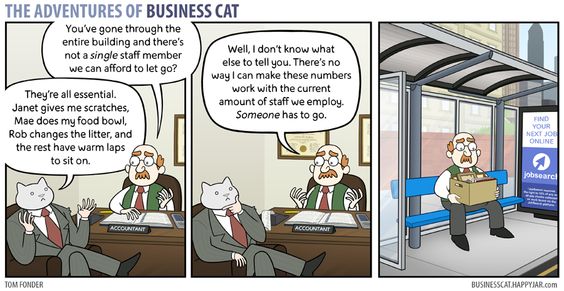 If you do not have a warm lap to sit on, or you do not cater to your boss's needs, you might be fired and looking for a new job. And you do not want to be an accountant for a business cat CEO.
14. It is a pet's war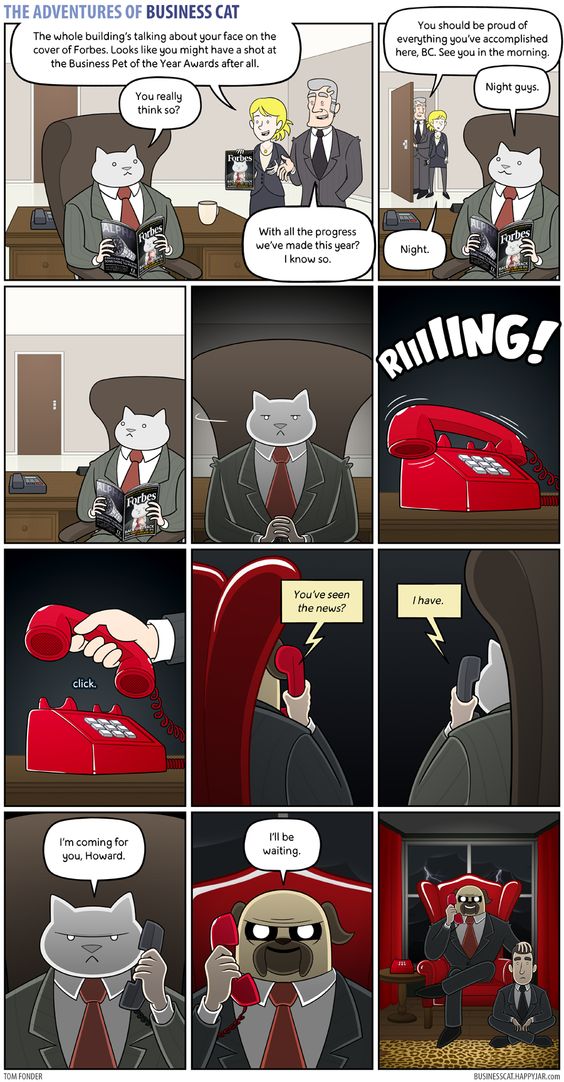 We've seen a number of examples in real life when cats and dogs live together. But in the business world, it is every man or pet for himself. And when the price is "The cover of Forbes", you know the business cat will bring it.
15. Networking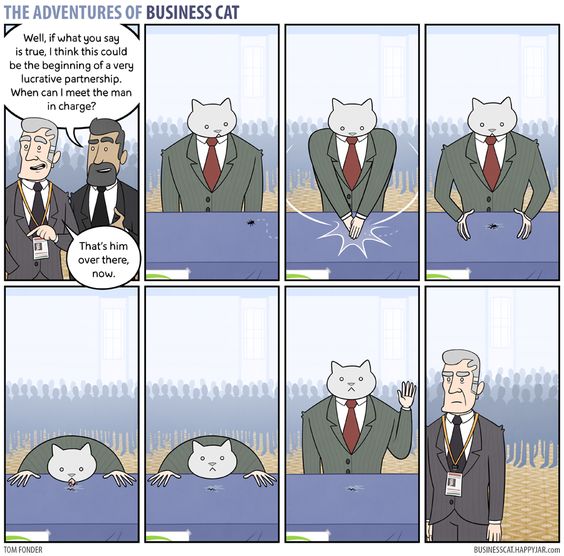 Networking is an essential part of building a business. You need to meet people from your industry, build relationships, and carve friendships. And that is not easy when the man in charge is trying to catch a mouse, and looking for every hole to do it.
16. Awkward meeting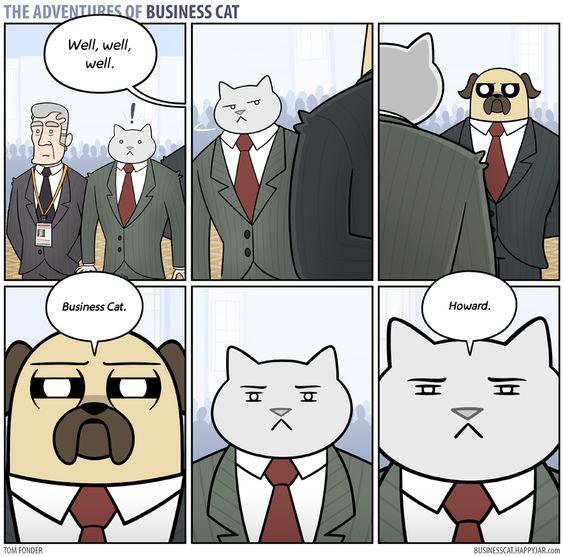 Meeting your arch rival is never easy. Be it in the business world, in the school, or in the street. For the business cat, the arch rival is the business dog.
17. Business cat in a box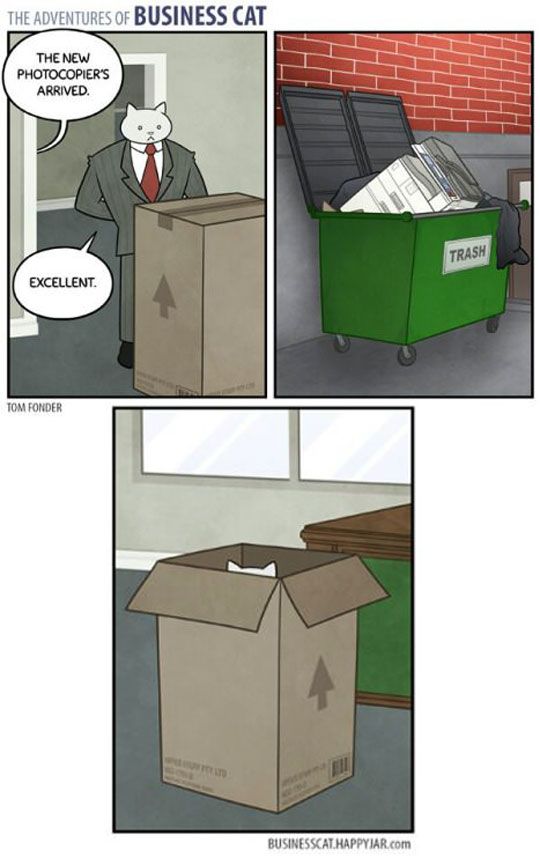 Every time a new device comes in your office with a shiny new box, your business cat CEO will be thrilled. It is basically a new box for him to fit in.
18. Urgent business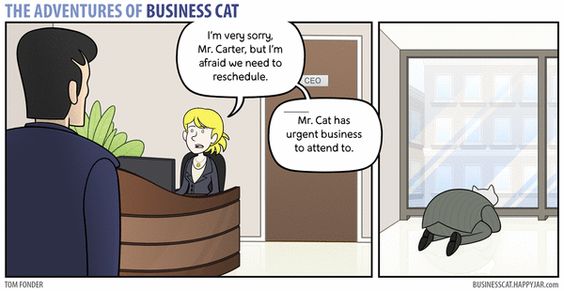 You can never know what might come out. Sometimes, meetings have to be rescheduled. And there are various reasons for that. Here is one.
19. Can you resist that face?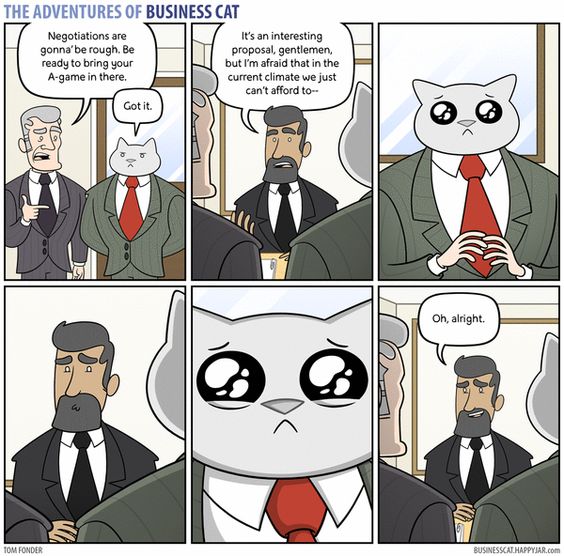 Who can resist cat's eyes? They are just so beautiful and pure. That is one of the biggest reasons cats have grown into an internet sensation. They just bring tears to your eyes. And business cat uses that feature to bring his A-game to business meetings and negotiations.
20. Taking care of your boss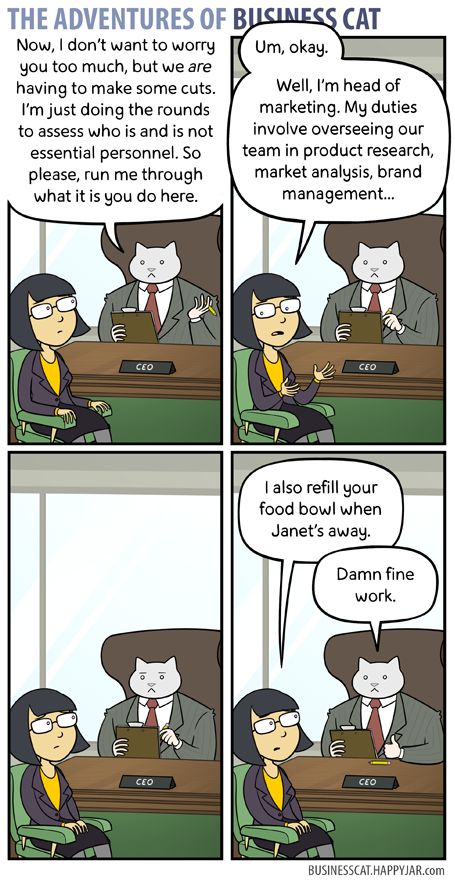 This business cat comic shows the reality of working in the business world nowadays. Sometimes, it is not about your qualifications, and what you do for the company. It is all what you do for your boss that helps you stay employed.