Tito Ortiz finally scored his first victory over his biggest rival, Chuck Liddel, in their trilogy fight last Saturday at The Forum in Inglewood, California. 'The Huntington Beach Bad Boy' reportedly took home $200 000 while 'The Iceman' nabbed $250 000 from their main event clash for Golden Boy Promotion's first MMA event. 
While both former UFC fighters received decent paychecks, some mixed martial artists were paid low salaries for their participation in Oscar De La Hoya's inaugural MMA show, which did not sit well for UFC President Dana White. The 43-year old Otiz has given his two cents about the issue and came to De La Hoya's defense in his recent social media post.
Liddell vs. Ortiz 3 results: Tito Ortiz knocks out Chuck Liddell in first (@marc_raimondi) https://t.co/LvRlUGhprN pic.twitter.com/Qe2rwPuJwL

— MMAFighting.com (@MMAFighting) November 25, 2018
'Cokehead Junkie'
White savaged 'The Golden Boy' on Tuesday for promoting the Liddell vs Ortiz fight, insisting that his friend Liddell should not have come out of retirement. He also called De La Hoya a 'cokehead junkie' for paying some of his fighters $1000.
"Listen, I love Chuck Liddell and I don't ever want to badmouth Chuck Liddell or even let people think I'm remotely badmouthing Chuck Liddell. But the reality is, first of all, I heard last week the cokehead, 'Oscar De La Weirdo,' is talking s—, that I don't have any place to tell guys when to retire. "
"It's called friendship. It's friendship, you f—ing cokehead. I've been friends with Chuck Liddell for 20 years and the reality is Chuck Liddell retired when he should have retired eight or nine years ago."
"Oscar fucking De La Hoya says, 'Oh, come over to Golden Boy where we respect the fighters and it makes me sick what these fighters were paid' and all this shit. Out of 14 fights on the card, five bouts were amateur fights. Which means he didn't pay them jack shit, right? What the fuck are you talking about you cokehead junkie? Some of the guys on the card made $1,000 and $1,000. And he respects the fighters so much, he couldn't remember their fucking names at the press conference."
Dana White blasts 'cokehead Oscar De La Weirdo' for making Liddell vs. Ortiz 3 happen https://t.co/hLdjEioSen pic.twitter.com/JFx0nsCAyT

— MMAFighting.com (@MMAFighting) November 27, 2018
Not Compensated
'The Huntington Beach Bad Boy' has taken to Instagram to respond to White's criticism of De La Hoya's fighters pay. Ortiz expressed his gratitude to White for helping him build his career but he felt that his sacrifices for the UFC were not well-compensated.
"I appreciate everything you have done for me & the sport, in my humble opinion I don't feel Chuck & I were compensated correctly for all that we gave & sacrificed for the company. When you sold the company for over 4.5 billion dollars how much of that did Chuck and I get ? Nothing."
"I'm trying to build something new and rewarding for the sport! This is not about you, it is not about me… I want it to be about the fighters & giving them the opportunity to share in all the rewards this business has to offer to where they don't have to fight when they are 43 & 48," Ortiz ended.
Here is the complete list of the fighters' purse for the Liddell vs Otiz 3 (via mmamania.com):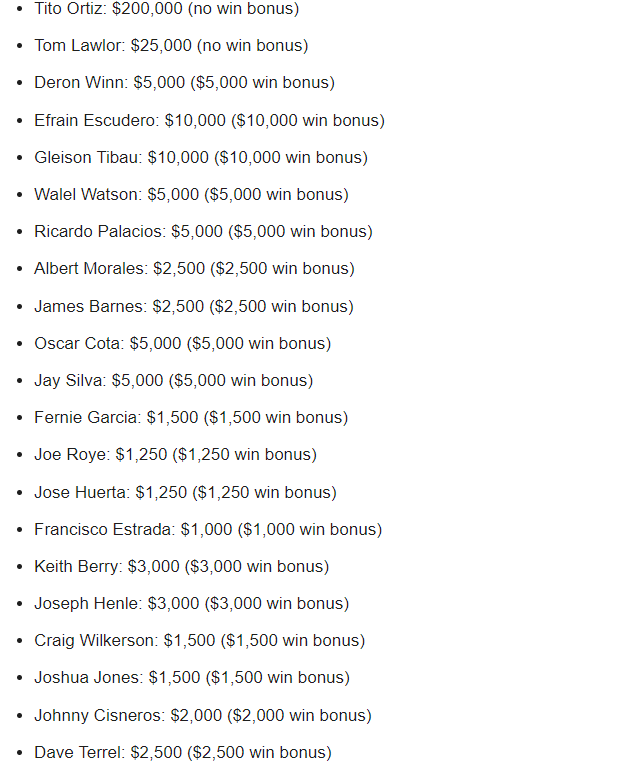 Ortiz announced his retirement the day after his first-round knockout win over Liddell. He will start a new career in MMA as a promoter in an attempt to sustain the growth of the sport.
"I'm done. There is nobody left I want to fight. I just want to continue to help the sports grow as a promoter. I want to help give back to the fighters," Ortiz quipped.
(Featured Image Source: Instagram/Tito Ortiz and YouTube/Isaac Butterfield)