There are two types of benefits you get from yoga. The first one is spiritual, and mental, while the second type includes physical benefits. Since we are talking about the harmony of yoga, I will just briefly list the physical benefits of yoga, so we can talk about the spiritual aspect later.
So, physical benefits:
improved flexibility
improved cardiovascular health
improved respiration and energy
protection from injury
improved athletic performance.
That being said, many people actually do choose yoga for the physical benefits. But larger audience chooses yoga for the spiritual and mental benefits. There is nothing more calming than yoga, a complete experience of your spiritual self. The practice of yoga has one simple goal, and that is to reveal your true nature.
Think of yoga as a science, a way of mastering yourself and pushing yourself forward with impeccable self-discipline. Yoga postures are actually just 10% of the yoga experience. There is so much more in yoga than postures, or asanas as they are called in genuine yoga language. Now, speaking of the postures, we will travel around the world, and see how they are in perfect harmony with the nature around us.
1. Camel Pose In Diani Beach, Kenya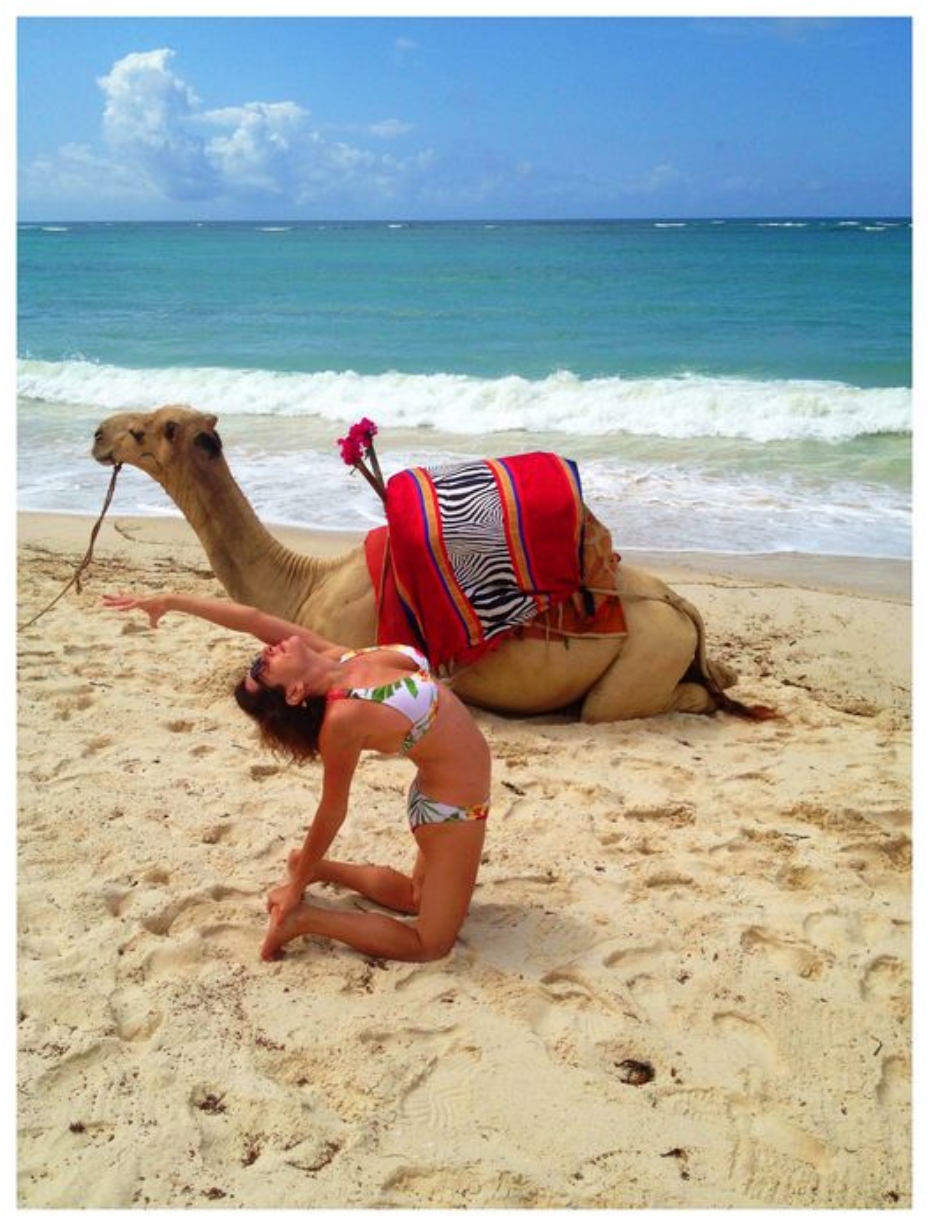 It is only appropriate that we start with a perfect match, and you can expect a lot more of these photos as we go down. Remember, as much as it helps you relax and get rid of stress, yoga also comes in handy when you want a good picture.
2. Handstand on the docks in London, England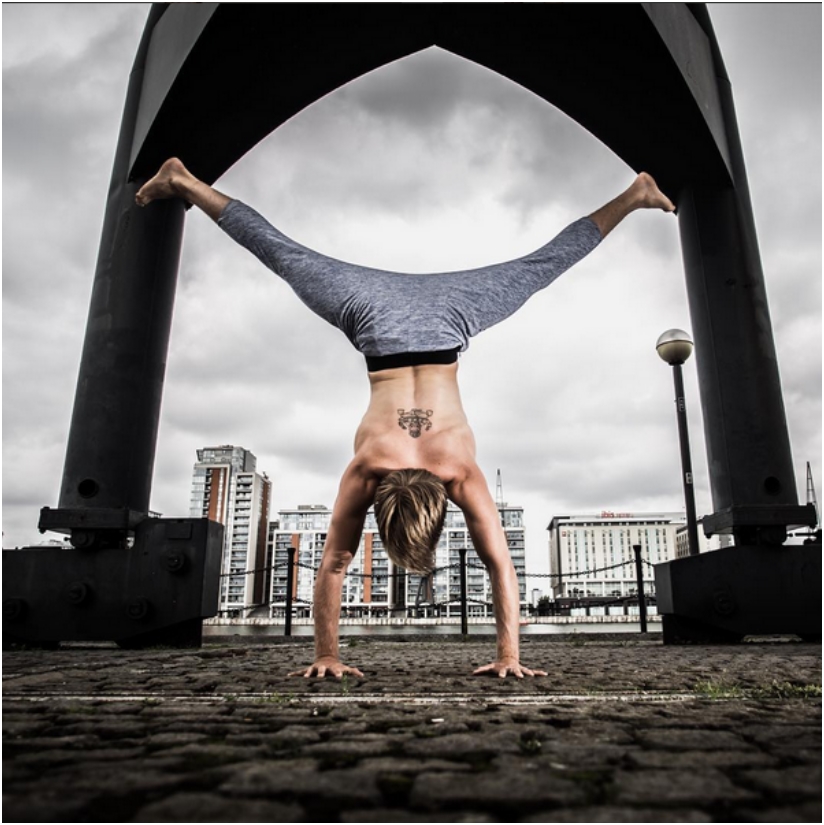 Peace in chaos, as you might label this picture. Finding peace in the chaotic and dynamic society we live in is one of the hardest challenges. But yoga helps us achieve that, and this peaceful pose at the metropolitan city of London is a perfect example.
3. Crow pose in Thailand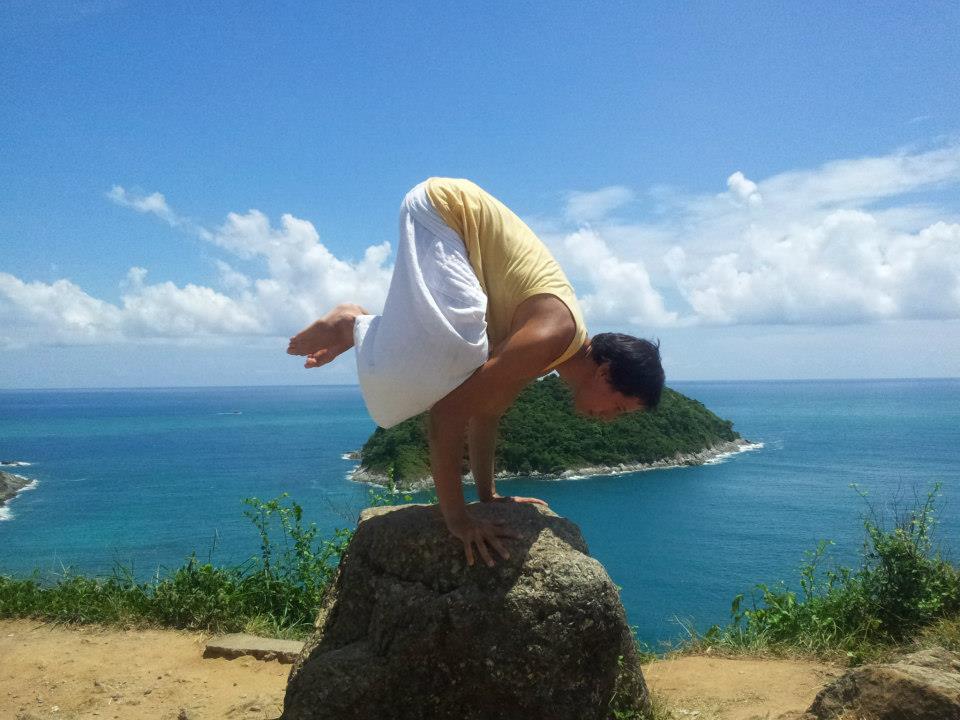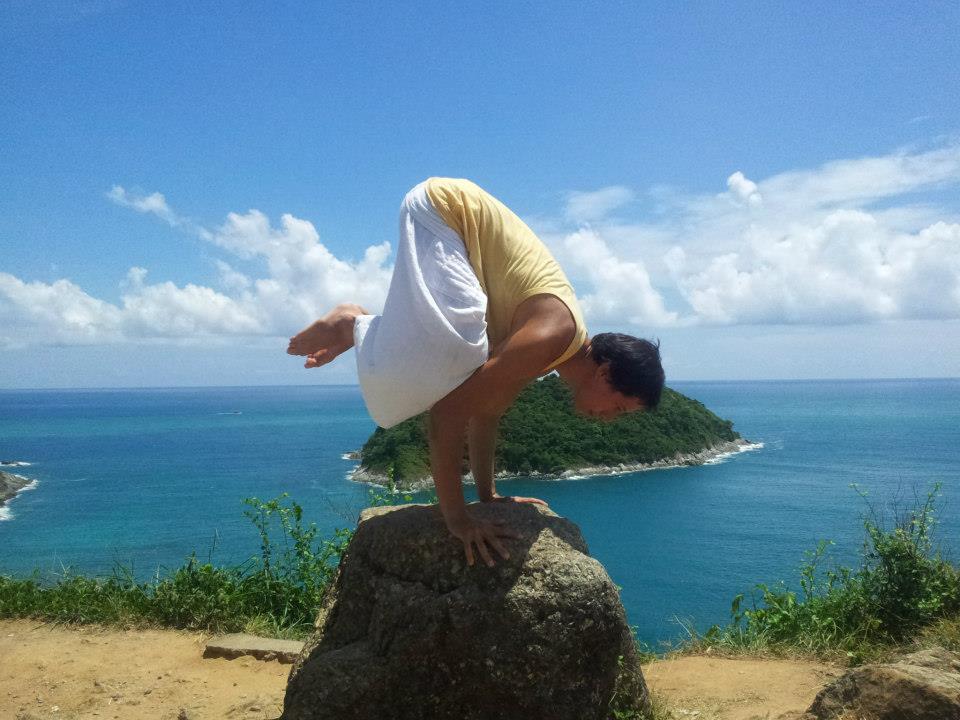 Crow pose is one of the first hand postures you will learn in yoga, and there are number of ways to get there. We don't know which one the person here used, but again, his posture is in perfect harmony with the nature around him.
4. Bow cobra pose in Mallorca, Spain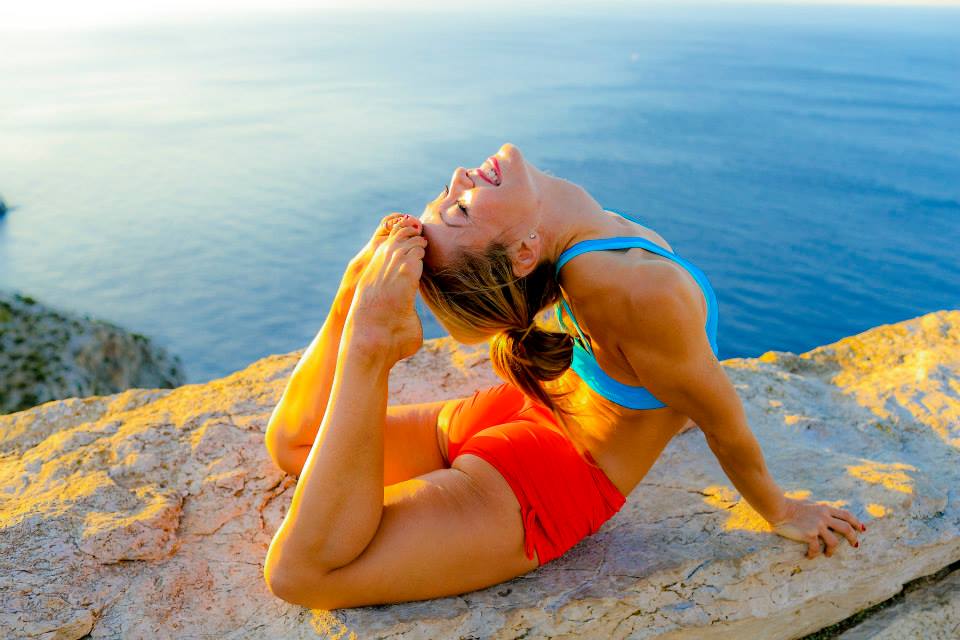 The goal of cobra pose is to open your chest, and breath fresh air. Can you think of a better place to breathe fresh air than close to the Mediterranean sea?
5. Headstand in San Francisco, California
Another peace in chaos pose. It is just breathtaking how people can relax to the point that they do a headstand pose on the streets in a big city. But that is just the benefit of yoga.
6. Camel Pose Under The Sount Andaman Sea, Thailand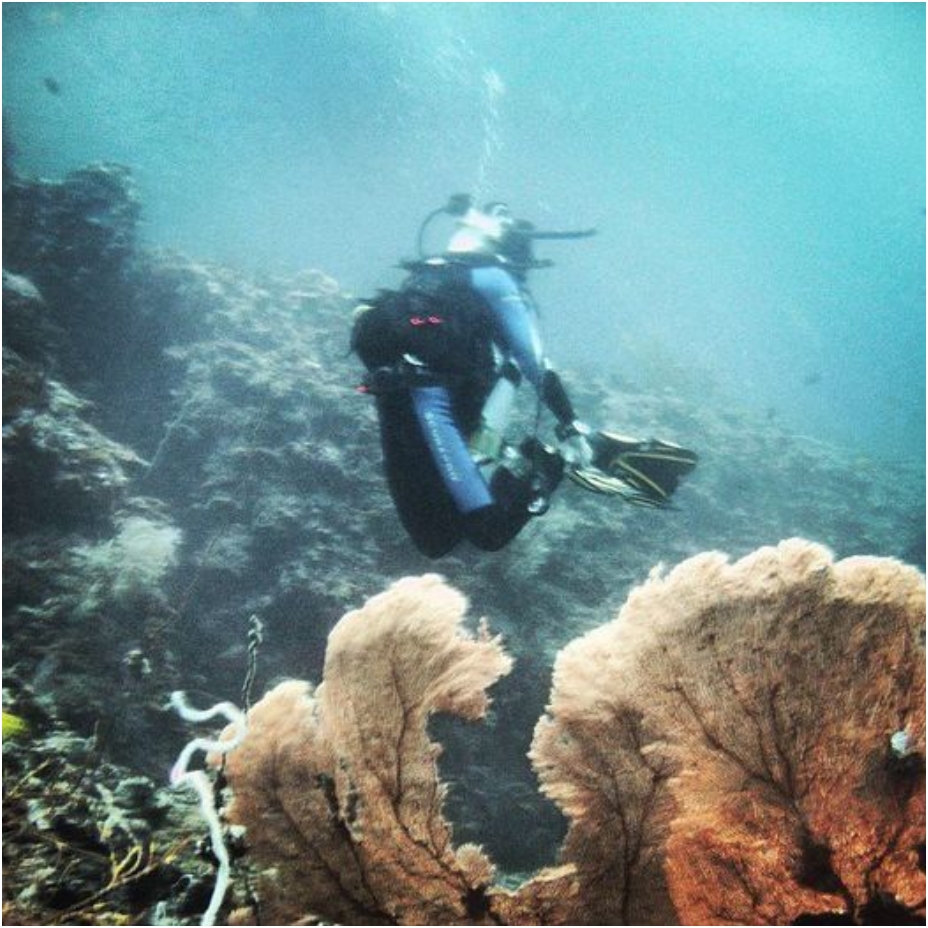 If you need any more proof that you can do yoga any time, any where, just look at the picture. Even the water pressure and resistance cannot stop you from flexing and stretching.
7. Spider Pose in Bilbao, Spain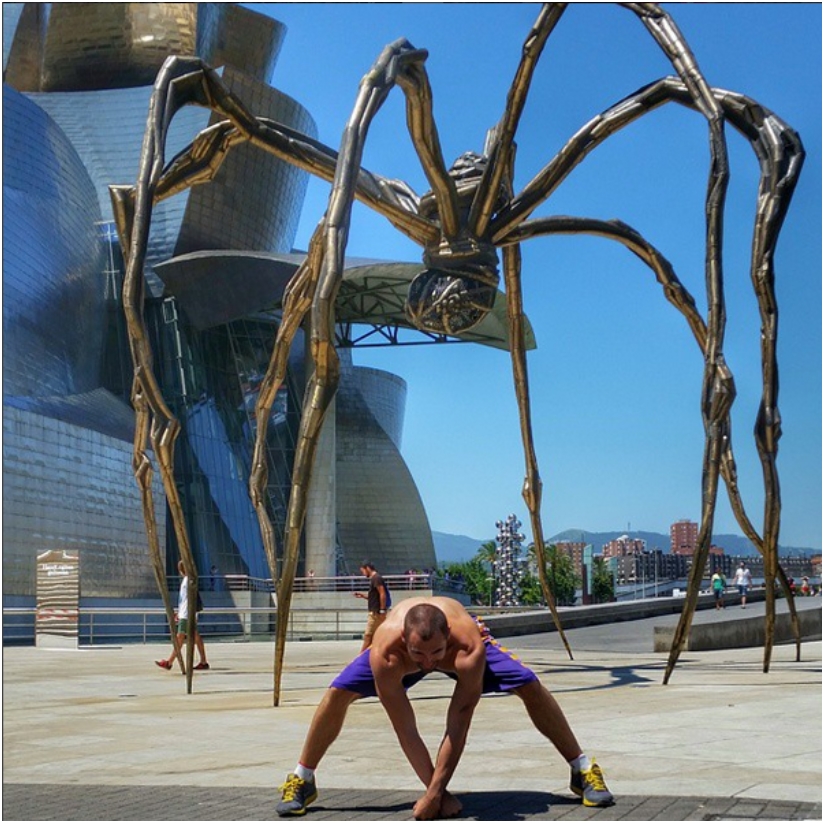 The sculpture you see in the background is called Maman, a 9 meters tall building that is part of the sculptures done by Bourgeois. The subject looks like a spider, and is one of the most ambitious sculptures. Striking a spider pose just underneath it is the best way to pay tribute to the author.
8. Upward-Facing Dog in the Galapagos Islands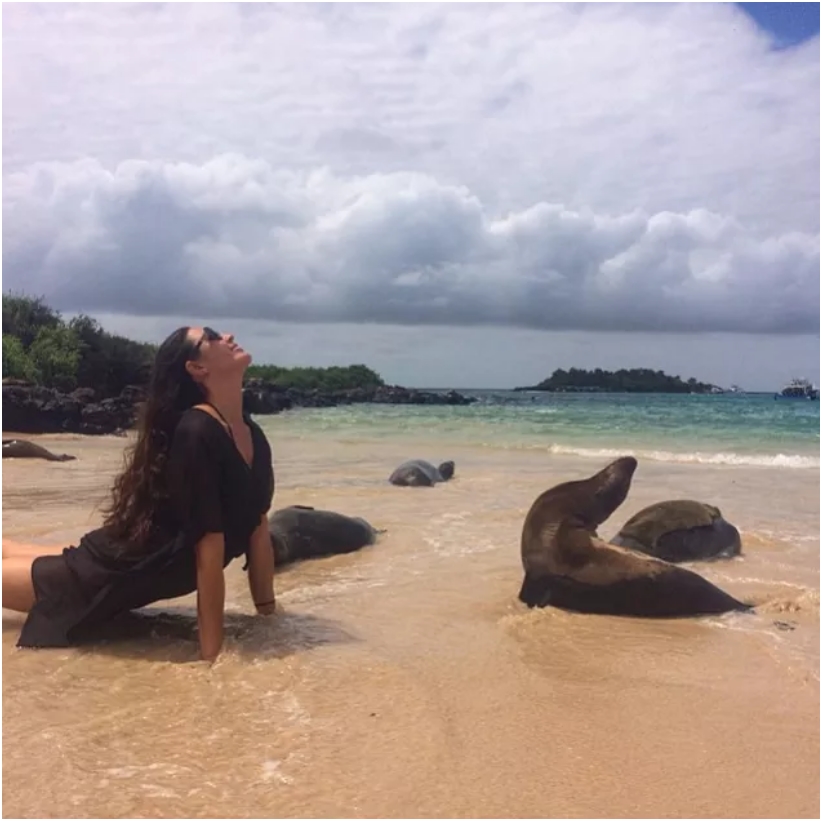 Yoga is as much group activity as it is individual activity. Yes, you need to turn off and focus on yourself, but every now and then, you can find a partner and practice together. And whose to say that partner cannot be a beautiful seal?
9. Wheel Pose At Sydney Opera House, Australia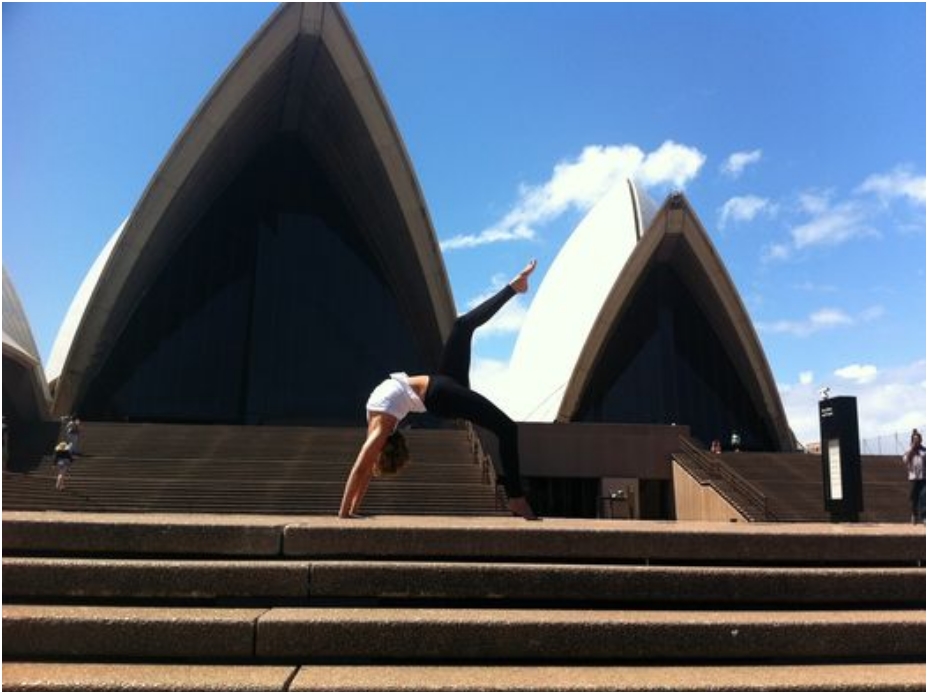 Simple, elegant, and powerful in the same time. The wheel pose is one of the simplest and basic poses, but even the simplest yoga pose can be powerful in the right situation.
10. Double headstands in Malibu, California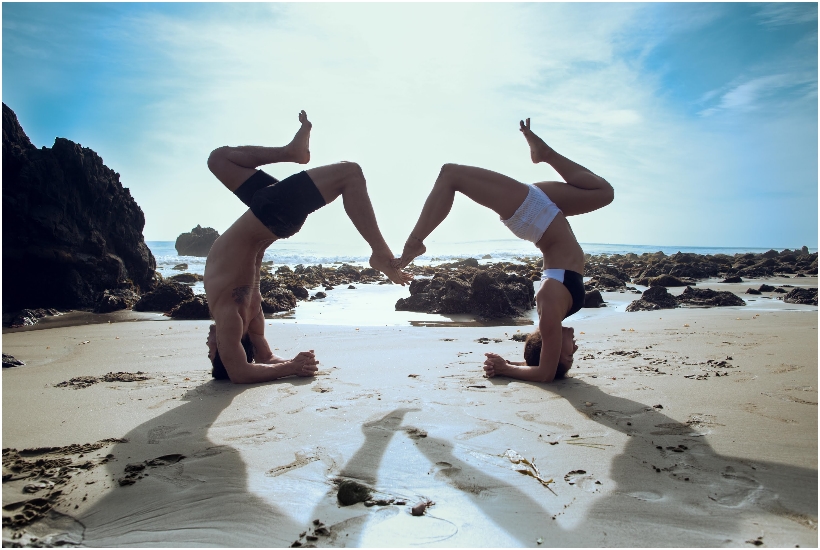 I just said that yoga can be practiced with a partner. I have a friend that does couples yoga with her boyfriend, and it is absolutely adorable. It definitely takes time to master it, but once you do, it is even better than dancing waltz.
11. Pow Pose In Blue Mountains, Australia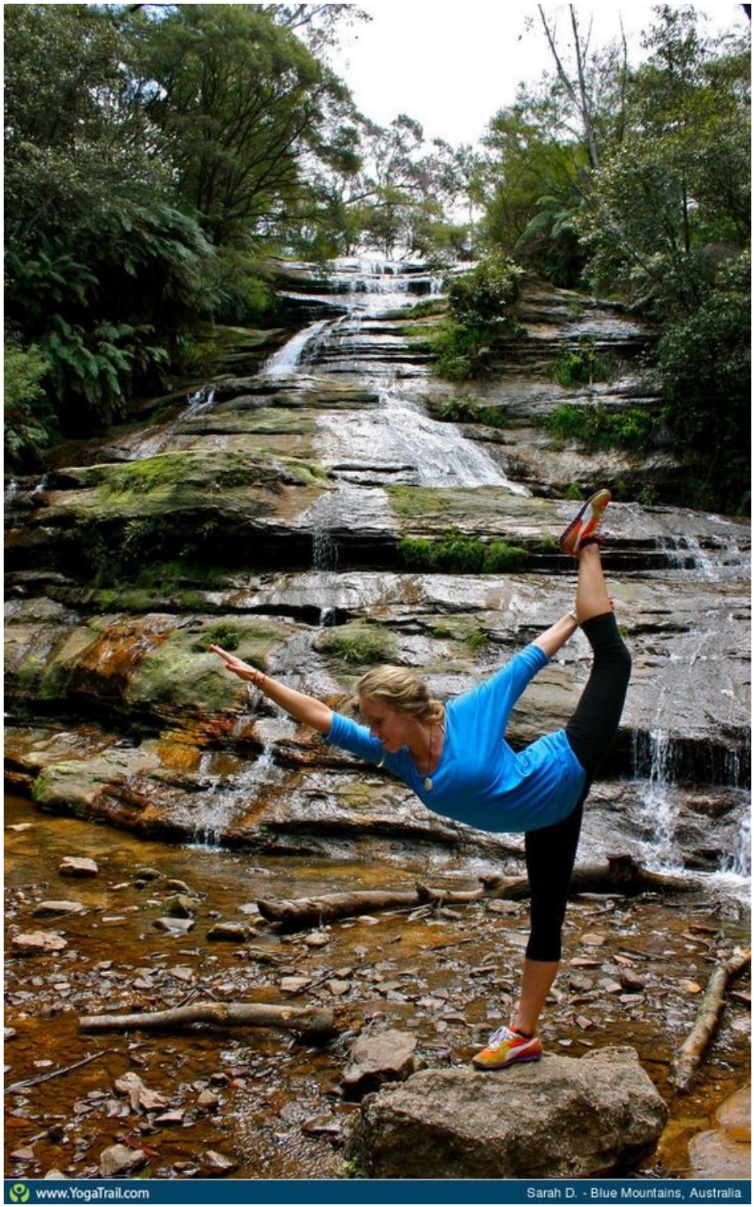 Another simple and elegant pose that has become powerful thanks to the background. Pow pose will be among the first basic poses you'll learn in yoga, and you'll start showing them soon enough.
12. Aerial yoga in Antalya, Turkey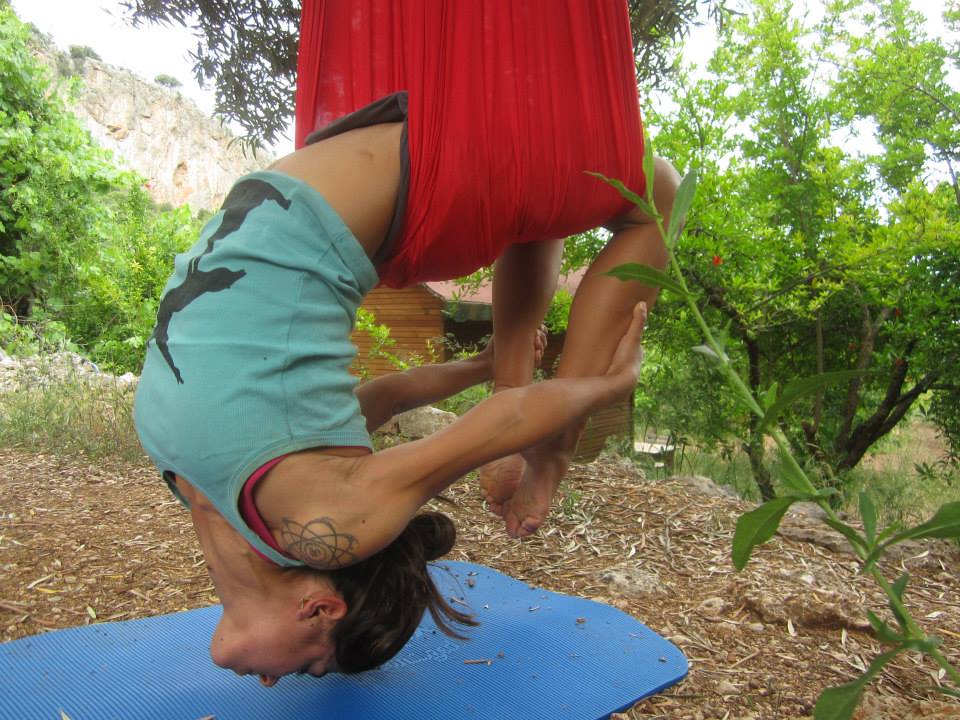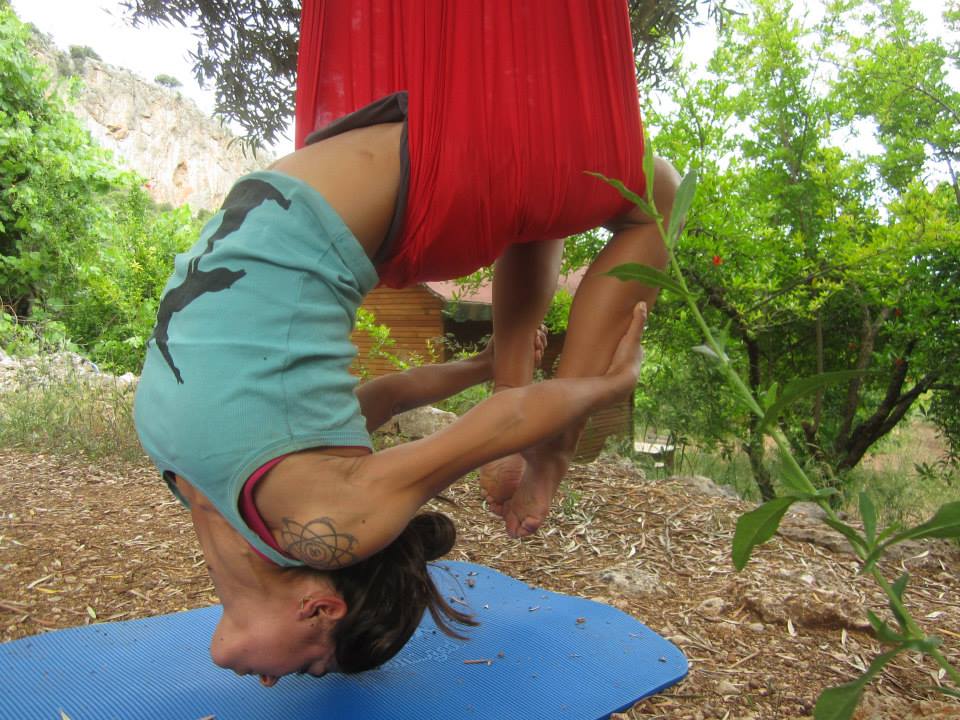 Yap, aerial yoga is a thing. And I am sure you've seen it before. Usually, street performers and ballet dancers show aerial yoga, but it has also become part of the mainstream art.
13. Extended hand to big toe pose in Tuscany, Italy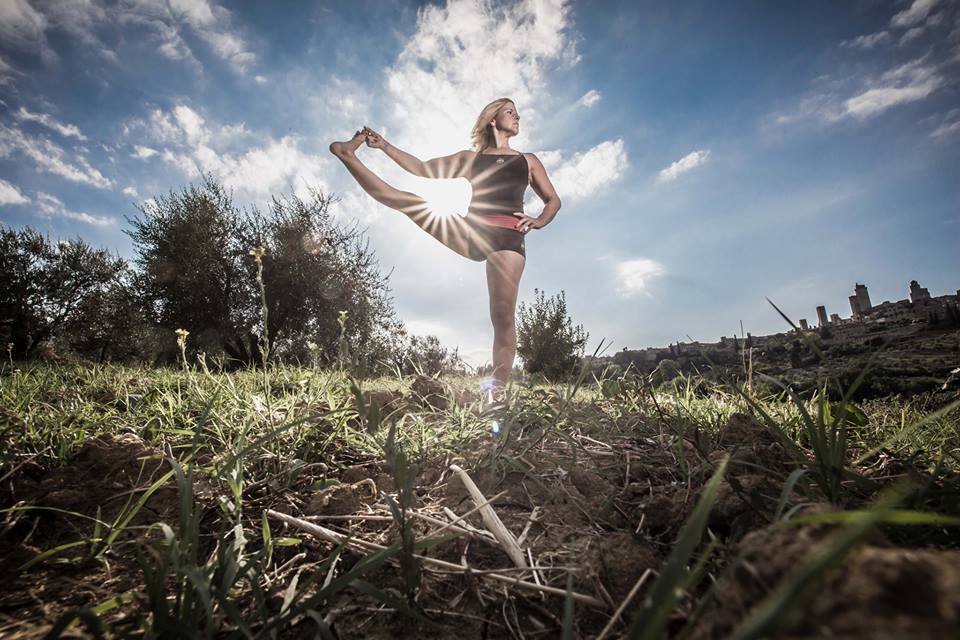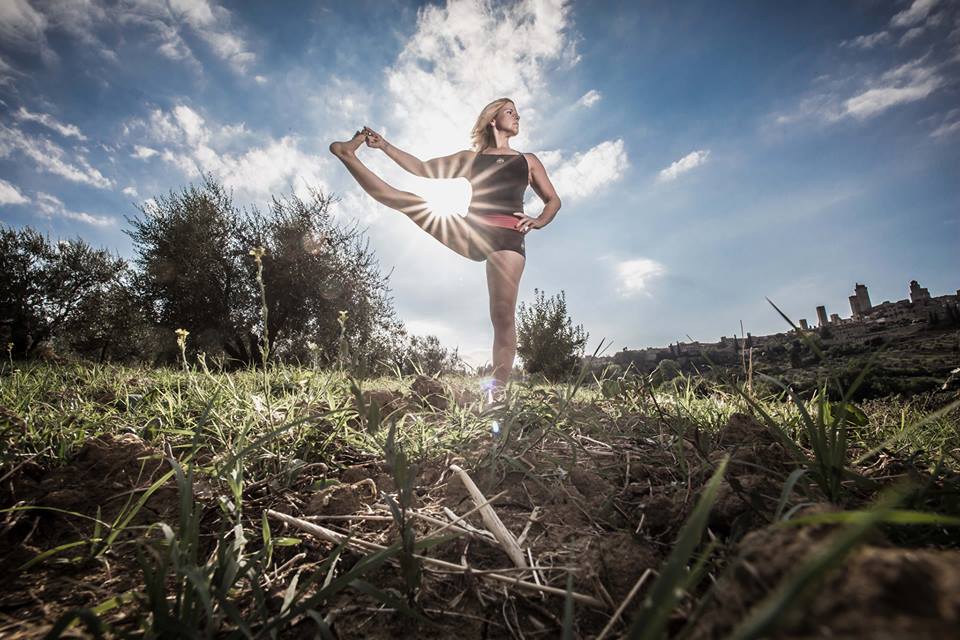 It's just breathtaking. Look, you need a good photograph for good picture, not just a good pose and background. And this picture is the perfect proof how simple pose can look so stunning.
14. Forward bend at Cunningham Falls, Maryland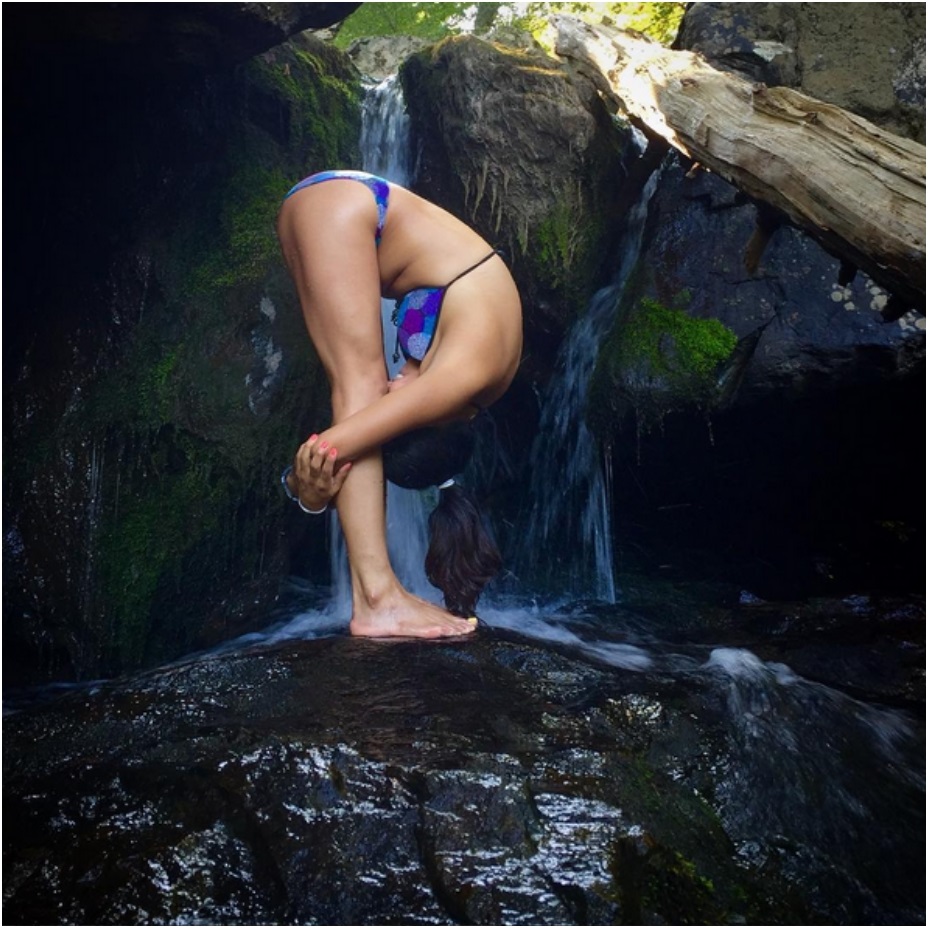 I'll admit, it looks a little perv on first glance, but once you get over that water coming out of your back thing, you'll appreciate the calmness and harmony of the picture.
15. Cobra pose in Hollywood, California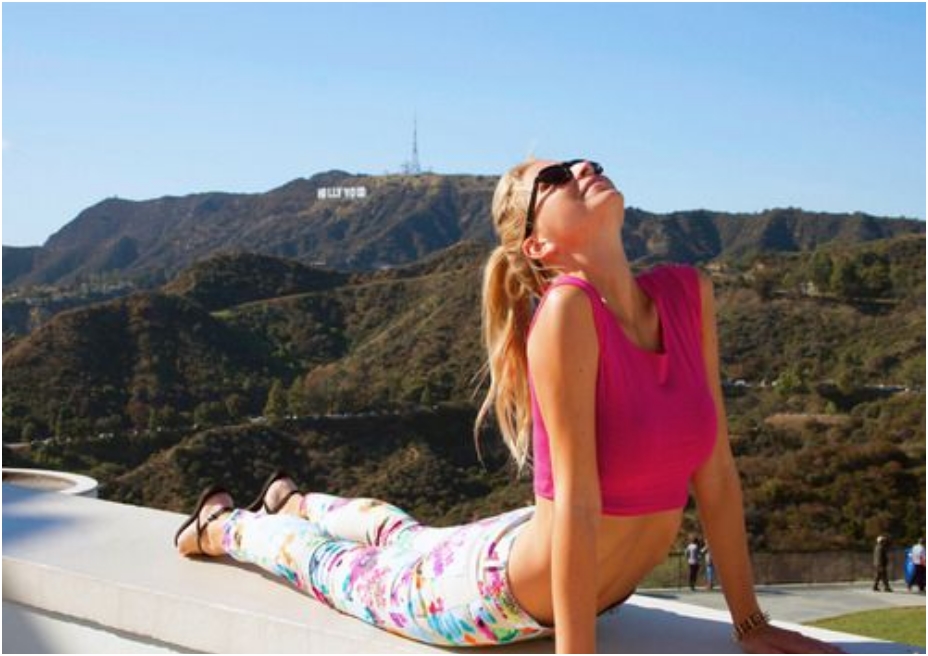 Visitors in Los Angeles are constantly trying to get a good picture with the Hollywood sign. And usually they end up with something simple. Well, here is a yoga picture that is thousands time better.
16. Headstand at the Taj Mahal, India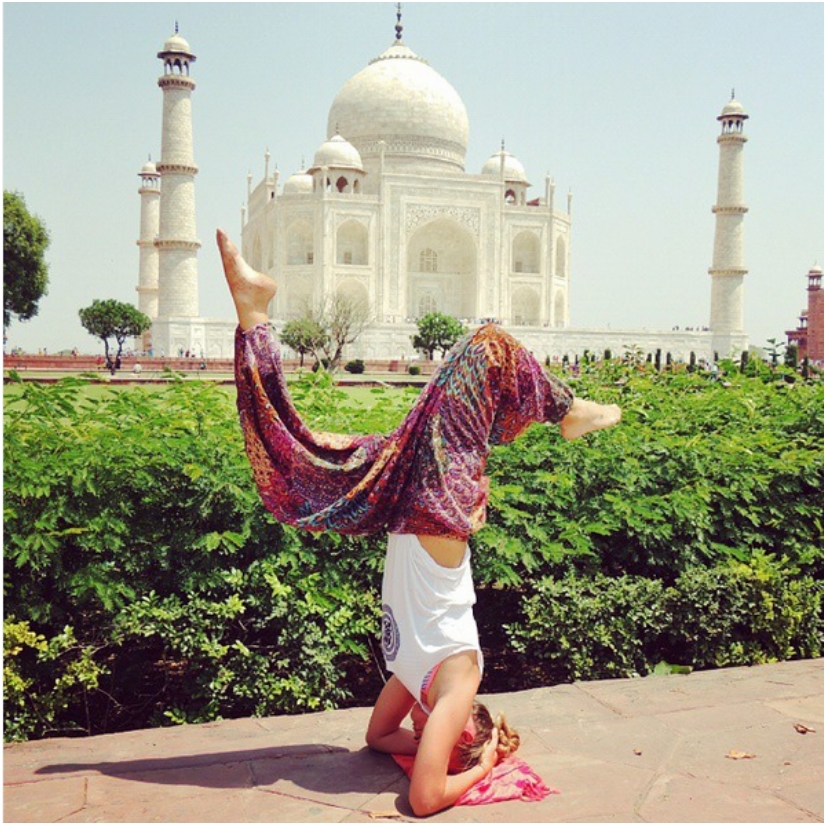 Yoga comes from India, more precisely from the Hindu religion. That being said, it is always stunning to see genuine and authentic yoga poses in front of Indian culture buildings. The Taj Mahal is perfect option.
17. Side crow pose At the Pisa, Italy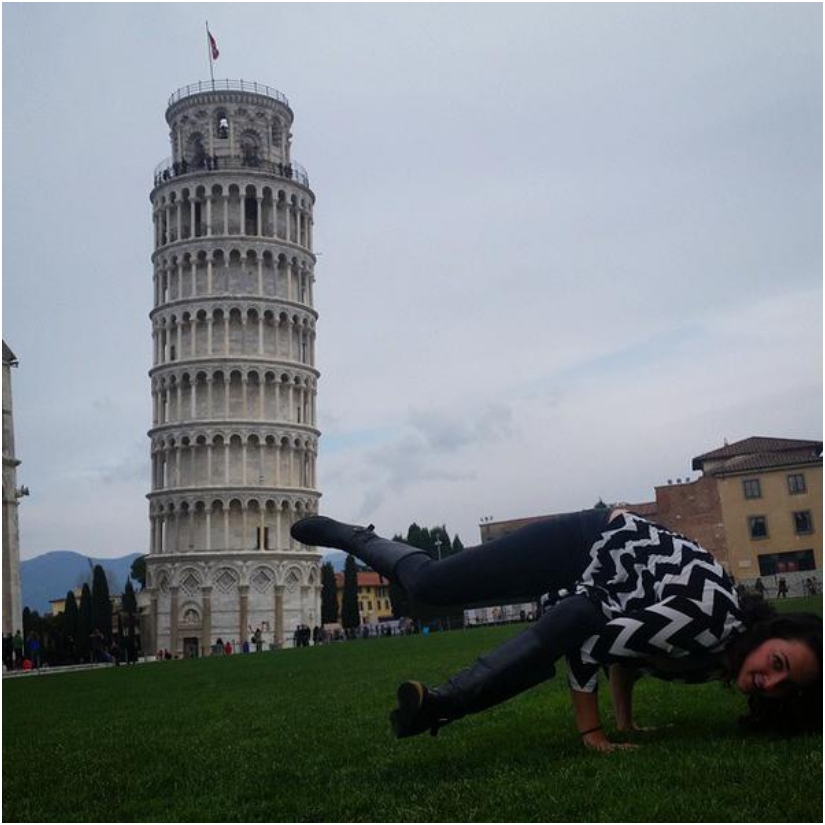 The tower in Pisa is another landscape that has been on more than 1,000,000 photographs. Most of them look the same, with the person on the photo holding the tower with his hand. Now you have an idea for another photo, a way of kicking the tower.
18. Dancer pose in Times Square, New York City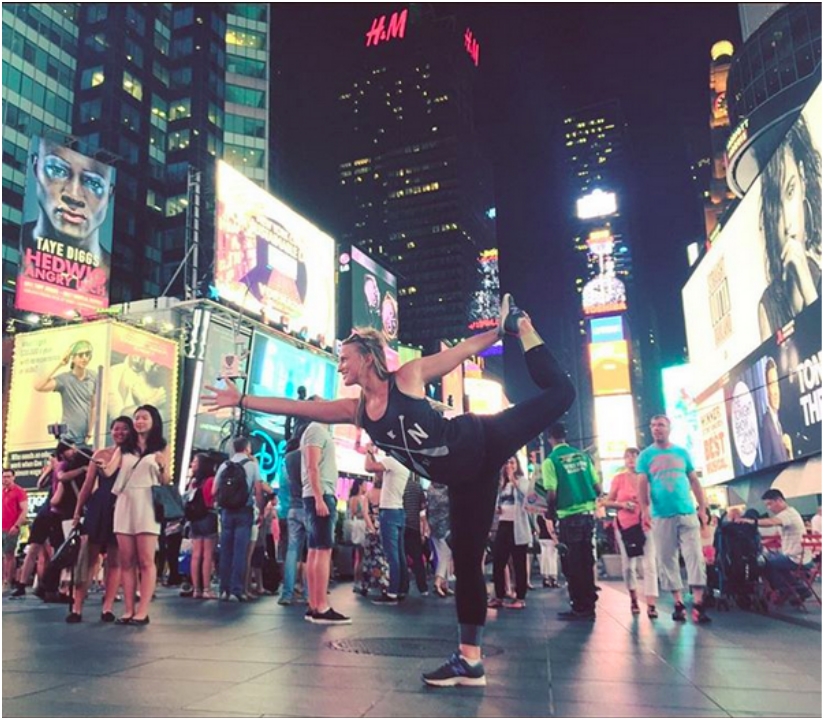 This one is among my favorite photos on the list, because it shows the perfect harmony with oneself. The Times Square is literally the most dense populated area in the world, one where chaos reigns. Being peaceful at such spot is something that few people can achieve, but thanks to yoga, you can.
19. Lord f The Dance Pose At Half Dome, Yosemite National Park, USA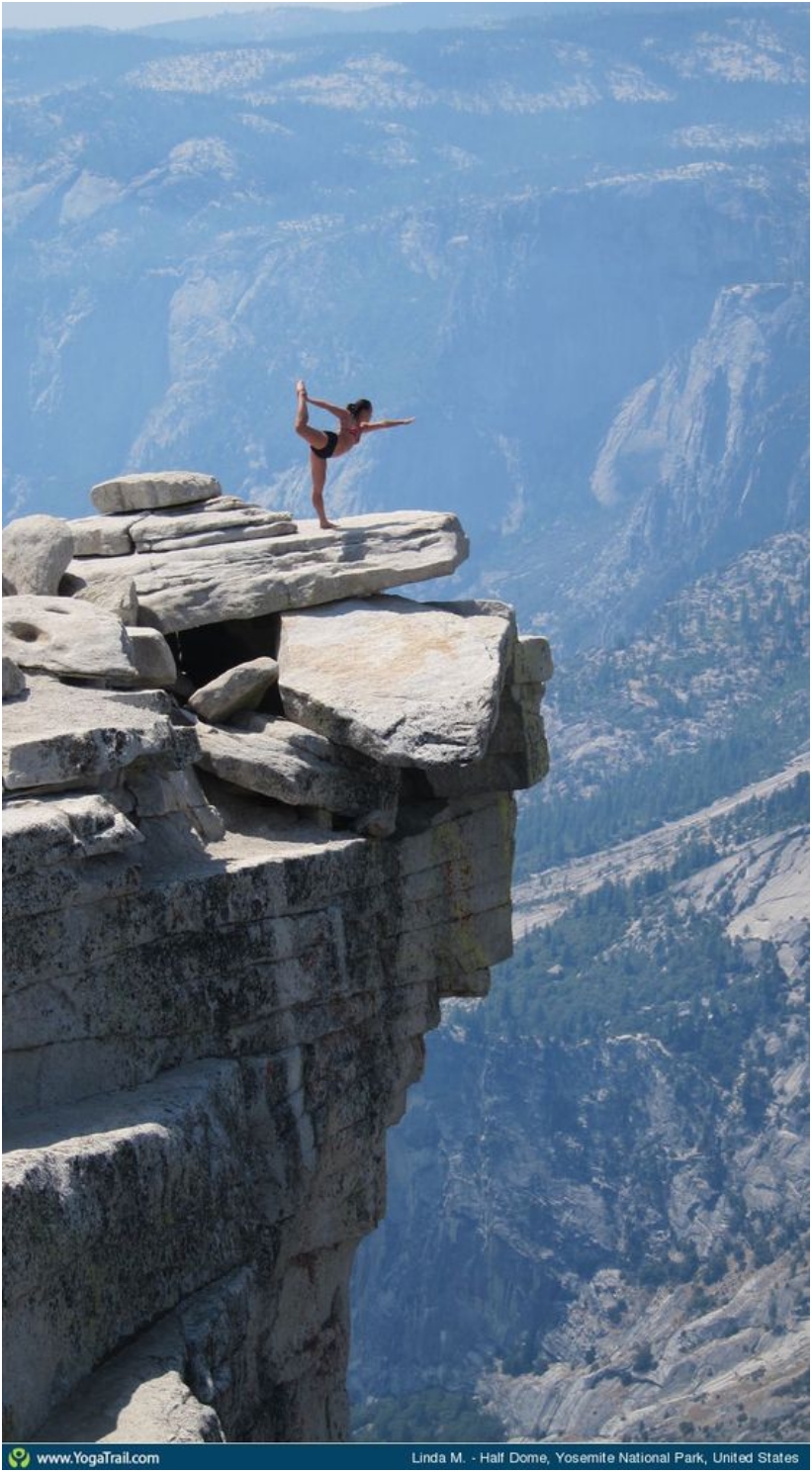 If this doesn't look powerful to you, I don't know what does. Yoga and nature are two terms that go hand in hand.
20. Plank pose in Kenya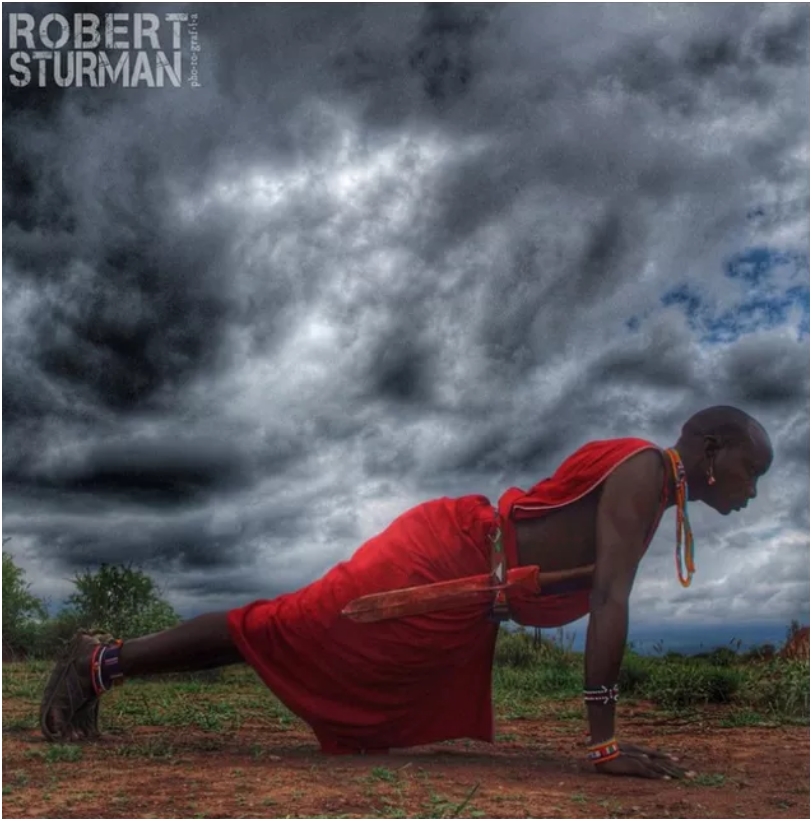 The thunderstorm that is about to come is nothing to be feared, at least not once you are at peace with yourself.
21. Warrior 3 On skies In Santa Fe, New Mexico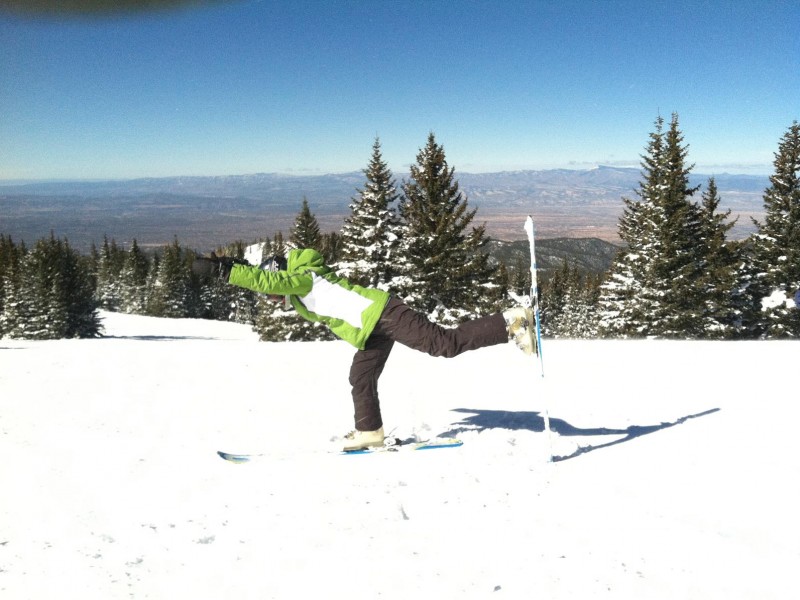 Yes, you can do yoga while skiing. Oh you thought that your skis are too heavy and the resistance is too big to strike a pose? Think again.
22. Double Yoga Headstand In Hobart, Tasmania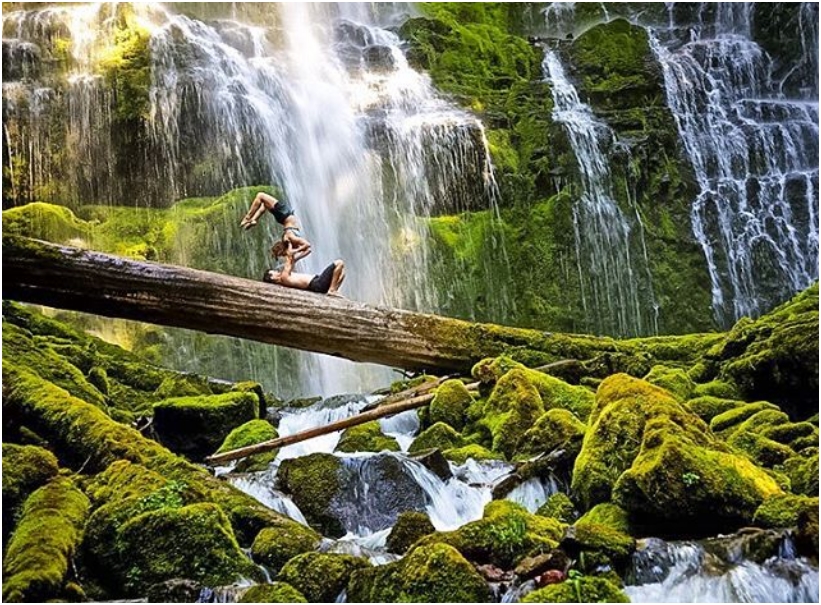 We had double headstand previously, but this one takes things up a notch. And the background is just stunning.
23. Handstand in Carcassonne, France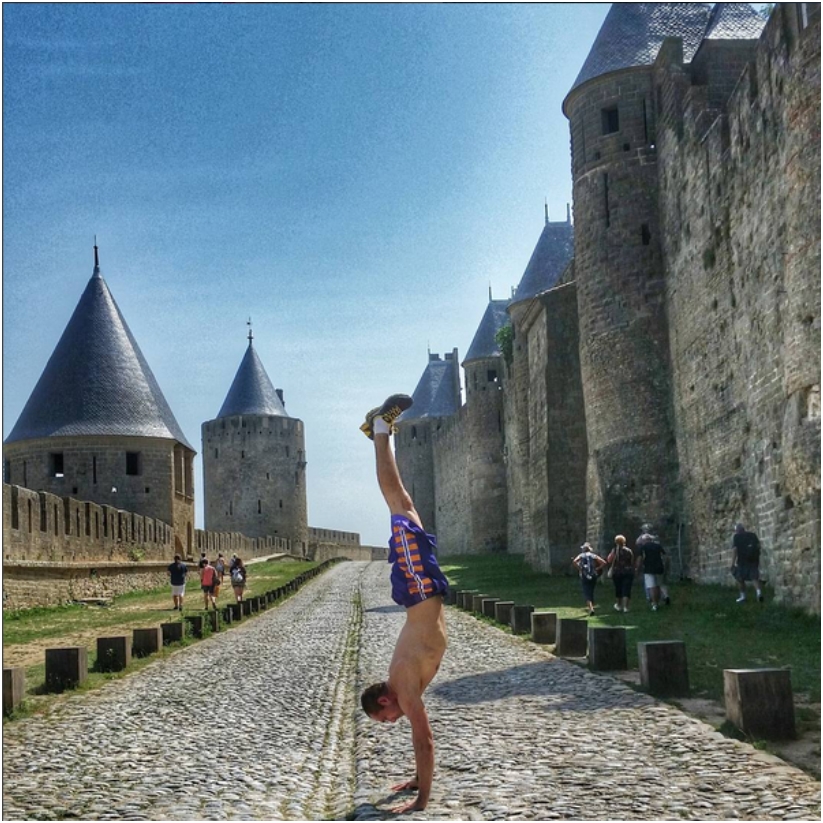 Medieval times and background and yoga. Yap, they don't come as complementary on first glance. But yoga knows no limits, and you can definitely strike a pose anywhere you want.
24. Headstand in Chicago, Illinois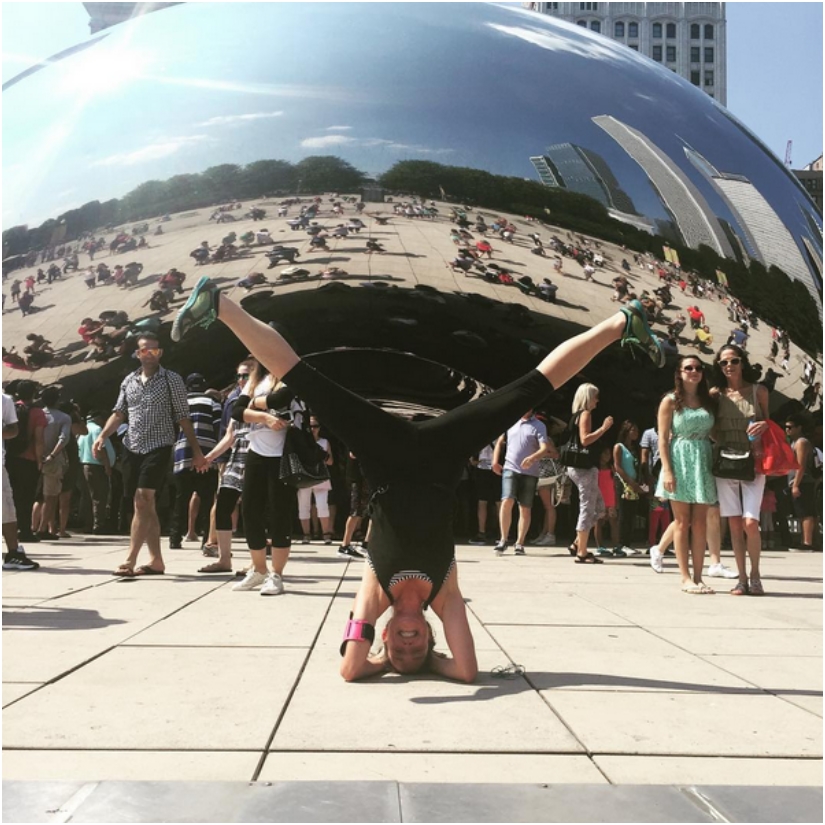 There's just so much to like about this picture. Similar as yoga photos taken at Times Square in New York, this one shows the peace one can find in the dynamic and stressful life we live.
25. Crow pose in Jackson Hole, Wyoming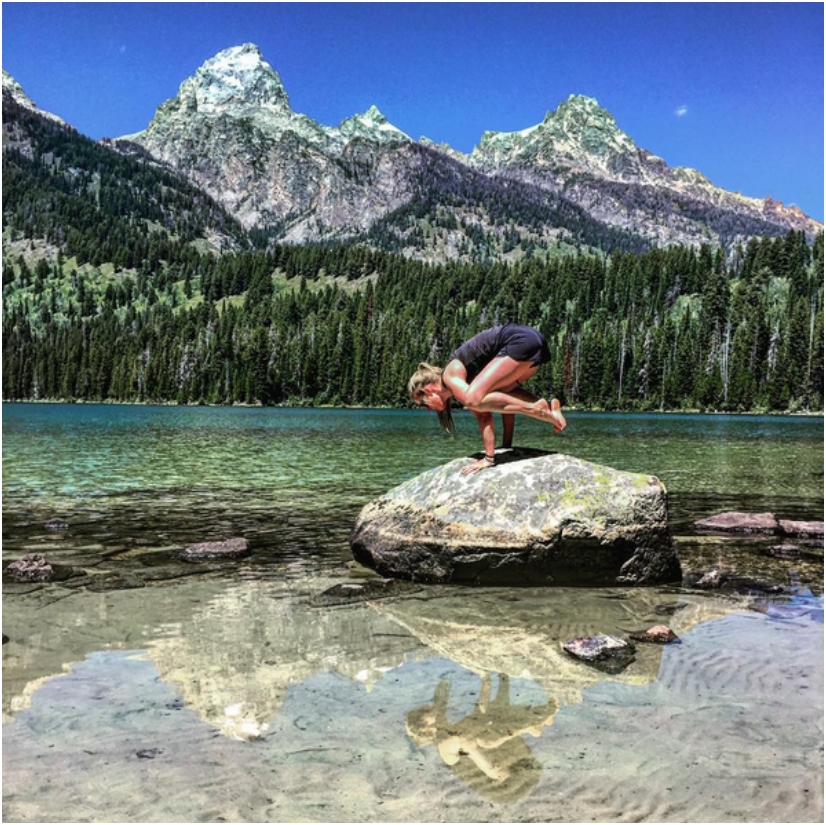 Crow pose is definitely the one most suitable for nature. At least that is my opinion. Headstand might be more powerful and challenging, but crow is one of my favorites.
26. Full Wheel Pose At Golden, BC, Canada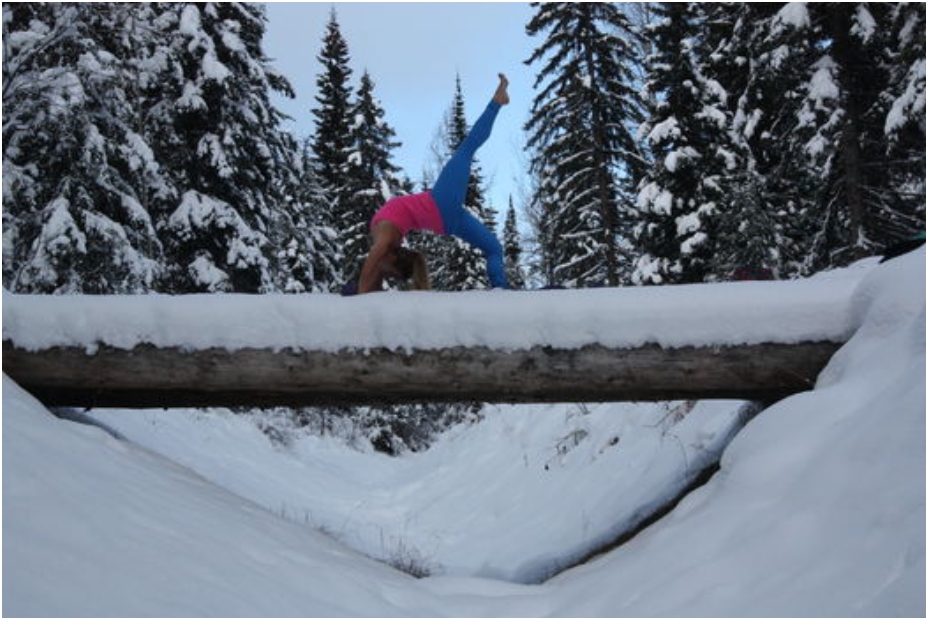 The full wheel pose is something you always want to try when there is a bridge in question. I've seen tons of similar photos on bridges, and there is a simple reason for it. The pose looks just fit for the occasion.
27. Headstand At Barcelona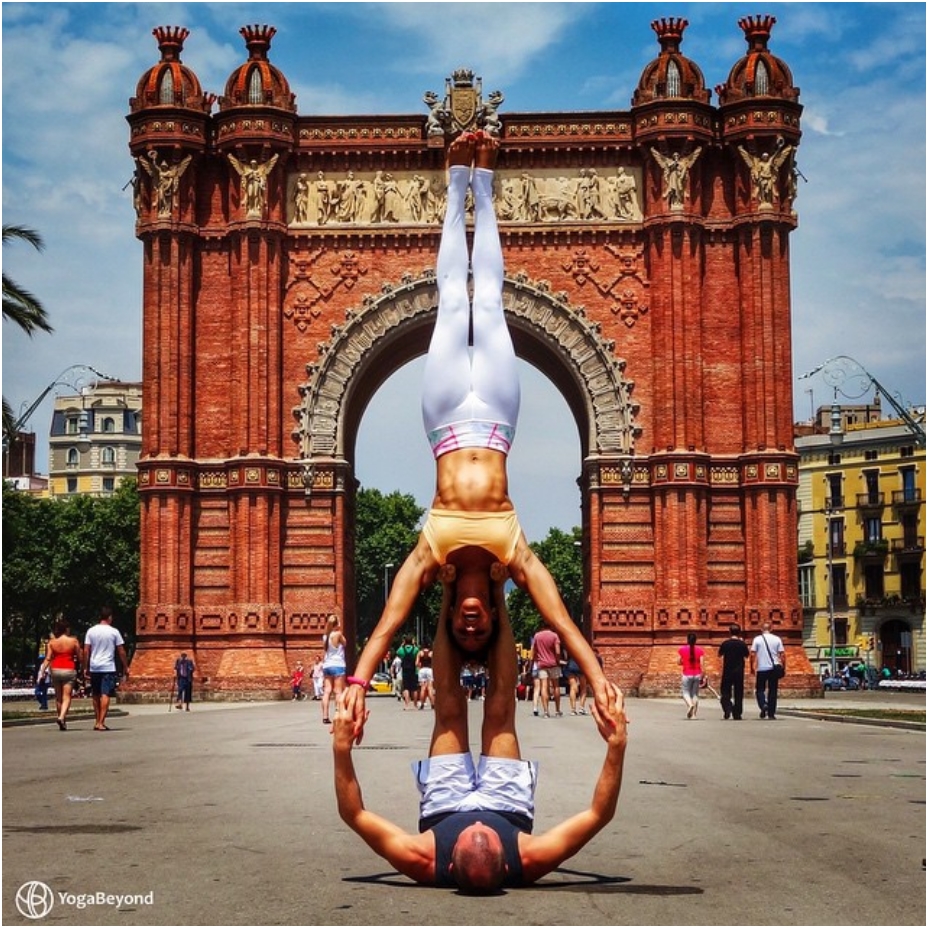 Taking things to another level when it comes to peace in stressful areas, this couple shows that when you are in love, nothing else matters. You and your partner are more than enough for this world.
28. Aerial yoga in Dallas, Texas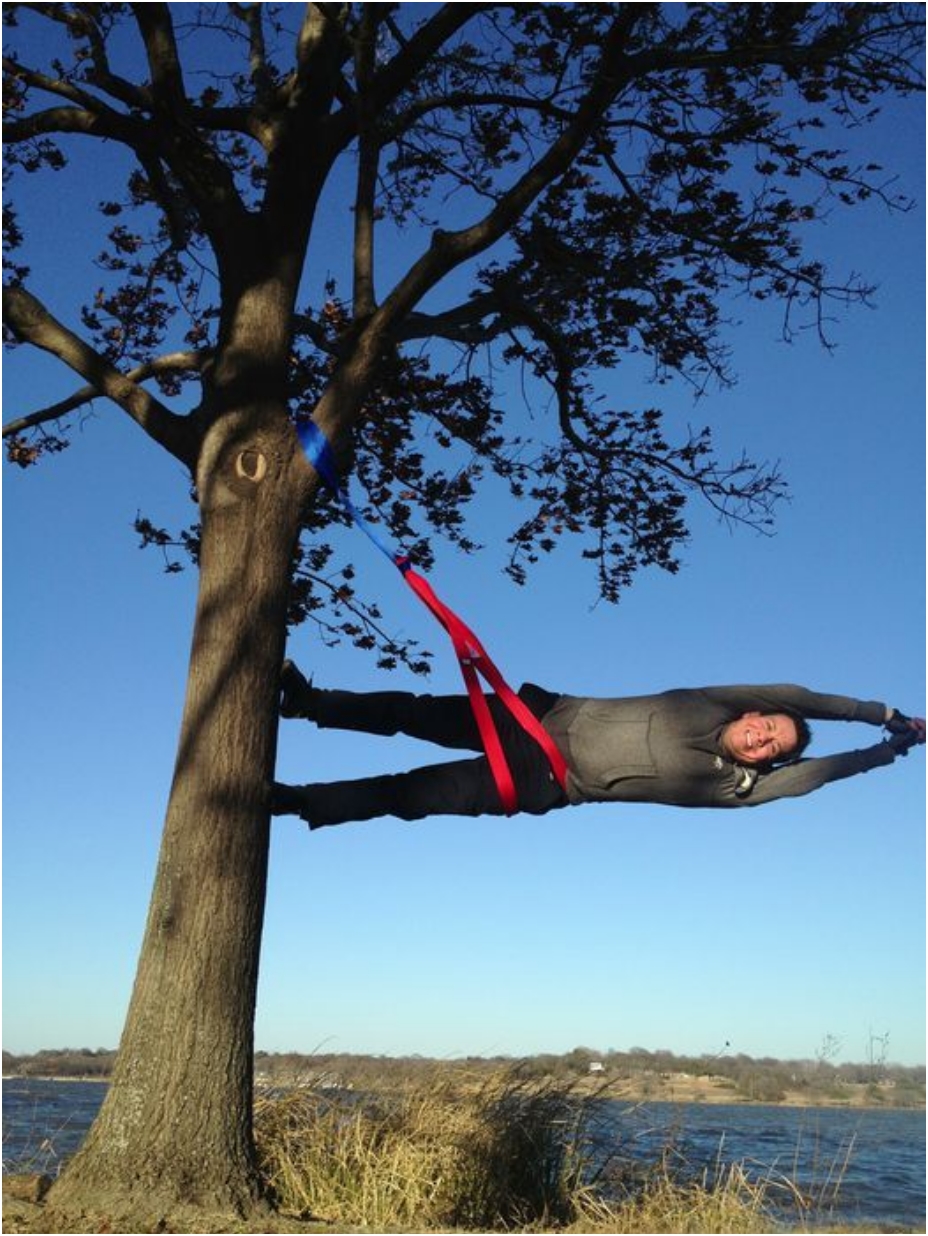 I said street performers are most interested in aerial yoga, and if you are wondering where they are practicing, now you have an answer.
29. Reverse Warrior Pose In Machu Picchu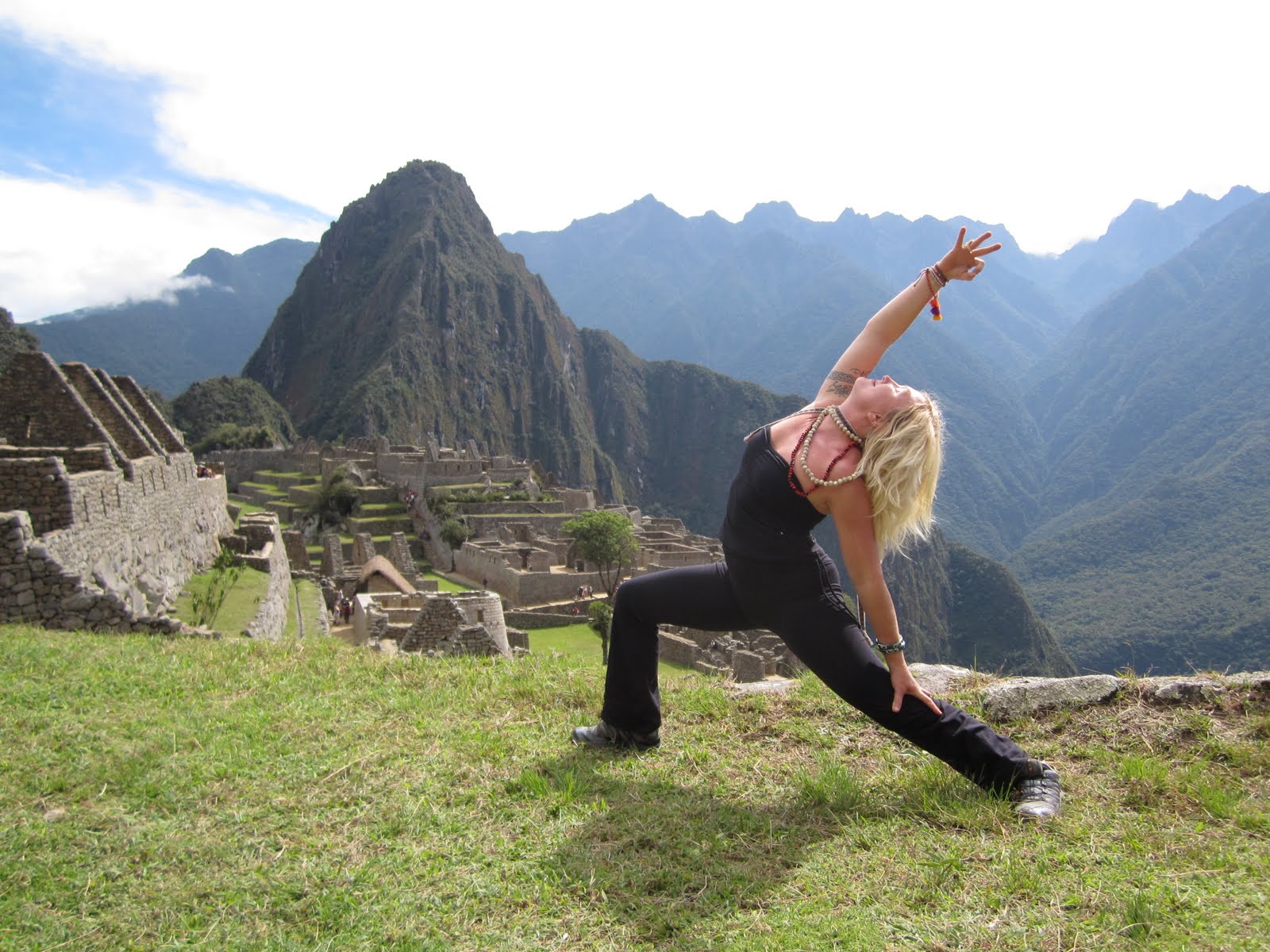 I know yoga comes from the Hindu culture, but Machu Picchu is definitely a place on Earth you'd love to mark with a yoga pose.
30. Standing backbend in Mallorca, Spain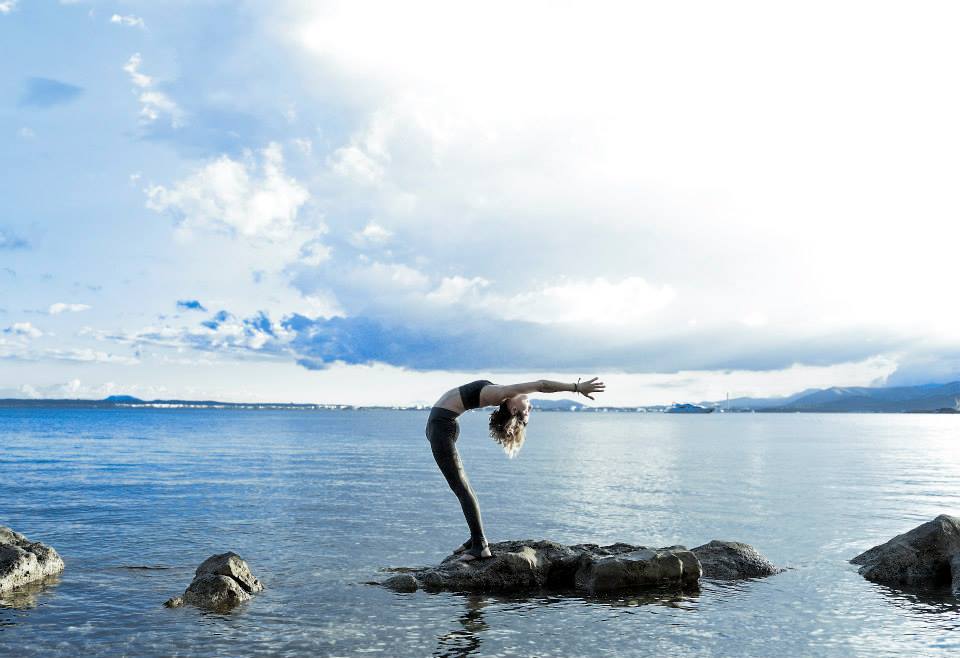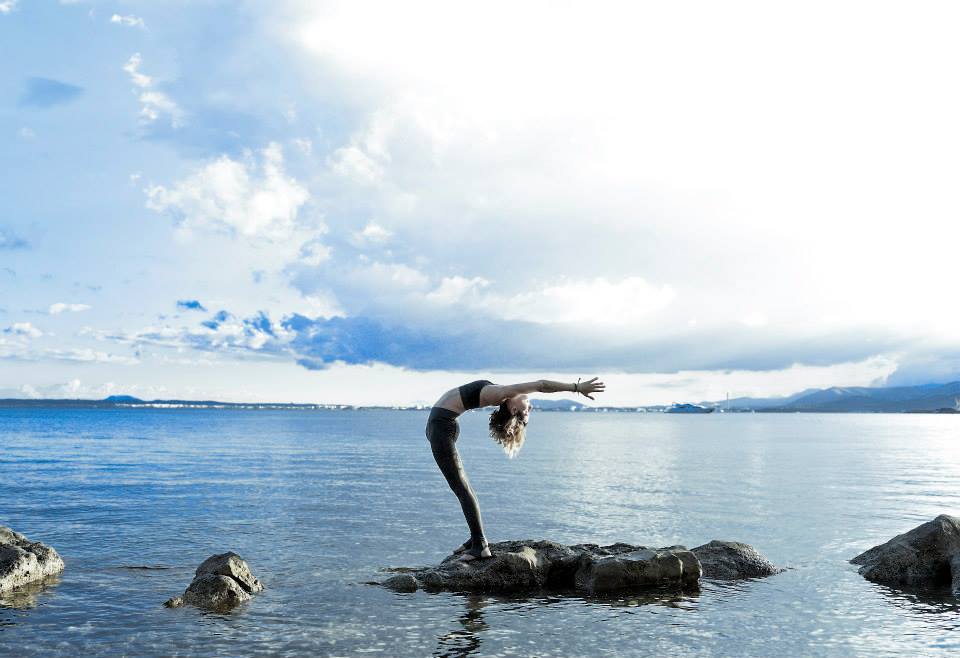 The idea is giving yourself to the sky, to the endless sea. You surrender your spirit, your soul, your body, and the sea rewards you with peace. Too symbolic for you? Well, there is always some symbolism when yoga is in question.
31. Warrior Pose At Goblin Valley State Park, Utah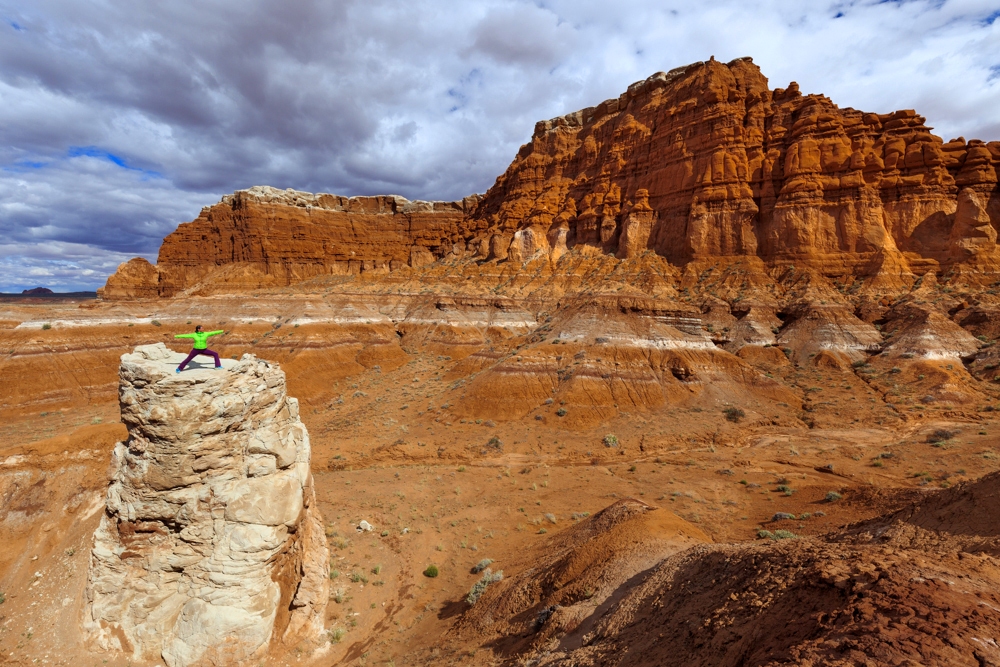 Look, I know you need a professional photographer for such photo, but the idea was to show you absolutely stunning photos of yoga harmony. Enjoy the view!
32. Head Stand In Paris, France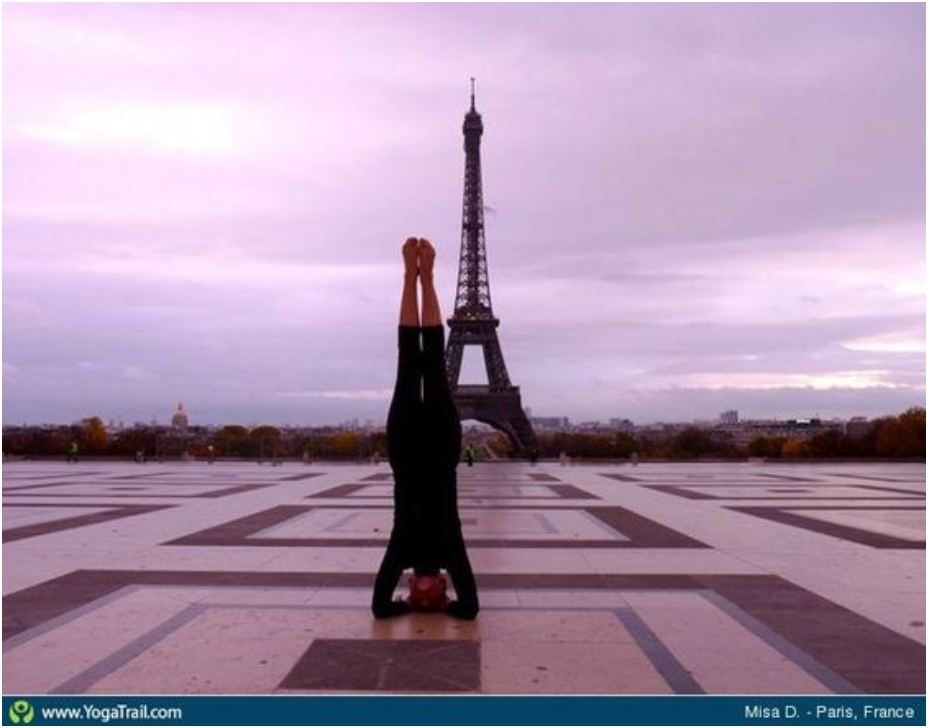 Who is taller, you or the Eiffel Tower? Can you be taller than one of the 7th miracles in the modern world? Of course you can. Maybe not here, but there is a spot in Paris from where you can create an optical illusion of being taller than the Eiffel. But that is not the goal here.
33. Side plank pose in the Sahara Desert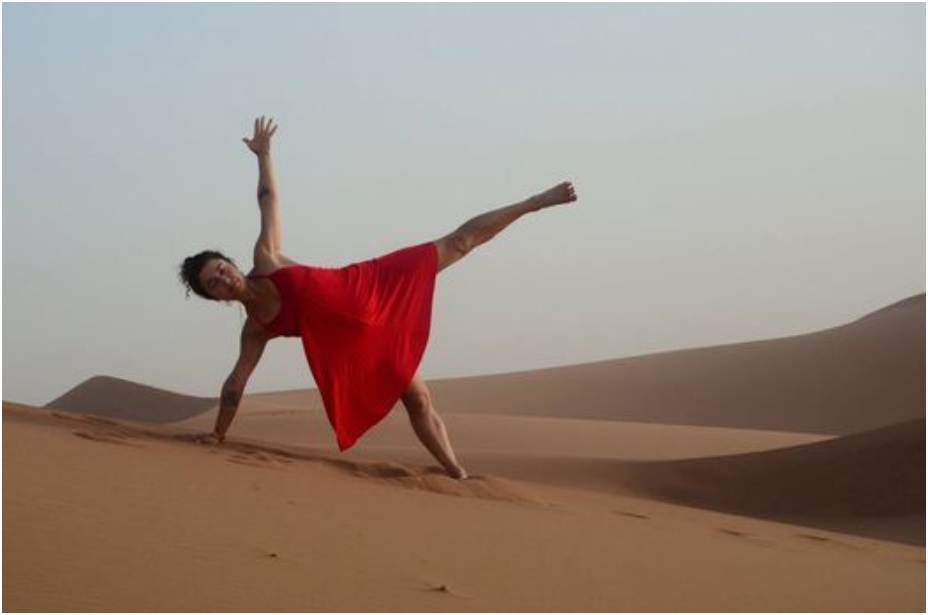 When it comes to harmony, calming and peaceful environment, nothing beats the desert. The sea might be calming as well, but there you hear the sounds of the sea. You hear literally nothing in the desert.
34. Various Yoga Poses At Buddhist Temples In Thailand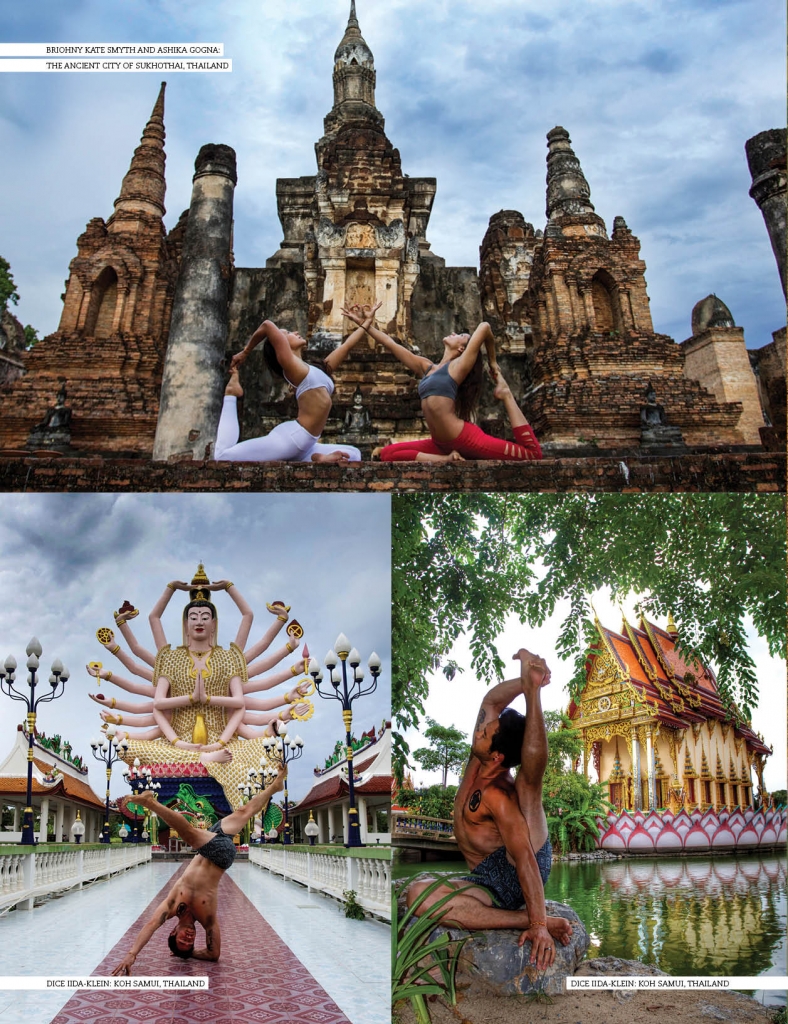 I talked about Hindu culture and yoga poses back when we had the Taj Mahal. This might be Thailand, but they are still Buddhist temples, and they still look stunning.
35. Headstand in Rome, Italy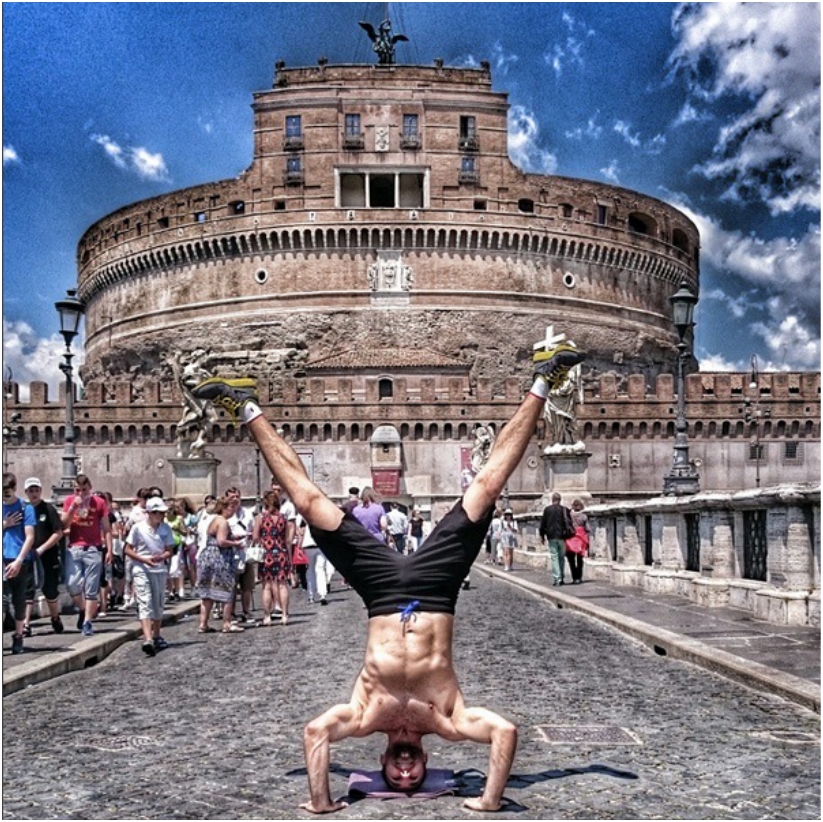 We have another headstand here, and again, the target is a dynamic area. There are variations to the headstand, and there are ways to get there. I think I've showed you more than three headstands, so that is enough.
36.  Wheel pose in Nepal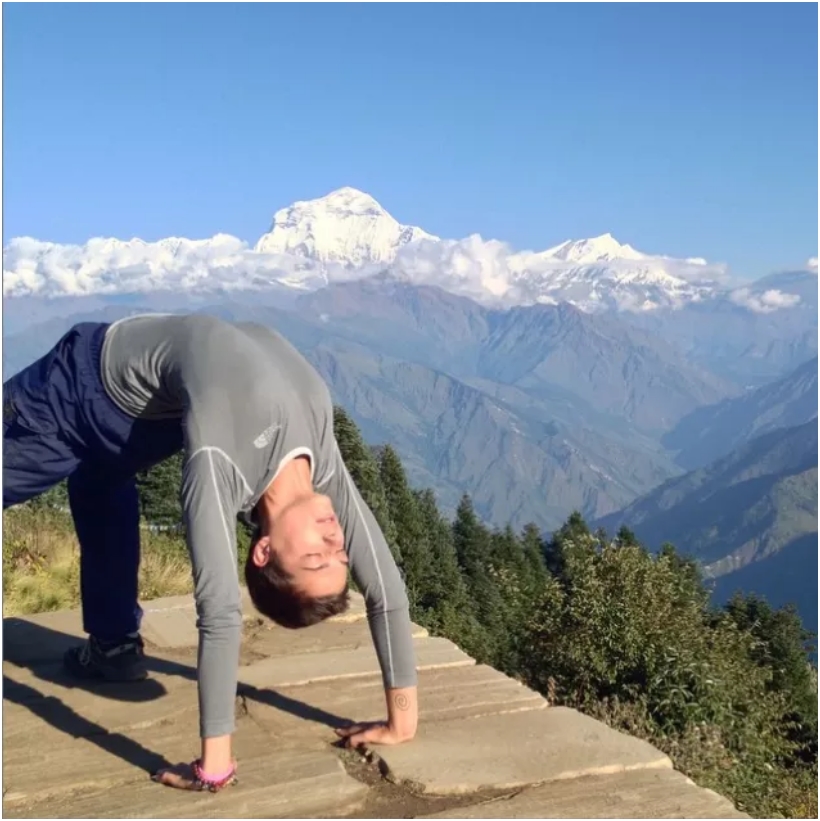 The wheel pose is another one we had few times by now, and we saw it in different conditions: be it nature or urban, the wheel is perfect for harmony.
37. Standing split at the Grand Canyon, Arizona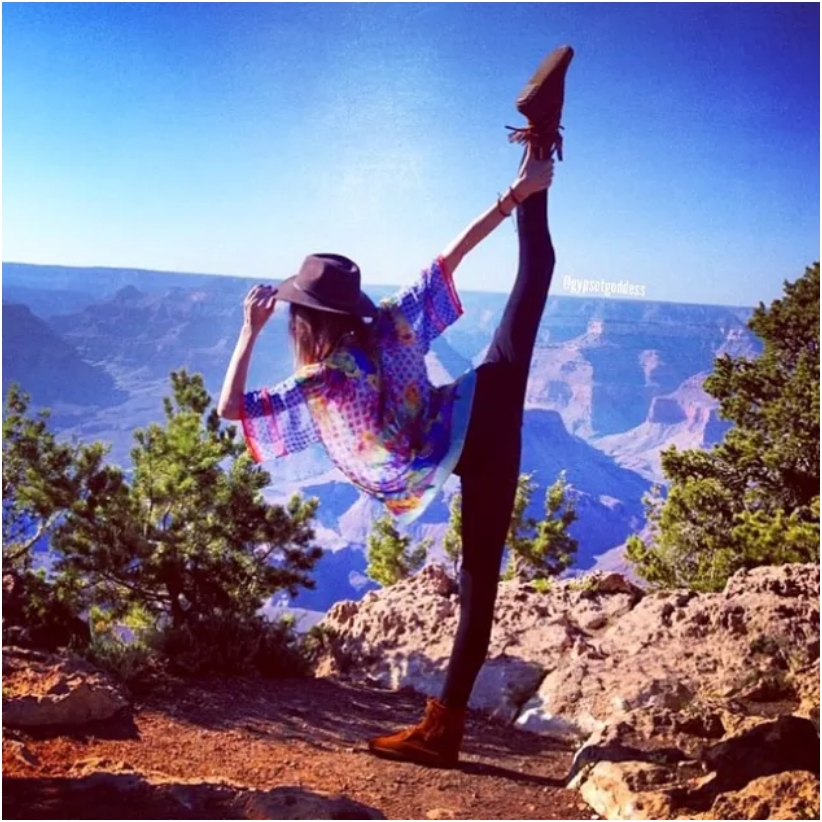 This is the first standing split we have, and it couldn't come at a better location than the Grand Canyon.
38. Warrior II pose in Maui, Hawaii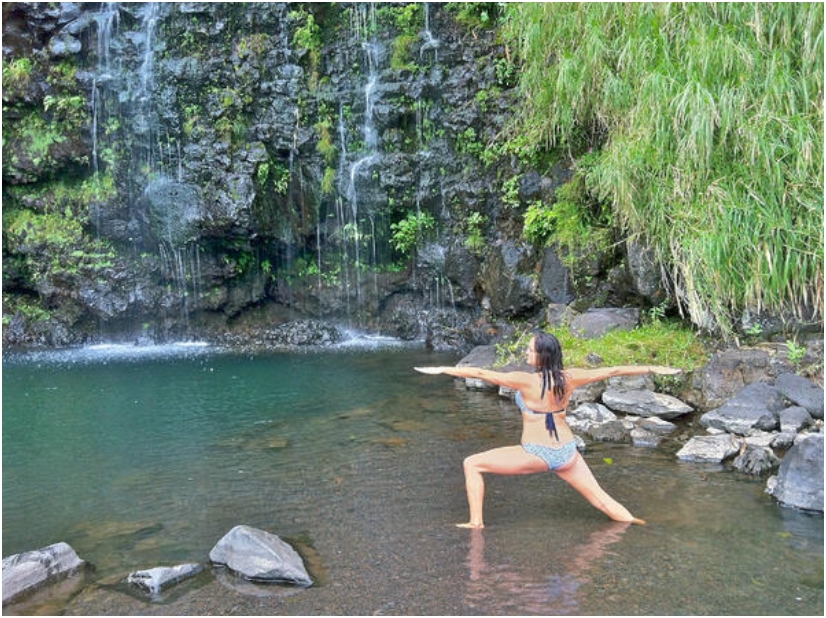 Looking like a true Amazonian fighter, despite the fact that this is taken no where near Amazon. But the Warrior pose is one of the most versatile when it comes to location and showing.
39. Extended Side Angle Pose In Ross Howatson Mt., Maunganu, New Zealand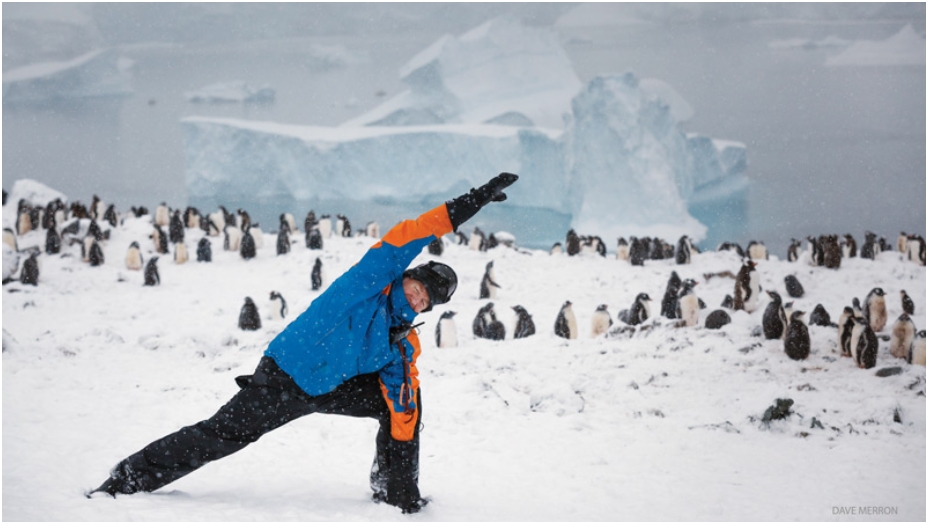 Working out with the penguins are you? As I said before, no matter the weather conditions, or the creatures around you, yoga is something that will help you find peace.
40. Warrior I pose in Costa Rica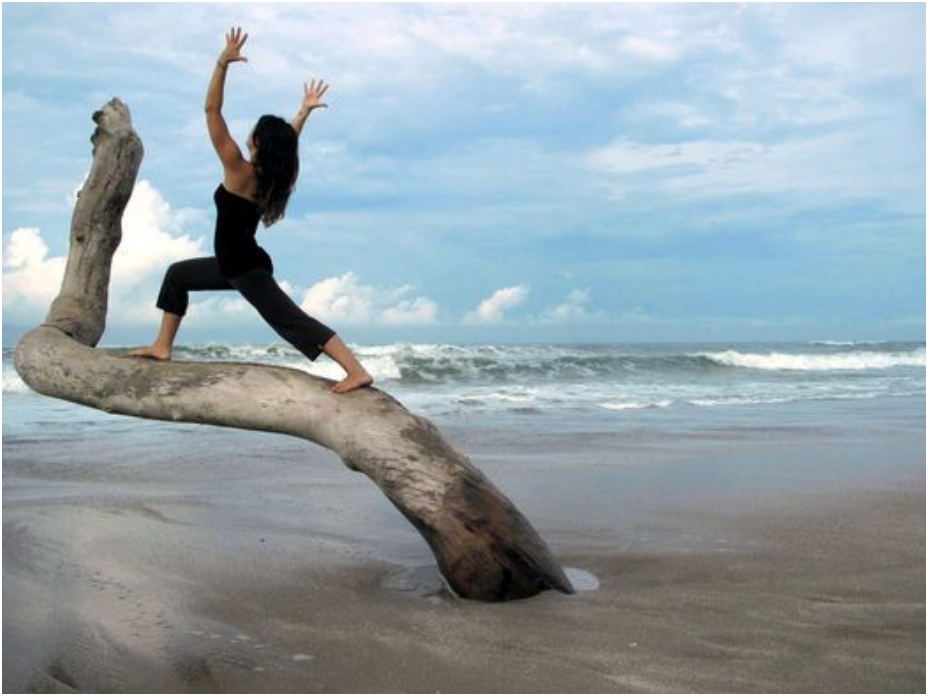 We talked about the warrior poses, and if you haven't noticed by now, there are few different warriors. That is why I said the warrior pose is one of the most versatile.
41. Headstand In Rome, Italy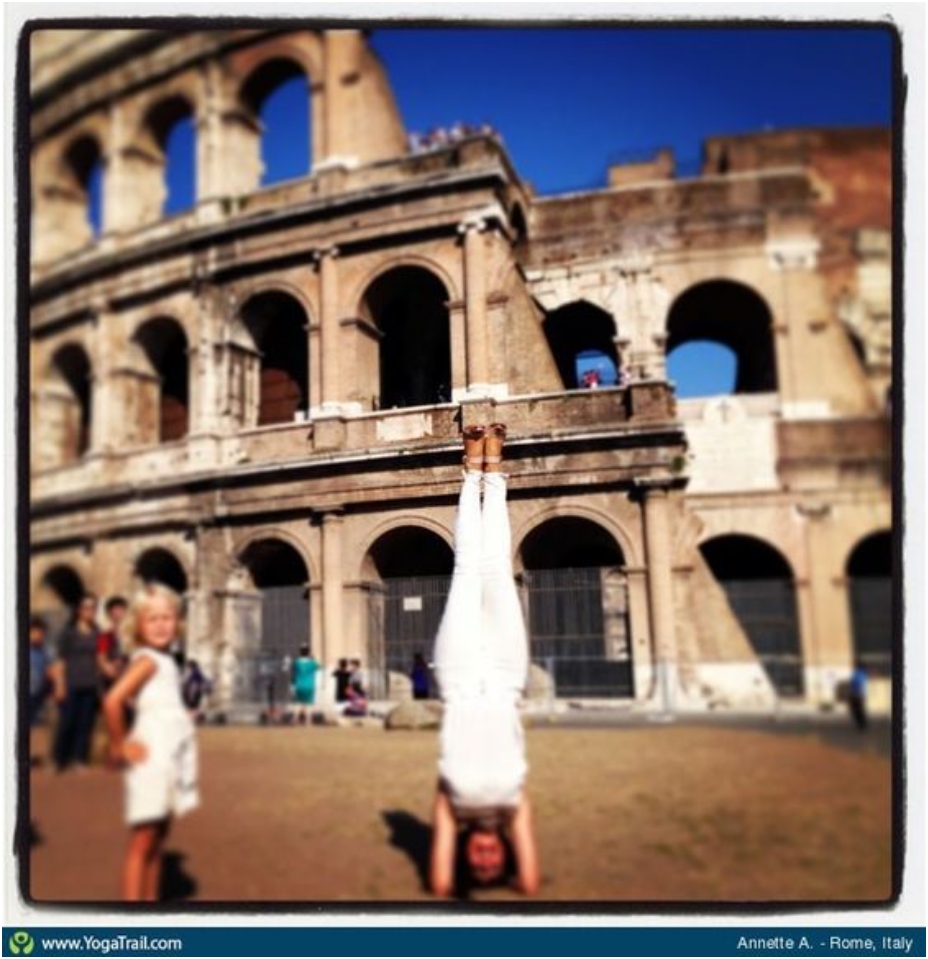 Go back a little and you'll see a different headstand in Rome. Both pictures are awesome, and I love when such a challenging pose is struck in an dense populated area.
42. Aerial yoga in Madrid, Spain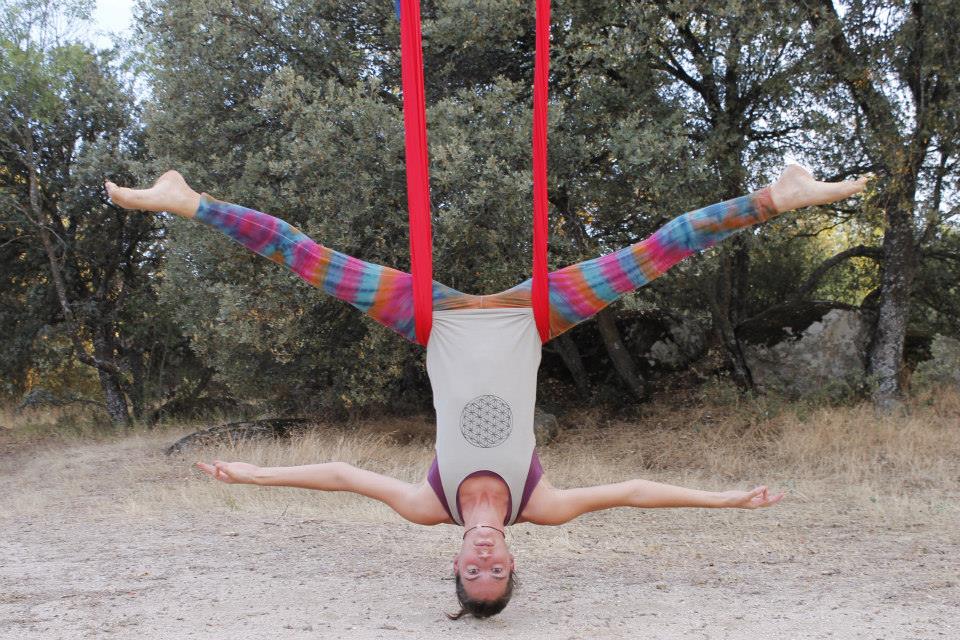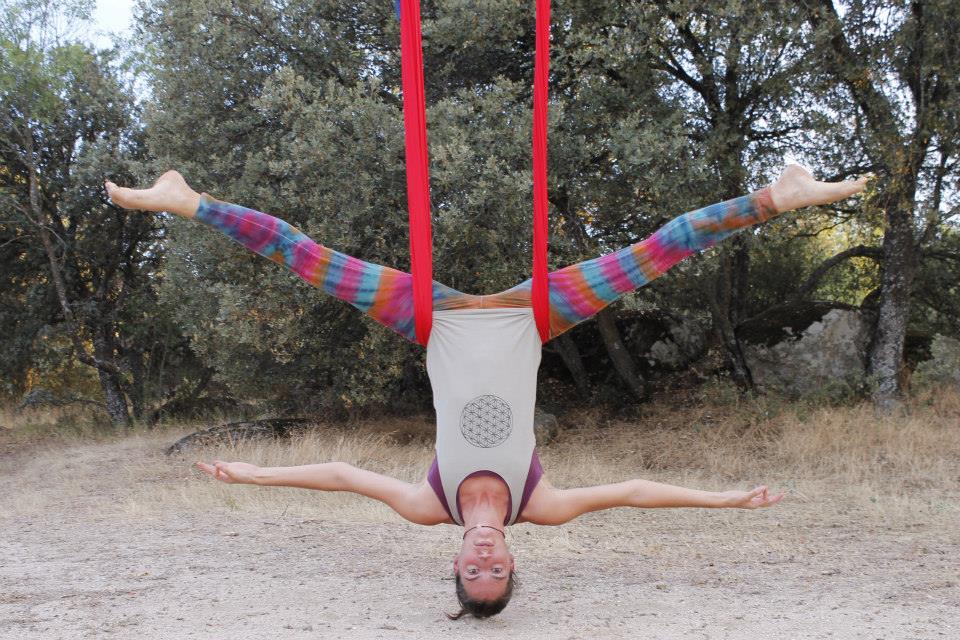 Back to that aerial yoga, as you can see, it is best to practice somewhere in the nature, and then you are ready to hit the city.
43. Lotus pose in Bali, Indonesia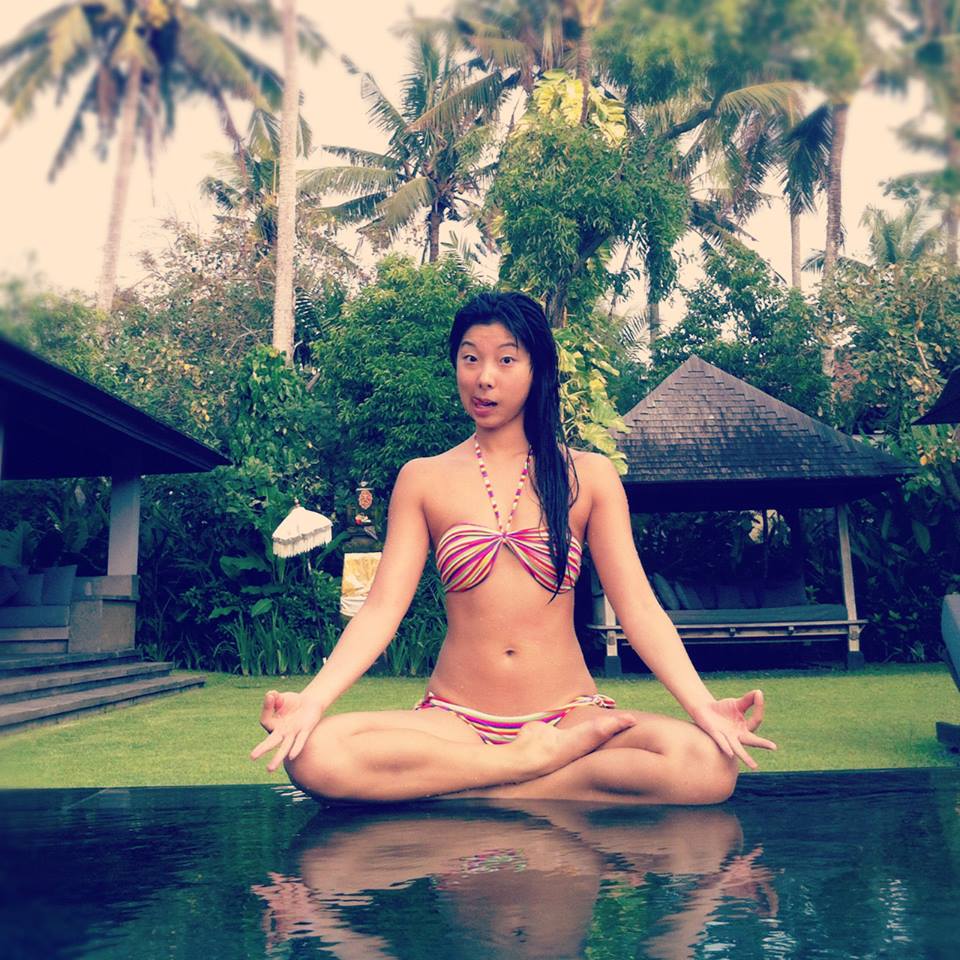 Well, if you thought yoga cannot be comical and funny, think again. Finding peace sometimes requires few laughs on the way, and if laughing is what calms you down, be my guest.
44. Sun salutations in Santorini, Greece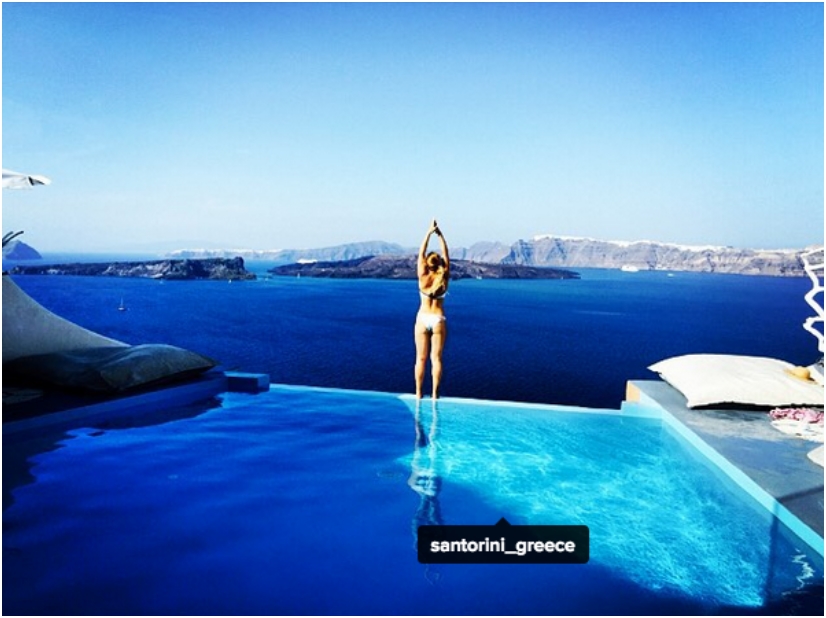 Santorini in Greece is one of the most beautiful islands in the world, and a place worth a visit. Yoga or no yoga, make sure to visit.
45. Handstand at Yosemite National Park, California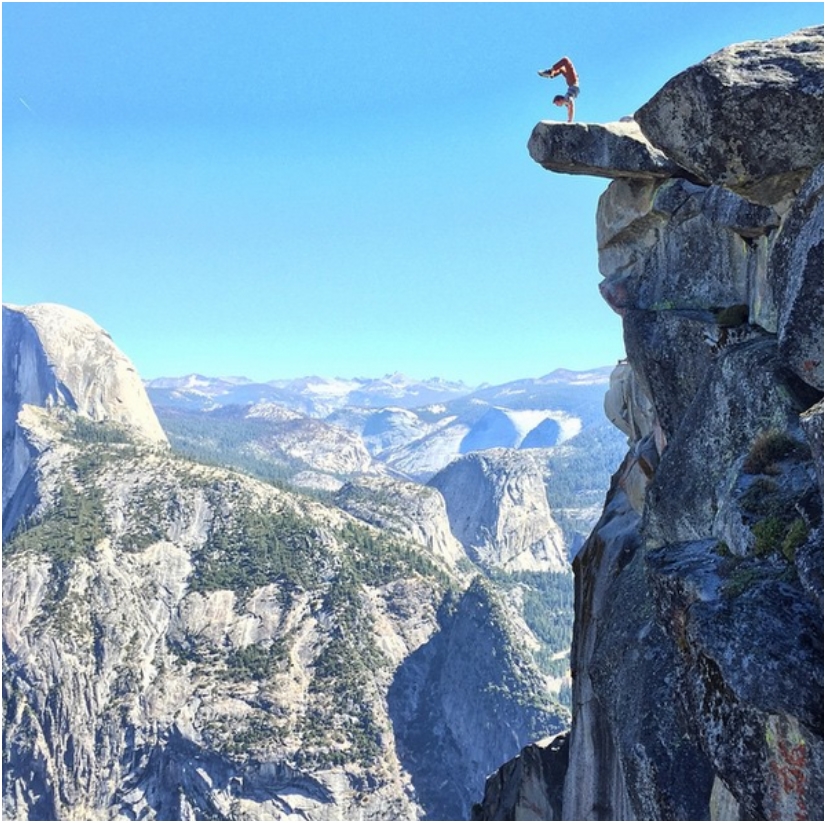 You know the game "chicken"? When both you and your opponent drive towards one another and you see who will turn first? Well, you can play chicken with the nature as well. Looking in the eyes of danger is something that helps people find peace.
46. Full Wheel In Bora Bora, French Polynesia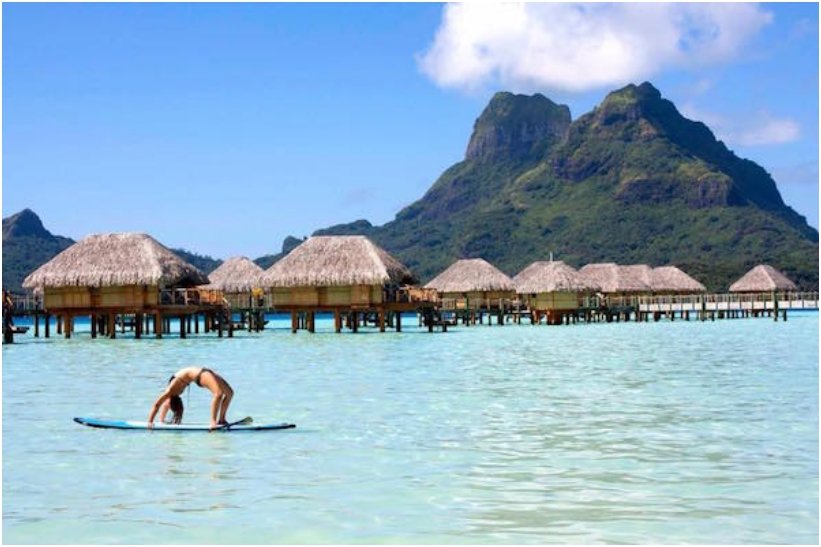 You thought you can surf only when standing? Well, it doesn't have to be the case always, as you can surf while doing yoga apparently.
47. Various Poses In The Ancient City Of Sukhothai, Thailand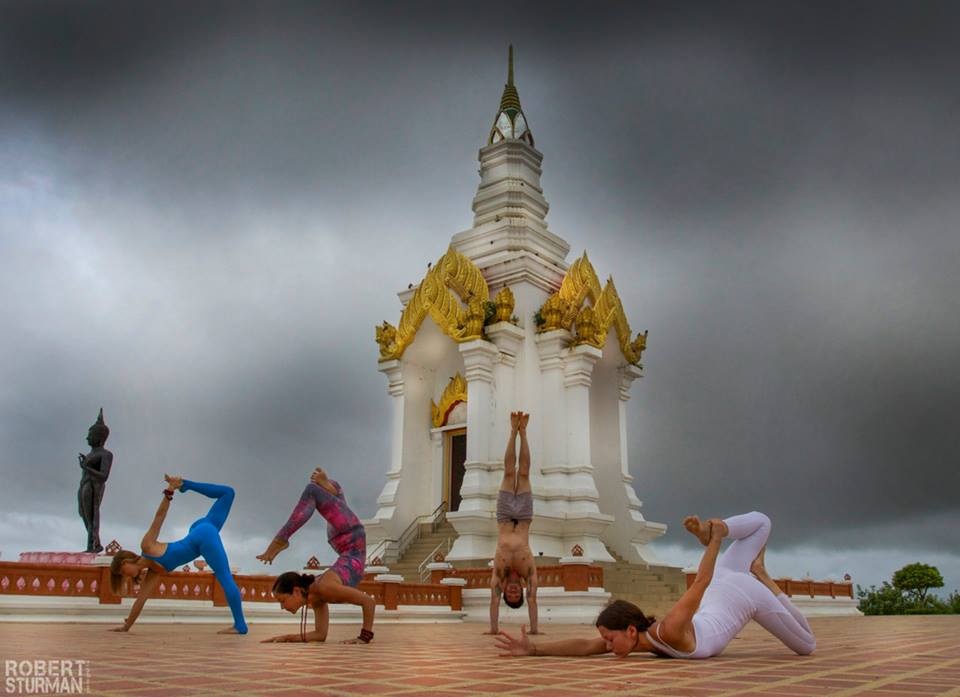 We are almost at the end, and it might be time to give you a group photo. Well, after all, yoga is practiced in group sessions as much as it is in individual sessions.
48. King dancer pose in Miyajima, Japan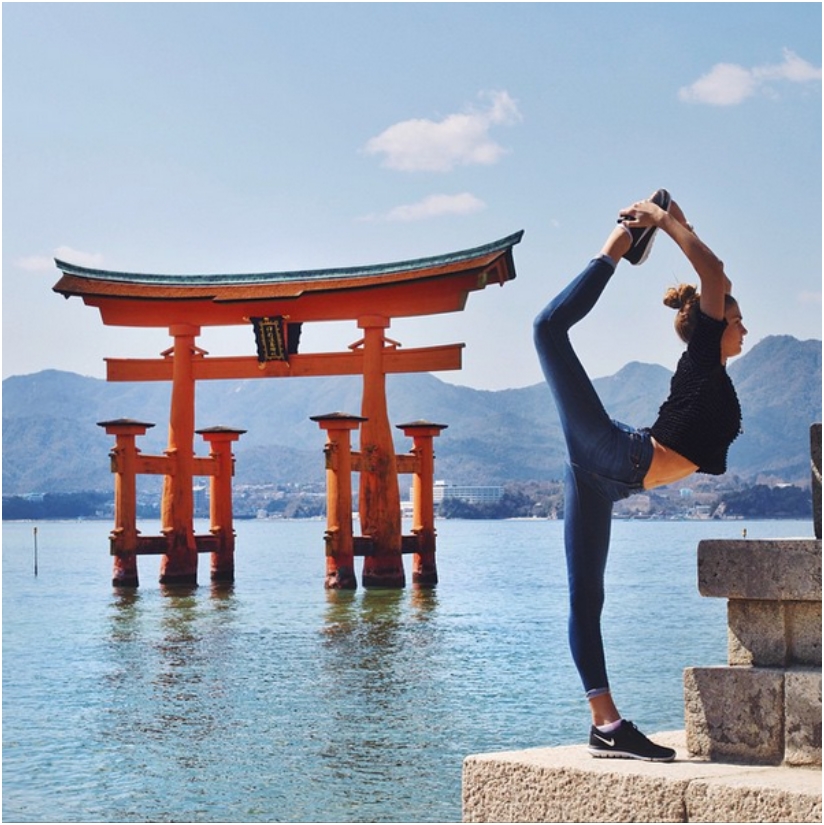 The king dancer is one of the more challenging poses on first glance, but once you warm up, it is fairly easy. It is all about finding the right balance, especially when you need to stand on just one foot.