Terry Alan Crews is an American Actor, artist, and former American football player. But more than anything, he is a legend among Internet fan boys. He has been constantly part of memes, and he was also selected for the person of the year in 2017 by TIME magazine. But more than anything, when you look at Terry Crews art, you will feel amazed.
In 2014, he also released his book "Manhood: How to Be a Better Man-or Just Live with One". And then take a look at this, he is generally considered a good man, because he is still married with his girlfriend from young days. He married her when he was not rich and famous, and is still with her, despite all of his fame and money. Terry has been married to his only wife Rebecca for more than 25 years, and the couple has five children together.
He illustrated the cover of AdAge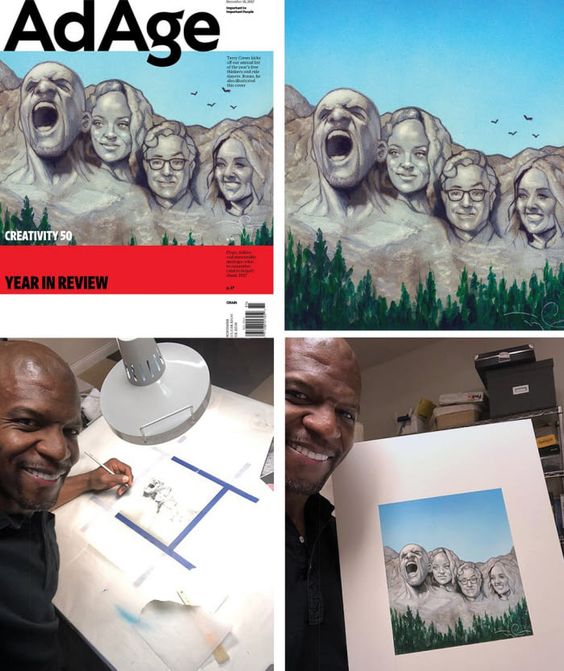 In 2017, the magazine AdAge ran a story of the 50 most talented creative thinkers. Among the 50 chosen one, Terry was on the list. And he was the one that designed their cover. This is when the world found out he is an amazing and creative illustrator. Nobody knew before that.
Painting helped him support his family
After his school, Terry received a scholarship at the Interlochen Center for the Arts in Michigan. He followed it by an Art Excellence scholarship and a full-ride athletic scholarship for football at Western Michigan University. After being cut from teams, he found a way to support his family by painting for players at around $5,000 per piece.
Star Wars inspired him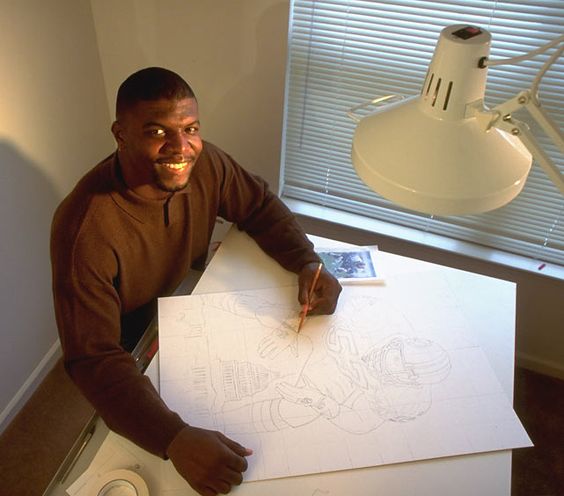 For many people, the first Star Wars movie released in 1977 changed their life. Terry was one of those. Since he saw the first Star Wars movie, Terry was inspired to start drawing and painting. He began by drawing robots and droids similar of those in Star Wars. And he continued drawing his entire life.
He paints everything and everyone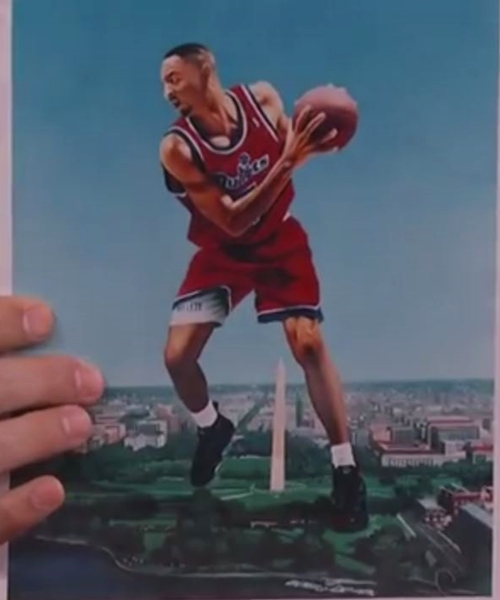 He doesn't paint only NFL players. He can draw anyone from any sport. As long he is interested in having an original Terry Crews. Here is a picture of one of the iconic NBA players, Juwan Howard, who was one of the first NBA players to get a contract worth more than $100 million. He didn't win as much as expected, but he did make some headlines back in the days with his contract.
Crews at Kimmel
While most of the world found out that Terry Crews is talented once he created the cover for AdAge, some knew even before. In 2014, he was a guest at the Jimmy Kimmel show, where he showcases some of his work. How talented he is? Well, the crowd thought the pictures were actually photographs.