Authorities are on the look out for a 10-foot shark spotted off Costa Del Sol holiday resort in Fuengirola, Spain yesterday.
As calls about the deadly fish began to reach the local authorities around 1pm, emergency services raised red flags along more than five miles of coastline.
Get Out of the Water!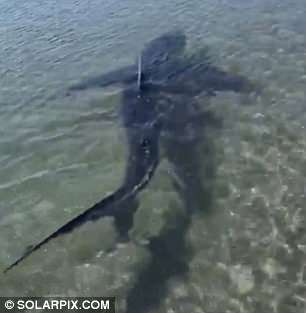 Bathers immediately went out of the water upon instructions as the local police and Civil Guard launched a search. It had yet to be found by late lunchtime.
At first, people saw the shark swimming off Torreblanca beach. Hours after, some believed that they have spotted the same shark at Malaga off the shore of Los Boliches.
Startled onlookers took a footage of the fish swimming through the shallow waters of Costa Del Sol. Authorities said it is a tintorera or blue shark.
Fuengirola beach is among the British and Irish tourists' favourites at Costa Del Sol.
Within the bounds of the Mediterranean sea, blue sharks are among the most common species.
Previous Cases
In fact in July 2016, the same type of shark attacked an excursionist in Elche near Alicante.
The 40-year old victim was hurried to the hospital and received stitches on a wound in his hand.
Aid-givers said the bite was "large" and that the victim went out of the water with blood coming out of his injury.
Also, bathers fled the sea in Cala Major near the Majorcan capital Palma last year at the sight of a similar species.
It was June 24 when the 8-foot long blue shark forced holidaymakers out of the water. Photos showed tourists running towards families with children on lilos avoiding an attack.
Aboard jet skis, life guards helped kids on an inflatable water park and dinghies get off the water and stay in a safe zone. Others blew their whistles to order swimmers out of the water immediately.
Unfortunately for tourists, authorities closed Fuengirola beach for five hours as patrol boats continue the search.
After hours of failed hunt, they eventually reopened the beach, declaring it safe anew.