All teens are different. Some teenage girls have entered their "I am a woman already and I can do what I want" phase. Some become even more romantic and emotional. Some start doing handiwork around the house.
But the fact of the matter is that many teenage girls want girly stuff. And without sounding stereotypical, I'm sure every teenage girl will love one of the designs we have below. They offer much more than comfort and privacy, two things teenage girls appreciate.
1. Soft Pink and Mint Green Colored Bedroom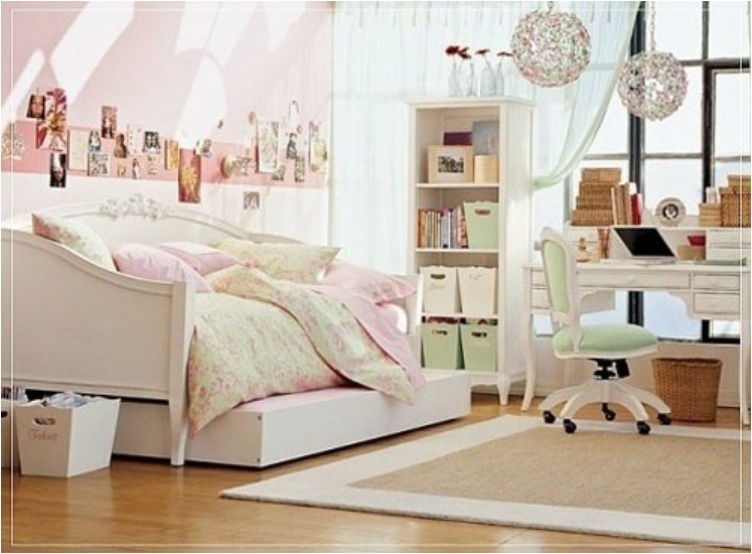 One way to know you're a teenage girl and not a toddler anymore? Your pink shades become softer and paler, and less pinky, girly pink. As you can see, this room offers a classy and elegant take on the pink color.
2. Purple Blue Bedroom with Media Center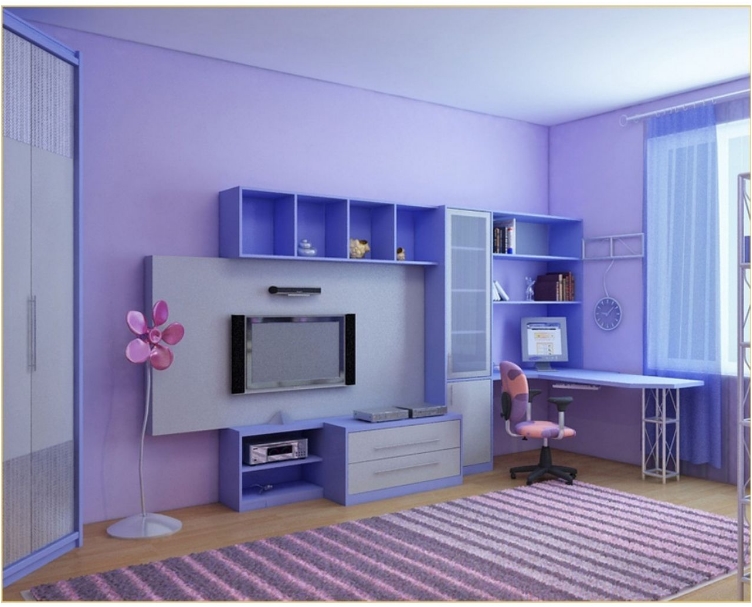 To be honest, media centers are more of a laptop nowadays. But you can still appreciate a good TV in the room. Especially if it comes with a Netflix subscription. And one thing is certain: this room is big. With so much space, you can actually feel comfortable in any area of the room.
3. Green and Blue Bedroom with Low Bed and Corkboard Wall Decor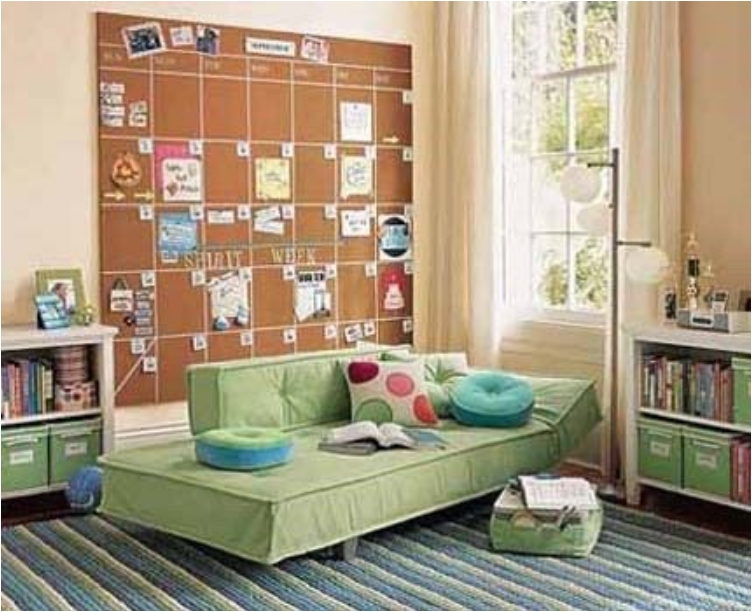 Feeling more like a student's room than a teenage girl's room, the focal point is the corkboard, of course—the place where you can put all your reminders. You have a test on Friday? Put it on the corkboard. You have a date with Shawn on Saturday? Put it on the board!
4. Pink and Black Bedroom with Vanity and Lounge Chair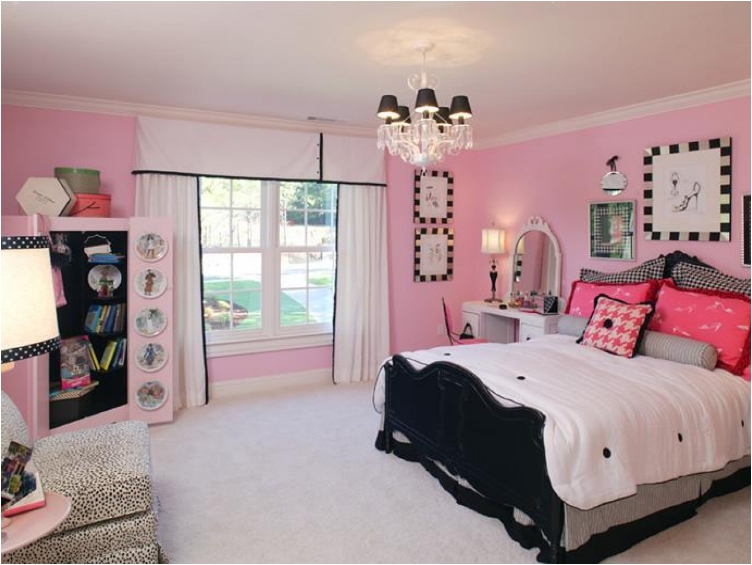 Teenage girls love to put on makeup. And with that being said, they need a place where they can do that. Therefore, we have a special "powder room" decorated in a feminine style.
5. Vintage Boho Bedroom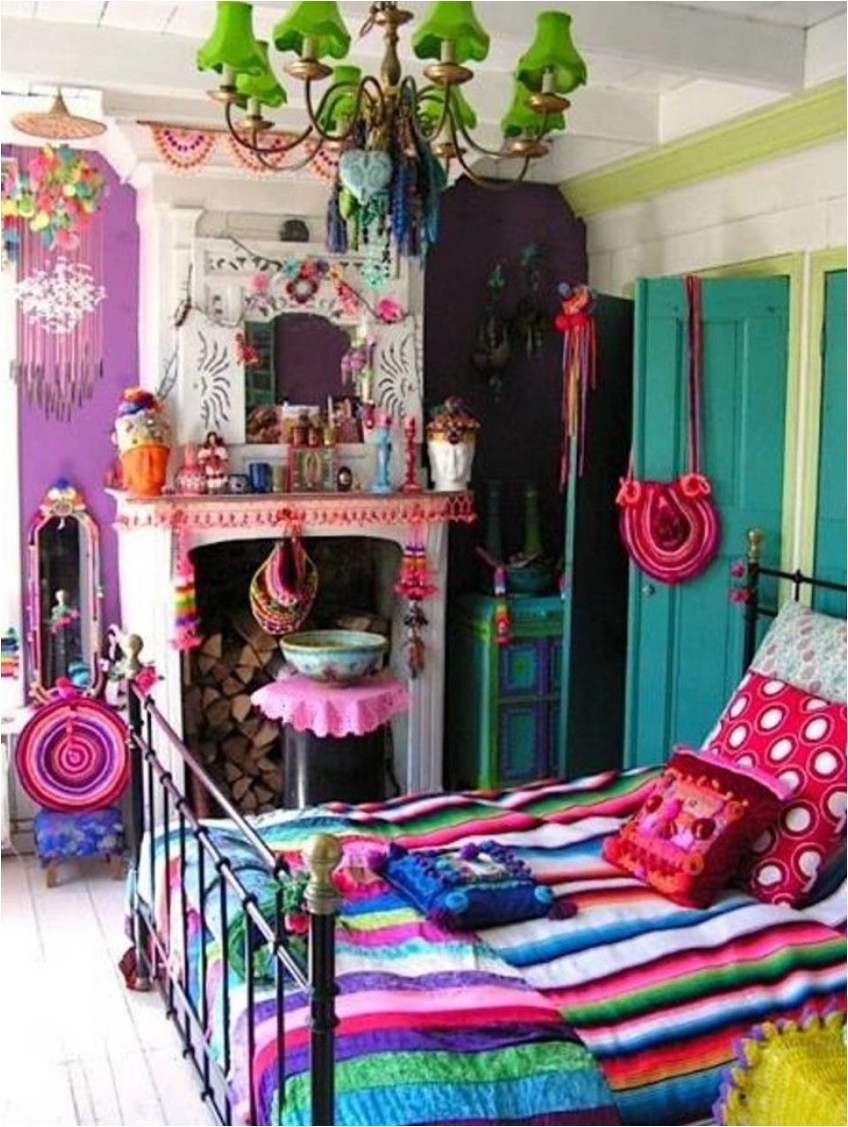 I said at the beginning that not all teenage girls are the same. And in that spirit, not all of them want makeup, girly stuff, and pink rooms. Look at this room, for example. I bet you wouldn't guess that a teenage girl lives here!
6. Blue and White Bedroom with Bookcase Around Bed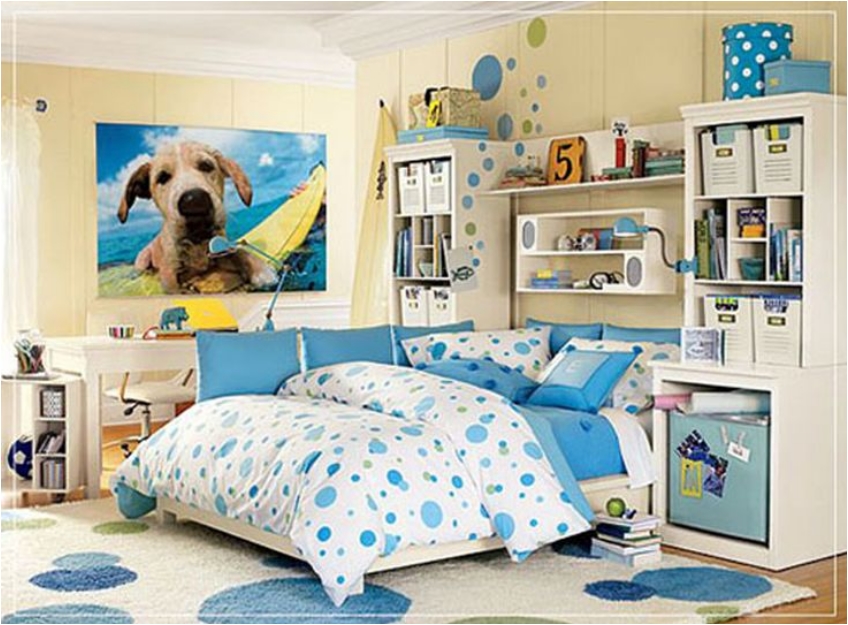 For your nerdy teenage girls, you have to have a bookcase in the room. And a large one, too. This bookcase, for example, ensures you have room for all the books your girl is reading. Be it books about science, literature, or textbooks, she has a place to organize them.
7. Purple and Pink Heart-Themed Bedroom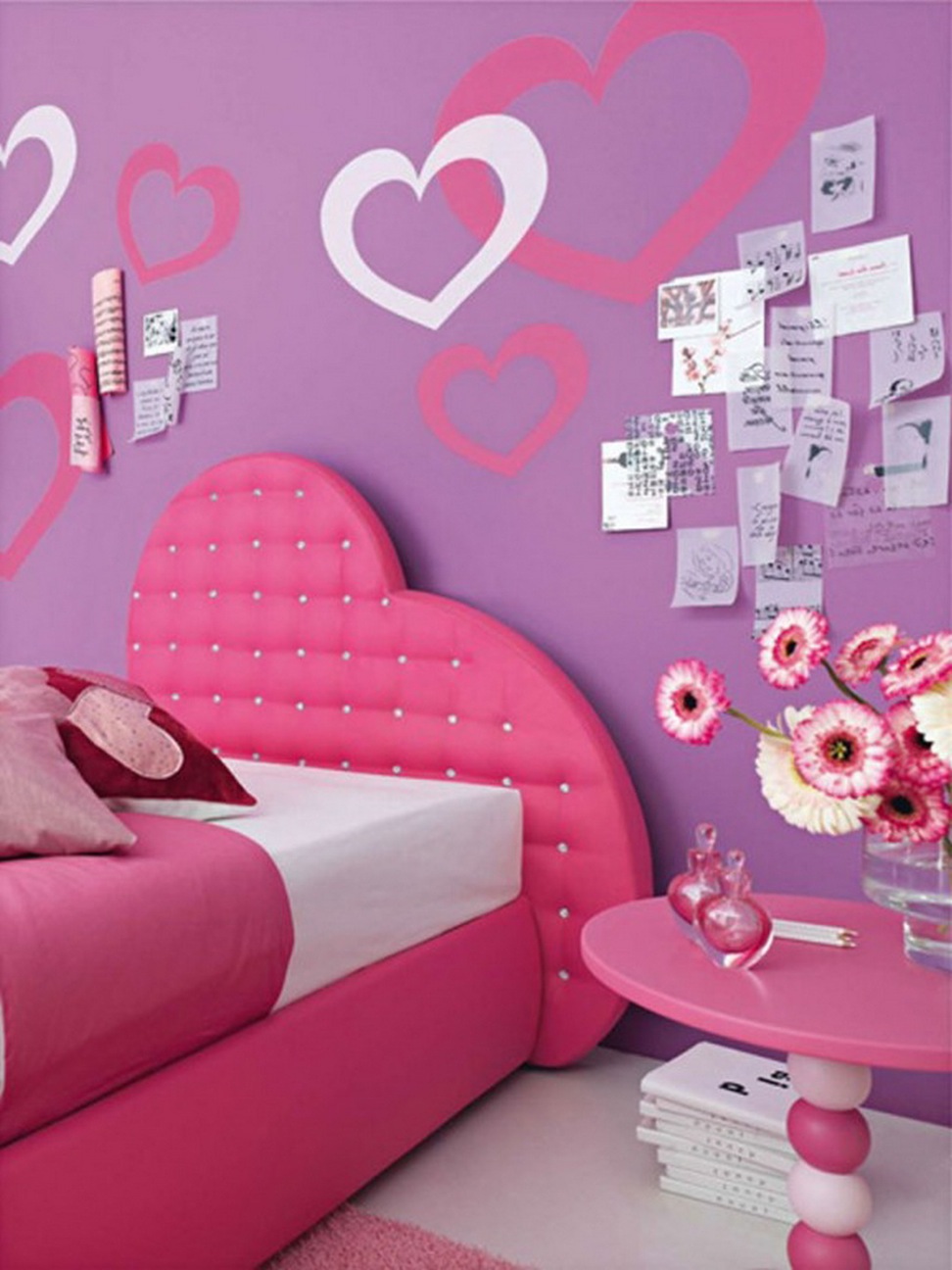 One of the best color combinations for teenage girls is purple and pink. The purple balances out the pink. It provides an elegant touch and feel to a girl's room. Ignore the hearts—of course they belong there. Do you know a teenage girl who is not in love? If not with someone at school, with some actor or singer for sure.
8. Warm-Colored Dancer's Bedroom
Girls fall in love with dancing at a young age. And when they get to their teenage years, that desire is even stronger. Especially in the era of hip-hop dancing, salsa dancing, and everything in between. Here we have a design tailor-made for a girl dreaming of a role in Step Up.
9. Black and White Bedroom with Loft Bed over a Work Area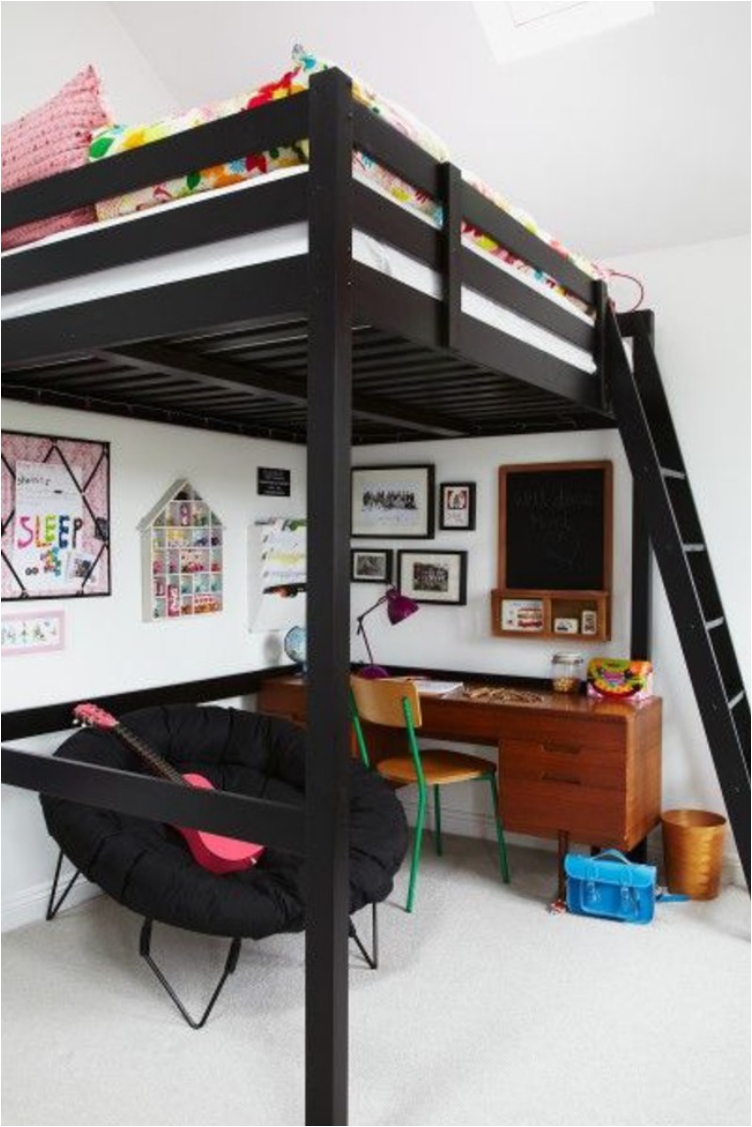 You might say that black and white is too much of a grown-up combination for a teenage girl's room. But that is just nonsense. Even those rooms can benefit from the classy look of black and white. And that loft is perfect for a girl who loves to study. Not all of us are blessed with a large room. The loft design certainly takes care of that space issue.
10. Pink Black and White Bedroom with Starry Canopy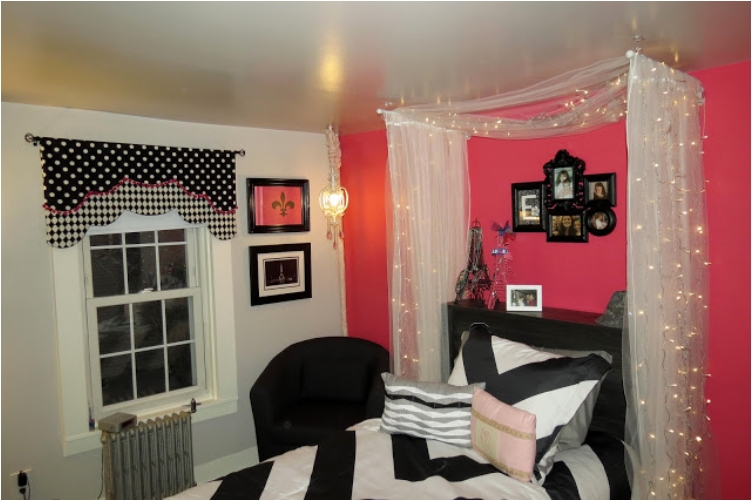 One way to make the black and white combination more girly is to add pink. It's that simple. Add pink to any combination, and you have a girly room. And with some glitter and stars? Well, now you're talking next level!
11. Compact, but Cozy, Purple and White Bedroom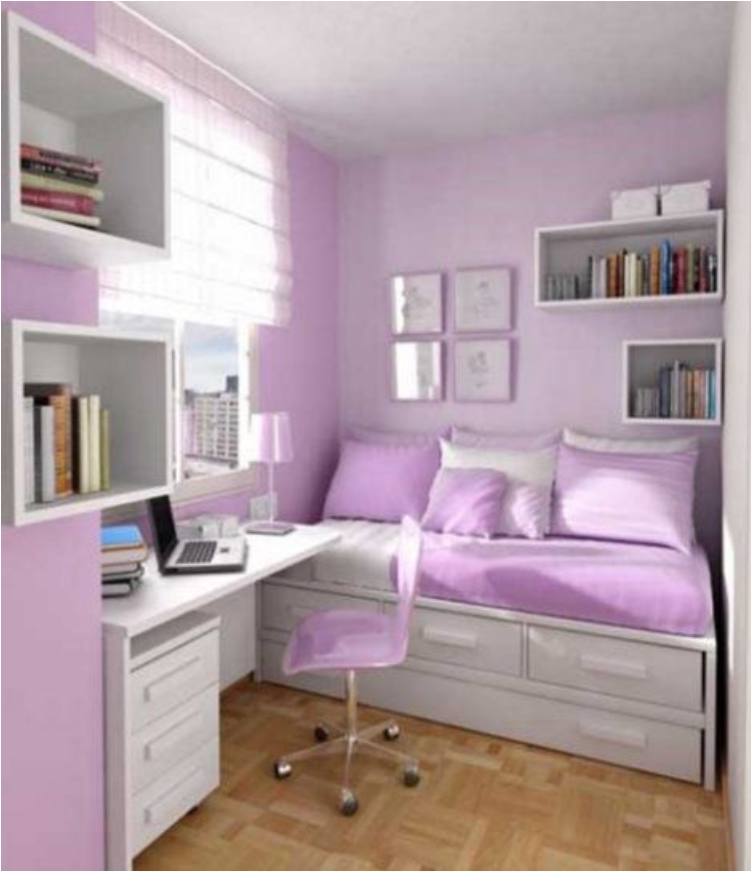 This room looks like it is right out of the IKEA catalogue. Just look at how simple it looks. Everything has a purpose and a role to play. And of course, there are millions of drawers.
12. Gray and Orange-Colored Bunk Bed Bedroom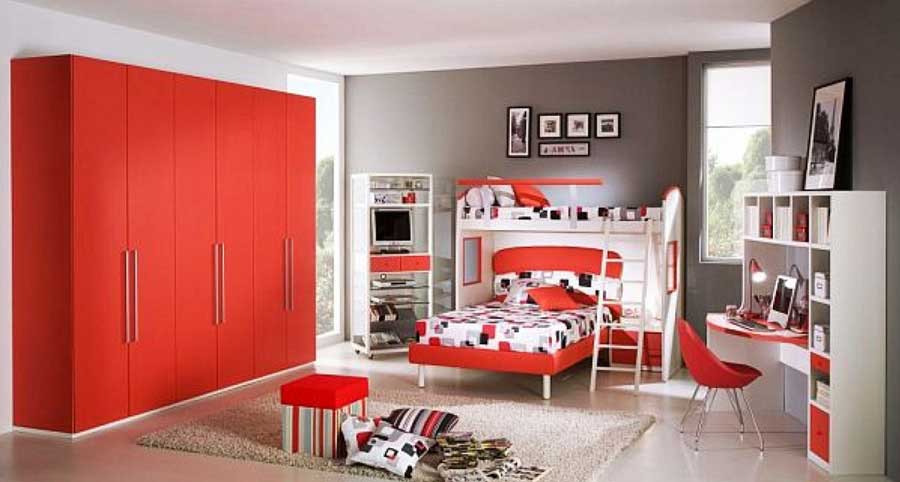 Every year we get a new trend in interior design. And in that spirit, bunk beds have been on our radar for quite a while. The bunk bed saves you space and gives you storage options. Is there a room that can't benefit from that?
13. Rocking Black Bedroom with Hanging Lights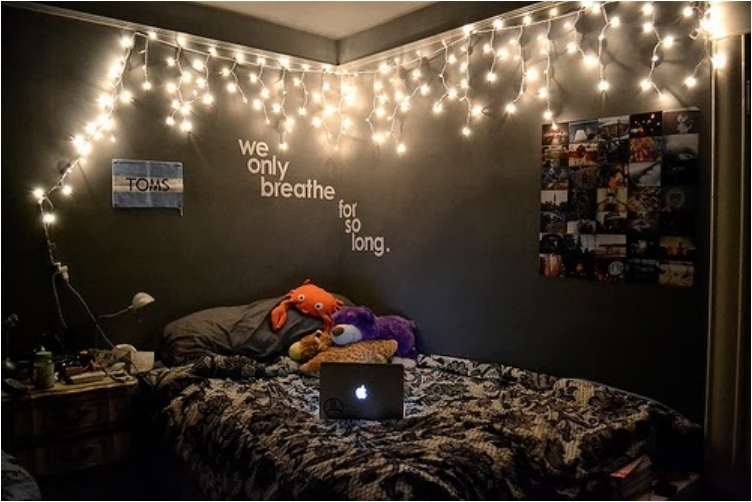 You might find it scary and morbid, but there's nothing wrong with a bedroom painted in black. Especially when you have so many lights. Now, the message on the wall might be a bit too pessimistic, but it is what it is.
14. Turquoise and Pink Bedroom with Window Nook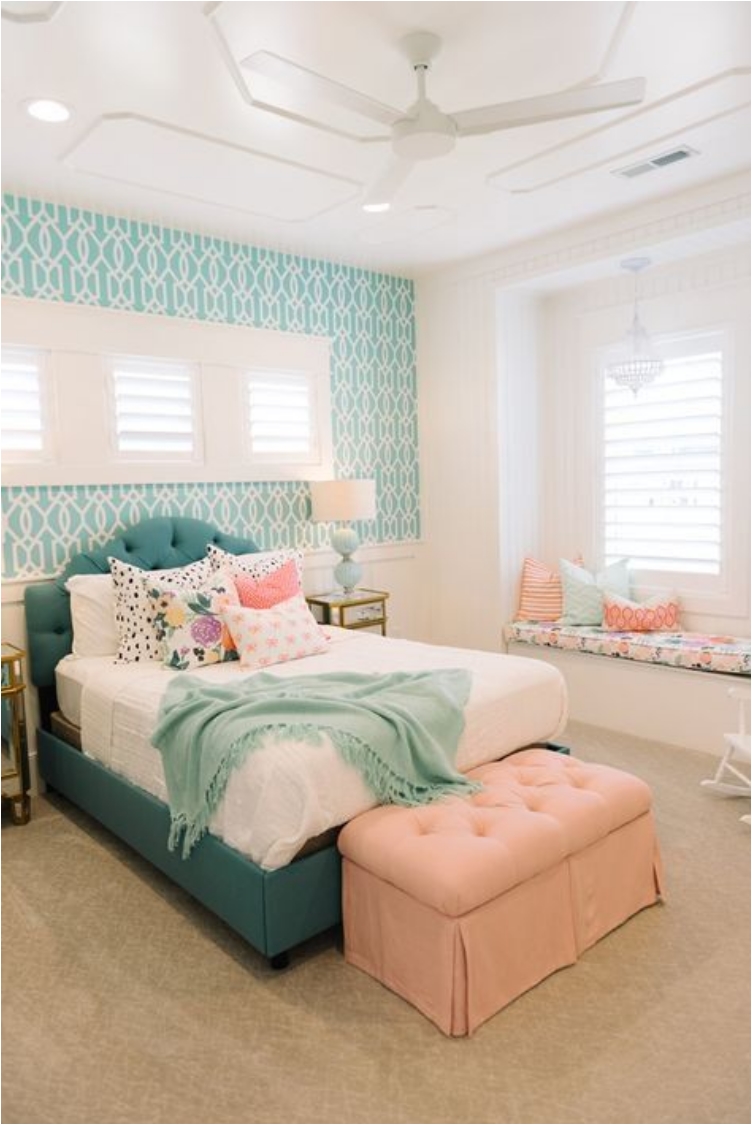 This bedroom is definitely decorated so that your teenage girl can have friends coming over all the time. Just look at how much seating space you have. There is that nook by the window, but also at the table in front of the bed. You know there will be some gossiping going on here!
15. White and Dark Pink Bedroom with Floral Wall Art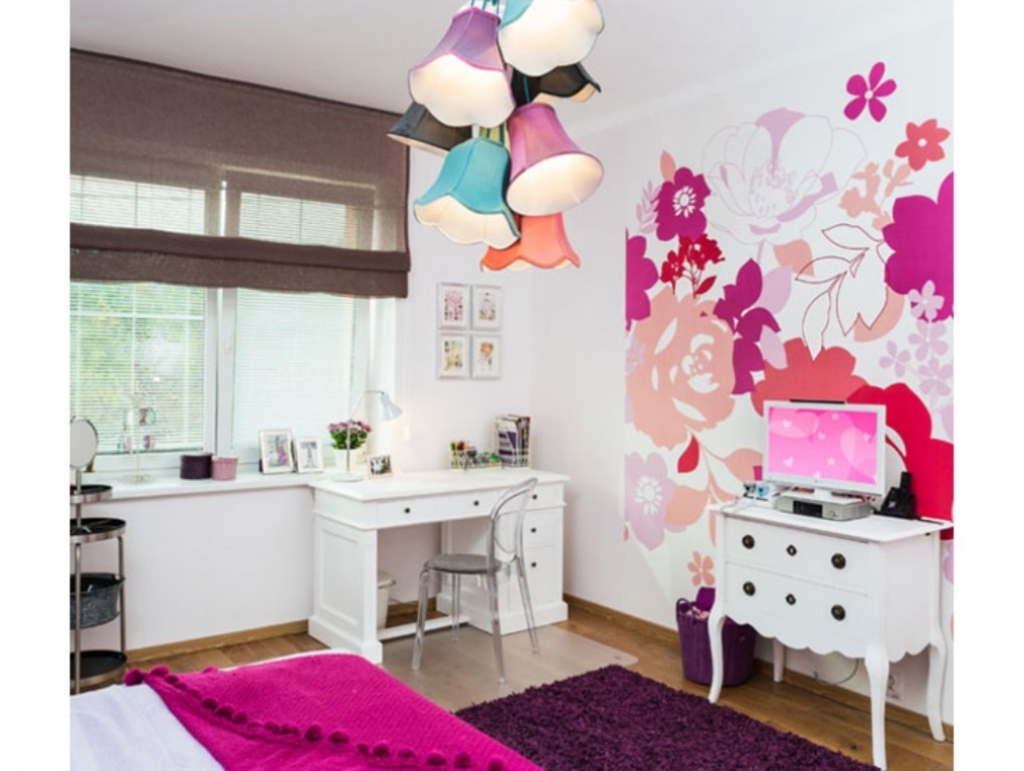 Wall art is something you can add to any room and instantly transform it. You go from dull and boring to unique and amusing. Definitely a life saver.
16. Small Yellow Bedroom with Desk and Closet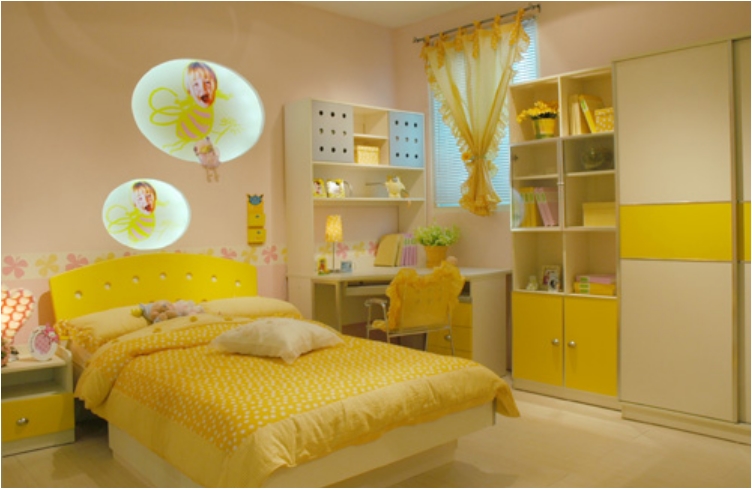 As your kids grow older, yellow is a color you should definitely start using. I always say that parenting experts don't recommend yellow for toddlers. The reason is yellow is an energetic color, and it encourages hyperactive kids. But in a teenager's room? You can definitely use it, especially the sunny yellow shade.
17. Black and White Floral Bedroom with Bookcase and Under Bed Storage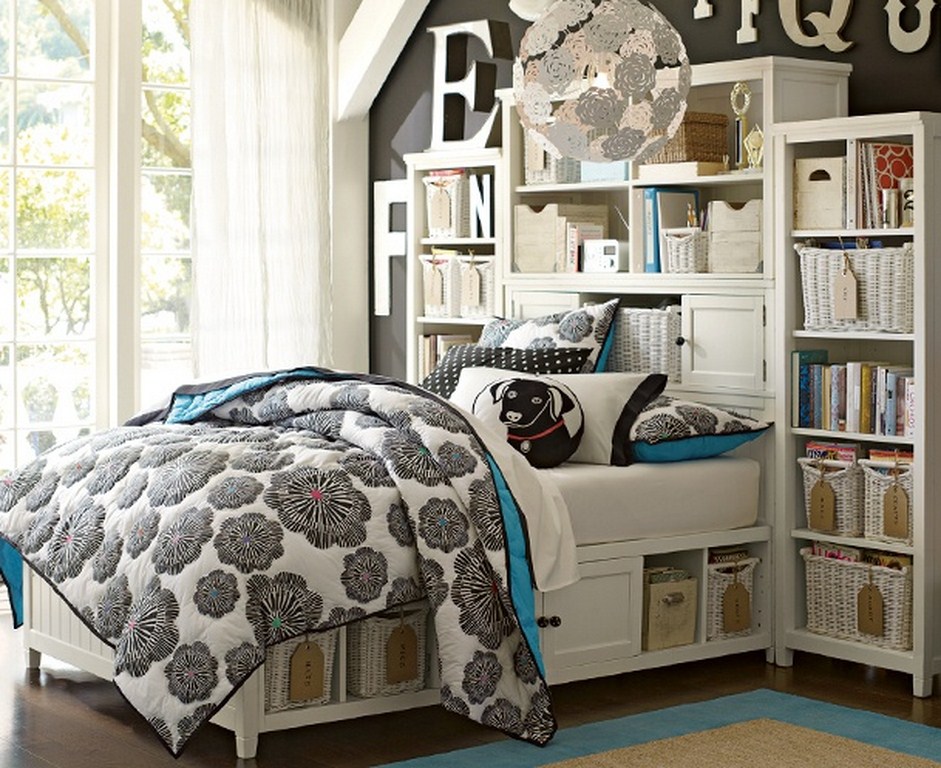 We've already mentioned that you need a lot of storage space in a teenage girl's room. There are lots of books. And there are a lots of clothes. With space under the bed, you know there will be enough space to fit everything.
18. Two-Bed Bedroom with Tufted Twin Headboard and Upper Level Area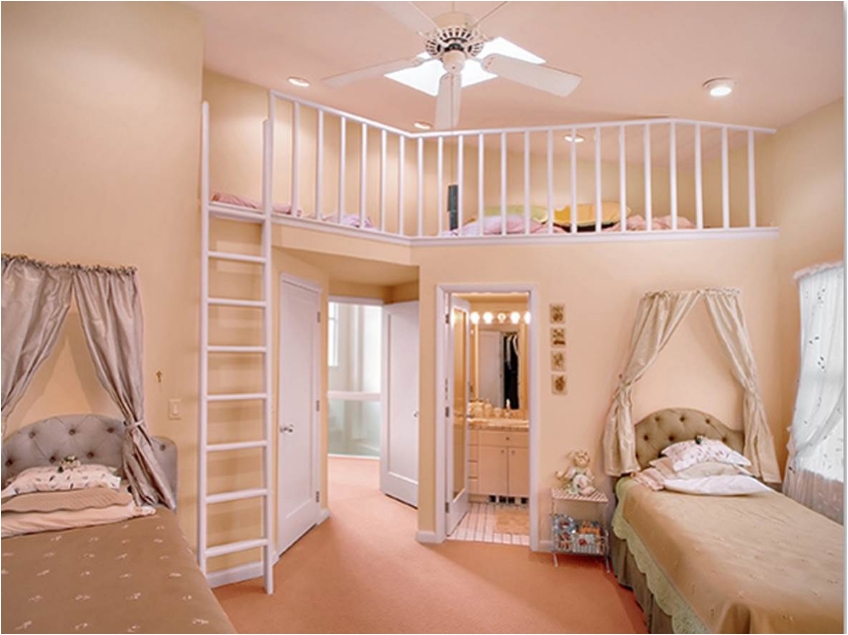 I'm not sure, but I'm thinking that Paris Hilton and Nicky Hilton slept in something similar. This teenage girl's room is definitely fit for princesses. We can all dream about that, right?
19. White and Red/Pink Angel Bedroom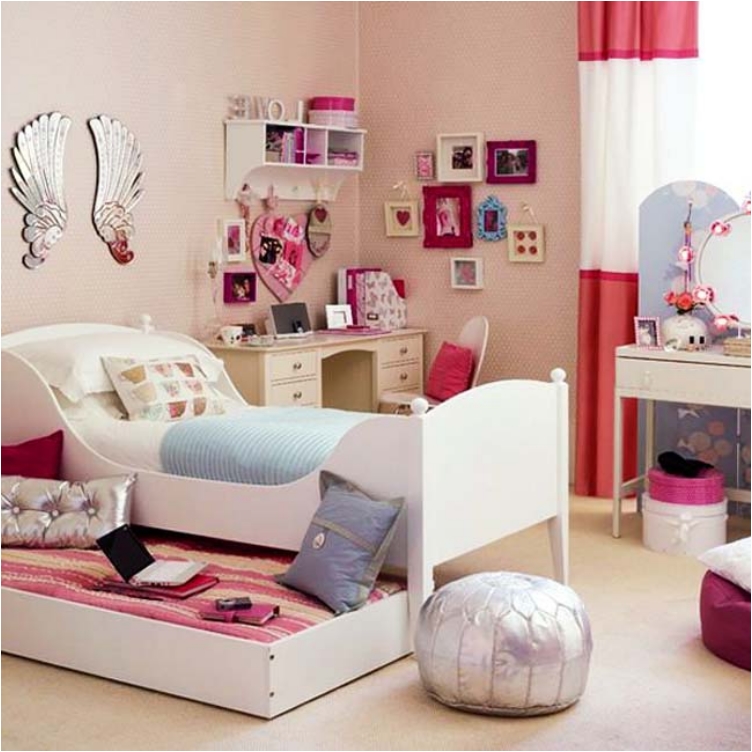 To be honest, you can definitely find better angel wings. But what I love about this room is the hidden features. For example, the pullout seating area under the bed. Definitely very practical and useful to have.
20. Bohemian Bedroom with Hanging Dome Chair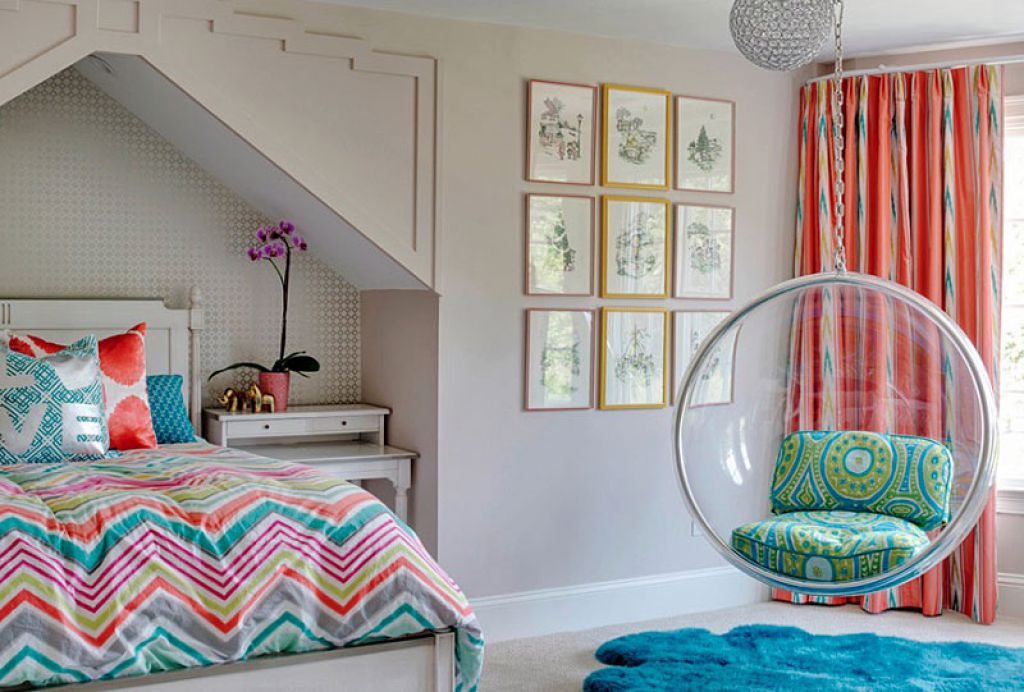 Let's be honest for a moment. I don't think there is a single person who wouldn't love a hanging swing or chair in his/her room. What I really love, however, is the clean and neat look, with the white-gray shade on the walls setting a perfect background for the colorful furniture.
21. Colorful, Modern Bedroom with Bright Orange Walls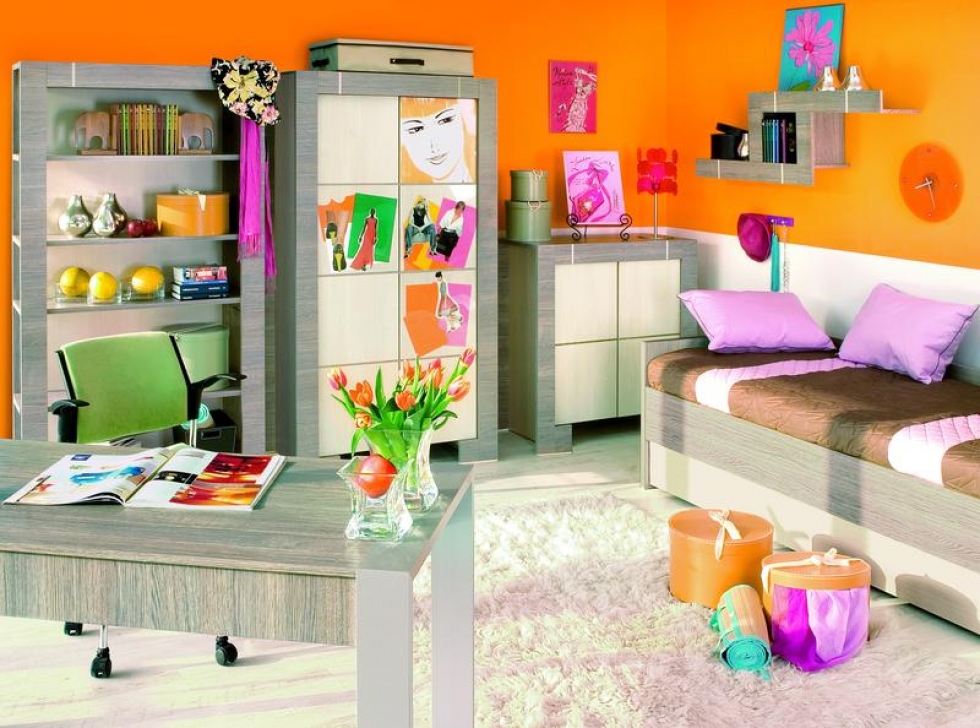 Speaking of colorful bedrooms, this is definitely at the top of the list. There are just so many colors, but the good news is that they all complement each other. The orange is a perfect background color.
22. Lime Green Bedroom with Storage Shelves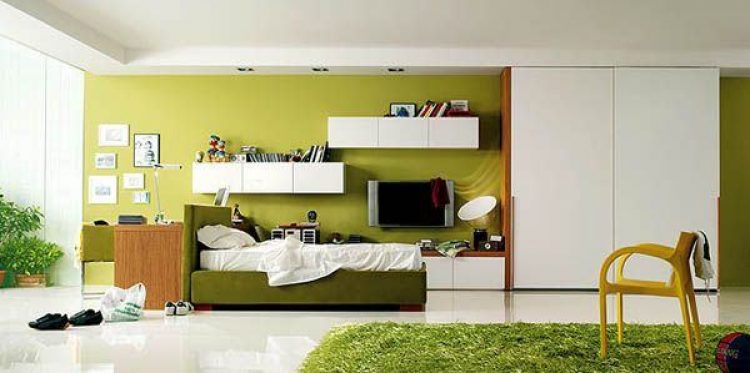 There is something good about rooms that are versatile and practical. And this one definitely fits the bill. You can say it is a living room with a bed inside.
23. White and Turquoise Bedroom with Loft Bed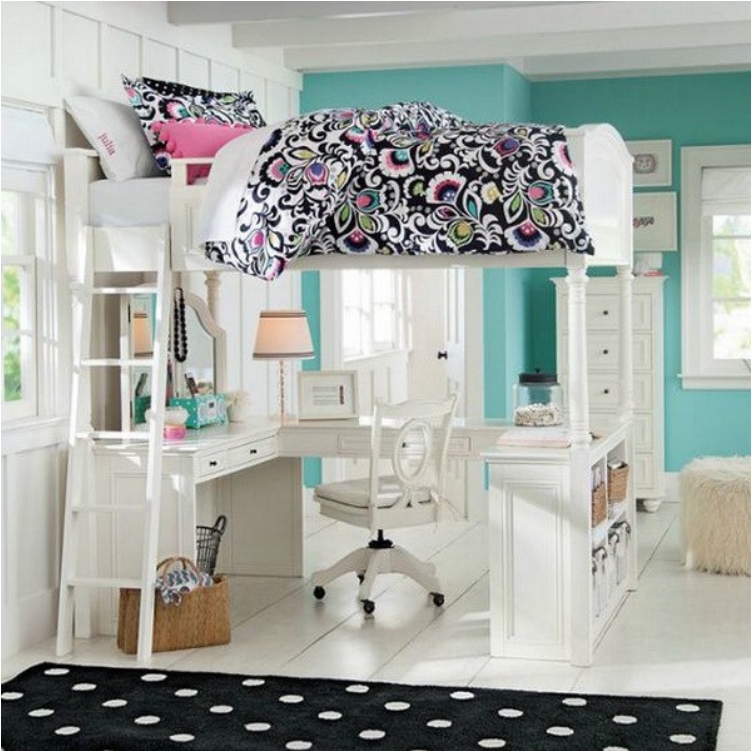 We had a loft bed previously, and I mentioned how much space you save with a loft bed. Basically, you have two rooms in one. The only challenge is that you have to have a room with a lot of height.
24. Pretty Pink Compact Bedroom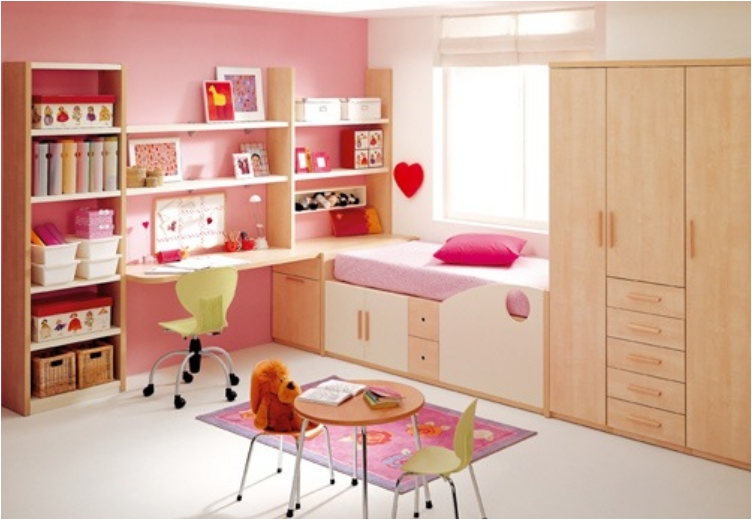 Another bedroom design that looks like something from an IKEA catalogue. It's all about getting a practical and functional design. Every single piece of furniture has a unique purpose. And as I've said before, a lot of drawers to store your stuff.
25. Purple Bedroom with Four-Poster Bed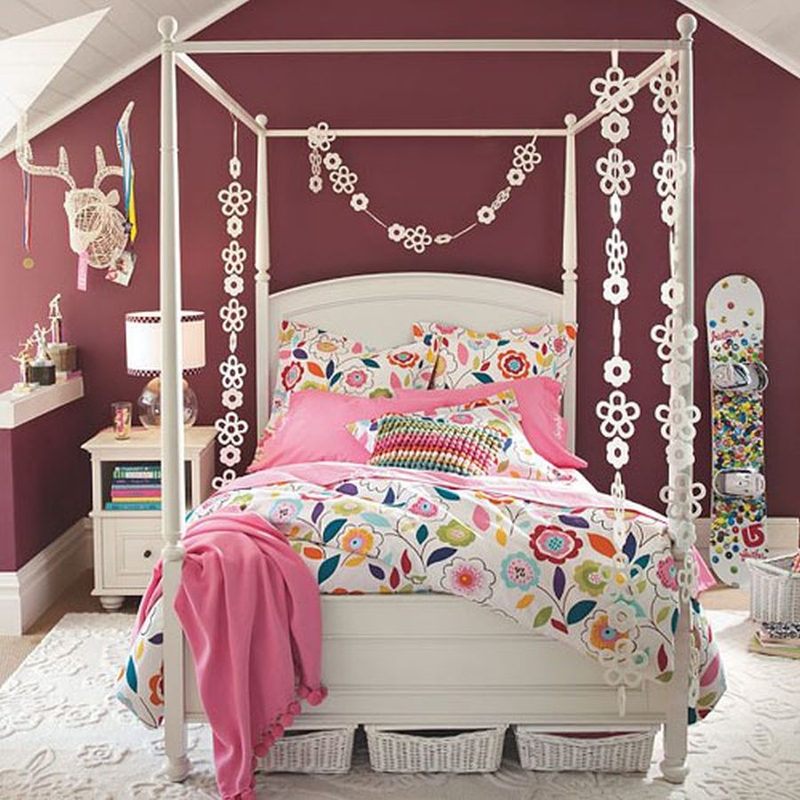 Four-poster beds are not standard for a bedroom—at least not for a teenager's bedroom. But they certainly work from time to time. I love the accessories flying around.
26. Green and Blue Bedroom with White Furniture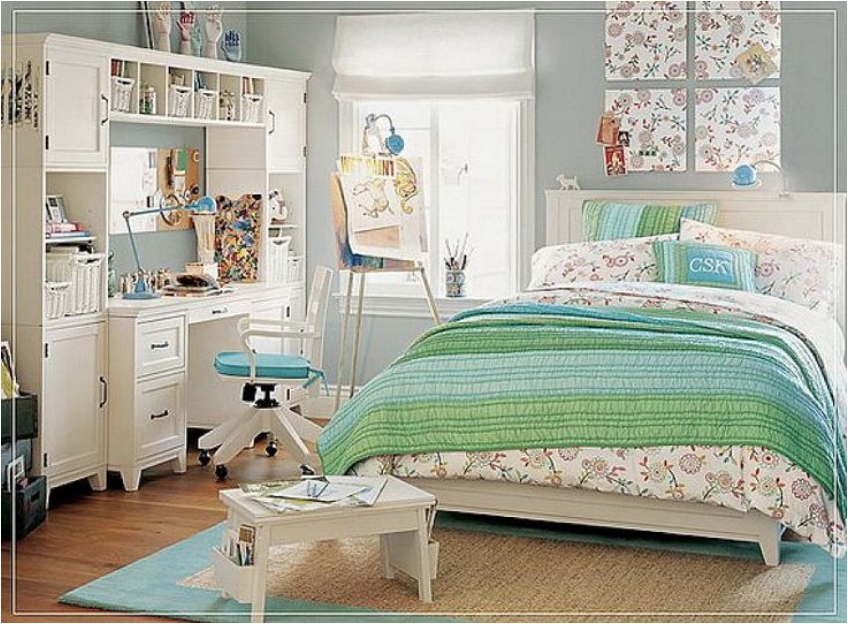 When you opt for a white background, decorating is easier. White pairs well with every color. You can opt to go one of two ways. You either go with bold colors for a contrast. Or you can go with colors that are similar in terms of paleness. The blue and green in this case fit the latter category.
27. Purple and Mint Green Attic Bedroom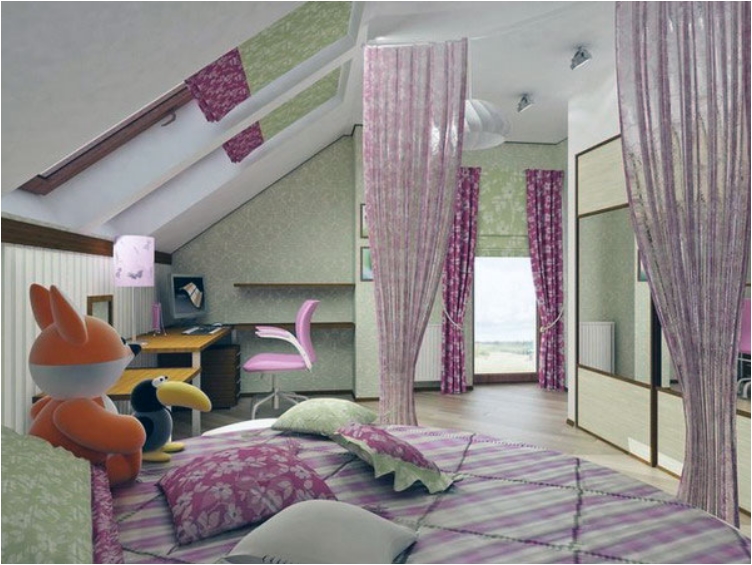 The attic is one area that people underestimate in terms of functionality. People often think that the attic is just too small to be functional. But they're often wrong. This room is just one example of how you can live in the attic.
28. Rustic, Two-Girl Bedroom
With the rustic style making a big comeback in interior design, a kid's room is one where you would least expect it. Let's be honest—the rustic style is more of a grown-up style. But if you want to add warmth to your kid's room, there's no better way.
29. Narrow Bedroom with Pop Wall Art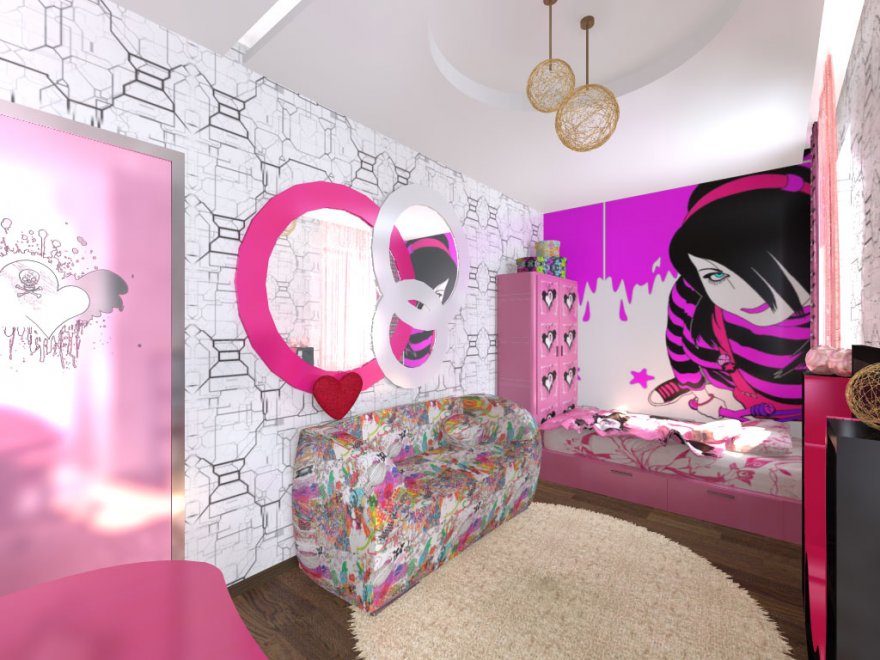 Now this is definitely a room for a rock star. Or a girl who loves rock and alternative music. But she's also a girl, so she wants pink stuff. A perfect balance of two seemingly opposite worlds.
30. Black and Purple Fashionable Bedroom
Black and purple is something that comes right out of a fashion magazine. You can be sure Anna Wintour approves of this design.
31. Sporty Bedroom with Earthy Tones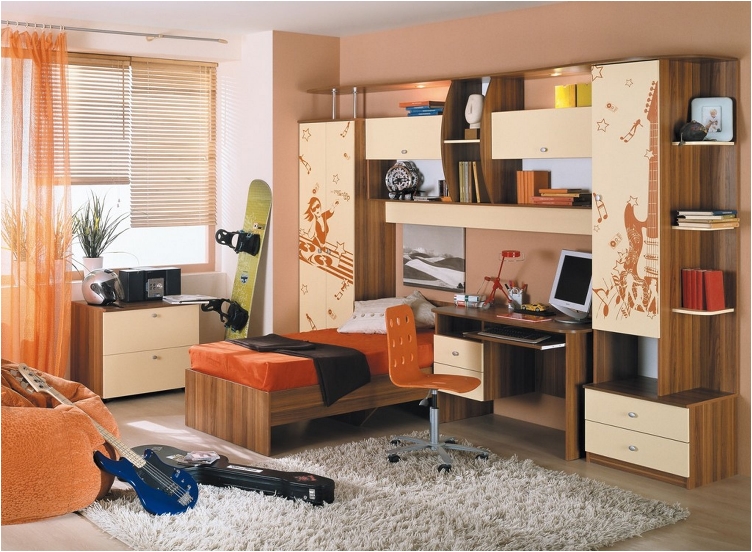 Contrary to popular opinion, girls do love sports. Some even more than boys. This room definitely emphasizes that sporty spirit. And it all starts with the colors.
32. Green and Purple, Twin-Set Bedroom with Desks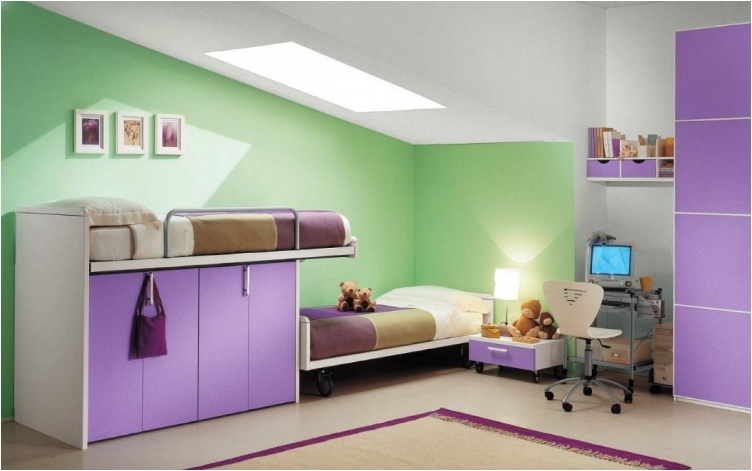 Simple, classy, and functional. Living with a twin can be challenging. You need lots of space, since there are two of you living in the room, but this room gives you enough options.
33. Modern Bedroom with Minimalist Closet Storage Bed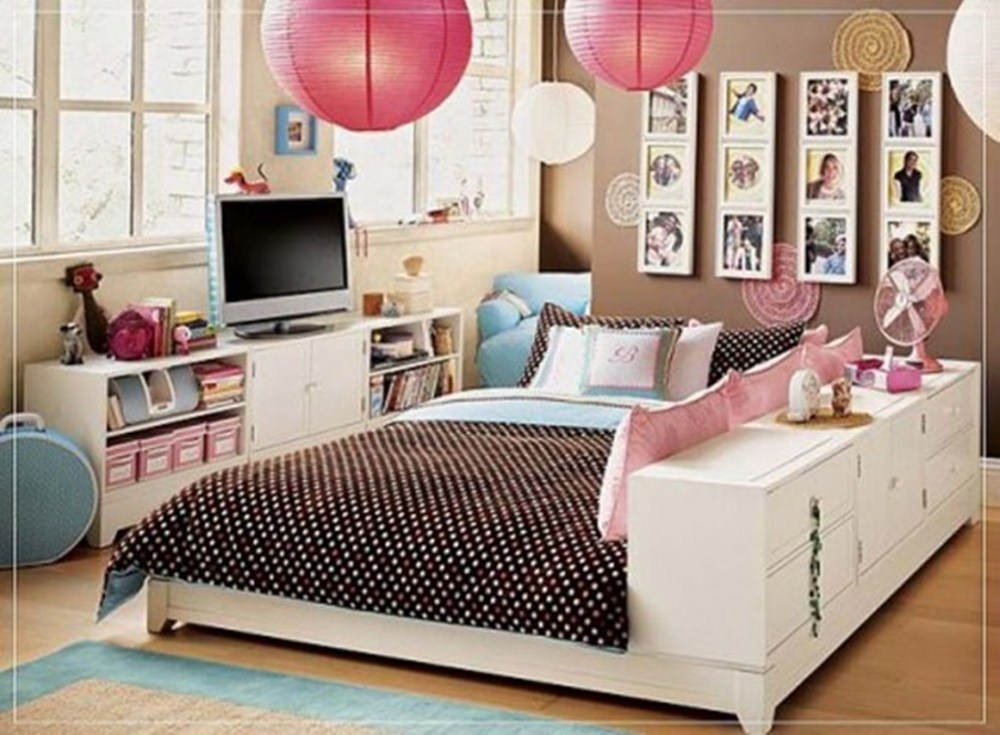 There are just so many ways and tricks you can use to add extra storage space. In this case, we have a cabinet at the side of the bed. And it's definitely a trick we could use in a grown-up's bedroom as well.
34. Small Cream Colored Bedroom with Colorful Pink Wallpaper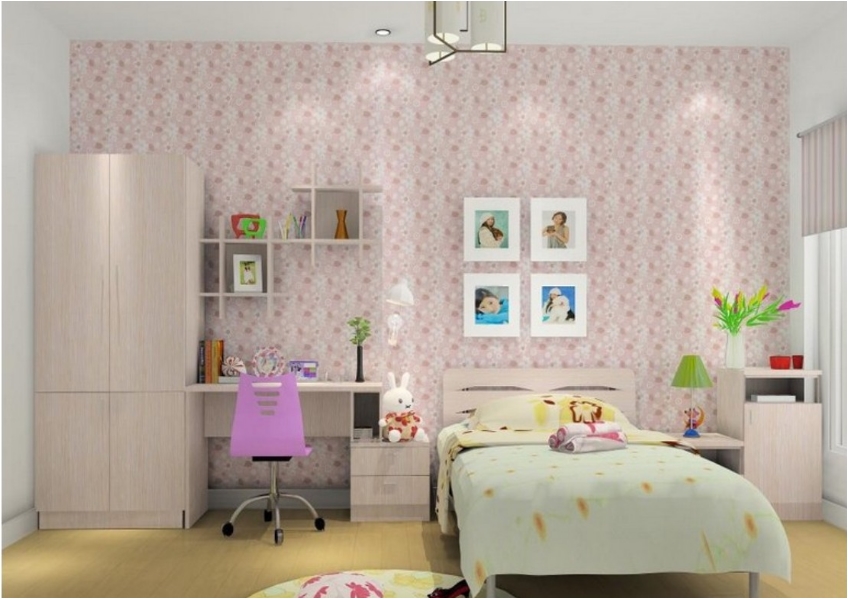 Wallpaper is in the same category as wall art. One simple wallpaper pattern and your room gets a different look. Wallpaper changes the complete look and feel of the room.
35. Small, Baby Blue Bedroom with White Furniture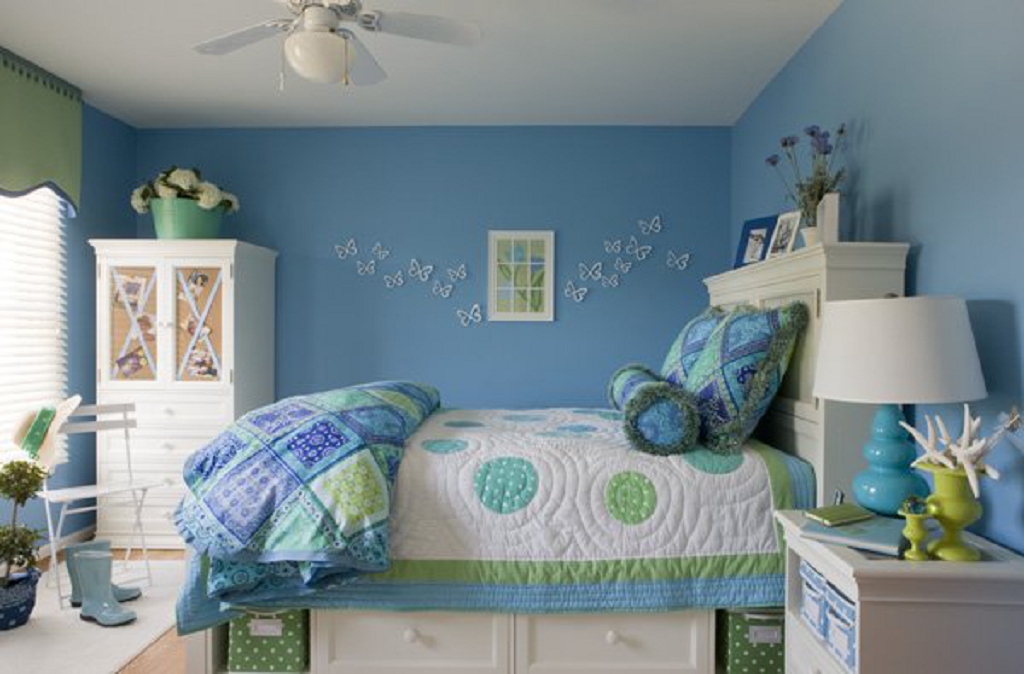 I spoke previously about how white is perfect for the basis of a room. But you can also use white as a complementary color.
36. Vintage Princess Bedroom with Canopy Bed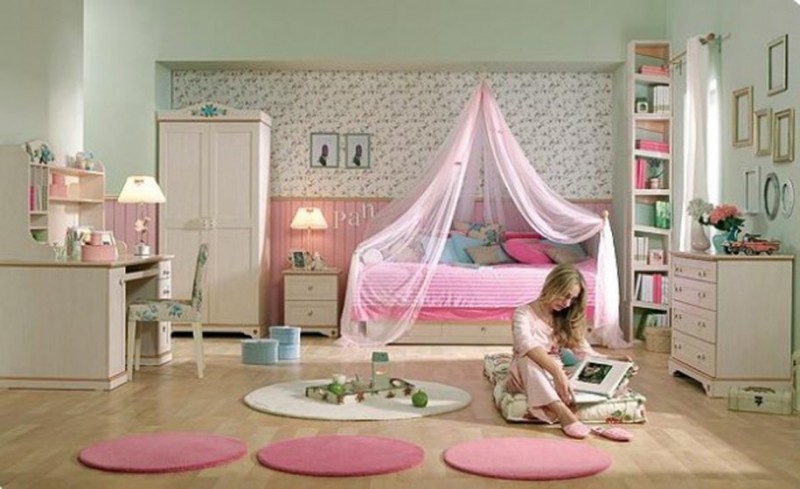 Last, but not least, we have a princess room. After all, some teenage girls never outgrow their princess phase, and there's nothing wrong in that!