Scars look unpleasant, that much is true. They're usually the result of an accident, a tragedy, or something else. And scars often make you feel uncomfortable. People try to cover them with clothing or some other means so they're not noticeable.
Today, I want to show you that there are ways to cover your scar with a tattoo. Doing that will give you a shiny, new tattoo and boost your confidence. And of course, the scar will be "gone" (at least, nobody will be able to see it). Just think about this for a second. Would you rather people see your scar or your tattoo? The fact of the matter is that you can't easily erase a scar, but you can always turn it into something beautiful.
1. Black and White Flower Design Down the Spine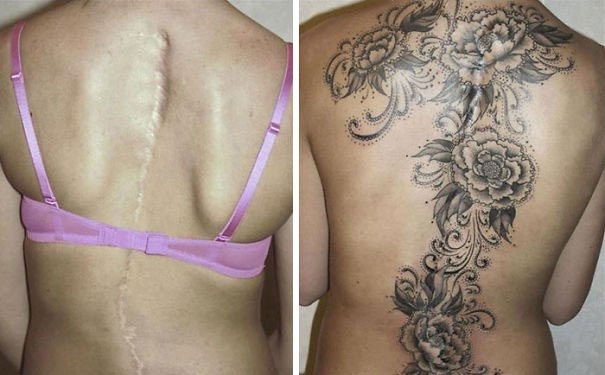 First and foremost, this is a large scar to cover. A scar down your spine requires a big tattoo. And a rose is exactly that. You can even find some symbolism in the rose, as the flower is a symbol of a new beginning and hope.