Are sunspots stopping you from stepping out into the sun? For people with sunspots, it can be really difficult to cover up. And if you are not a fan of makeup, sunspots on the skin can ruin your look. The good news is that you do not need to worry so much.
While sunspots occur naturally when your skin is exposed to harsh ultraviolet rays of the sun, there are ways to get rid of them. Sunspots on skin do not have a particular shape or colour, and they can appear on any part of your body.
As long as your body has been exposed to the sun, sunspots can appear. That includes ears, arms, hands, cheeks, nose, upper lips, and more. With that in mind, we are going to look at different spots on the skin, and how to identify sunspots.
And we will also provide several home remedies for how to get rid of sunspots naturally.
How to get rid of sunspots naturally?
The good news is that sunspots can be easily removed with natural remedies. There are always over the counter medicine you can try, but natural remedies come without the risk of side effects.
With that in mind, here are some natural remedies for sunspots you can try.
Lemon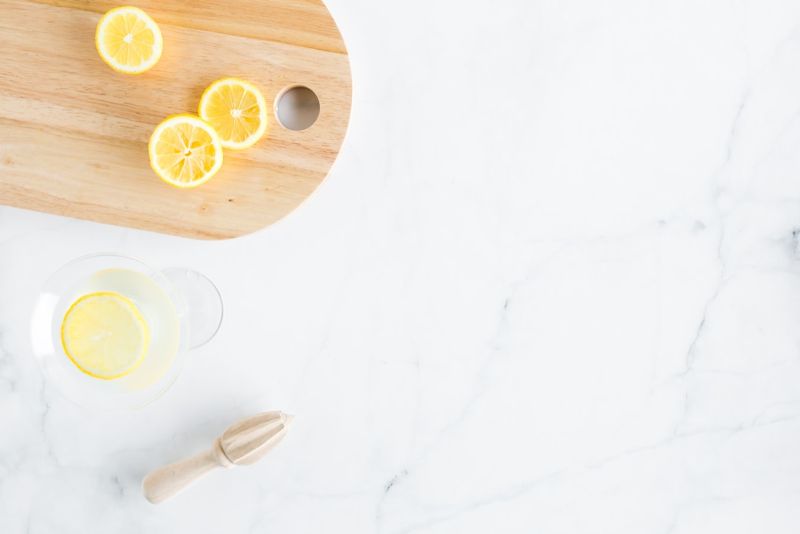 For this remedy, you need one fresh lemon. Squeeze the lemon juice, and then apply on the affected area using a cotton ball. Let the lemon juice work its magic for 20 to 30 minutes, and then wash off with water. Pat dry.
Another way to use lemon is to mix a tablespoon of lemon juice and a tablespoon of sugar. Use the mixture as a scrub, and apply on the affected area. Scrub for two minutes, and then leave it for 10 minutes. Rinse with water.
You can the lemon juice every day, while the scrub should be applied at max three times per week.
Castor oil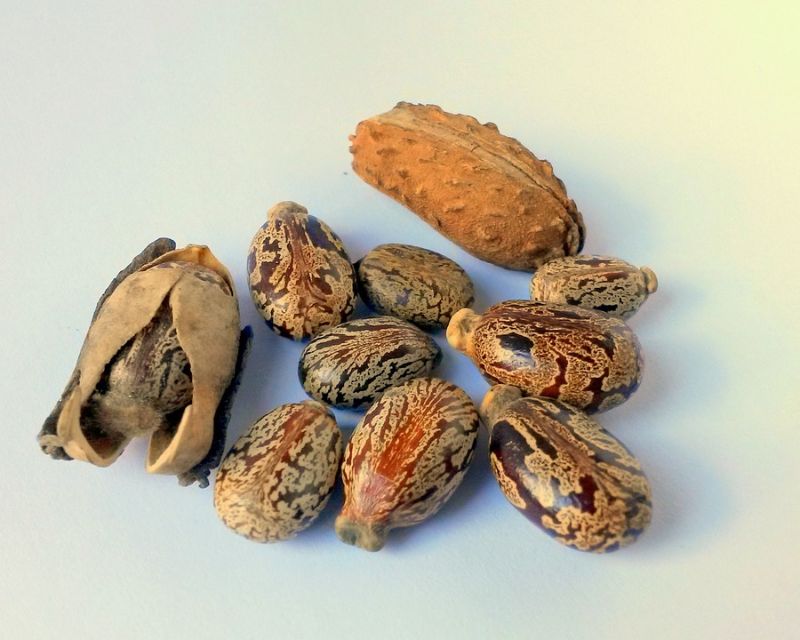 With its ability to deeply nourish the skin, castor oil helps to lighten the spots and blemishes. Rich in essential fatty acids, castor oil will give your skin an even look and tone.
All you need is a few drops of castor oil. Apply on the affected area, and then massage for a few minutes. Leave the oil on your skin for one hour, and then rinse it off. Repeat one or two times per day.
Aloe vera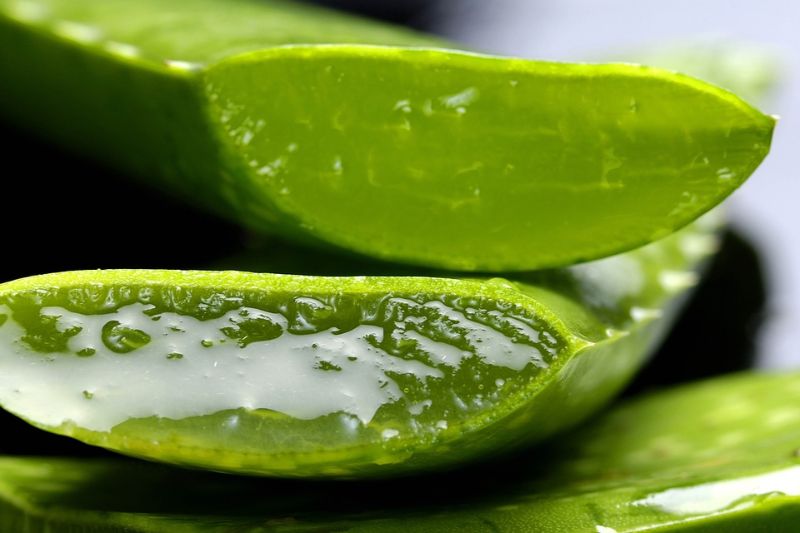 A staple in the cosmetics and skincare industry, aloe vera contains compounds that have natural healing properties. It will help you lighten the dark spots and skin damaged by the sun. Aloe vera helps the healing and regeneration process and improves the quality of your skin.
Extract fresh gel from the aloe vera leaves, and then apply on the affected area. Let the gel stay there for 30 minutes, and then wash it off. Repeat every day until the sunspots on the skin are gone.
Green Tea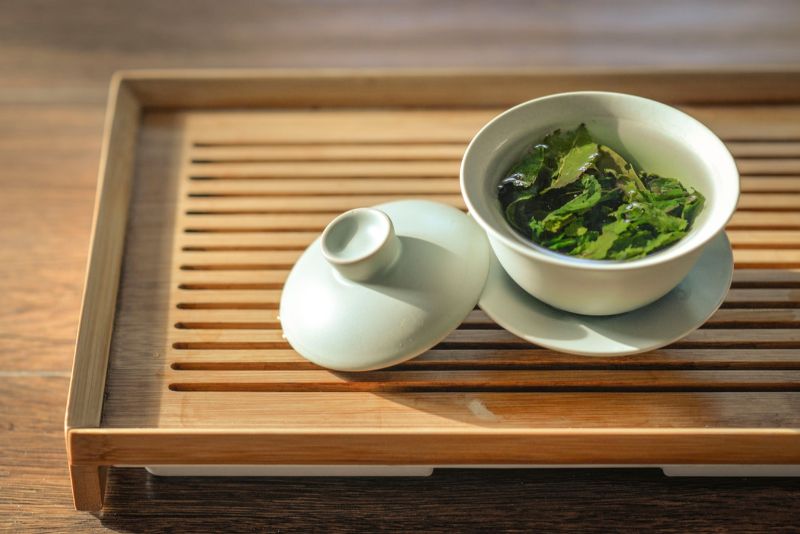 Green tea has become one of the most popular healthy beverages in the past few years. People drink it for fat loss, boosting metabolism, and much more. But you can also use it to get rid of sunspots on skin. Because it is rich in antioxidants, green tea can help with almost any skin condition.
For this remedy, you will need to brew one tea bag of green tea. Put the bag in a cup of hot water for 10 minutes. Remove the bag, let it cool down, and then place the tea bag on the affected area. Or you can cool down the green tea, and apply it on your skin with a clean cloth.
Buttermilk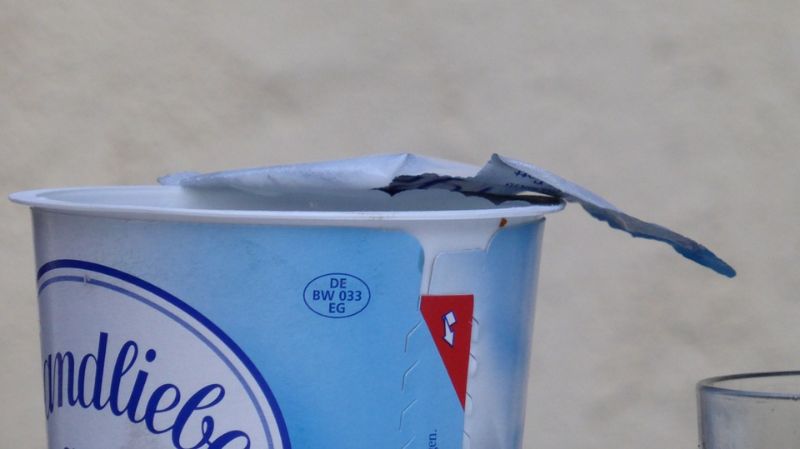 Buttermilk acts as an astringent. It helps soothe the skin and provides a bleaching effect on sunspots. All you need is one or two tablespoons of buttermilk and a cotton ball. Dip the ball into a bowl of buttermilk, and then massage your affected area. Let it stay for 10 minutes, and then rinse. Repeat the treatment two times per day for maximum effect.
Coconut water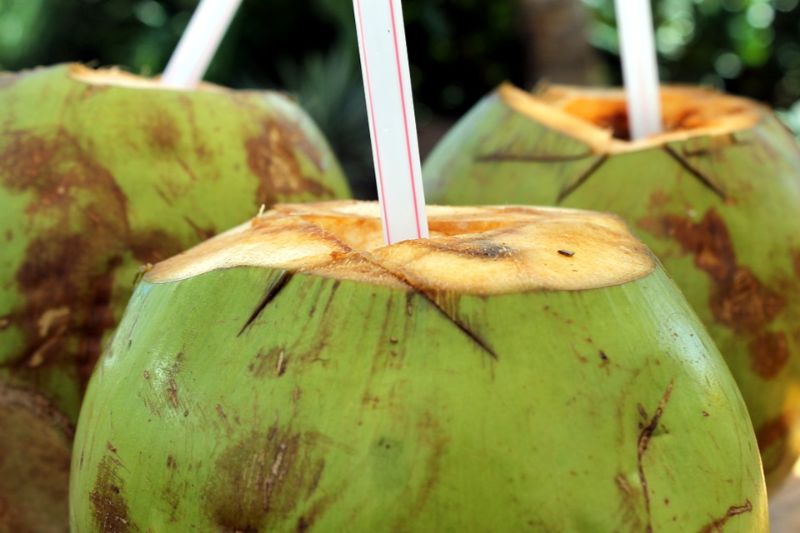 Another popular beverage in the last few years is coconut water. Coconut has been praised for its beneficial effects on our skin, and that is why coconut water is making headlines. Bonus points for the refreshing feeling of sipping cold coconut water on a hot summer day.
Coconut water provides essential nutrients for your skin but also flushes toxins out of the system. Apply coconut water directly on the sunspots on the skin, and then let it dry. After several minutes, wash it off with cool water. You can repeat the treatment two times per day.
Apple cider vinegar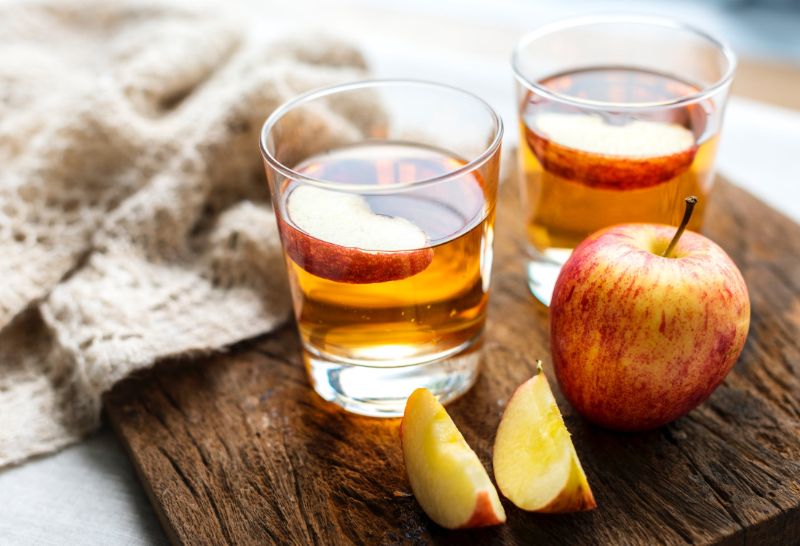 Apple cider vinegar is a staple in the kitchen, but also in home remedies. You can use it for almost everything, including improving digestion, regulate blood pressure, regulate sugar in the blood, and also for some skincare treatments.
For this remedy, you need 1 tablespoon of ACV, 1 teaspoon of honey, and 1 tablespoon of water. Mix all the ingredients together, and then apply on your skin. Let it stay there for 10 minutes, and then wash off.
Cucumbers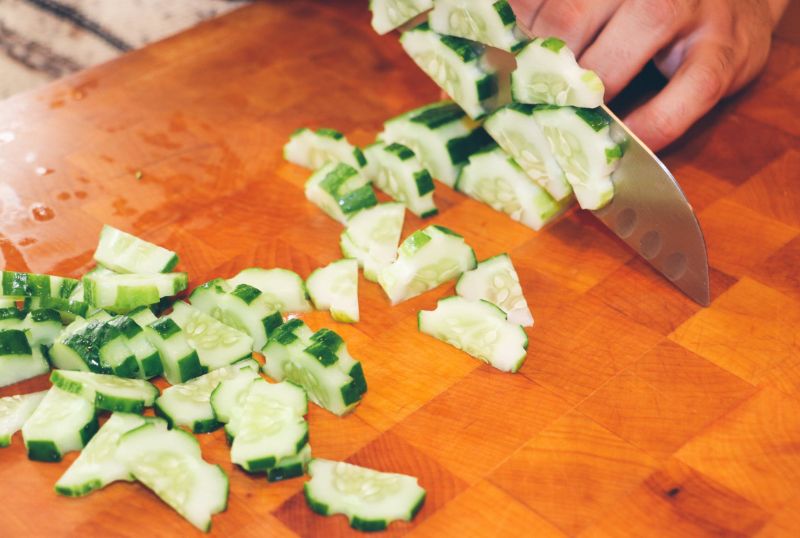 For people with dry skin, cucumbers are a lifesaver. Cucumbers should be part of your daily diet if you have dry skin. Because cucumbers are mostly made out of the water, and they have cooling properties, they help with hydration of your skin. Rich in vitamin C, they also help with depigmentation of sunspots on skin.
For the remedy, you need half a cucumber. Mash it, and then mix with 1 tablespoon of sour curd. Apply on the affected area, and let it stay there for 10 minutes. Scrub it off, and then rinse with water.
Tips for Prevention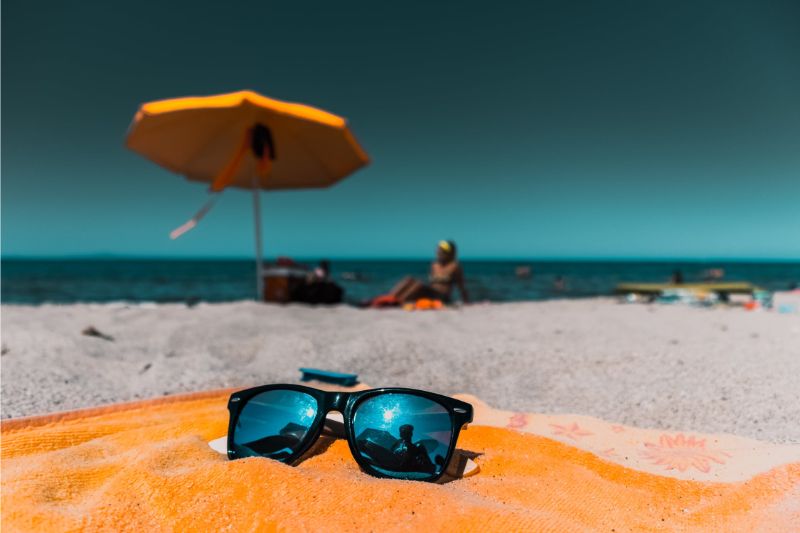 Now that we know home remedies for how to get rid of sunspots naturally, let's talk a bit about prevention. As you know, prevention is everything. If you manage to prevent sunspots, you won't need remedies for them in the first place.
Here are some tips.
Stay away from the harsh sun. If you are already tanned, do not step out in the sun too much
Carry an umbrella when walking in harsh sunlight
Wear loose-fitting clothes, and try to avoid dark clothes in the summer
Use sunscreen during the summer months, with an SPF of at least 30 or above
Try anti-tan facial products that help fight sunspots and pigmentation
Different spots on the skin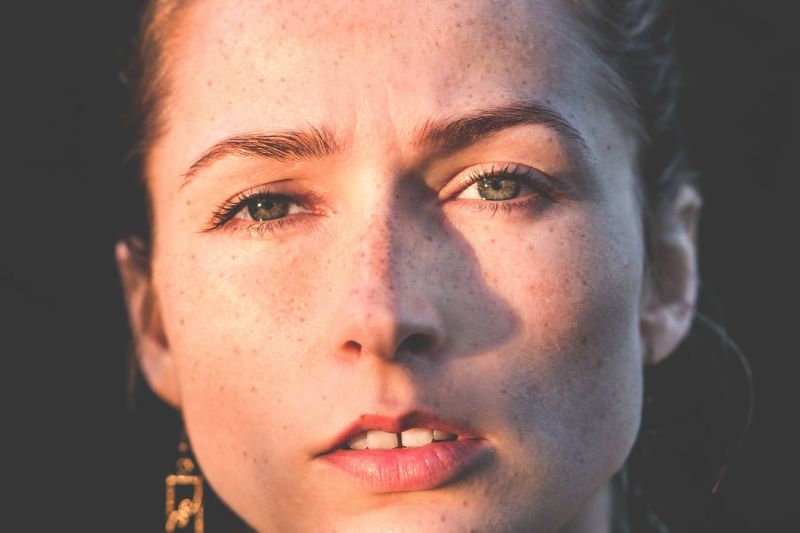 Sunspots are not the only spotting you can notice on your skin. People often mistake sunspots for other spots on the skin.
With that in mind, we need to take a look at all the different spots and understand how to distinguish sunspots on skin from other types of spots.
Sunspots
Whether you were born with them, or they mysteriously developed through the years, we all have brown spots on our skin.
They are the result of ageing and sun exposure. Sunspots are caused primarily by exposure to the sun. They look like freckles but are larger.
The reason for appearing is that our cells melanin production goes into overdrive after some time in the sun. And when our cells overproduce melanin, the area looks darker and forms a sunspot.
Moles
Moles can vary in size and shape. Most of us have at least one mole on their body. They can range from a birthmark to a growth that can be benign and malignant.
There is no way to determine the status of moles on your body without visiting a dermatologist. A good rule of thumb is that a safe mole should not be asymmetric, should not have an irregular border, should not be dark, and should not be larger than the size of a pencil eraser in diameter.
Of course, a mole should not be evolving. Treatment for moles depends on whether the mole is benign or malignant.
Melasma
This is a condition as a result of hormonal changes within your body. Pregnancy and birth control are two situations when melasma strikes.
When melasma is a result of pregnancy, the common name is "mask of pregnancy" and chloasma. You will notice large splotches or areas of darker pigmentation that appear on the face and neck.
Freckles
Freckles are believed to be natural skin variation. However, they are markings just like other spots on the skin. Children and teens are more exposed to freckles because of their degree of sun exposure.
Freckles are mostly harmless, but they can become precancerous when exposed to too much sun.
Age spots
Age spots also appear as a result of sun exposure. They are different than sunspots on skin and freckles. Age spots are often referred to as liver spots, but they have no relationship with the liver.
They have a variable appearance, and can sometimes make skin cancers more challenging to detect.