The summer is definitely period of the year when you want to experiment. That loose feeling, those summer nights, days at the beach, everything is just loose. And when it comes to hair colors, I love the summer because everything you do with your hair, looks even more emphasized thanks to the sun and sun rays. That being said, for those bold and courageous enough to try something new, I have few options you might love.
1. Pink And Yellow Sunset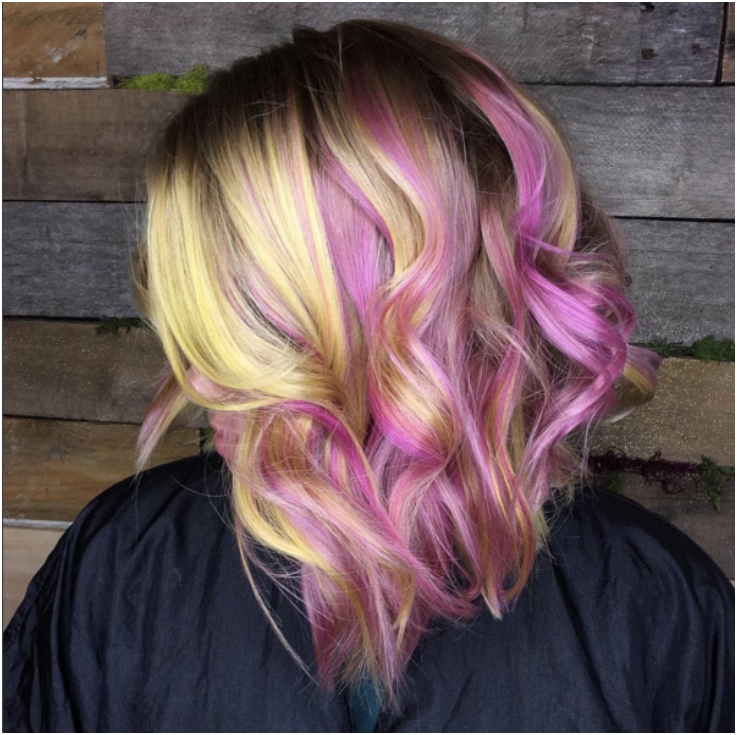 Yellow is the color of summer and sun, and with some fresh and light pink, this hairstyle just screams party girl.
2. Soft Macaroon Rainbow
I am usually not a fan of more than two colors on your hair, but even I can be wrong sometimes. It is just absolutely insane how stunning this hair color is. It definitely reminds me on the good Kelly Osbourne years.
3. Bluish Roots With Violet Ends
Katy Perry had something similar, and if it is good enough for one of the best singers in the world, it is good enough for me. The only question is, are you ready to embrace your mystical side?
4. Platinum With Baby Pink
Platinum has become one of the hottest hair color trends in the past few years. Women around the world have been experimenting with lighter and lighter blonde options, and therefore, the platinum trend was born. And for those who want to take the trend to the next level, pink is the way to go.
5. Blue On Black With Razor Sharp Cut
You've probably seen Jessie J in similar fashion, and again, if something is good enough for the best singers in the world, it is good enough for me. Just make sure to get your bangs right first.
6. Black And White Two-Tone
Black and white is a classic combination in every aspect of life: fashion, interior design, make-up, and now hair color. I know many people hate when their color turns grey and white, but this hairstyle is not a sign of growing old. It is a sign of becoming bolder than ever.
7. Pink And Blue Unicorn
Cute and romantic, this hairstyle reminds me of Cate Blanchett in Lord of the Rings. She was not pink, but her blonde color was this perfect cute and romantic combination.
8. Pretty Pink Bob
If there is any hairstyle that never goes out of fashion, that is the bob hairstyle. There are countless of variations and options you can go. Here, I would like to share a bold one with you.
9. Gradient Blue
Gradient blue is a variation of ombre, a hairstyle that was extremely popular three years ago. But back then, blonde was the way to go. Now, for those little more courageous, dyeing your hair in blue is the next best thing.
10. Between Platinum And Lavander
Platinum is arguably one of the best hair colors that you can match with your tattoos. It is a way of a black and white combination (since most tattoos are black ink). The combination is perfect. And don't worry, even if you don't have tattoos you can try. The only situation when I don't recommend platinum hair color is when you have light colored eyes. You don't want looking like a barbie doll, you want looking like a strong woman. That being said, girls with dark brown and black eyes, go for it!
11. Light Pink With Dark Roots
Now, while platinum does not bode well with light eyes, light pink works great. Especially when your toot is dark colored. The combination gives an impression of an out-of-this-world girl.
12. Blue Roots With Blond Ends
The trick with this hairstyle is that it requires lots and lots of effort to keep it. Once you dye your roots blue, your natural color will show off again in just weeks. At least that happens with my hair color. But if you can survive constant dyeing, the combination is one of the best mystic hair trends out there.
13. Pink And Mint
Even when bold hair colors are mentioned, there is always a combination that is more cute than pink. Such is the case here.
14. Deep Purple
Hey, who wouldn't love a hair color that sounds exactly like one of the best and most iconic bands in our history? Jokes aside, purple is such a nice color, it is a shame people don't appreciate it.
15. Greenish Blue Sea Shades
Blue and green have been matching colors in so many different aspects of our lives. Remember, green is a secondary color you get from mixing blue with yellow. But the art aspect aside, green and blue is one of my favorite color combinations, and I am glad that there are people that are ready to apply it on their hair.
16. Vibrant Pink And Blue Dusk
When you think of vibrant and lively colors, I am sure this combination comes to mind. The hairstyle is definitely something that resembles a playful girl, but not the party type going out every night. Nah, this playful girl loves to hang out and party, but in a more non-traditional way. Think of girl next door you love.
17. Turquoise And Violet Two-Tone
Avril Lavigne used similar hair colors back in the day, and she became a teen idol. Since then she outgrown two color tones, but that doesn't mean it won't work on 20 something lady.
18. Wavy Lemon Berry
When you want to go bold and try some new color, but you still want to look sophisticated, elegant, and be able to work in the business world, this subtle, yet very effective combination will do the trick.
19. Red And Green Ombre Rose
Another ombre hairstyle, and another out of the box thinking. Like, I love this combination. What starts like innocent and cute girl at the top, ends as someone with a wild side in her.
20. Curly Tidal Wave
Imagine if Mel B painted her hairstyle blue back in the Spice Girls days. I bet many of her fans would go cray and follow the trend.
21. Blond With Green Streaks
I love when colors are introduced in a subtle way. Such is the case here. Look, as much as I like bold colors on your hair, I prefer subtle ways. Maybe I am not as bold as you are.
22. Blue Ombre With Black Roots
You probably noticed blue dominates the "bold hair colors" list. I won't go much into details, but the reason is that blue is like black in men's suit, it just goes well with any other color. Be it blonde or dark roots, blue fits.
23. Fiery Red Curls
If there is one color I love when you go bold on all of your hair, that is red. Why? Because I love the wilderness it presents, and how everything looks dangerous, but good dangerous in red. Like, don't mess with me, you'll regret it.
24. Baby Pink With Violet Roots
25. Bright Pink And Blue With A Hidden Kitty
I envision that many more of this pink blue colors will start popping once DC shows off the Justice League movie. Harley Quinn is poised to become one of the best female role models, and colors like pink and blue are her favorite. Add in the kitty detail, and you've got a genuine Harley Quinn hairstyle.
26. Light Hazel With Pink Pastel Ends
Look, there are always women that are not as ready to go extremely bold. For such cases, dyeing the ends is the way to go, and pink is always a nice option.
27. Purple Gray Curly Doll
Yap, this one definitely looks like a doll, but in a good way. I won't judge, but there are women that want to look like dolls in their late 30s and 40s. I have to offer something for everyone.
28. Deep Sea Blue Ombre
Going back to that blue and greenish sea color, I have one option that looks good no matter if your natural hair color is light or dark. It is a rarity to find a bold hair color trend that is as versatile.
29. Vibrant Gray Curls
Curls are usually boring. Like, really, really boring. I don't know why, but I've always hated them. However, I must say that grey curls look absolutely stunning.
30. Ocean Blue Mermaid
If your dream as a little girl was to become a mermaid, now that you are grownup and you make your own decisions, it might be time to make it happen. Your hair color is usually the first place to start.
31. Light Brown With Bright Red Ends
I said previously, not every woman is ready to dye her entire hair. But dyeing the ends in red is something special, and you'll have hard time finding someone who won't like this trend.
32. Cool Baby Blue
Baby blue, baby pink, you can see the pattern here. In the past few years, "baby" colors have become one of the popular trends in hair color. The best part is they look cute, adorable and bold in the same time.
33. Short Abstract Reds And Yellows
I am not one to endorse such trends, because they are little too much for my taste. But like I said, there has to be something for everyone.
34. Silver Blue And Lilac
35. All The Strands Of The Rainbow
Now this is definitely something you want to try if you want to pay tribute to David Bowie or some similar controversial figure. Bowie will be remembered for his controversies, his hairstyles definitely among them.
36. Cool Blue And Silver Beauty
We had several blue hairstyles on the list, but I think there was no blue and silver. Basically, two of the most sophisticated colors, meaning that this hairstyle will look great even on 30+ ladies.
37. Blond With Strikes Of Reddish Color
I mentioned previously how much I like subtle ways of introducing colors. Be it green, or red, it doesn't matter, it is still good for me.
38. The Bright Gradient Rainbow
Another rainbow, and another young lady. I must say, I applaud how the colors occupy almost equal sections of her hair, showing that extreme effort went into making this hairstyle possible.
READ THIS NEXT:
41 Alluring Long Bob Hairstyles You Must Try This Summer