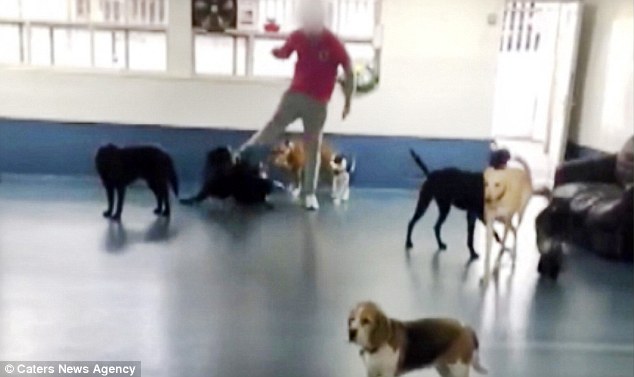 What an Inhumane Act
The disgraceful video footage came straight from the Doggy Den, in Sheffield, England. It appeared to show an unidentified staff member kicking the helpless animals and throwing toys at their heads.
Former employees of The Doggy Den who said they had been too afraid to reveal the 'horrific abuse'. In fear of losing their jobs have shared videos on social media.
Tom Greatorex, manager of The Doggy Den, has said a video of a dog locked in a cage is staged. He 'doesn't expect to be open in two weeks' after horrifying footage emerged of staff 'abusing' dogs in their care.
Tom said the videos were taken more than 18 months ago by a staff. That staff no longer work for the company and showed 'isolated incidents'.
They Secretly Filmed the Footage
The footage was shared by former employees from The Doggy Daycare Centre, which, according to them, they secretly filmed and uploaded to social media to expose the level of 'horrific abuse' taking place.
The 26-year-old who lives in Chesterfield said: 'I took these videos in March last year and made my manager aware of them.
"I wanted to highlight the abuse earlier but was too scared to do anything with them as I didn't want to lose my job."
"Some of the dogs would viciously attack other dogs, and I know one groomer was bitten by a dog that was in her care."
"There were never enough staff members to look after the dogs."
"I walked out a few months after I filmed the footage because I couldn't stand to work there anymore."
'The Doggy Den has, and always will be, a safe and friendly space for dogs'
Since going viral on social media, Tom released a statement via the company's Facebook page. He claimed the videos were filmed two years ago, between March and December, and the staff involved in the incidents no longer works for the company.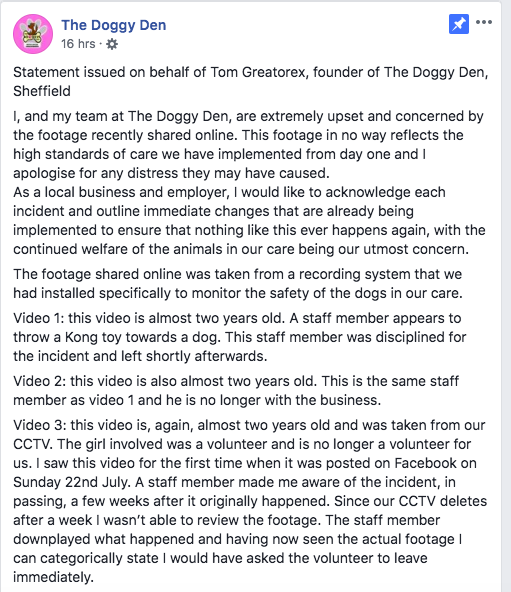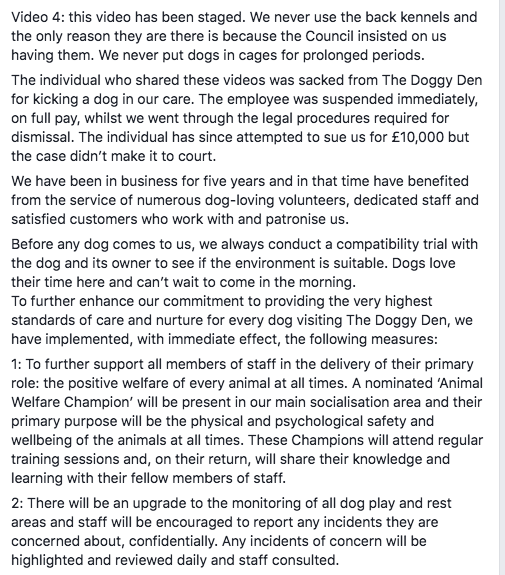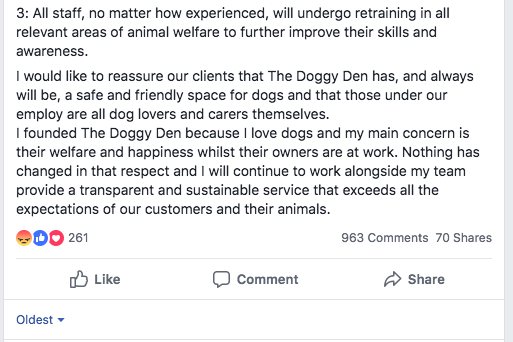 Greatorex assures clients 'The Doggy Den has, and always will be, a safe and friendly space for dogs'. He revealed the individual who shared these videos was sacked from the care centre for kicking one of the dogs.
While the employee 'was suspended immediately, on full pay' the person in question attempted to sue them for £10,000. However, the case didn't make it to court.
Watch the video below and tell us what you think. Video courtesy of Metro.co.uk