Let's be honest, tattoos are more and more becoming part of our mainstream culture. Some 10 to 15 years ago, tattoos were a taboo topic, and there only few bold and courageous ones to wear one.
Nowadays, however, things have changed. Like, everyone has a tattoo. I don't, but that is more of a courage thing than anything else. But everywhere around me, like literally every friend of mine, has done a tattoo. That being said, I must say that behind every great tattoo, there is a story that few people know it. However, I would like to share some tattoo ideas with you.
If you are wondering why tattoos under breasts, the reason is simple, sex appeal. Women with under breast tattoos come as raunchy, hot and sexy. Fun fact, under breast tattoos are more enjoyable for the viewer than the bearer. However, women put them as a way to look bad-ass. So, don't mistake these tattoos for tramp stamp tattoos.
1. Skull And Flowers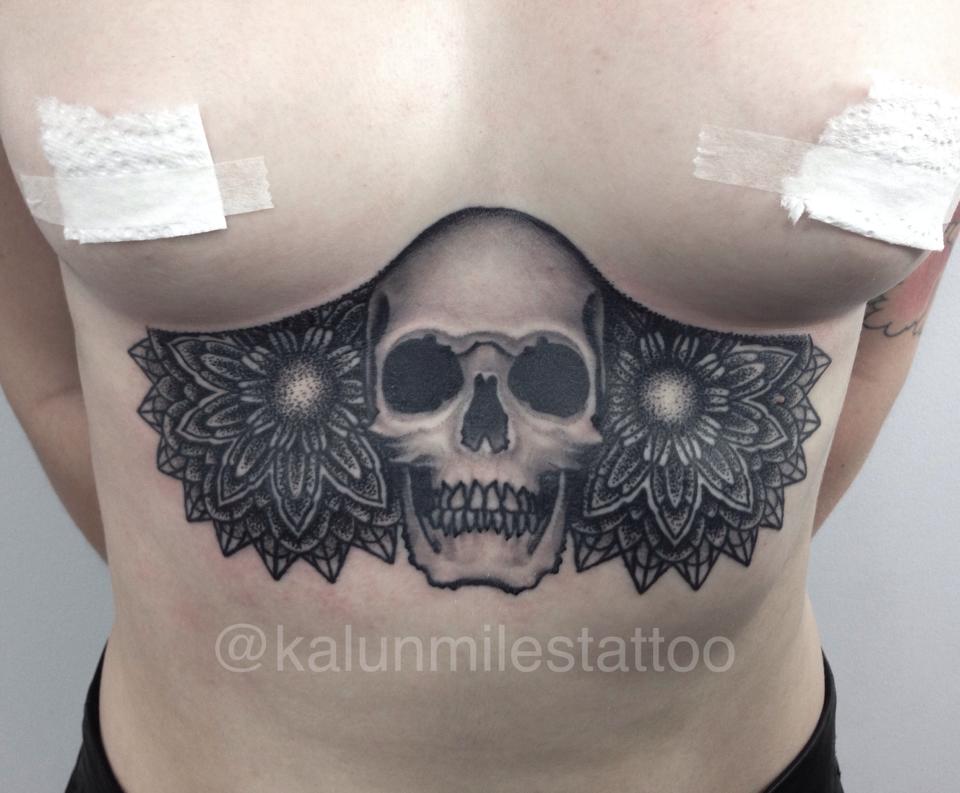 I love tattoos and everything else where contrast is the main  topic. Like, who would thought that flowers go head to head with a skull? Well, we all have a sensitive and a wild side, and this tattoo perfectly sums it up.
2. Moon Cycle
Evolution, journey, travel, that is what this tattoo symbolizes. The moon cycle is literally a journey from point A to point B, and by applying the same principle to your skin, you are showing the way you have grown, and evolved into a better man/woman.
3. Dotted Lace
There might be some symbolism here, but I assume it is more of a likeness for lace. I know some people love lace, and everything with it.
4. Lotus
Lotus is one of the most commonly used flowers for tattoos, and there is a big reason behind it. Lotus symbolizes purity and rebirth, two aspects in live that people love. And besides, the lotus flower does look stunning.
5. Heart-Shaped Diamond Chandelier
If you want Turkish music and stomach dance tribute, this one is the tattoo for you. Colors add a nice touch, and the tattoo does look like the accessories belly dancers hang on their clothes.
6. Universe Colored Rose
You probably know all the meanings and symbolism of the colors of the rose. A red rose is love, white is purity and so on. When you put all the colors on your rose tattoo, you must be careful to watch if they complement each other.
7. Branched Heart
The literal meaning here would be something growing out of your heart. But look deeper into the tattoo, and you'll find that love grows inside the soul.
8. Octopus
You can say the octopus looks a lot like the belly dance tribute we had with the diamond earlier. Well, you won't be wrong, as it is evident that the tattoo and its ends pay tribute to belly dancers.
9. Fleur-de-lis Styled Design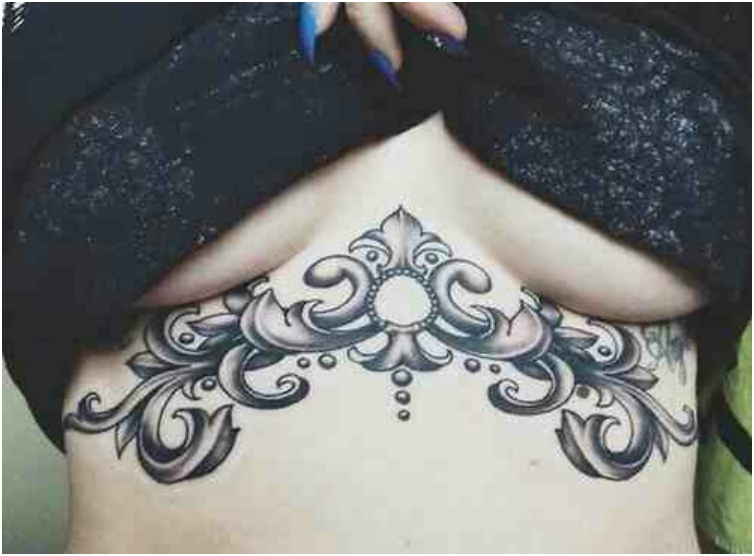 The literal translation is stylized lily. The lily flower is among the most common, along with the lotus. Lilies are flowers for anniversaries. For example, standard lilies are usually given for the 30th anniversary. Lilies of the valley, on the other hand, are the second wedding anniversary flower gift.
10. Dotted Sunburst Flower
Giving flowers an artistic aspect, dots work perfectly with the sunburst to symbolize birth and new life.
11. Locked Heart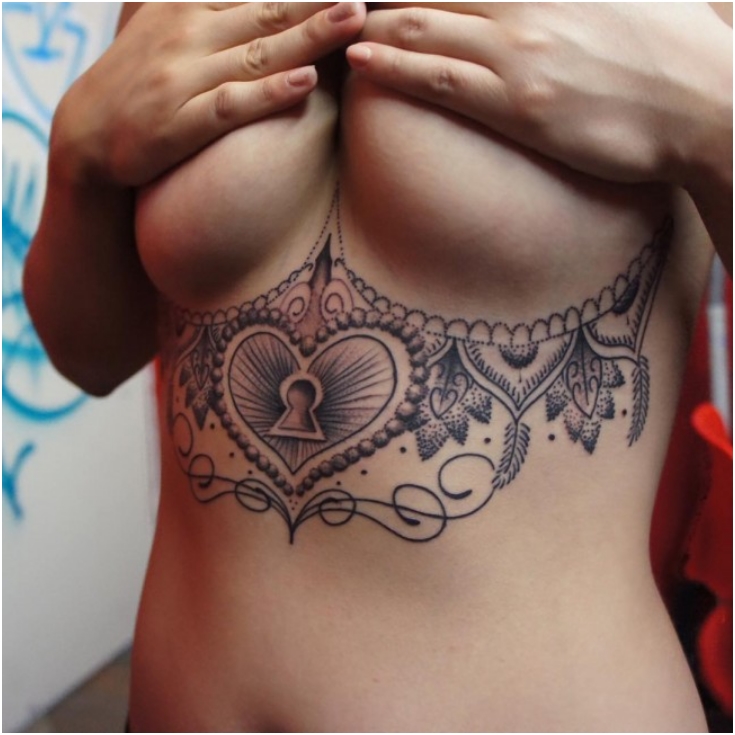 Not everyone gives his/hers heart easily. There are people that reserved in love, and there are those who are all-in. But a better explanation here would be someone has locked this heart, and nobody else will be able to unlock it. Like I said, there is a hidden story behind every tattoo.
12. Winged Crown
Crown is the symbol of authority. But what the tattoo does here is "lighten up the mood", showing that even authority needs to be lose from time to time.
13. Dotted Lotus Design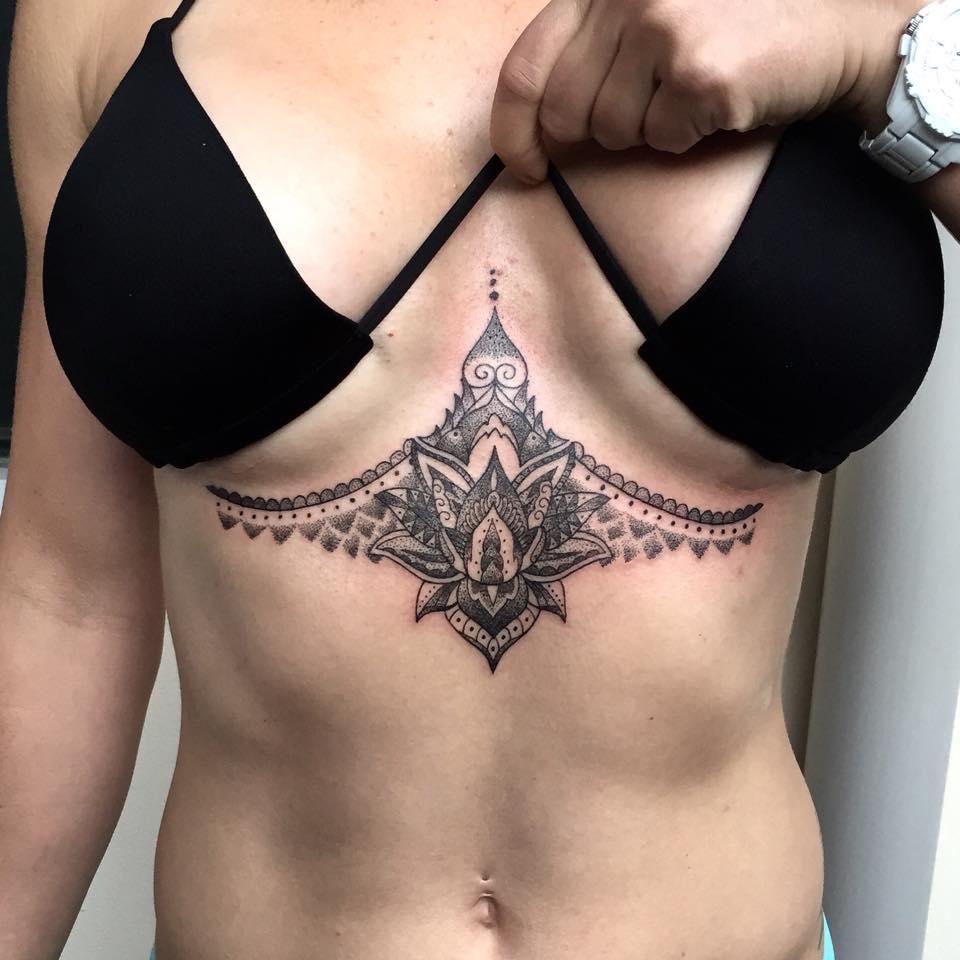 Back to the lotus flower, we already said that the lotus represents rebirth. The good thing about lotus flower is versatility. You can execute the tattoo in so many different ways, and dots, like in the previous tattoo, give a certain artistic aspect.
14. The Goddess Isis
For those of you who don't know who Isis is, she was a Goddess in Ancient Egypt, representing the ideal wife and mother. People worshiped Isis in other religions, as someone who was able to speak to both sinners and slaves, but also to aristocrats.
15. Love Potion In Lace
Charming and adorable, love potion is often a matching tattoo idea. They don't have to be identical, as long as both the boy and the girl have a love potion tattooed.
16. Three Flowers
Showing the romantic side, flowers are often misinterpreted in the world of tattoos. The reason is simple, every flower represents something different, and not many people know the true meaning. Which is a good thing, as not many will be able to understand your tattoo.
17. Dotted Chandelier Design
As you've might noticed so far, there are lots of designs involving dots. The reason is simple, dots make everything look better, more sophisticated and elegant. As for the chandelier, it is self-explanatory, chandeliers symbolize dreams and dreaming.
18. Wings And Sun
Wings are perfect symbol for under the breasts tattoo, as they can spread from one side to another. All you need is a symbol in the middle, and the result is a unique tattoo. In this case, the middle is occupied by the sun.
19. Blooming Flower
If you want to symbolize birth, evolution, awakening and similar, and you don't want lotuses, blooming flower is the next best thing.
20. Winged Flowery Design
The flower might not be easily recognizable, but some people just love living in the chaos. For those people, messy is actually organized, which might be the story behind this tattoo: perfect chaos.
21. Jewel And Lotus
Lotus again, this time with jewels, symbolizing money, luxury, and richness.
22. Flowers On Sternum And To The Sides
I love tattoos that spread across the chest area, but they are not literally connected, like they are not touching themselves. That is the reason why I like this tattoo. You've got flowers on the sides, flowers on the breastbone, but also some air and space between them.
23. Butterfly And Lace
No this is not that tramp stamp butterfly tattoo people get after a breakup. This one is much more elegant, sophisticated and sleek butterfly tattoo. And after all, butterflies are not only reserved as a breakup tattoo. The symbolism goes well beyond that.
24. Cherry Blossoms
Spring is definitely my favorite season in the year, and cherry blossoms is the reason why. The awakening of the spring is represented beautifully on this design.
25. Chandelier With Hearts Design
Have you noticed how many chandeliers we had so far? Or how many hearts? Those two objects are definitely common for under the breast area. I love the artistic aspect of this tattoo, as well as the precise attention to details.
26. Sun And Moon

Sun and moon always reminds me of Game of Thrones season 1, when Daenerys and Khal Drogo exchange love. She call him "My Sun and Stars", and he calls her "Moon of my life".
27. Heart In Brooch
Looks like someone has captured and locked this heart. You want your heart, spirit and soul free, but every now and then comes someone special that manages to capture your heart, and let it free in the same time.
28. Skull Design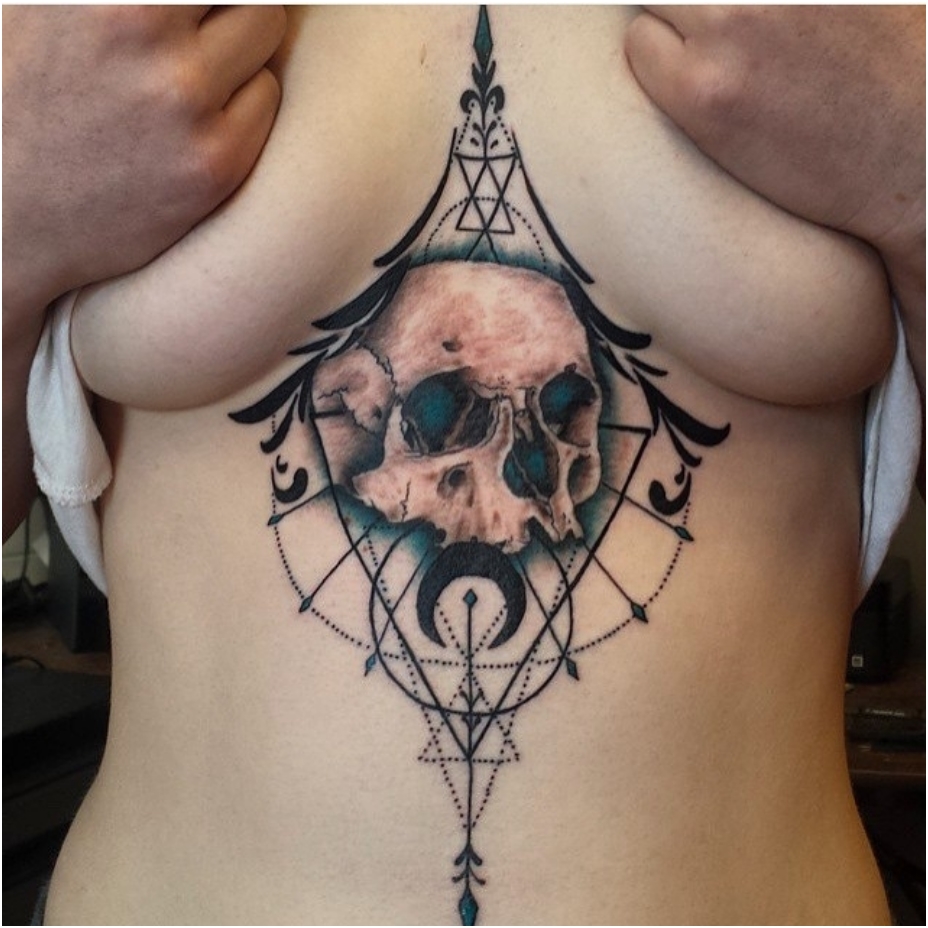 There is darkness in women as much as there is in men. Skulls are not usually something you'll see on a woman's skin, but every now and then, comes a girl that wears skulls with attitude. And don't think for a second that skulls are only reserved for gothic chicks.
29. Mandala
A spiritual and religious symbol in Indian religions, the mandala has become one of the most versatile items for a tattoo. Any diagram nowadays is considered mandala.
30. Leafy Design
31. Mandala Butterfly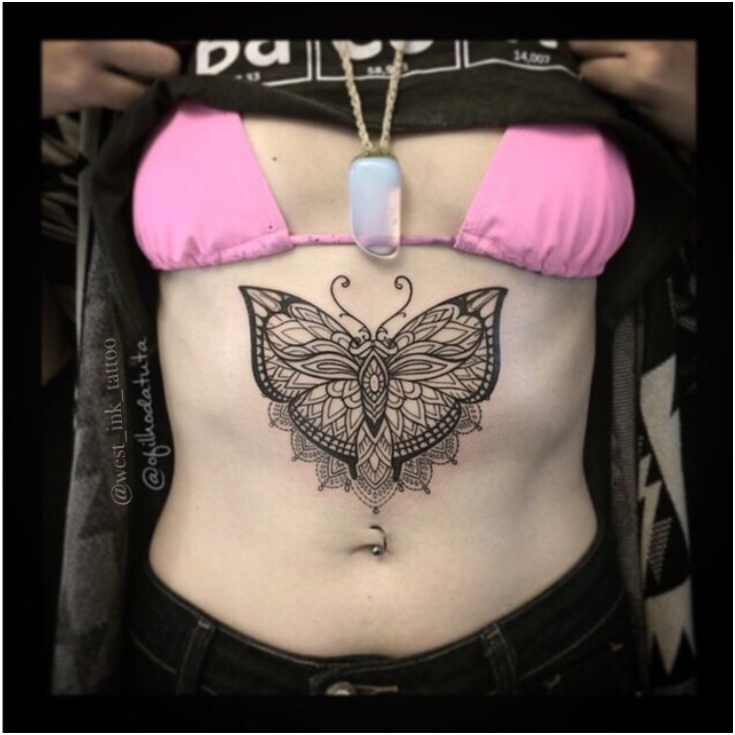 You know I am a big fan of mix and match, and that principle applies to everything, not only interior design and clothing. Tattoos are also a great area to try mix and match. For example, this butterfly looks absolutely stunning thanks to the mandala coloring.
32. Heart Jeweled Chandelier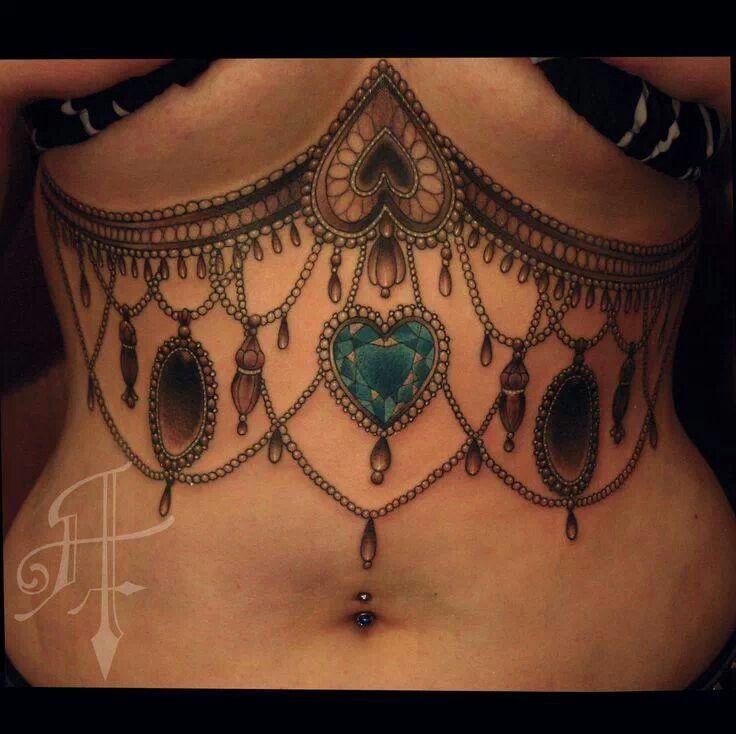 You are probably getting the impression that I am trying to subtly talk you into joining a belly dance course. Don't worry, that isn't my intention. But I have to admit, all these belly dance inspired tattoos got me thinking.
33. Geometric Dotted Design
Geometry has become a huge trend in the last few years thanks to Scandinavian style in interior design. And after taking over our homes, geometry has moved into fashion shows, and now into the world of tattoos.
34. Chandelier Lotus
We already had a chandelier lotus, but I always like to give people few different choices. This way, you can easily decide and find the best option for you.
35. Minimalist Connected Flowers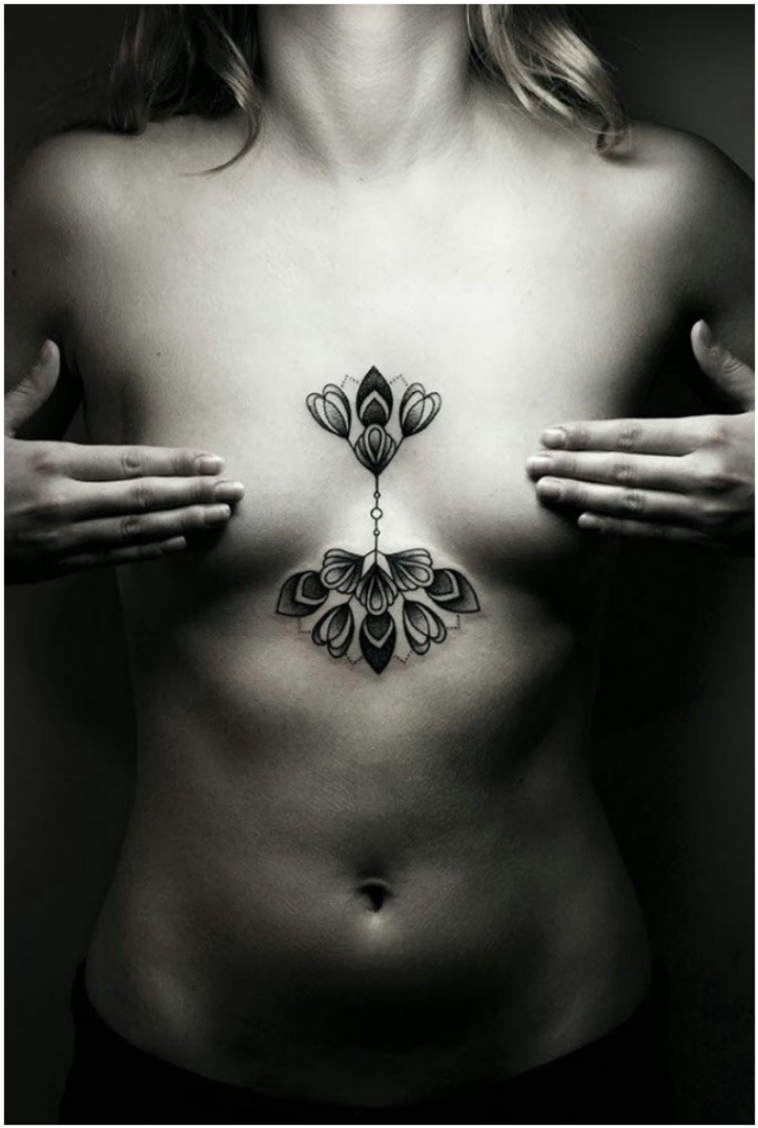 Some people are firm believers in the "go big or go home" premise. However, there also people who like to keep things simple, and minimal. I can't choose between those two. For example, sometimes I like to keep things minimal, in interior design for example. For others, like jewelry, I am also believer in the go big or go home premise.
36. Simple Lotus Design
Few people know this at first glance, but lotus is actually one of the main symbols in Buddhism and Hinduism. And you can see the influence of those two religions in the coloring of the lotus.
37. Blue Jewel Design
When it comes to jewels and tattoos, the blue jewel is arguably the best choice. Why? Because the color works wonderfully on your body, and the shape of the jewel allows you to combine with it other images.
38. Downcast Flower Design
The literal translation of downcast is looking downward from a person's eyes. An upside down approach can transform any image to a more unique one, and that aspect is used for this tattoo.
39.  Lotus With Green Leaves
Please don't count how many lotuses are on the list. I don't want to be the one spamming lotuses, but you cannot help but admit they look beautiful. Add in some green color, and you get a refreshing and more nature-inspired tattoo.
40. Lotus With Dots Design
And now another lotus design with dots. We had a similar design earlier, but as I mentioned, I like to give people options. The more the merrier, right?
41. Skull Jewel With Lace
Let's go back in time for a moment so you can fully understand the meaning of the tattoo. You've probably seen the movie Frankenstein? Or at least heard about it. Well, Frankenstein is among the first cadavers, or a person whose dead body was used for medical science and research. Dead people are corpses. But when dead people are taken out of their grave for medical research, they become cadavers. That is the point of the tattoo.
42. Realistic Rose With Lace
What separates this rose from the many other roses is the way the tattoo is executed. The rose is realistic to the point it looks like it was picked up from your backyard. Definitely not easy to achieve.
43. Wrapped Bat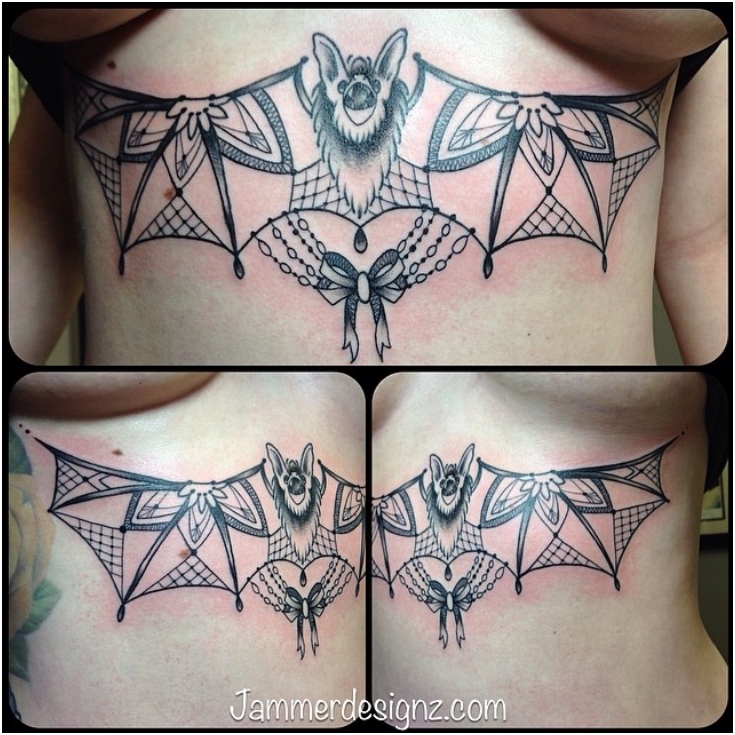 No this is not Batman tribute. Far from it. Bats are more than just something that instantly reminds us of Batman. Called "Guardians of the Night", bats are actually very close to lotuses in their symbolism. Bats symbolize death and rebirth, which is why they are used in Batman as well.
44. Lacy Chandelier
We had several chandeliers and laces, but now we have the two aspects tied together. What I like about this tattoo is that it looks simple, yet powerful.
45. Dotted Mandala Lotus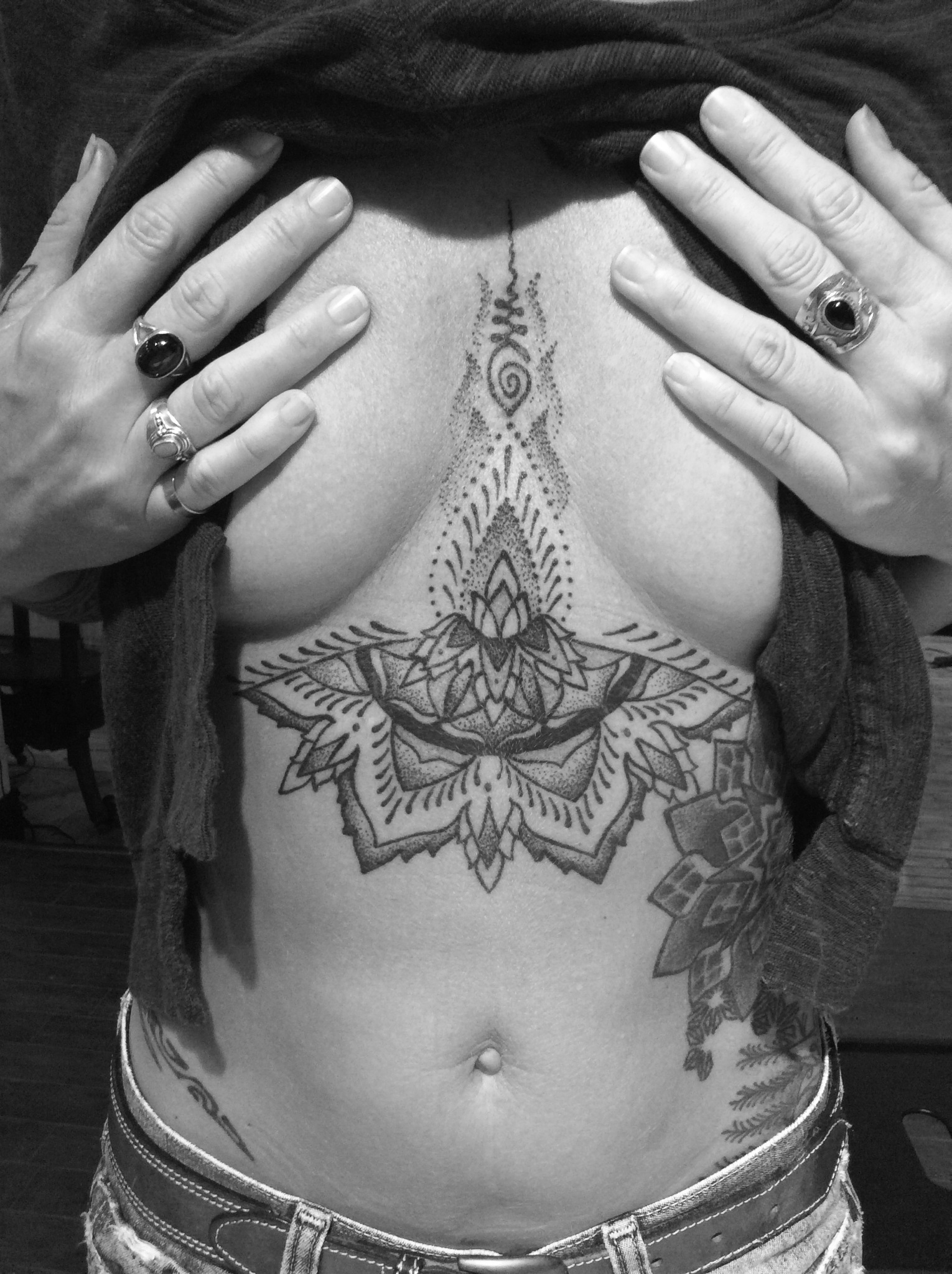 So many aspects mixed in this tattoo, starting from the mandala diagram, and then enriched with an artistic touch thanks to dots.  You might miss the lotus flower at first glance, but look deeper, and you'll see one perfect and unique flower.
46. Chandelier Design
You are probably asking why so many chandeliers? The reason might sound stupid to some, but women actually opt for chandeliers in a way for ornamental ink. A symbol of luxury, chandeliers are worn like pendants, hanging on your body.
47. Moth With Roses
There are people opting for cute butterflies, and then there are those who opt for moths. The meaning is the same, as moths go through the same evolutionary way as butterflies. They are just darker.
48. Night Owl
The simple decoding is that the person with a night owl tattooed under his/hers breast area is someone who is active and wakeful at night. But don't forget owls have become a huge trend in jewelry and clothing a year or two ago, so they've made their way to tattoos as well.
49. Butterflies And Bones
The first association you get from this type of tattoos is goth, and gothic culture. But that doesn't have to be the case. So stop stereotyping.
50. Mandala Flower
When I see a mandala flower, I usually remember the days when we were kids and had this toys for drawing diagrams. Back then, we didn't know we are actually drawing mandalas, but now we do. Lord we were creative.
51. Mandala Chandelier Design
Another mandala design. To answer the question why so much mandala, we need to stereotype a little bit. Men have their tribals, as a way to show creativity in a tattoo. Women opt for mandalas, as they are more feminine.
52. Eye With Wings
What looks like an innocent eye with wings tattoo, looks very similar to the Eye of Horus. But that is not a bad thing. The Eye of Horus is an ancient Egyptian symbol for good health, protection and power.
53. Leafy Lace
Simple and sophisticated, this tattoo spreads beautifully under the breast area.
54. Jeweled Bug
I talked jewels earlier in the article, and said how women love to accessorize everything. Bugs, on the other hand, while often viewed as insects, have a much wider and deeper meaning.
55. Lotus In Bloom Design
I love the way this tattoo represents the blooming process of the lotus. Or in metaphorical meaning, what you need to do to get to your rebirth phase.
56. Minimalistic Peacock Feather
The peacock feather looks very much like a pendant, and as I mentioned earlier, women love chandeliers and luxury items hanging from their breast area.
57. Lotus With Three Dots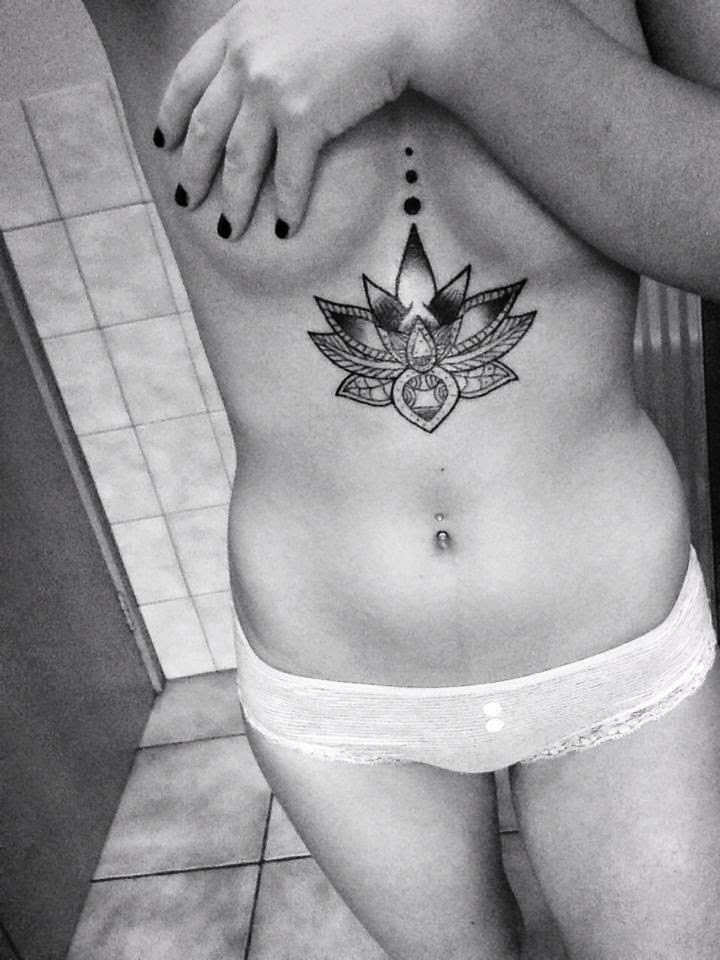 You know the meaning of three dots right? Sort of an unfinished story, never ending counting. Well, our stories, and our life never ends. Even after death, we are rebirth in memories of our friends, family, loved ones who remember us.
58. Dagger In Rose
One of the deepest meanings in the world of tattoos is the dagger in a rose tattoo. The tattoo symbolizes the duality of life, by combing two totally opposite objects.
59. Wild Soul
Sometimes, the best way to say what you want with your tattoo is to write it. It might look lazy and cheap, but it is the way to go for some ladies.
60. Lotus Mandala
We had several lotuses and mandalas, so I'll just leave you to enjoy the picture.
61. Colored Skull And Roses
When combined, skull and rose actually symbolize much deeper things than death (skull) and love (rose). Skulls can actually show overcoming of difficulties, the thorns you need to go through to get to the beauty of the rose. But even that is shallow, as skulls and roses are two of the deepest and most powerful symbols you can embody on your body.
62. Globe
For travelers alike, the globe is a never ending journey. You can never have enough journeys.
63. Laced Chandelier Design
Going back to that chandelier design, we now see a variation of laced chandelier.
64. Egyptian Cat With The Eye Of Ra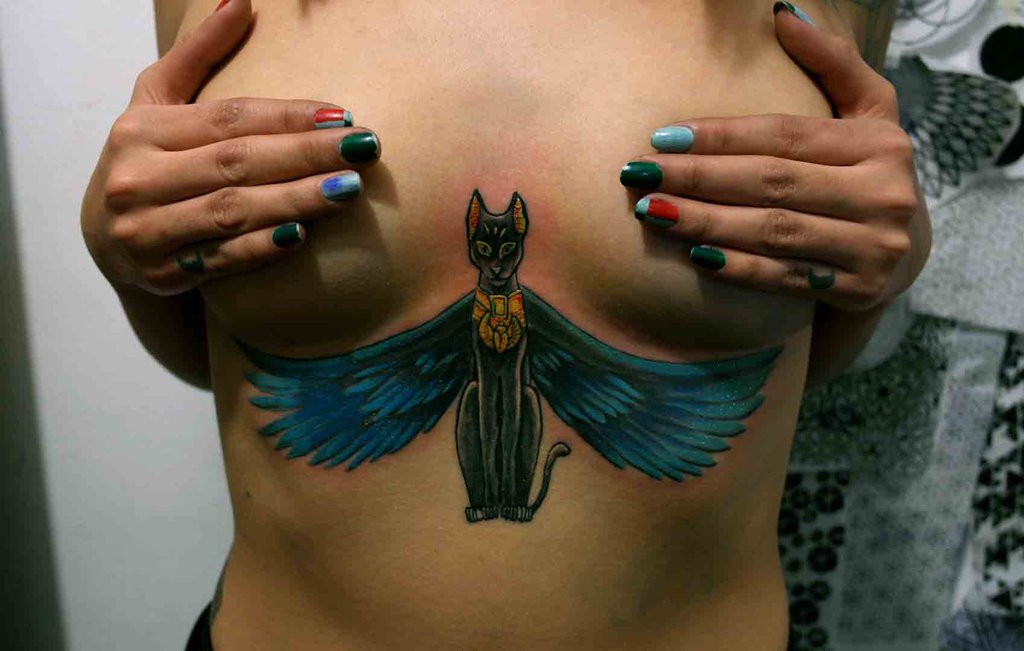 For one of the last powerful tattoos, I'd like to refer you to the Eye of Ra. Even more powerful symbol in Egyptian culture and religion than the Eye of Horus. The two eyes are very similar in looks and interpretation, but the Ra is more feminine version. The eye is actually extension of Ra's power, one of the most powerful Gods in Egyptian mythology.
65. Sun Mandala Design
It's only appropriate that we finish with a design that is one of the most common, and that is the mandala design.
READ THIS NEXT:
32 Lovely Tiny Finger Tattoos Anyone Would Love