One of my favorite sayings is "be careful what you wish for." Nicole from Pussycat Dolls also said it in a song, "Be careful what you wish for, you just might get it." And that is a lesson not many people on the Internet have learned. When you ask for something, no matter if it is work related or anything else, you must be as specific as you can. If not, you will end up as a laughing stock, thanks to all the Photoshop experts out there. I give you 70 of the best Photoshop fails.
1. Gangsta Wannabe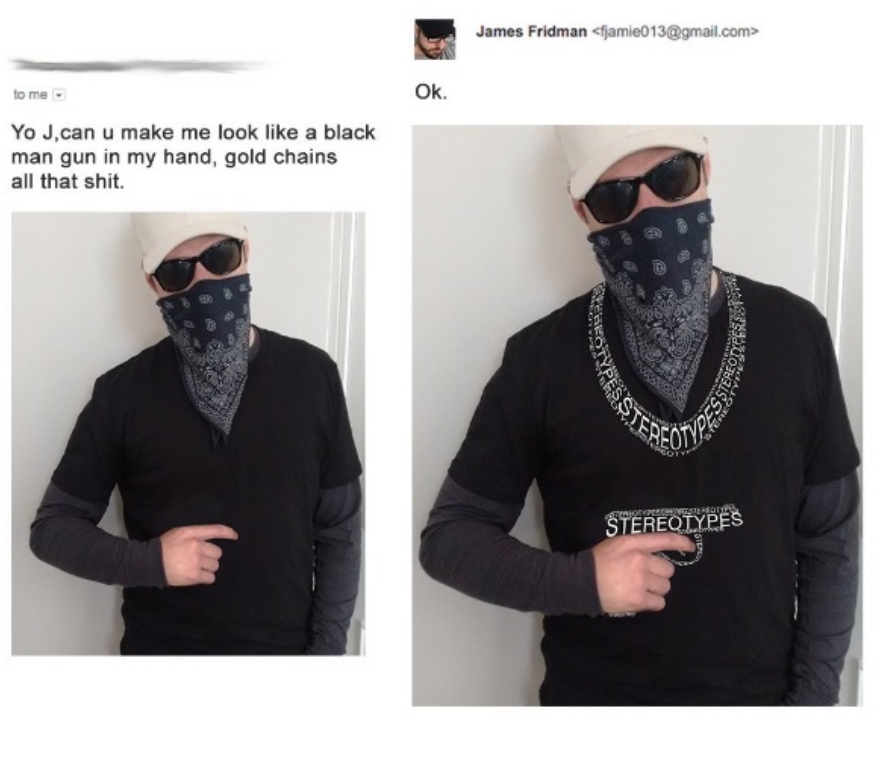 When you want to look like a gangster, you need to clarify. You just might end up being the poster child for what is wrong with stereotypes.
2. The EU Is Watching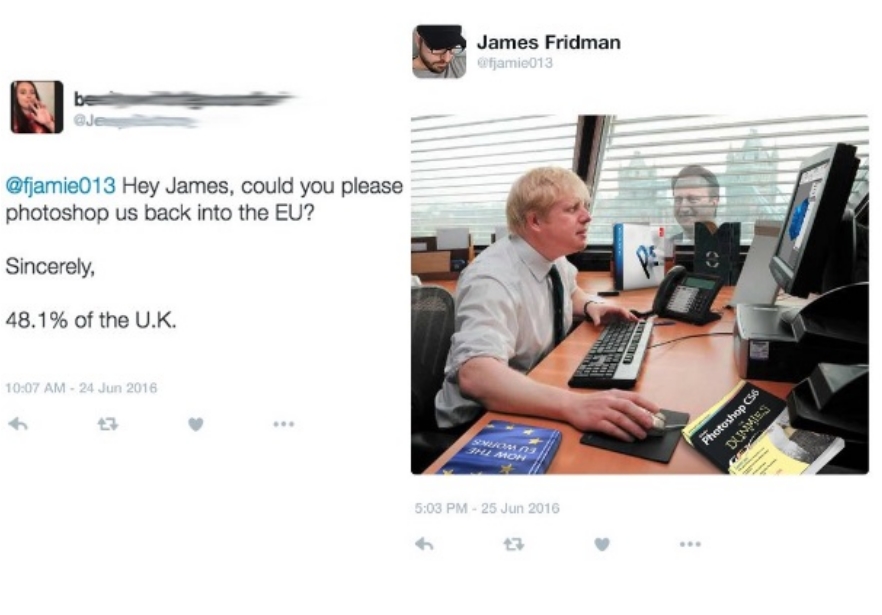 Hey, Britain got back in the EU. Yay! Brexit no more. David Cameron is such a nice looking guy for Photoshopped pictures.
3. Sad but True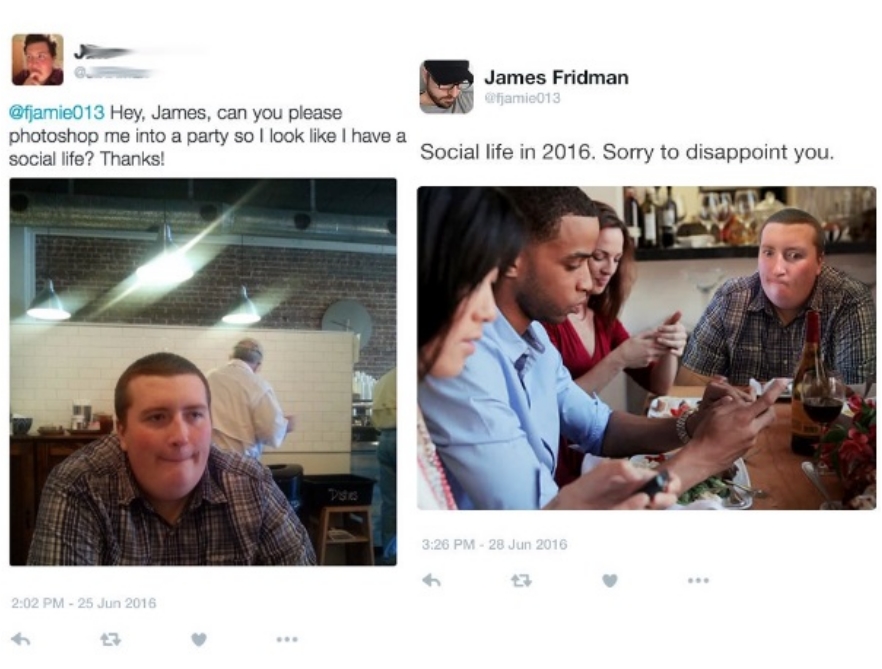 It's sad, but true, that parties nowadays are happening on Viber, Facebook and other messaging apps where people do groups. Even when you are out with friends, they are paying more attention to their cell phones than to you.
4. Them Legs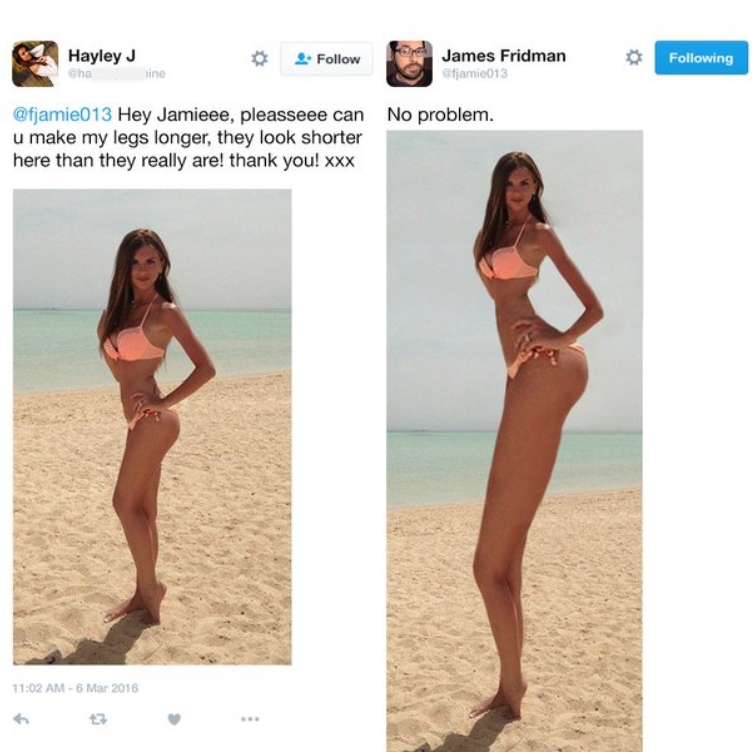 As I said at the beginning, you need to be specific. How long? One inch, two inches? A foot long?
5. There Are Jew Peters in Space Apparently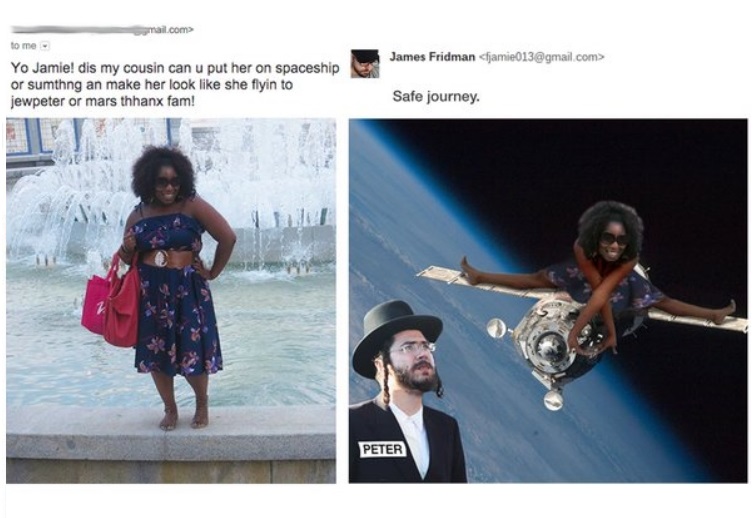 This lady will probably be among the first people on Mars. She just needs to ask for that, and she might get her wish granted.
6. Don't Ever Change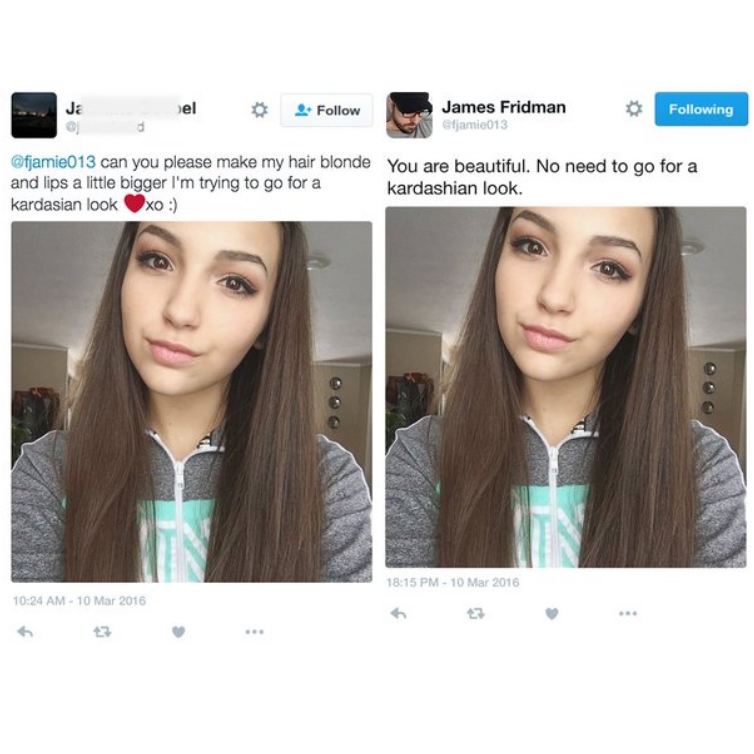 Thank goodness someone still thinks the Kardashians are not the prettiest people in the world. This should be a lesson for all girls. Be yourself—don't try to copy the Kardashians.
7. Odd One Out Again
She wanted to match her friends, but instead she ended up popping out of the picture. Any way you put it, she is the odd man out.
8. Be Comfortable in Your Skin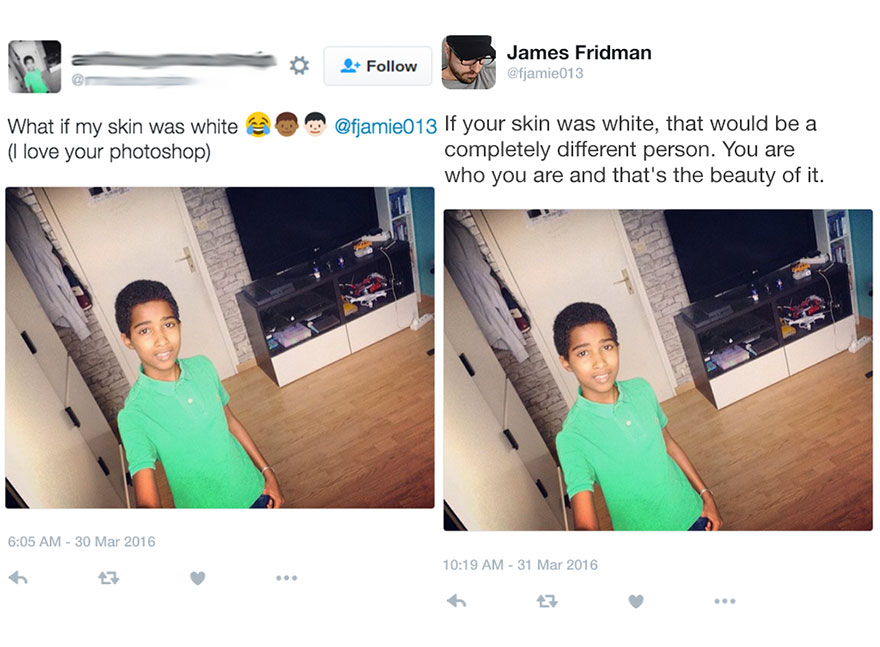 Because of racism, many people nowadays want to change their skin color. But that shouldn't be the case. And besides, this kid probably doesn't want to end up looking like Michael Jackson, who changed his entire skin tone.
9. No Mistaking It Now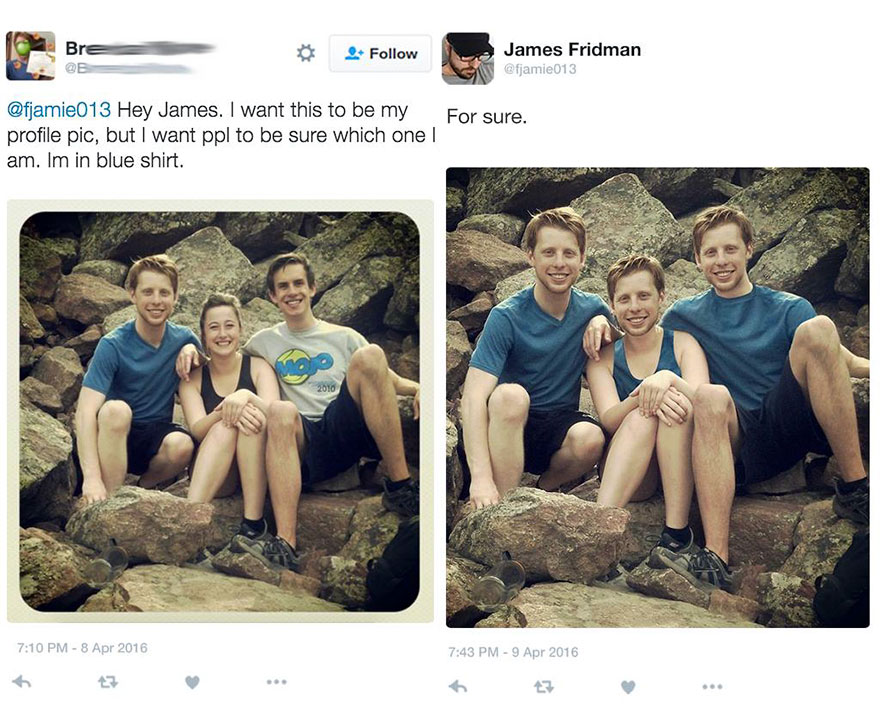 Who is who in the picture? Can you figure it out? I sure can't.
10. There's an Eyefell Tower in Paris?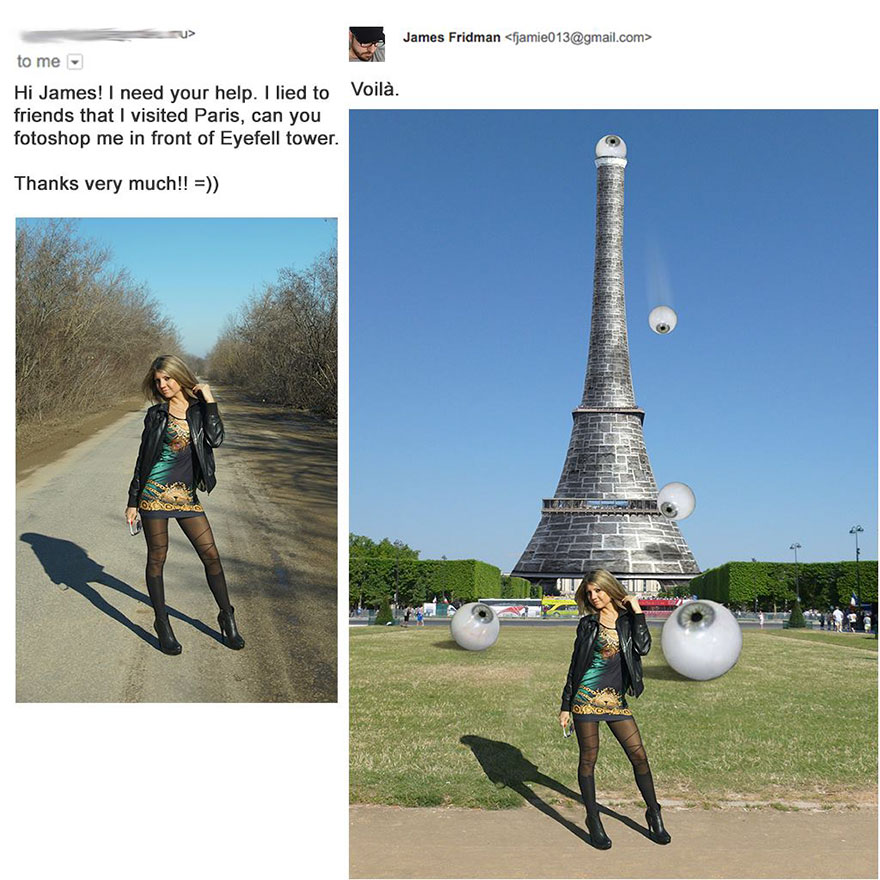 Lying is never a good option. Especially when it comes to friends. Trust is extremely important. But spelling is also important. There is a big difference between Eiffel and Eyefell tower.
11. Now He Can Eat and Meet New People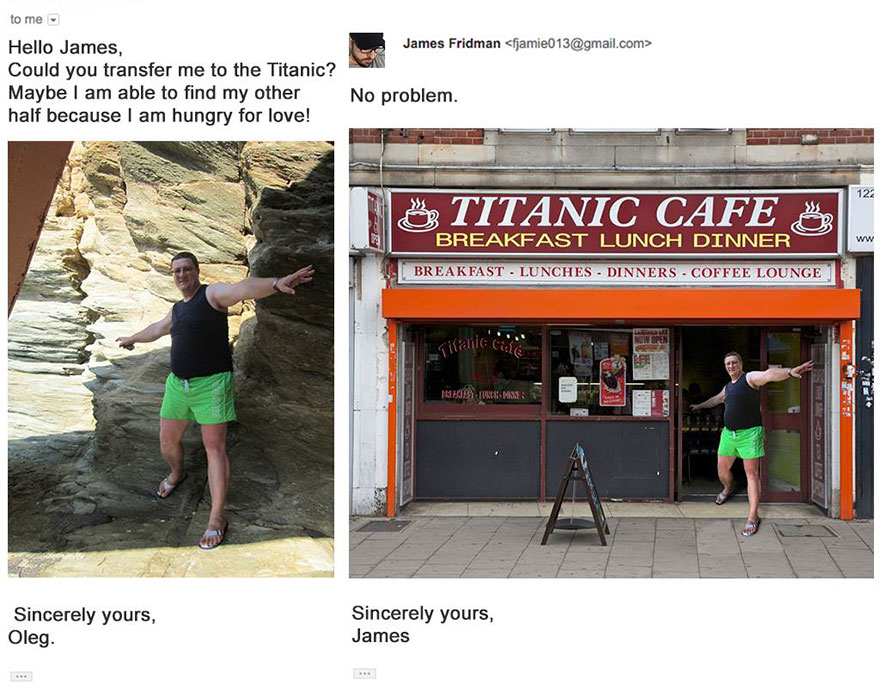 I am sure this guy didn't know there is a Titanic cafe. To be honest, I didn't know either. Thanks, James, for educating us.
12. He Did Ask for a Photo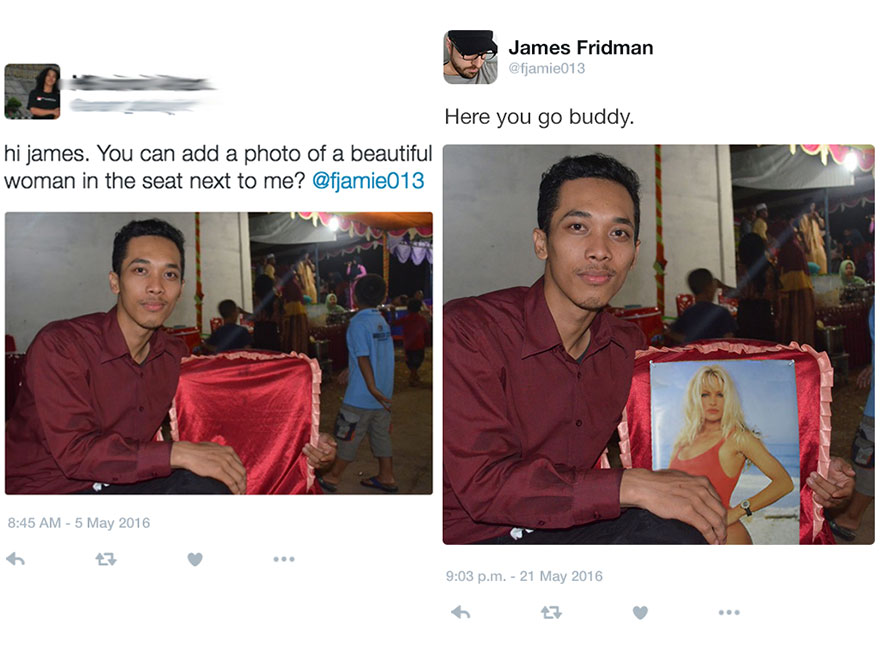 Hey, at least he got one of the most beautiful ladies of the 90s. People daydreamed about Pamela Anderson at the time, and he has her on a chair, not on a poster like other people have.
13. So Modest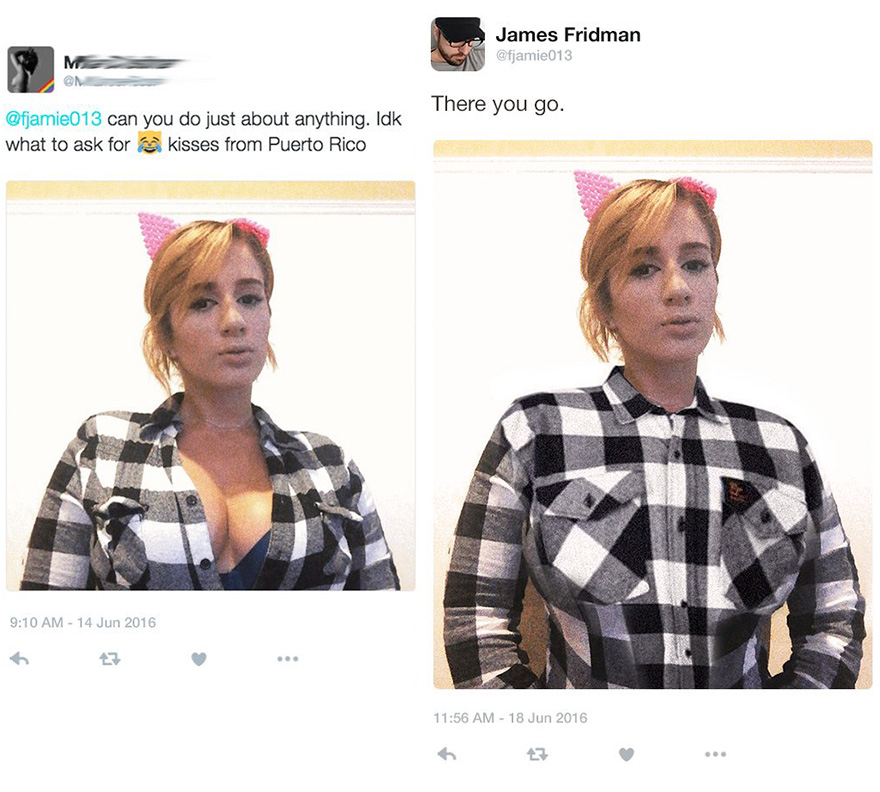 Some women just love to put their breasts out there. Apparently James is not into those perv things.
14. Why the Live Foxes, Though?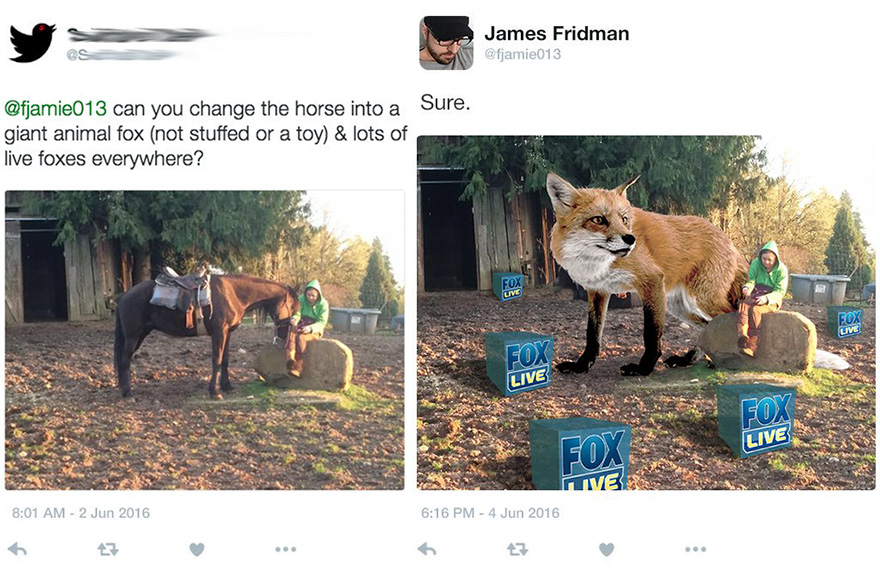 He got a live fox for sure. And many of them. But that giant fox looks scary as hell.
15. Who Did the Photobombing Again?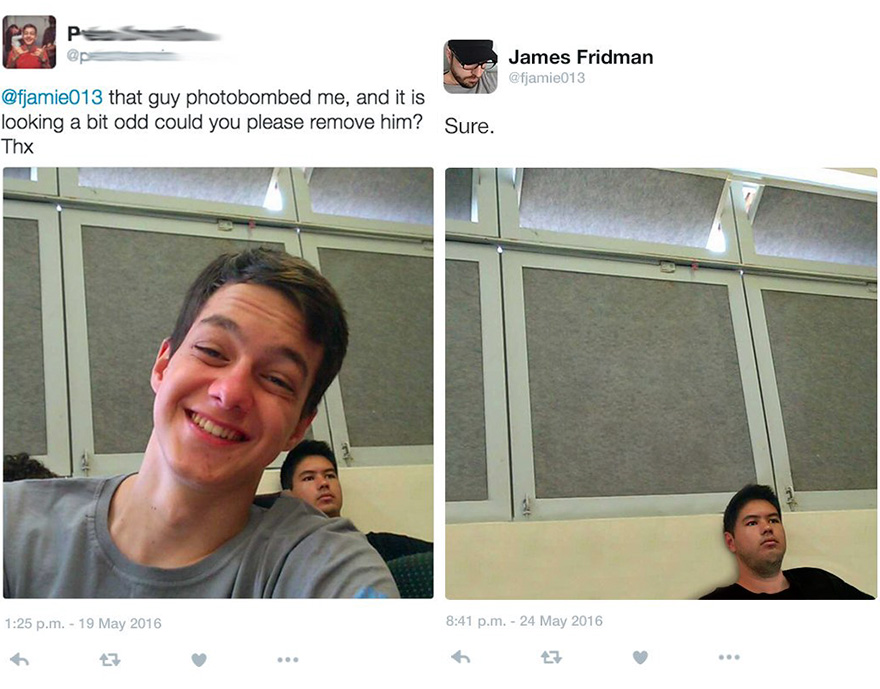 Being the photobomber is always a win situation. And now more than ever.
16. Trumped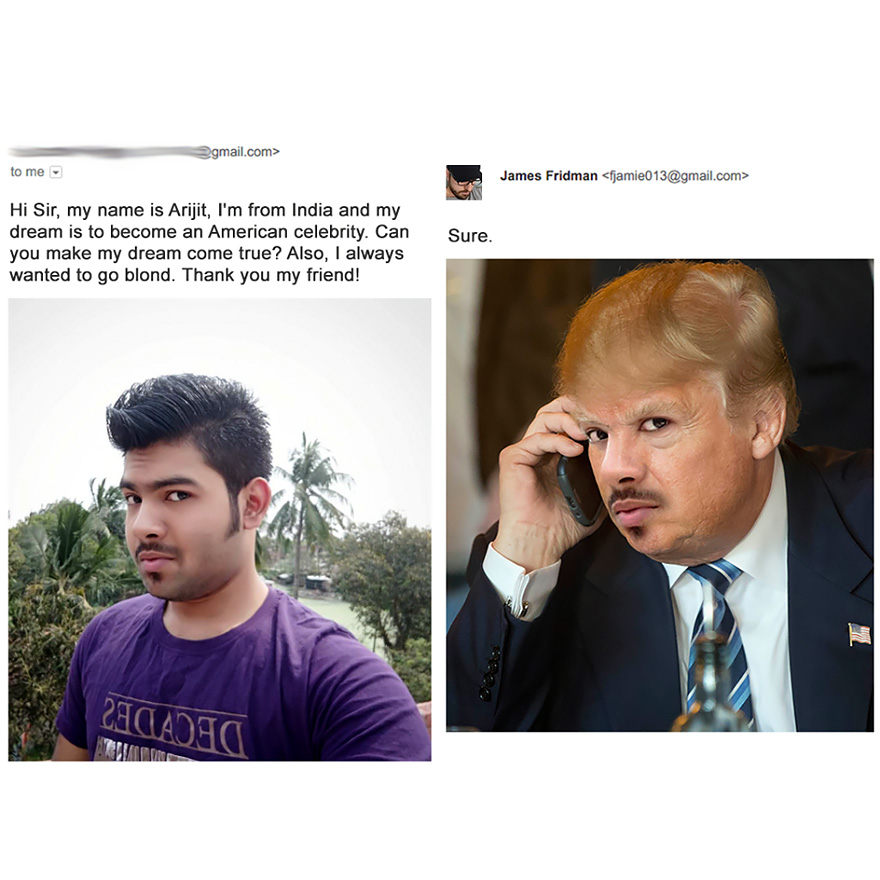 This guy might even end up looking like the next American president, and nobody can take that away from him. Who cares that his picture served as a laughing stock.
17. A Nice Indoor Pool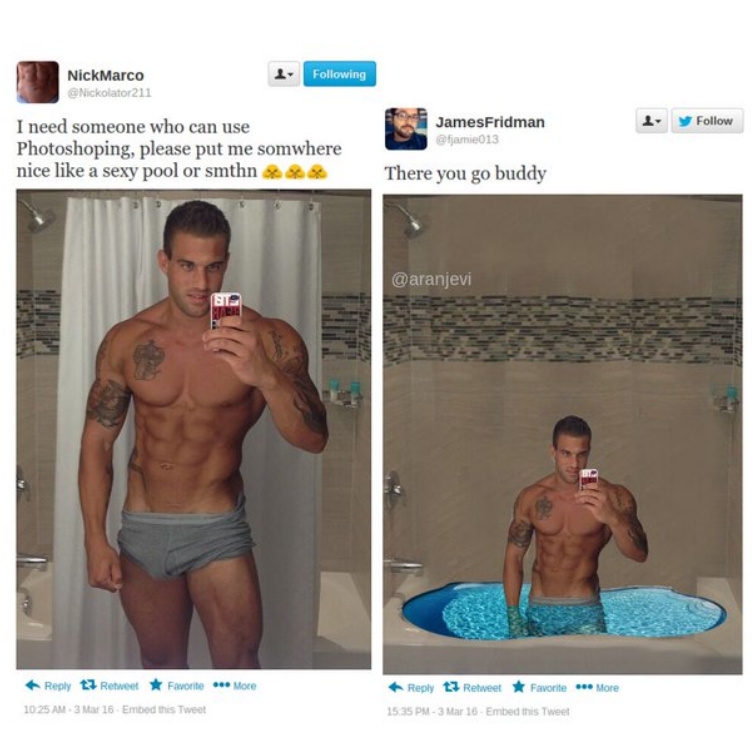 Pools are for indoor use as much as for outdoor. And even the tiniest of them are useful.
18. The Ugly Creature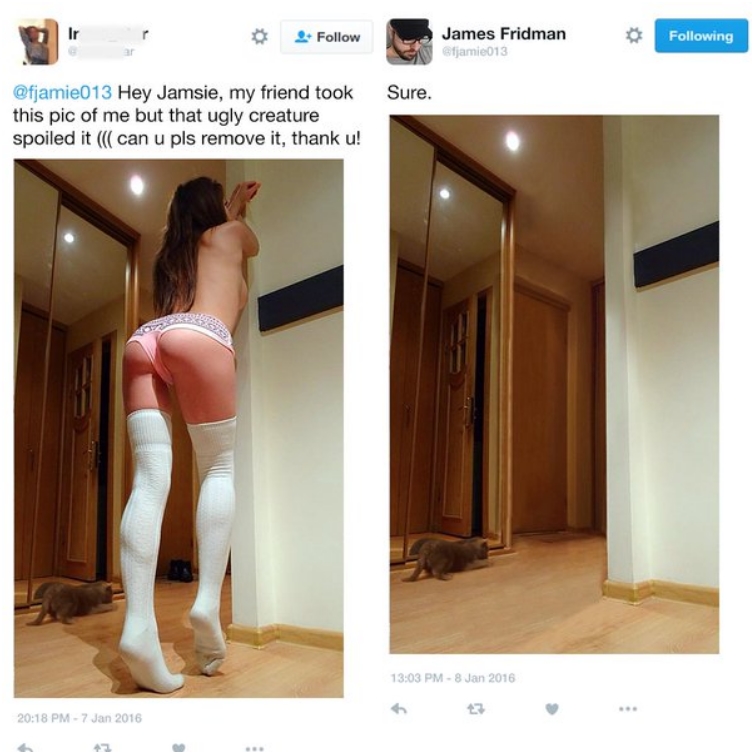 This is what you get when you call cats ugly. Cats are adorable, and they are the stars of the Internet. So the lesson here is: always, always love cats.
19. The American Dream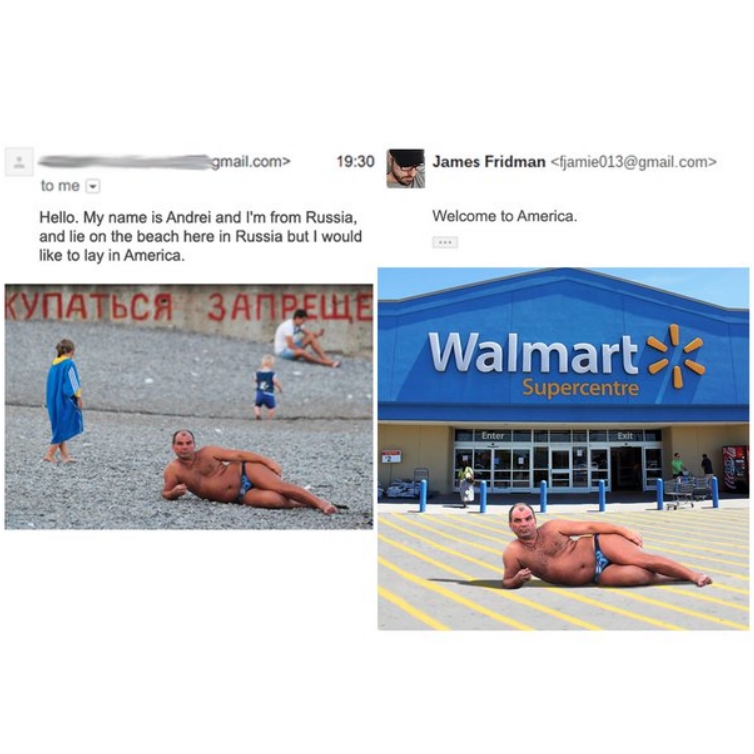 Many people think that the American dream is to become a millionaire. In reality, they end up working in Walmart or McDonald's, so this guy got his wish granted.
20. Work with What You Have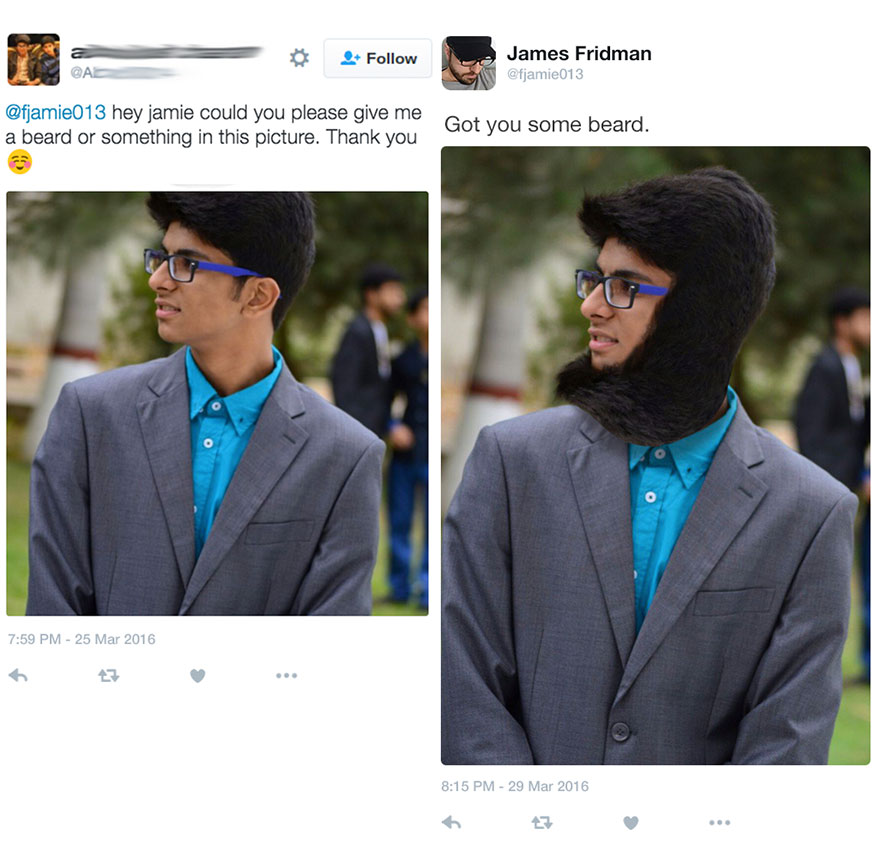 If I were him, I would have rather asked for someone to make that suit look good on me. But with the rise in popularity of bearded men, everyone wants to jump on the beard train.
21. Just Like a Celebrity
You want Taylor Swift at your party, you get Taylor Swift. And as with every event she attends, Taylor gets all the spotlight. So next time, don't ask for celebrities. They'll steal the show from you.
22. Switch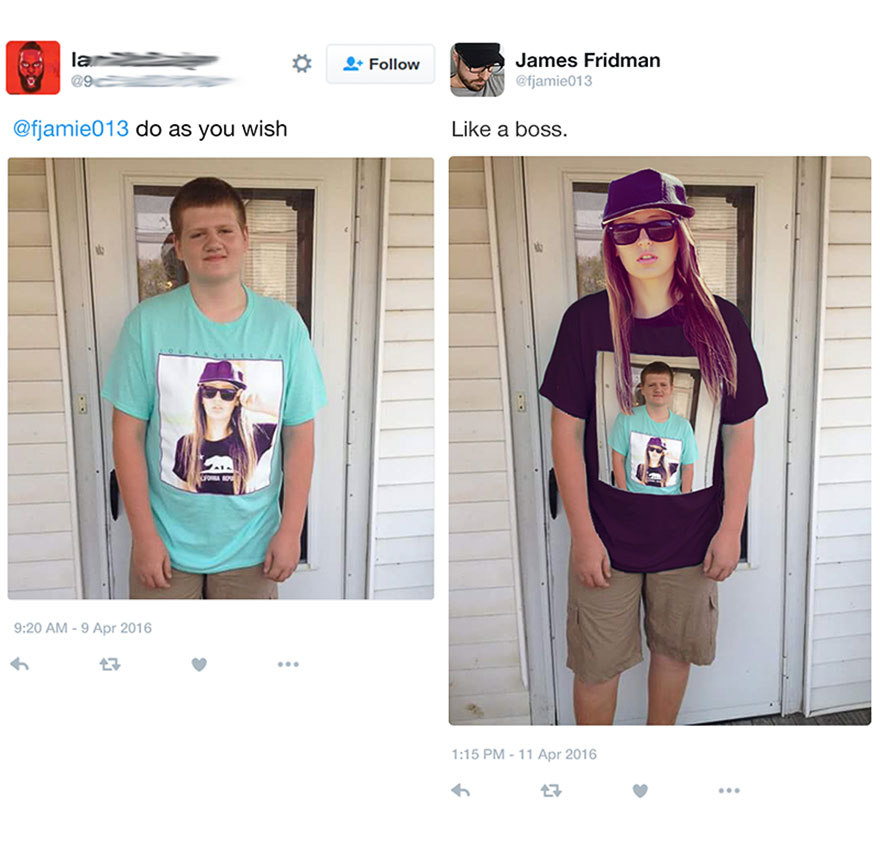 Face Switch is so last year. The new thing seems to be a complete body switch.
23. Thomas Can Be Terrifying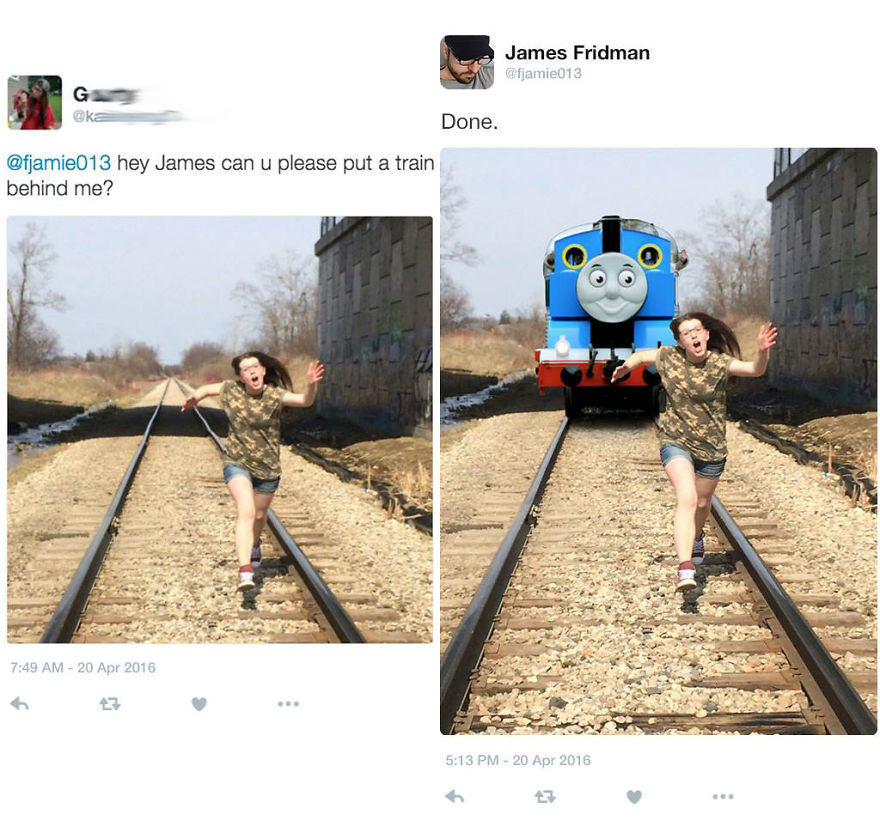 I can't believe that I'm saying this, but even I got scared of Thomas the Tank Engine when I saw this picture. Who would have thought our childhood hero could be so scary?
24. Watch Out for the Propeller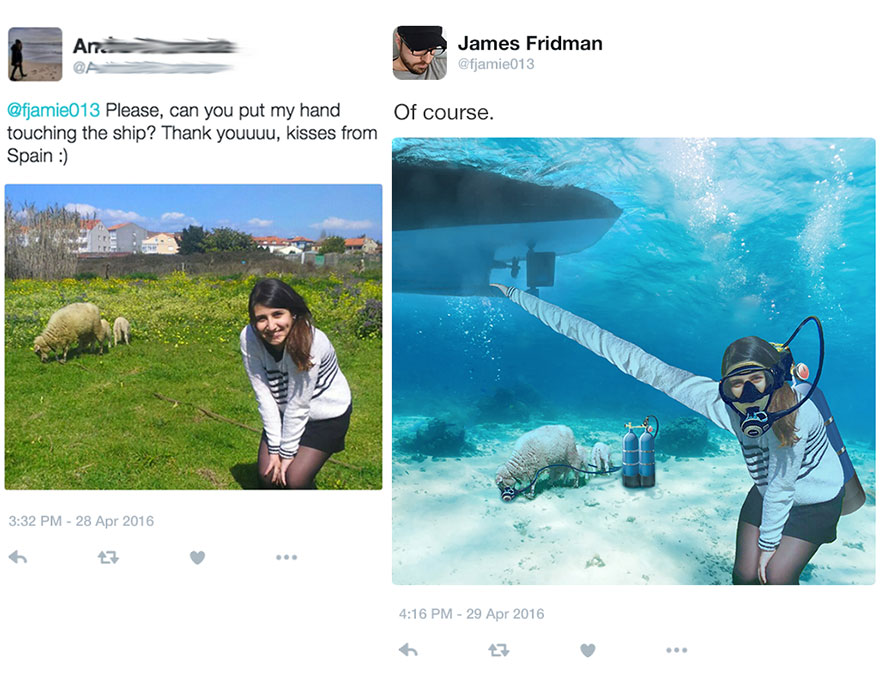 You see, one spelling mistake can completely change the look of the picture. How can you be afraid of touching a sheep? It is not like you're petting a lion.
25. Booooobbsss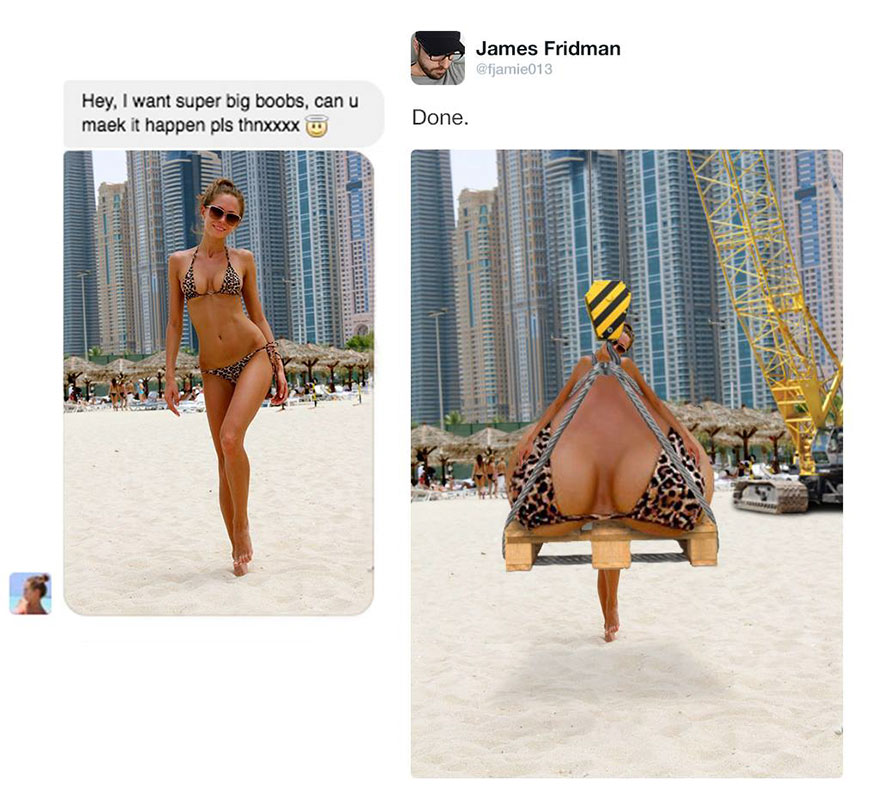 The sad part is that some women actually do have such big boobs nowadays. For those who want to see them, Google Mayra Hills.
26. So Little Space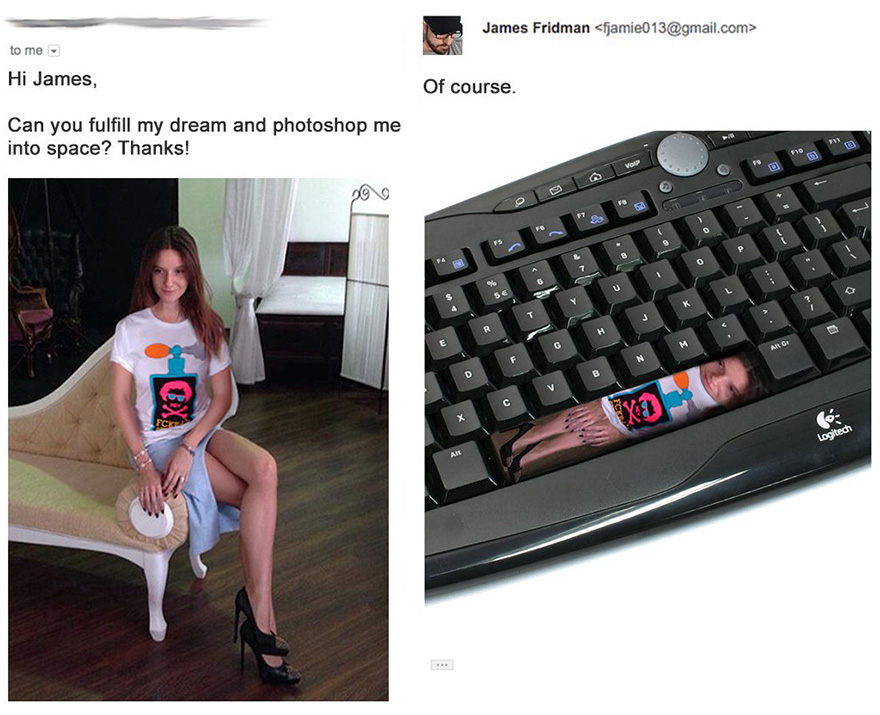 Dreams do come true, don't they? And if that keyboard ever ends up on a spaceship, this girl will go even further.
27. Do the Work Yourself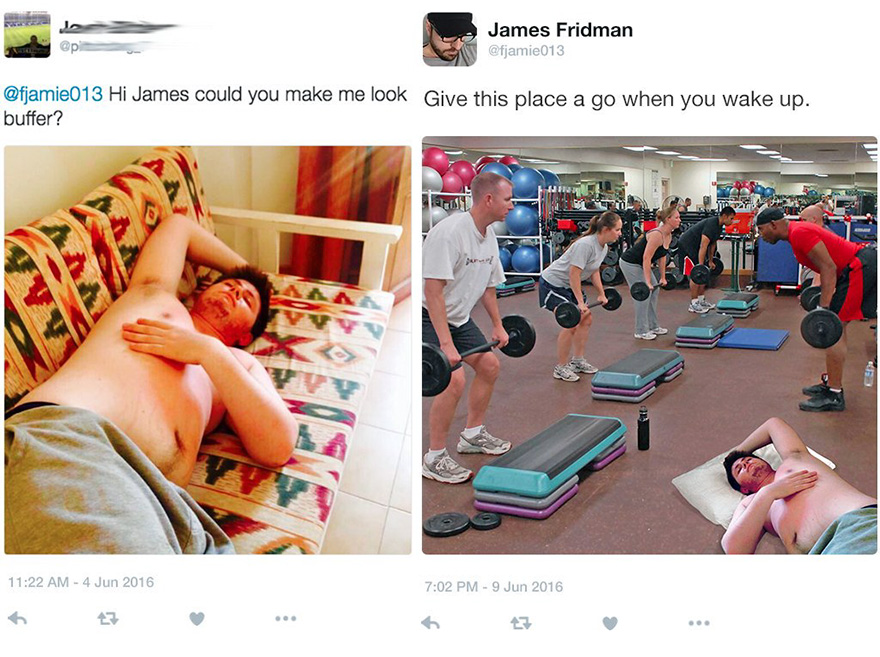 I am so happy because of this picture. Some people do not appreciate how much work and effort you need to invest in looking fit. There is no magic pill nor a magic Photoshop trick, for that matter.
28. Miss Legs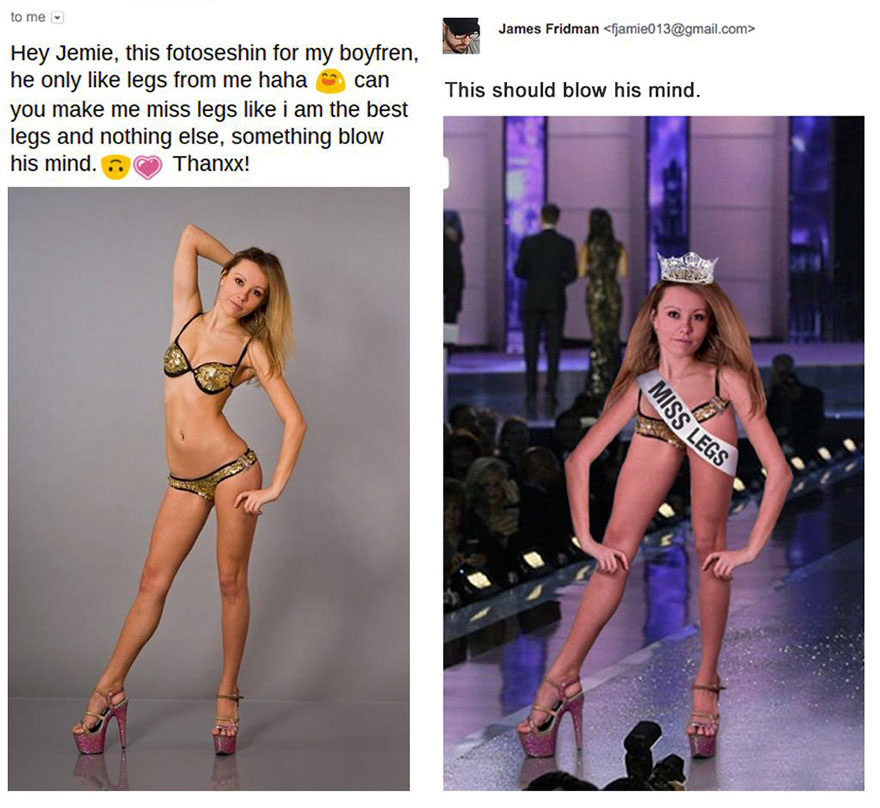 If your boyfriend sees this picture of you and still wants to be with you, well, that's love for sure.
29. Smooth Baby Face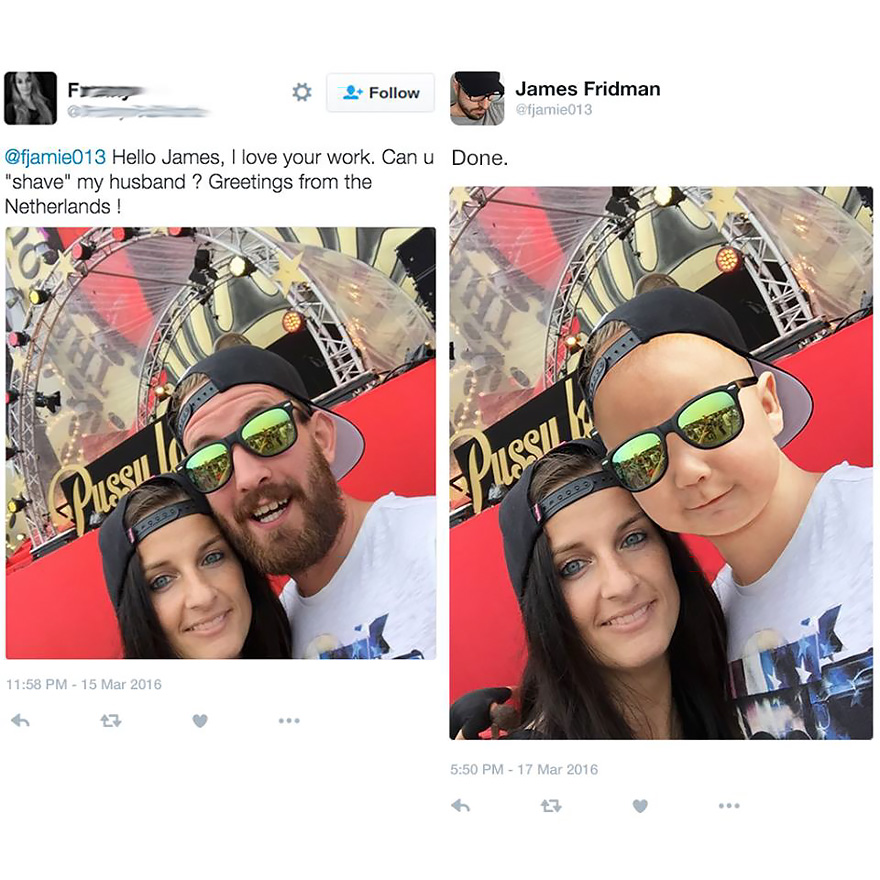 Some people say that men never grow up. Here is your proof. This girl went from taking care of a grownup man to taking care of a baby boy.
30. Twisted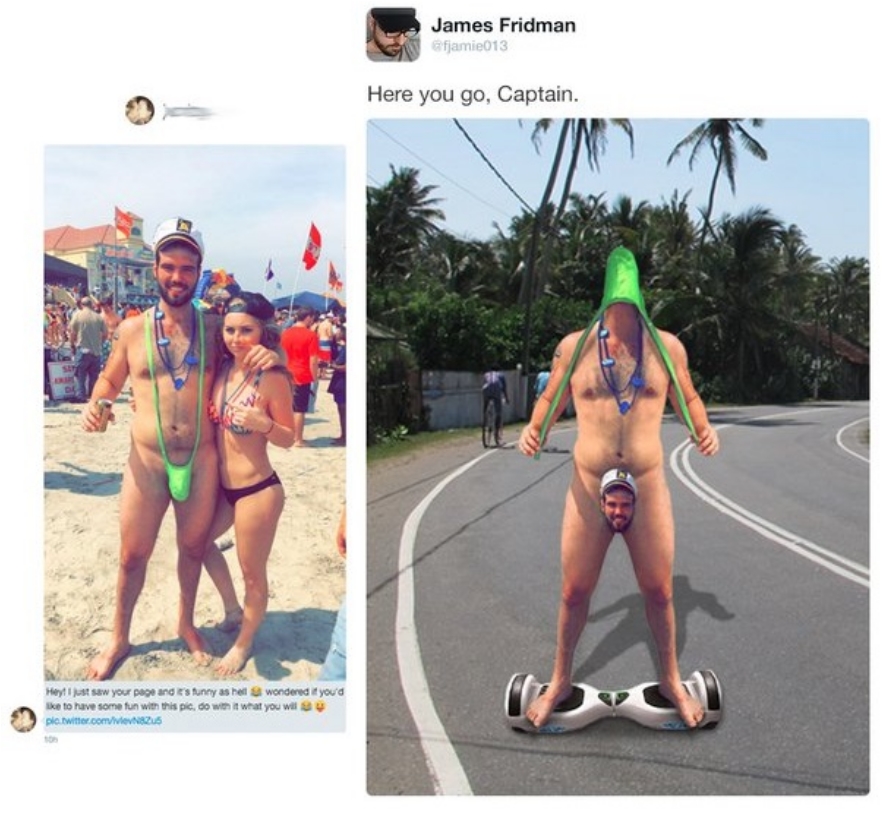 You're asking for it when you wear Borat bikini underwear. I never understood the hype, but now at least I get some satisfaction with this picture.
31. Why Would an Angle Have Wings?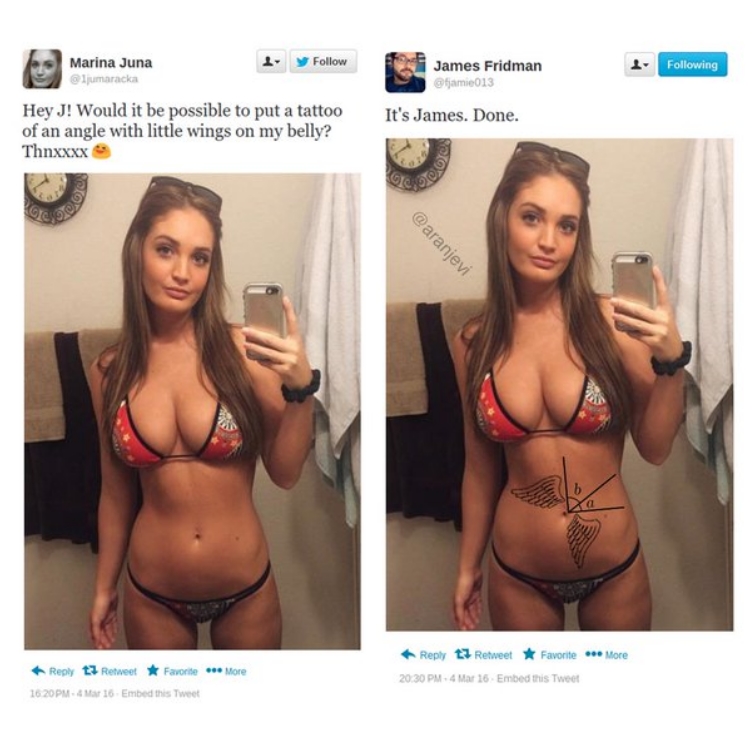 Do you see how much difference there is between angle and angle? Just two letters in a five-letter word, but the result is hilarious.
32. Biiiig Booootttyyy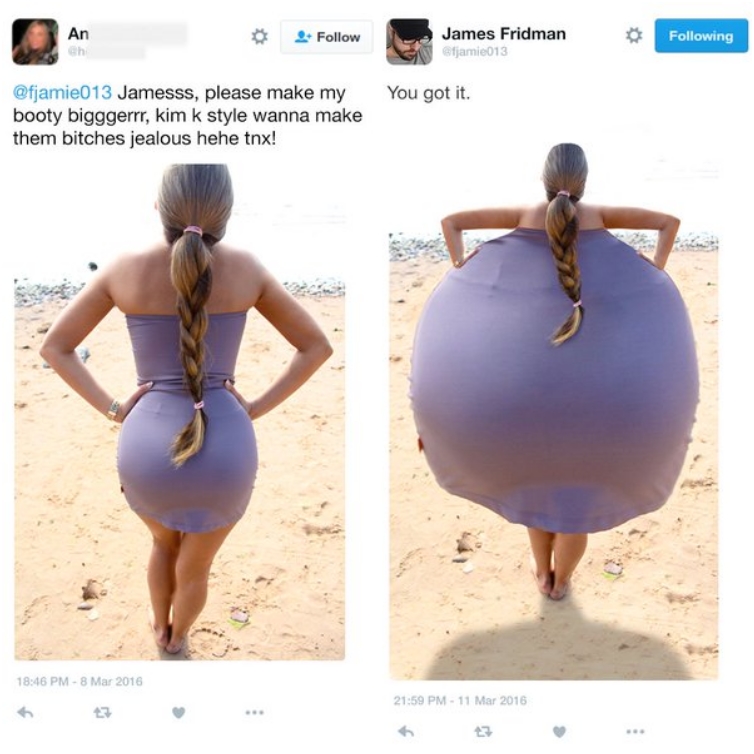 I bet even Kim Kardashian and Nicki Minaj are jealous of this girl. She can even be in some of Beyonce's videos.
33. Duck!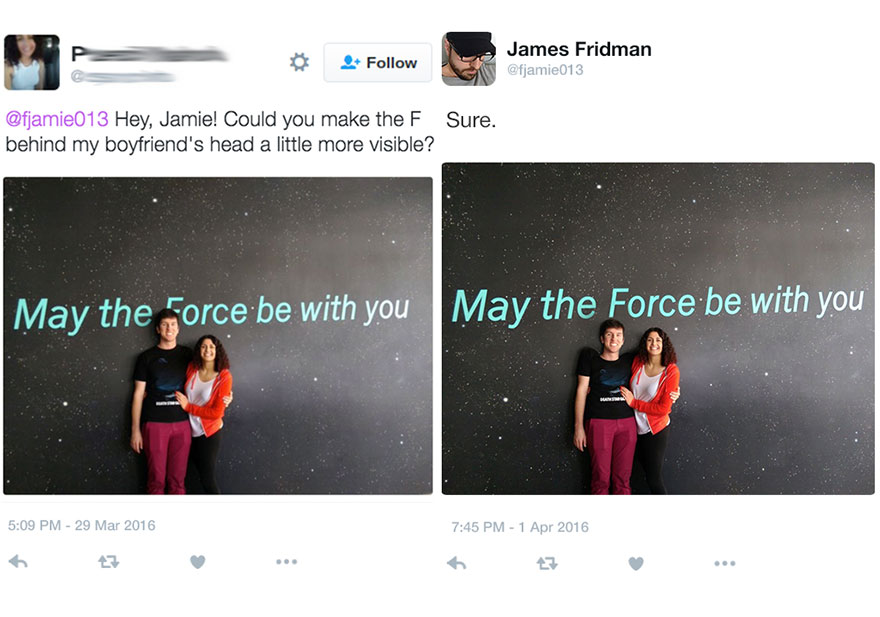 Some people think Photoshop can do everything. Well, something always has to give, and the trade-off here is she got the F, but her boyfriend lost his shoulders.
34. At Least It's Not Some Other Ben
Some girls just want too much. The trend of holding buildings has to stop in photography. I don't understand it. What if we start holding celebrities like Ben here one day? God help us.
35. Too High?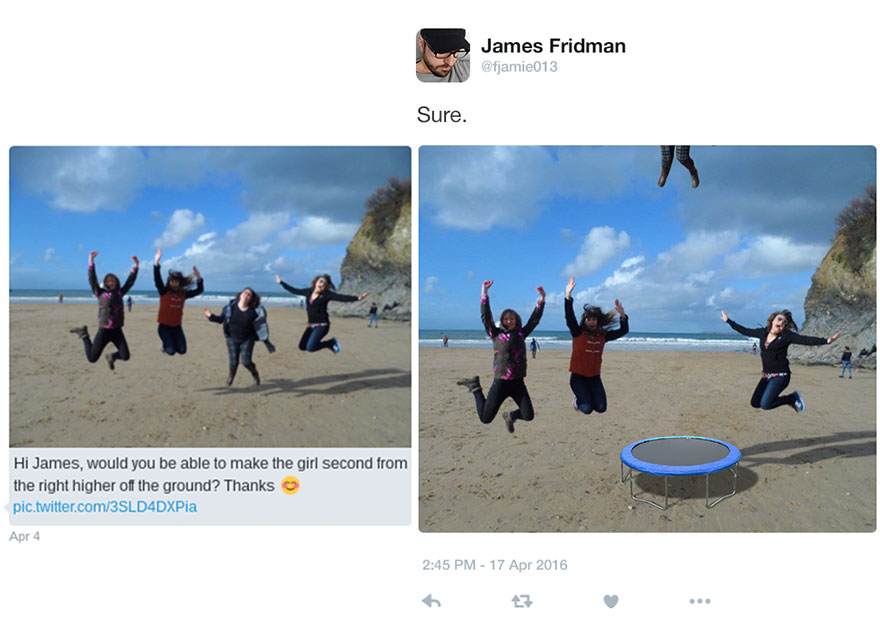 Hey, at least James was kind enough to insert a trampoline in there, so people can understand how the girl jumped so high. We definitely need logic in these pictures.
36. Try It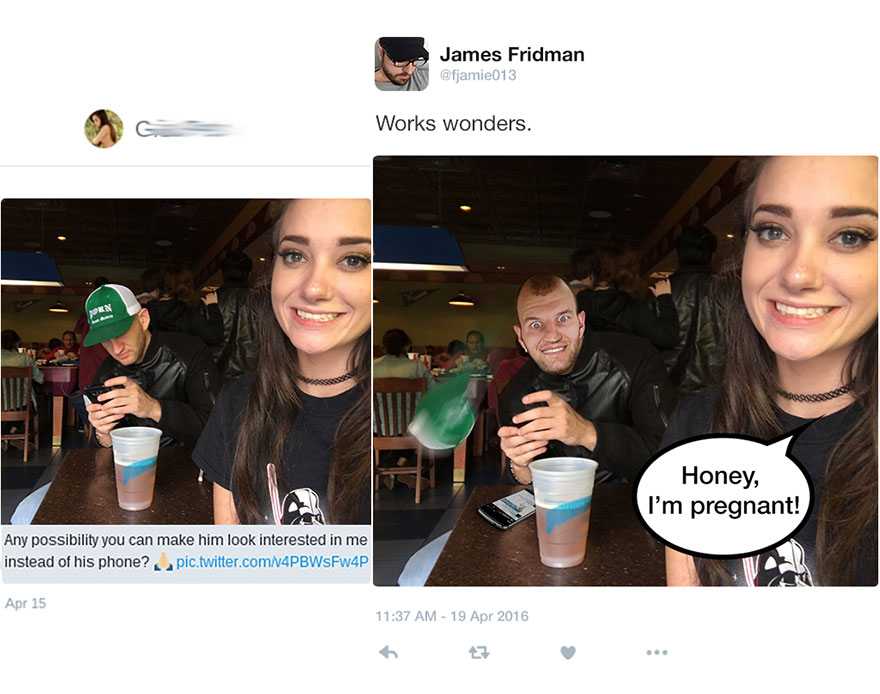 When you tell some guy you're pregnant, he will either react as this guy does, or run away. At least in this case, the guy didn't run away.
37. An Atrocious Crime Indeed
This has to be one of the worst criminal cases ever. And the sad part is that it is true. It reminds me so much of the amoeba boys in Powerpuff Girls. Those were the best criminals.
38. Why Change?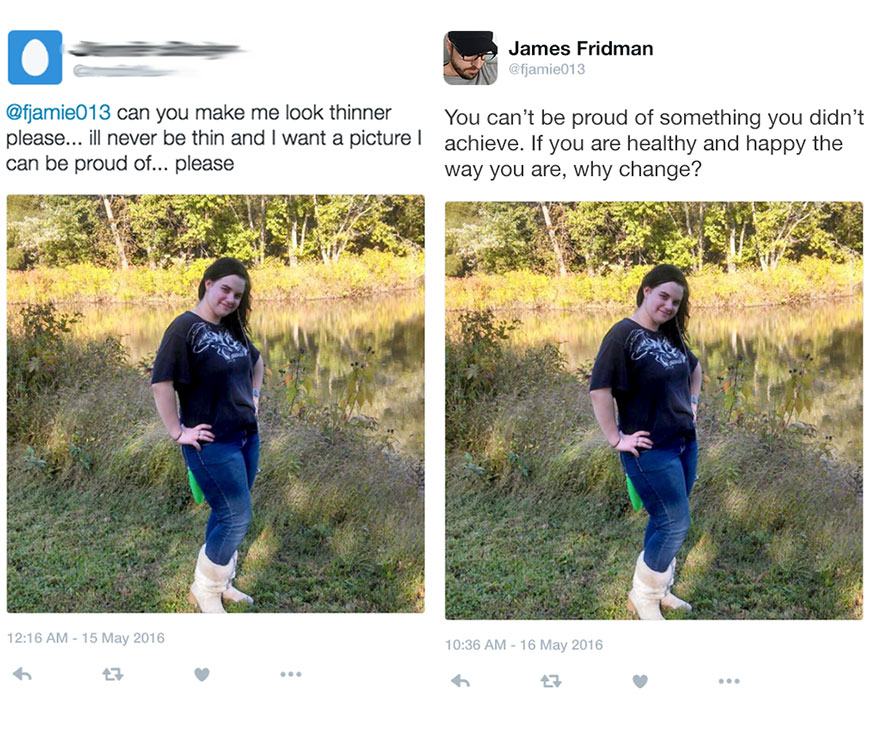 I said this previously, but we are putting so much emphasis on our looks. This girl looks as healthy as ever—it's probably only her body build that prevents her from looking thin. But why would someone want to look like an anorexic model?
39. Man of Iron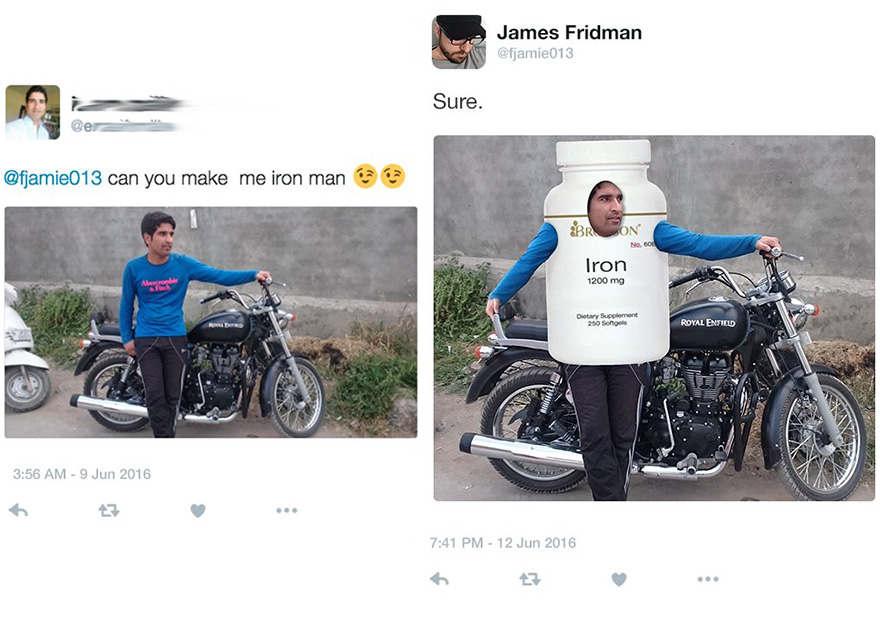 This way, you'll always know how important iron is for our health. And be thankful you didn't end up looking like one of the old iron men from the 1978 movie.
40. The Lionel Messi Hair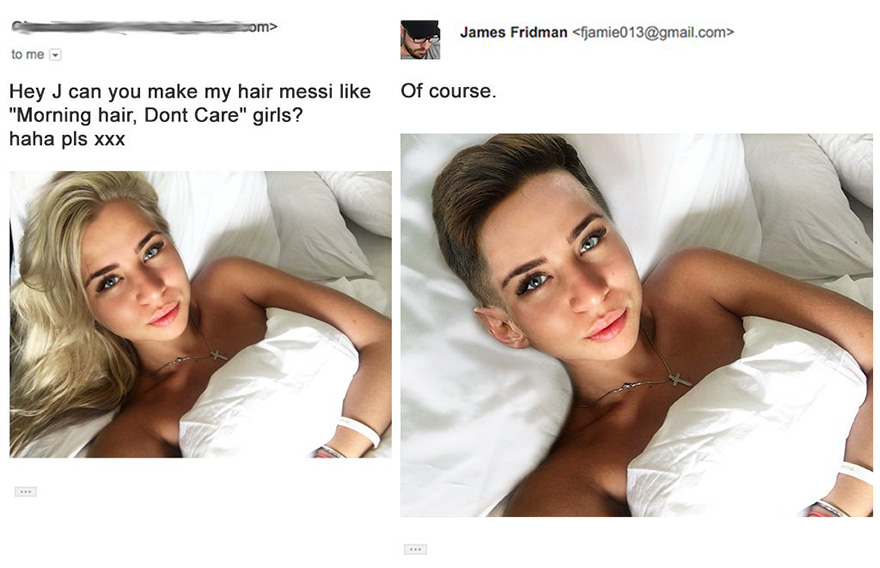 Even Lionell Messie would be proud how good his haircut looks on this girl. You could even make an argument that his hair makes her look more beautiful.
41. Or Did He Want the Tank Behind Him?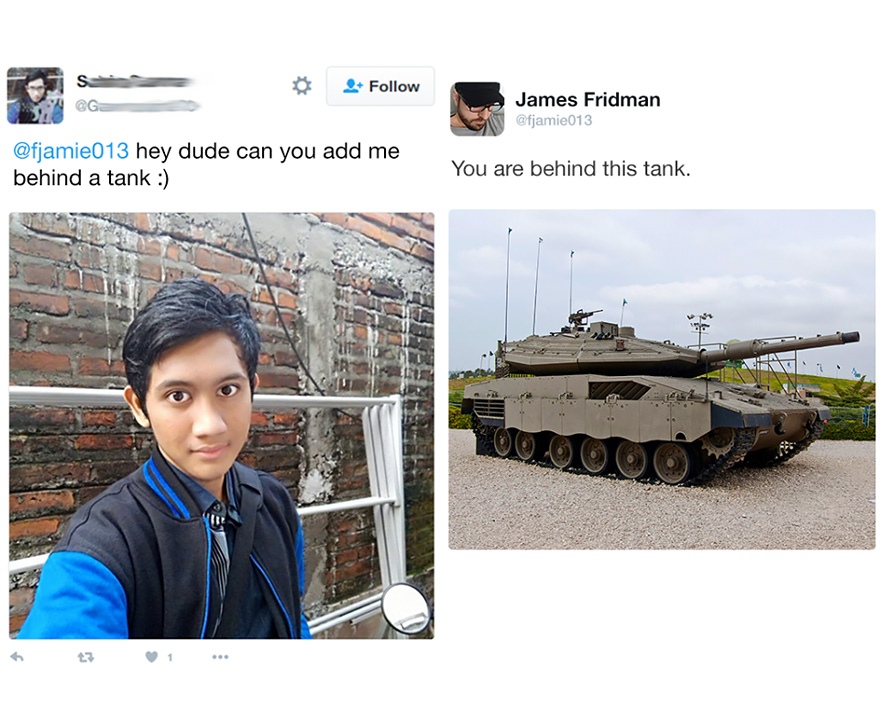 When you are behind something as large as a tank, you can't expect to see yourself. He probably meant he wanted to be in front of a tank, but hey, he got his wish granted.
42. Going with the "Fake" Theme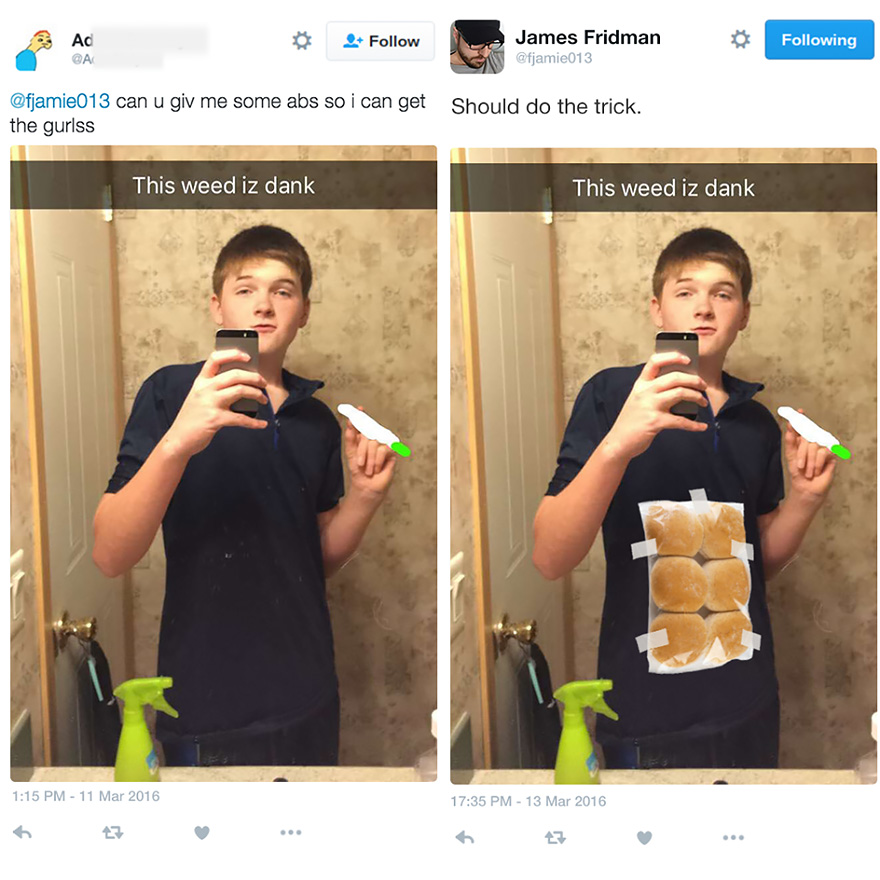 I love those abs, and I'm a girl. Can we meet? Jokes aside, how can you expect abs to be visible when you have a t-shirt on? Not that James wouldn't find a way to make it funny even with a bare chest.
43. Good Boy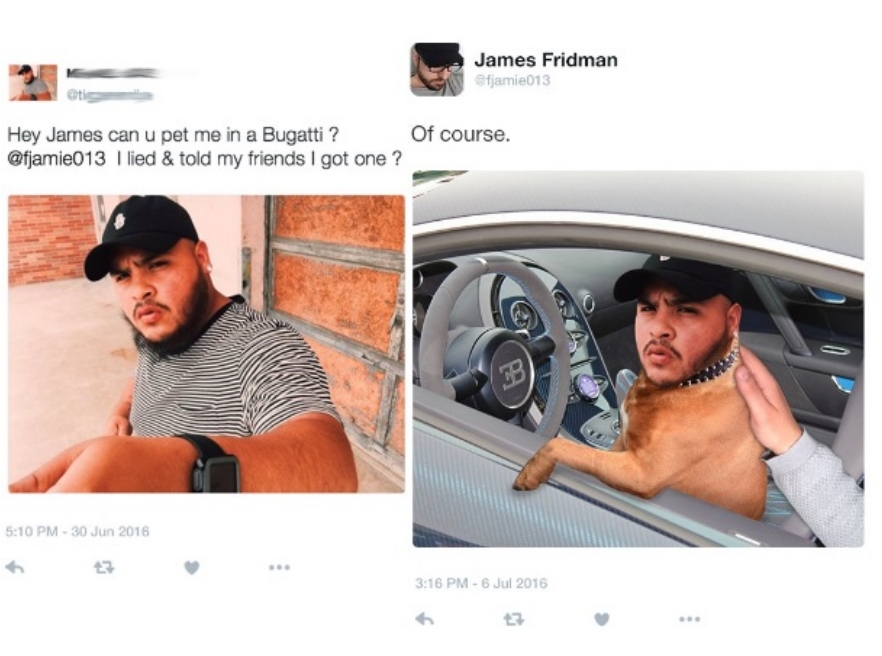 Let's repeat this lesson once more: never, ever, lie to your friends. They will eventually find out, and you will look like an idiot.
44. Have Fun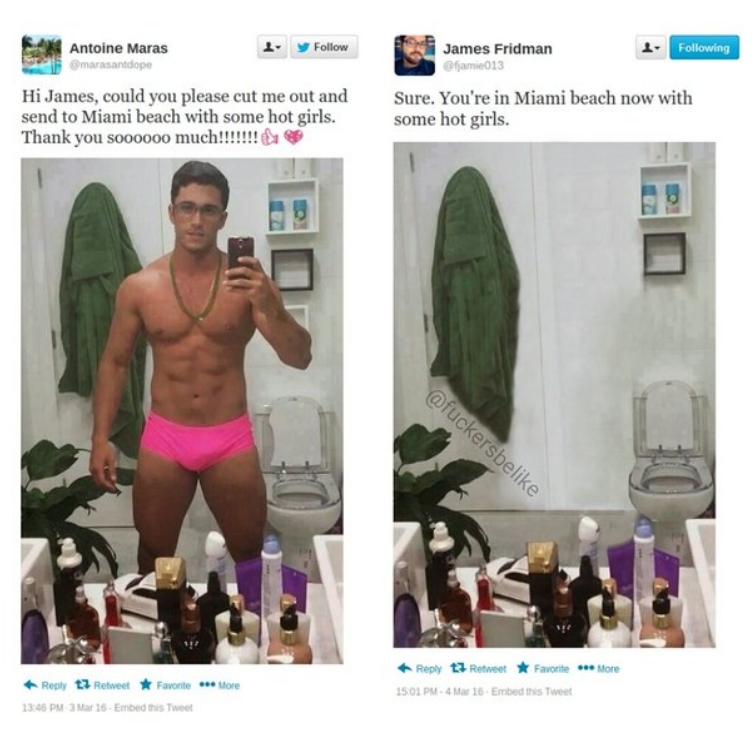 For one, I always love a good mystery. It's better when people don't know where you are and where you've been. We can keep guessing, but who's to say this guy is not in Miami now.
45. The Scariest Thing Ever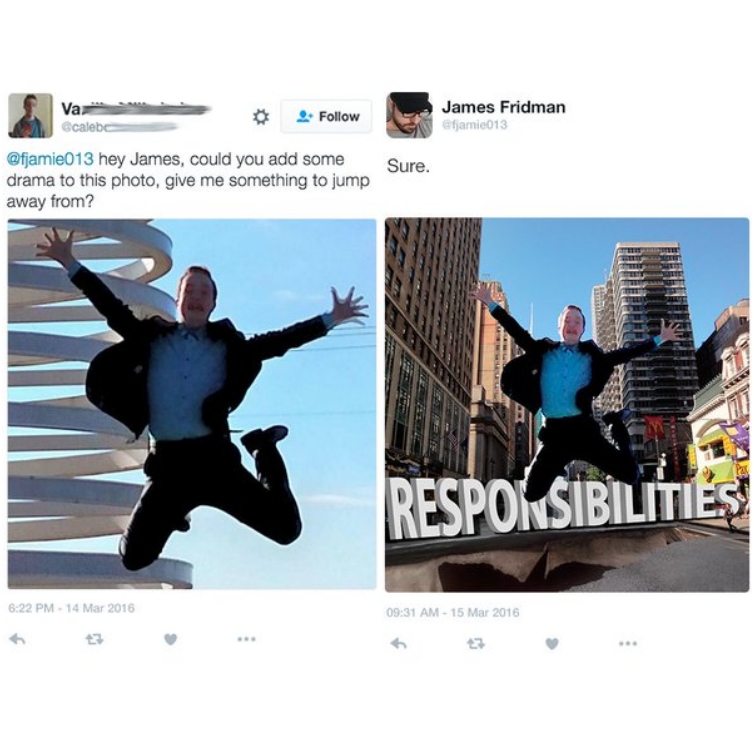 We all try to run away from our responsibilities, and that is sad. Be responsible, and you'll have enough drama.
46. She Looks Good in Yellow Highlights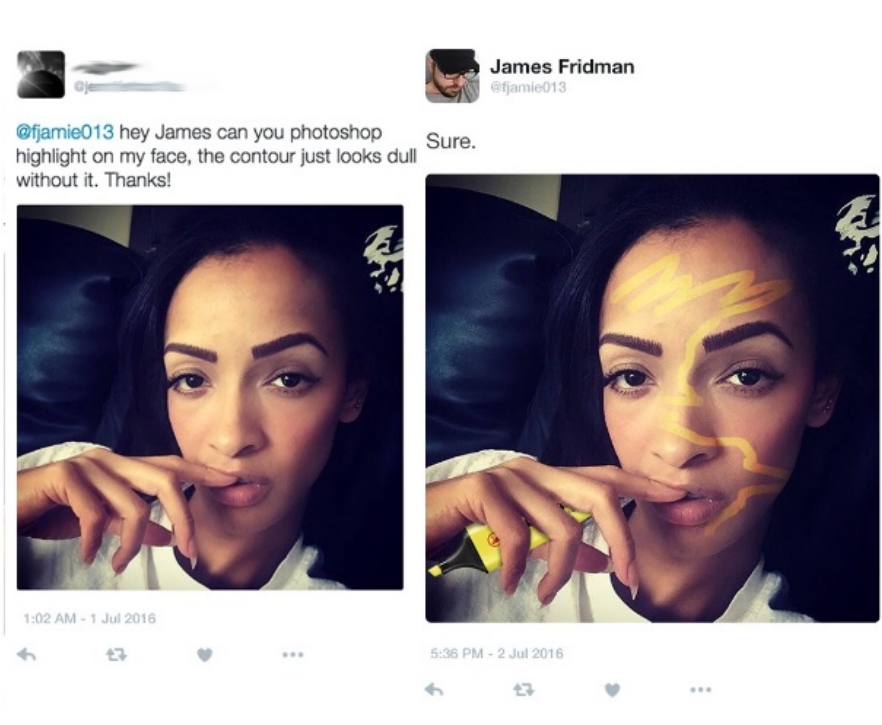 At least now she looks interesting and unique. And truth be told, yellow suits her really well.
47. See the Difference?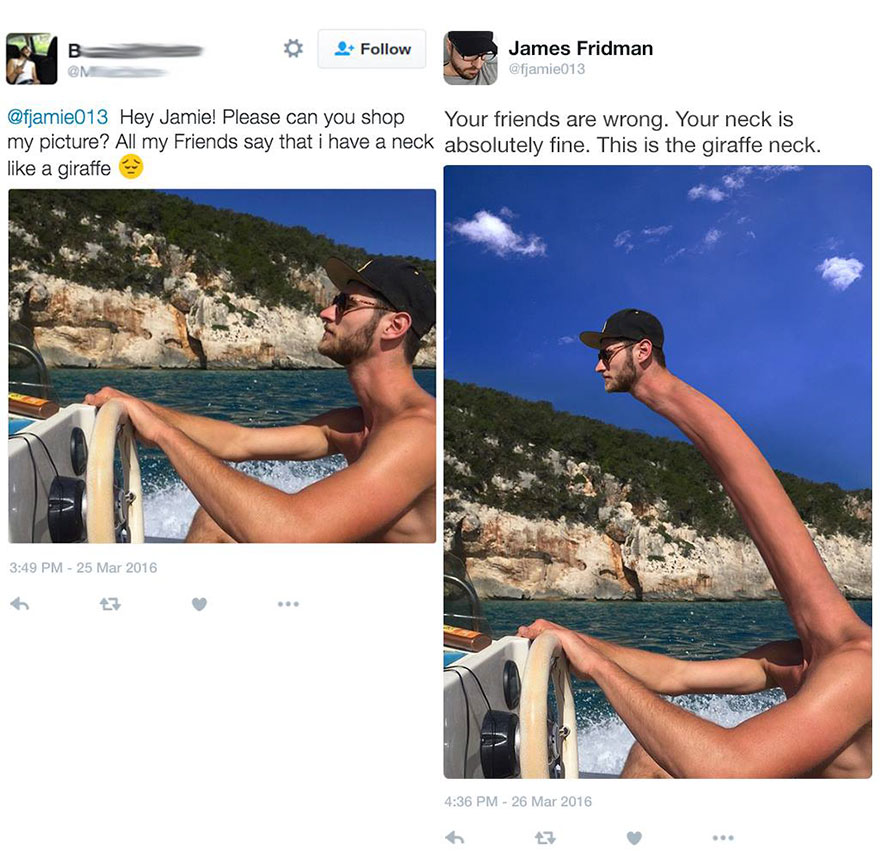 This guy definitely needs to tell his friends to read a few biology books.
48. Wouldn't Have Pegged Her for a Builder Type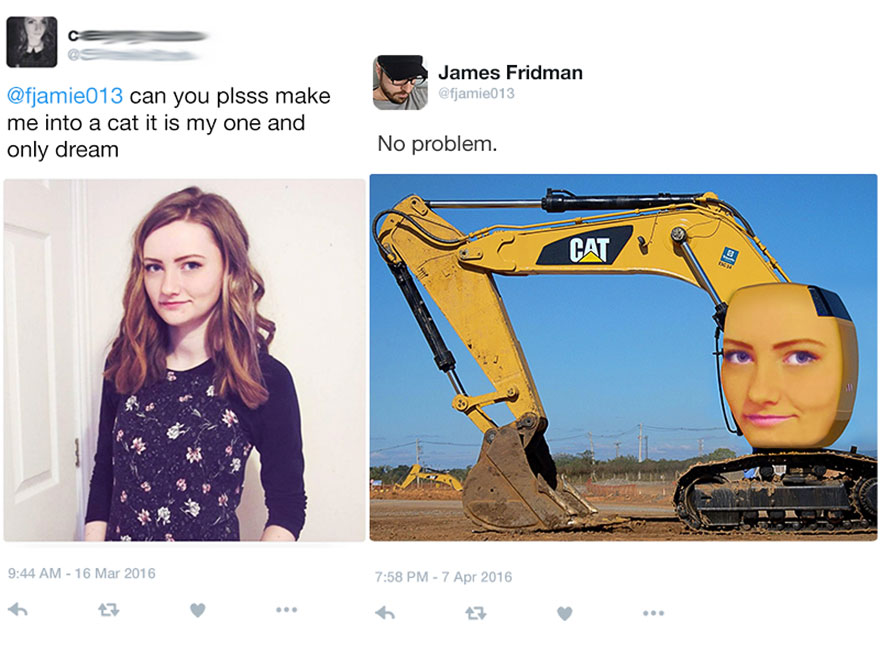 You can be sure that her value went through the roof. CAT is definitely a brand you would love to be part of.
49. That Panda?
Pandas are one of the cutest animals in the world, and I can understand why this girl wanted to be a panda. But James' response is just awesome.
50. Decisions, Decisions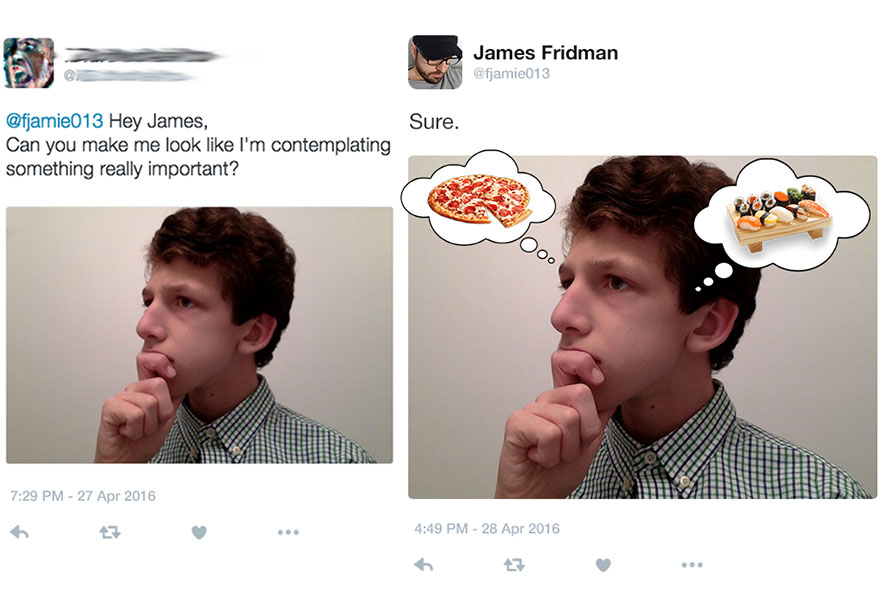 To eat or not to eat. That is actually a question we all ask ourselves few times every day. I know I do.
51. Now You Look Different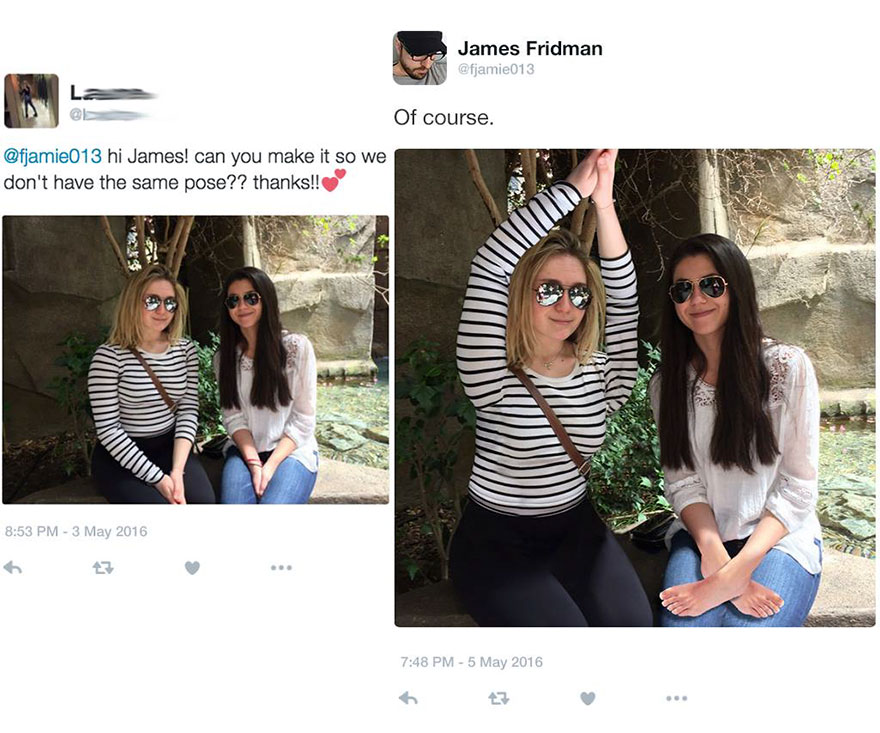 I really don't understand why they wanted to look different. Their picture was so cute, and they looked like very good friends. Well, I guess friendship is different these days.
52. Why Not Both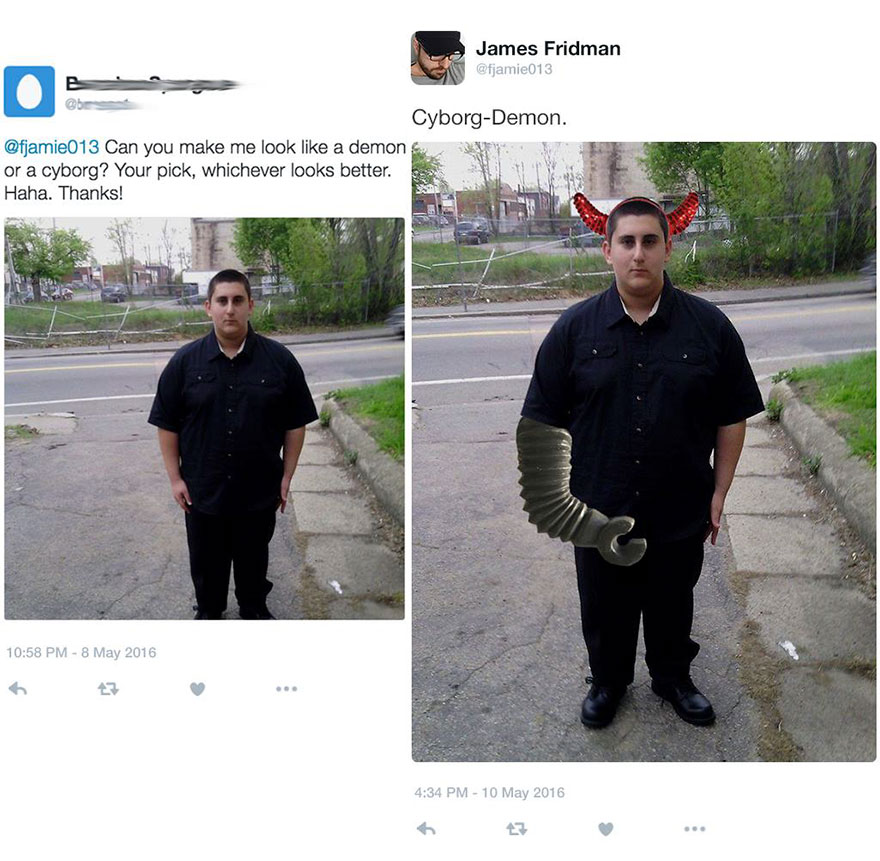 This is one of the classic ways to solve a dilemma. Whenever you are contemplating between two things, ask yourself: why not both?
53. Preventing Mistakes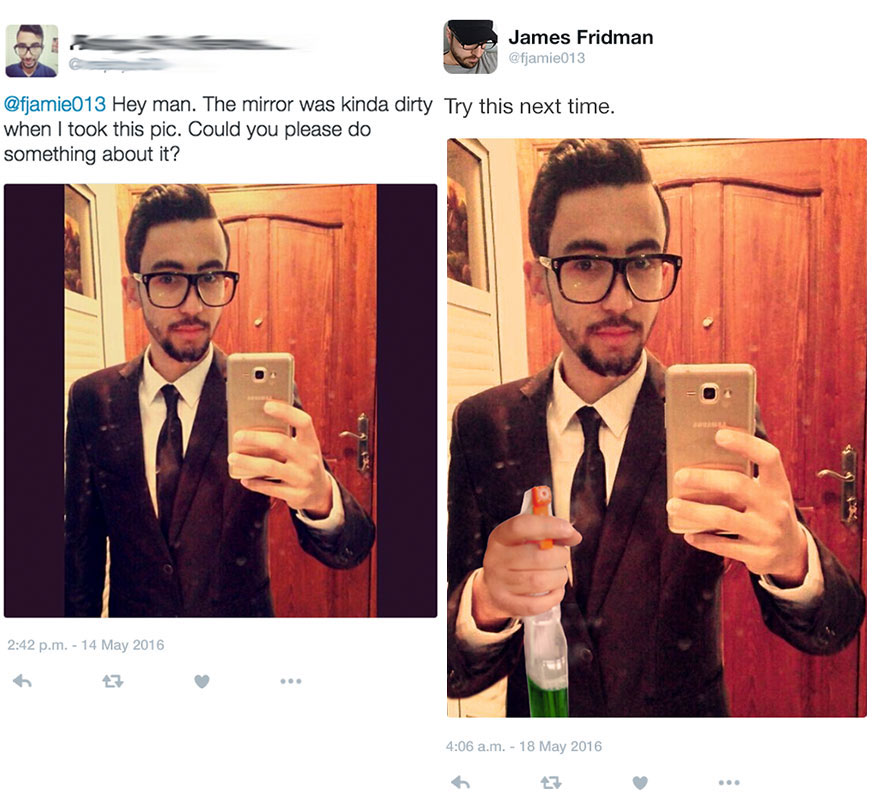 Go ahead, clean that mirror, my friend. You can even send in that picture to a commercial and marketing campaign for cleaning products.
54. Seeing Red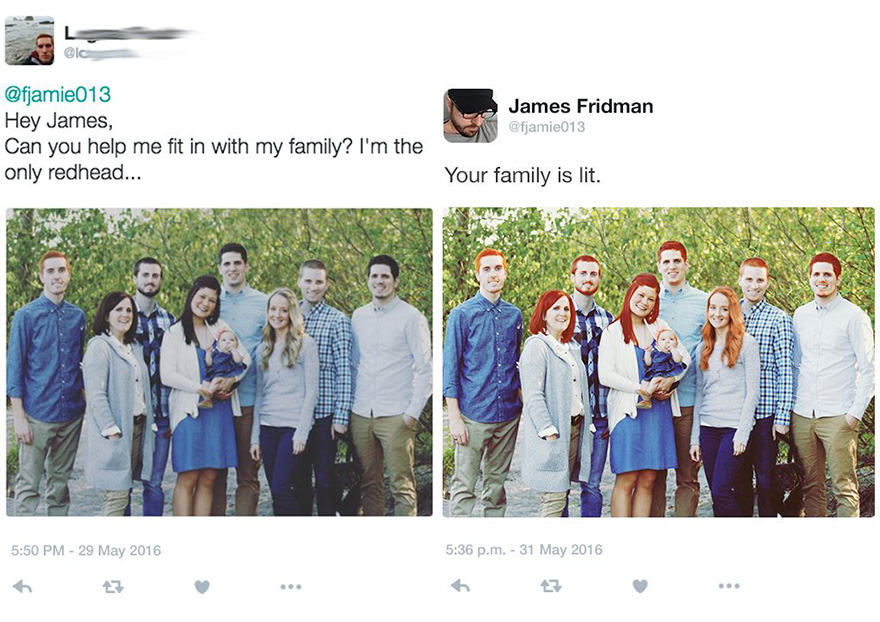 Ron Weasley helped gingers become famous. I don't know why this guy minds being different and popping out of the picture. Gingers are awesome!
55. Wait for the Mail to Arrive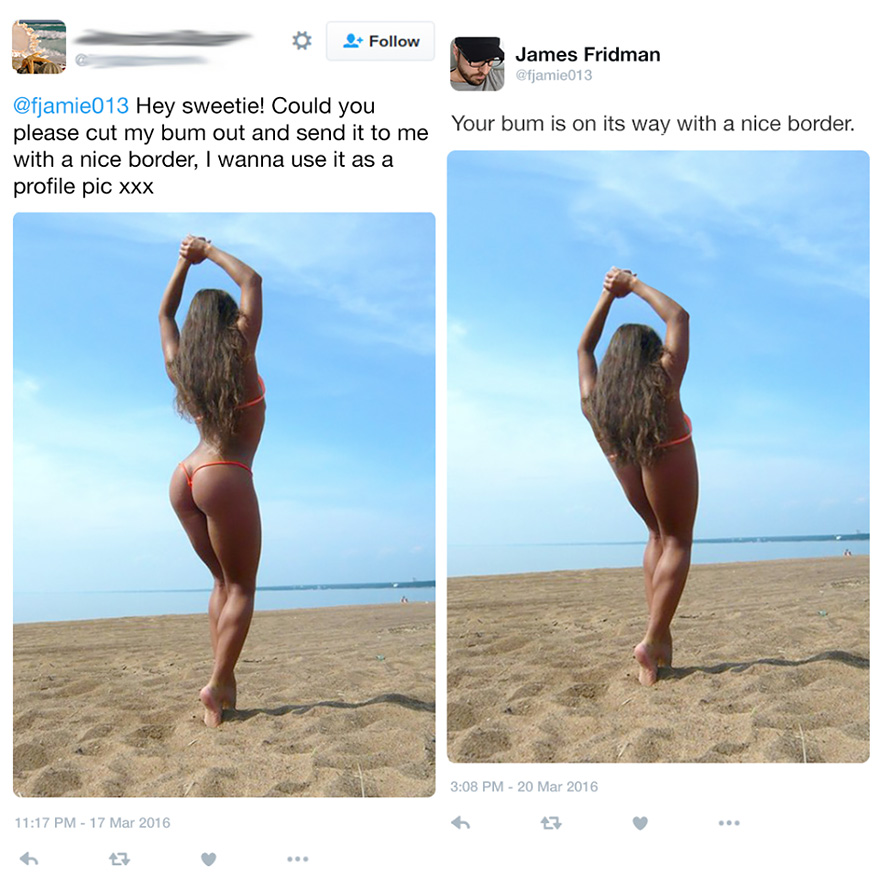 A simple zoom could make this problem go away. But some girls don't want to zoom their pictures. On the bright side, she does look hot.
56. Guess This Is What Sexy Pirates Look Like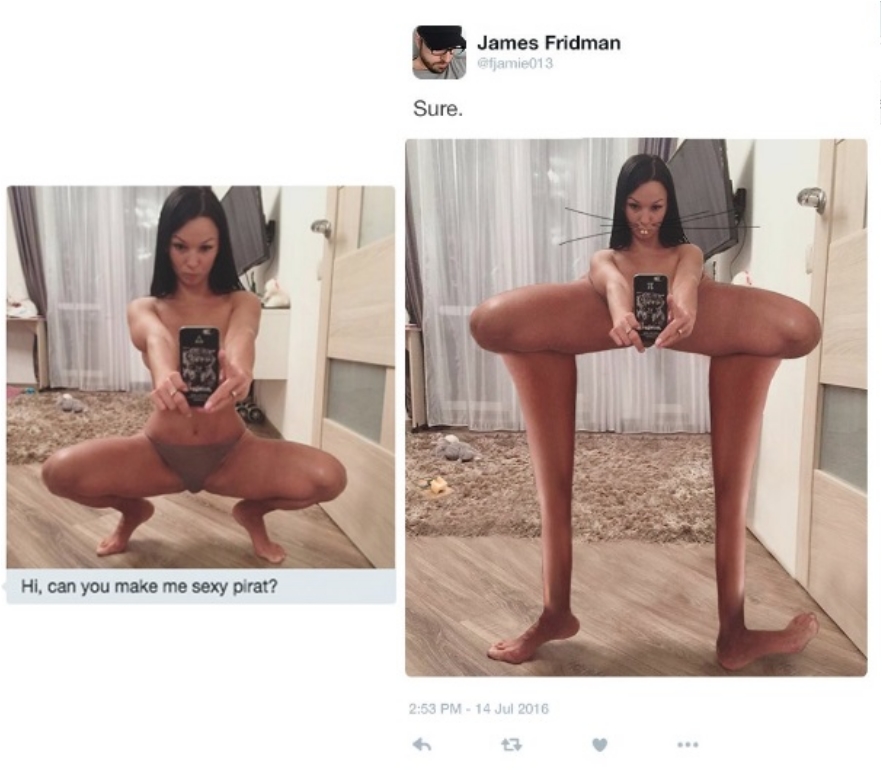 There was a time I wanted to be a sexy pirate, but that is definitely behind me now. Some things you just can't recover from.
57. No More Staring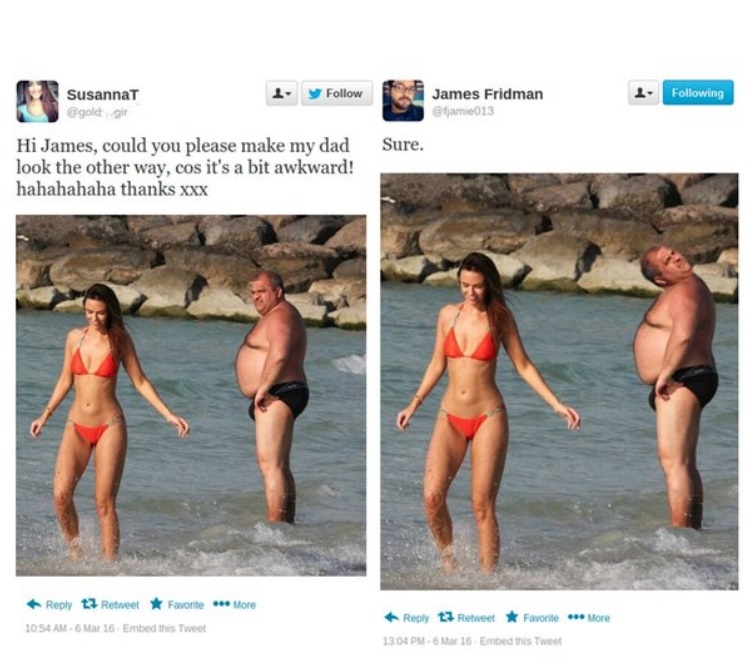 Truth be told, it is awkward when your dad looks at you that way. But how can you make it even more awkward? When he looks the other way, of course.
58. He Was Referring To Himself, Right?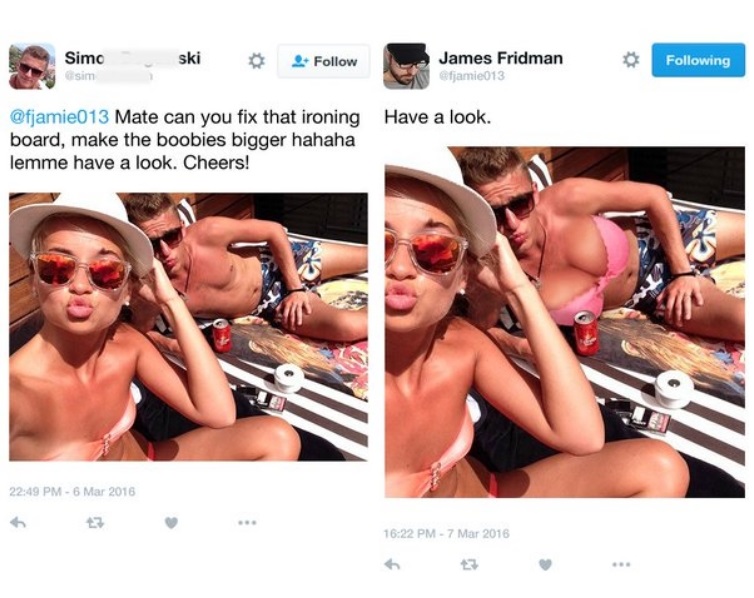 At least now he can say he has bigger boobs than most ladies. And most ladies would kill for a rack like that. Sadly, we can't all have that. But some are happy without big boobs; why can't men appreciate that?
59. No Filters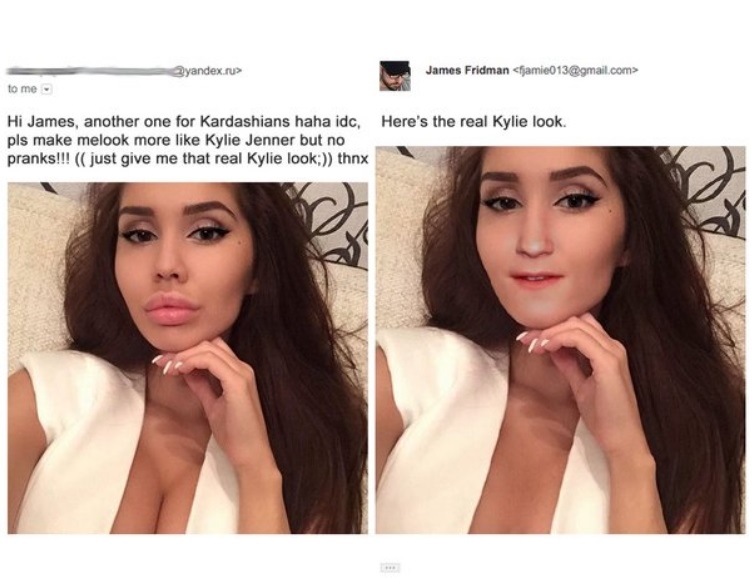 She said no pranks, right? Well, she got what she asked for.
60. Earth and Mars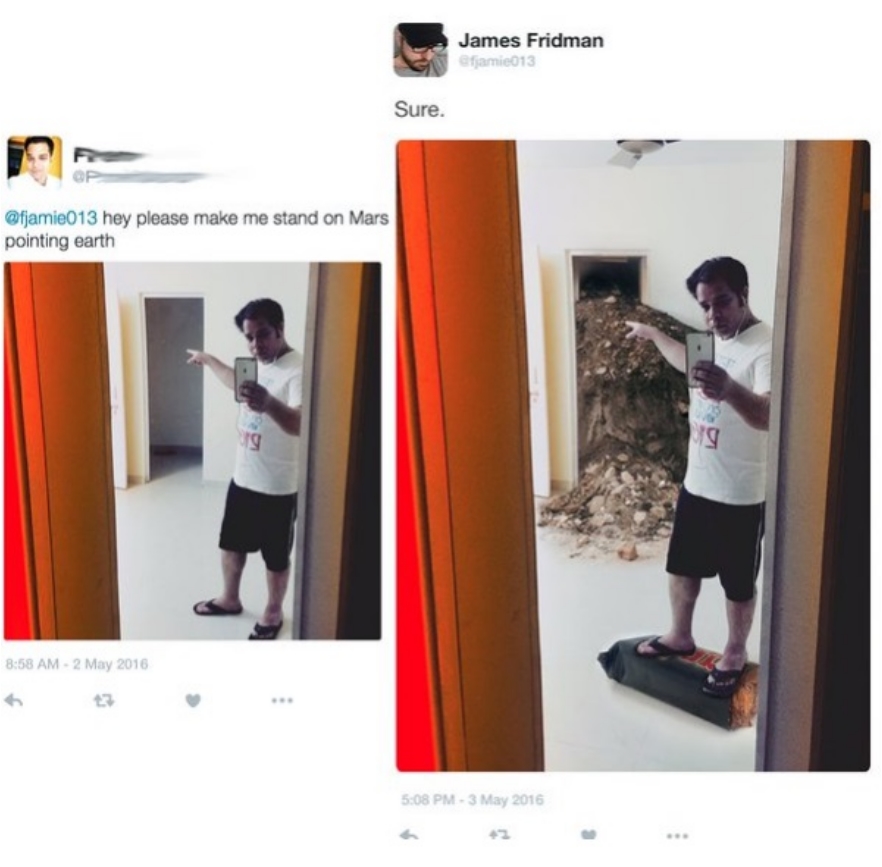 Jokes aside, I would love a big Mars candy bar. Especially if it comes in that size.
61. Where Did All the Queers Go?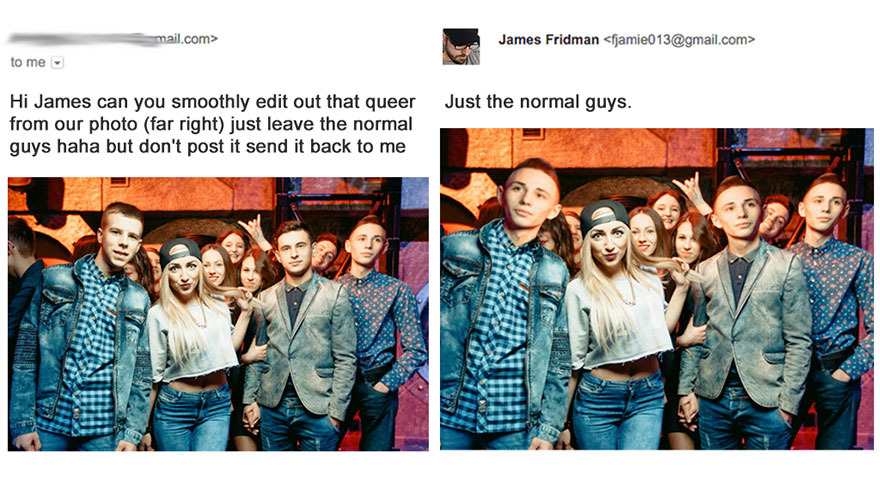 In moments like this, you ask yourself: who is the normal person, and who is the insane guy?
62. I Think I Found One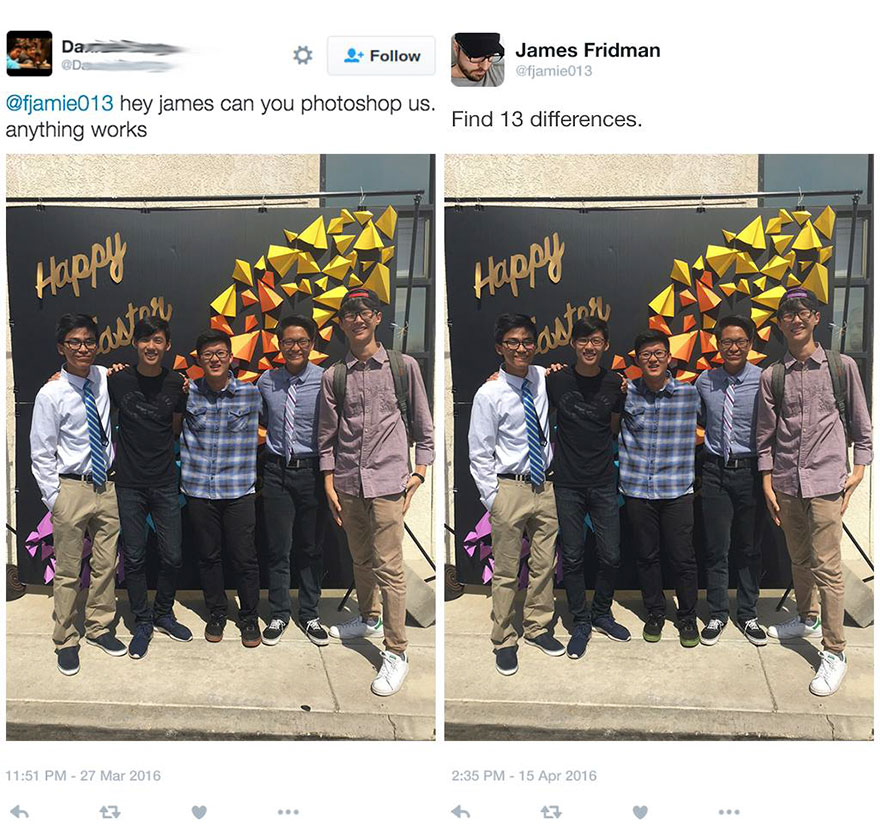 I bet you tried to find the differences. Right? I'll help you. The guy in the middle has green shoes on in the picture on the right. And the guy in the pink shirt has no watch on in the right picture.
63. Didn't Say Which Camera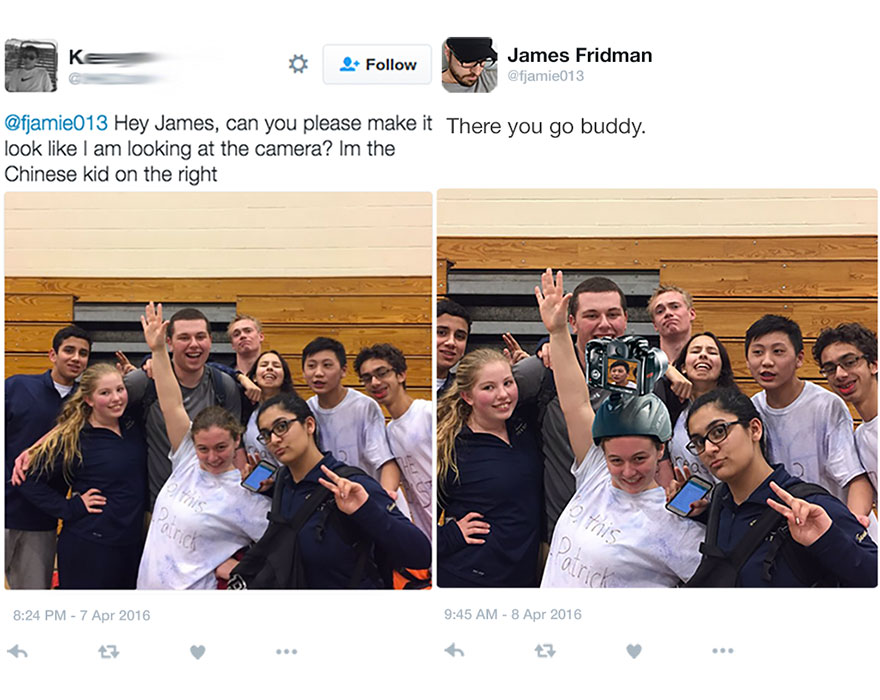 He's looking at the camera now. Before, it looked like nobody was looking at the camera. At least now he is!
64. Tumblr Represent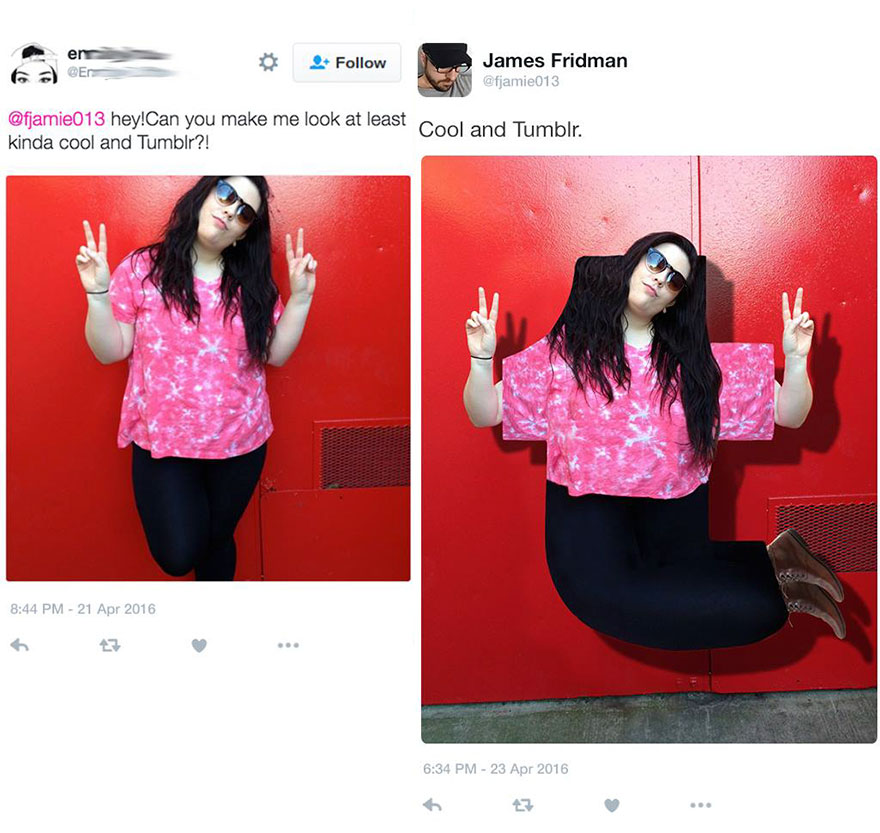 If this girl ever opens a company, she can use this Tumblr picture as her company's logo. It's that good!
65. At Least He Didn't Turn Him into Princess Leia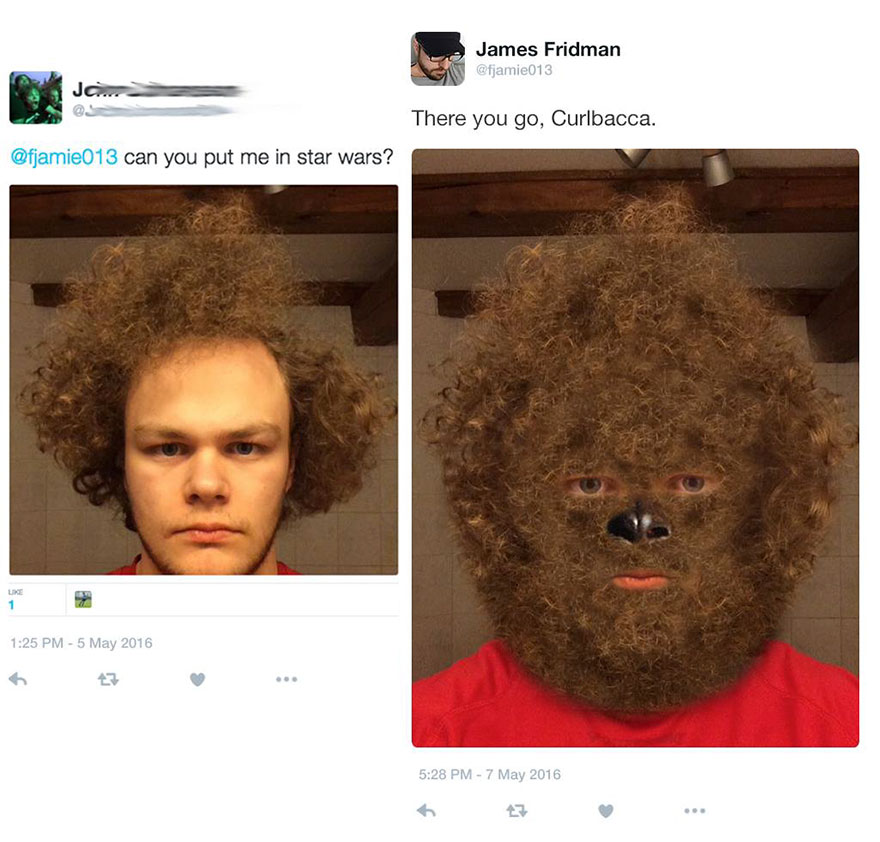 I wouldn't mind if I was this guy. Chewabaca is an iconic character, and definitely one of the fan favorites.
66. Feel the Bern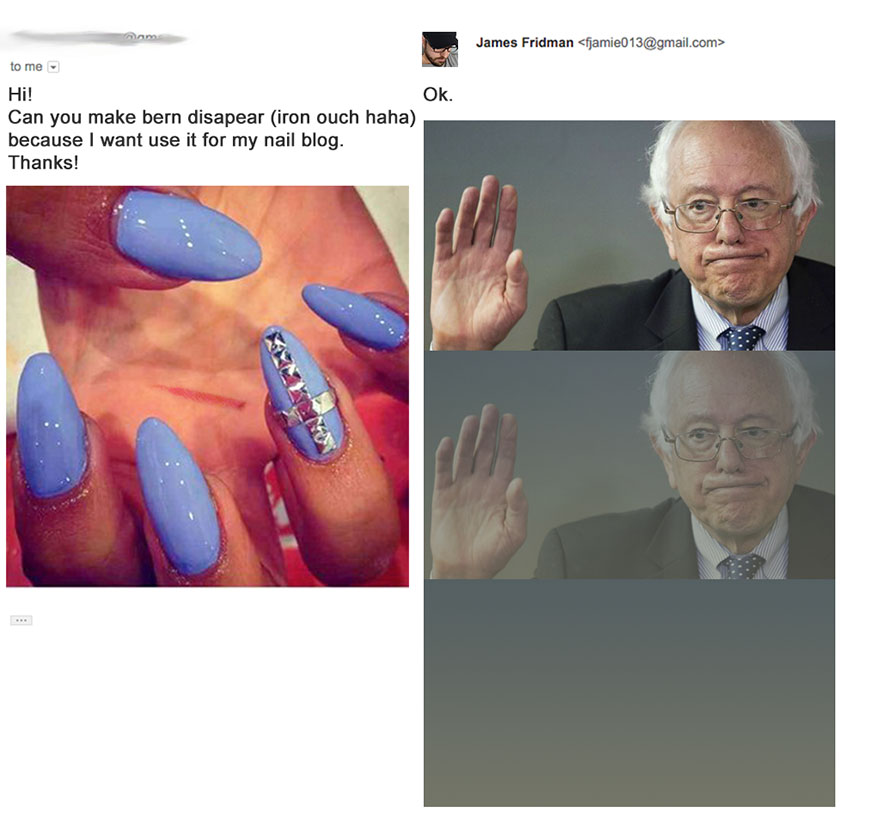 Bernie Sanders is one of those characters that make everything look funny. He is such a comedy figure; it's sad he won't be part of the elections.
67. Now They Fit In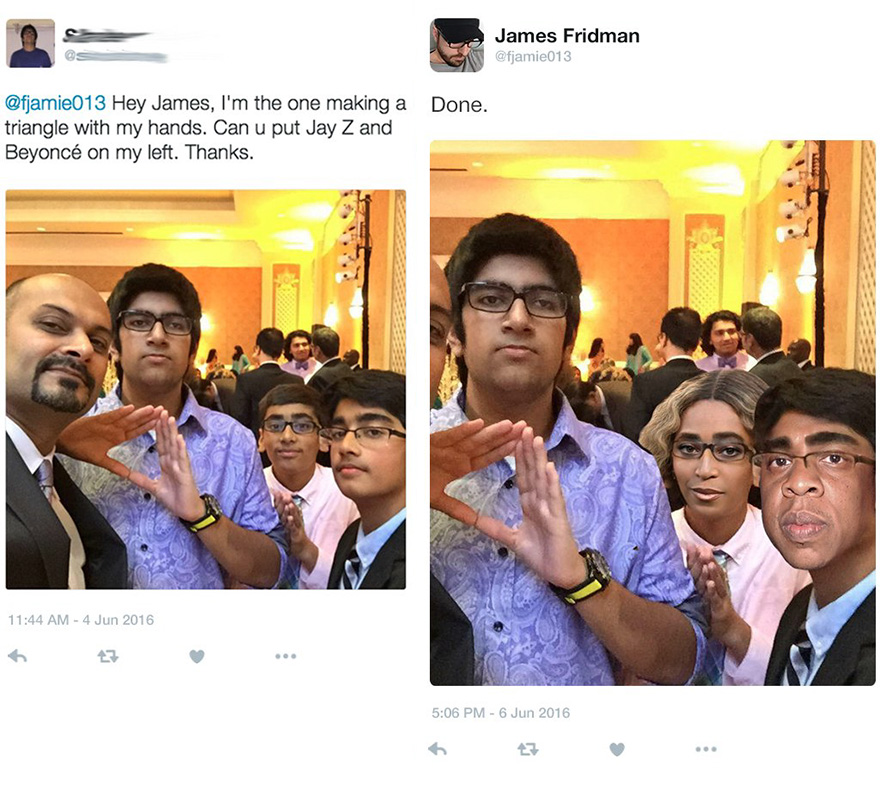 If I were his friend, I would be offended that he wants to hang out with Jay-Z and Beyonce more than me. But after seeing this picture, he might have a change of heart.
68. That Was Easy Enough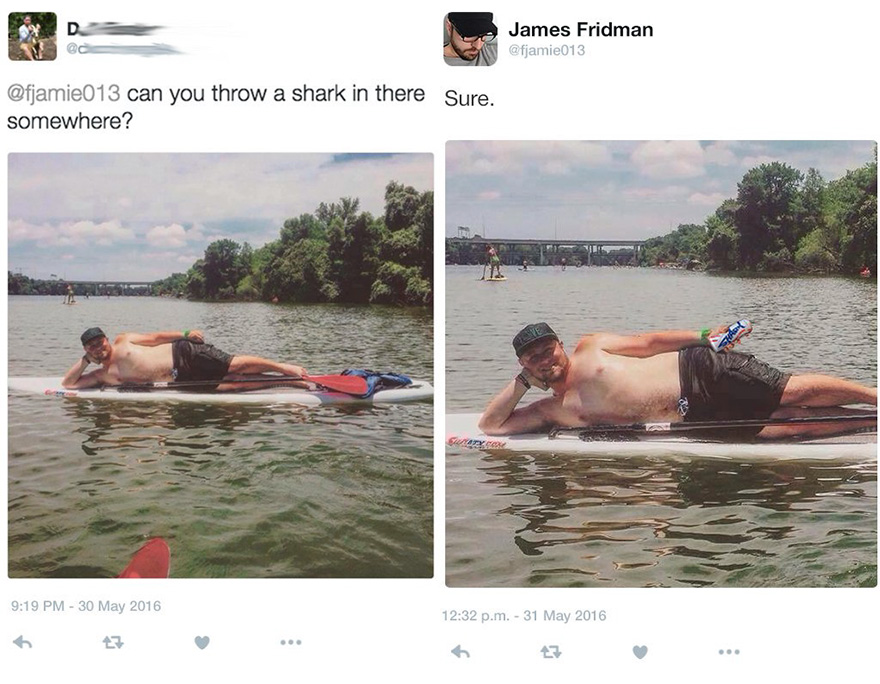 You can also ask for a bull, or any other animal. Most have an energy drink named after them.
69. You Can't Get Any Bushier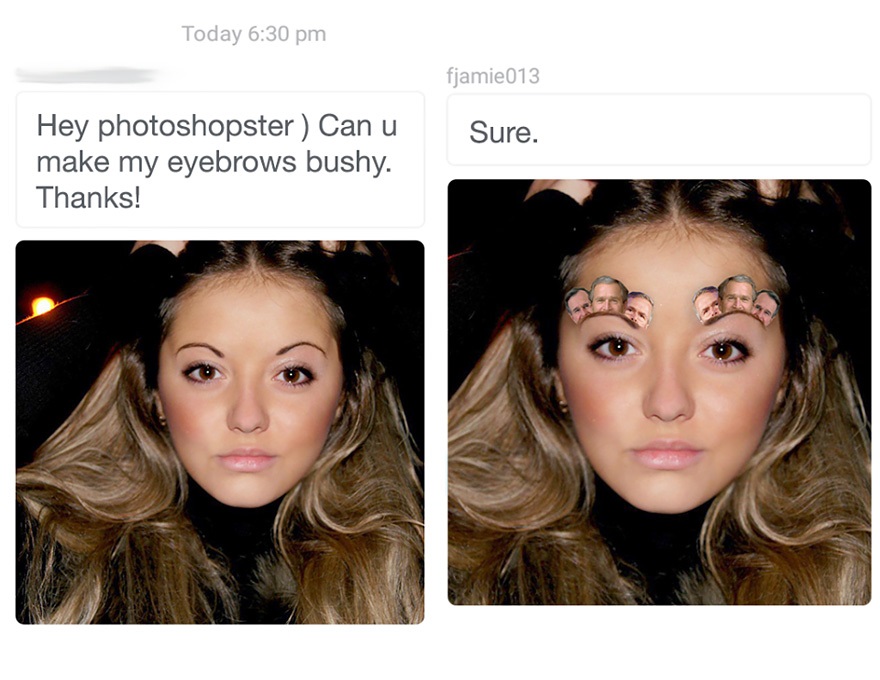 Thank goodness for President George W. Bush and his time in the White House. He is another one of those comedy characters that make everything look 10 times funnier.
70. Let It Go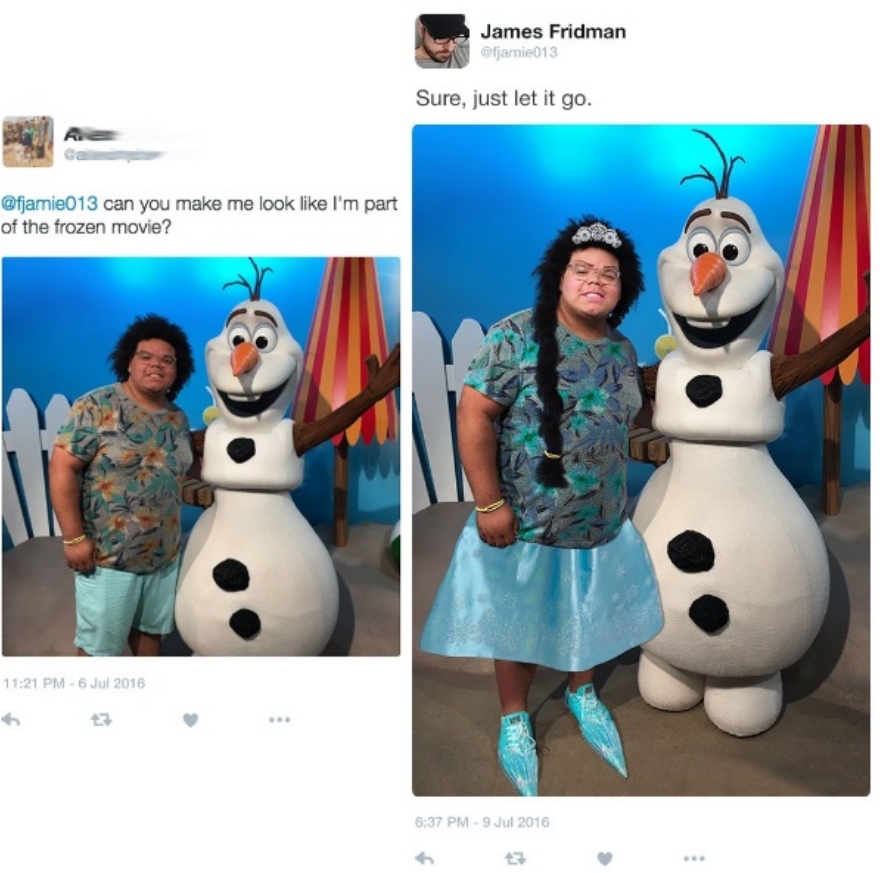 Elsa has never looked so good. I've seen celebrities trying to dress up like Elsa, but this guy beats them hands down.
Photos: James Fridman @ Twitter