Sex and the City ended more than 12 years ago, when the finale aired on February 22, 2004. A few years later, we were treated to the Sex and the City movie. But it was the TV show that mesmerized fans all over the world. Sarah Jessica Parker was phenomenal as Carrie Bradshaw, a reporter/columnist living as a single lady in New York City.
Before the show aired, we were living in a different era. There were a number of taboo topics that we just didn't have the courage to touch upon. The show broke all of those taboos, and then gave us some more topics to discuss. Fashion was a huge part of Sex and the City. And when you start talking about where we were, and where are we today, it's clearly a fact that things have changed.
But exactly what changed? What are some of the fashion trends that Carrie promoted and perfected? She was living proof that when you wear something with confidence, you can look sexy, be it sweatpants or a tight dress. Let's take a look at some of the Sex and the City fashion trends.
Manolo Blahnik Shoes
Manolo should build a statue of Sarah Jessica Parker as Carrie Bradshaw. The fashion brand was known before Sex and the City, but it was Carrie who made these shoes a "must have." Every girl in the world craves a pair of Blahniks. And while not everyone can afford them, there are still many women who pay an extremely high price for a pair of Manolo Blahnik shoes. The show drifted towards Jimmy Choo and Christian Louboutin towards the end, but it was Manolo Blahnik shoes that left the biggest mark.
Fendi Baguettes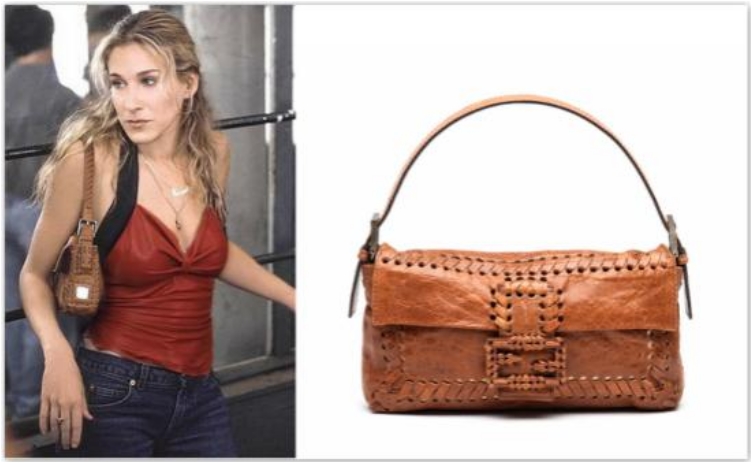 Carrie was all about shoes and bags. And when it came to bags, it seemed like she wore a different Fendi baguette in every episode. In the same way she made Blahniks the "it" shoe, she made the baguette the "it" bag. Fendi still reaps the benefits today. Back in the day, stylists of the show created outfits centered around a Fendi bag. The show even touched on topics like fake bags. Samantha had a nice run searching for a fake Fendi in Season 3, episode "Sex and Another City." But we know how that ended.
Big Flowers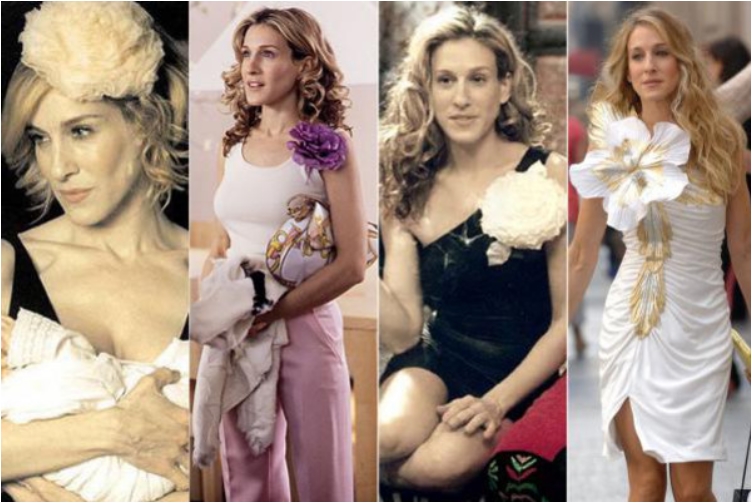 Carrie made the corsage something that regular women can wear on a daily basis. Before the show, a corsage was something women wore on their prom night or on their wedding day. But in the early 2000s, thanks to Carrie Bradshaw, the trend was everywhere. Carrie made sure to have a large flower pinned to her blouse early and often, and she made it look effortless.
The Slip Dress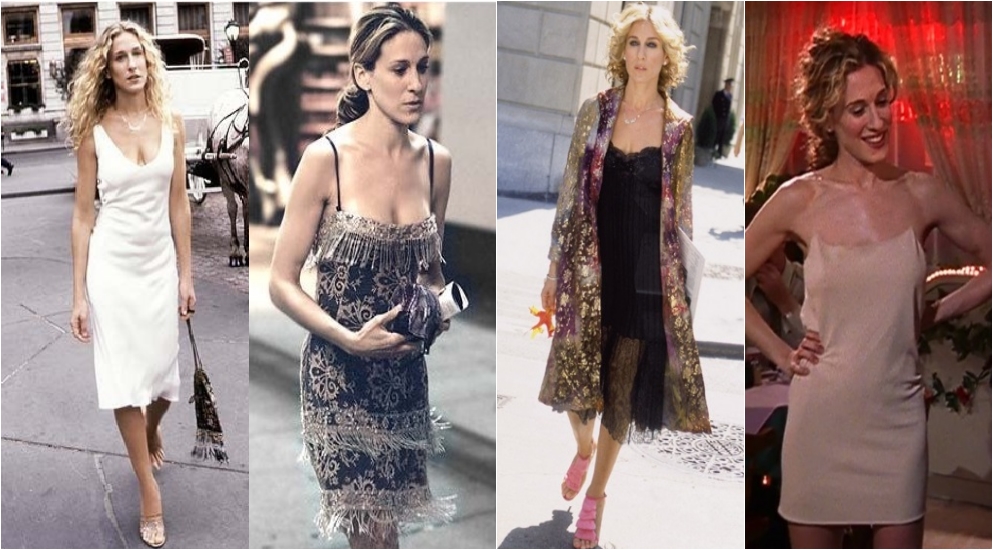 If there is one lesson that we learned for sure, it is this: You can take your lingerie to the streets, and it will be better appreciated there. Carrie had no problems wearing slip dresses on the street. Whether it was a lace-trimmed dress, a pastel orange silk lace slip dress, or a silk maxi dress, Carrie made the slip dress an outfit you can wear outside during the day.
The Nameplate Necklace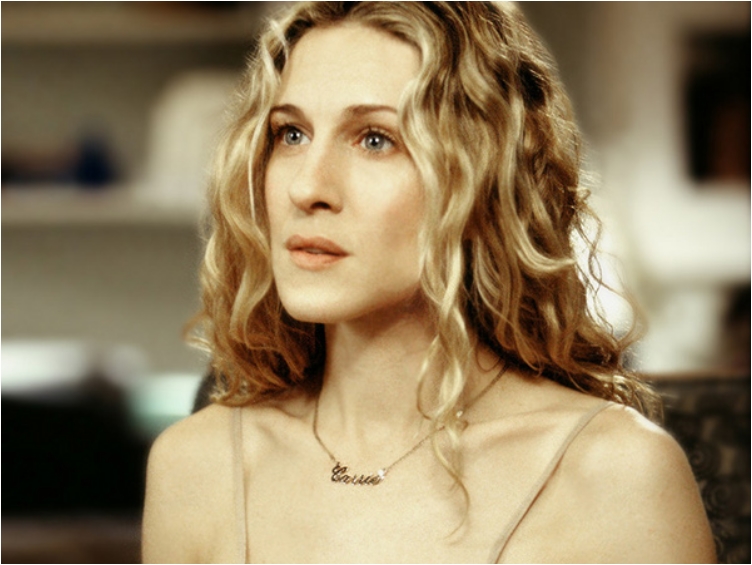 Nowadays, we see nameplate necklaces almost everywhere. Street crafters make it their specialty. But back then, a nameplate necklace was seen as cheap jewelry that had no place in the jewelry box of a stylish lady. Thanks to Carrie, the nameplate necklace is now something you can wear at a cocktail event.
Drop Necklace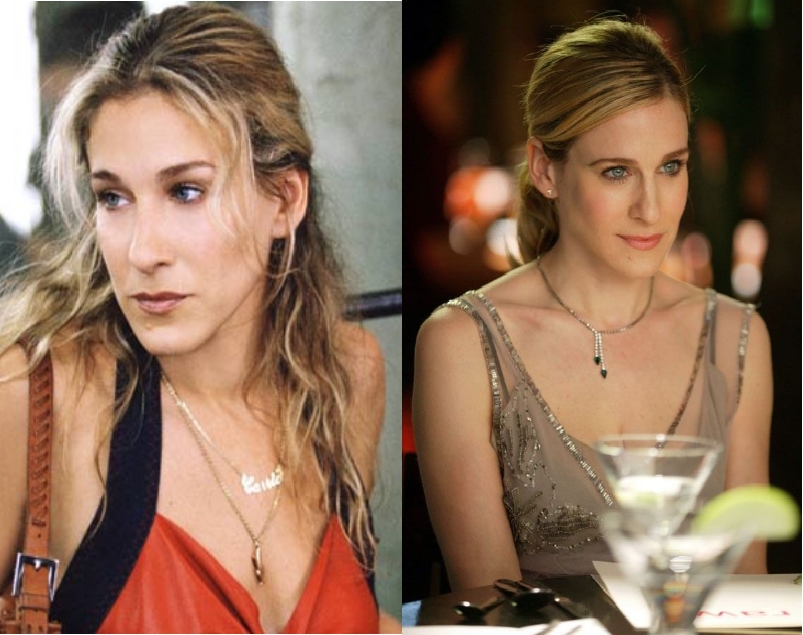 Speaking of necklaces, the nameplate necklace is not the only piece the show immortalized. It also immortalized the drop necklace. The show made the necklace a great piece of jewelry to emphasize your décolletage.
The Peasant Blouse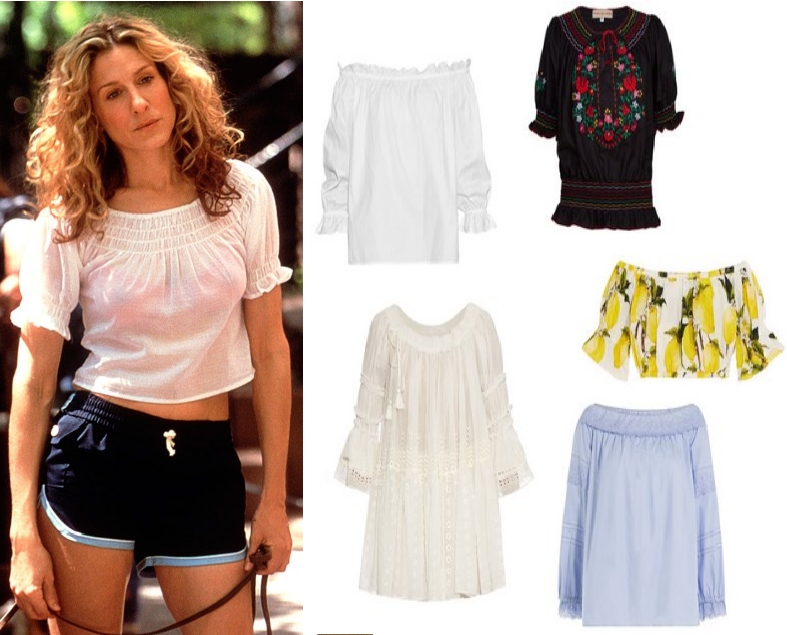 Part of the reason why Sex and the City was so successful is because Carrie was essentially a down-to-earth character. She managed to make casual clothes fashionable and stylish. One of the best examples is the peasant blouse, and in particular, the white peasant blouse. Nowadays, a peasant blouse can make all the difference in your wardrobe.
Sweatpants With Heels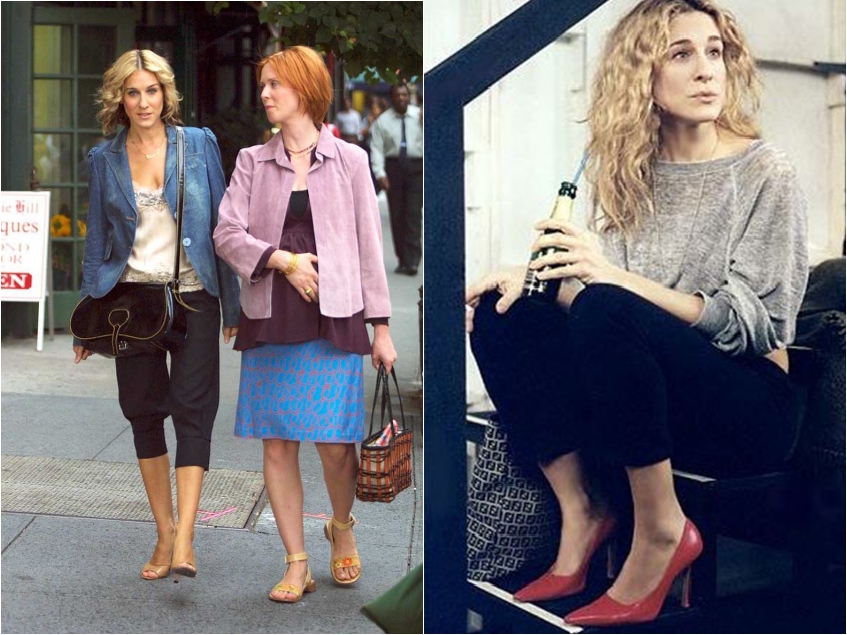 Speaking of casual clothes, Carrie even pulled off sweatpants with heels. And she wore red heels with sweatpants. Talk about courage. But one thing is certain: the show taught us that you should never compromise your taste. And if you like to wear heels with sweatpants, you should definitely do so.
Cuffed Denim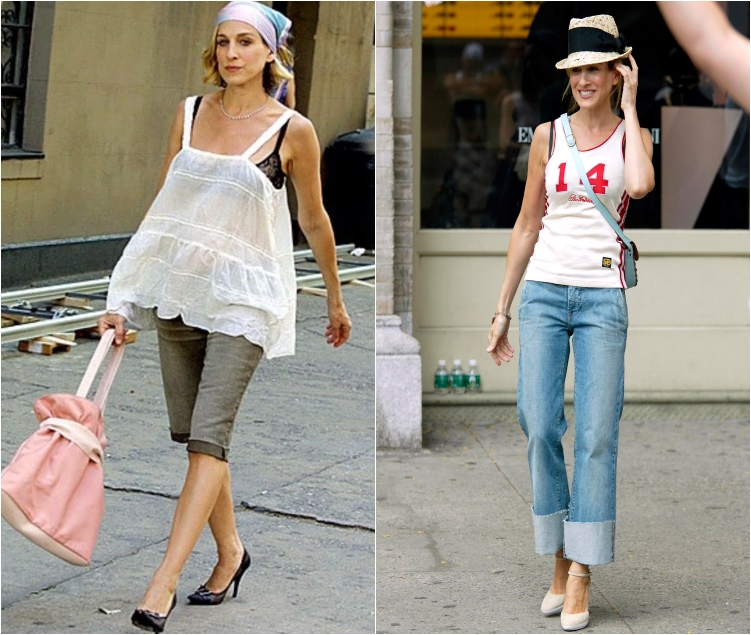 While we are on the subject of casual outfits, cuffed denim is another piece that made it to the stylish world. Before the show, cuffed denim was seen as a male thing. But nowadays, women wear cuffed denim jeans more than men do.
Logo-heavy Accessories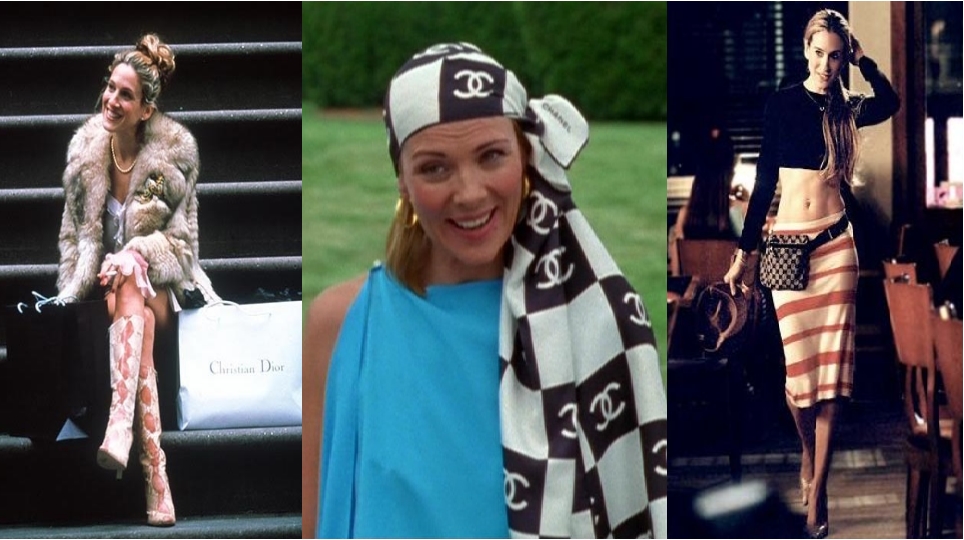 Manolo Blahnik is not the only fashion brand that should build a statute of Carrie Bradshaw. Many other fashion brands could chip in. In the 1990s, accessories were logo-free. The reason was simple: women didn't want to look like they were a movable commercial for a brand. But Carrie had no problem wearing bags with huge logo prints on them or many other accessories with an easily visible logo. Thanks to the show, brands now put their huge logo on almost any accessory, and that's all right with us.
Berets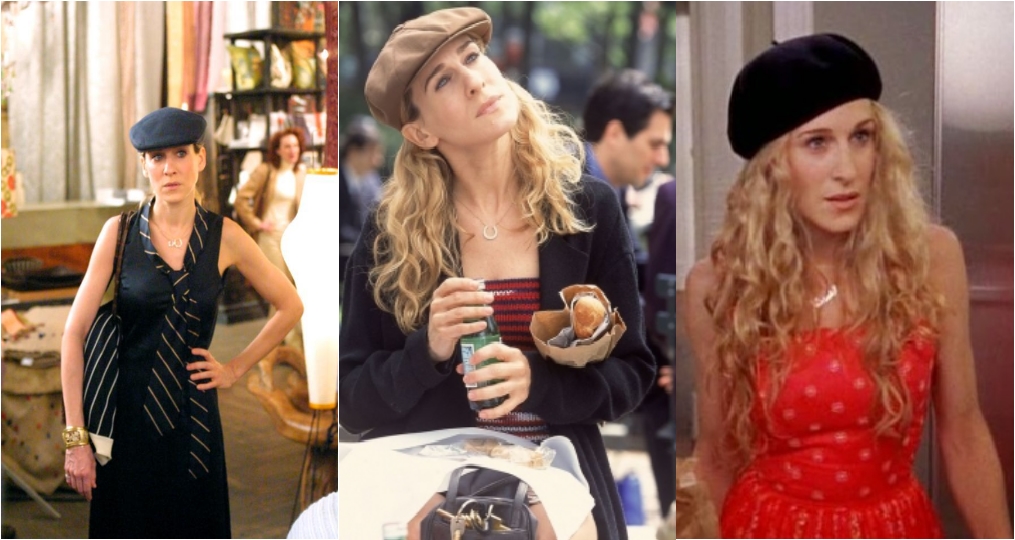 The first time I saw Carrie wearing a beret, I wondered what she was doing with military accessories. But like many other outfits, she pulled it off effortlessly. Women should thank her for it, as we now have a very warm way to protect our hair and head during winter and chilly months.
Head Scarves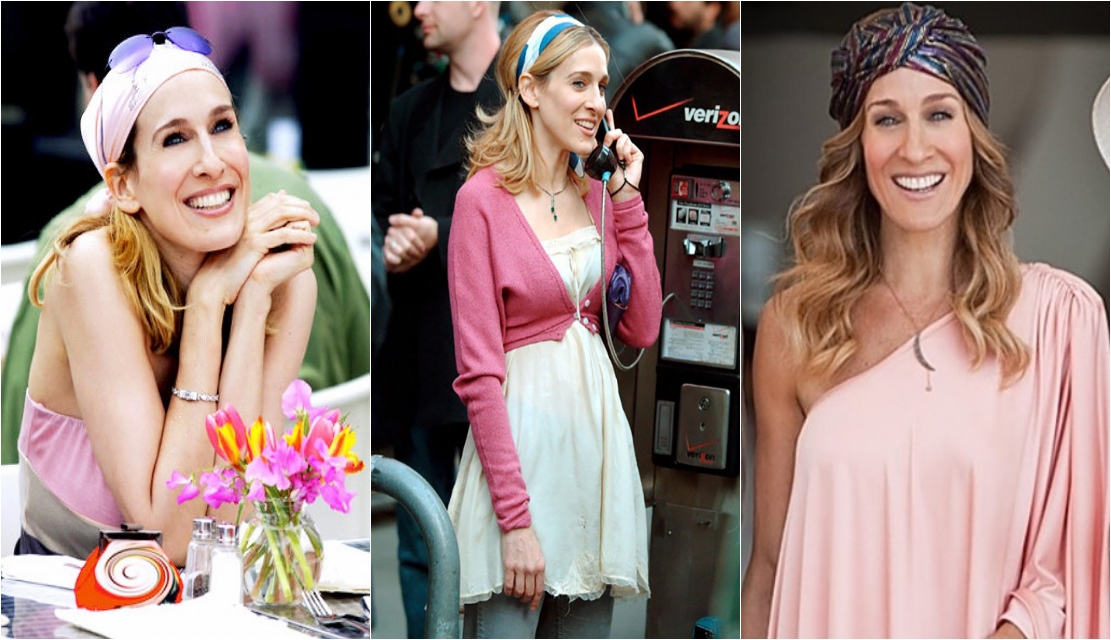 Another way to accessorize your hair and protect yourself at the same time is with a scarf. Typically seen as a neck accessory, Carrie made the scarf a head accessory as well. We've seen head scarves before, but not in the fashion style we saw in Sex and the City.
Pajama Dressing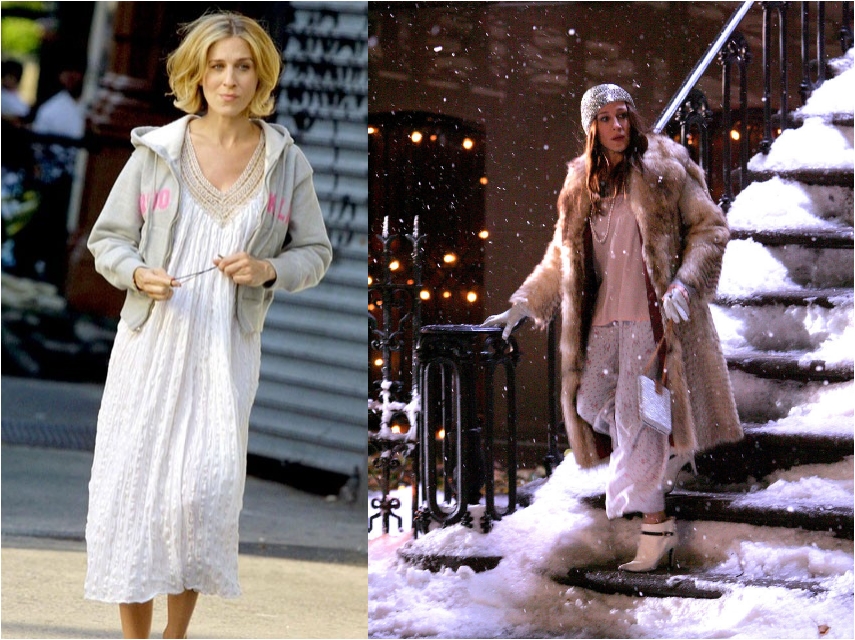 Apparently, you can have a pajama party out in the streets. Carrie was no stranger to pajamas, and she even took them out for a casual walk in the city for coffee. One type of popular pajama dressing is overalls. Nowadays, overalls are one of the most stylish pieces of clothing a woman can have.
The Off-The-Shoulder Dress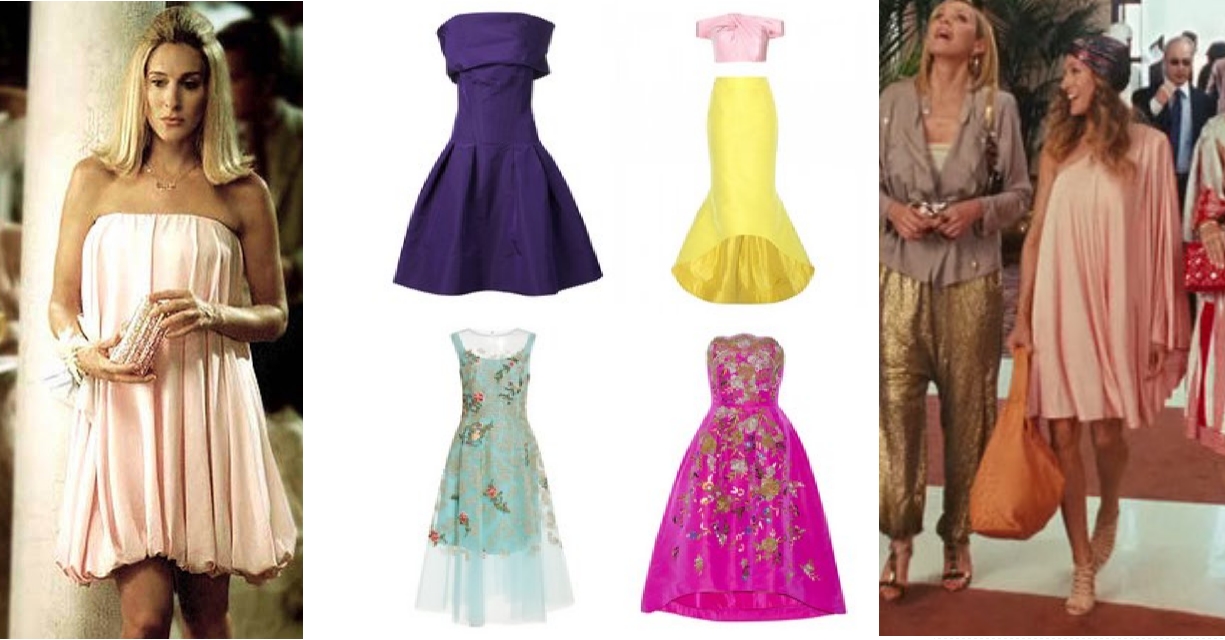 We saw Carrie wear a ton of dresses in the show. Different shapes, forms, sizes, and everything else. But one trend we saw more of as a result of the show was dresses that reveal a bit of skin. Yes, the 90s were rebel years, and women revealing skin were seen exactly as that: rebels. With the off-the-shoulder dress, it became standard and normal for women to reveal a bit of skin, be it the shoulder, the back, or something else.
Open-Toed Mules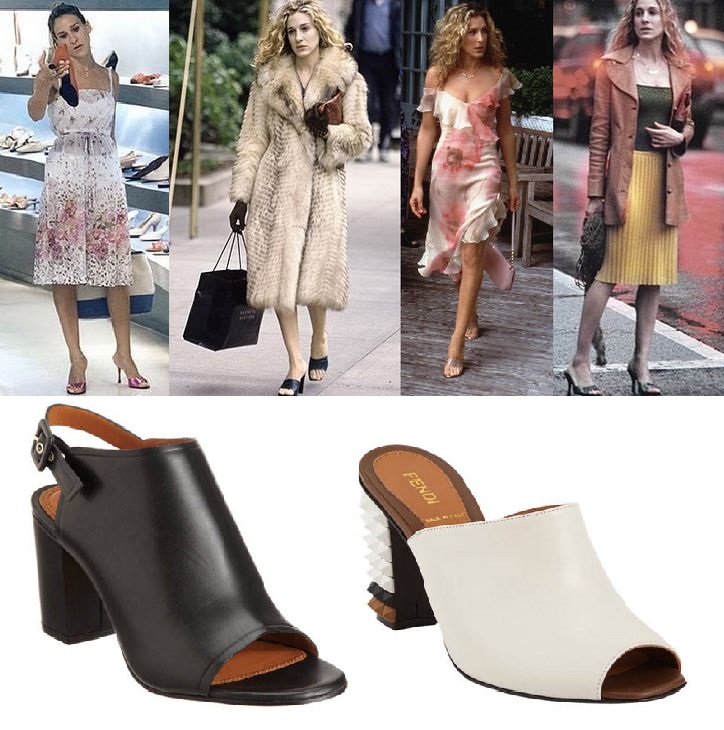 Manolo Blahniks were the most famous fashion shoe brand in the show. But no matter the brand, the show popularized a form of shoes we considered granny and boring: the open-toed mules that we see women wearing everywhere nowadays.
Short Shorts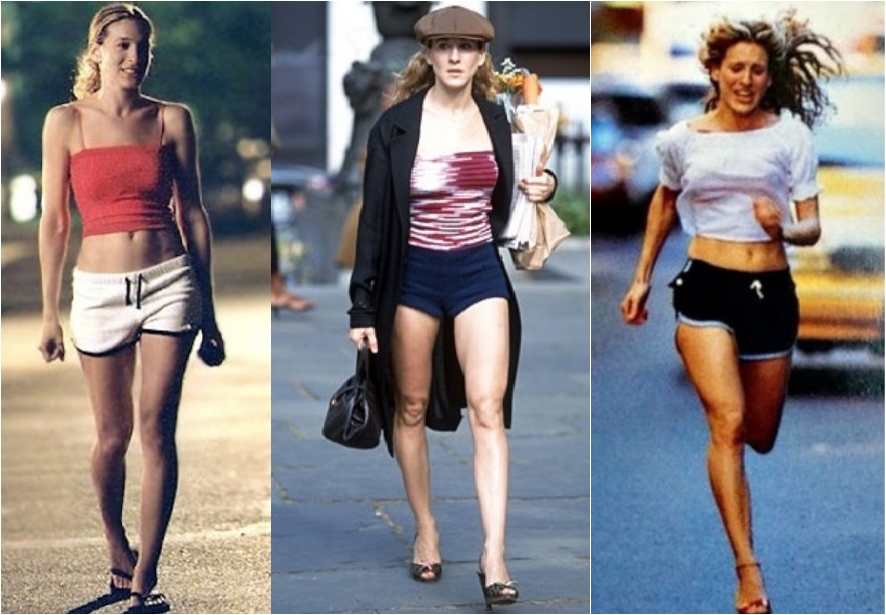 When you go grocery shopping, you wear comfortable clothes. And for Carrie, that was short shorts. She wore them not only for grocery shopping, but for walking in the park as well. It was just another way to reveal a bit of skin on the legs.
Classic Stripe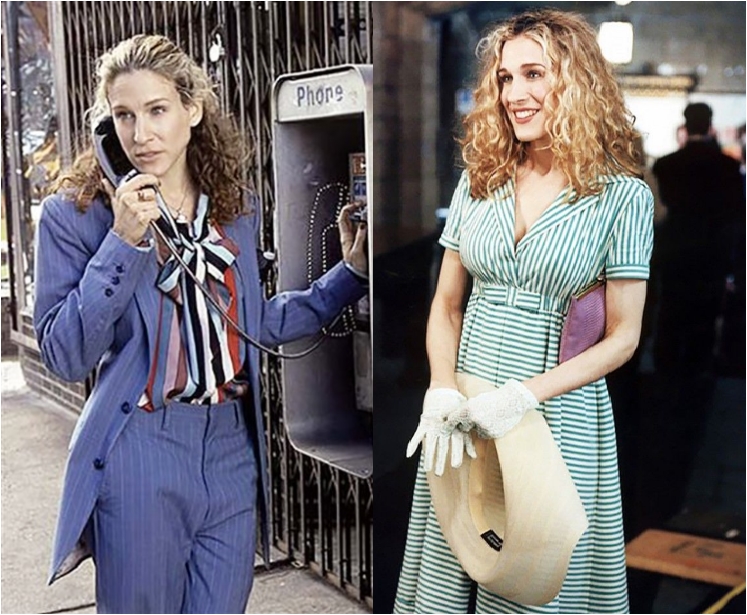 You can say that the classic stripe will always be in style. We included it on the list because we had to mention how sophisticated and business-like Carrie looked at times. We remember Carrie as both a casual and stylish girl as well as a fashionably dressed woman However, the middle ground was her sophisticated and business-like look. And for that, she wore classic stripes.
Cupcakes
We have to mention few bonus trends that Sex and the City popularized. One of those was cupcakes. Yes, they were part of our society even before the show, but after Carrie and company, the cupcake obsession reached new heights. They put this famous cookie on the map. The show even popularized the Magnolia Bakery, mentioned by Carrie in Season 3, which helped the bakery to reach new heights.
Brazilian Wax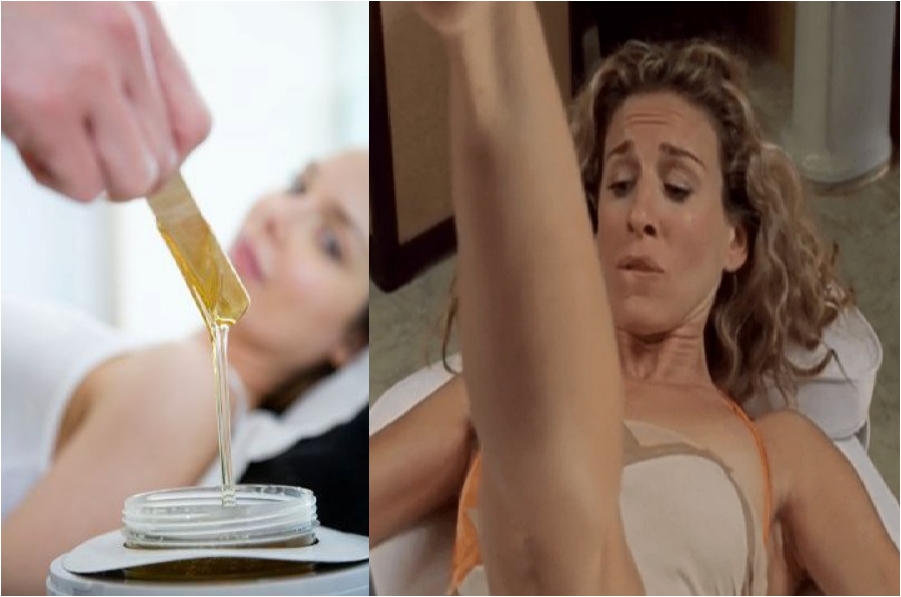 Last, but not least, we have to consider the beauty implications of the show. Brazilian wax was not the standard among ladies before the show. There are women who love it, and then there are women who think it is obsolete. But we have to agree that thanks to the show, the Brazilian wax became the standard beauty trend.