One of the strongest messages a model can deliver is "My strength does not come from my clothing". Rain Dove delivers exactly that message. He is not your ordinary model. At 6ft 2in, with muscular arms, and 32DD breasts, he is a self-proclaimed gender capitalist. He doesn't conform to either men's or women's body standards.
Rain gained popularity and started turning people's head when she appeared at New York's Fashion Week in 2015. She walked the runway in both menswear and womenswear. He or she, doesn't really care what you think is between the legs. "The gender thing doesn't exist, it is a social construct you don't have to fit into.
Rain doesn't see herself as an androgynous. She says that she always saw herself as an "ugly women". What made her empowered was her job as a firefighter. During his firefighting days, she "felt more empowered in her ambiguity and sexuality as far as gender presentation goes".
People frequently assume Rain is a male model. But she doesn't correct them. Instead, Dove takes advantage of the misunderstandings. She managed to get a bunch of odd jobs, from a nanny to landscaping worker.
Now, he appears in international magazine spreads, walks major catwalks, and uses her platform to change how we see gender through the medium of clothes. Here are some pictures of her showing gender is not that important.
1.Classy and Sexy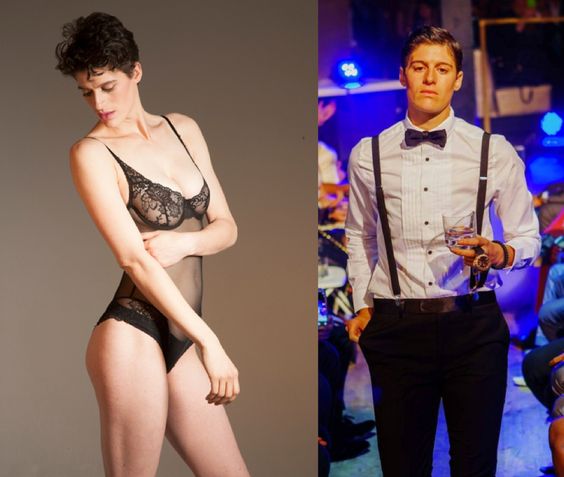 What makes Rain special is that she can look absolutely stunning as a male and female. She looks wonderful in women's sexy lingerie, but also in classic suit male attire. Just look at the right picture, and you might think he is one of the most handsome men you've met.
2. Dress and tie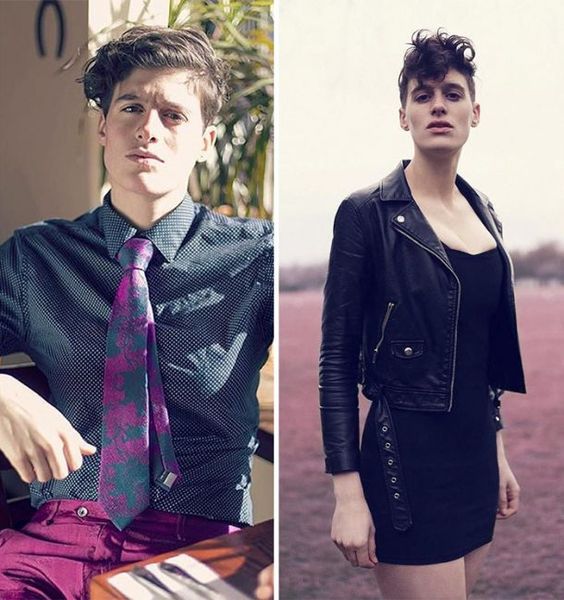 The best pictures showing Rain belongs in both worlds is when she poses in different classic gender attire. For example, you can see here she looks sexy in a tight little black dress. But with almost the same haircut, and with the same confidence, she rocks a shirt and men's tie.
3. Feeling like a woman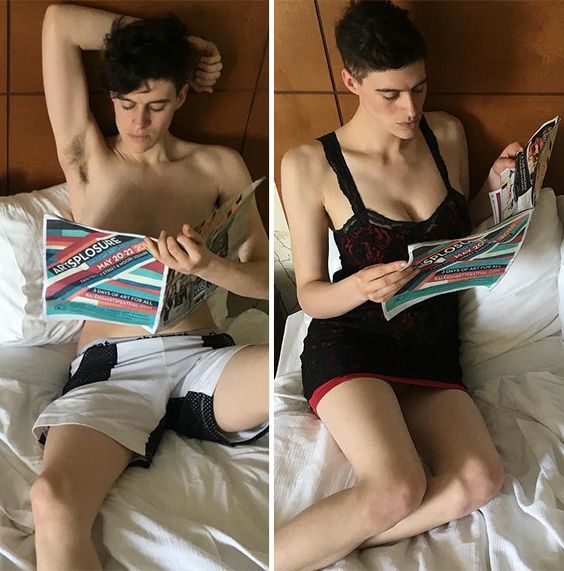 Rain says that didn't always see herself as an androgynous model. Instead, she saw herself as an "ugly woman". But she never had a bad feeling about it, she only felt that maybe she was "that one girl".
4. Beach body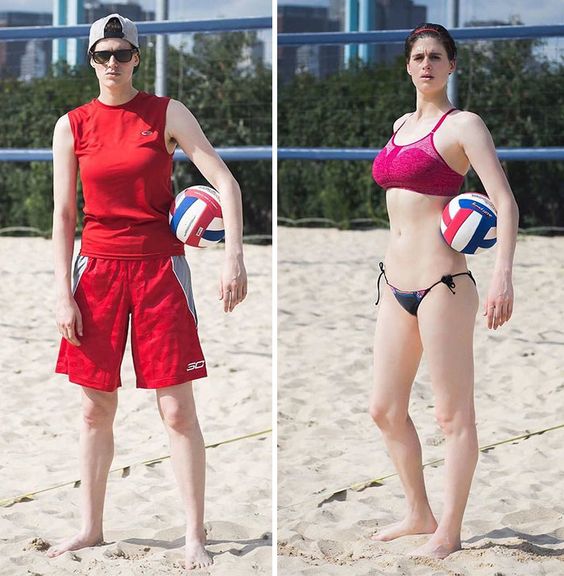 As mentioned previously, people often assume Rain is a male. But she doesn't correct them. And when you look at her in classic men attire, you might make the same mistake as well. There is nothing showing Rain is a woman.
5. A man or a woman?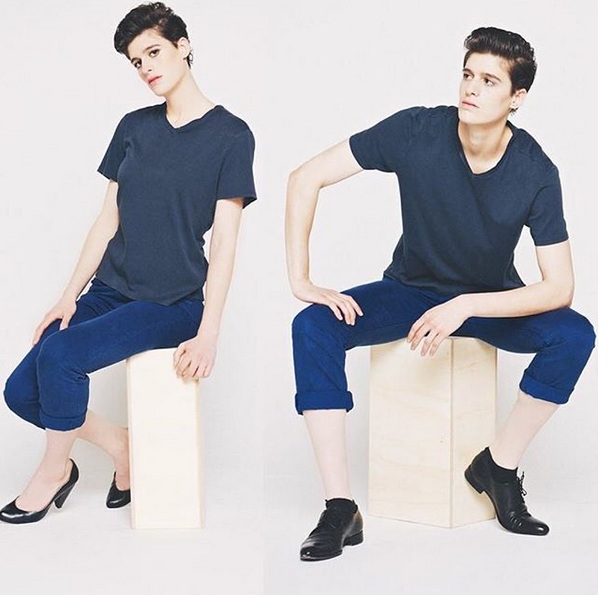 Go ahead and try to guess which one is a picture of a male, and which one is a picture of a female. The only telling difference is the shoes they were. Take the shoes away, and you won't be able to guess who is who.
6. Sports and genders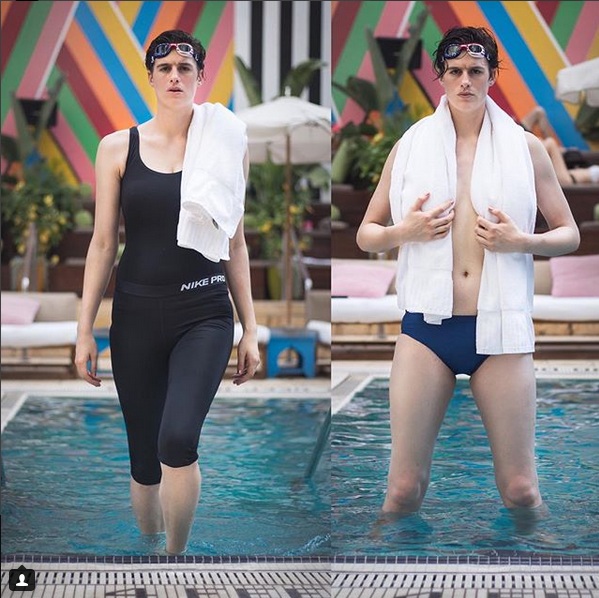 Swimming is one of the few sports where men bare more skin than women. And Rain shows how men and women are treated differently in the same sport. And while in some sports women wear different clothes due to practicality and design, others are plain sexploitation. For example, in swimming, both men and women used to wear full body suits. But later, body suits were panned as some were designed so well that they gave too much of an advantage to the male swimmer.
7. Gender stereotypes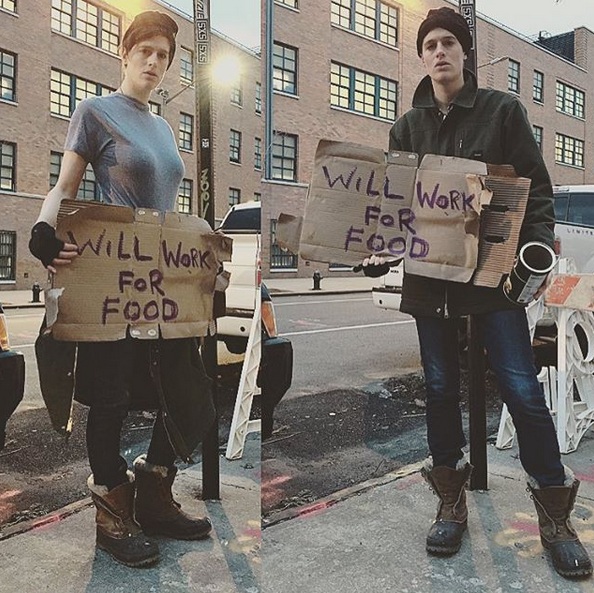 Rain is more than just a pretty face. She is one of the loudest activities. This picture sums up our gender stereotypes. Posing as a homeless person, when Rain appeared male, people just gave him money or offered him cheap handyman work. But when appearing female, people asked her for sexual work. Two very different offerings.
8. It doesn't matter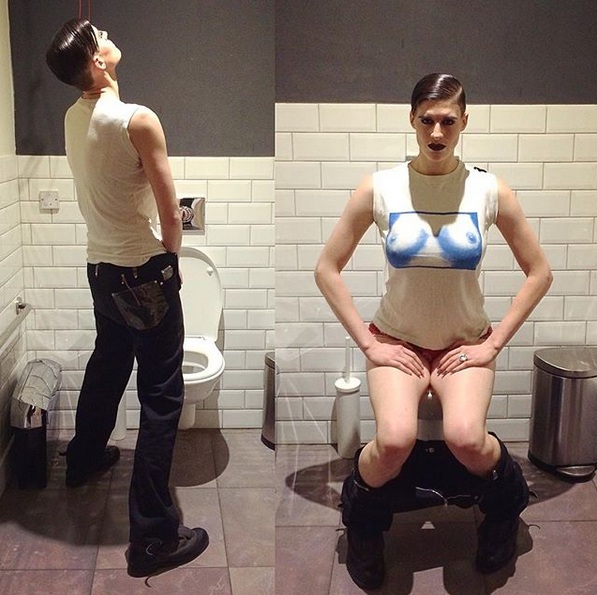 The caption of the photo is "Piss off, it doesn't matter either way". The picture was taken when there was a big debate regarding restroom signs in California. But turns out, it doesn't matter.
9. Shaved legs or not?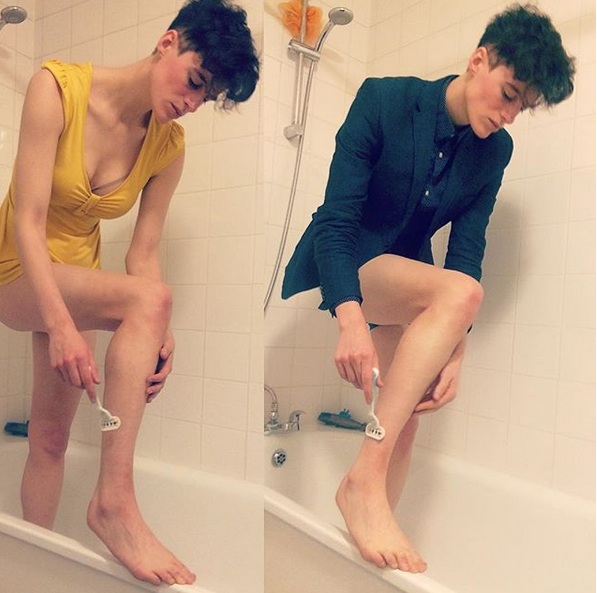 Taking the battle to social norms and standards regarding gender rules, Rain hits the spot again. Women wearing dress without shaving her legs look "gross and so on". But men wearing a suit with short pants without shaved legs, and people will say nothing. Rain's advice to anyone struggling with gender identity is "be unique and the most unique thing you can be is yourself".
10. Wedding day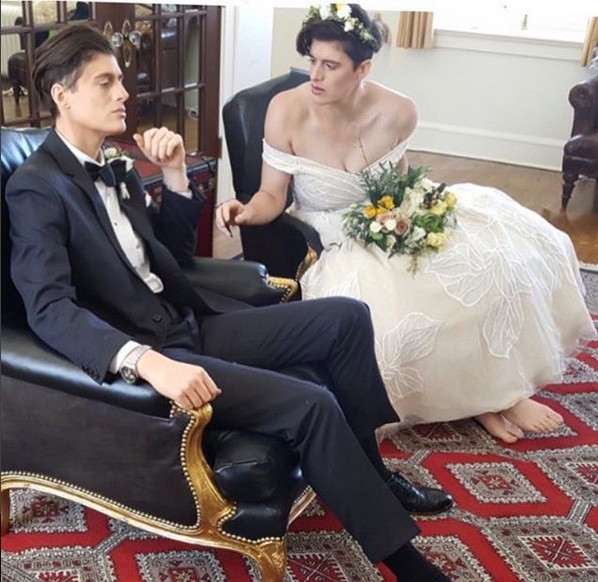 What makes Rain so special and the reason we love her is that not only she breaks gender norms, but she also addresses some of the harsh topics in social circles. While the picture might make you think she is wondering what to wear on her wedding day, her post is more about how much we spend on weddings. According to Rain's research, we spend more than $32,000 on an average wedding. And traditions suggest "bride's parents" pay for most of it.