Seeing a cat and a dog co-exist at least without constant duels may be odd enough, but seeing a puppy do everything she can to stay still so her three kitten friends can get the best of their sleep is the best thing ever!
Following video shows an adorable Pomeranian pup lying down tranquil beside three little sleeping kitties. She obviously does not want to wake them up so she stayed still on the couch, not moving a single muscle. She even copied their stretched and relaxed sleeping position as if she's one of them!
If you have a cat, you will definitely agree that half of its life is spent asleep. They make the funniest positions while sleeping for almost 18 hours a day! Seeing them take a sound nap can melt our hearts, even a dog's!
This pup is respecting her cat friends' sleeps while unconsciously being adorable.  I know people have squads and gangs, but isn't this one of the cutest existing kind of friendship on Earth?
The way she puts the kittens' needs before her own is a special act of love that's something we can all learn from.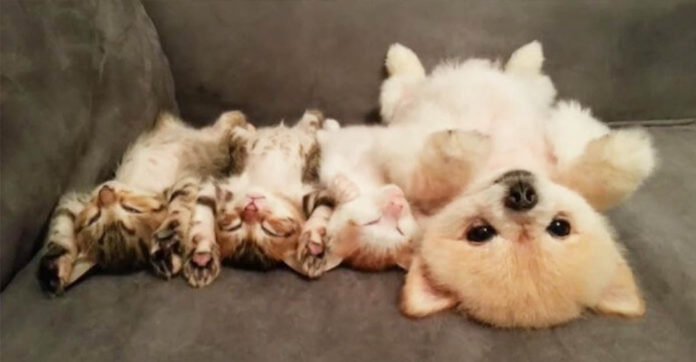 When kids want to play but their friends are asleep, they will probably nag until they wake them up and play. But not this dog kid in the video! He patiently waits until they wake up.
Aside from that, these kittens are the sleepiest, they even wanted to snuggle. In the middle of the footage, one kitty went in for a cuddle with the pup. The others changed places as well so the four became a fur load of cuteness!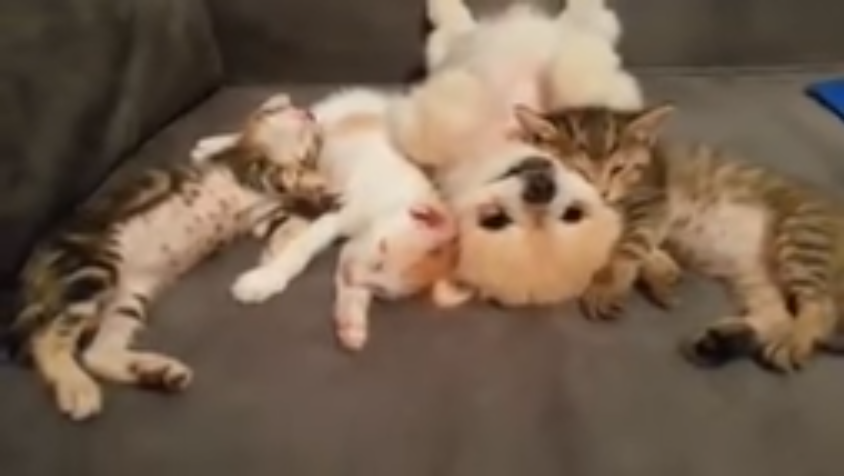 Watch this video a hundred times if you want, but the heart-melting impact will still be there. So if you are looking for something to brighten your mood today, you are on the right place.