A police dog died after a Syrian man axed it to death while cops are trying to pacify him. The man's neighbours in Schiedam, near Rotterdam, Holland reported him for wielding a hatchet on the balcony of his flat while shouting 'Allahu Akbar.'
Upon reaching the flat, officers tried to calm the 26-year-old man down. They even spoke with his dad on the phone but they were unsuccessful.
He continued screaming the Arabic for 'God is greatest' as law enforcers storm the property. Cops plan to taser him failed and the suspect then lashed out and hit the dog with the axe.
You're a Hero
Initially, the police thought the canine will survive but his wounds turned out to be fatal.
On the statement issued by Schiedam Mayor Cor Lamers, the suspect was a Syrian who had been living with his father in Schiedam since last year.
"The man was known to help several organisations but this was an escalation we had not seen coming," Lamers stated.
This commotion happened a day after a man attacked and killed two female cops and fatally shot a passer-by in Belgium.
Mr Lamers added, "It is serious that this happened in a residential area. Although the situation took place in a home, bystanders did see what was happening. I can imagine that it was frightening.
"In the coming period, we will be conducting a full investigation into what happened."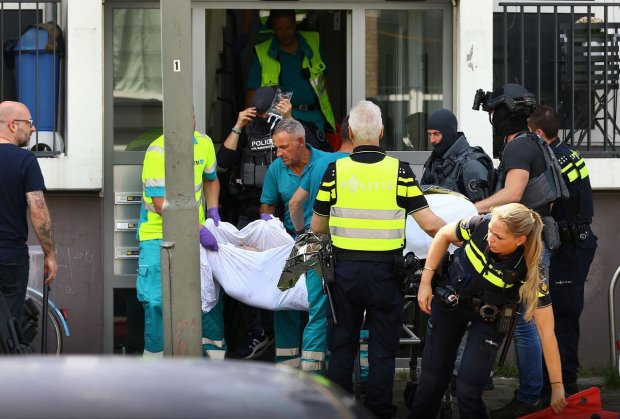 Police shot the suspect after failing to calm him down. He was rushed to the hospital for receiving wounds on the legs and stomach. According to the report, he was then in a critical condition.
After undergoing surgery, doctors said he was stable.
"We are now going to look into our system what we know about this man," updated a police spokesperson.
On a Twitter post, Rotterdam Police wrote: "This hero made the highest sacrifice yesterday during a detention in Schiedam."
Deze held heeft gisteren het hoogste offer gebracht tijdens een aanhouding in Schiedam.#thinblueline #rustzacht #rip #bedanktvooralles pic.twitter.com/UdcWJPlsIN

— Politie Rotterdam eo (@Politie_Rdam) 31 May 2018