Mexican Judge Alejandro Rochin drew flak for his controversial scoring that denied Tyson Fury the WBC heavyweight title fight last weekend in Los Angeles. 
Rochin was at the receiving end of a major backlash after scorecards revealed that he gave the first four rounds, dominated by The Gypsy King, to Deontay Wilder. Now a rabid boxing fan has brought the battle to the next level as he created a petition urging the California State Athletic Commission to sack the ringside judge.
The final Deontay Wilder & Tyson Fury score card #WilderFury pic.twitter.com/a6Ii05OpKK

— OnSMASH (@OnSMASH) December 2, 2018
Fury Clearly Dominated The Early Rounds
In case you are living under the rocks, the highly-anticipated boxing fight of the year ended in a tie-contest as ringside judges scored 115-111 for Wilder, 114-110 for Fury, and 113-113. Boxing fans believed that the 30-year-old Briton has done enough to seal the fight in his bag.
Despite being floored twice by the American champion, Fury showed his dominance in the first eight rounds before momentum switched side in the ninth as Wilder knocked down his challenger for the first time.
This is why fans were furious when they learned that the Mexican judge, who scored 115-111, actually gave the first four rounds to Wilder at 10-9 each frame. Even boxing legend Floyd Mayweather, who was in attendance last Saturday, knew that the early stages were won by Fury.
Asked how he scored the first five rounds, Money said, "Fury has the combinations, and a very, very fast jab and is taking his time so it looks like if Wilder doesn't do anything else, Fury's going to win if it goes the distance. 5-0 [Fury] so far."
Robert Tapper – a reasonable man with eyes

Phil Edwards – splinters in his arse

Alejandro Rochin – blind, corrupt, fraud pic.twitter.com/mU5LtFRdfx

— Paddy Power (@paddypower) December 2, 2018
A Petition to Fire Rochin
A fan, named Kian Brown, who claims he has no bias, insisted that boxing should be conducted with a high level of professionalism. With Rochin allegedly involved in fraud and corruption, the 18-year old Brit called for the termination of the Mexican judge in the petition-website Change.org.
Brown cited that there was a clear winner in the recently-concluded Fury-Wilder fight and "the failure of legitimacy in the sport of boxing must not be swept under the rug this time."  He said that Fury "stood for not only his country but for the world and showed total class and yet again, a victor has been stolen from." So he is urging CSAC to assess and fire Rochin.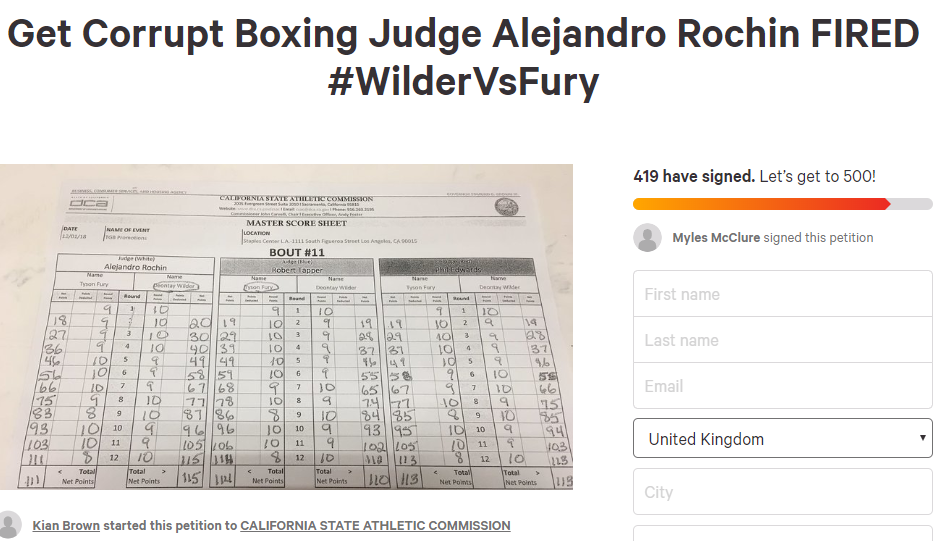 As of writing, over 400 people have already signed the petition. Fury's camp has contested the result to the World Boxing Council but the organization said that the split decision draw stands.
(Featured Image Source: Twitter/Oddsbible and Instagram/Bronzebomber)