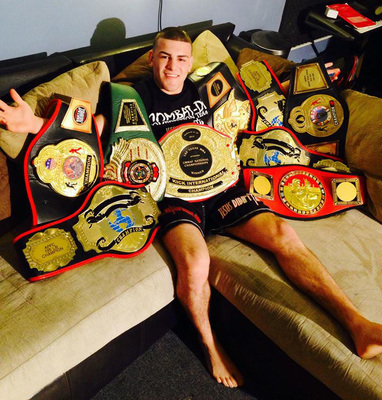 The arrival of Jose "Shorty" Torres was one of the most anticipated highlights at UFC 227. However, his opponent, Alex Perez, ended the match pretty early, not giving Torres a chance to showcase his skills. 
Mexican-Puerto Rican Torres "Shorty" stands at 5ft 4in, and he was already a crowd-favourite even before his UFC debut. On the other hand, Perez is a few inches taller standing at 5ft 6in.
After an impressive undefeated amateur career and a 6-0 record in Titan FC, Shorty recently got his UFC contract. He made his debut at UFC Utica in a 9-day notice to beat Jarred Brooks by second-round TKO.
However, his much-awaited appearance at UFC 227 didn't last any longer after suffering his first loss to Perez. His pro-level opponent pulled off an outstanding 42-strike combination, which astonished fans, fellow fighters and commentators.
Although the two men are almost of the same age, Perez probably had a 'home-court advantage'. He consecutively won two fights inside the octagon – improving to 3-0 after his victory over Torres.
Perez Busts Torres at UFC 227
At the start of the first round, Perez immediately landed beautiful combinations to Torres's body and head. In the opening minute, the left eye of Torres was already marked up, while Perez continued to throw punches from all angles, then adding a few elbows and knee strikes.
The lightweight bout looked like it came straight out of a Street Fighter video game as Torres was still on his feet despite the non-stop blows, causing him to crash to the floor at the 3:36 mark of the opening round.
As a result, Perez landed a total of 104 strikes in one round!
Despite his victory, Perez admits that isn't easy for him to be in the flyweight division because of the weight limit.
"It's a tough weight cut because I'm a fat ass," Perez said. "I'm not going to lie to you. I don't drink, I don't smoke, I don't party. I love to eat, though."
Watch Perez's impressive finish on Torres in this video below:
ALEX PEREZ!!!@AlexPerezMMA takes the '0' from Torres with a first round KO! #UFC227 pic.twitter.com/cGCZbtUWCN

— UFC (@ufc) August 4, 2018
After his remarkable victory, Perez moves his UFC record to 3-0 and extends his overall win streak to eight. Now, UFC fans are looking forward to seeing his performance on the next fight.