The summer is almost here, and you what that means right? Summer outdoor parties of course. Cocktails, barbecue, drinks, whatever you like. Or just little chit chat with your friends. And for all of those, you need a patio that will accommodate all of you. That being said, I've got several patio ideas that you might want to get working on right now. After all, the summer is almost here and you want to be prepared.
Sometimes, all you need to do in order to get a great patio is hang some lights. Of course, that is as long as you have the table and the chairs in place. And I always recommend getting a tablecloth, makes it easier for cleaning. Anyone can spill some juice, and you don't want your table ruined.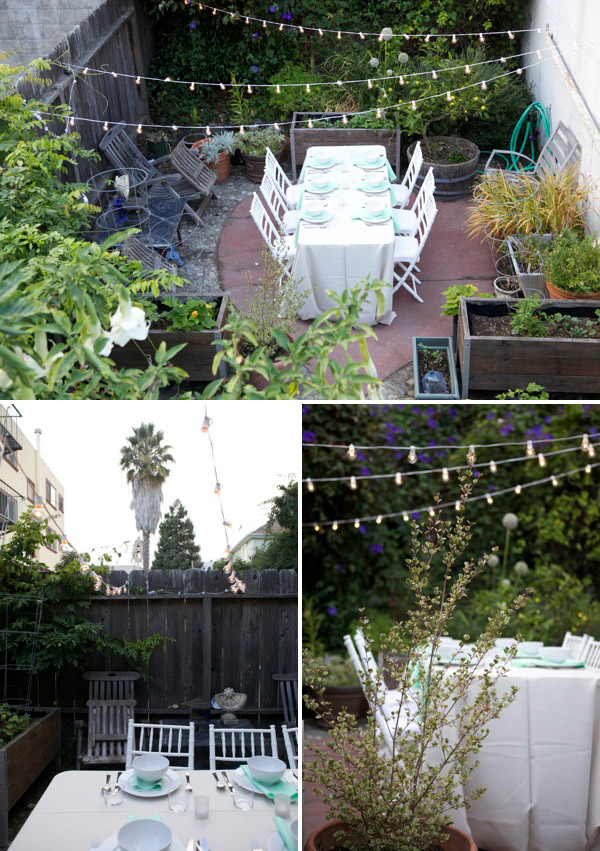 A patio can be more than just a place where you gather with your friends in the summer. This lady has taken summer patio to the next level, transforming her patio to a modern looking living room. Put a TV there, and you might stay outdoor for the whole summer.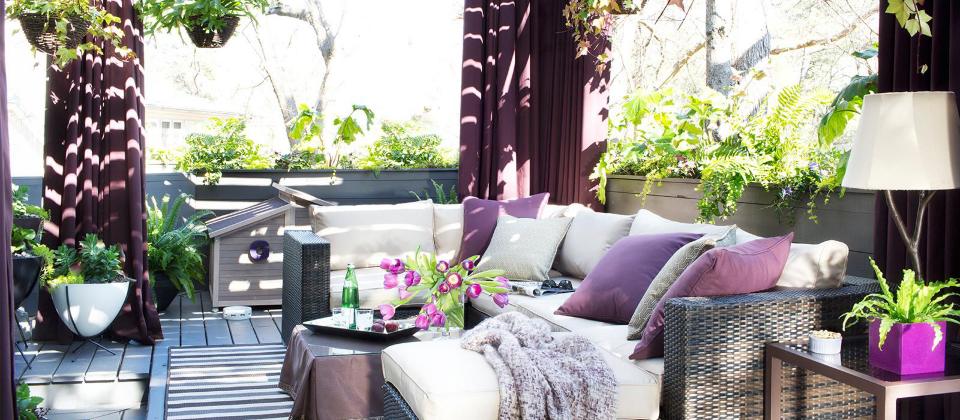 Think of a hotel, an apartment suite, those summer days when you relax by the pool. So why can't you have that at the convenience of your home. If you ask me, there is no limit to what you can do with your patio, and poolside area is definitely one of the best ideas. Yes, it costs little too much, but hey, it is a one time investment.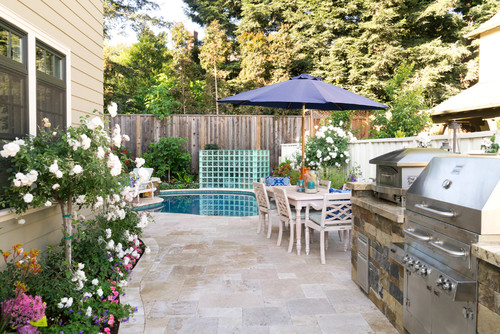 I've previously written on the topic of firepits. Every patio needs one, but not every has. For those that cannot live without a firepit, here is a great idea. For more ideas, I'll refer you to my firepits article.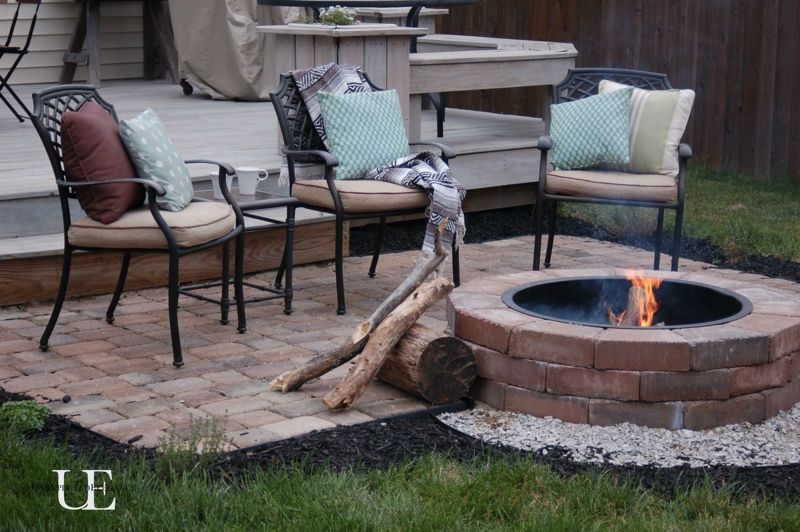 A great idea how to enrich your patio. In more than 90% of the cases, you see the patio uncovered by anything. But every now and then, you can place a rug on top of the patio, make it more luxurious, and give some swag to it.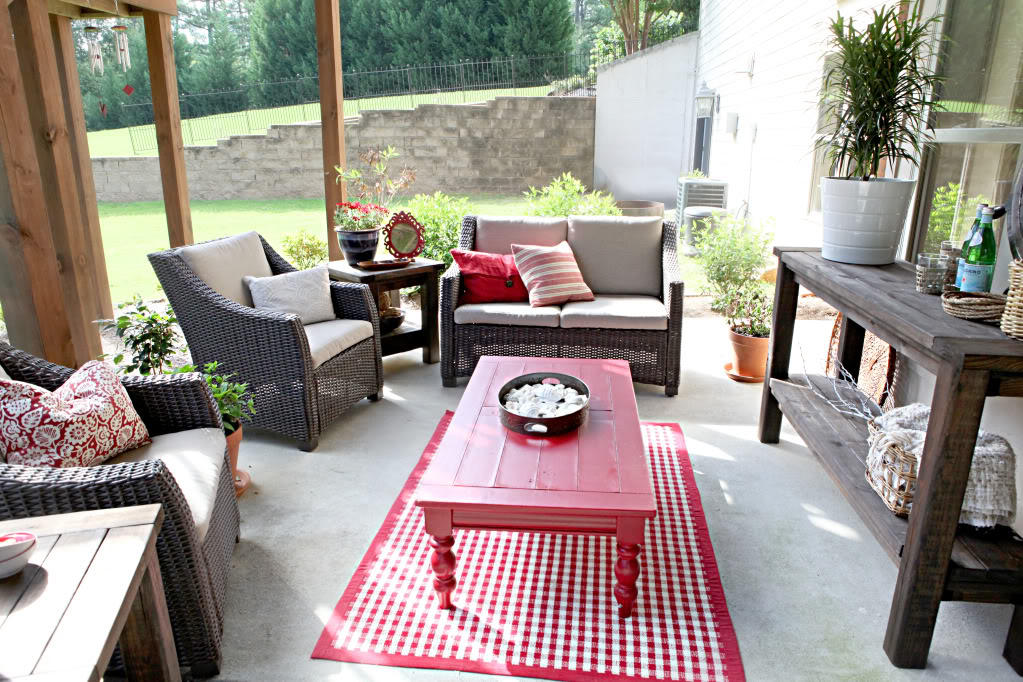 Perfect example how even the narrowest of spaces can be transformed into something beautiful. You don't need a huge open space to get a great patio area. Little creative thinking, and you can make your own private getaway.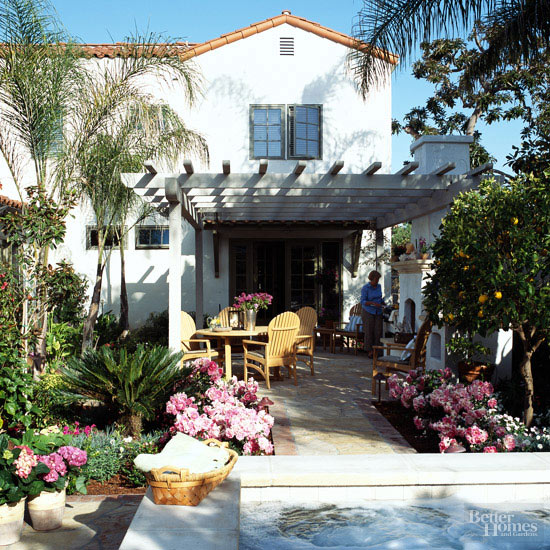 I know I am writing an article about summer patios, but you can plan ahead, and make a patio that will last through the cold and winter days as well. I told you that patio is a one time investment, something that will last for years. And when you are making such huge investment, you want a patio that will last more than just 90 days of summer. Here is an idea how to do that.
I gave you a living area patio idea before. And now I will share some tips with you how to make it happen. You don't need to empty your wallet, sometimes all you need is just quality fabric. Take a look!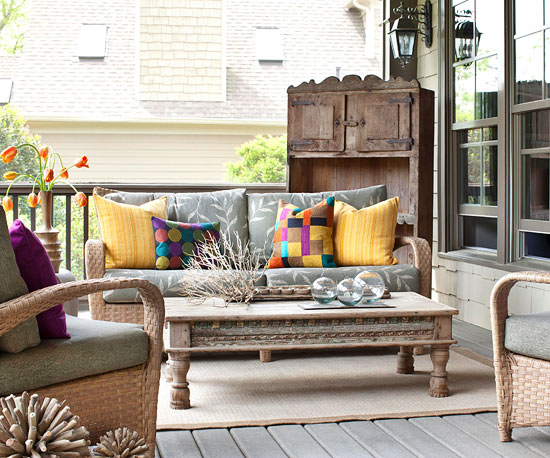 Another patio with firepit, this time, the fireplace is made out of stones. This gives the patio a little rustic and vintage look, which has become a huge trend in interior design lately. It looks like all designers are trying to get back to traditional decoration, and get away from modern and contemporary style. Or at least give a rustic touch to the modern interior. Perfect example!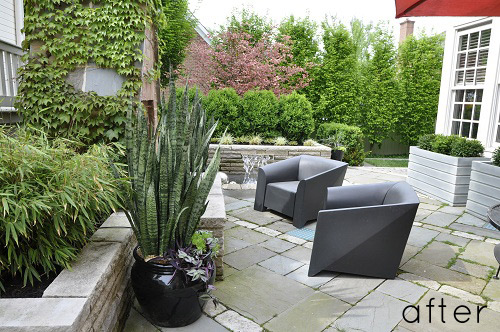 Look, not all of us are millionaires. Or better said, not all of us can spend thousands of dollars on a new patio. Truth be told, some people think of patios as a luxury item. And they are not far from the truth. The reality is that not all of us can afford a patio. That is why I want to give something for those less fortunate, that make less money, but still want to enjoy a patio. It is possible, believe me.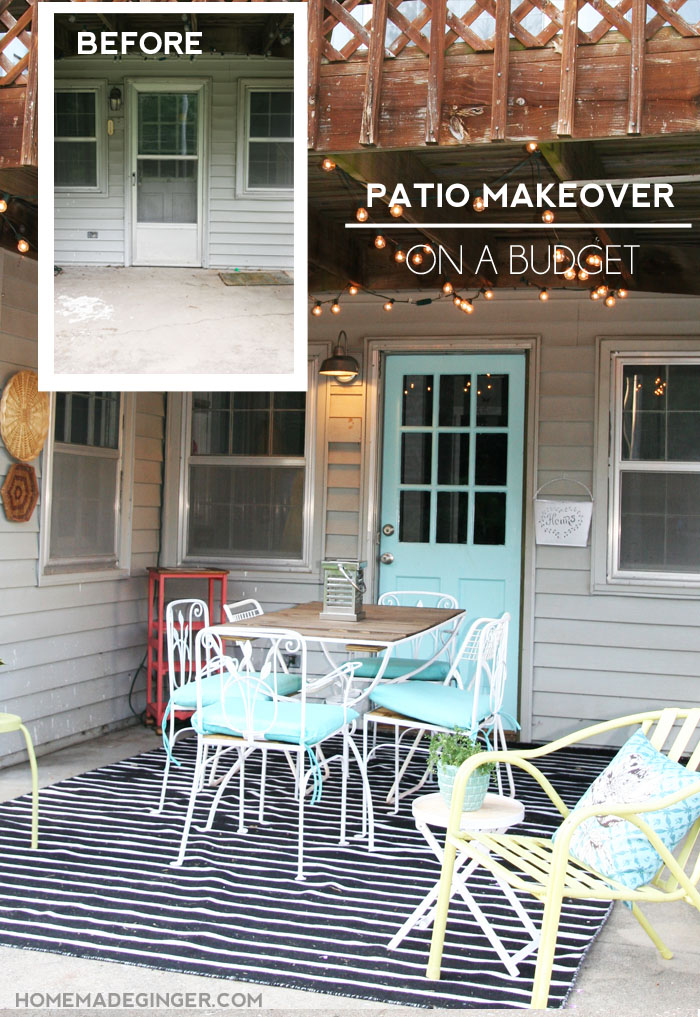 This is a step by step guide, with instructions and different ways how to enrich your patio. For example, rugs can hide and cover an imperfect patio. Or you can hang outdoor curtains for more privacy. Take a look, and be sure to implement some of the ideas in your own patio project.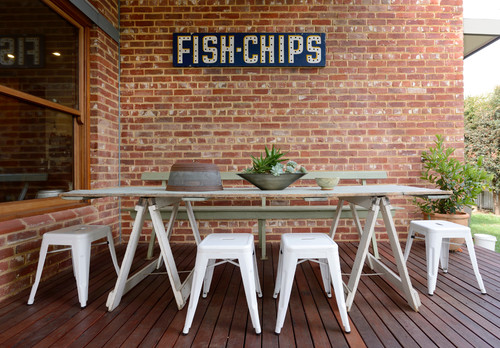 Again, as I've previously said, sometimes the simplest things can make a ton of difference. Looks like this blogger agrees with me, as she had used little to no money to transform her patio into a convenient and comfortable area for chit chat.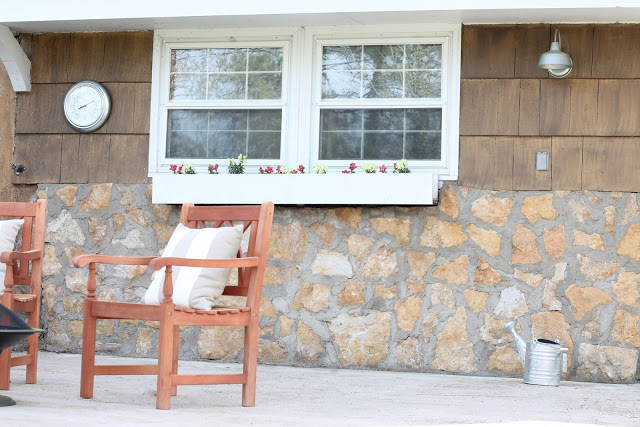 Hey, as there are people that want patio on a budget, there are also people that have mansions and can afford to splurge on a patio. And we can all dream of something as good as this patio. Pool, comfortable chairs, fountains, what more can you wish for?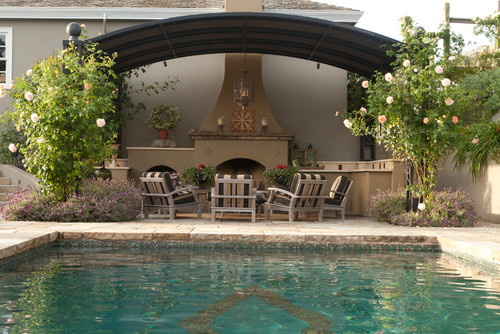 You've probably noticed that most of the patios on the list have a firepit installed. Well, that is not a coincidence. I truly believe that a patio without a firepit is not a patio. But, hey, who I am to command you to do something? Be as it is, I'd like to share this step by step guide for making a unique firepit and installing it in your patio area.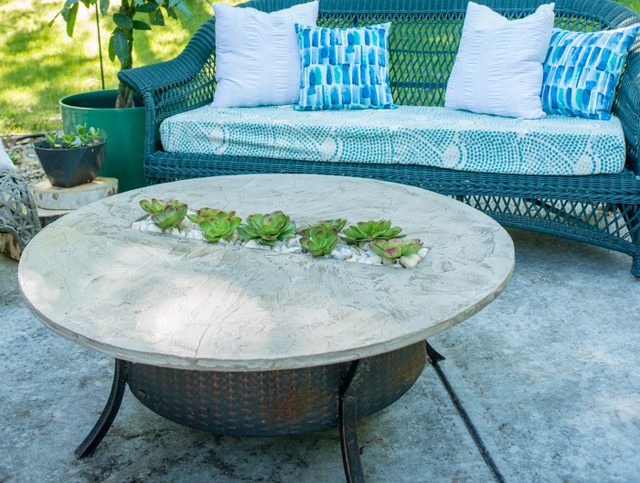 Another interesting idea on how to spruce-up an old patio. Look, it always comes down to buying new chairs and installing a firepit, but there are also other stuff you can do, like painting and refreshing the patio.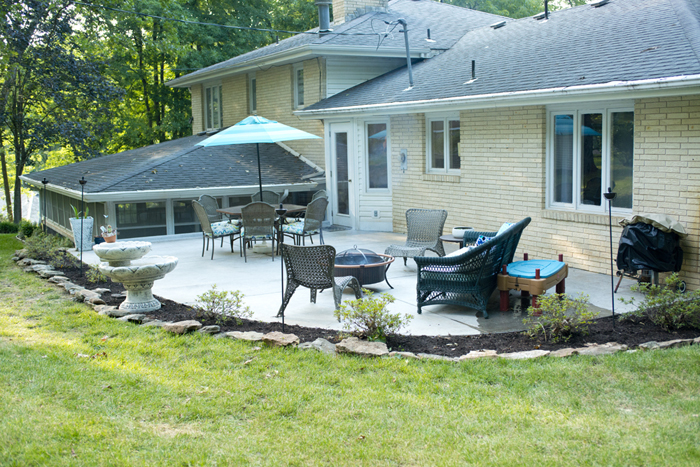 A before and after makeover from a patio in Philadelphia, United States, this patio gets an urban vibe thanks to some lively and vivid color painting, some urban furniture pieces and much more. Check it out.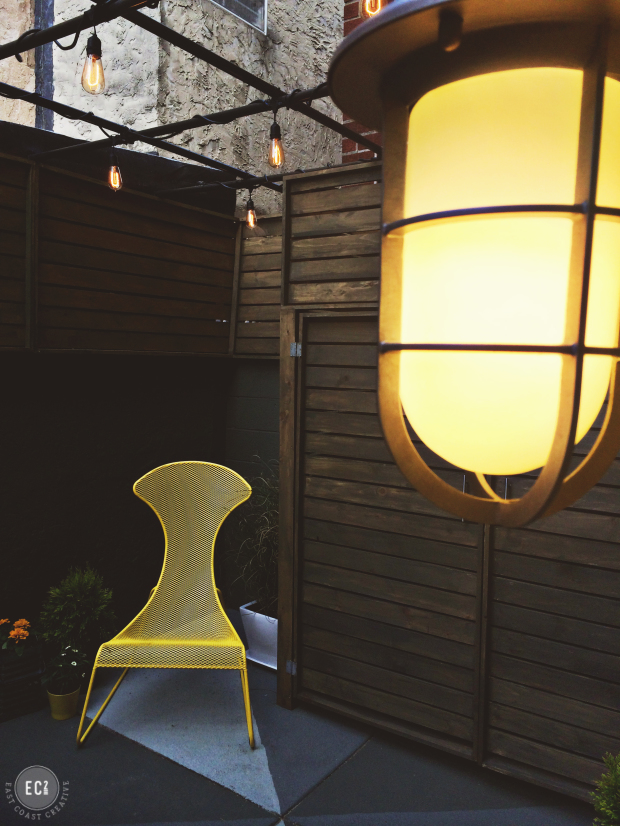 The most important aspect when you are making your patio is to have a clear vision where you want to go. Once you have a vision what you want to achieve, the second part of decorating the patio is much easier. That is the lesson here, and see how it went through.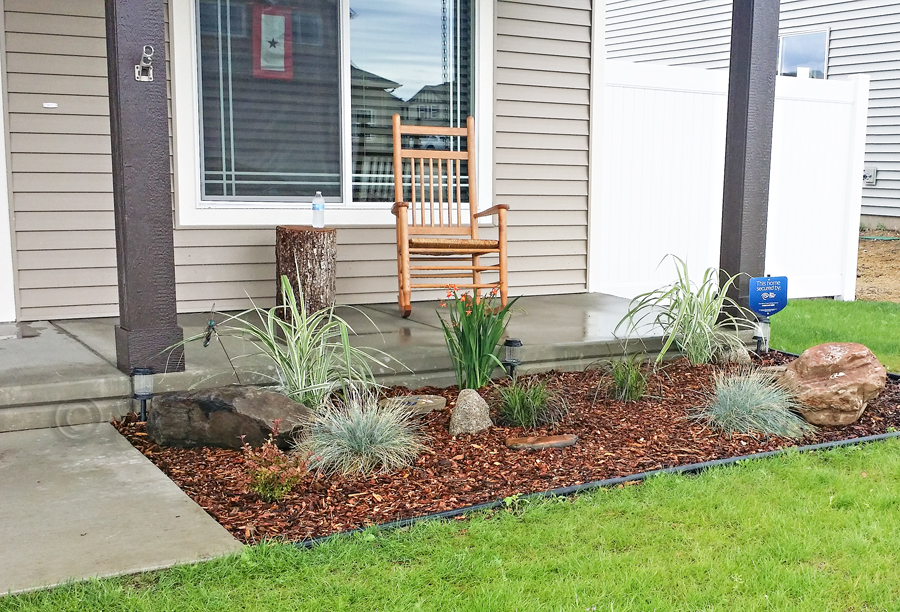 This has to be my favorite patio. The reason is simple, I love plants and greenery. If I could, I would live surrounded by flowers, plants and greenery. And in the era where greenery is slowly dying, it is nice to preserve some at your home.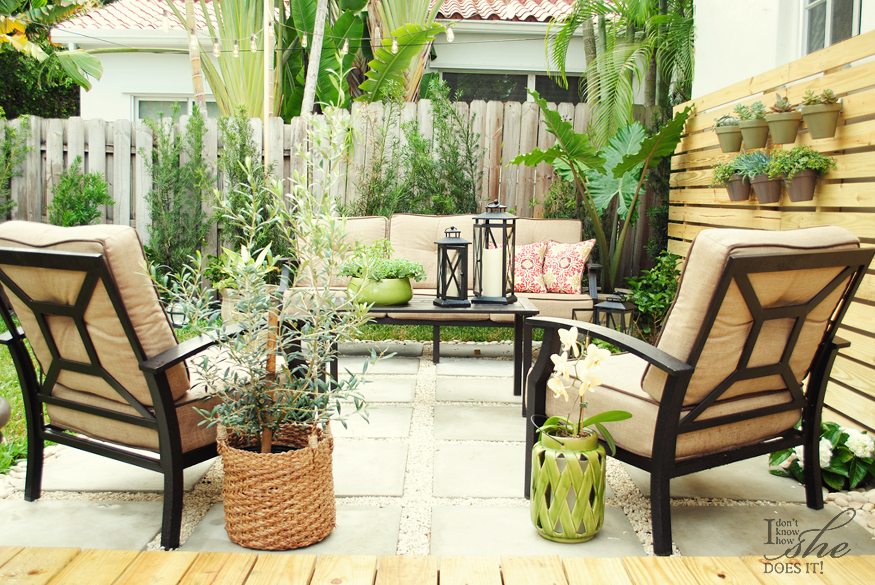 The items might be pre-bought, but the patio looks gorgeous. The umbrella definitely helps for the hot summer days, as any shade is welcomed to keep you cool.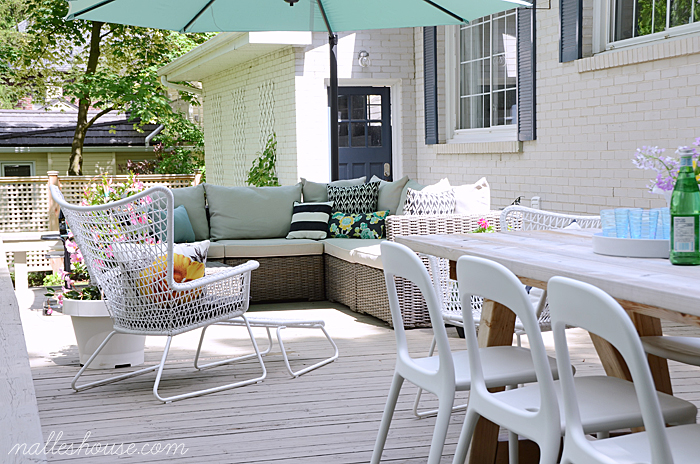 Pergolas are another welcomed addition to the patio. They instantly create shade, and can be an alternative to a big and voluminous umbrella. Bonus points for style and character, as any patio can be instantly transformed to a French cottage and French country style patio.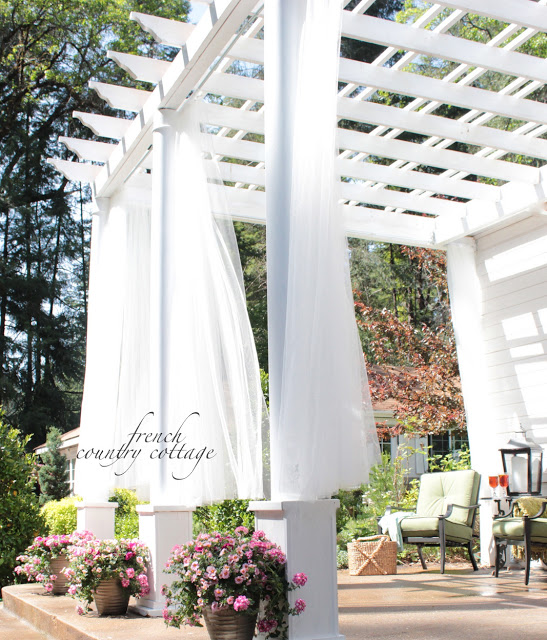 Another patio area that has more greenery than concrete. Look, if it was up to me, I told you I would go all green. But you always need some concrete or wood panels. Just don't ruin all your greenery. After all, a patio should be a quiet place where you relax, and there is nothing more relaxing than fresh air and smell of flowers and plants.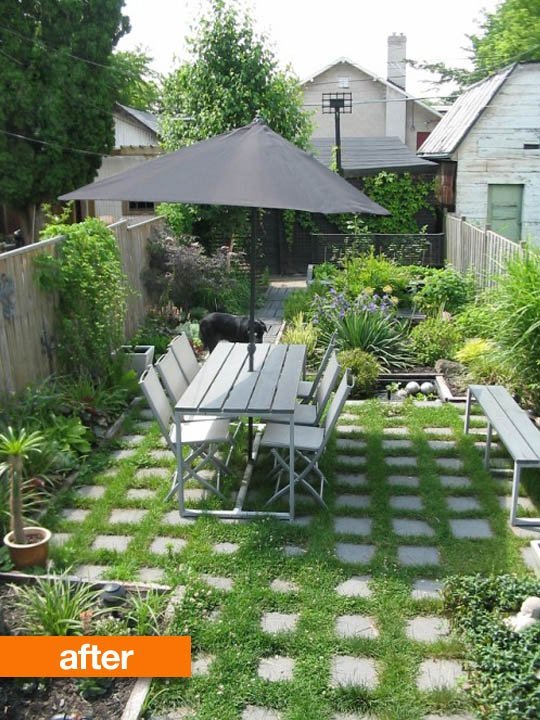 This patio lounge has an exotic vibe and touch, and that is again achieved thanks to the greenery and plants. Stones are also a nice touch.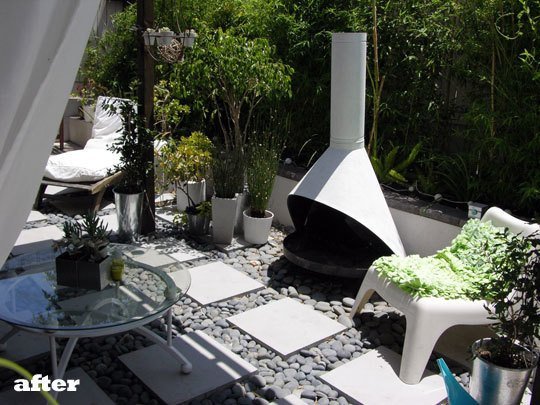 The only thing this patio needs is some lighting so that you can enjoy it during the night as much as during the day. Simply put, it is perfect!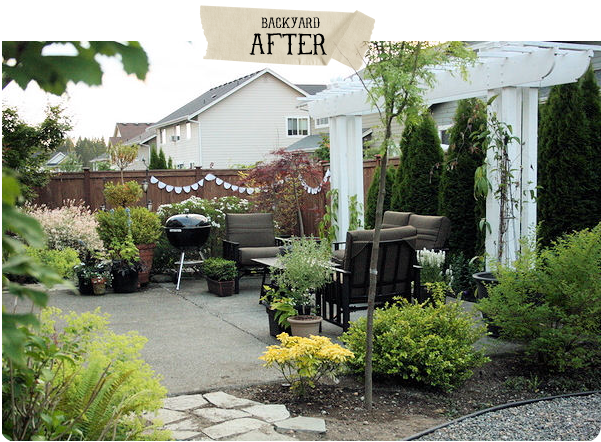 These guys started from scratch, and then slowly built a precious lounge. Made entirely of pallets, the patio has that summer nautical vibe you get from coffee restaurants placed at the beaches.
 READ THIS NEXT: 28 Cool Summer DIY's For Endless Backyard Family Fun