An almost lifeless rottweiler was found near a notorious dumping ground in Florida. Sussana was thrown away by her owner, and the dog wasn't able to save herself because she can barely move or even lift her head.
Paralyzed Dog Abandoned Near a Dumpster and Never Thought Would Be Found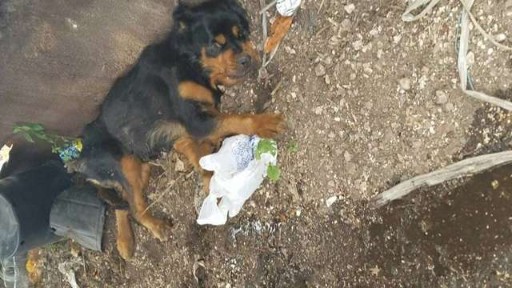 Sussana was seen by a local animal rescuer named Isabel Zapata as she often searched the area to look dumped pets. In May, she found this hopeless rottweiler who was malnourished and weak. Ticks and fleas were eating her flesh. The poor dog did not seem to bother if she would be saved from her misfortune or not.
By the time Isabel saw Sussana, she immediately called Gulfstream Guardian Angels Rottweiler Rescue, and the organization didn't think twice and agreed to take care of her.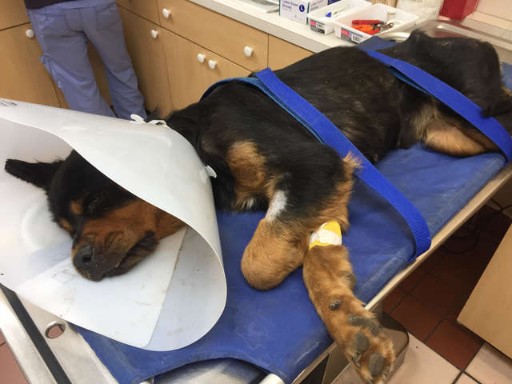 According to a board member for the rescue, Laurie Kardon, "Animals are just routinely dumped out there to die," so it wasn't a surprise for them that Sussana was found there. "It's a very dangerous place because there are a lot of trucks going through there at high speeds. It's just heartbreaking. So many don't make it."
The dog couldn't walk so the rescuers lifted her onto a tarp so they could get her to a truck. With full of hope, they rushed her to the nearest animal hospital where was immediately given initial treatment such as fluids and blood tests. That was the time they realized she was paralyzed, but they couldn't find the cause, and no one could tell if she would be able to walk again.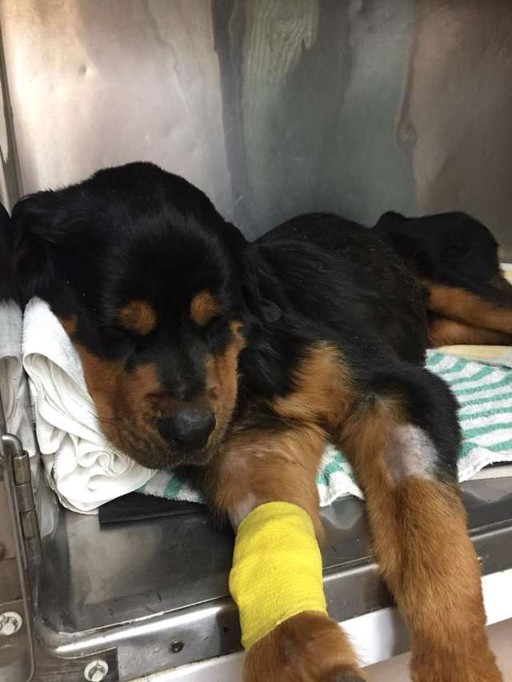 When she was finally stabilized, the sweet pooch was taken to Clint Moore Animal Hospital in Boca Raton. As they looked into her files and results from the tests made, the hospital staff finally figured out how Sussana is suffering from her unfortunate condition. It wasn't because of any spinal issues or broken bones, but she wasn't able to walk most likely because of what people have done to her.
Kardon added, "She had some arthritis and physical deformities to her legs, which make us think she was just stuffed into a crate since puppyhood." She also said that poor Sussana seemed to have been mostly used for breeding, and when some breeders find them useless, they just abandon them.
Sussana is only three years old but has already gone through a lot, but it is evident that she wanted to fight for a better life.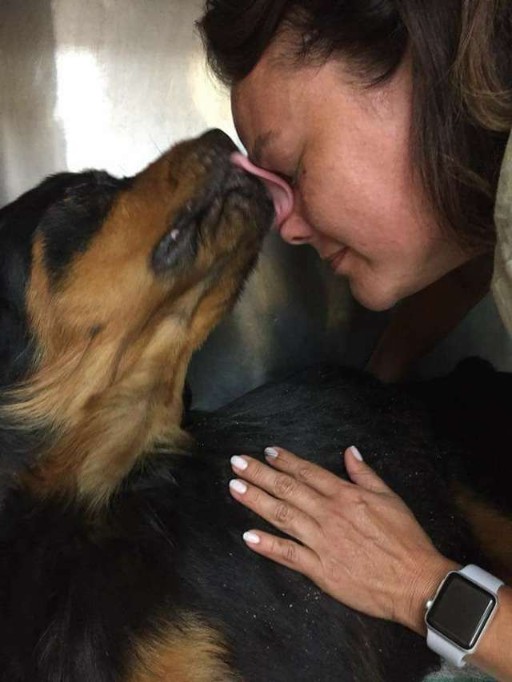 According to Kardon, "The first time I saw her, she lifted up her head and licked my face," she added, "I said, 'There it is. This girl wants to live. We were going to do everything in our power to get her going again.'"
Susanna's hopeful rescue team and veterinary staff created a health plan to help her recover. They gave her nutritious food to get her back in shape and gain strength; she was also given pain medication to help her recover from her wear bones and muscles.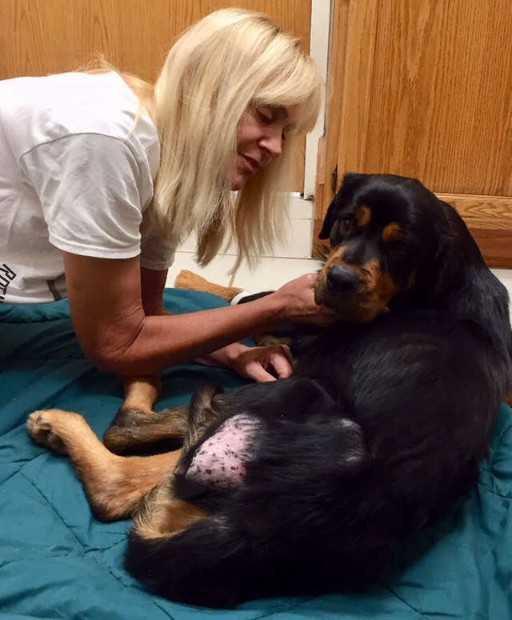 With the help of a rich quality diet and lots of love, Sussana has improved her health in just over a week. The vet team then brought Susanna out to a rehabilitation pool to test her footing. And, to everyone's surprise, she started walking through the water.
"We were all in tears," Kardon said. "It was such a relief."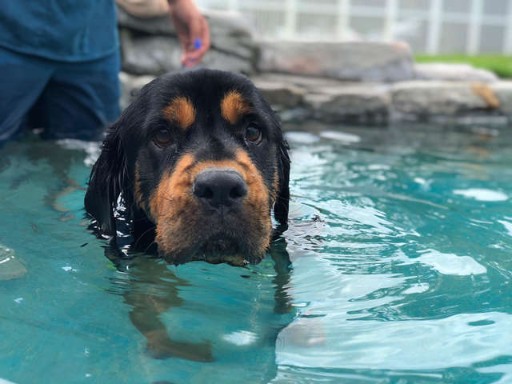 It was apparent that the sweet girl wanted to get better, so the staff made sure she was hanging around the pool more often to stretch and walk.
Sussana regained her cheerfulness, and she started wagging her tail to everyone she met.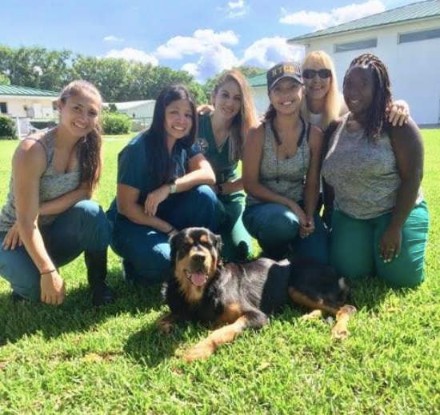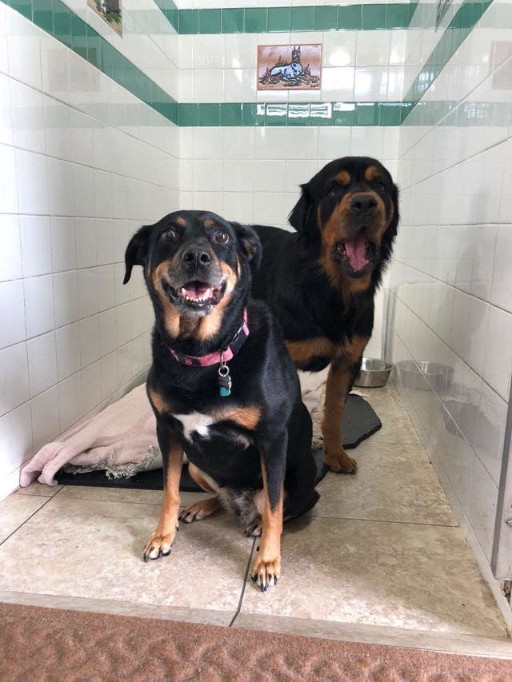 After more laser treatments and water therapies, Susanna continuously regained her strength until she was finally able to play with other dogs.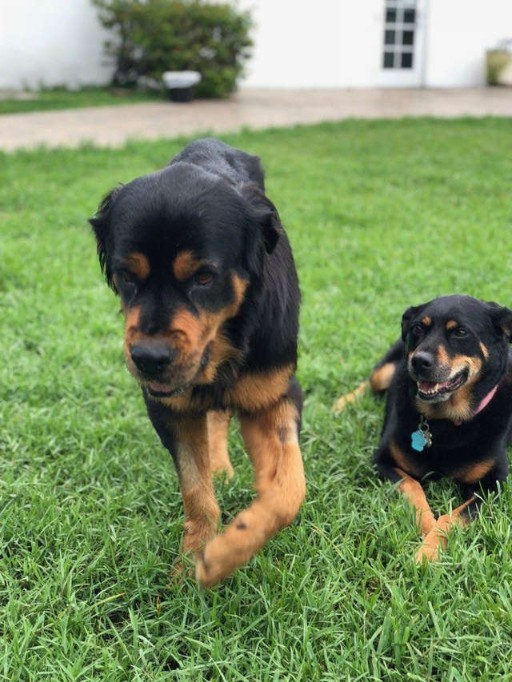 Sussana is now able to roll around grass, play, and do things which she could have never done without the help of those who saved her life.
Kardon said, "She's really a testament to her breed," she added, "She is strong, determined and brave, but also so sweet and loving. She's got the heart of a Rottweiler, that's for sure."
Today, Kardon is proud of how far Sussana has come, and she couldn't wait for the sweet dog to be adopted by a loving owner. But until that moment comes, the people at the shelter will continue to enjoy her uplifting spirit and the happiness that she brings to everyone.