It's not much of a secret that Friends and How I Met Your Mother basically follow the same plot and scenario. Both shows focus on a group of six friends, chilling at a pub in New York, and there are side plots in between. But the similarities between these go much deeper, and at the end, you might think that How I Met Your Mother copied Friends. That's not the case, but one can't ignore how many similarities these two shows share. Let's take a look at everything from Friends that was then used in How I Met Your Mother.
1. The Main Plot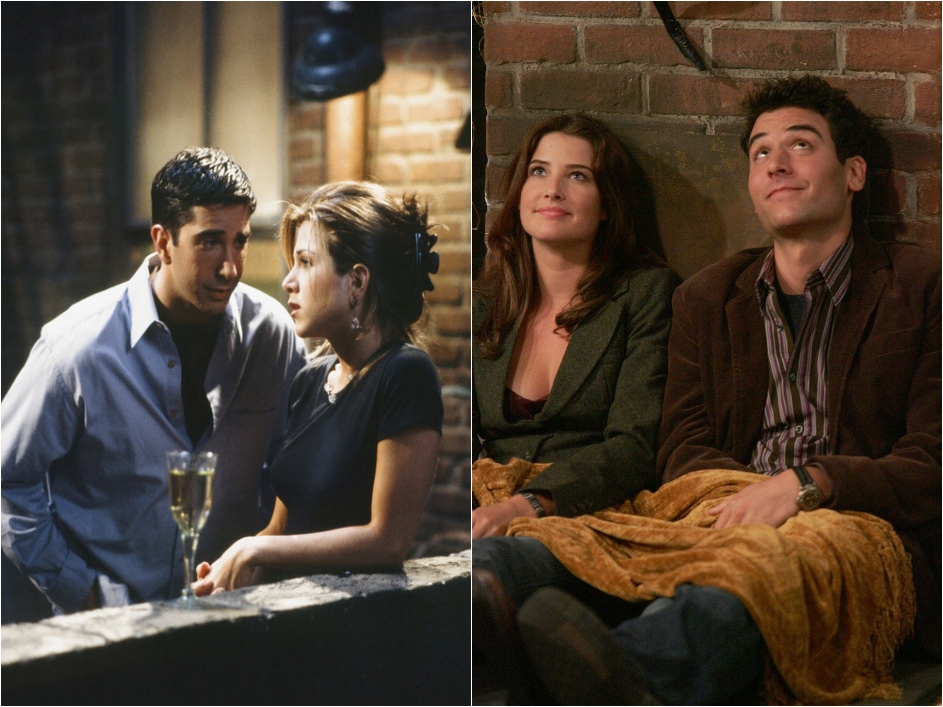 Let's start with the most obvious one: the main plot of both series. Both shows feature a main character (Ted and Ross) who falls in love with the hot new girl. Both get rejected in the first season, and the plot drags on for 10 seasons in Friends and 9 seasons in How I Met Your Mother.
2. The Initial Love Interests Of Lily And Monica
Lily went looking for Ted, and she found Marshall. That is how they meet, and their love story is the cutest one in the series. In Friends, Monica went for Joey. She wanted to hook up with Joey, but she found Chandler instead, and that is how their love was born.
3. Mother, Then Grandmother
Christina Pickles is part of both shows, and in both she plays a parent. In Friends, she plays Ross and Monica's mother, while in How I Met Your Mother, she is Lily's grandma.
4. The Husband And The Hand Twin
Another actor was part of both series. That guy is Thomas Lennon, who you might remember as Klaus, Victoria's husband, who she left at the altar to marry Ted. In Friends, he played Joey's hand twin in season 5.
5. Dumped Twice In The Same Way
And let's continue with actresses who were part of both shows. In this case, the actress was actually in a similar situation in Friends and How I Met Your Mother. Anne Dudek plays Natalie, Ted's girlfriend in How I Met Your Mother. Ted dumps her on her birthday. She also plays Precious, Mike's girlfriend, and he also dumps her on her birthday in Friends.
6. Mike's Mom Is Also Virginia
And then there is Cristine Rose, who we know as Virginia Mosby from How I Met Your Mother; she also plays the role of Mike's mother in Friends.
7. The Unborn Baby's Sex Kept A Secret
Neither Ross and Rachel nor Marshall and Lily wanted to know the sex of their baby. We all remember Ross saying "No" to the doctor, while Lily and Marshall were going through a period where they wanted to have a little mystery. That was the episode in which Ted was talking about social media and how everyone knew everything about one's life. In the end, both couples found out the gender of their child.
8. Joey And Barney
Barney and Joey have so much in common, it's like they are replicas. But let's start from the fact that they both hate someone because he/she ate their fries. Barney hates Gary Blauman because he ate his fries, and Joey hates Sarah because she ate his fries. We know Joey doesn't share food!
9. What Do Chandler And Barney Do For A Living?
Barney also shares a few things with Chandler. For example, their jobs are a mystery for the entire first season (Barney's job is actually a mystery until the last season).
10. The Dating Failures Of Ross And Ted
Ross and Ted are the same person, and both had their misfortunes in love. Both dated a girl who later became a lesbian. For Ted, his lesbian ex, Cindy, was responsible for finding the Mother. Ross dated Carol, who later became a lesbian. Oh, and both dated students.
11. Using Kids to Pick Up Women
You remember that episode when Ted and Barney used a little kid to get women's telephone numbers? Well, it wasn't very inventive, as it was used on television long before that. Chandler and Joey used the same trick (and were even more persuasive).
12. Love For The Main Girl
Let's go back to Joey and Barney for a moment. Both were in love with the main girl: Barney with Robin and Joey with Rachel. And both got together. In Joey's case, Ross opposed their relationship, and it was a short-lived one. Ted was OK with Barney's relationship—he was even his best man at the wedding. And both Joey and Barney proposed to the respective girls. The only difference is, Joey proposed to Rachel before they were together.
13. Hiding The Relationship
And Barney does have similarities with other characters on Friends. Like Chandler and Monica, he and Robin tried to hide their relationship from their friends.
14. The Least Photogenic Guy
Let's talk about Marshall a bit again. Unlike Barney, he can't take a good picture. He's always awful in pictures. And you know who else is bad in pictures? Chandler from Friends.
15. The Songwriters Of The Group
Marshall shares some similarities with female characters, namely Phoebe. He and Phoebe are responsible for writing songs in the group.
16. Doppelgangers
A lot of the fun in How I Met Your Mother is centered on the gang's doppelgangers. There is only one doppelganger in Friends, and that is Russ, Ross' doppelganger. Fun fact: Rachel dates him for a short time.
17. Bringing Down Stereotypes For Working Men
Chandler and Marshall were supposed to be the biggest role models in the series. And at some point in the show, they quit their job and focused on being stay-at-home husbands.
18. Dating A Therapist
We haven't touched on Robin a lot, so let's get to her now. She dated a therapist, Kevin, for almost an entire season. In Friends, the role of dating a therapist went to Phoebe, who dated Roger, albeit for just one episode.
19. Cooking-challenged
Robin also shares some character traits with Rachel. They are both awful at cooking, even though they both try to impress others. Robin even goes on a scrambled eggs duel with Barney's mother. Rachel has Monica to cook during the entire show, but she tries every now and then.
20. Main Girls' Jealousy
Robin and Rachel are the centerpieces of the main plot, and while they both end up with their respective man, they both have to endure their endless relationships. And both Robin and Rachel are jealous when Ted and Ross date other women.
21. Hook Up And Break Up
Speaking of similarities between the main love plots, both Rachel and Ross and Robin and Ted got together in season 2. And both broke up on their anniversary. And then, of course, they got together in the Final Episode.
22. Problems Conceiving
And then there are Robin and Monica, both of whom can't have children. Robin even has an entire episode in which she tells the "fairytale" children how she met their father, which supposedly was Barney.
23. Staying For Love
Ted is the main character of How I Met Your Mother, and he has similarities with some of the female Friends At the end of the show, both were supposed to leave New York (Rachel for Paris, and Ted for Chicago). Suffice it to say, neither left. Ted stayed in New York and married Tracy, while Rachel stayed for Ross.
24. The Fears Of Becoming Like Our Parents
Both shows feature a love scene in which the characters seem to turn into their parents. In Friends, that role belonged to Ross and Rachel. They experienced it during season three, in the first episode titled "The Princess Leia Fantasy." The producers of How I Met Your Mother went even further, giving all couples a taste of that experience (Barney and Nora, Lily and Marshall, and even Robin and Kevin). The episode in question is "Noretta" from season seven, episode seven.
25. Best Friend Officiating The Wedding
Barney and Joey were portrayed as womanizers, but both got the opportunity to officiate at the wedding of their friends. Barney wed Marshall and Lily, and Joey wed Chandler and Monica.
26. How Ted Is Ross
Ted and Ross have so much in common, not just the main plot. Both correct everyone's grammar and they both work "boring" jobs. Ted and Ross often give the gang random facts about their jobs, and of course, everyone is bored to death. Both also become college professors, and as I mentioned earlier, dated a student. And it doesn't stop there. Both have some awful nickname that the group doesn't accept. For Ted, that is T-Mose, while Ross goes by Ross-a-Tron.
27. Love Ultimatums
Even second-tier characters have similarities. For example, as a condition for getting married, Victoria asks Ted to stop seeing Robin. In Friends, Emily asked Ross to stop seeing Rachel.
28. Same Initials
It took some creativity from the producers, but Ross and Rachel were RG, and Ted and Tracy were TM. That is Ross Geller and Rachel Green, and Ted Mosby and Tracy McConnell.
29. Fake Allergies
Monica and Lily pretended to be allergic to something they didn't like. That was barrel resin for Lily, while Monica pretended to be allergic to the chicken and the duck.
30. The Nostalgic Song
Let's finish with a song that appeared in both shows. That's the "Where everybody knows your name" song. In Friends, the song was on the TV during the episode Joey was in London and he was homesick. He turns on the TV, and the song comes in. In How I Met Your Mother, the song played when Barney enters the pub in the episode "Swarley."