We all want to follow celebrities on Instagram and Twitter. Not because of the drama surrounding them, but because from time to time, they publish really funny and interesting pictures. But let's be honest for a moment—even celebrities can take bad or awful pictures. And sometimes, without even knowing, they look stupid.
What Celeste Barber has done is shown exactly how stupid celebrities can look from time to time. And there is no better way to show that than via mocking, sarcasm, irony and satire. Celeste decided to copy some of the celebrities' ridiculous photos and mock them in the best possible way. We applaud for her effort, and we must say that she has done a masterful job. As a comedian, she sure knows how get past the celebrity glamour coating.
1. Inspirational Messages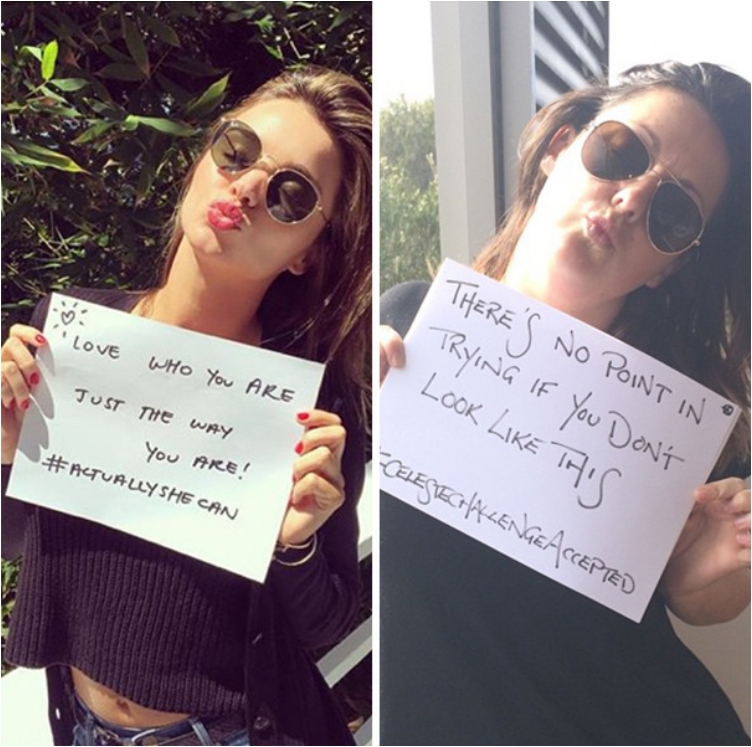 Celebrities posting inspirational messages on Instagram is one of the most ridiculous things in the world. Especially when they rarely follow their own inspirational words. Anyone can find a quote from some great philosopher, write it on a piece of paper and look smart. Even Celeste!
2. With Your Bae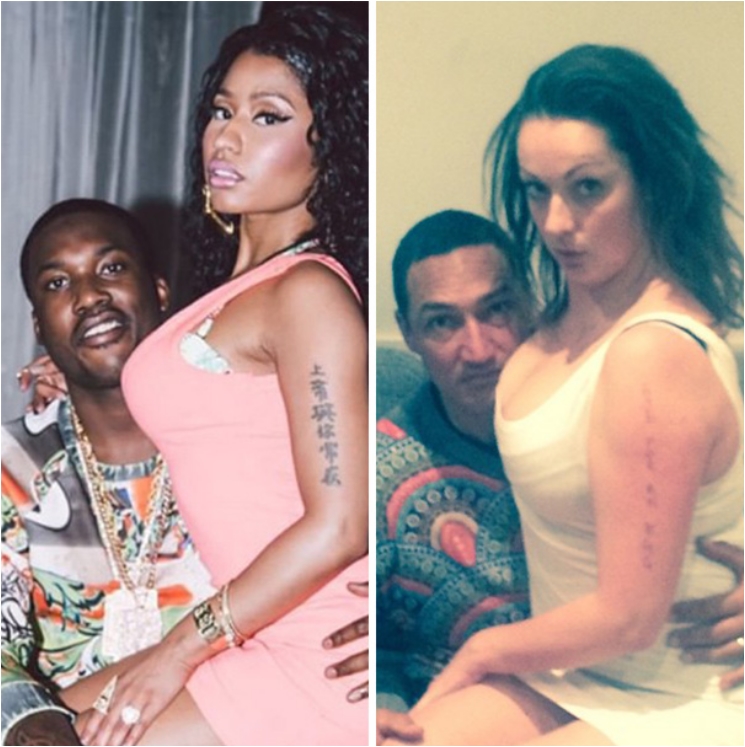 Only celebrities can come up with a word like "bae." In the urban dictionary, the word is translated as "baby," "sweetie" or something similar. Truth be told, social media is not the place where you need to show your love to your "bae."
3. Love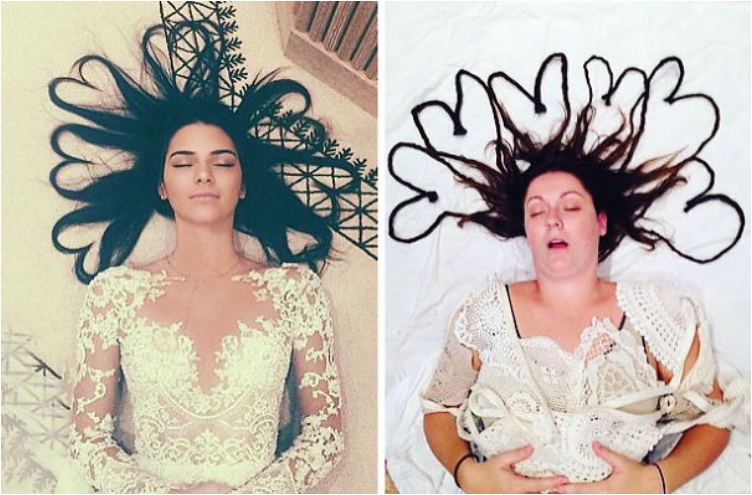 Ah, those fashion photos with an avant-garde hairstyle, makeup and everything that comes with that. With so many fashion stylists trying to make you look good, you can probably do better. Celeste knows better.
4. Looking Good at the Gym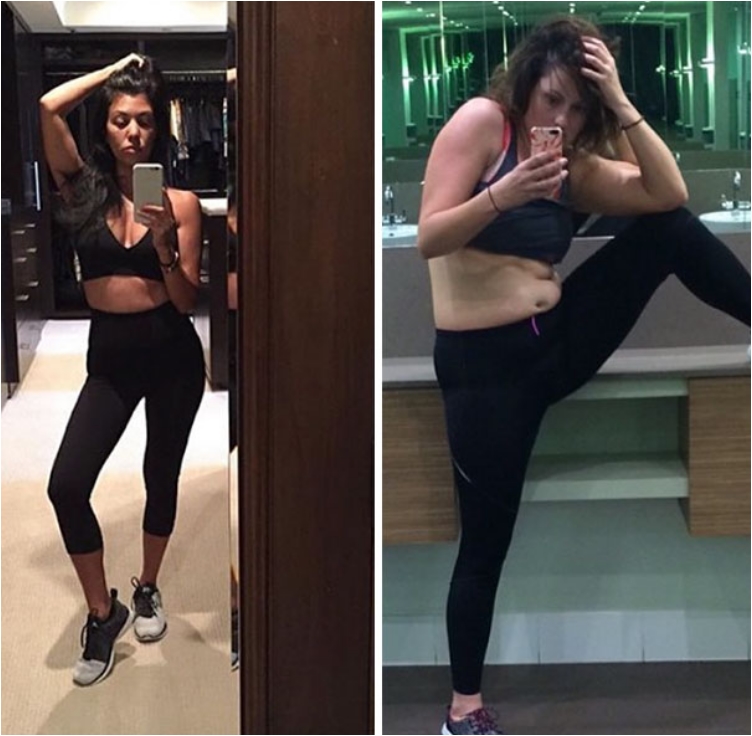 Anyone who has ever been to the gym knows that it is hard to look good after a workout. It is only natural that you sweat; you can't burn calories without some sweating. When celebrities post this pictures of "looking good in the gym," expecting us to believe they got their body without breaking a sweat, it is insulting, quite honestly.
5. Merry Christmas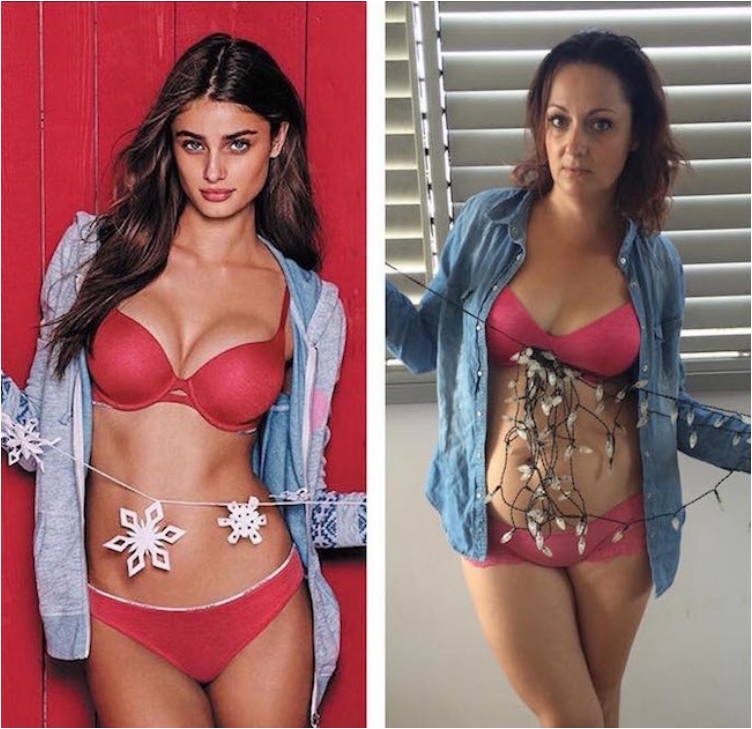 Even lingerie models are a target for Celeste. Lingerie companies like Victoria's Secret always publish some kind of Merry Christmas photo on their social media accounts. Celeste won't let them get away with that.
6. That Classing Beach Scene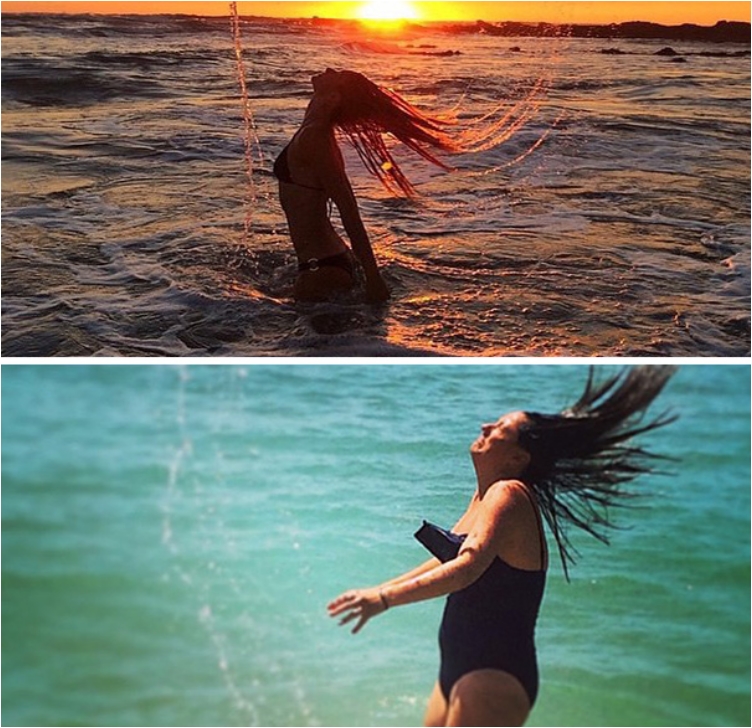 Let's be honest: capturing that perfect beach moment requires a little more than a professional digital camera. And not all of us have access to it. When celebrities are posting these pictures, they are hiding the fact that the photo came from a professional photo session. And then you have Celeste trying to look great while swirling her hair.
7. Bliss with Kids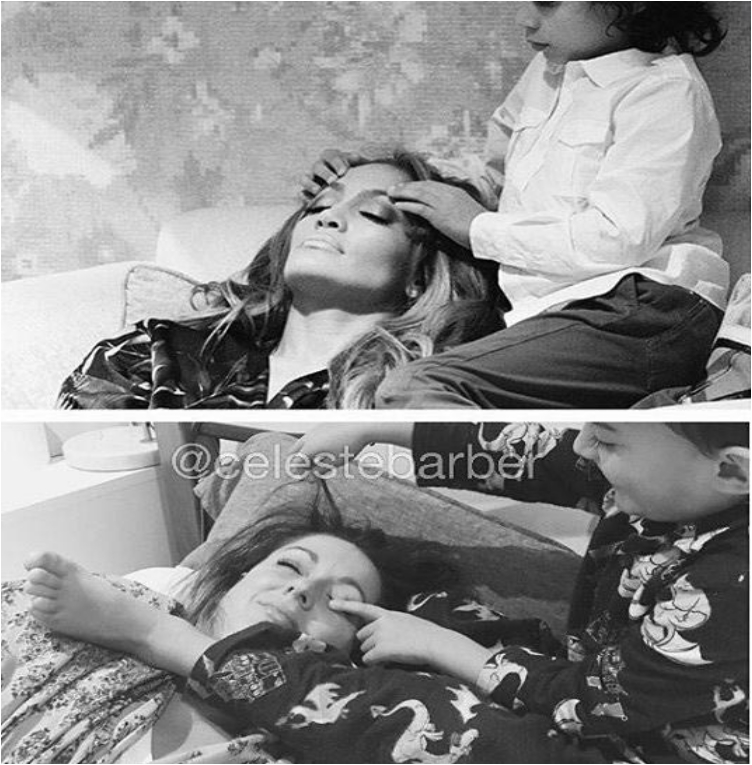 Everyone with a child knows exactly how calm and peaceful children are. Especially if you are trying to take a picture with them. They can get annoying and irritating in a matter of seconds, not minutes. The truth is out, people!
8. Stretching that Cramp in the Leg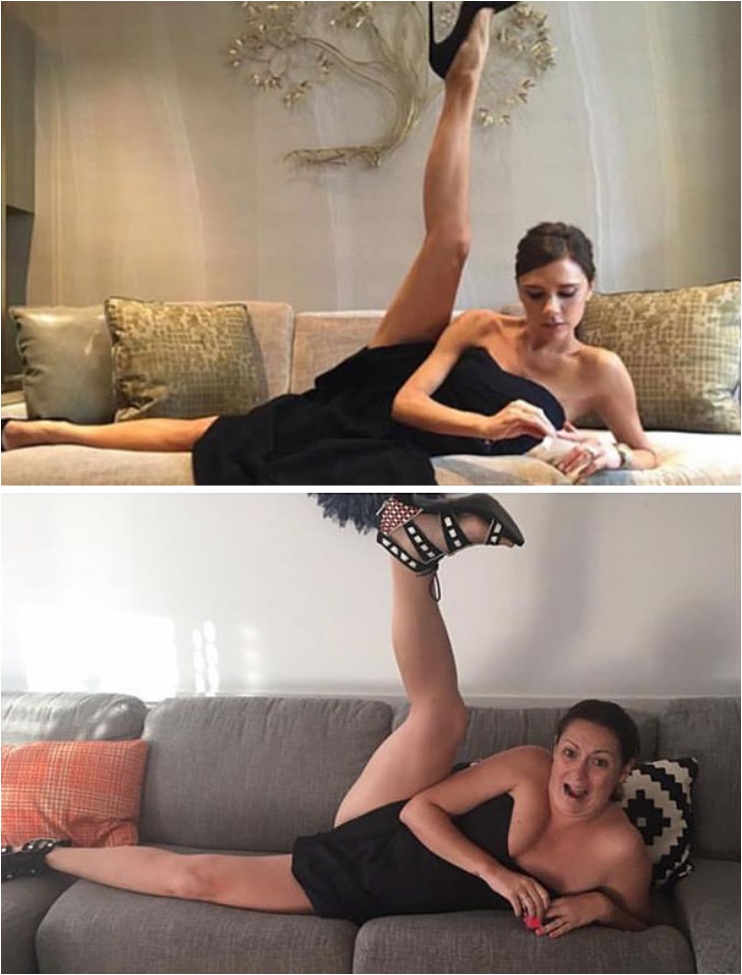 It can't be easy to stretch your leg so much. I honestly don't know how they do it. But if a mom can do it, we all can do it. Right?
9. Goofing Off with Friends
We all hang out with our friends and we goof around. But when you goof around, you don't pose for perfect pictures. Goofing means taking funny pictures, not straight-up, serious face pictures. Good thing Celeste showed us how.
10. Playing the Piano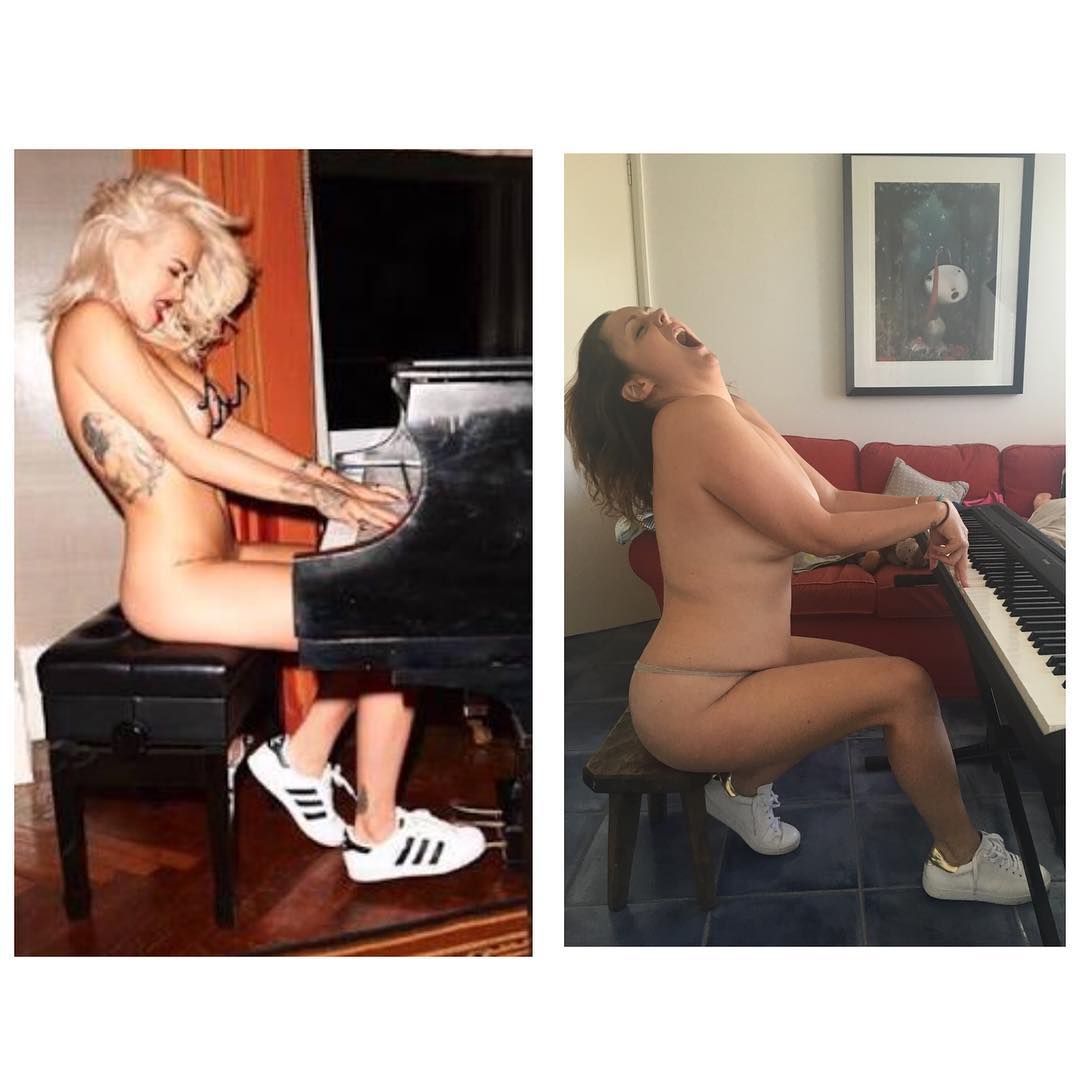 I mean come on, playing the piano nude? That can't be a picture you want to take and show to the world. And nude with sneakers on? Really? Really?
11. Yoga, Anyone?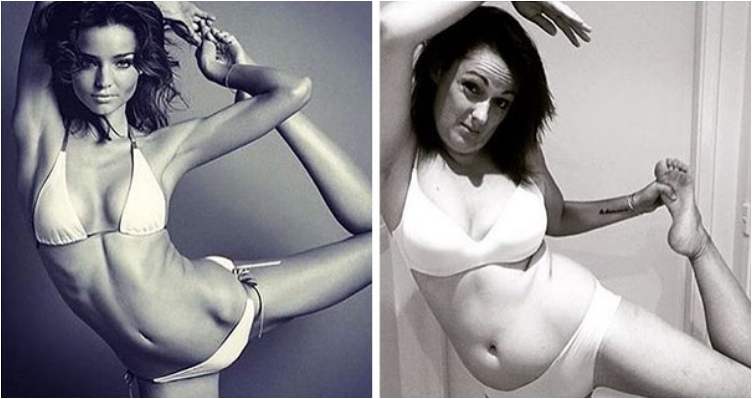 The yoga pictures of celebrities are some of my favorites, I must admit. And that is because I love yoga. And when I see celebrities doing yoga, I have to applaud them. But I also have to applaud someone trying to mock them.
12. Changing in the Car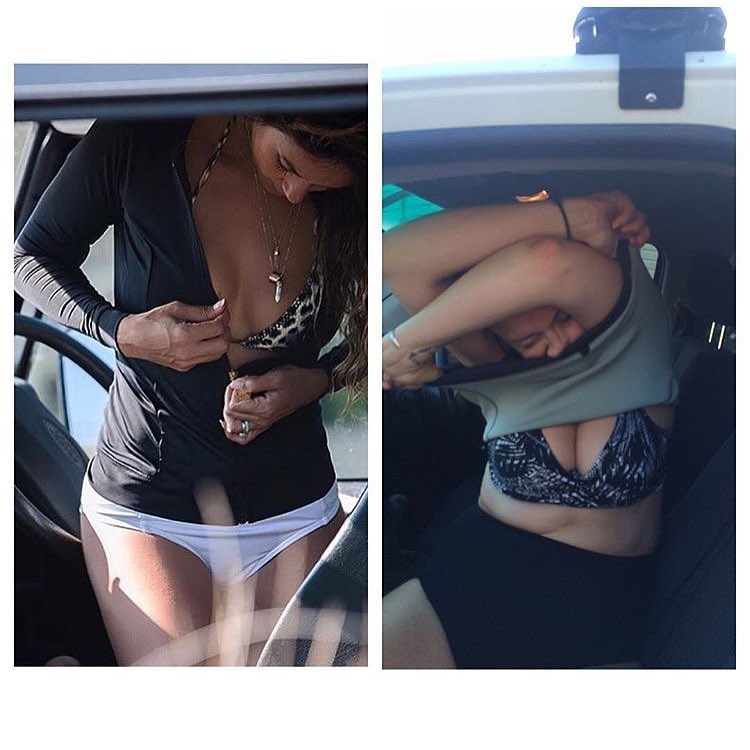 If you have ever tried to change in the car, you know how challenging it is. You have almost no space, unless you are driving a Mercedes E-Class, of course. But for most of us regular people, that is an elusive dream. So I would love to see some of those celebrities changing clothes in a small, urban car, something like Fiat 500.
13. How to Properly Apply Makeup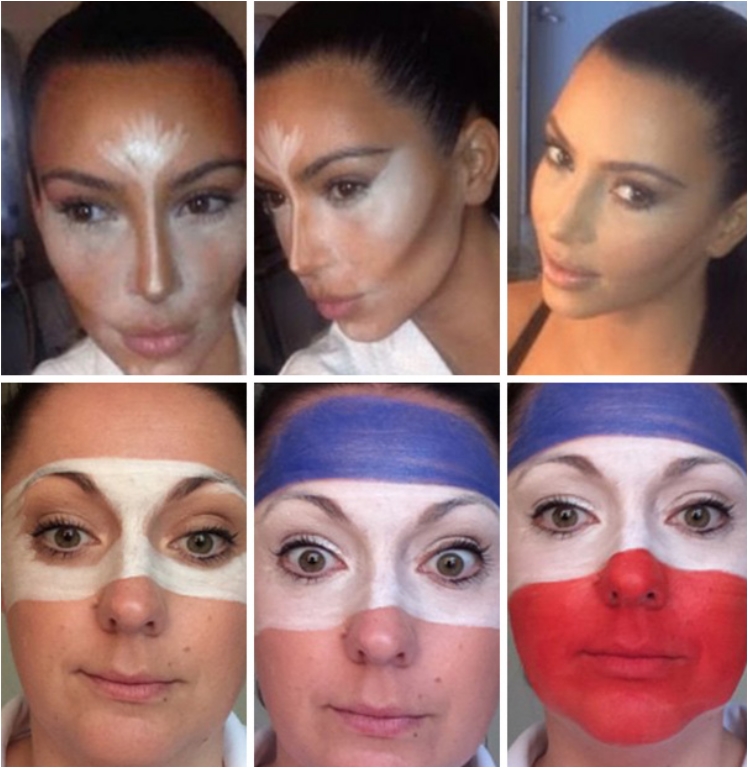 In this age, celebrities are not only singers, models, and actors. They are also experts in everything, from makeup to hairstyles. When celebrities are trying to teach us how to apply makeup, all we can do is laugh. They have a whole team preparing their makeup, and now they are trying to teach us?
14. Easter Greetings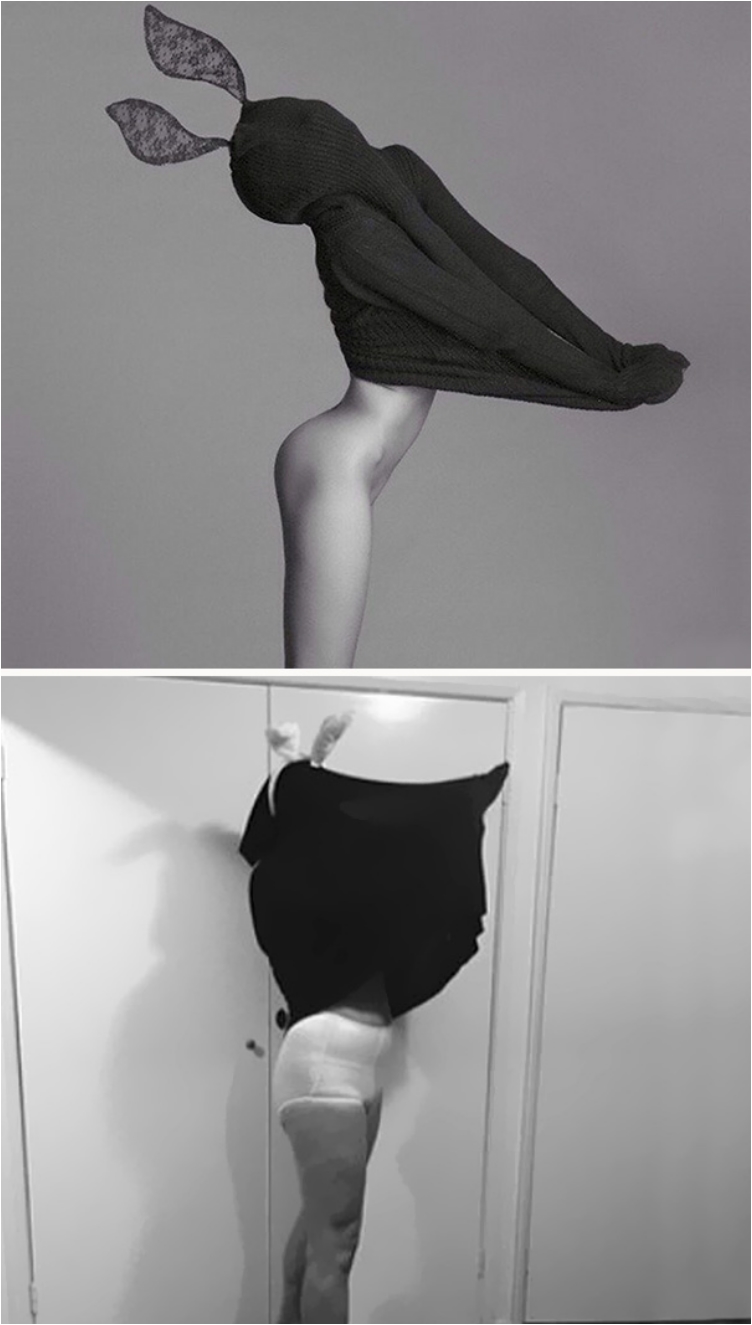 Like Christmas, Easter is another holiday that is just reserved for celebrity greetings and postcards. But one can't let them go unnoticed.
15. Comfort Food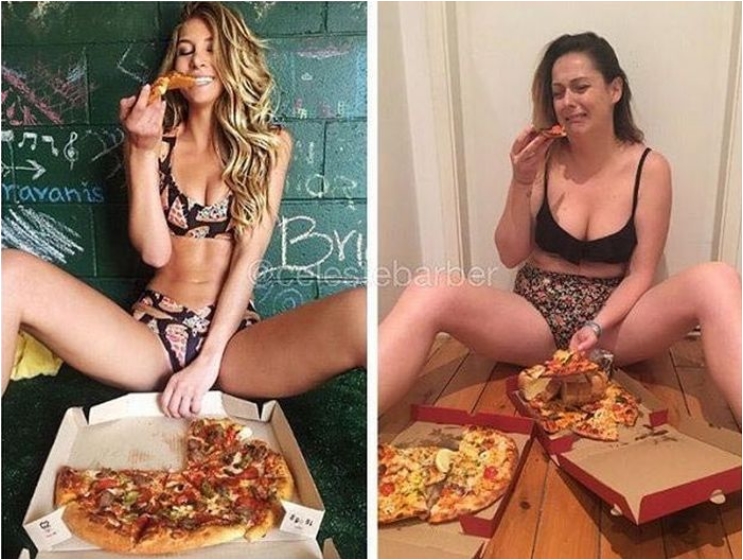 Ah, comfort food: pizza, mac and cheese, hamburger and all those other juicy, but usually unhealthy, food choices. We all love them, not just celebrities. And when you grabbed a slice of pizza during your diet period, you just had a guilty conscience. Right?
16. Beyonce Yoga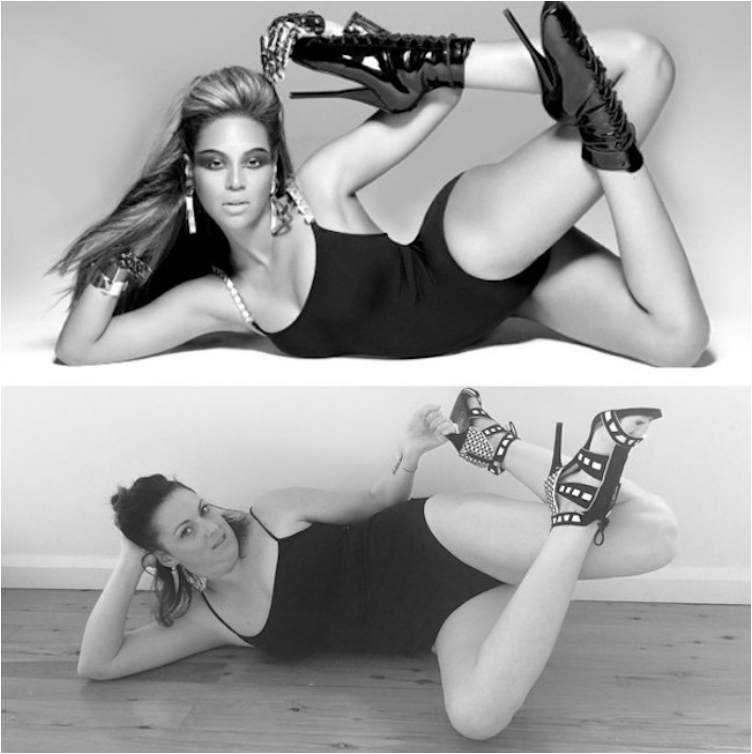 Beyonce rose to prominence thanks to her dance moves in her videos. And we love her for that. But every now and then, she does an impossible yoga position that requires hours and hours of working out.
17. Looking This Good After Giving Birth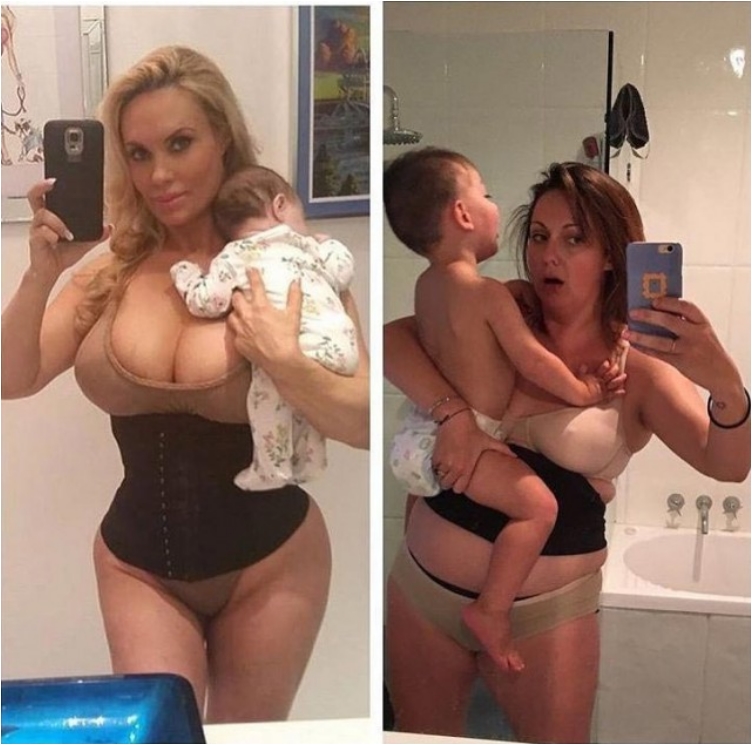 How can you look stunning after giving birth to a 4- to 6-pound baby? It is virtually impossible. Well, unless you are a celebrity. All other mortals wait for at least two to three months to begin getting back in shape.
18. Just Snacking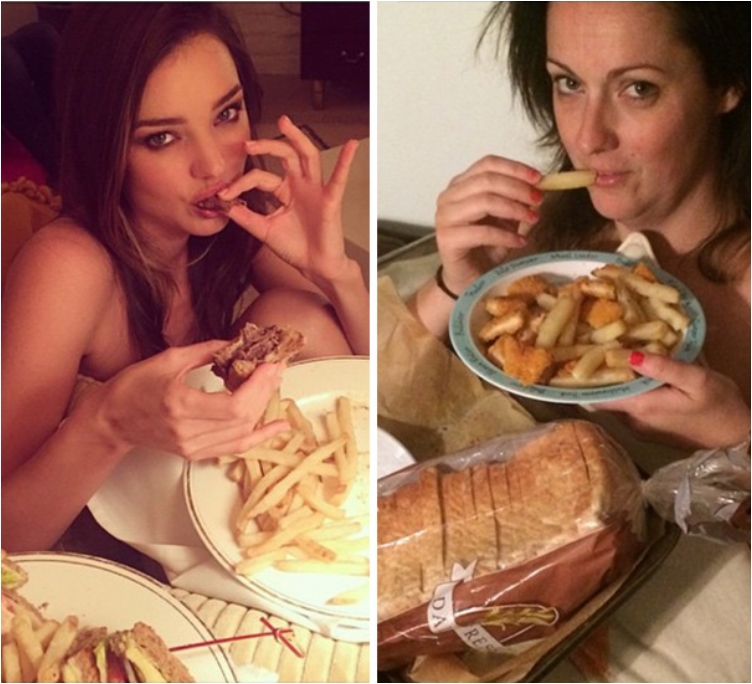 I must admit, Miranda Kerr looks so cute while snacking on fries and a burger. I almost hate Celeste for making fun of that particular picture. But it makes for a good laugh.
19. Shaving Off Unwanted Hair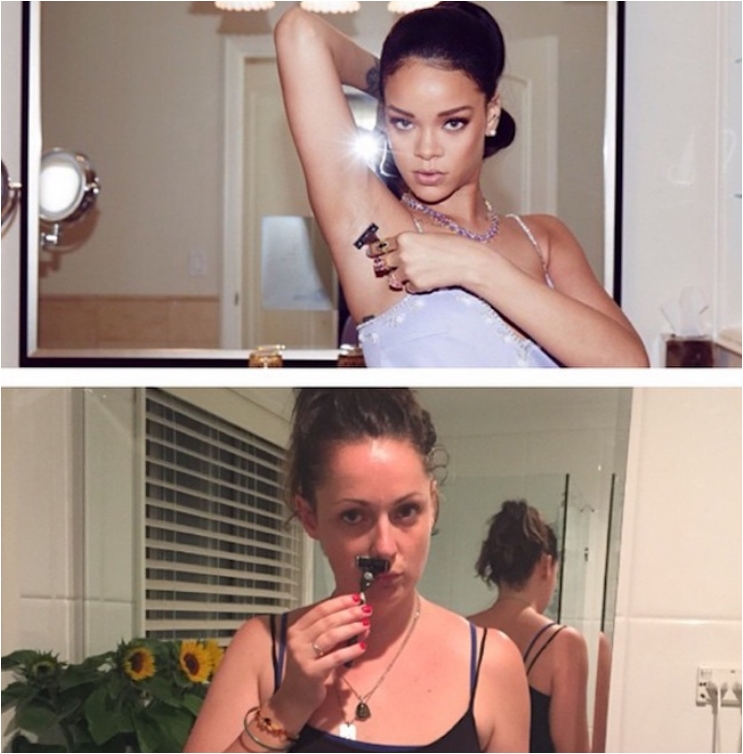 Shaving is another area where celebrities keep most things hidden. It's like a mysterious world in which they only show razors when they have to pose for an advertisement. And it's not as if regular people can't do shaving commercials.
20. Kitchen Yoga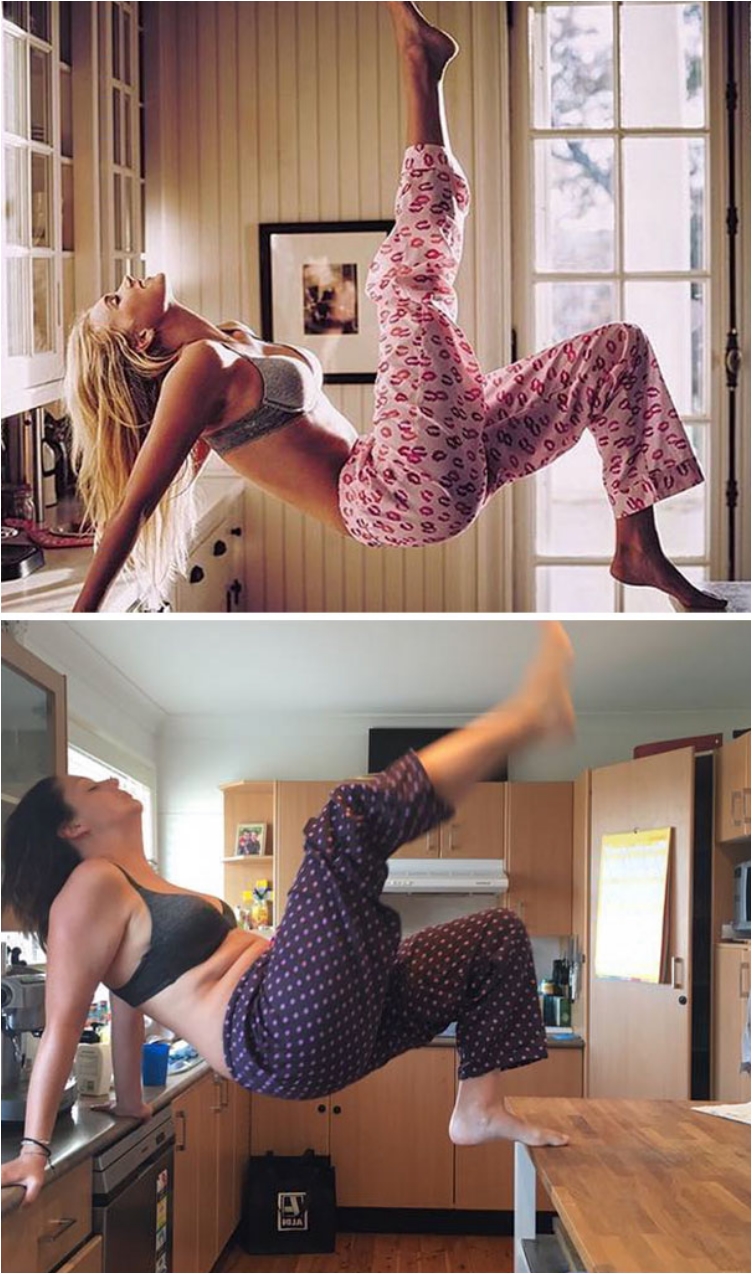 I know that there is a trend in fitness that you should use every minute and location you can to get in a workout. But the kitchen? Come on, that's a place for cooking, not for working out.
21. Falling in the Pool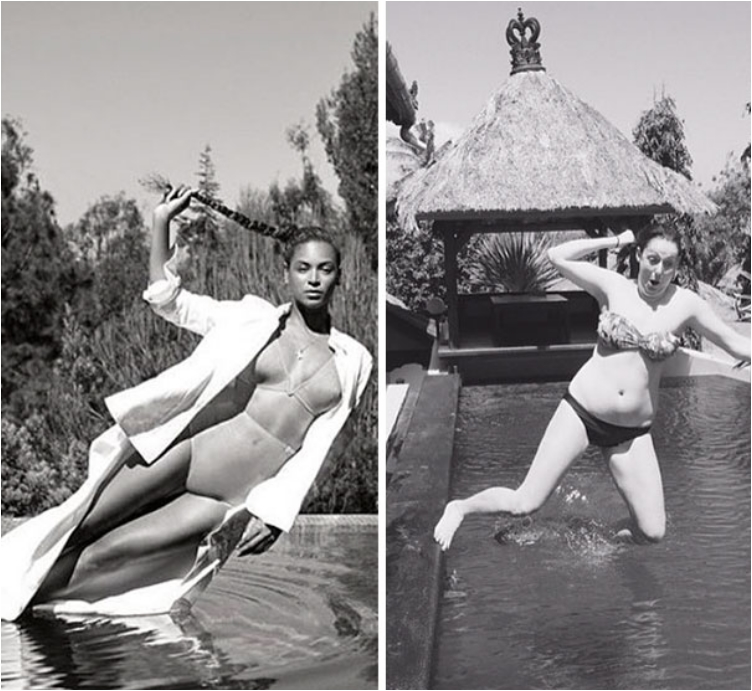 Something has to keep Beyonce from falling down here. I cannot imagine how you can be so calm and peaceful when you know you are about to fall into a pool. The mere thought of falling into water is scary, no matter if it is a pool or anything else. It is only human that you show some reaction on your face.
22. Princess Dresses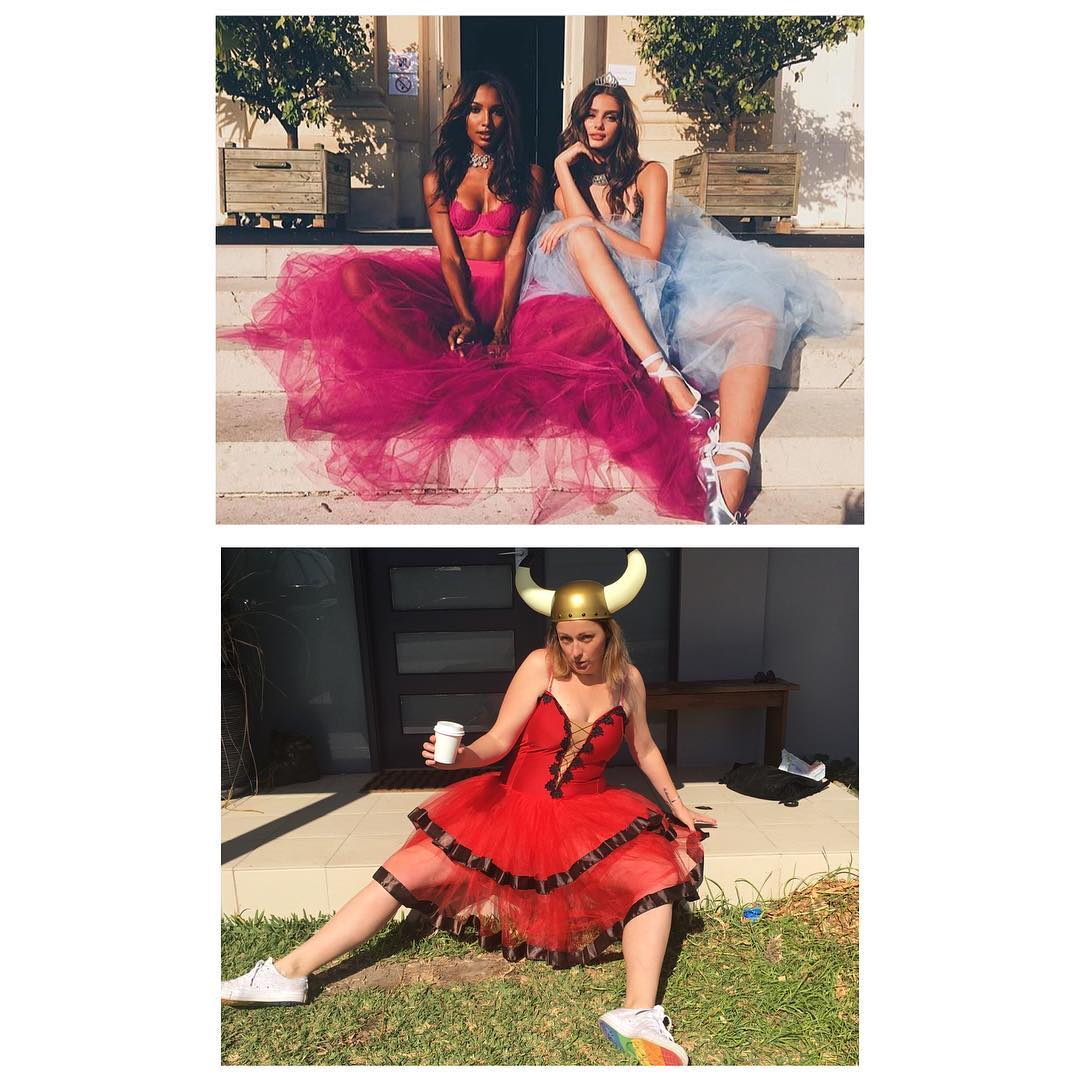 Well, Viking princess or a Disney princess—you are still a princess. Nowadays, people associate the term princess only with Disney princesses. In reality, there are many other princesses out there who deserve some love. Celeste makes sure that they get it.
23. Hot Cooking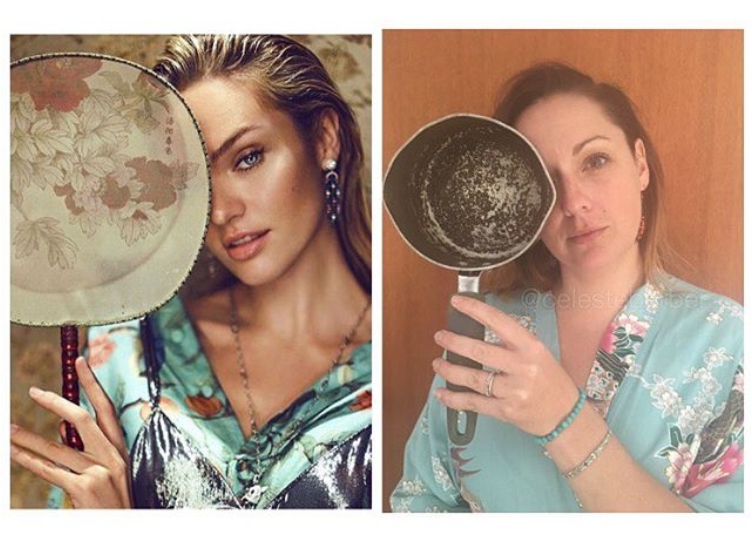 The purpose of cooking is never to look hot. Yes, you should look decent, but looking hot while cooking? Are you cooking or are you posing for Instagram? We know the answer for the left and for the right picture. It is quite different.
24. Waiting for You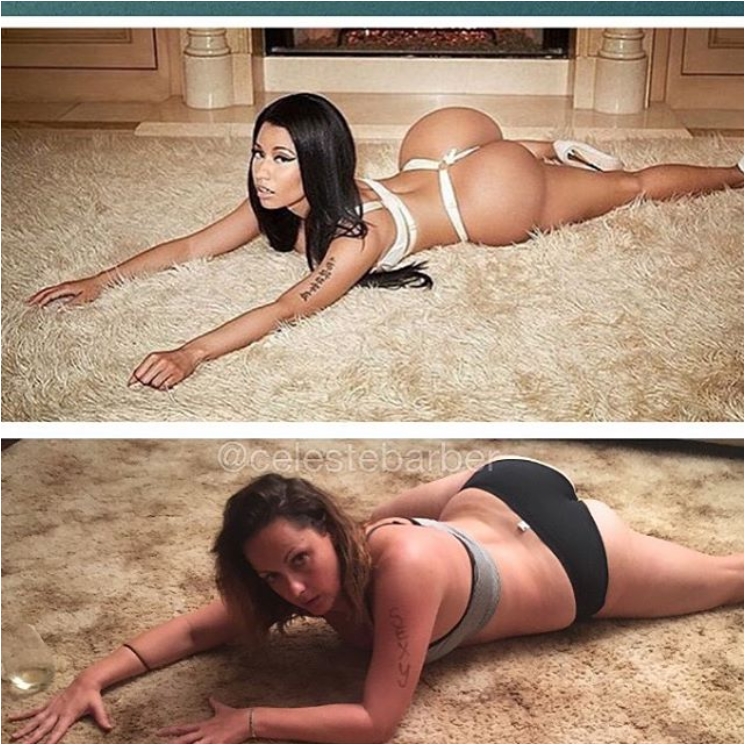 All men fantasize about that moment when the girl they like is wearing lingerie, waiting patiently for them in the bedroom. But from what I have heard, the picture is never as good in reality as it is in their heads. I don't dare think what they imagined.
25. Blessed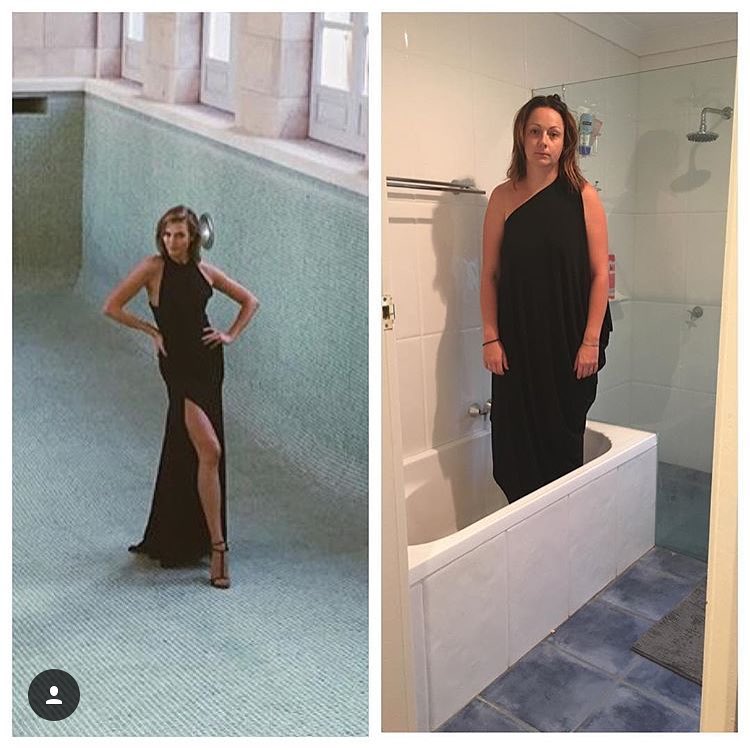 You just know a celebrity wearing a black cocktail dress will be a victim of Celeste's mocking. That was one of the first images I thought of after I saw Celeste's Instagram profile.
26. The Crew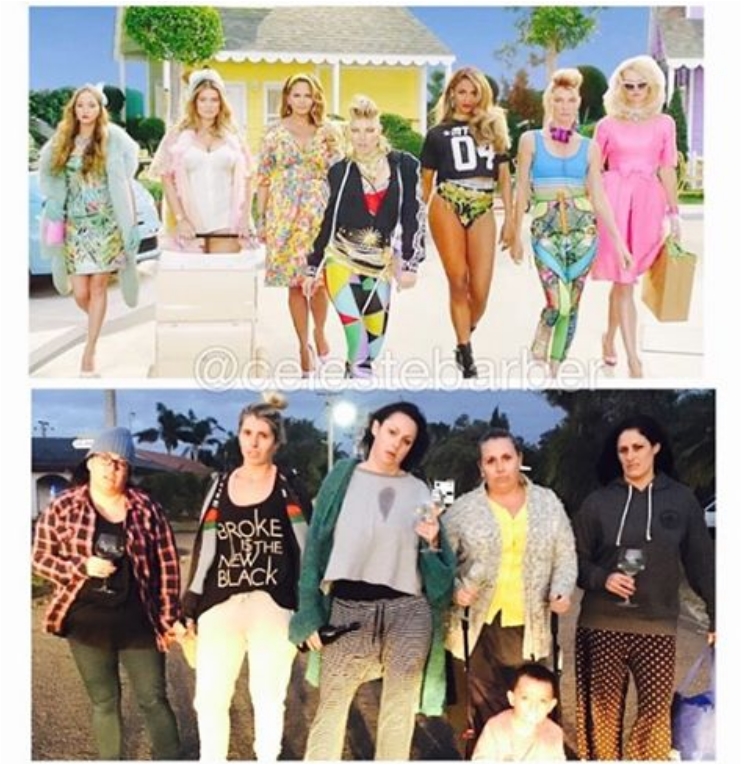 Similar to the picture of friends goofing around, the crew is another example of how every group must include a diverse group people. We cannot all hang around with people extremely similar to us in clothing and attitude and shape.
27. Flexible Posing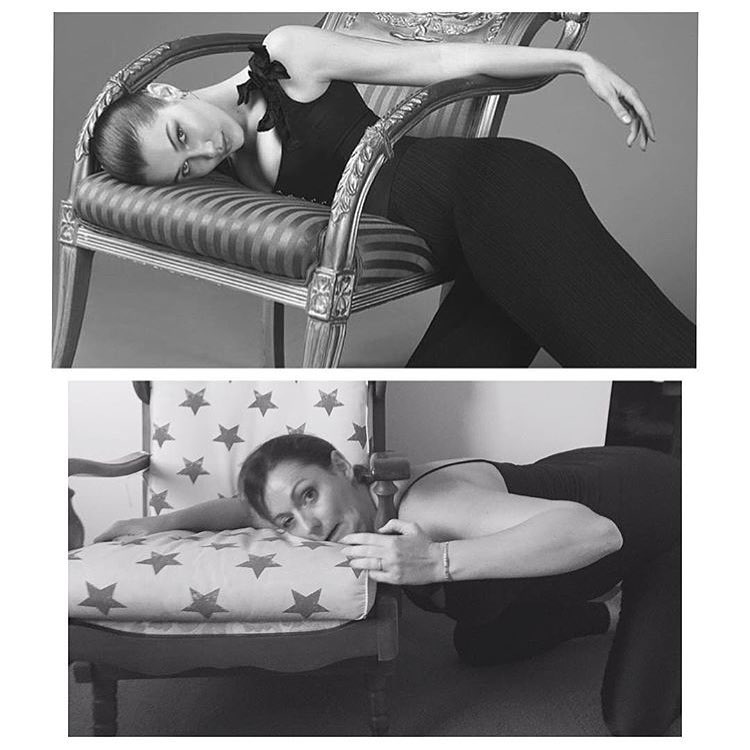 One thing is certain: Celeste loves to mock yoga poses. And stretching poses and pictures where celebrities show how flexible they are. The truth is, very few people are flexible enough to make these poses.
28. Glamorous Motherhood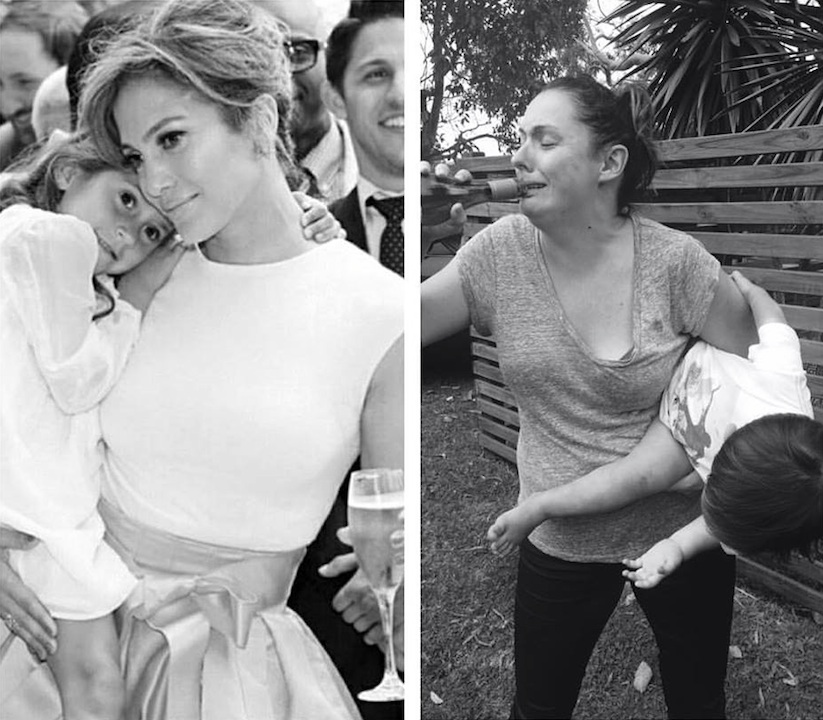 Back on the subject of motherhood: it is never the way you imagine. When you are a mother-to-be, your friends will warn you what might happen, what will happen, and how you will look in the months after giving birth. But it is always a little bit worse. And it doesn't get better after a few years, either
29. Wasted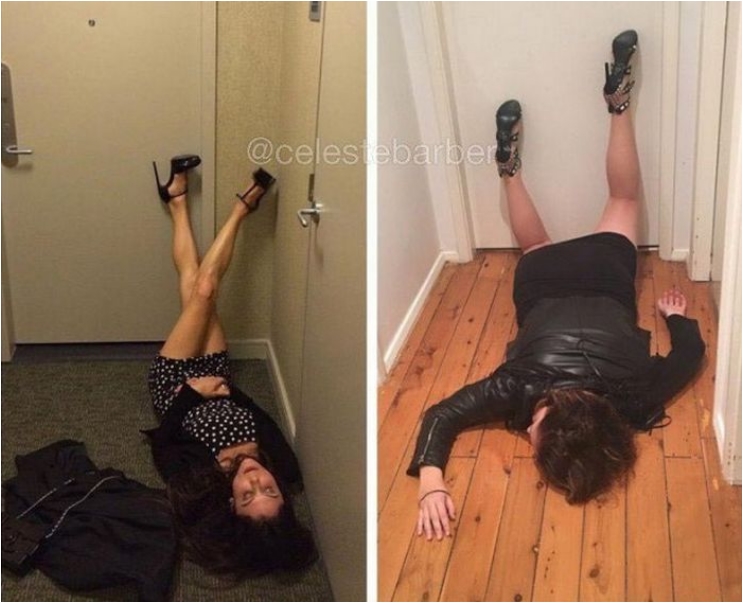 The whole point of being wasted is that you look awful. But for some reason, celebrities seem to look hot and sexy when they are wasted. There are two possible explanations: either they are not wasted, or they have a team taking care of their fashionable appearance even after they drink and loosen up.
30. That Sexy Tongue Kiss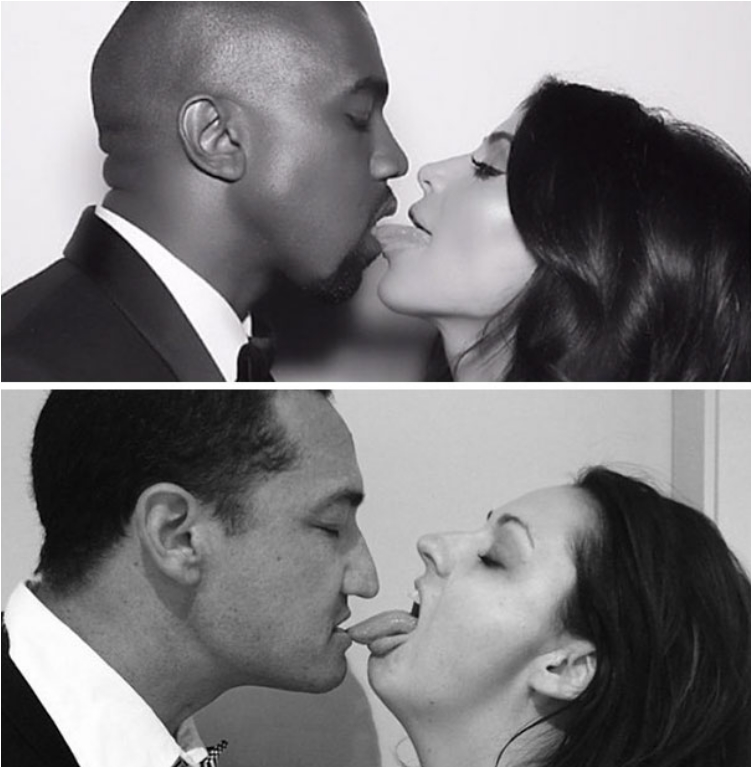 For me, one of the most erotic and passionate moments is the split second just before the kiss. That moment when your heads and mouths are extremely close, and you know what is happening. I never quite understood the tongue on the lips kiss—it looks gross to me. But hey, everyone has their own fetish.
31. Woke Up Like This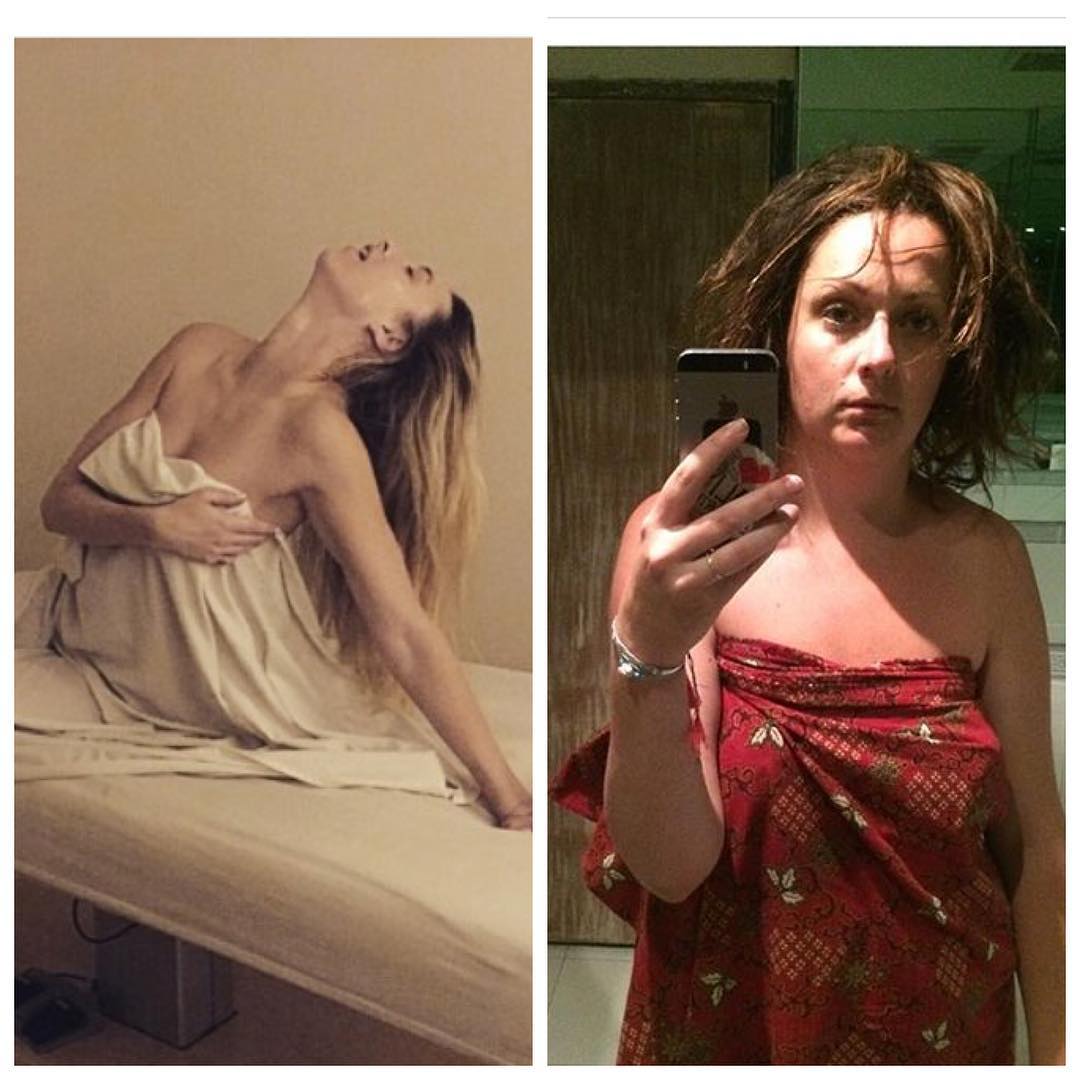 Another reality that is usually twisted by celebrities is waking up. We all look like a mess for a few minutes after waking up. We need to wash our face, brush our teeth, go to the toilet, and so on. Only then you can say you look good and be ready to take a picture.
32. Cold Shower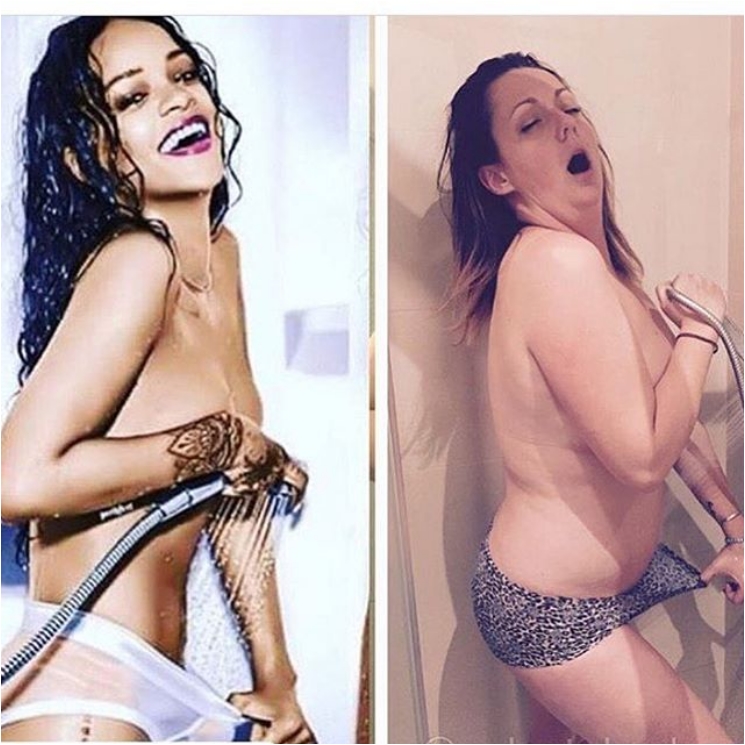 I've taken a cold shower quite a few times in my life. And it was never pleasant. Most of the time was because I forgot to turn the boiler on, and went to shower with no hot water. And I tried to get it done as quickly as possible. I certainly did not enjoy it. Not one bit.
33. That Ride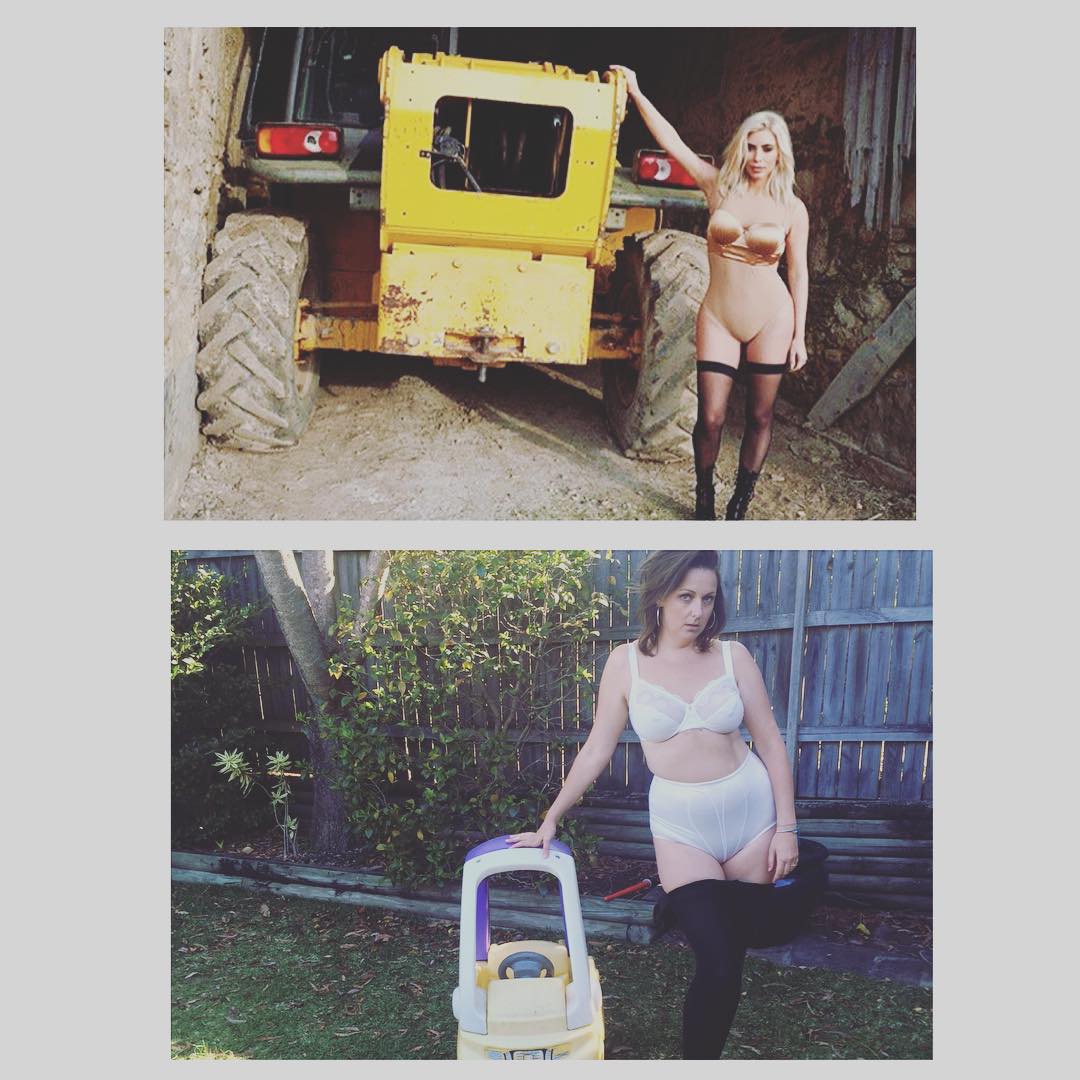 It seems like in the past few years, a huge trend in Hollywood is to take a picture with some unconventional ride. Limos and Ferraris are no longer an option. Nowadays, celebrities are looking for the next Big Thing in the motor industry to take a picture with.
34. Chillin' on the Phone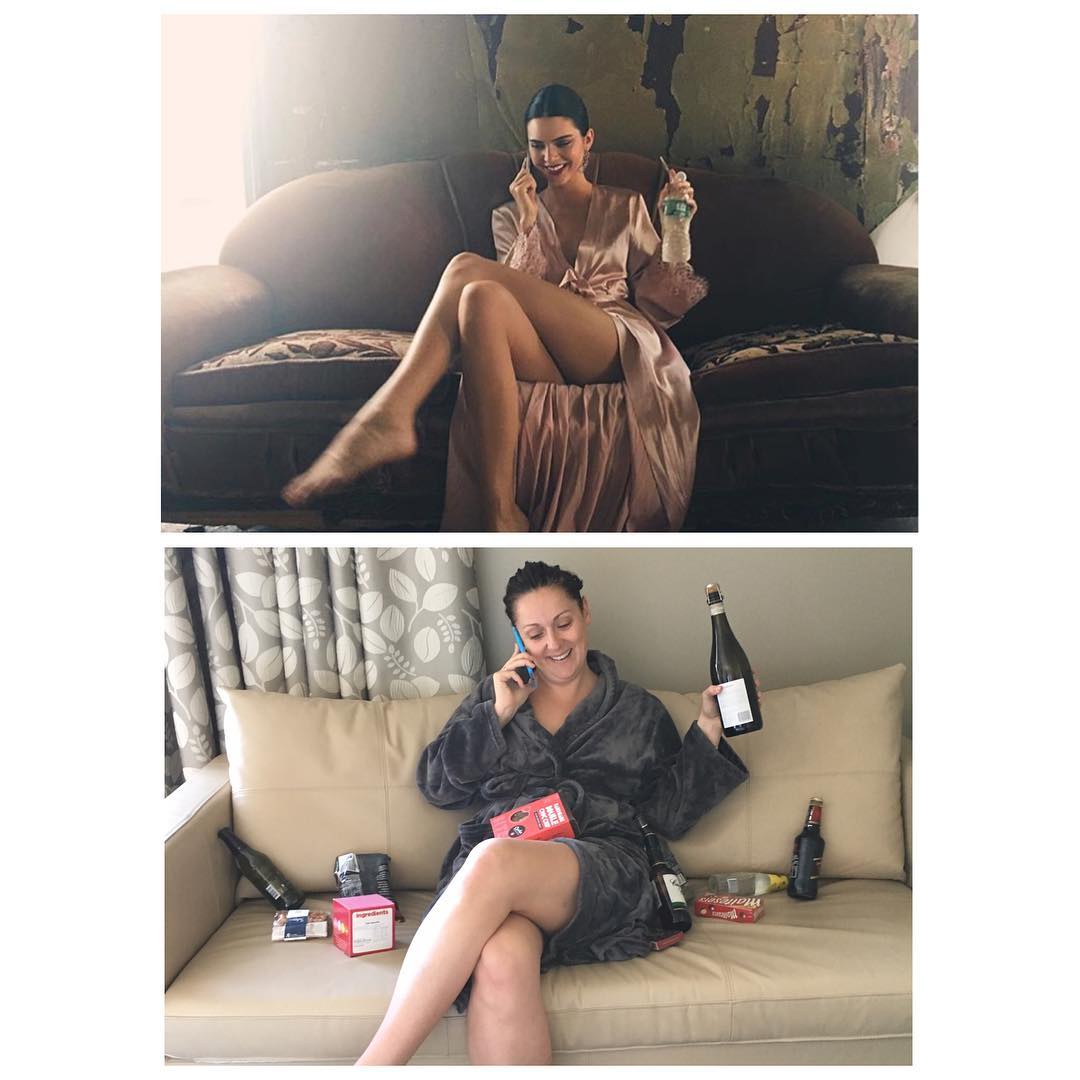 This is probably the closest picture to reality. I must admit, I have nothing against celebrities taking pictures when they are chilling on the phone. The only question is, "Who takes those pictures?"
35. Carting at the Supermarket
Another picture that is mystery to me. Who is taking the picture? And as far as I know, carting is not allowed in the supermarket. Do celebrities have a huge need to pose like they are doing something against the law?
36. Taking a Windy Drive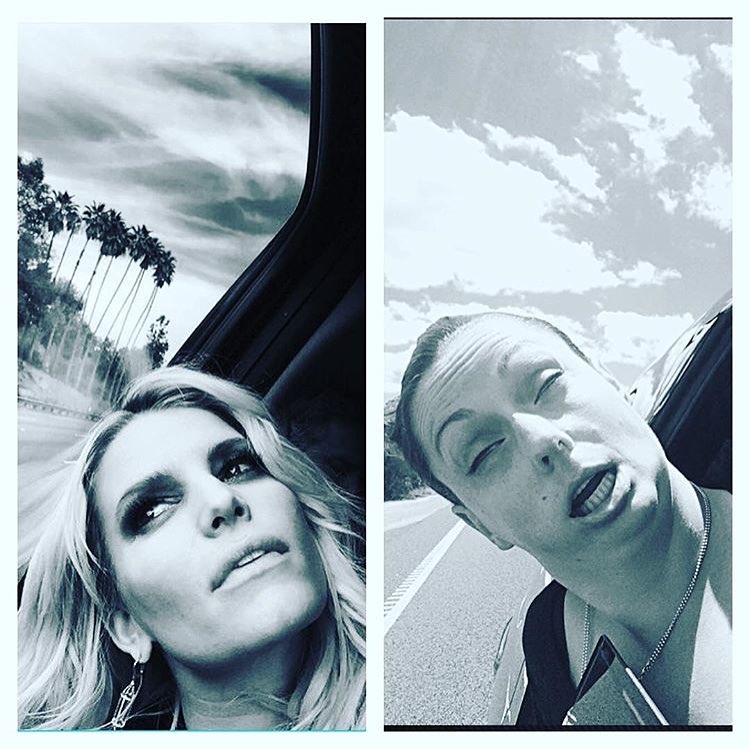 Oh that wind—I love it. I love taking pictures in the wind, because my hair flows back. But it certainly doesn't look as good as when celebrities do it. I don't know if they are using some kind of special product to keep their hair looking that good.
37. Working Out with Toddlers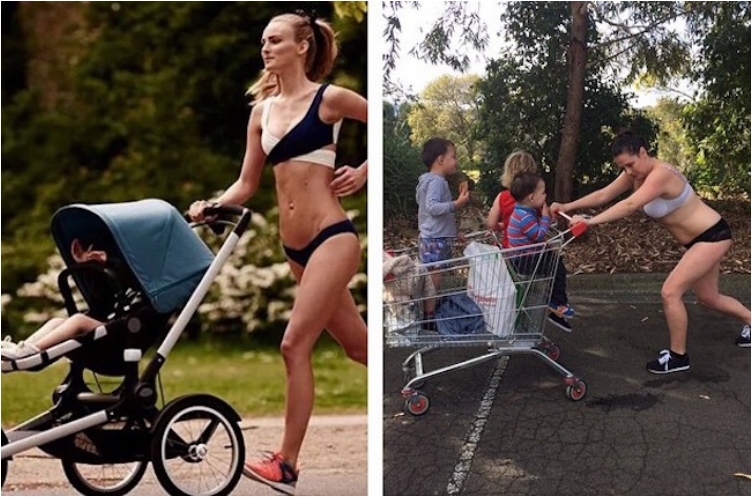 And here is another trend in the fitness world that is supported by celebrities. I get it—mom fitness, mom Pilates, mom yoga, and so on. And I know you have to use every minute of every workout you can get. But strolling with the toddlers—that is definitely not a time you want to work out. I think you want to be extremely careful.
38. Playing in the Sand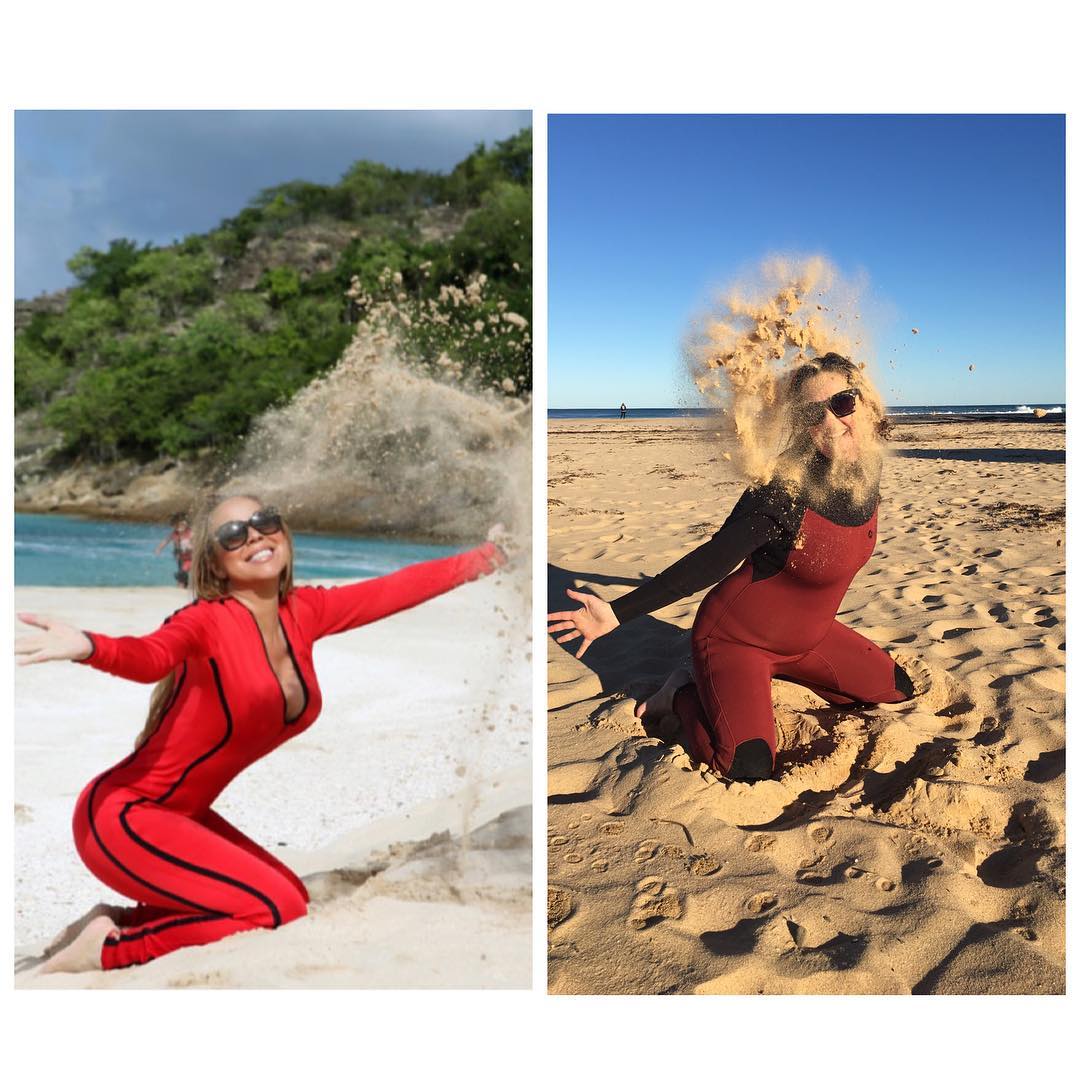 The summer is over, but beach photos are not. Celebrities post beach pictures all year, simply because they can. And those sand photos are one of their favorites.
39. Stretching After a Bike Ride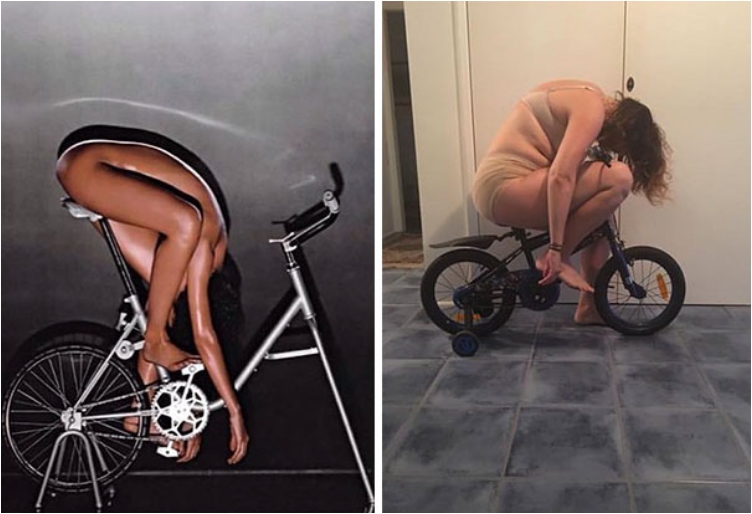 I dare you to find someone who can stretch like that. I mean, that is some nasty elasticity.
40. The Hot Housewife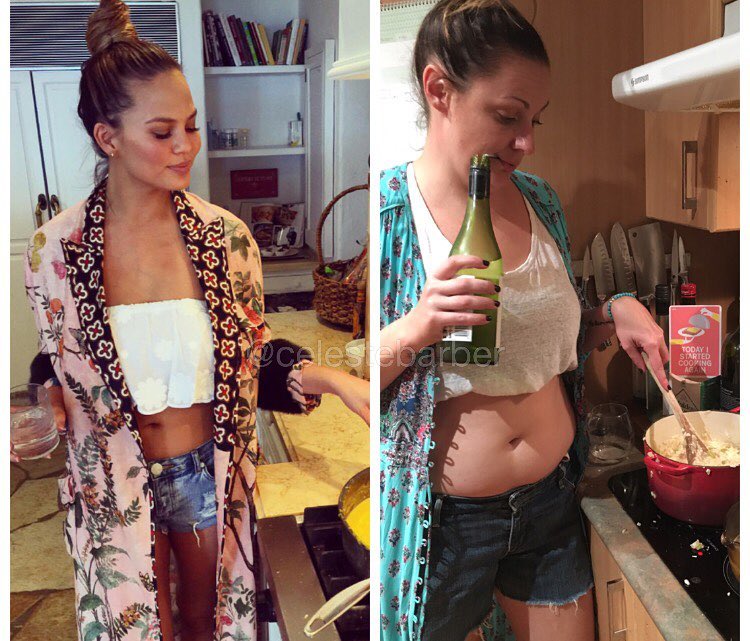 We talked about this previously. Cooking and looking hot are just two things that don't go together. You are either cooking, or you are trying to look like a model. You have to choose. I mean, who cooks with makeup and a dress on?
41. Driving in Style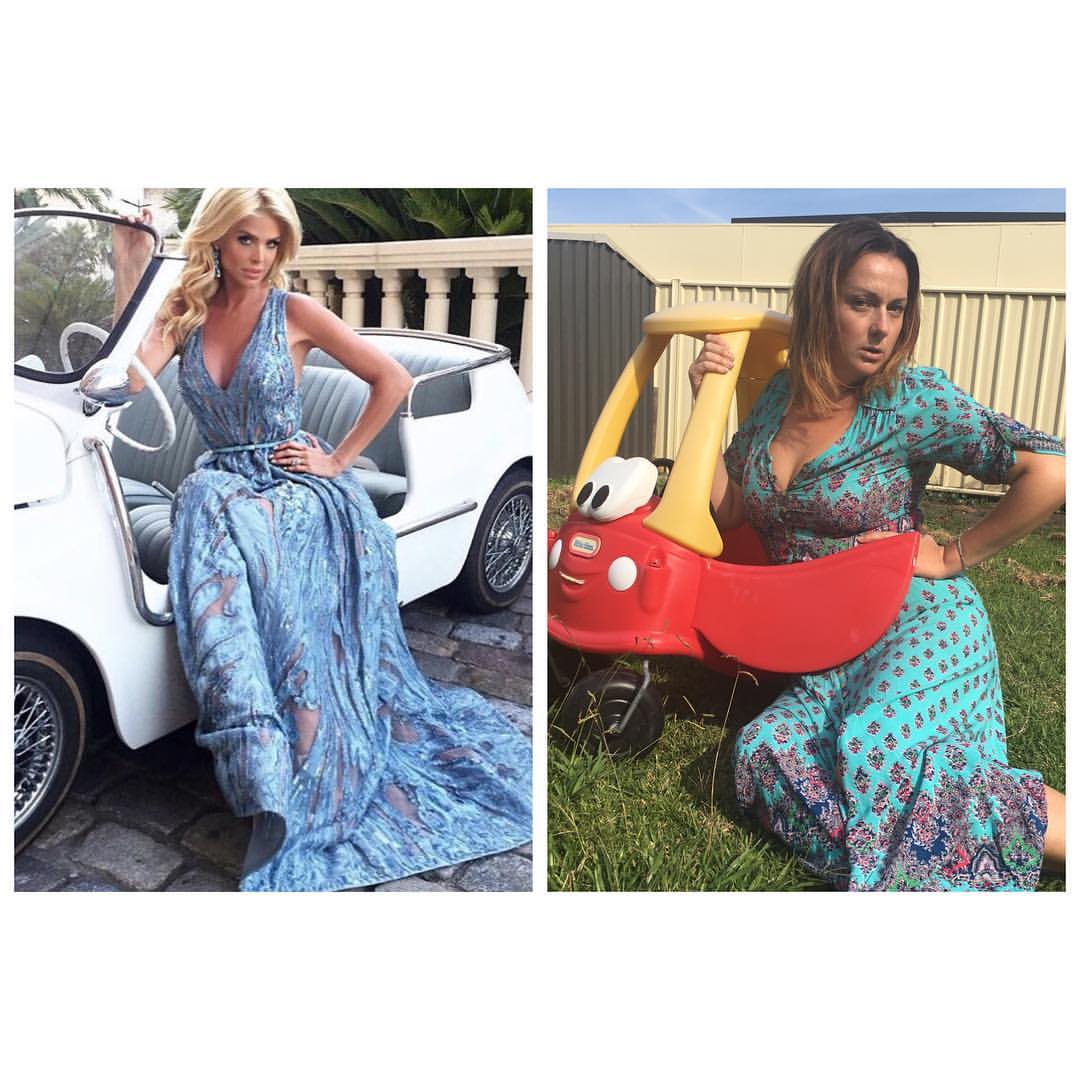 I just love it when Celeste uses her children's toys to make a statement. Her child's car is just an awesome touch to the photo.
42. Milk Bath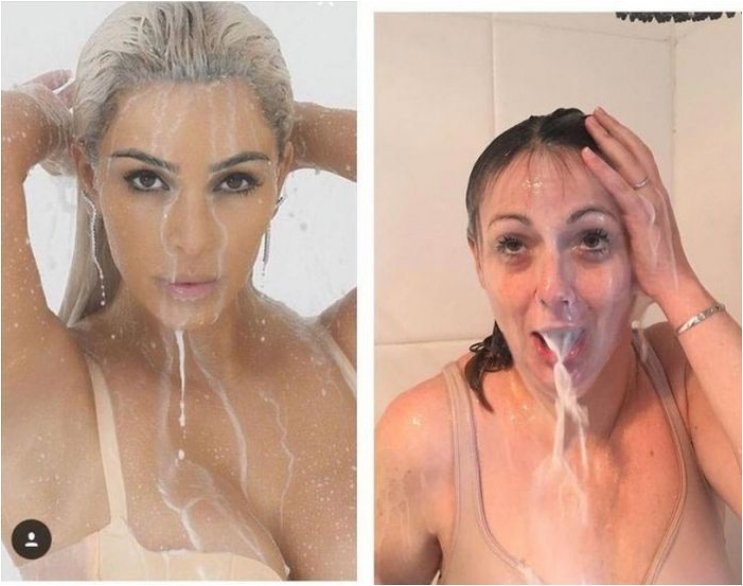 There are so many new beauty trends and experiments in the world of celebrities. There was a time when a wine bath was popular. Now, that title belongs to milk bath. I understand the health benefits of getting into a bath with milk. But hey, that is a lot of milk.
43. The Stress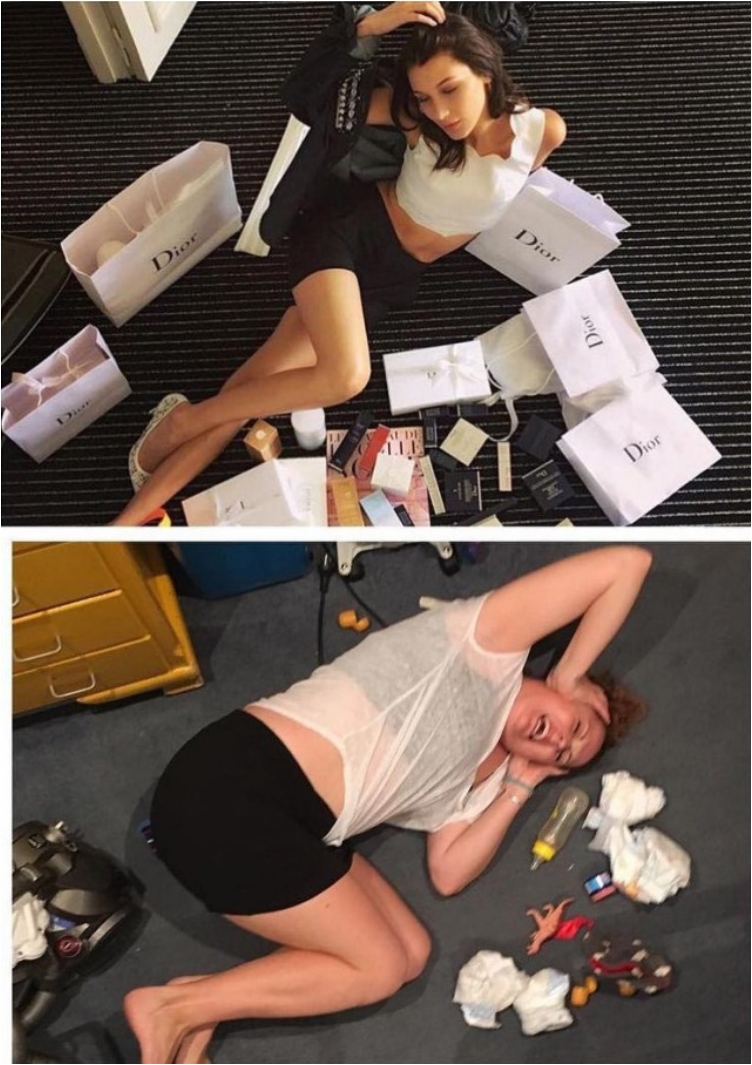 Even when they are under a huge amount of stress, celebrities seem to find a way to look good. Your head is killing you, and you are just lying on the floor? Well, not all of us can shop at Dior. Designer clothes probably help. I don't know.
44. Girls Night Out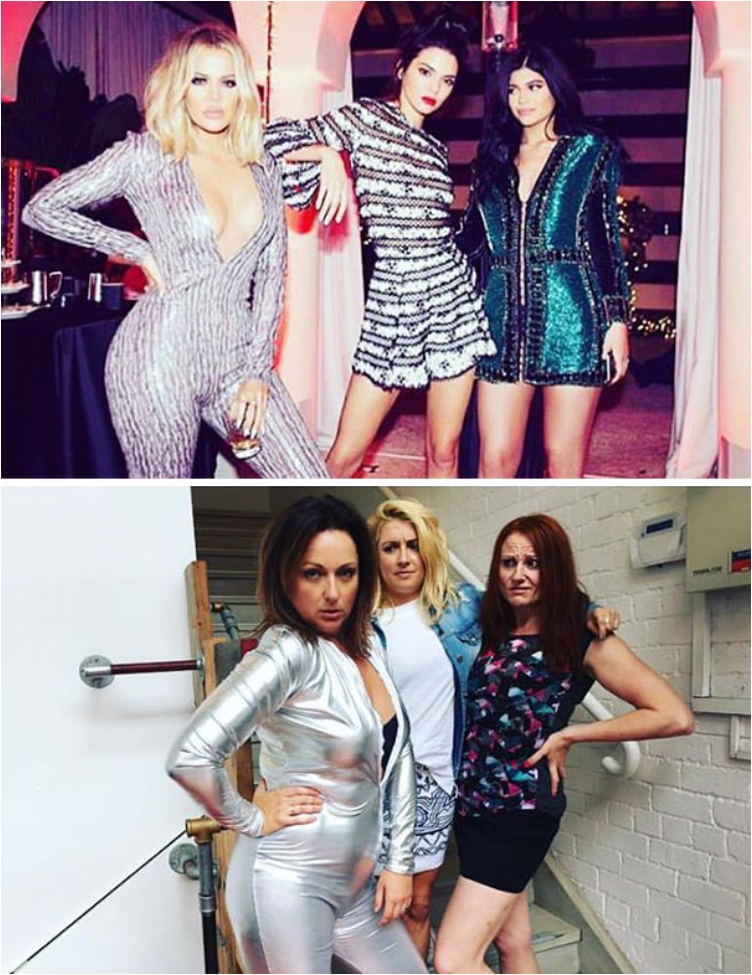 When I see those pictures in a club where people pose like they are posing for a fashion magazine, only one thing comes to mind: either you are here to party, or you are here to show that you were in the club. I mean, when I go to party, I want to party. That means jumping and dancing to the music. Not standing and posing for pictures.
45. Happy Sexy Mom
It is only appropriate that we finish this off with a happy mom picture. After all, Celeste is a mom (who became popular thanks to mocking celebrities on her Instagram profile). We have to applaud her.