There was some tension between Jon Jones and Michael Bisping a day before he reclaimed the light heavyweight strap at UFC 232. 
The former middleweight champion and now the newest member of the promotion's commentating team revealed that the controversial fighter cursed him out during the commercial break of the UFC on FOX interview after he raised a PED-related question.
🇺🇸 @JonnyBones @UFC Record:

✅ Wins: 23

👊 Ryan Bader
👊 Shogun Rua
👊 Rampage Jackson
👊 Lyoto Machida
👊 Rashad Evans
👊 Vitor Belfort
👊 Chael Sonnen
👊 Glover Teixeira
👊 Daniel Cormier
👊 Ovince Saint Preux
👊👊 Alexander Gustafsson

🏆 @UFC Light H'weight Champion pic.twitter.com/tYiPIzcjHt

— SPORF (@Sporf) December 30, 2018
Champion Again
Jones returned to the Octagon last Saturday night and took on his long-time rival, Alexander Gustafsson, in the headlining bout of UFC 232 at The Forum in Inglewood, California. Fighting for the first time since July 2017, the 31-year old mixed martial artist showed no signs of rust as he displayed composure and dominance all throughout the match.
Unlike their first showdown, the Jones vs Gustafsson rematch did not go the distance as the former was able to correct his past mistakes and asserted his mastery over "The Mauler." "Bones" launched a flurry of elbows and punches during ground and pound in the third frame and the referee has seen enough then called off the fight.
But a day before his successful UFC 232 stint,  Jones lost his cool at FOX's weigh-in show, where one of its hosts got into his nerves after asking him a question about what could be another failed drug test.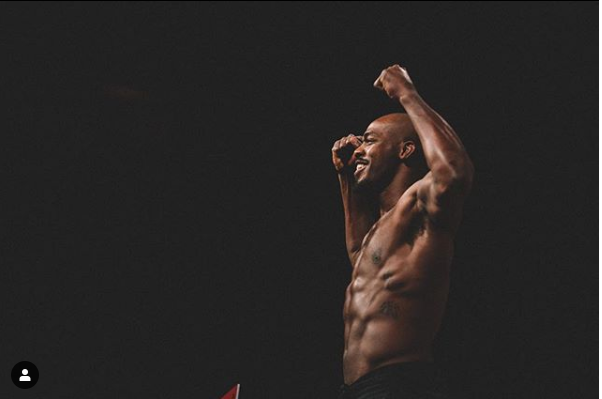 Bisping Says Jones Cursed Him Out
Appearing on the Believe You Me podcast, the ex-UFC champion discussed how things went out during the weigh-in interview. He recalled that Jones called him a "m*therf*cker" after he chimed in on drug test issue.
"Alright, Jon Jones and Alexander Gustafsson…Friday, on the weigh-in show. We had to interview Jon Jones on the weigh-in show and of course, every time we do this…we at Fox Studios, which is obviously a well-polished machine. It's not like like Believe You Me, where we just freestyle. Everything is planned with a fine tooth comb, its proper TV…so they have to know, the producers, what questions are asked.
"So they tell us what questions to ask and they give us them on little printed out cards, now the only thing is that I don't care about asking difficult questions and I asked Jon Jones some questions. Which apparently…he didn't like, because, after the fight, we interviewed him again. When we were on commercial break, he was talking shit. 'Is that mother f*cker…' to whoever the powers to be are at Fox, 'is that mother f*cker Michael Bisping going to be asking questions again, with his dumb sh*t.' I was like 'oh yeah,'"
"I asked him…here's what we never talked about. He tested positive in August…he tested positive in September and he tested positive in December. Now they're saying that the metabolites and the presence of whatever he took, Turinabol, can stay in his body for a long time. So, if you put that all together, he's probably going to test positive after the fight. So I said 'Jon, has there been any discussion as to what happens if you test positive after the fight?' Because I'll tell you what, if I'm Alexander Gustafsson and you stop me in the third round, but the mother f*cker tests positive and I don't care how many small pinches of salt it is in an Olympic size swimming pool…I want that overturned to a f*cking no contest because you tested positive after the fact."
Watch it in the video below:
(Featured Image Source: YouTube/MMA News Depot and YouTube/UFC on FOX)