Metallic makeup brings the best out of two worlds. When you combine metallic makeup with anything else, you get a bit of warm and cold. And for this fall, I want to give you some ideas for warm tones that will be your next go-to makeup idea.
If you are tired of matte makeup, and you want something shiny and sparkly, metallic is the way to go. And because I know for sure some of you might be confused how to pair metallic makeup, I have tutorials and guides for you. Follow these tips and tricks, and turn these ideas into a reality.
1. Chocolate Shade Smokey With White Metallic Inner Corner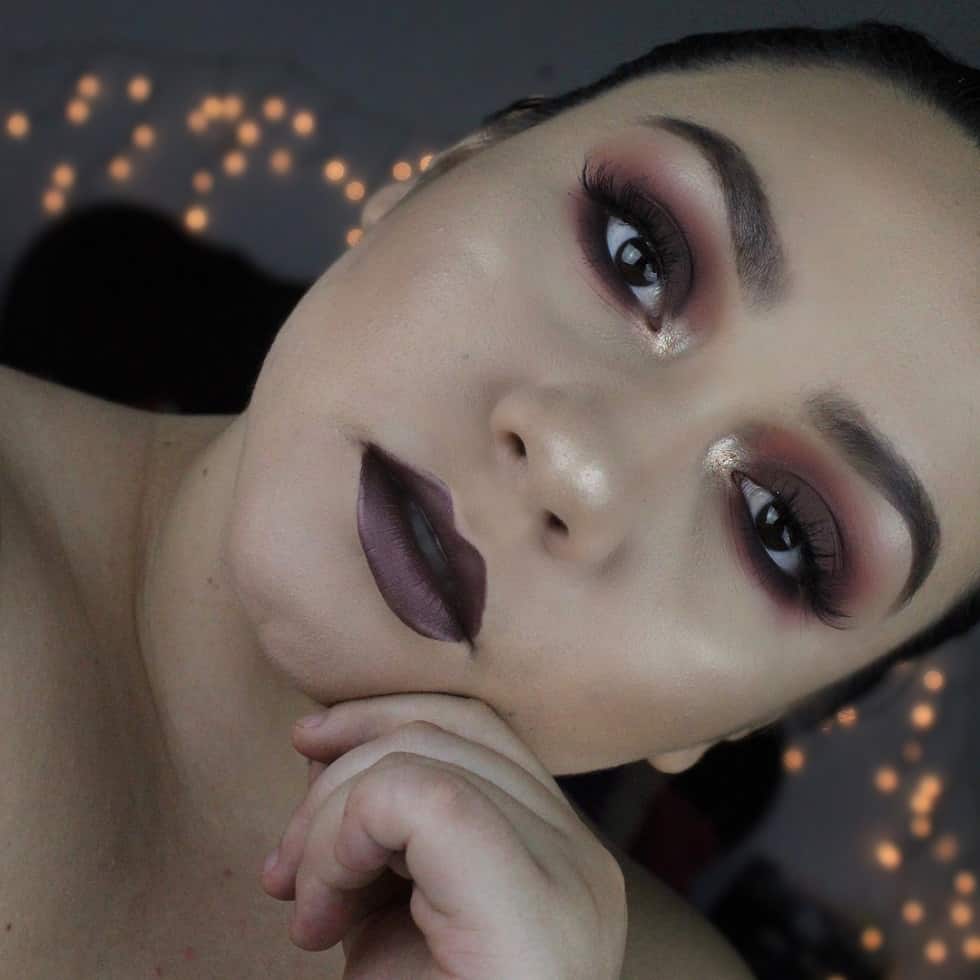 We start off with something simple. I do that in most of my articles. Basically, the emphasis of the makeup is not at all at your metallic details. It is the chocolate smokey eyes that turn heads. But it is the metallic accent that helps your eyes shine. As I said at the beginning, the perfect warm and cold combination.
2. Smokey Eyes With Touches Of Red And Gold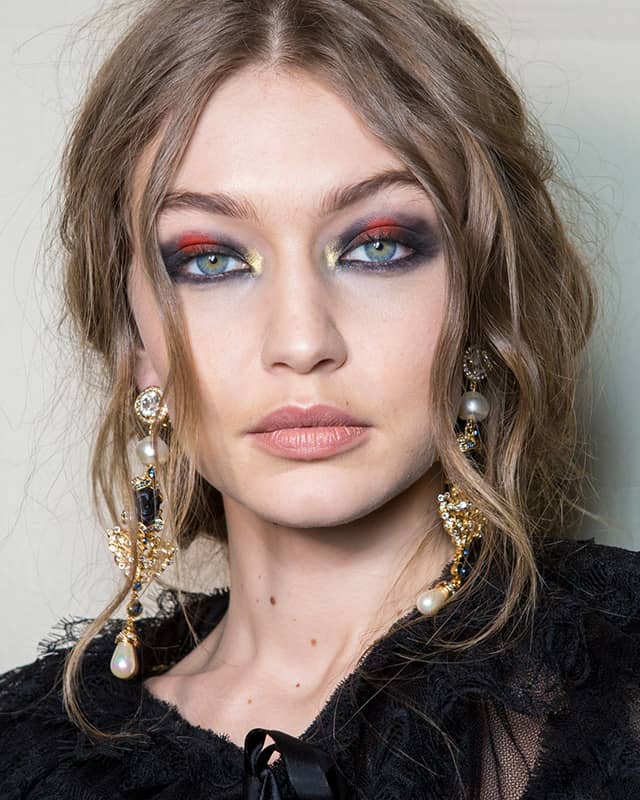 Another example of smokey eyes with metallic inner corner accent. Only this time, we get some more lively colors for the smokey eyes effect. Red and green are vivid, and the metallic inner corner helps you balance things out.
3. Metallic Jade Green With Brown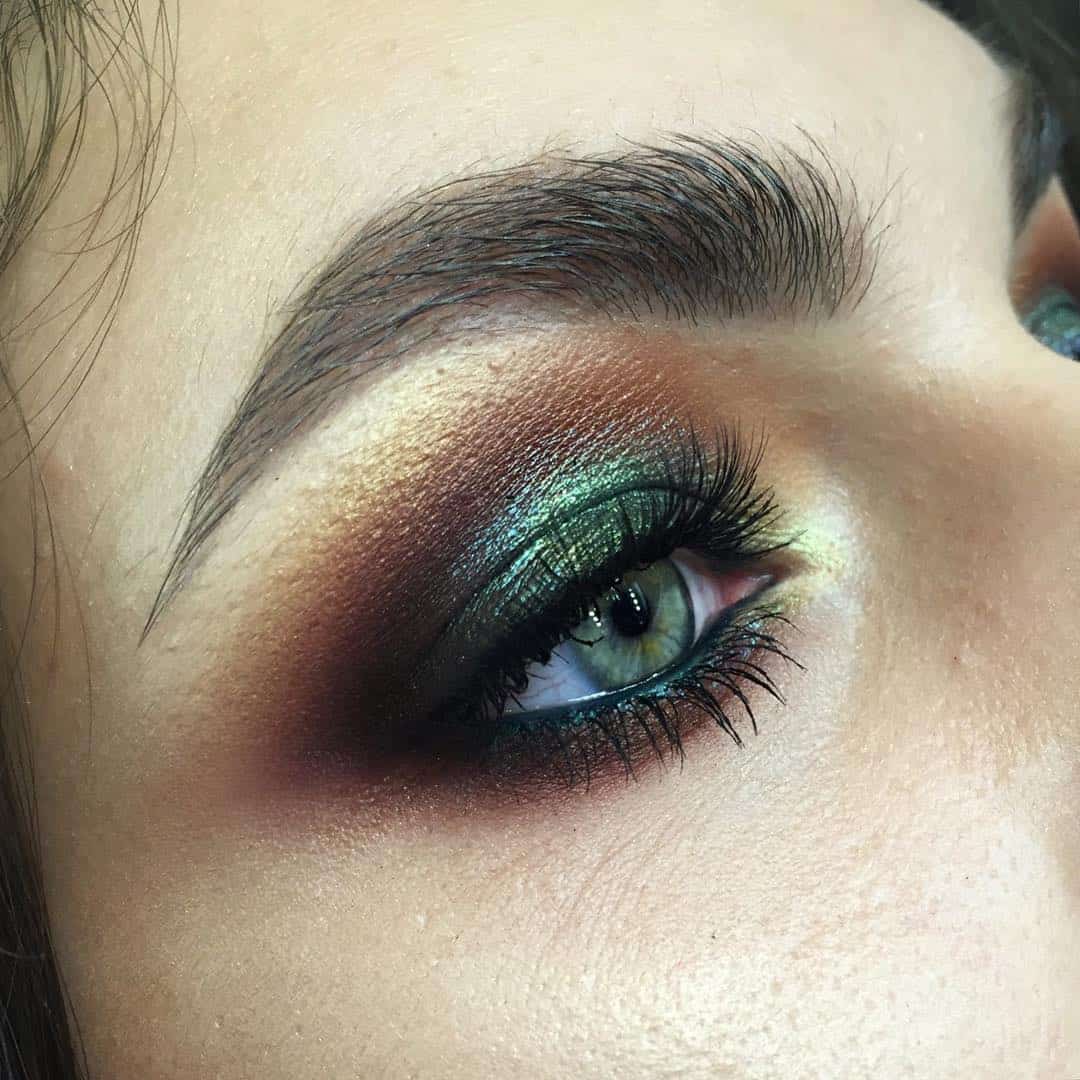 It is time that we move to the metallic makeup as the focal point. We saw how metallic can work for the inner corner. But here is a glimpse of how sparkly metallic can be for your main makeup. The brown addition is what balances things out here.
4. Natural Copper And Gold Makeup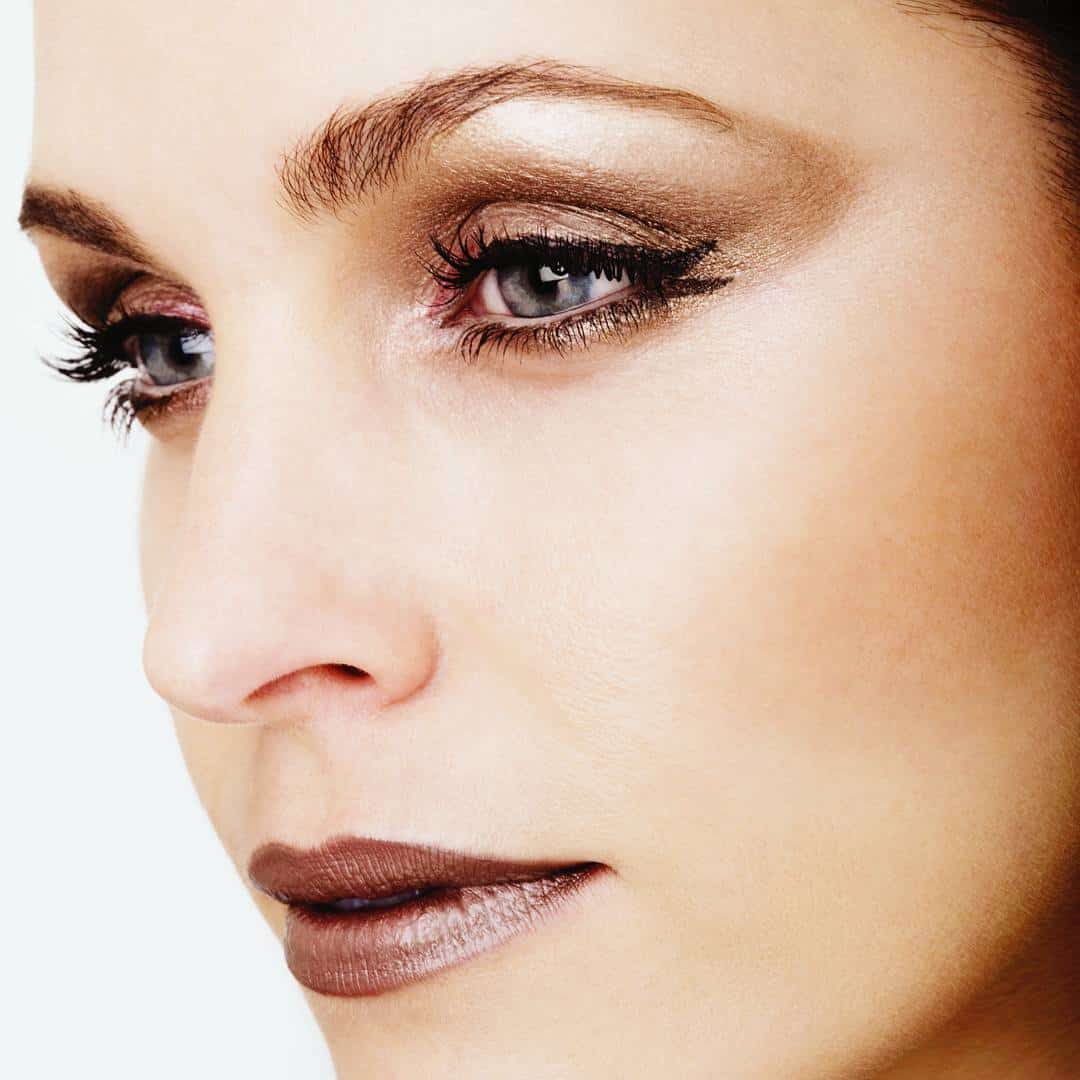 When it comes to natural look for ladies, gold and copper is as close as it gets. The makeup is barely recognizable and visible. But that is the natural look you are after. Metallic adds the playful part, making your makeup look unique and whimsical.
5. Gold Glitter With Purple Underliner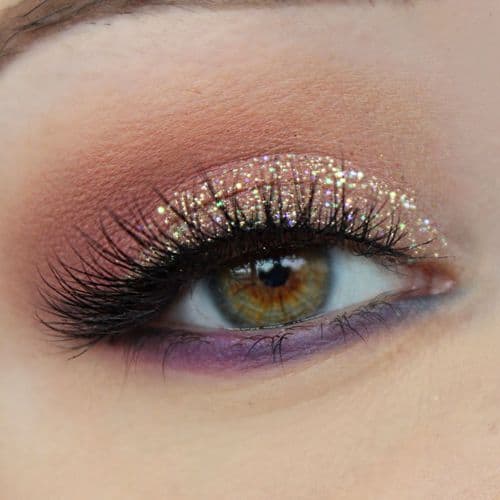 Shiny and sparkly, a perfect idea for a cocktail event. This is a makeup idea you go for when you want to be the star of the show. Put on a sexy dress, and you are all set to go.
6. Soft Burn Orange With Metallic Shine And Inner Corner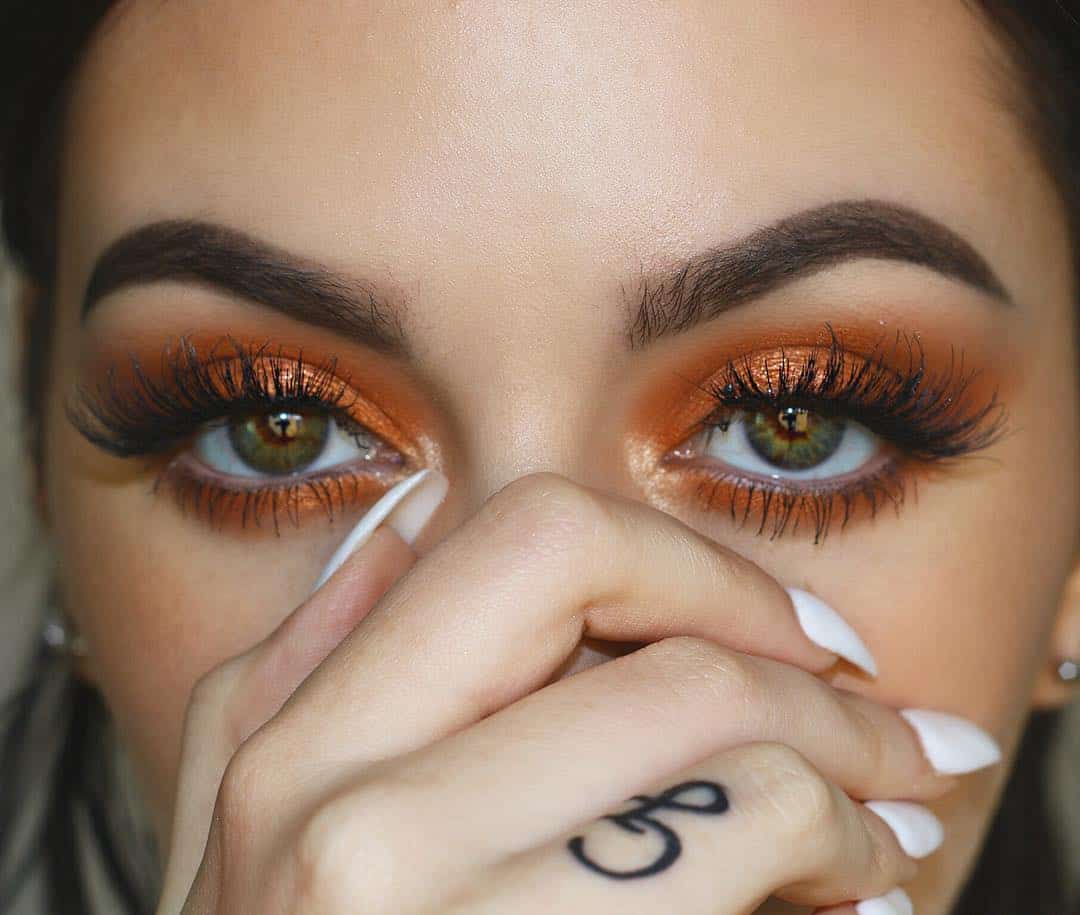 As you can see here, metallic can emphasize and enrich any color. Not only you get metallic inner corner, but sprinkling some metallic on top of your regular color makes it look better.
7. Shimmer Rose Gold Makeup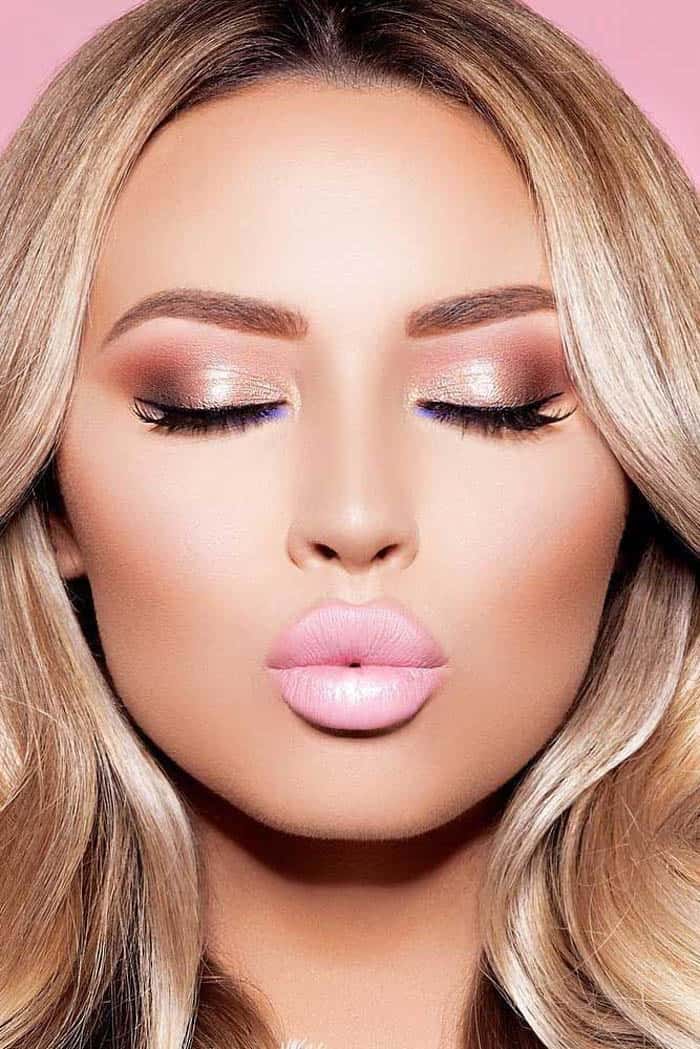 We talked about the natural look previously. And we said that copper and gold is as close as you can get. Rose is very close in that regard as well. Rose makeup delivers a fantastic natural look. And with a metallic accent, it looks shiny.
8. Blue And Gold Invisible Liner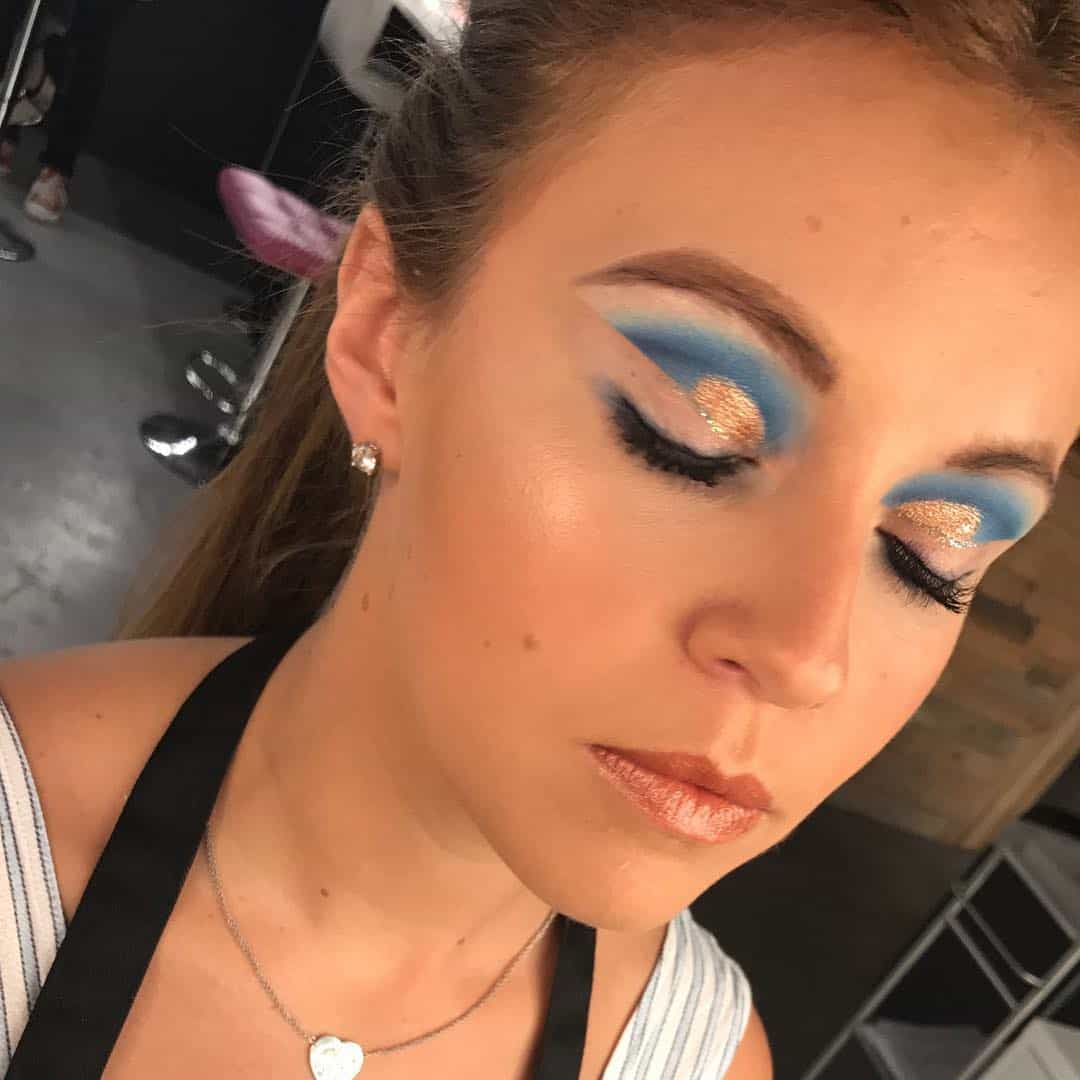 I am sure it looks strange and weird to you on first glance. But this makeup is definitely one that you should try. If for nothing more, just to check the reactions of people. They will think something is missing.
9. Metallic Burgundy On Plum Smokey Eye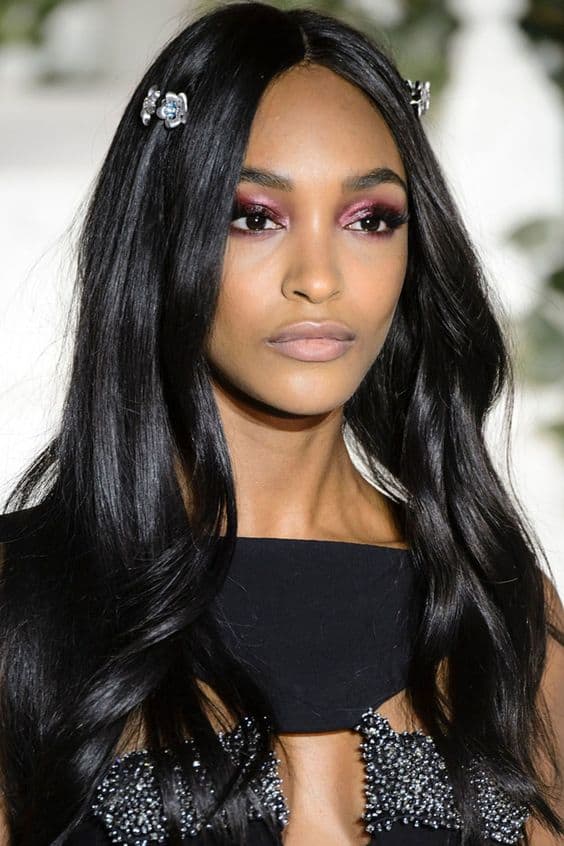 In the past few years, burgundy and plum have become a popular choice for smokey eyes. It is only rightful that they get the metallic color treatment. Your smokey eyes will look sparkly, not dark.
10. Soft Gold With Brown Edges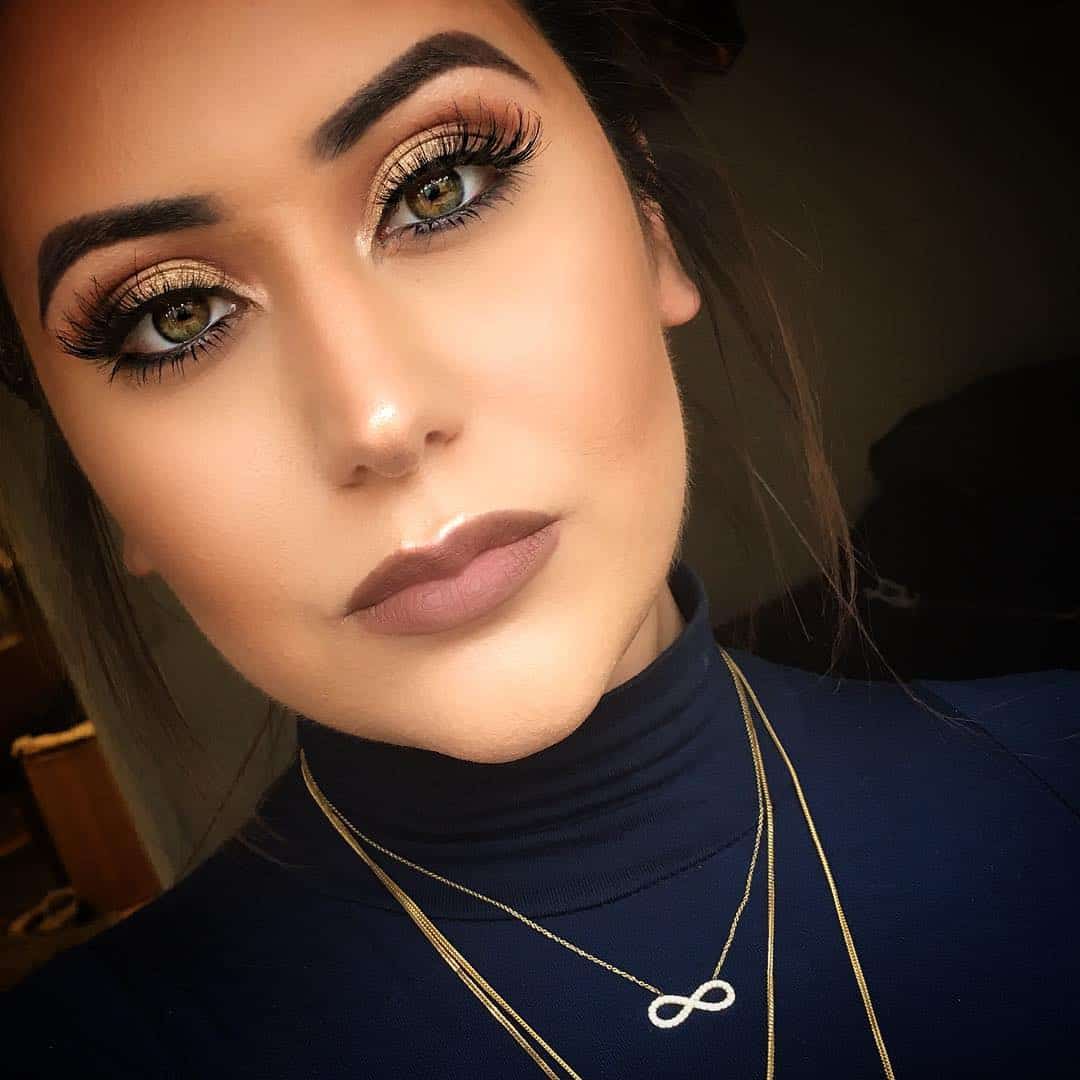 Here is another natural look that is just beautiful. Just look at those eyes. Definitely something you should try if you have big eyes. They will look that much more beautiful.
11. Purple With Silvery Inner Corner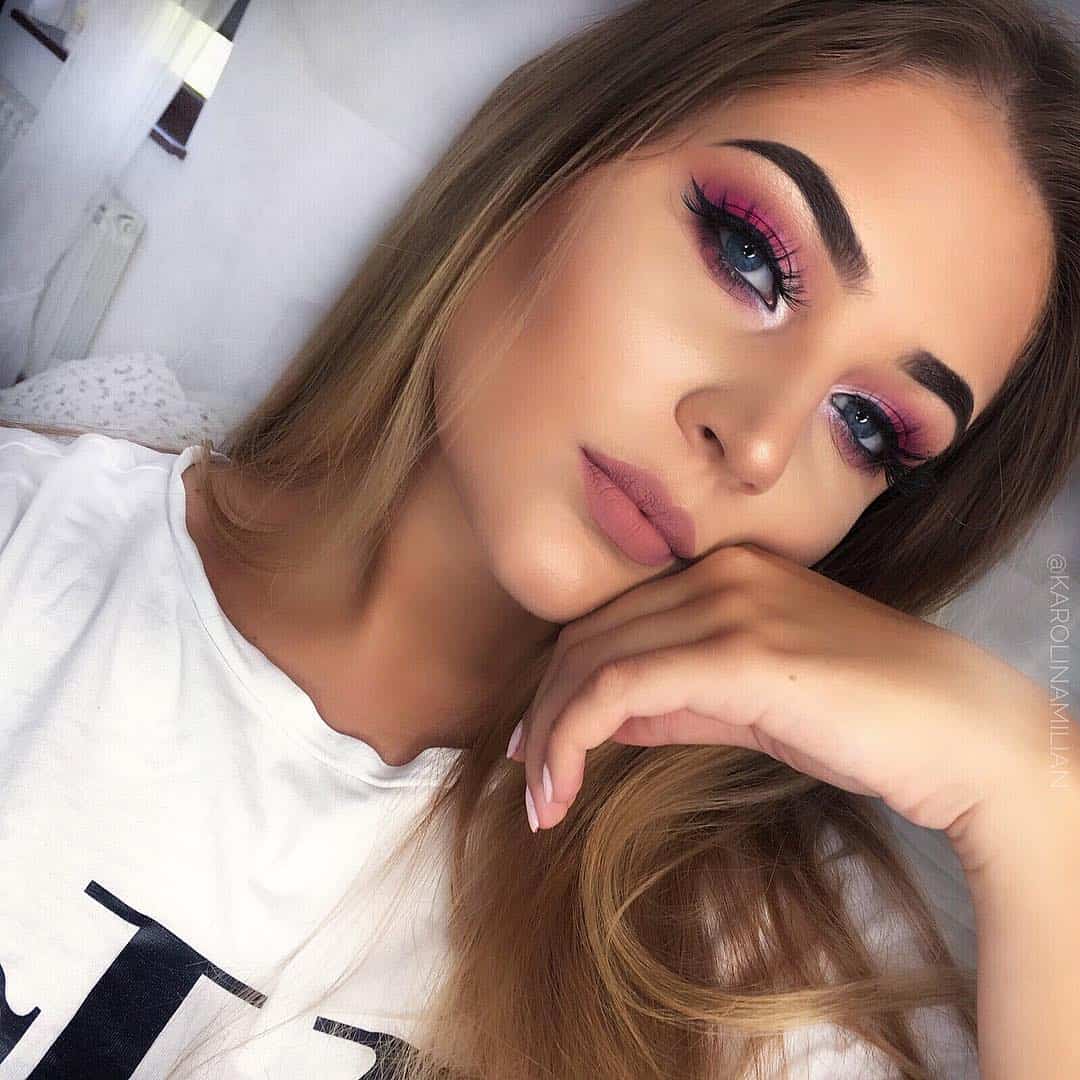 Purple and silver is a timeless classic. The contrast is just perfect. You get the girly touch of the pink, but with the elegant and sophisticated aspect of the silver. Definitely a match made in heaven.
12. Black Smokey Eyes With Gold Glitter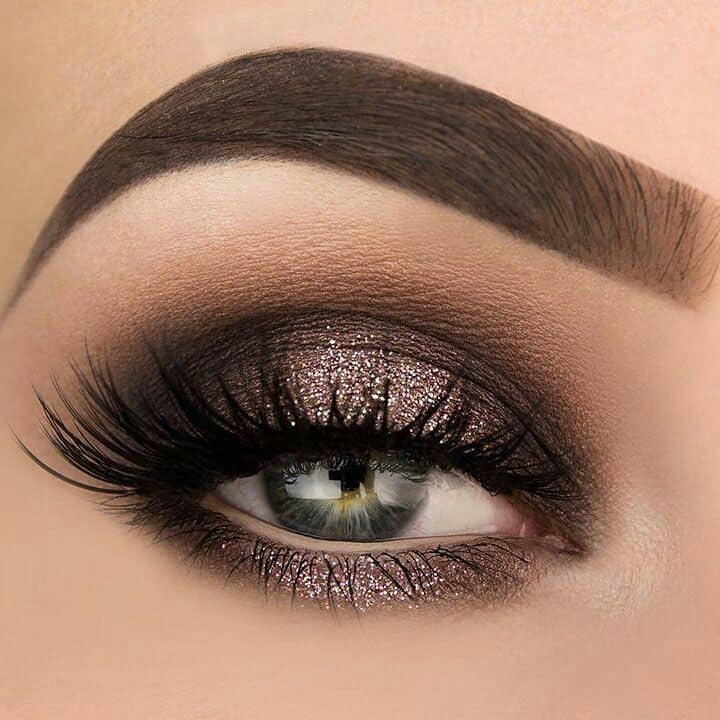 Black smokey eyes can be dark. That is something we all know. So, how to get black smokey eyes that are not as dark? Well, go for metallic colors of course. You will look much more optimistic and lively.
13. Gold Green Eyeshadow With Brown Underliner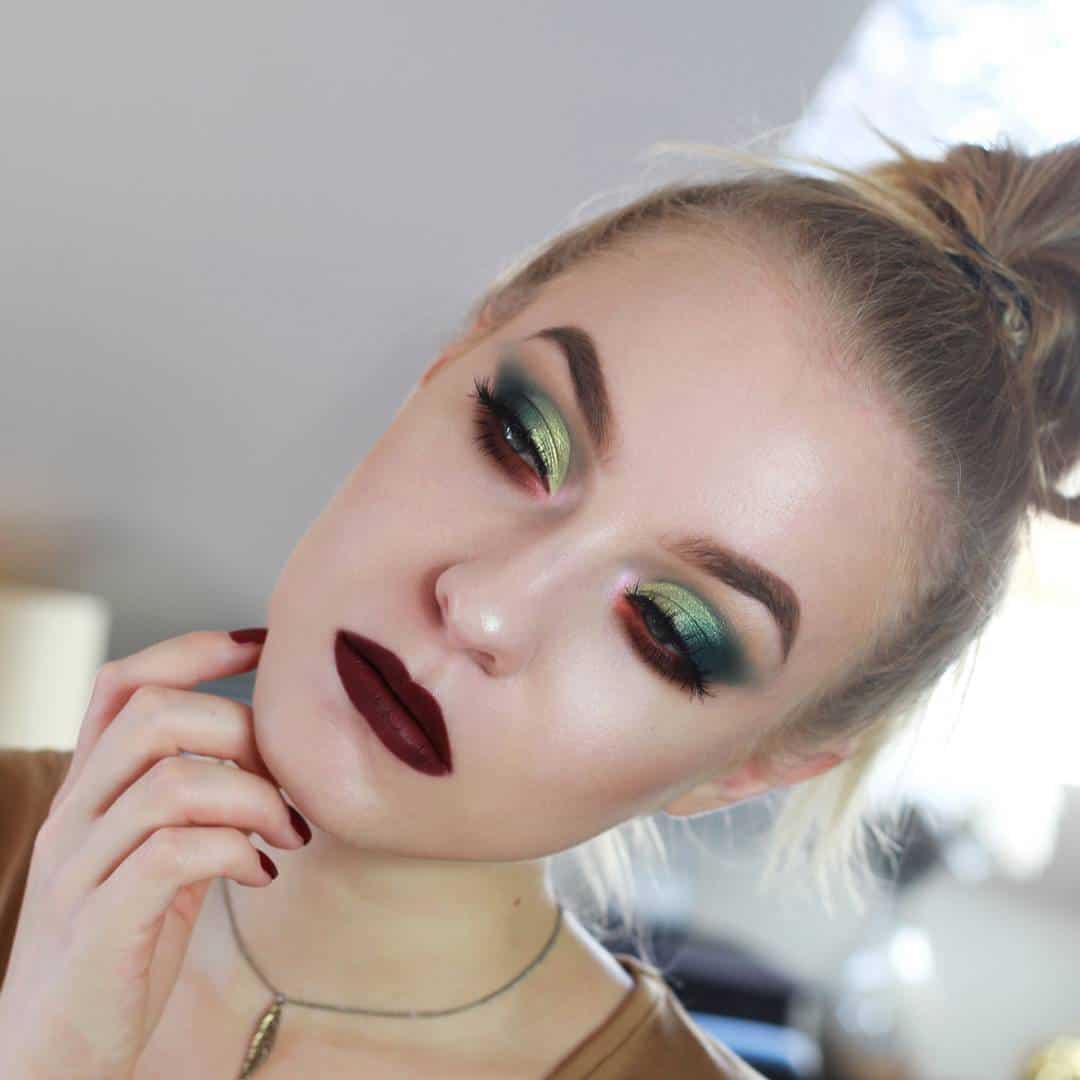 This is a more complicated design, and the next level in makeup. The eyes are part of the focal point. But the trick here is the brown underliner that matches the color of your lipstick. It is crucial that your face is pale white for this makeup to work.
14. Cateye Liner On Copper Brown Orange Makeup and Golden Crease Line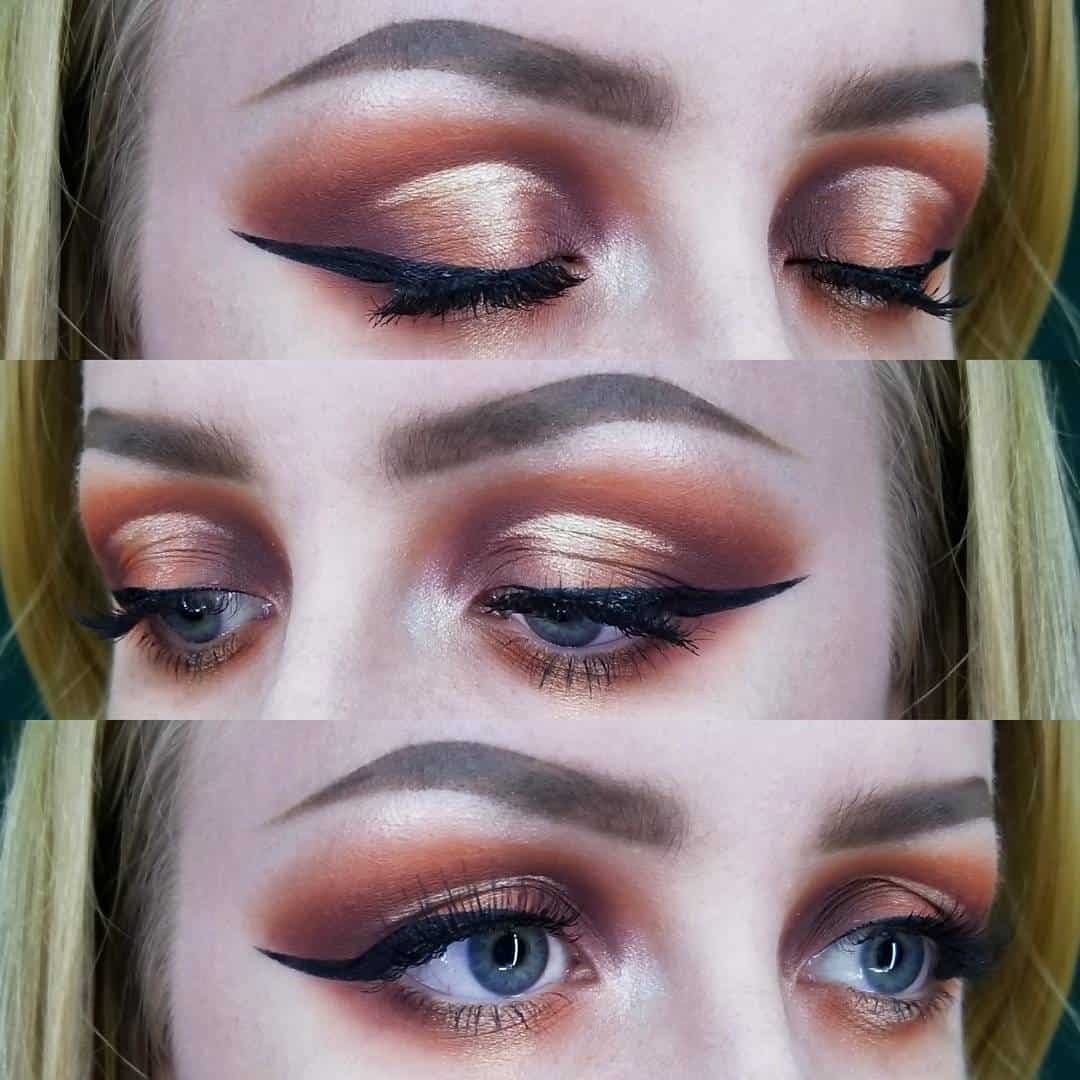 I am sure you might need a bit of more practice to be able to combine all these colors in one makeup. But that is why I always provide a step by step tutorial. If you follow the instructions, you can easily get there.
15. Dipbrow Pomade Chocolate With Purple And Golden Glitter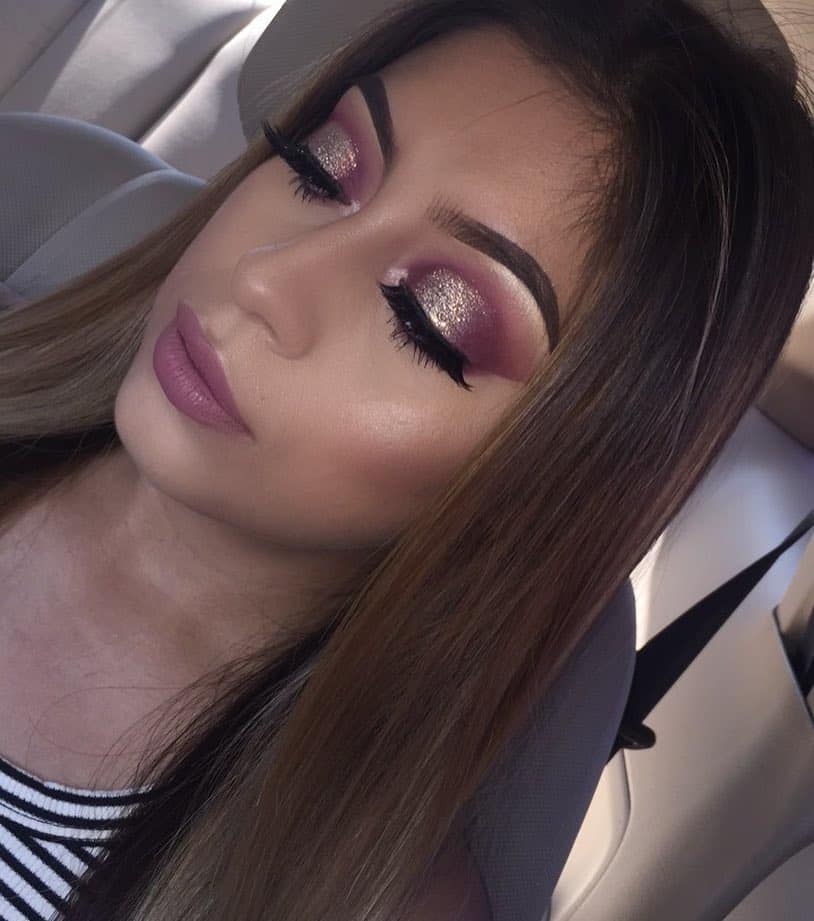 We saw previously how beautiful the pairing is when you align your makeup with your lipstick. The same scenario applies here. Albeit, in a bit more out of the ordinary color. And we have the timeless pink and silver combination again.
16. Suede On Bottom And Velvet On Top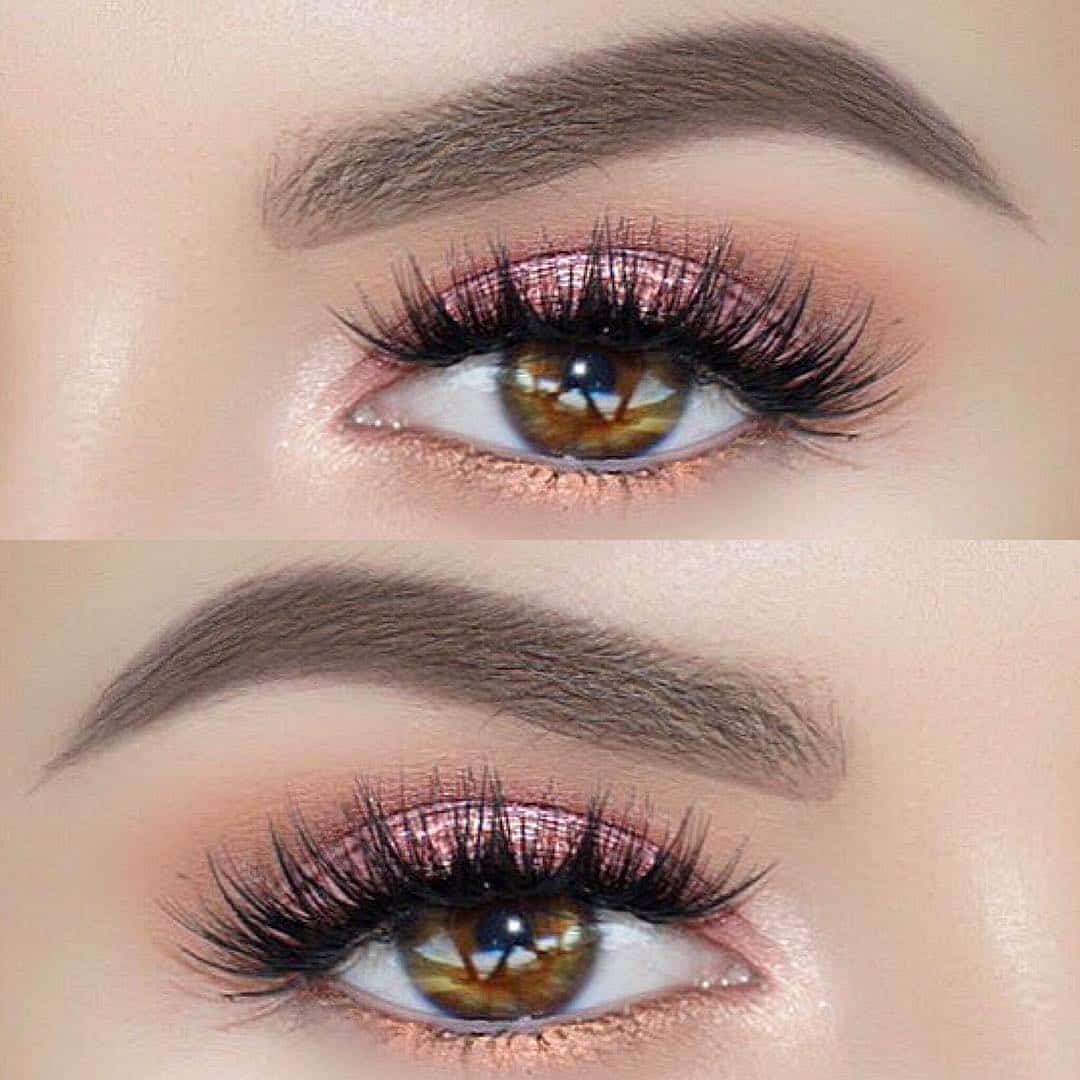 Suede is another natural looking color that allows your upper section to pop. If you want a subtle makeup that consists of two different colors, suede is always a nice idea for the base. You can go for other colors than pink for the upper section. However, pink is a subtle color that is close to your natural look.
17. Soft Smokey Eyes With Purple Copper Glitter On Inner Corner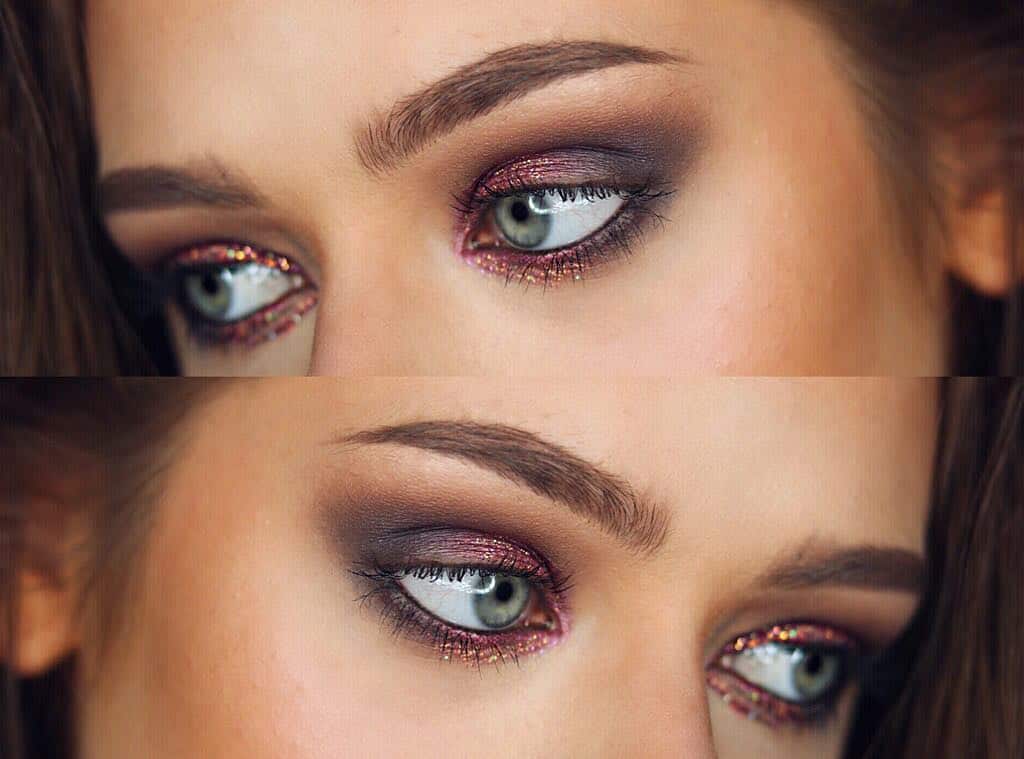 We saw a couple of ideas for smokey eyes so far. One thing they have in common is they are not dark. Instead, they are lively, bright, vibrant, and refreshing. Gone are the days when smokey eyes were synonym for dark makeup. Nowadays, you can use so many refreshing colors for that technique.
18. Orange Shades With Golden Shine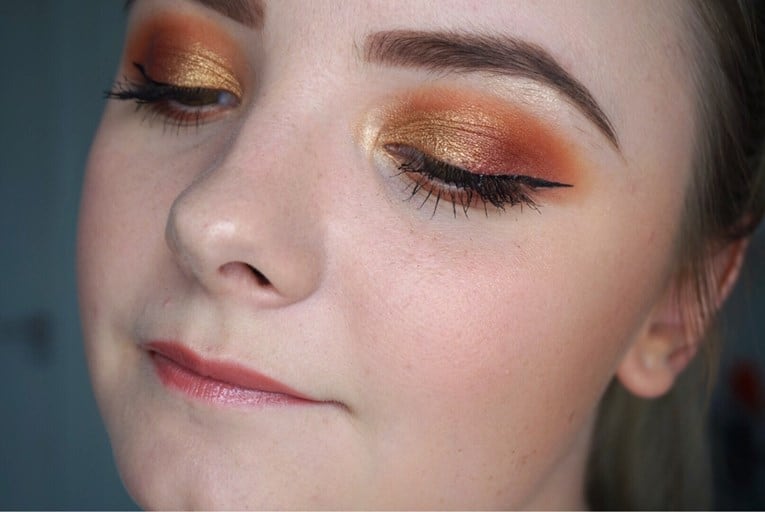 If you remember earlier, we had an orange makeup. That one was with a bit more metallic accent. But if you like to try metallic, and not shiny so much in the process, keep it to minimum.
19. Purple Makeup With Golden Outline On Crease And Eyelash Line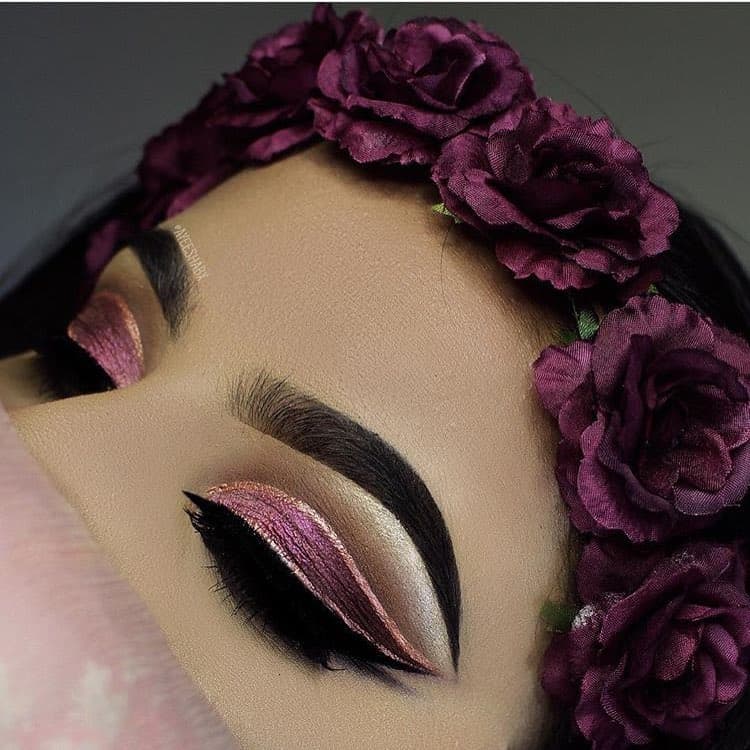 I talked so much about silver and pink, that I almost forgot how beautiful pink and gold pairing is. Unlike silver, gold gives you a more luxurious look. One that is all about glamour, and not as much about elegance.
20. Golden Round Crease With Bluish Underliner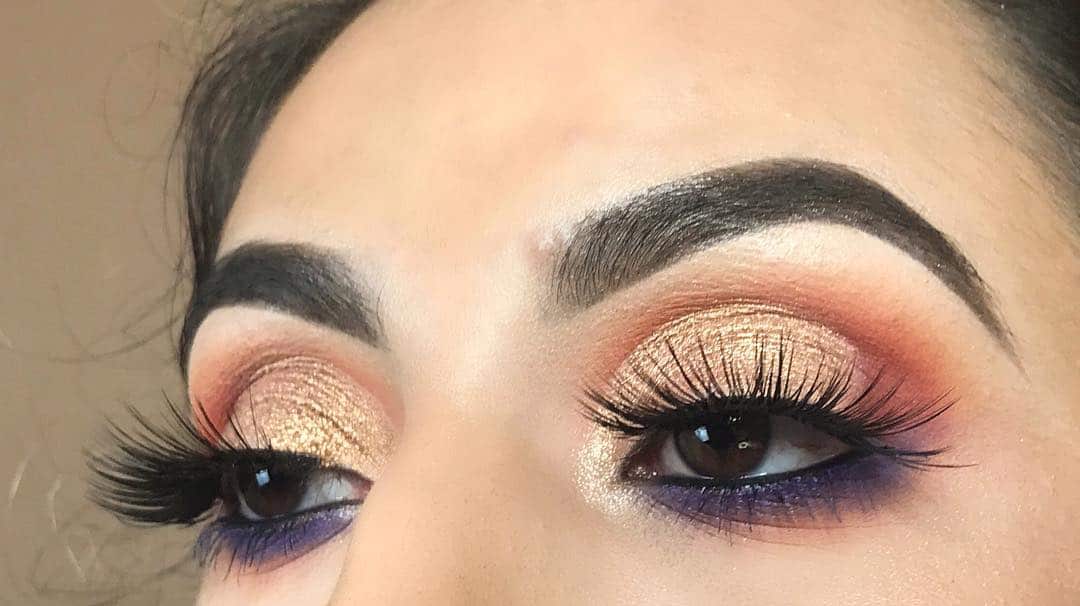 Another glamorous look that is just perfect for a cocktail event. Gold will always deliver a luxurious look, no matter how you combine it. But i love the bluish underliner that gives you a more down to earth look.
21. Full Gold Edged Eyeshadow With Black Eyeliner And Silver Eyebrows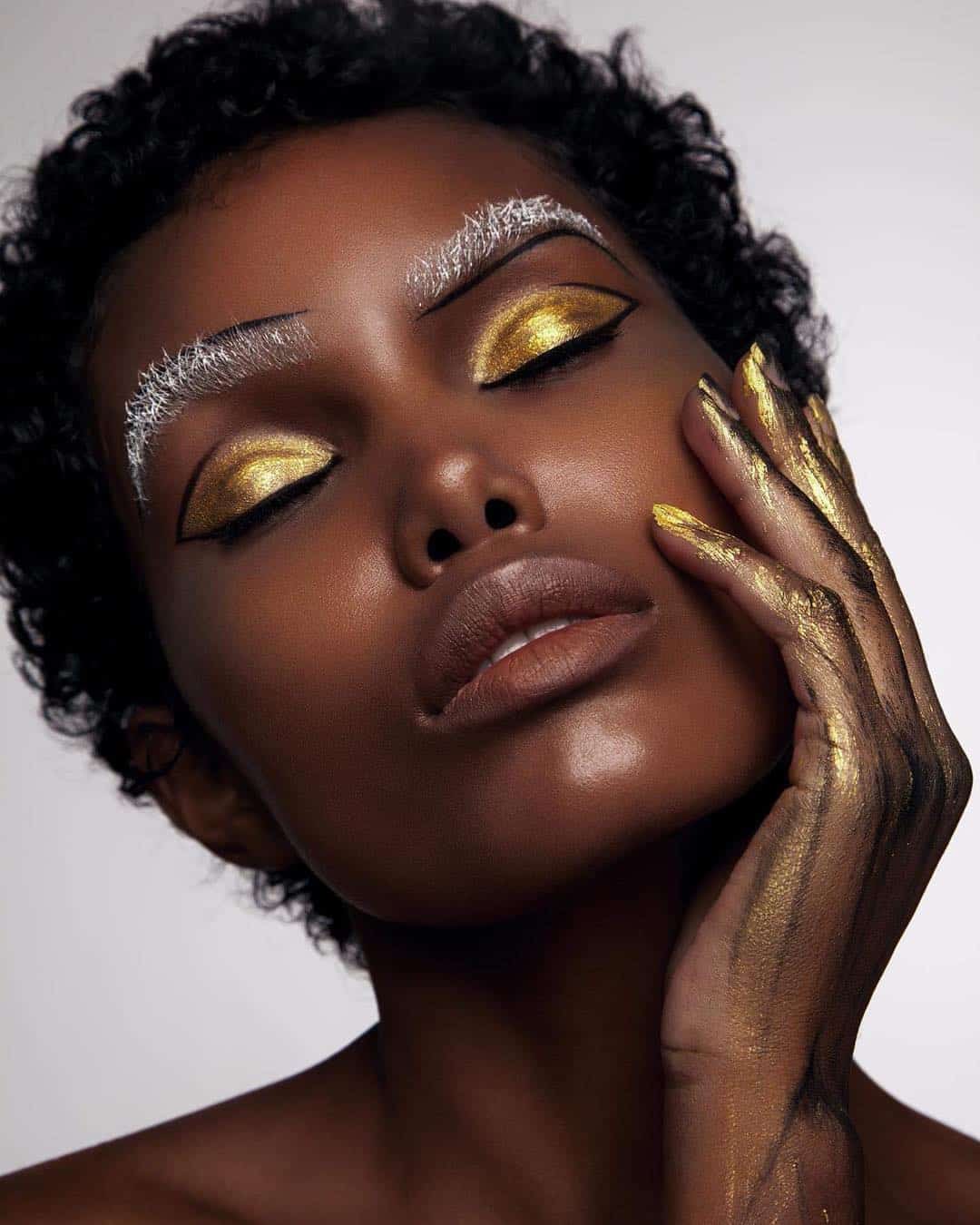 With this look, one thing is certain. You want to get noticed. And I guarantee everyone will be looking at you. Some will not understand or approve your splurging on gold. But others will admire your boldness.
22. Soft Natural Rose Orange Hues With Gold Shine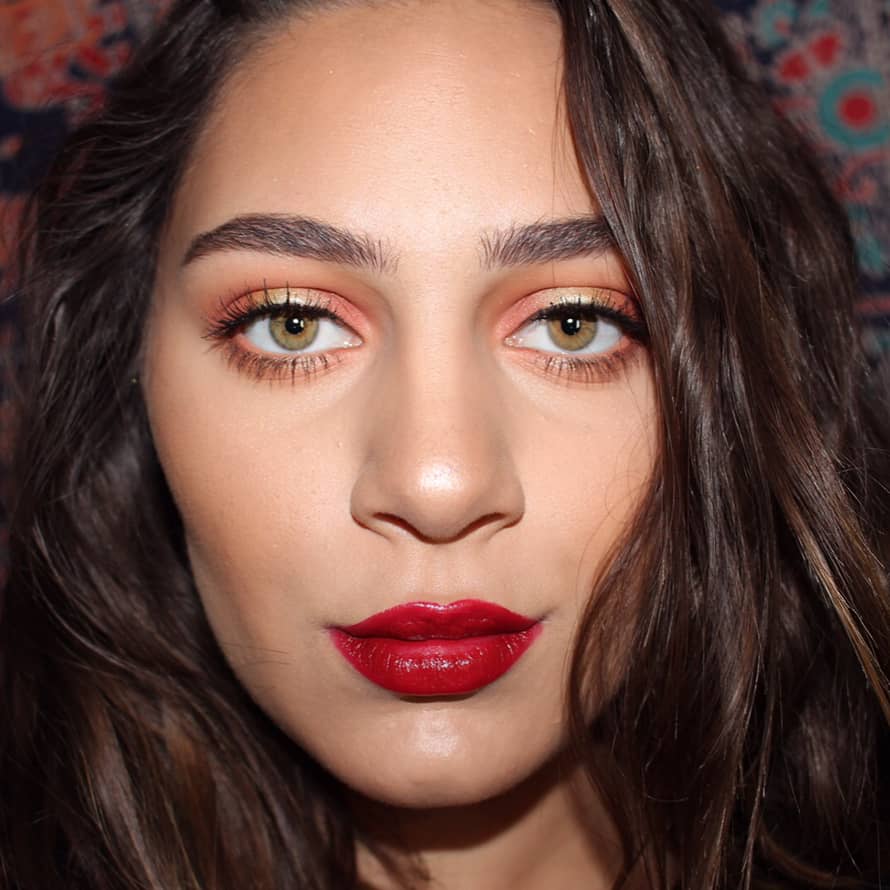 We already established that both pink and gold are close to the natural look. Well, when you combine the two, you get a great pairing that let's your eyes shine. It is like you are not wearing any makeup.
23. Golden Copper With Pink Cut Crease And Confetti Glitter On Edges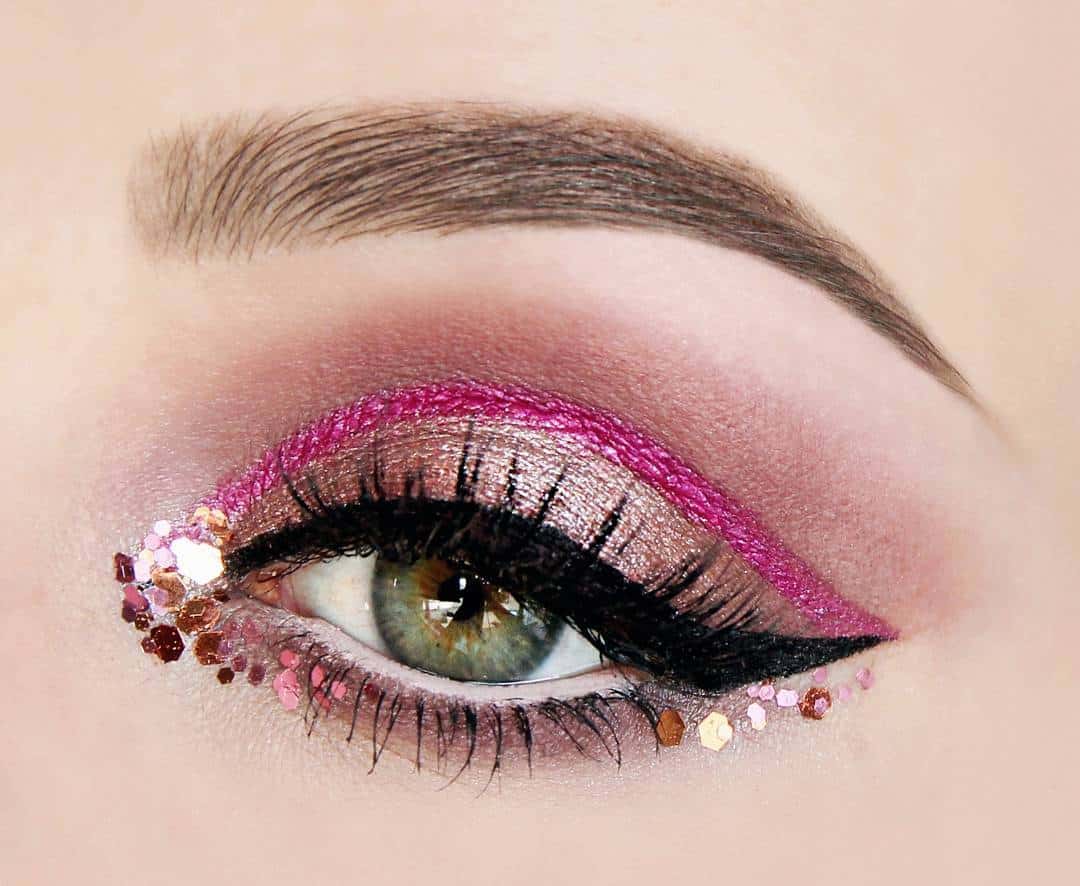 All three of these colors are usually used for a natural look. But you try something outside of the box every now and then. The trick here is the pink line. That line gives you a more girly look. And of course, let's not forget the confetti.
24. Black Smokey Eyes With Copper Center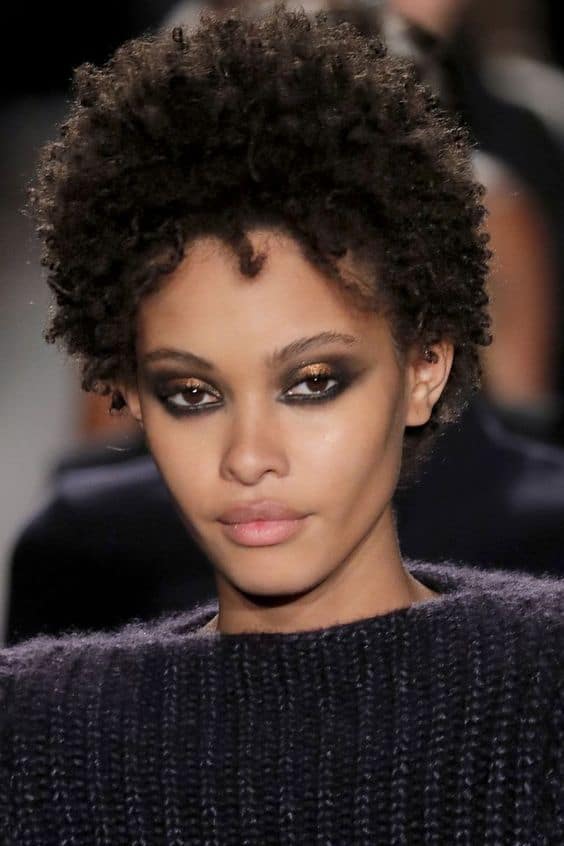 This is probably the darkest smokey eyes makeup idea you will see with metallic color. But even in this case, you can brighten things up with some copper in the middle.
25. Cateye Brown And Golden Eyeshadow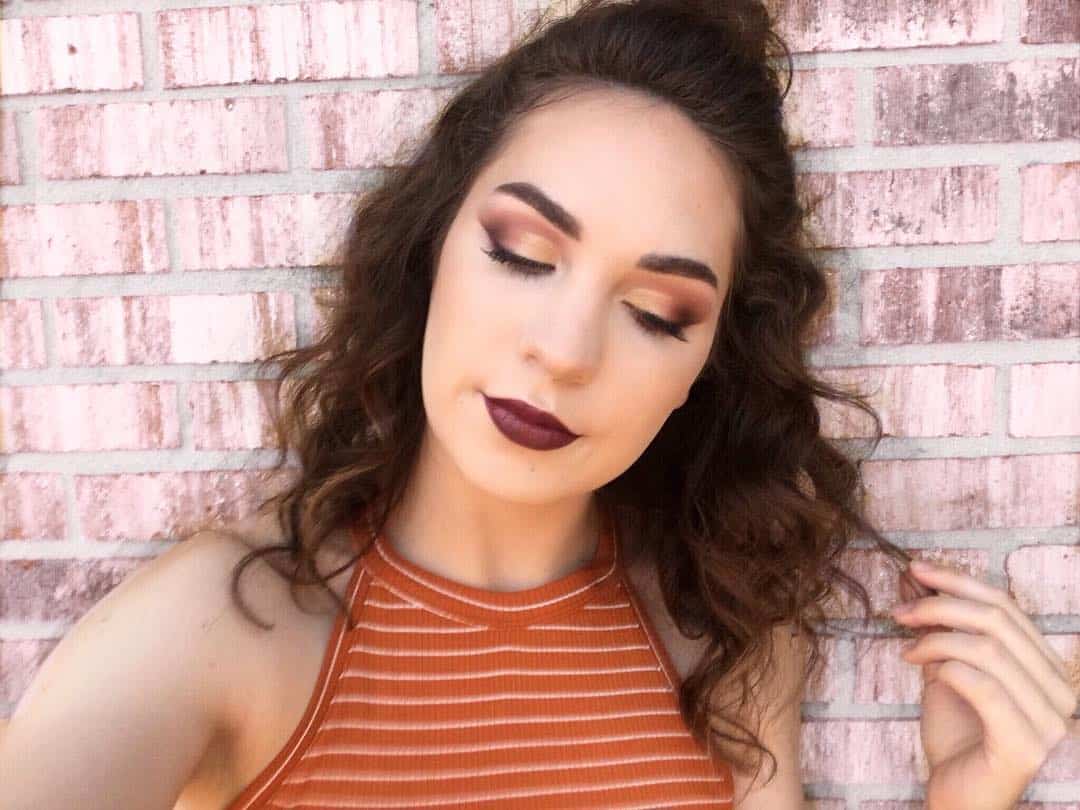 I would like to finish off with a natural look. After all, I talked about natural look several times and how you can use metallic colors to achieve that.
With that in mind, I leave you to try these tutorials. If you have any problems, ping me. I will try and come at your aid. And if you have any ideas, leave them in the comments.