Floyd "Money" Mayweather. Does his nickname make you wonder how rich the "Money" is; how he spends his earnings a.k.a his millions?
With $275 million money he earned as the "A" side of the bout vs Conor McGregor in Las Vegas last August 2017 and for his role as the promoter, imagine how many paper bills he has in his pockets every single time. Considering that Mayweather is famous for being a prodigious blower of cash as he tends to avoid credit cards and pay cash instead.
Speaking of the 40-year-old millionaire boxer, he was seen at Towbin Automotive in Las Vegas to narrow down his selection on Wednesday night. It is believed that whichever model he's going to go for, the cost will be likely in the $400,000 range.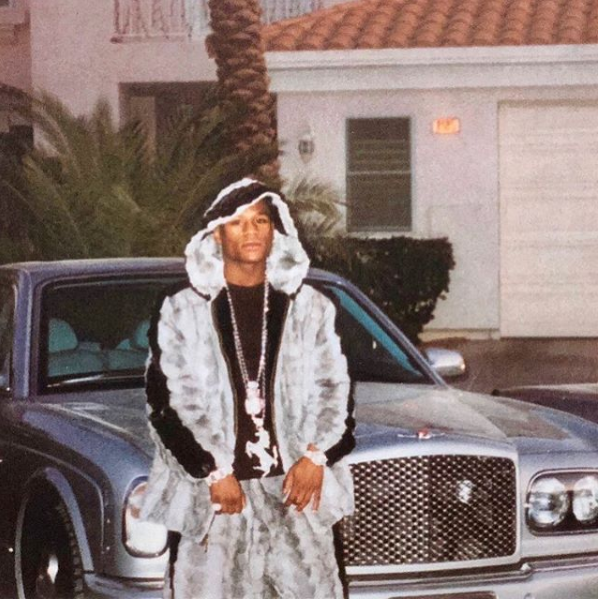 A Love Affair with Luxury Automobiles
The "Money" seems to hate credit cards as he's known for walking around Vegas with $80,000 of spending money jammed into his signature backpacks from Gucci, Louis Vuitton and custom bag-maker like Louis Stewart. Surprised? Well, we're just getting started.
Mayweather is undoubtedly having a love affair with luxury automobiles. It was reported that he once shelling out $350,000 on a diamond-encrusted medallion custom-made to look like the Ferrari logo on one of his dozens of cars.
The co-owner of Towbin Motor Cars in Las Vegas, Josh "Chop" Towbin, told The Post that he actually sold him the car that went with that piece [jewellery]. "I've sold him 116 cars — 16 of which were Rolls Royces — and 80 were for other people.
We do whatever Floyd wants us to do. If he wants to come in at 3 in the morning to look at cars, we get the call that Champ is at the gym and wants to come by. We open up for him."
Even Jesika, Towbin's sister, bought a new money-counting machine in order to accurately accommodate Mayweather and his greenback purchases. How crazy is that?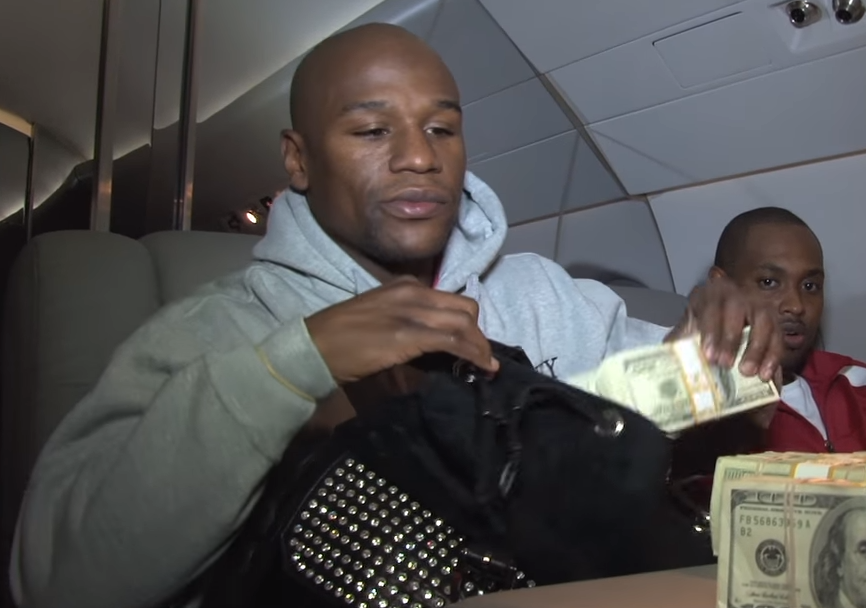 The $5 Million Bet
One unsurprising fact of Mayweather is that he wears shoes only once before disposing of them or giving them away. Well, I guess he has tons of pair of shoes in his palace together with his abundance of possessions.
The millionaire boxer has been known to make six-figure wagers on games and his habit of posting winning games through his Instagram account. RJ Bell, Sports Handicapper, has been told that Mayweather is considering betting $5 million on himself to win the fight.
"If he makes the bet and loses the fight, I'm guessing that nobody will know about the bet," Bell told The Post. "If he wins, come Monday, when publicity about the fight starts to die down, he might tweet out his betting ticket, get another 36 hours of publicity and look like a total badass."
$40,000 on a Strip Club's Floor
A member of the Mayweather entourage, speaking in late 2015, revealed that they'll go [to a strip club] for three or four hours and there'll be $30,000 or $40,000 on the floor. "Then you look around and you're like, 'Holy shit, that's a down payment on a house,'" the entourage added.
Yes, Mayweather doesn't drink, but that didn't stop him to spend big at Vegas clubs such as XS and Encore Beach Club where the fighter will load prime tables with bottles of booze. Smile at him the right way and he'll give you $100, according to a source.
"Floyd takes care of everyone within arm's reach."
Multiple Planes and VIP Mall Visitations
Are you kidding me? Floyd doesn't own just one plane instead he maintains multiple planes. One for folks who are closest to him, another for bodyguards and those he likes to keep at a remove.
Now, who wants to be close friends with Floyd? But we're not yet done.
Even Josh Towbin hit the Christian Louboutin store with Mayweather at the Forum Shops in Caesars Palace. "It was fun," says Towbin.
"You look out the store's glass and see 1,000 people pressing against it. His bodyguards did their work that day. They were not there for show." Towbin also revealed that a night of hanging out with Mayweather could include chilling inside a 6,500-square-foot villa with a private pool at high-roller haven The Mansion at MGM Grand, once a favourite of Tiger Woods.
Did you know that the Proprietors tend to lock their stores for him? Now let's talk about his notorious love for signature bags.
Did you know someone who will spend more than $400,000 on bags that included a crocodile-skin carry-on? I know one name and it's Floyd Mayweather.
It also seems that some luxury blings are one of his possessions as reported in Manhattan's Diamond District back in 2015, he dropped half-a-million on blingy things.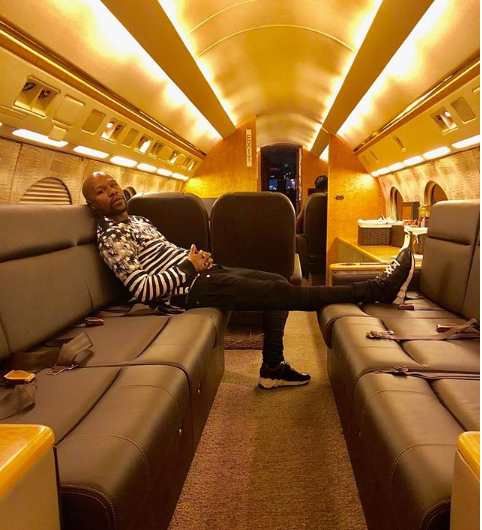 The Legendary Millionaire
Additional to the legendary millionaire's facts are: had pet tigers in his Moscow hotel room. He maintains a fleet of black cars in Vegas and white ones in Miami, and he posted a video of himself counting out $1 million aboard his private jet while en route to Miami.
It is reported that he has been enjoying middle-of-the-night workout sessions followed by trips to Girl Collection. Early Thursday morning, "Money" showed up to the clubs and told Yahoo Sports, "Nobody can beat me. Nobody can beat me."
"Of course I'll be here on Friday" — maybe until 5 a.m. "Come back and see me," he added.
[Featured Image: Instagram / @floydmayweather]