People often underestimate DIY projects. More often than not, we choose expensive glass vases. But what if I tell you that an empty mason jar can serve the same purpose? And even look more stunning?
I want you to close your eyes, let your mind wander, take a deep breath, and think of all the things you can make with a simple and cheap mason jar. Done? I am sure you didn't think of everything that I will show you. The following projects can be utilized for a different occasion, different holiday, or anything else you can think of. Simply put: the versatility of mason jars is just amazing.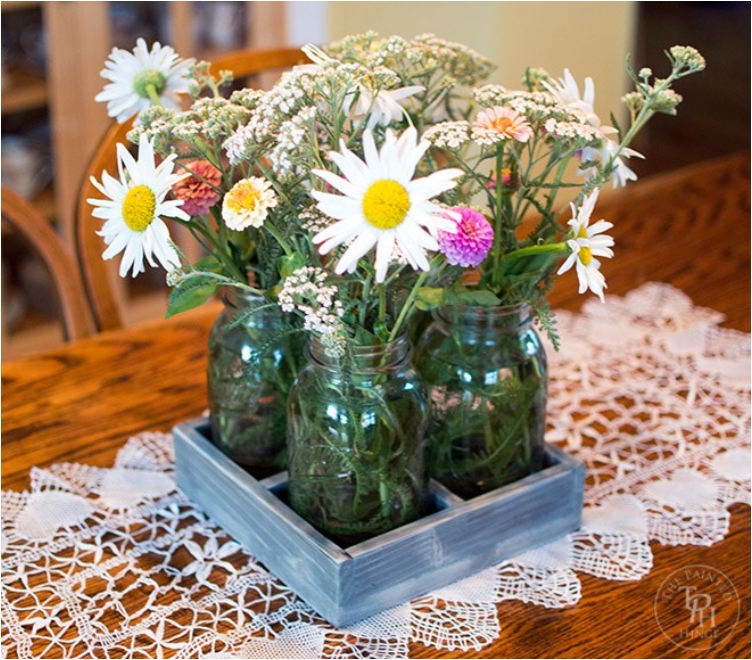 Just look at how rich and dense this decoration looks. And all you need is four empty mason jars, and few flowers picked from your garden. If you don't have a garden, you can pick some flowers from the market. No need for expensive flowers, the simplest one will do.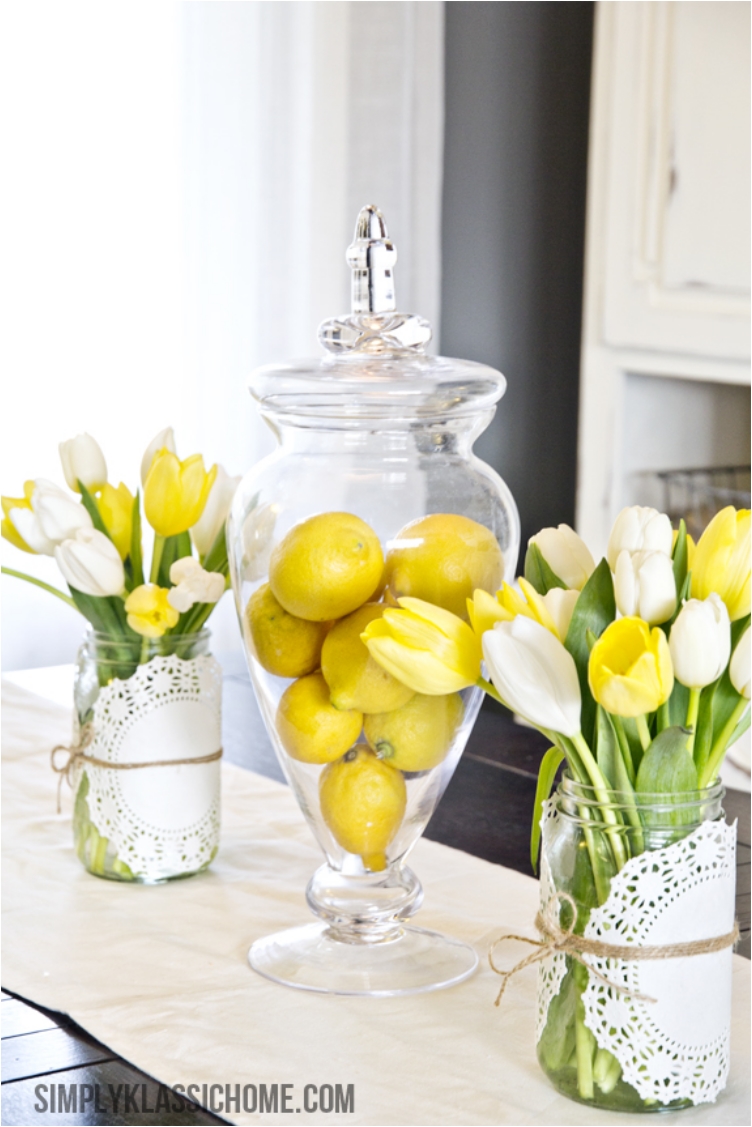 When I think of spring, tulips are usually among the first things that come to mind. They are such an underrated flower. Simple, and colorful, tulips are perfect for a centerpiece. Just combine them with any fruits. In this case, lemons, but you can also put oranges, apples, or any other colorful fruit. It all depends on the color of your tulips.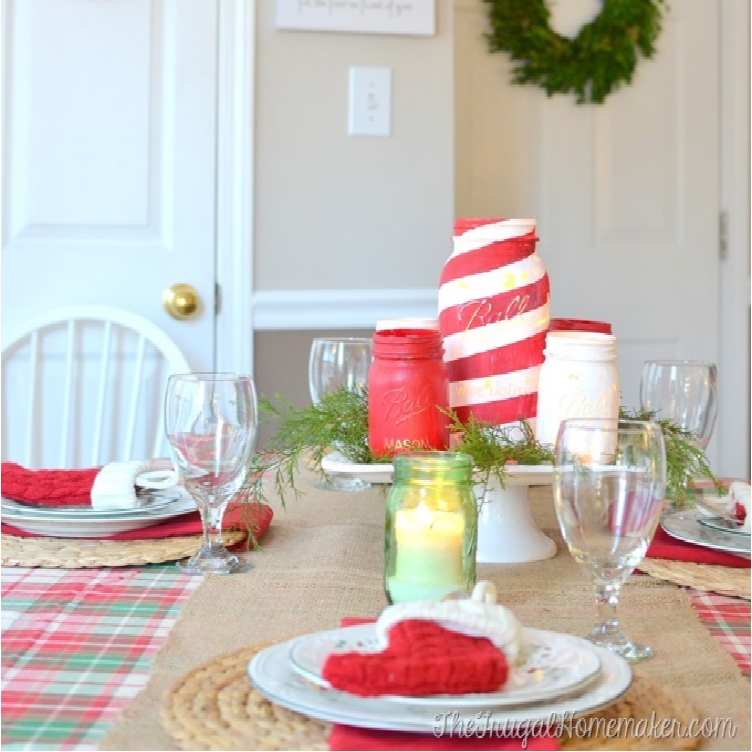 As I said at the beginning, there is no holiday, no event that you cannot enrich with some mason jars. Christmas is usually the time of the year when most of us get creative. I know it is long time to Christmas, but I want you to be prepared.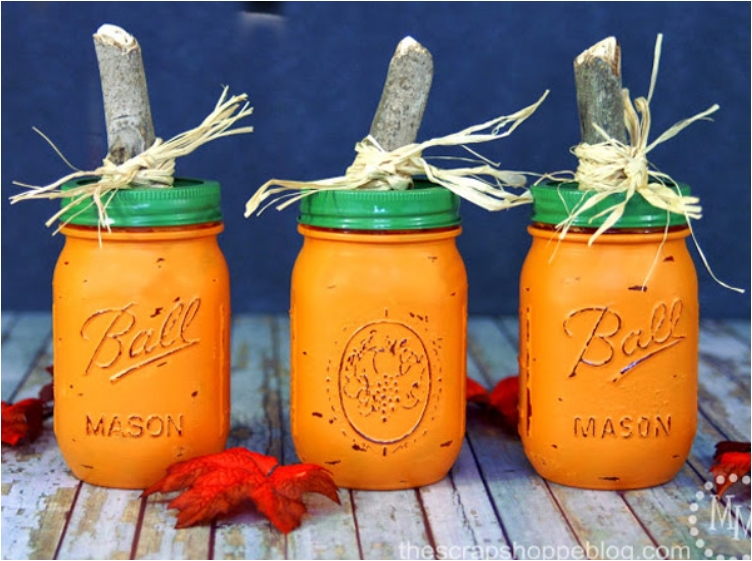 If tulips are the synonym for spring, then pumpkins are the first thing that comes in mind when autumn is mentioned. Autumn decorations are never fully completed without some pumpkin. So, there you go.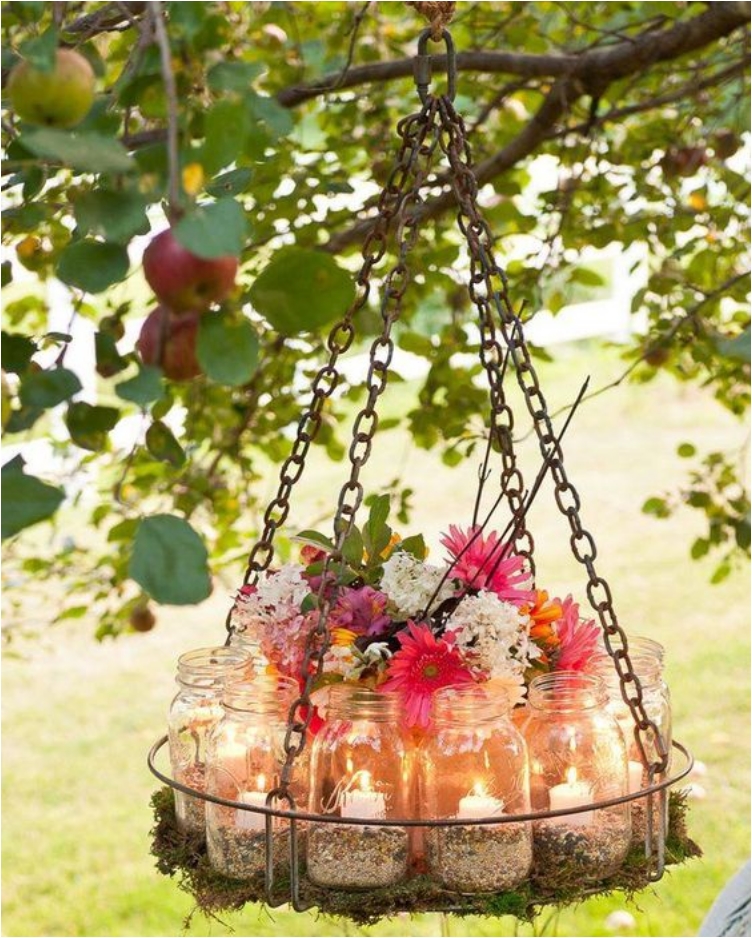 Centerpieces are not designed only for the interior of your home. Your exterior can benefit from a centerpiece as well. In this case, that is a hanging chandelier made exclusively from mason jars. Candles provide such a romantic illumination, you just have to sit back and relax.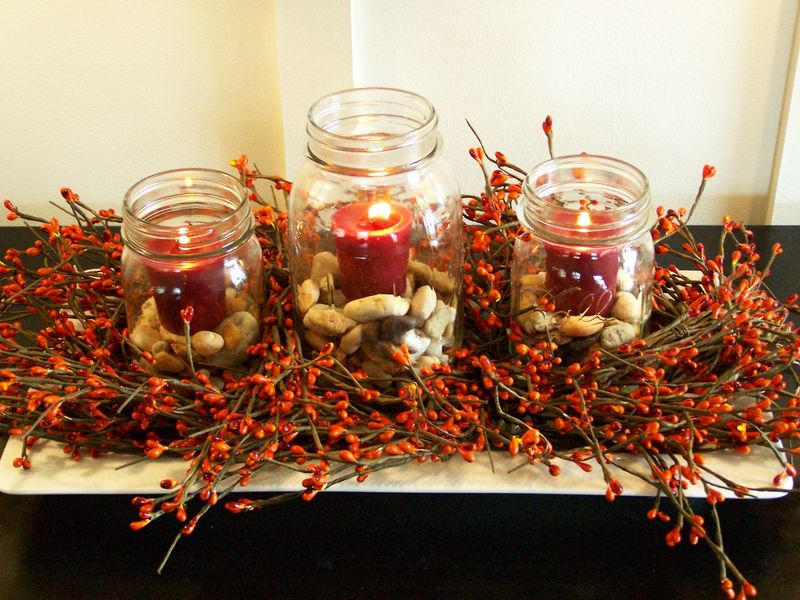 It is all about the colors here, as they scream "fall". I know there are no pumpkins here, but hey, you can have a pumpkin in some other way on the table.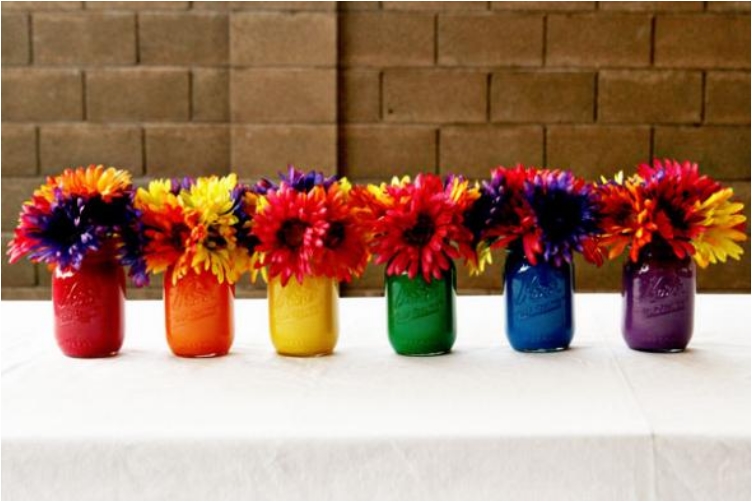 Painting a mason jar is an easy process. And the more colorful your mason jars are, the more beautiful your apartment will look. Combine them with some colorful flowers, and you'll have a decoration that looks like you've paid hundreds of dollars.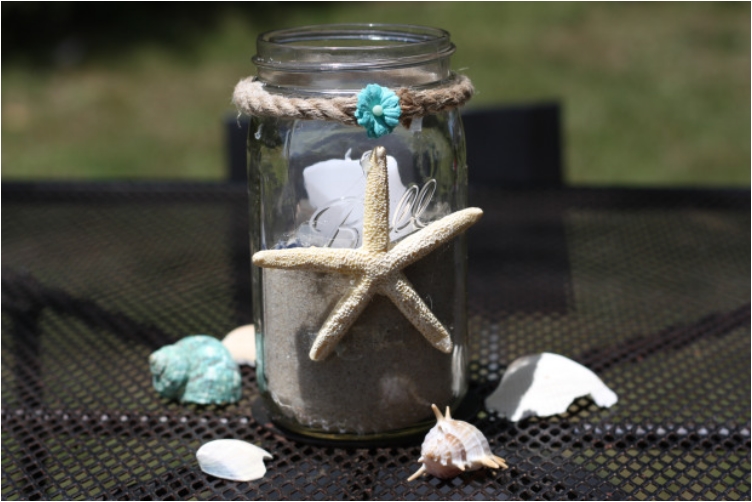 For all you summer homesick and beach homesick people, have you ever thought that you can bring the beach back home with you? As a kid, I remember collecting shells at the beach, and bringing them back home with me. Back then, they were rooting in some box or something. Now, I use them as decorations.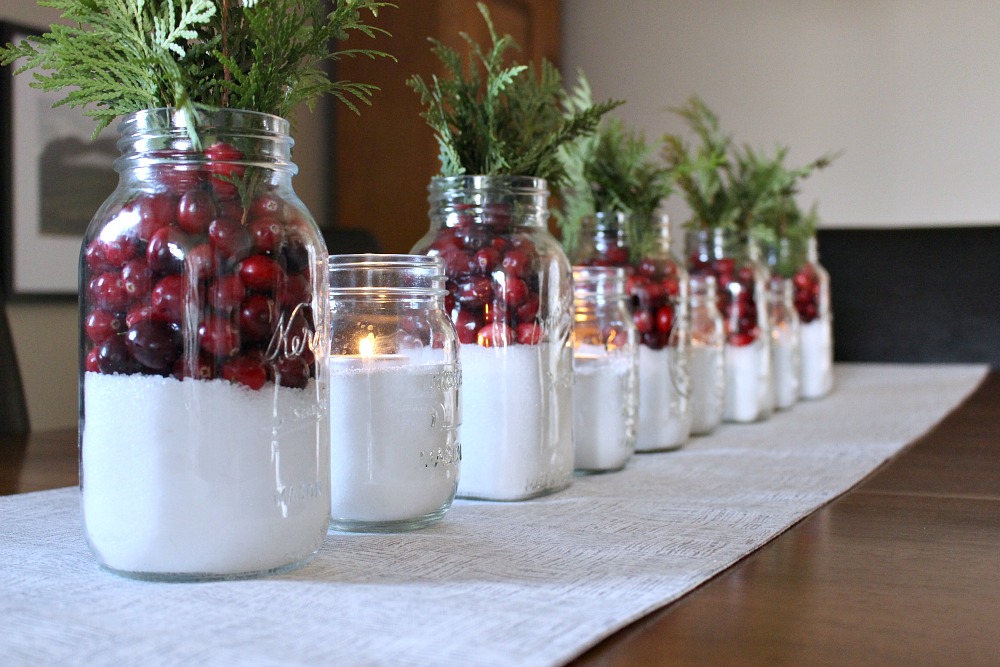 Have you noticed that you have a mason jar for every season? Depending on the season, you can change the ingredients of the mason jar. You don't even need a new one. You can just recycle your fall mason jar and turn it into winter mason jar.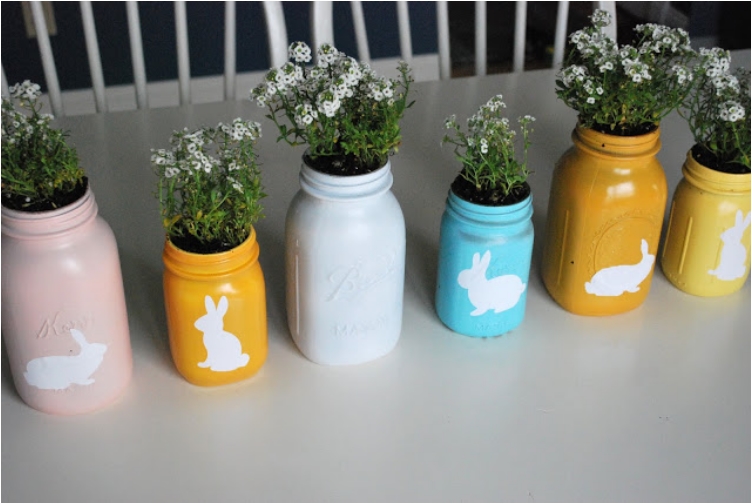 Coloring a mason jar is easy, and spraying is even easier. Rabbits are the theme for Easter, and you just know that your home will look warm, friendly and the ambience will be improved with just little to no effort.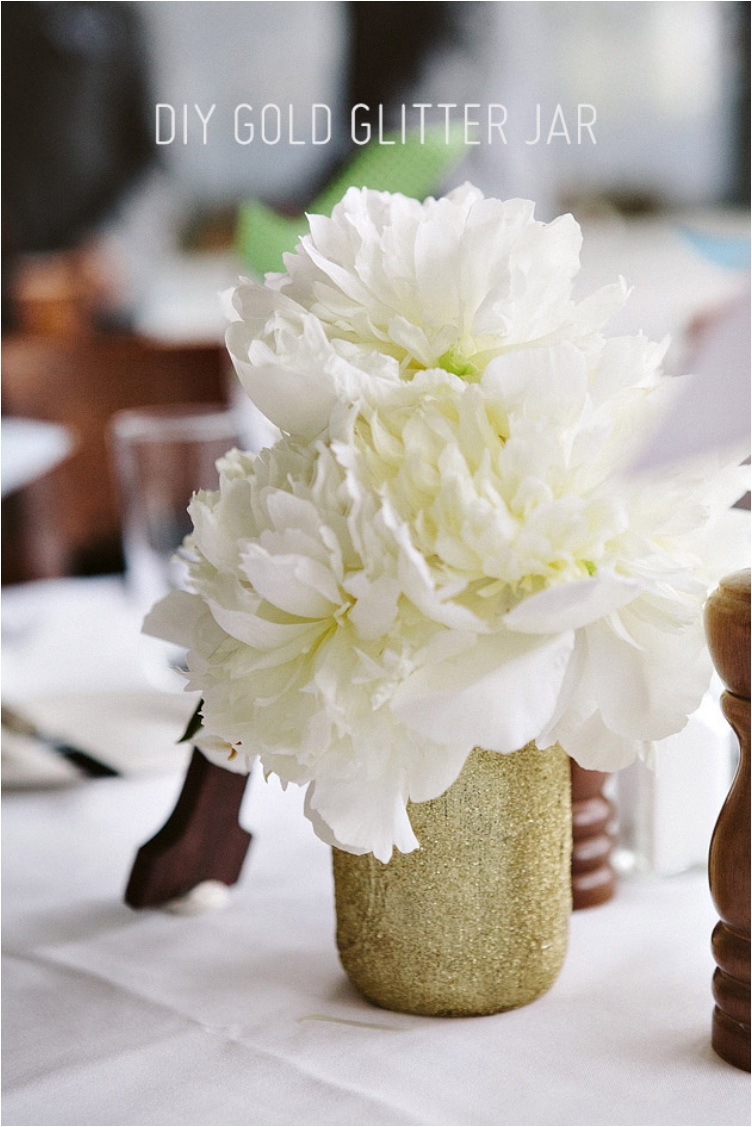 I have friends that put glitter on almost everything. I am not a big glitter fan, but I love it from time to time. That being said, a mason jar full with glitter can serve two purposes. For starters, it is a decorative object, but it is also a place for you to keep your glitter.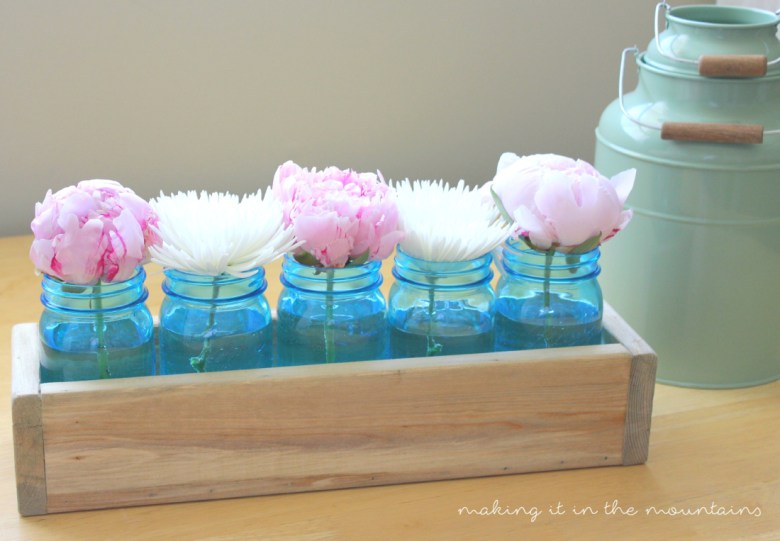 This one is a bit more retro and vintage, as wood always adds special warmth into the interior. For traditional lovers, wood planter box will make a great centerpiece.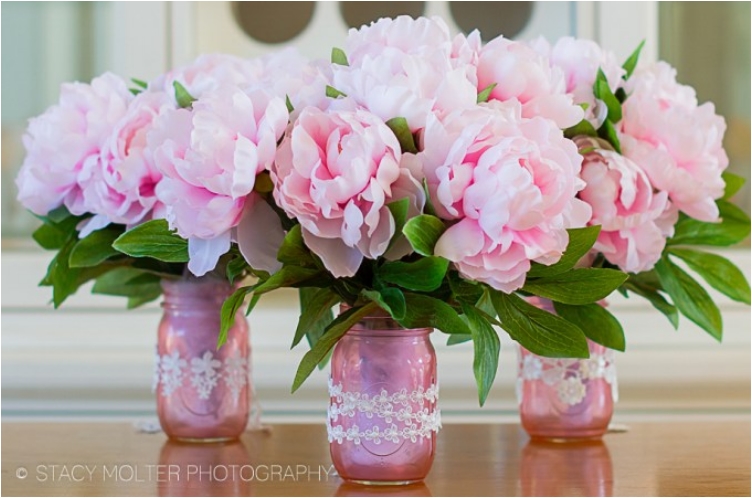 No matter how old you are, your mother will always be the most special person in your life. Surprise her with this decoration. No need for gift, as she will be pleased you thought of her and made her such a beautiful bouquet.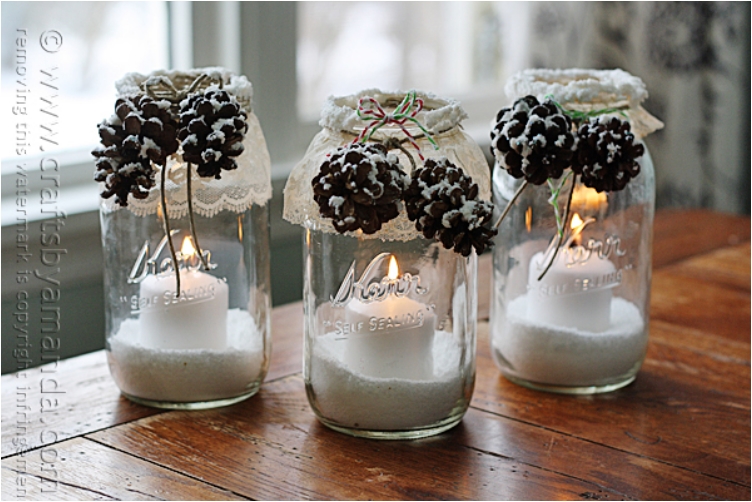 I must admit, winter mason jars are my favorite. As a season, winter is not my favorite, but the decorations are just plain awesome and beautiful looking.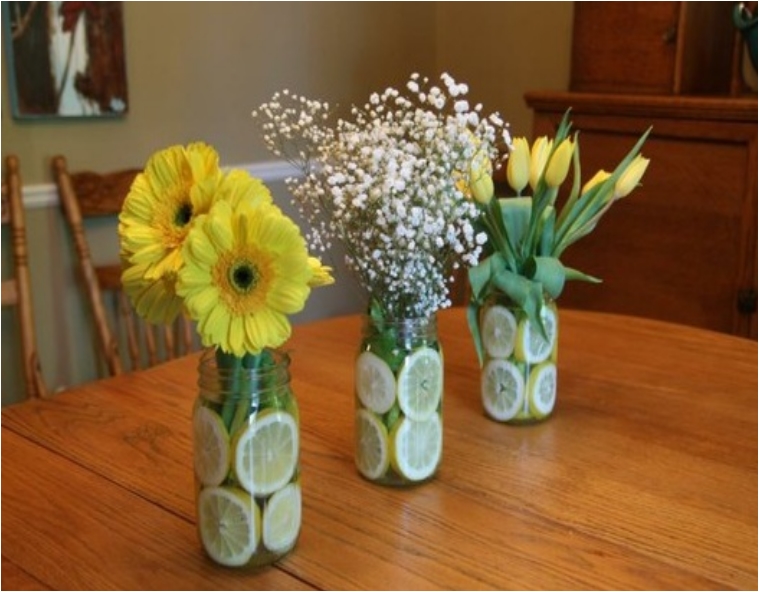 If you remember, we had some lemon and tulips combination at the beginning. But that was with whole lemons. For this decoration, lemons are sliced, making the mason jar vase look even more beautiful.
Yes, mason jars can be used even for a wedding. Most wedding decorators exploit their versatility when someone hires them for a wedding. So why not use some of the same tricks?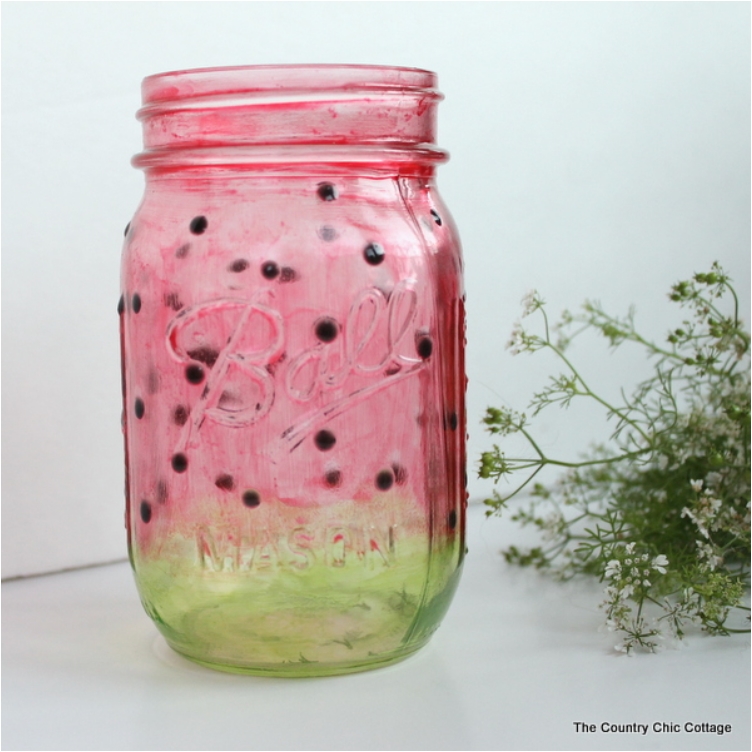 I bet you thought there is a watermelon inside. Didn't you? Well, this is just a proof how beautiful looking a mason jar can look, when you do all the details and crafts.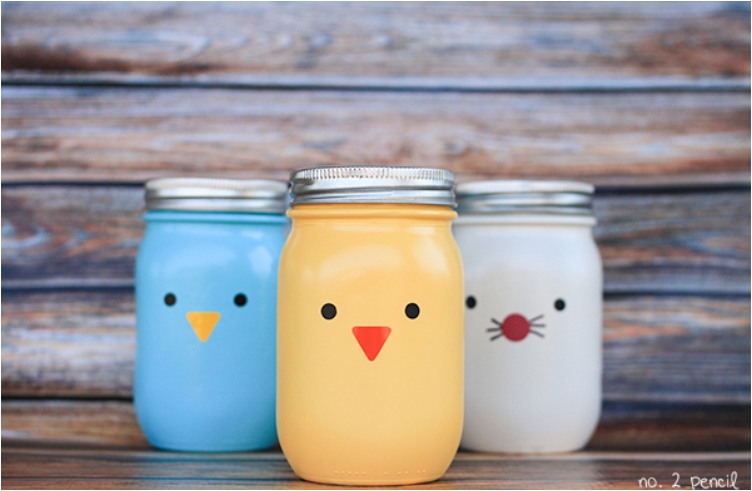 Another Easter themed project. But this one is a bit more subtle and done in minimalism approach. Minimalism is a huge trend in interior decor in past years, so I have to follow suit.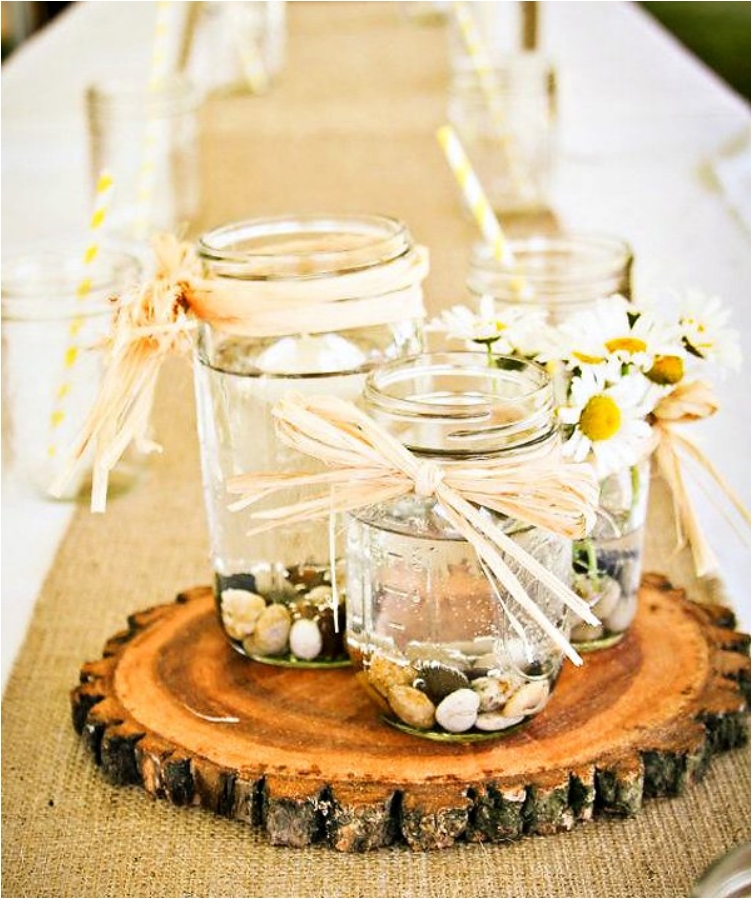 Now, I know most of you put candles in a mason jar and light them up. But every now and then, I love to spice things up and experiment. This experiment, in particular, turned out to be a great decoration.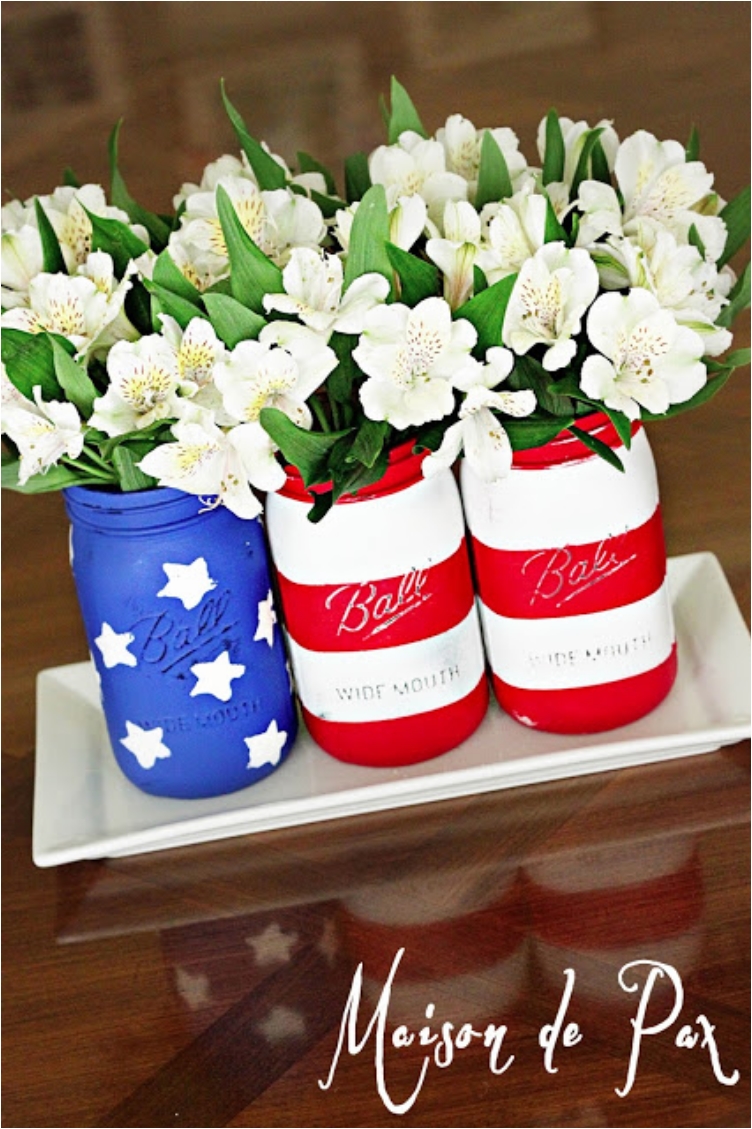 Nothing like a painted mason jar to get your patriotic juices flowing. You can use this decoration for Fourth of July, or for any other day in the year. Depends on how patriotic are you feeling at the moment.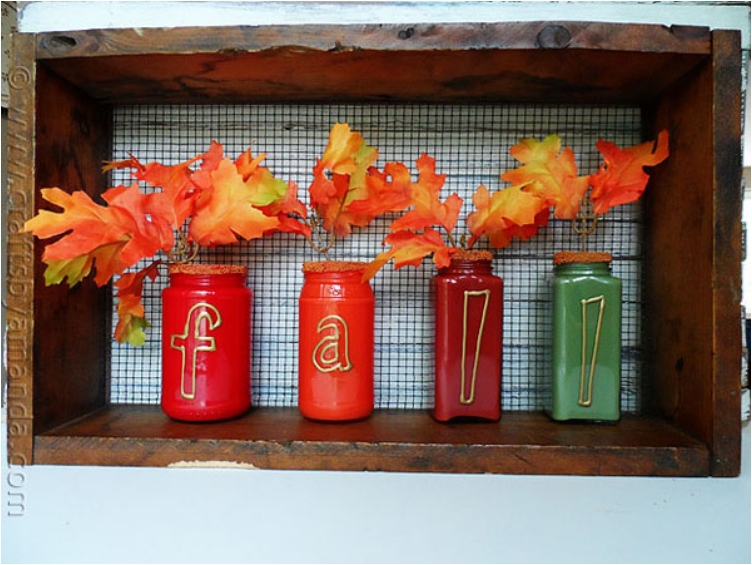 Have to noticed the word "fall" written on the four vases? The colors are spot on, the leaves are great, but the subtle reference to fall is the icing on the cake. I just love it, and cannot stop gazing at it.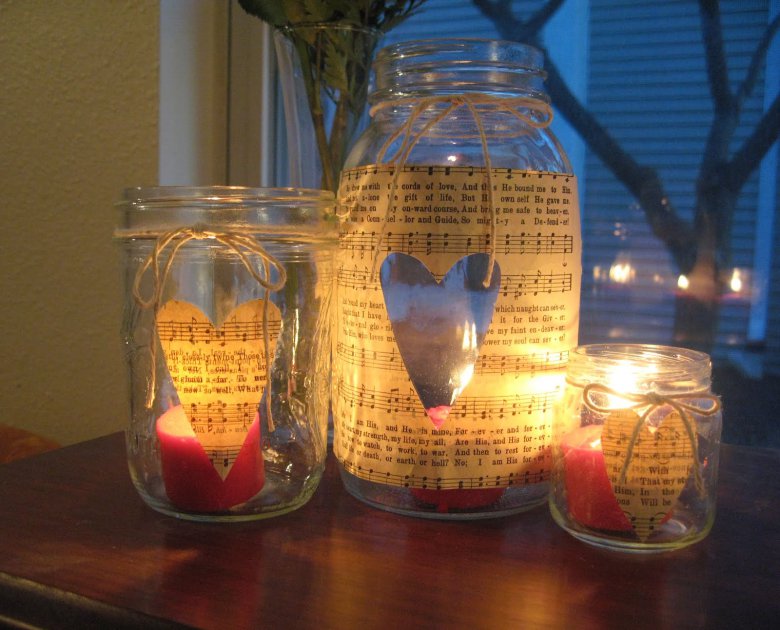 When February is approaching, every single one of us tries to think of a new and innovative way to spend Valentine. Even those that are single. It is just the nature of things, and the way our society functions. And for the next Valentine, I have you hooked up with some romantic mason jars to spice things up in the bedroom.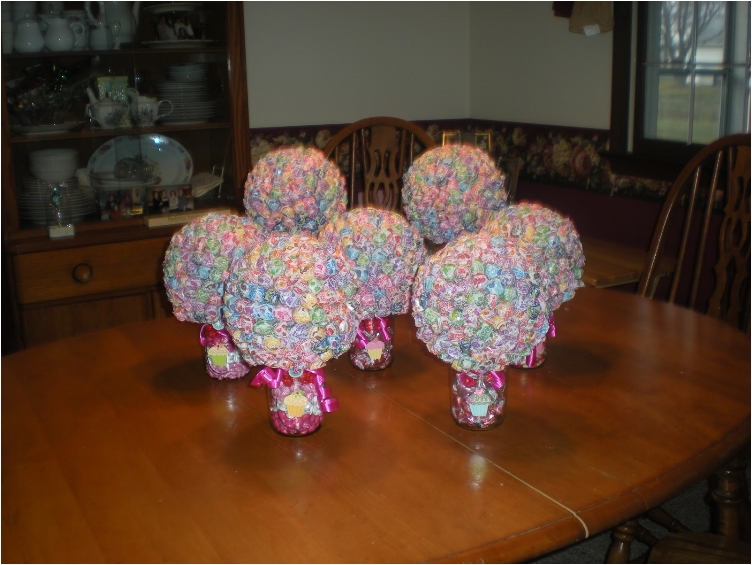 Bonus points: you can make these mason jars with your children. They will love to be included in the process, and you'll teach them that decorations are not for eating.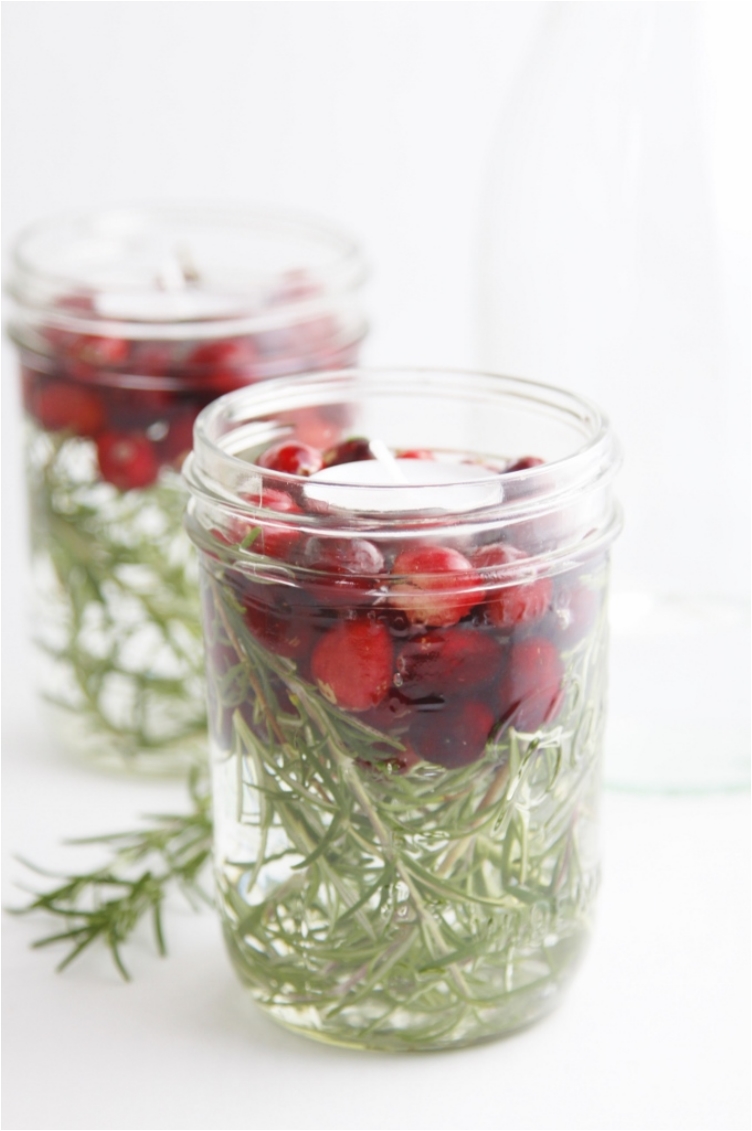 Rosemary and cherries. Can you think of a better and simpler combination to enrich your centerpiece? The floating candle is hard to notice on first glance, but it makes everything come together.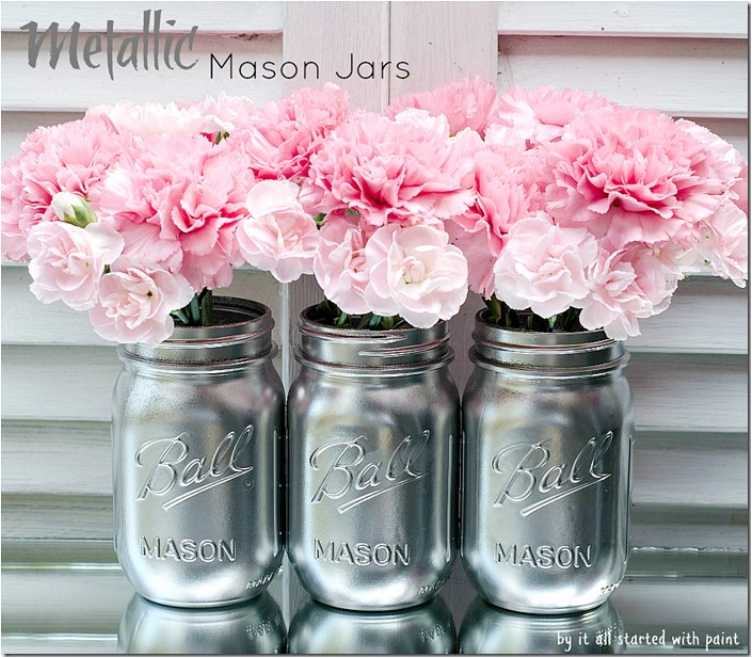 This project can be used for your wedding as well. Silver is sleek, sophisticated and classy, and with the right combination of flowers, can make your wedding that much more beautiful.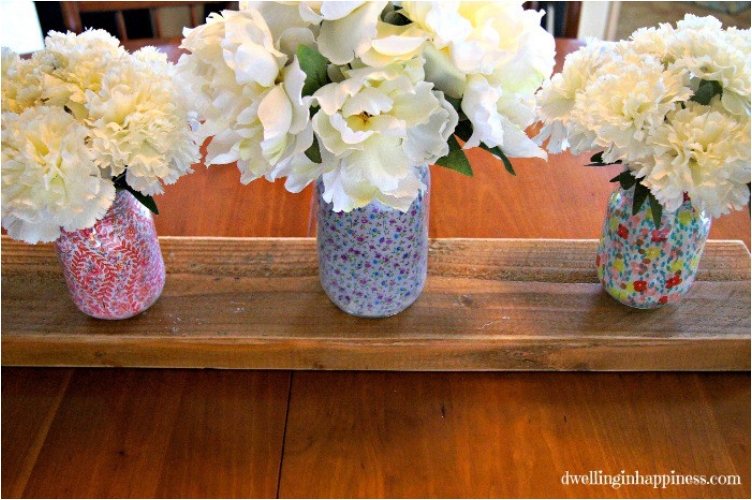 If you need any more proof that mason jars are extremely versatile, this is it. Just think of the hundreds of combination of fabric you can use, and how different looking your decoration will look.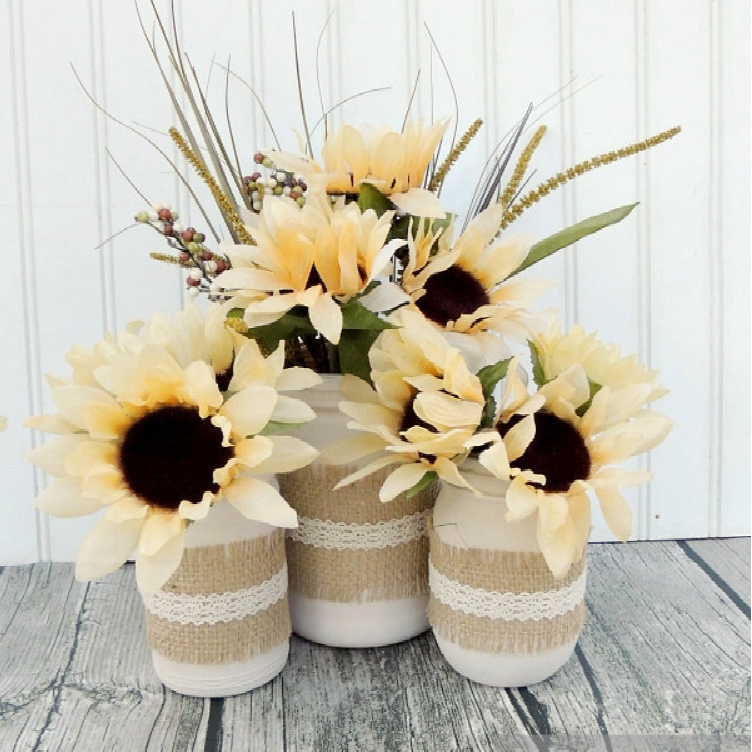 Sun flowers are another ingredient that is synonym for fall. For this fall decoration, we focus on the flowers and plants in autumn, not on the fruits.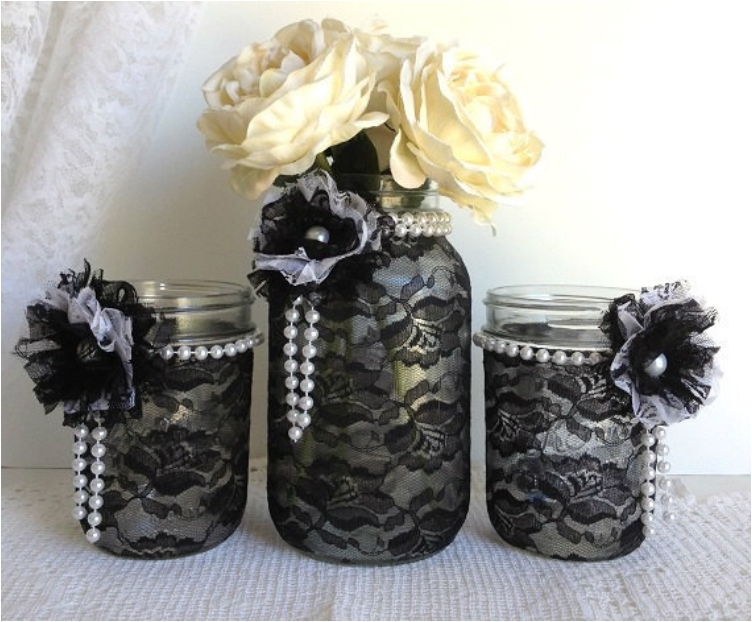 I have a friend that loves lace. She puts it on everything. Whenever she is out shopping for shirts, dresses or anything in between, if there is no lace on it, she isn't buying it. I've put this project here just because of her. But truth be told, doesn't it look stunning? And it is another project you can utilize for your wedding day.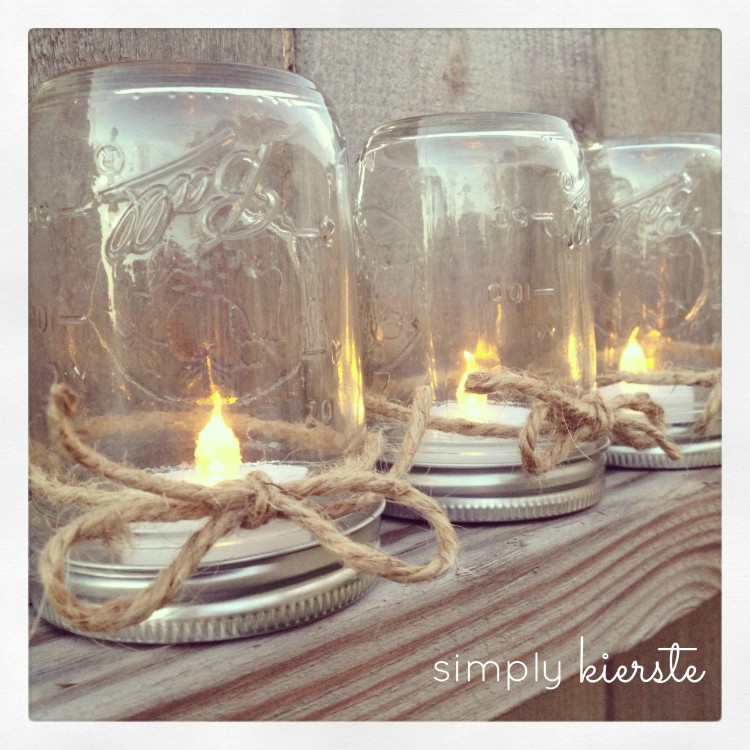 If there was ever a 30 second mason jar project, this is the one. Just turn the mason jars upwards down, put a candle in, close, tie with hemp rope, and whoala, you have a great centerpiece.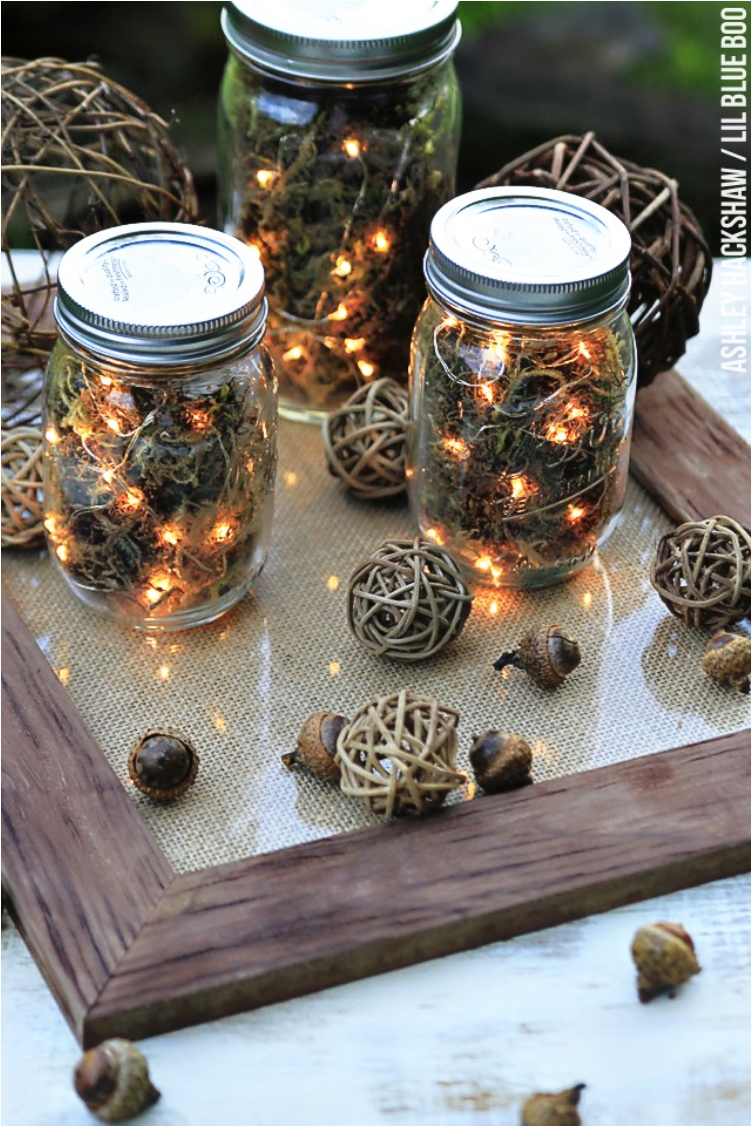 Don't you just love it how romantic it looks? Fall is just around the corner, and I think I gave you enough ideas for your interior decoration.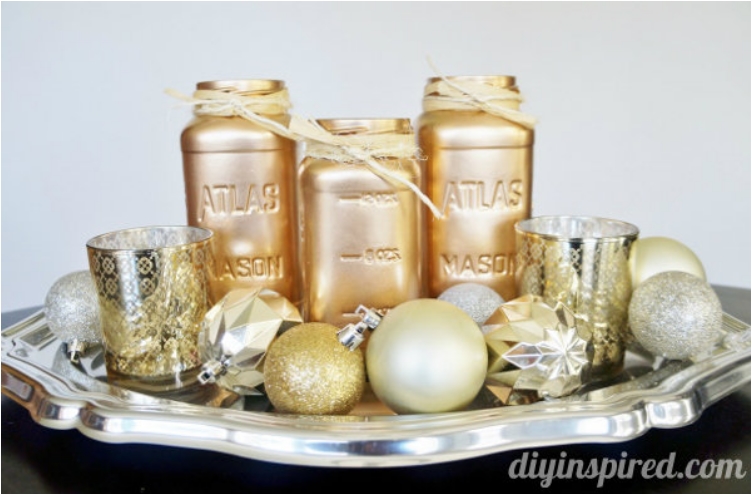 We talked how sophisticated silver mason jars look. But silver is just one of the metallic colors you can use. Gold is also an option, and combine with some ornaments, and you have a beautiful Christmas / New Years' Eve decoration.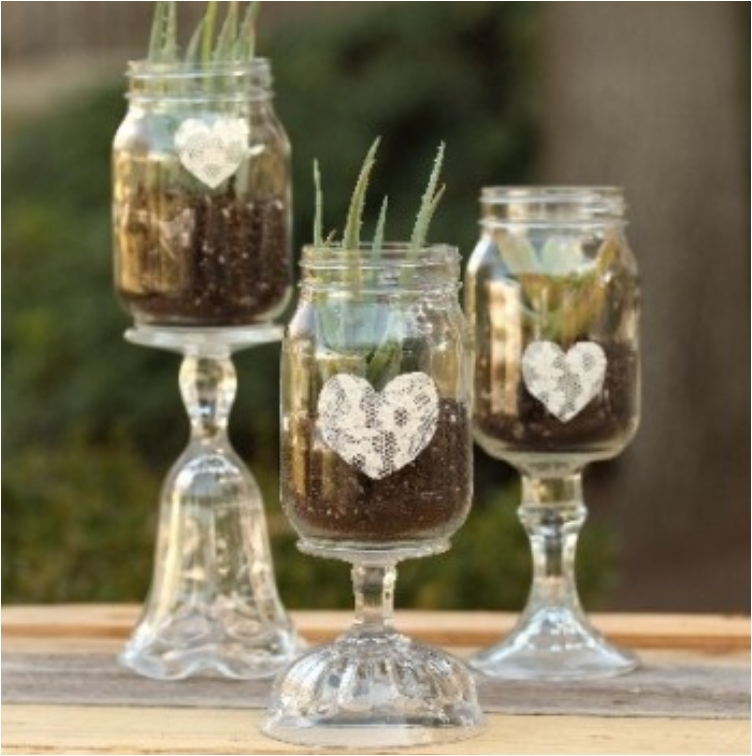 One of the many uses of mason jars is as pots for plants. Put them on some kind of a platform, and you have green, natural and adorable centerpiece. And when the plants grow, the centerpiece will be that much better.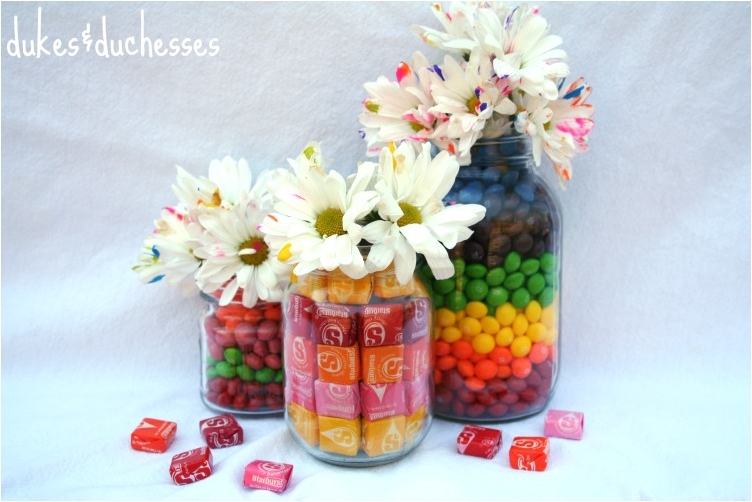 Remember when I told you to fill the mason jar with candies and call your kids to participate? You can do that again. I doubt they will resist the temptation not to eat a candy or two, so make sure to get extra candies.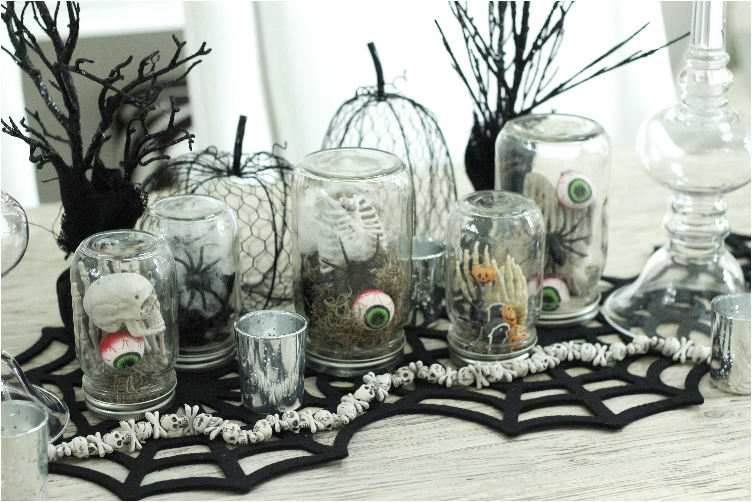 You thought I forgot Halloween? Of course I didn't. It is one of my favorite holidays, because people go out of their comfort zone. And I love when someone goes out of his/hers comfort zone and dresses up. Spooky and scary is the theme for Halloween, and you can make a great decoration for your home party with some mason jars.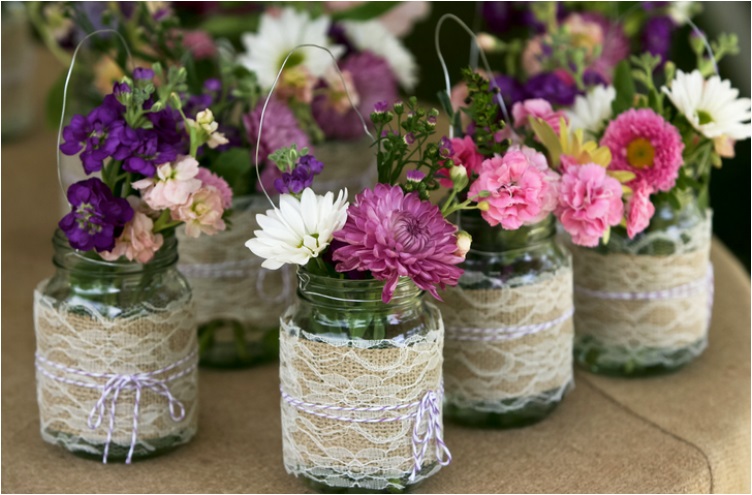 Be it white, or black lace, there is nothing more elegant and sophisticated. Lace and weddings go hand in hand, so there you go, we finish the list with something to get you motivated.
 READ THIS NEXT: 26 Crafty Mason Jar Ideas To Organize And Decorate Your Home