It was a regular day of fishing for a dog owner. Bringing his rod and bucket, he decided to take his Labrador so it can enjoy the walk and watch him fish. With no expectations at all, the dog jumped into the water and came out with something he will never forget!
We usually tell a dog to fetch and most of the time, it doesn't hesitate to do so. What can surprise us is that sometimes, it goes back with something more! By more, I mean huge.
This video shows a yellow labrador fishing a large salmon from the water merely through its mouth. It jumps up and down from the shallow river to fetch the aggressive marine animal.
Going for Something Huge!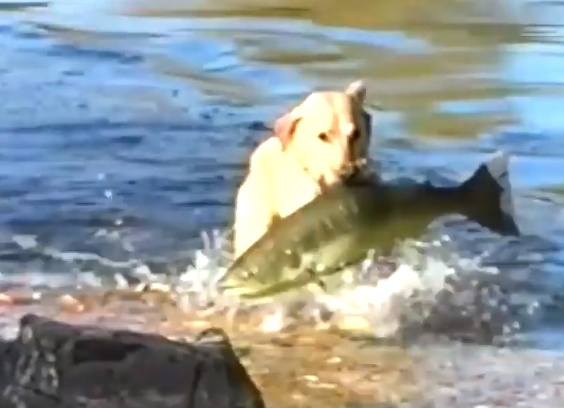 You might be thinking, isn't this animal just a bear hiding on a dog's body? Your eyes are not fooling you. This dog actually caught a huge salmon from the river — something his owner takes a thousand tries to seize.
We usually visualize fishing with muscled men bringing pails and bending rods until they get one. But if anything, this dog's method of fishing is much more efficient than using a hook, or any tool at that.
And the great news is, this dog's not the only one!
Dogs As Great Fishing Buddies
Owners have been trying to train their dogs to catch fish, and these are the results. They developed an excellent hunting instinct that makes them seize a fish even if it vigorously moves in the water.
Despite that, these dogs understand 'catch and release.' Video disclaimer says that all salmon fishes caught in this footage are at the end of their lifespan.
They released back to the water to die naturally and fulfil their place in the food chain.