Women with brown eyes are very lucky. They can use almost any shade of eyeshadow and still look great. You can go from colors like purple to green to even gold, and they'll look phenomenal. But if you feel that nothing makes your brown eyes pop, you've come to the right place.
Today, we will talk about makeup ideas for brown eyes. But before we get there, let's talk about how to prepare your eyes, how to use the right products, and how to accessorize your outfit to fit your eyes and makeup. So let's get started!
Prepare your face
Applying makeup is more than just using eyeshadow. As is the case with many other things in life, preparation is the key. Here are two steps you need to make before applying eyeshadow.
Put concealer under and around your eyes. You need to hide dark circles. Your eyes will pop when you minimize the dark circles. This way, people are focused on your eyes, not on the dark circles underneath them. When applying concealer, tap the concealer into the skin. Do not rub it with your finger.
Apply a base coat over your face. Foundation will hide any blemishes and even out your skin tone. You want people to focus on your brown eyes, not on any blemishes on your face. You can even add shimmer in the inner corner of your eyes.
Choosing the right products
There are three aspects you need to consider when you applying makeup for brown eyes. First and foremost, you need to wear the right eyeshadow. You also need the right eyeliner and the right mascara.
We'll start with the eyeshadow. As I mentioned at the beginning, brown eyes look good with almost any eyeshadow. The exception is colors that are close to brown. A few things to try: gold smoky eyes instead of dark smoky eyes (your eyes get lost). Try a neutral shade on your inner lids, and use copper shadow on the outer halves of your lids.
Next item on the menu is the eyeliner. Every single part of makeup makes a big impact. Some ideas to try: deep emerald eyeliner that makes your brown eyes stand out. You can also try lining your eyes with white eyeliner. It can be too extreme, but it really works. A more friendly option is a silver or champagne color. You get a similar look, but not that extreme.
Last, but not least, you need to pay attention to the mascara you use. Apply mascara on both the top and bottom eyelashes. Don't apply too much, as it will make your eyelashes clumpy. Don't wear brown mascara, as it will blend in with your eyes. Brown mascara is an option only if your eyes are hazel or light brown. Traditional black mascara works best, but if you like, you can try a plum shade of purple, which has a subtle difference from black.
What to wear
A lot of women underestimate the value of clothing and accessories. The same as with makeup, clothes can make your brown eyes pop. The trick is to wear clothes that will emphasize your eyes. Here are few suggestions.
Wear shades like sepia, tan, dark blue, and maroon, which create a contrast to your eyes.
Wear emerald, navy, and violet if you want to make your eyes look warmer.
If you can, find clothes that are the exact same color as your eyes. That will make them stand out even more. However, be careful with other shades of brown, as they will make your eyes fade into the background.
Last, but not least, avoid colors like baby blue, yellow, light green, light pink, and any other light hues.
In terms of accessories, wear a scarf that matches the color of your eyes. To draw more attention to the eyes, wear gold necklaces and earrings.
That being said, let's take a look at few makeup ideas for brown eyes.
Silver and black cut crease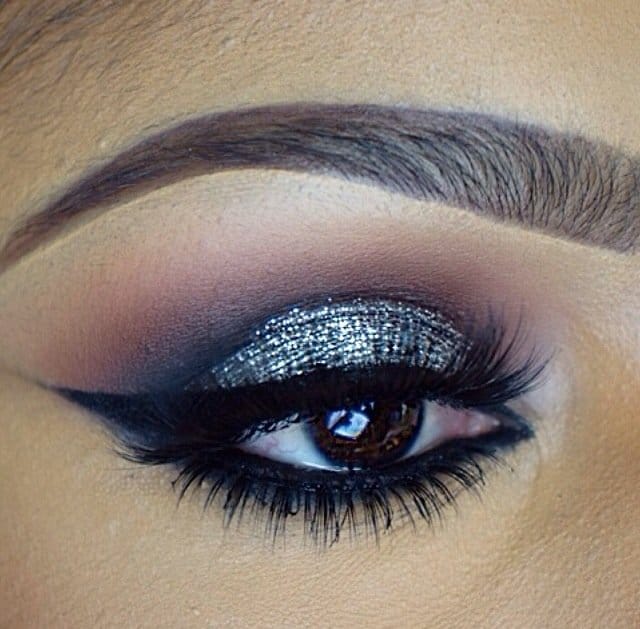 Let's start with high-drama effect, something the crease look makes possible. It will take you a little time to practice this combination. But once you get it right, you'll have one of the best looks.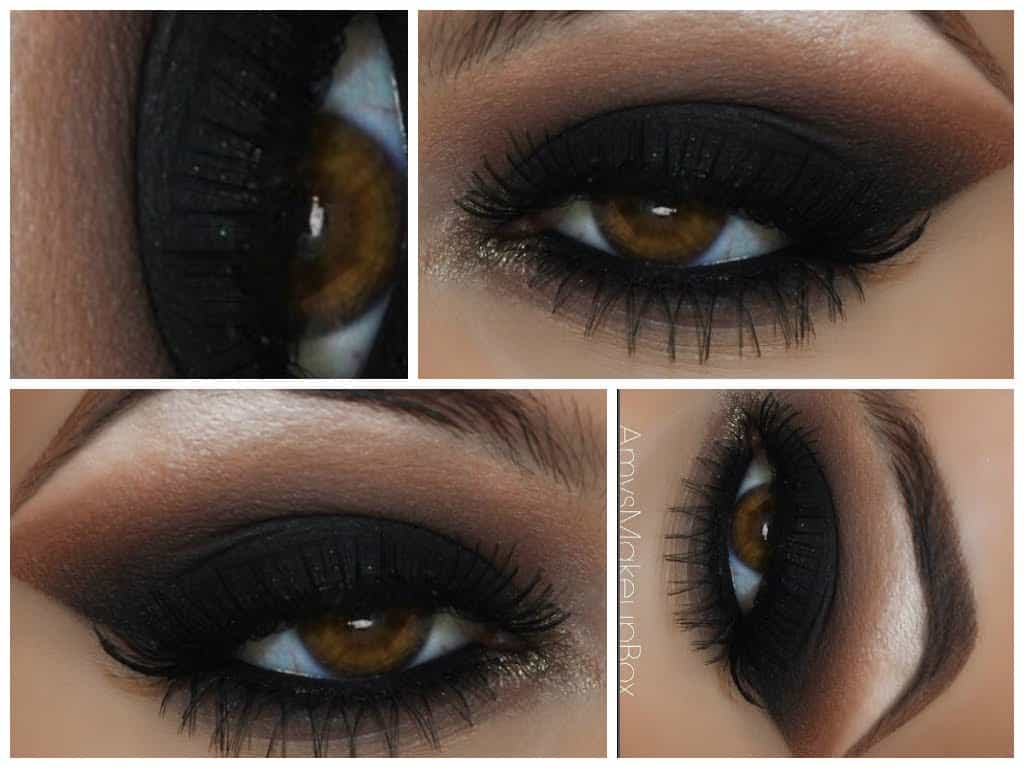 I mentioned at the beginning that gold smokey eyes might be a better option for brown eyes. But if you want seductive smokey eyes, nothing beats black. Go for a black, matte look, with just a little bit of gold in the inner corners. I said gold was great for brown eyes, didn't I?
One thing to remember: apply the eyeshadow base first to help create smooth surface.
Green glitter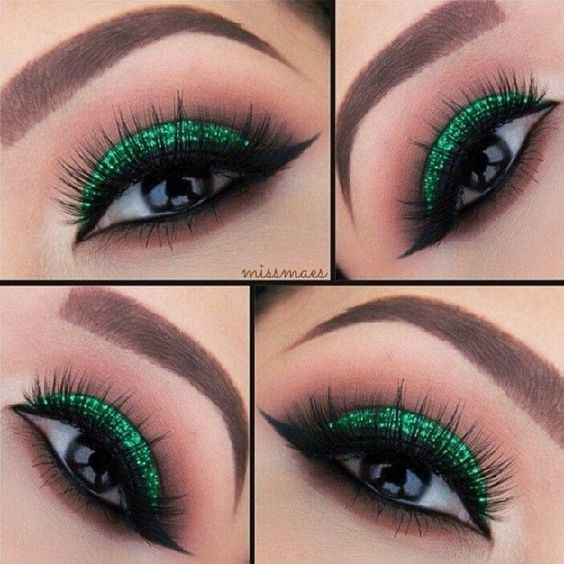 I noted that light green is not something you want on your brown eyes. But when you add green glitter, the color will look vibrant in combination with your eyes. Now, green is not a common choice. Yes, it looks "too much." However, if you want to experiment, green is a good color to start with.
Dark blue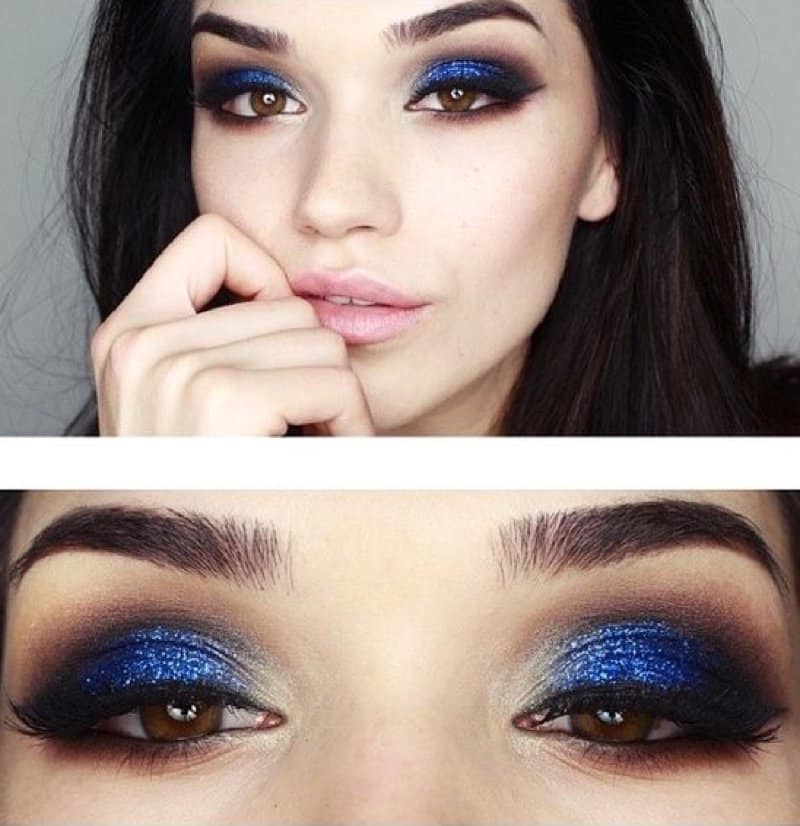 Featuring bold and dark blue eyeshadow, this look makes your brown eyes pop. Blue is a perfect contrast to brown. Blue is a "cool" color, while brown is a "warm" color. You can add turquoise glitter to highlight the inner corner to make the look even more unique.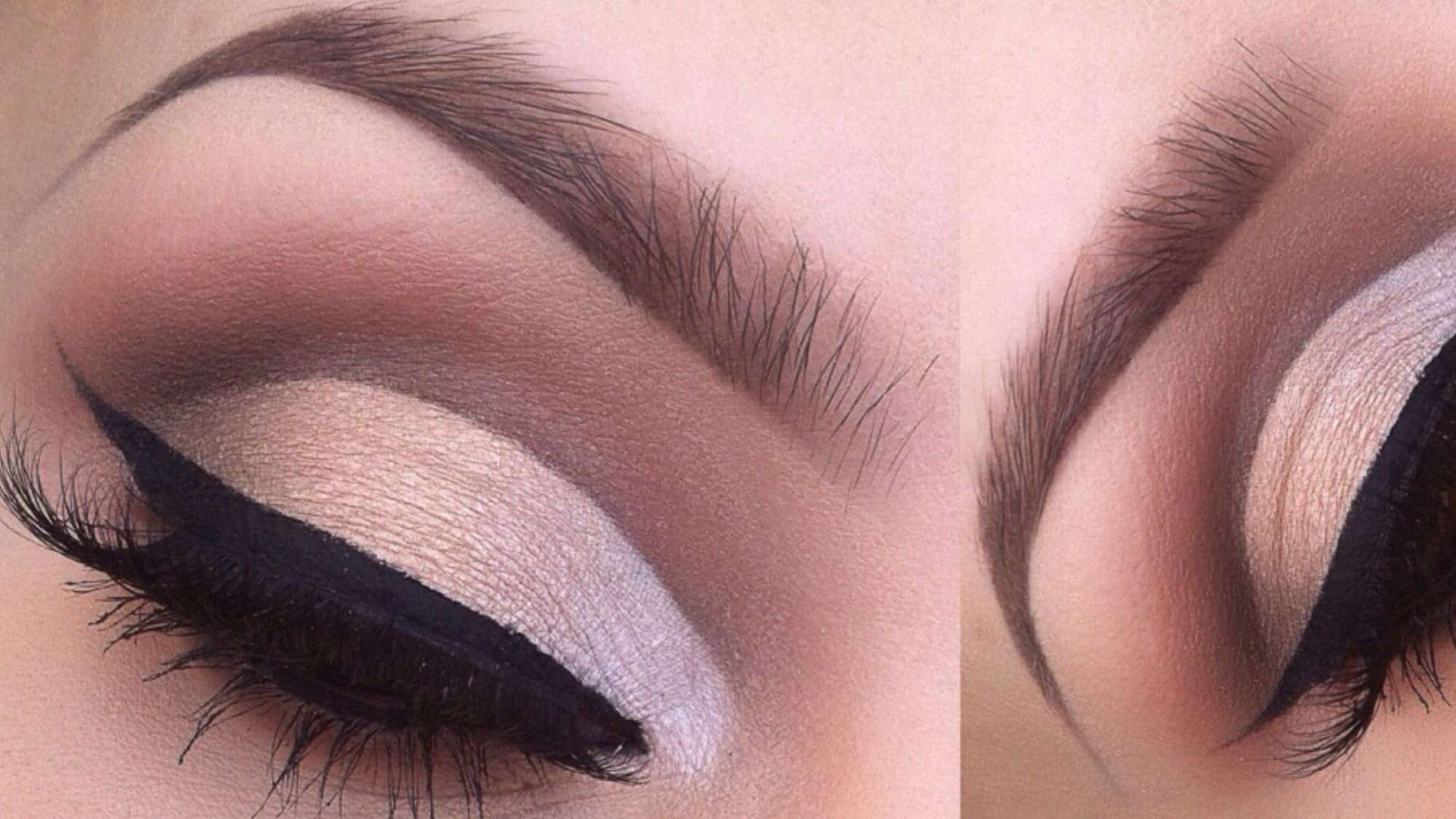 The beauty of this idea is that you can wear it during the day. The crease look has become one of the most popular makeup trends in the past several years. The biggest challenge is to apply it properly. Luckily, I have you covered with a step-by-step tutorial.
Red glitter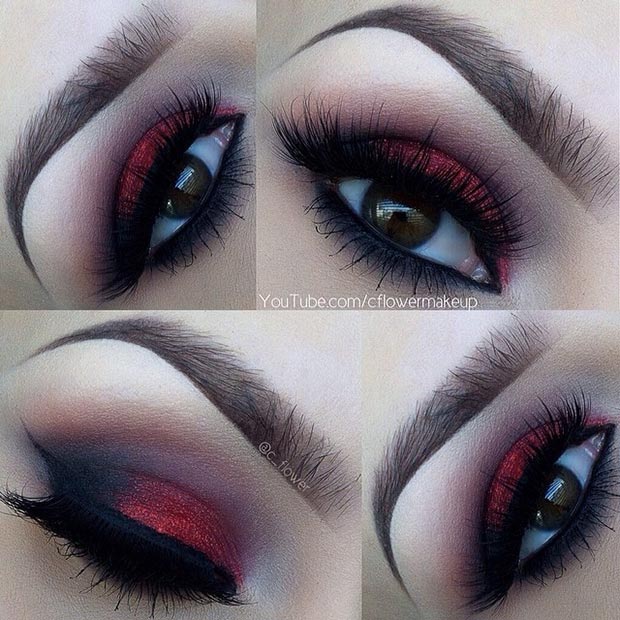 When it comes to mastering eyeshadow colors, red is one of the most challenging. When applied properly, red gives you one of the most gorgeous looks. However, it is hard getting there. The trick is to add some black eyeshadow for safety purposes.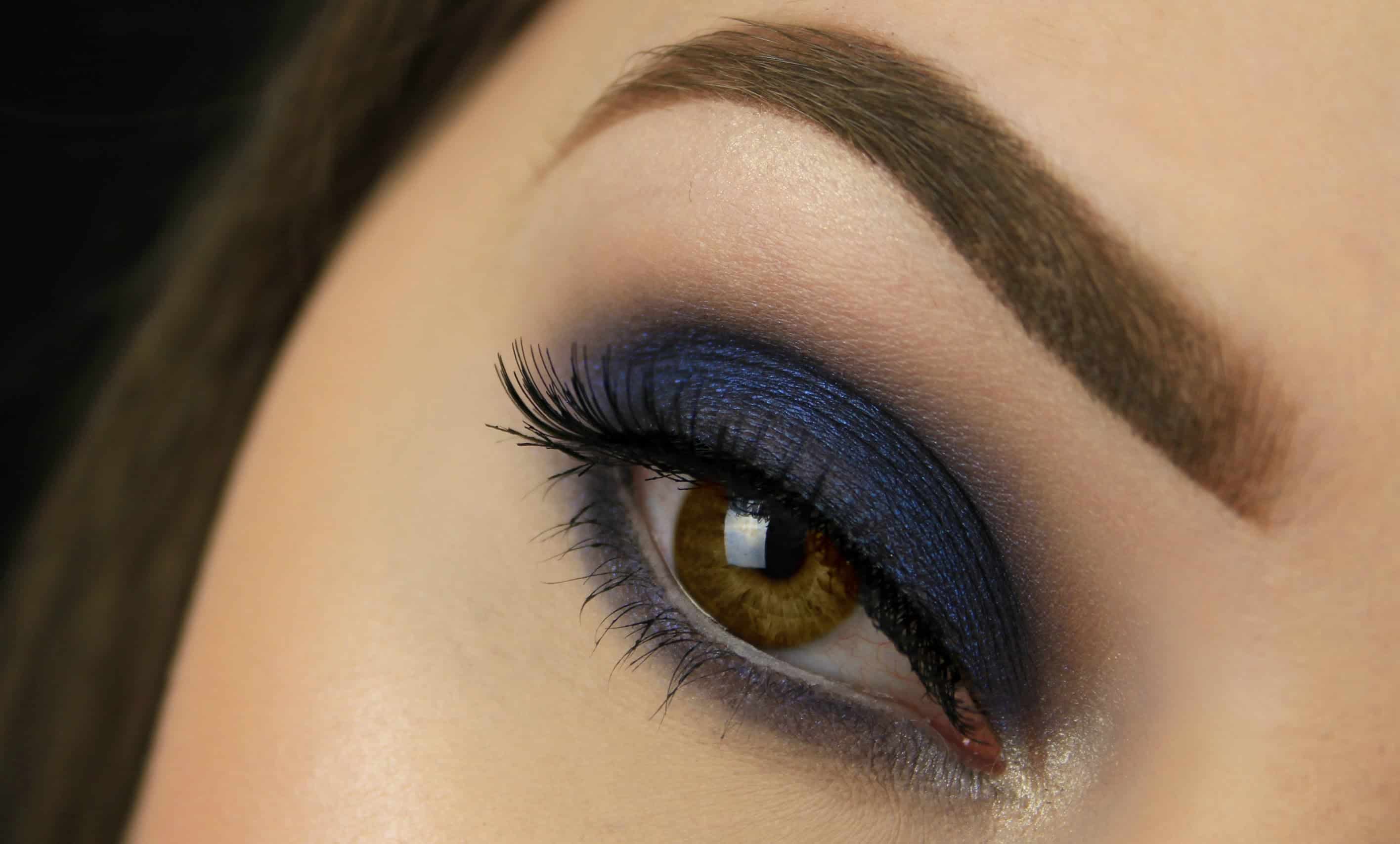 Navy blue is a color that works wonderfully with brown eyes. You can try a matte look as well. But make sure to pair the blue eyeshadow with neutral colors to offset the brightness of the blue.
Purple and neutral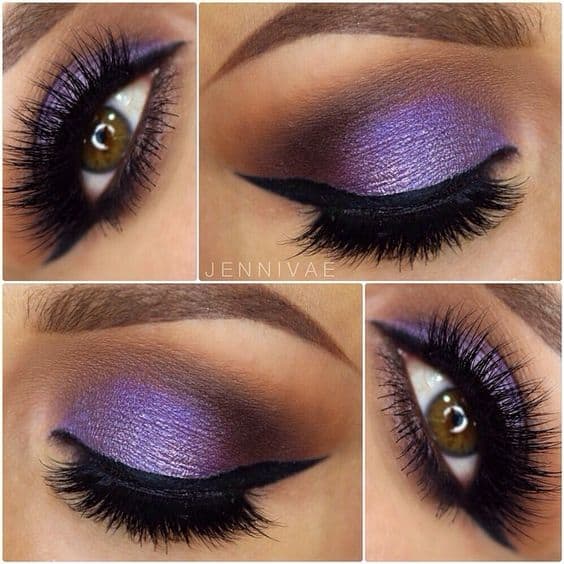 When you have a lighter shade of brown eyes, you can try lighter eyeshadow options. For example, this one utilizes purple perfectly. Pair it with a neutral eyeliner to make your eyes pop.
Purple under eyes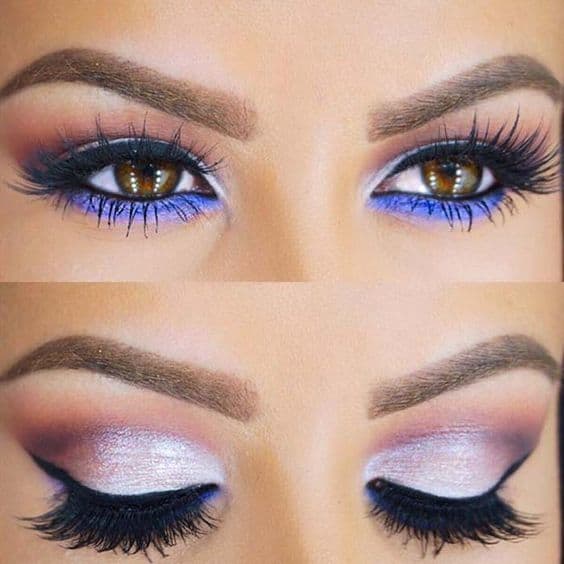 Speaking of purple, you can use the color as an eyeshadow, but also as something to apply under the eyes. The latter is perfect for a daytime look. You still get a great makeup idea for brown eyes, but it's something that's not over the top. Bright eyeshadow on the lower lash line is definitely one of the easiest and simplest ways to make your eyes pop.
Everyday neutral

Last, but not least, I want to give you some makeup ideas for brown eyes for an everyday look. If you are in search for a look that screams "effortless," this is the one to try.