When you have green eyes, the range of colors and makeup ideas is pretty much endless. You can try almost any color, and you'll still look great. Some women opt for bold eyeshadow colors for green eye makeup, while others opt for more vibrant liquid liners. But there's no limit to what you can try. For inspiration, you can always look at celebrities like Rihanna, Emma Stone, and Kristen Stewart. All of these girls have green eyes, and all of them constantly experiment with their makeup.
Before we get to the green eye makeup ideas, I have to tell you one thing many people forget. There are three common shades of green eyes, and all of them require different makeup. Sephora classifies green eyes in these categories: true green, hazel green, and golden green. The first one is the rarest green eye color, with hues of light and dark green. Hazel green has hues of green with a little gold and brown, while golden green has hues of green with gold and yellow. That being said, let's take a look at several green eye makeup ideas.
And one thing that has nothing to do with the eye makeup. Green eyes work wonderfully with red, pink and violet lipstick, giving you a contrast to the soft eye makeup.
Purple eyeshadow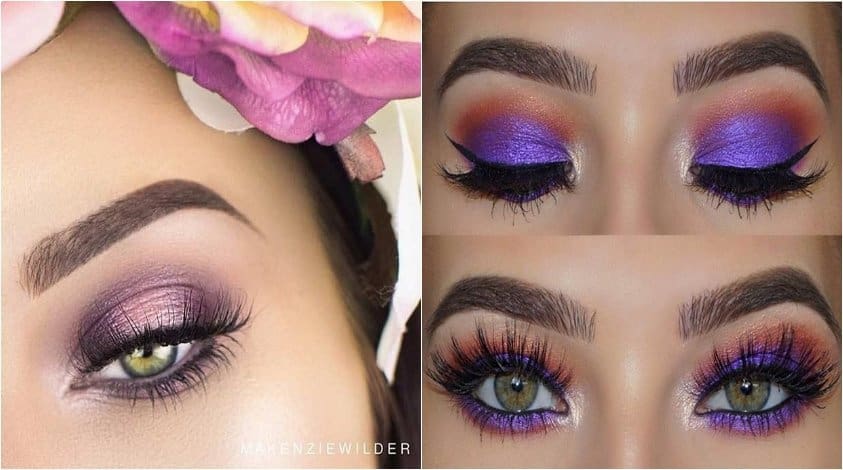 Makeup artists will tell you that purple is one of their favorite colors to use with green eyes. You can try both purple eyeshadow and purple eyeliner. For this makeup, smudge purple pencil around the eyes, and then top it with an eyeshadow in the same color range. Purple creates the best contrast against green eyes. And if you have olive skin tones, the makeup is that much better.
Smokey gray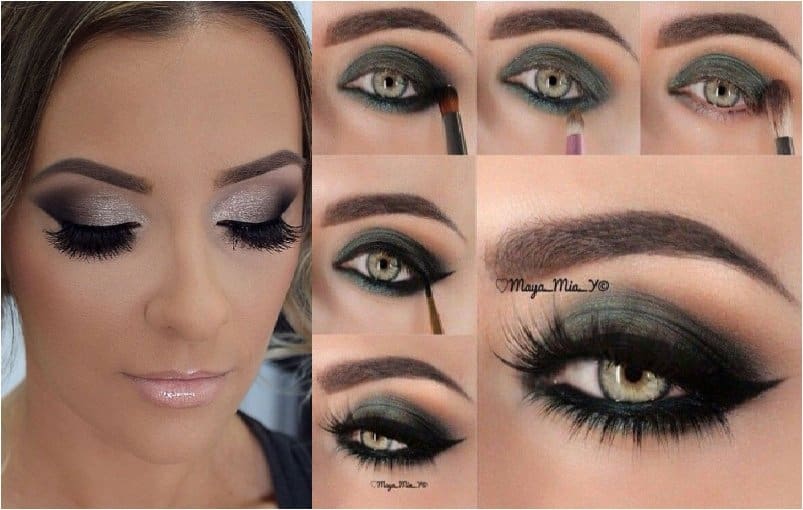 When you think of smokey eyes, dark brown and black are the common options. For green eyes though, gray is a much better choice. As with purple eyeshadow, gray tones look incredible against green eyes. Just don't mistake silver for gray, as gray stands out much better. So make sure to try deeper, matte gray shadows, not silver ones.
Black eyeliner
This look is simple, yet very effective. You might wonder what you can do with just a black liquid eyeliner. Well, a lot, to be fair. Black is a staple for every eye color, but when you combine it with green, it looks outstanding. You get that alluring gaze you always wanted. Think of it this way: black is a no-brainer for green eyes. For this simple green eye makeup, just add black eyeliner on the top lid and a bit of wing at the end. You'll get the classic Sophia Loren look.
Gold shadow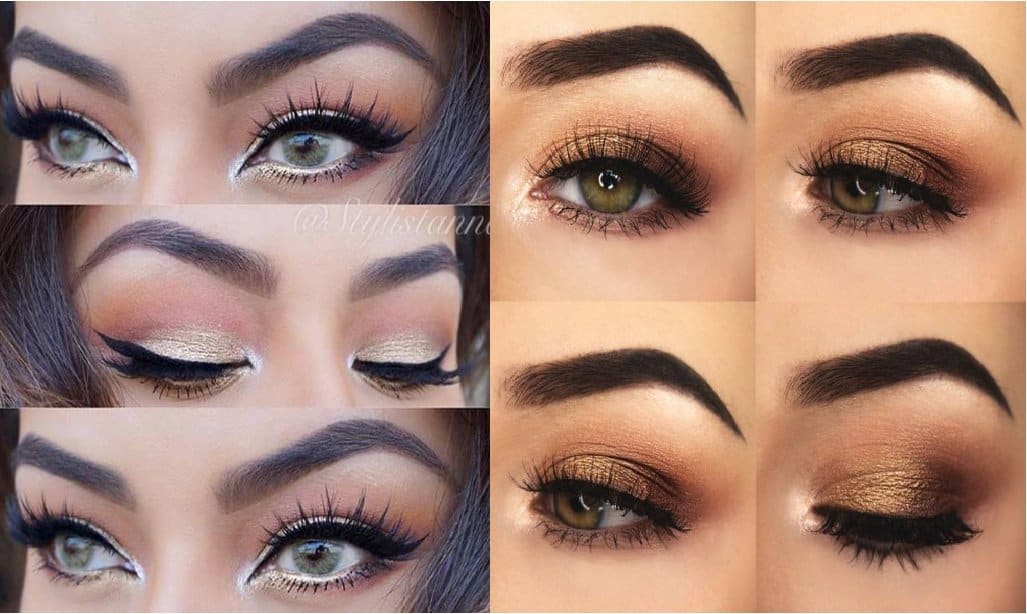 I mentioned at the beginning that Sephora teaches us that some of the green eye types are golden green eyes. And in that spirit, gold eyeshadow works wonderfully with green eyes. Most green eyes have a fleck of gold in them. Using gold eye shadow will emphasize and bring out those hues for a flattering look. Antique gold is the best hue you can get. Combine it with lots of mascara for a serious, dramatic look. Gold shadow works better with light green eyes, but you can try darker-toned eye shadows as well.
Deep brown eyeliner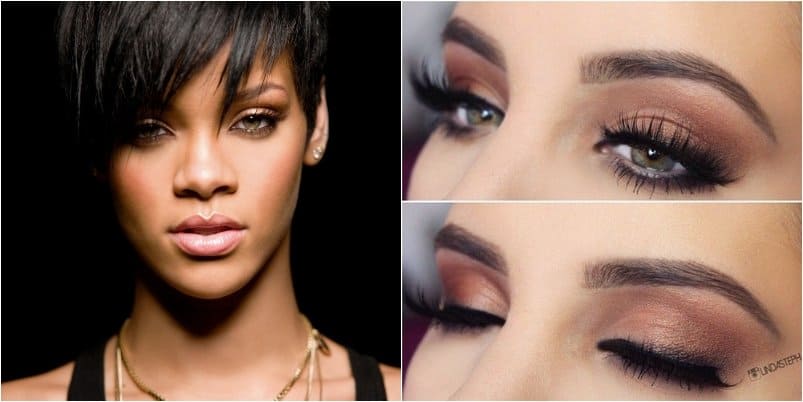 This is the classic Rhianna look. When you opt for brown eyeshadow, you can soften any makeup look. That's why brown is the perfect go-to shade for a subtle, yet gorgeous, look. Brown is not too harsh, making it great for daytime and casual events. When you opt for brown eyeliner and eyeshadow, make sure to blend and smudge them for a subtle effect. If you want the classic Rhianna look, apply a deep taupe shadow, and then finish it off with brown eyeliner.
Glittery blue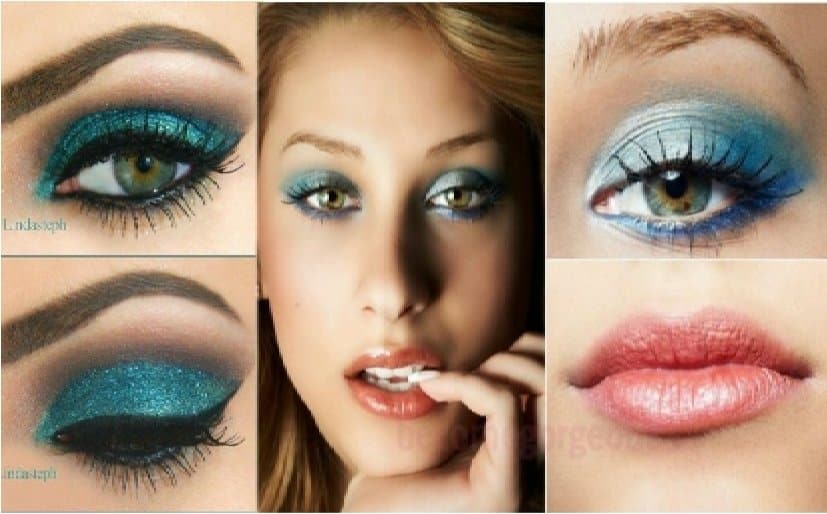 Blue shadow frames the eye with a deep, rich color. Thanks to the blue glitter, your green eyes will pop even more. Just make sure to use a dark, glittery blue color.
Orange eyeliner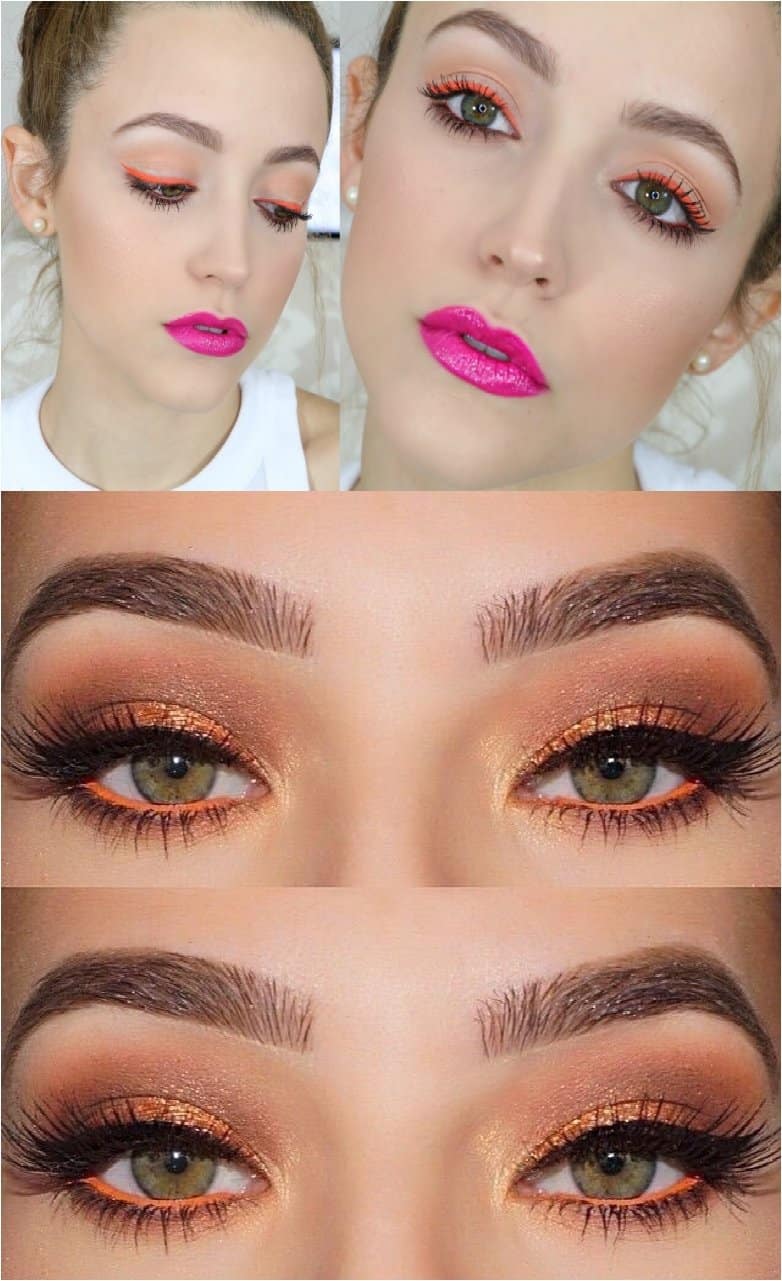 Sometimes, you just want to experiment with unconventional colors, and orange is one of them. But don't worry. The orange eyeliner is an ingenious way to feature your green eyes. Orange is a contrasting color to green, making this a perfect match. You can wear this combination during spring and summer for a fresh, cool look.
Iridescent purple and blue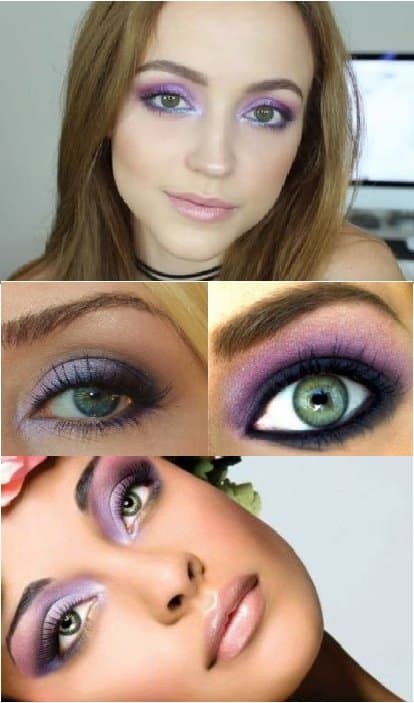 I said previously that purple on green eyes is perfect. Purple brings out the deep green tones. At the same time, purple makes your eyes stand out. Combine that with some blue, and you have fresh and beautiful look.
Warm red eyeshadow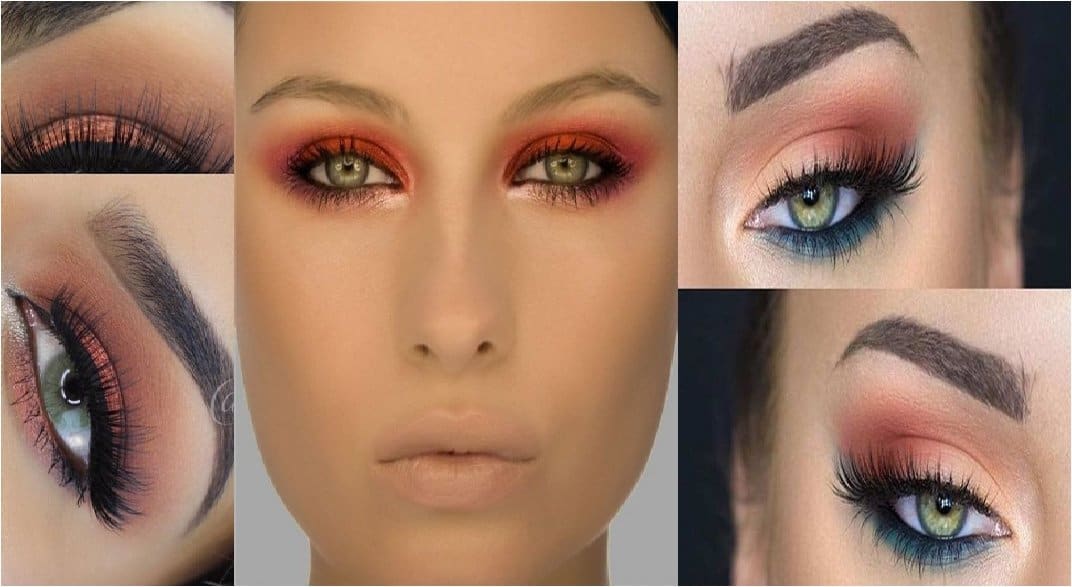 Reddish-hued colors are often underrated when it comes to green eye makeup. Brownish-red makes your green eyes look astonishing, adding a warmer shade. Red hues bring out the warmth of your green eyes in general.
Emerald green eyeshadow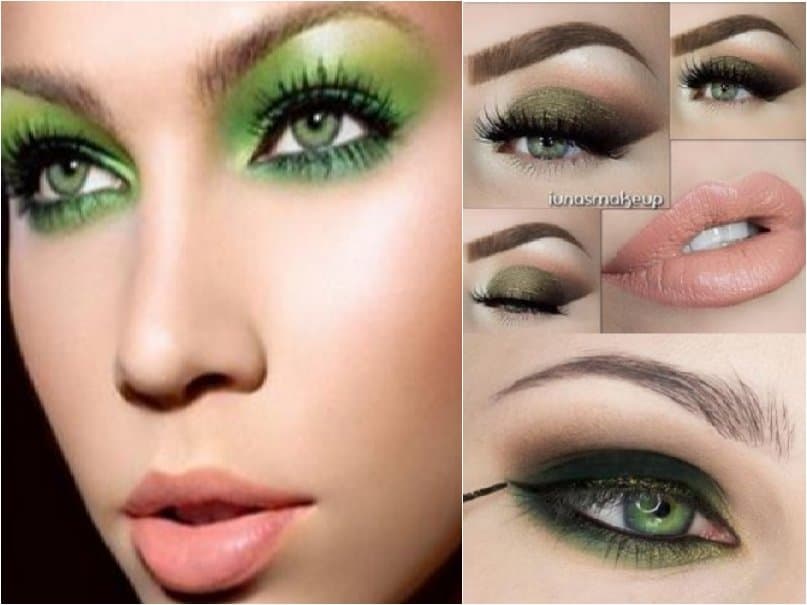 Some people will tell you that green and green is simply not a good idea—that your eyes might be lost in the eyeshadow. But, they couldn't be more wrong. The trick is to use a different hue for a perfect monochromatic look. Emerald green is a perfect spring makeup idea for a playful look.
Black and gold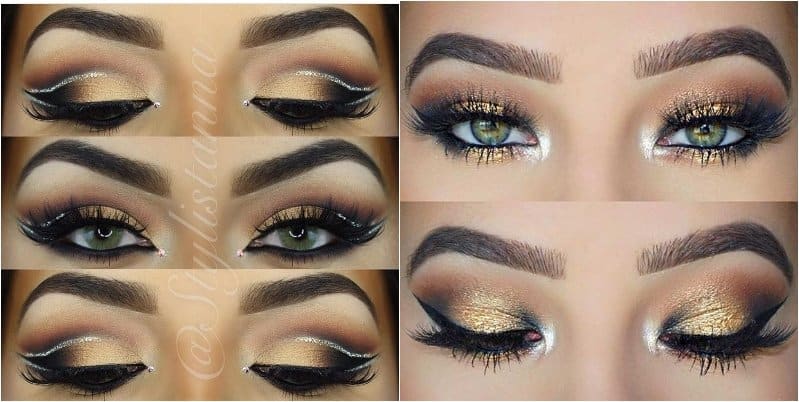 One of the classic makeup ideas for green eyes is black and gold. They deliver a shimmering result, making your eyes look phenomenal. To finish off the makeup idea, use the same gold eyeshadow on your waterline. Top it off with white cream in the corner.
Just one thing to remember: avoid silver in this scenario. If you want to add a metallic shade to this look, opt for copper or bronze tones.
Purple glamorous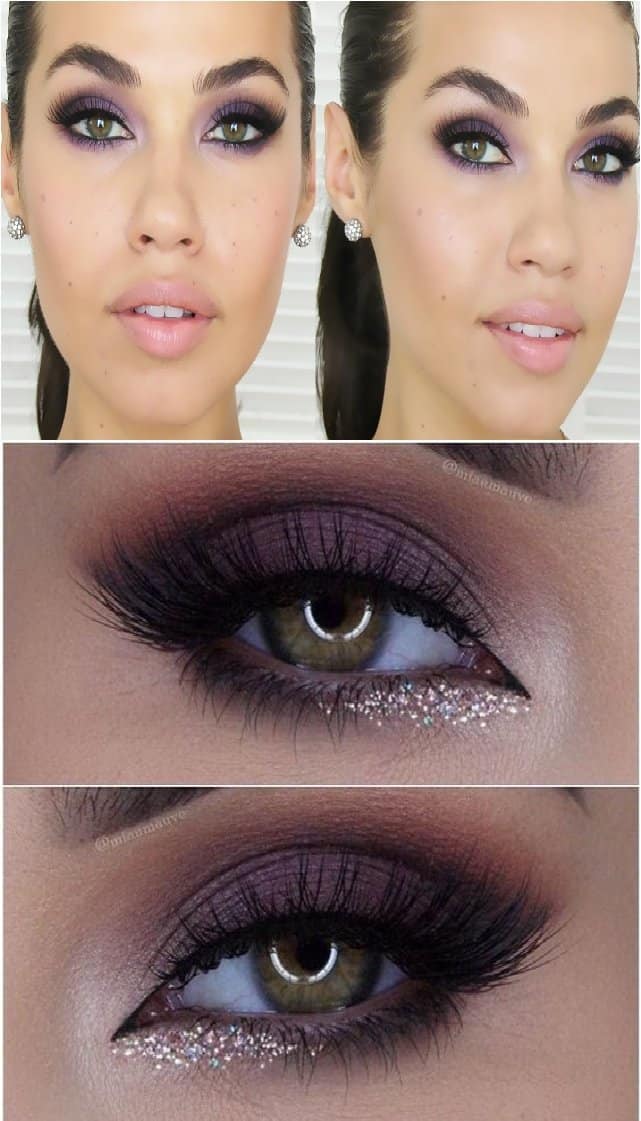 I just can't help but get to the purple-green pairing once more. For this glamorous look, add purple shadow to your eyelid. Then, add a deeper purple above it, topping it off with white at the corner of your eye. You can add a bit of sparkle to the lilac shade. For an even more glamorous look, finish off with black mascara. You will look both charismatic and glamorous.
Smokey eyes and glitter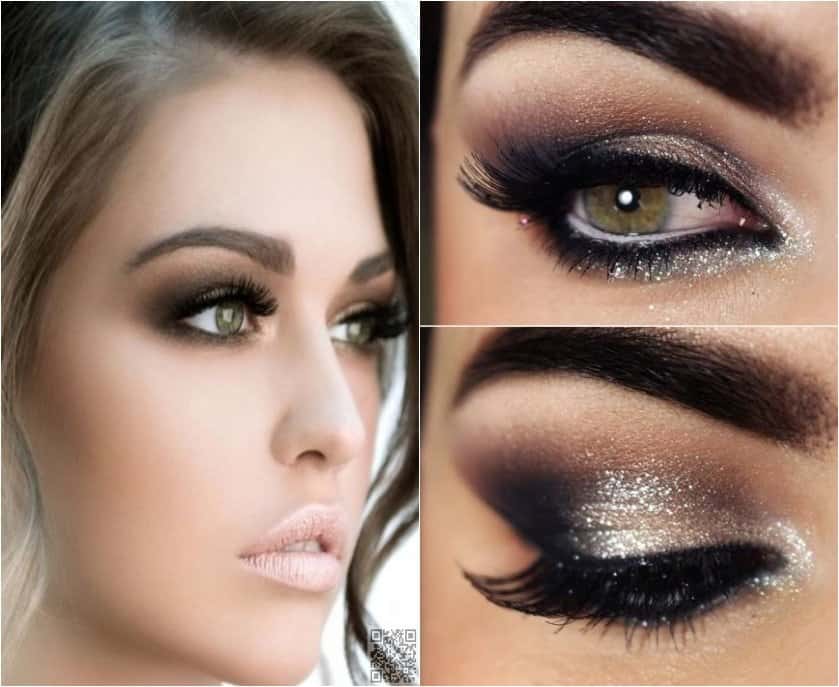 We finish off the list with a classic, smokey eyes makeup idea. Glitter works wonderfully with smokey eyes for a sexy look. Add glitter under the eye for a mysterious feel. Being that smokey, green eye makeup is neutral, use red lipstick for a sexy look.
How green are your green eyes?
As I mentioned at the beginning, there are three green eye types. According to Sephora, all of them require different makeup. Here is what you should do if you want to follow Sephora's guidelines for green eye makeup.
True green eyes
When you have true green eyes, you can say you are blessed. They look the most spectacular, and they work best with rich red tones to make them stand out. Or you can opt for a soft, gentle look with pink shadows. Make sure to add mascara with long bristles to make your green eyes look even greener.
Golden green eyes
The lightness of golden green eyes demands contrast. In that spirit, the smokey eye effect works best to give your eyes depth. Wine and lavender shadows are perfect if you want to avoid the classic black smokey eyes. Just don't forget to add black eyeliner in the waterline for definition.