If you've been following me for a while, you know I am a fan of recycling and reusing stuff. And another favorite of mine is DIY projects. Usually, I give you interior design DIY projects, cooking projects, etc., but it is time for me to be a girly girl, and get on with fashion.
We all love our T-shirts. We love some more, and some less. But one thing I've noticed is that we rarely, if ever, throw away T-shirts. We always think "what if I need it one day?" Well, the reality is that you rarely need that particular T-shirt. So, with that being said, I want to show you that even the old T-shirt can look like a shiny new one, and even more fashionable.
How, you ask? Simply by upgrading it with your sewing and fashion skills. Let's take a look at some of the modifications I have in mind.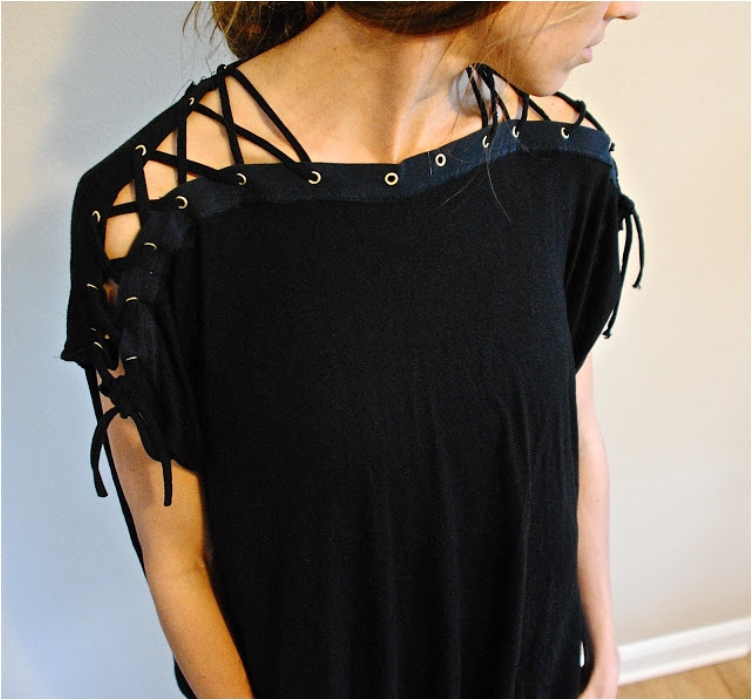 You can use any old simple, black T-shirt you have in your closet. I am sure you have one of those hanging around. Just cut the upper section, and then sew laces on it. I've seen people use some metal as well, trying to follow the metal trend that's been around for a few years.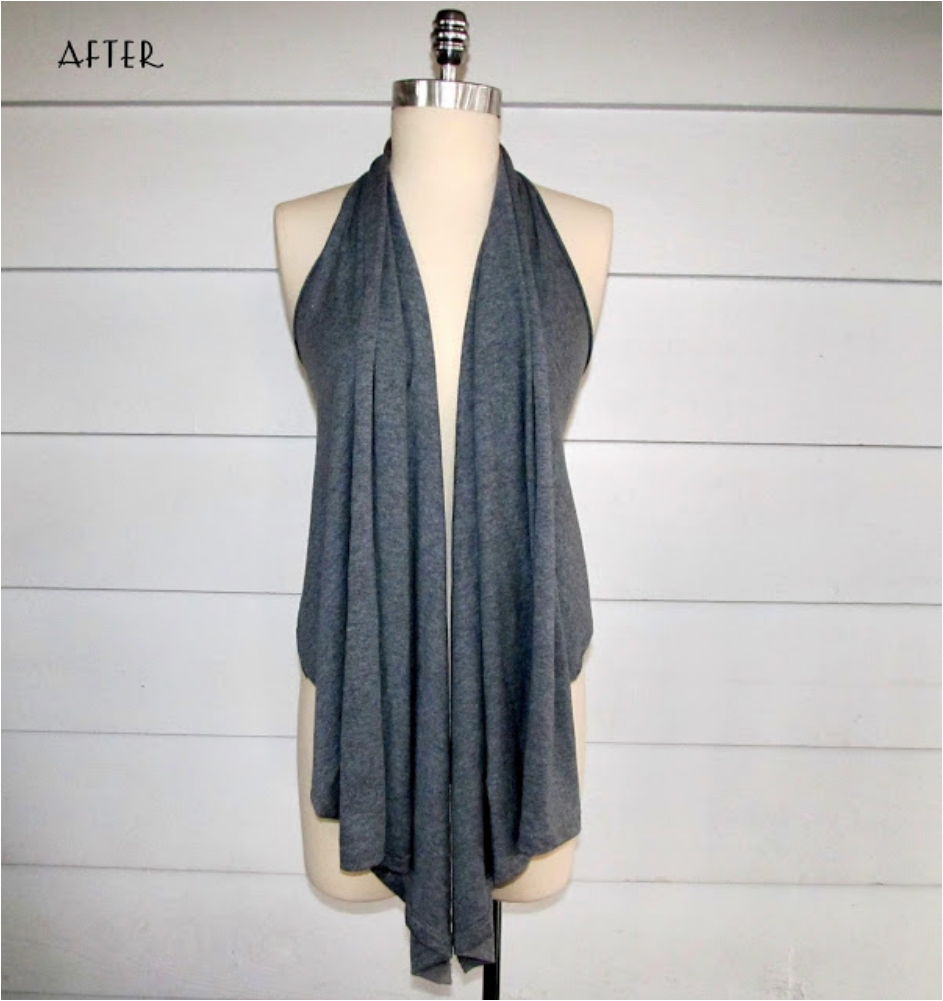 Draped vests have been another huge trend in fashion over the past few years. For the neutral fall and spring days, you need something to cover up. And vests come in handy, because they make you feel warm enough to go out.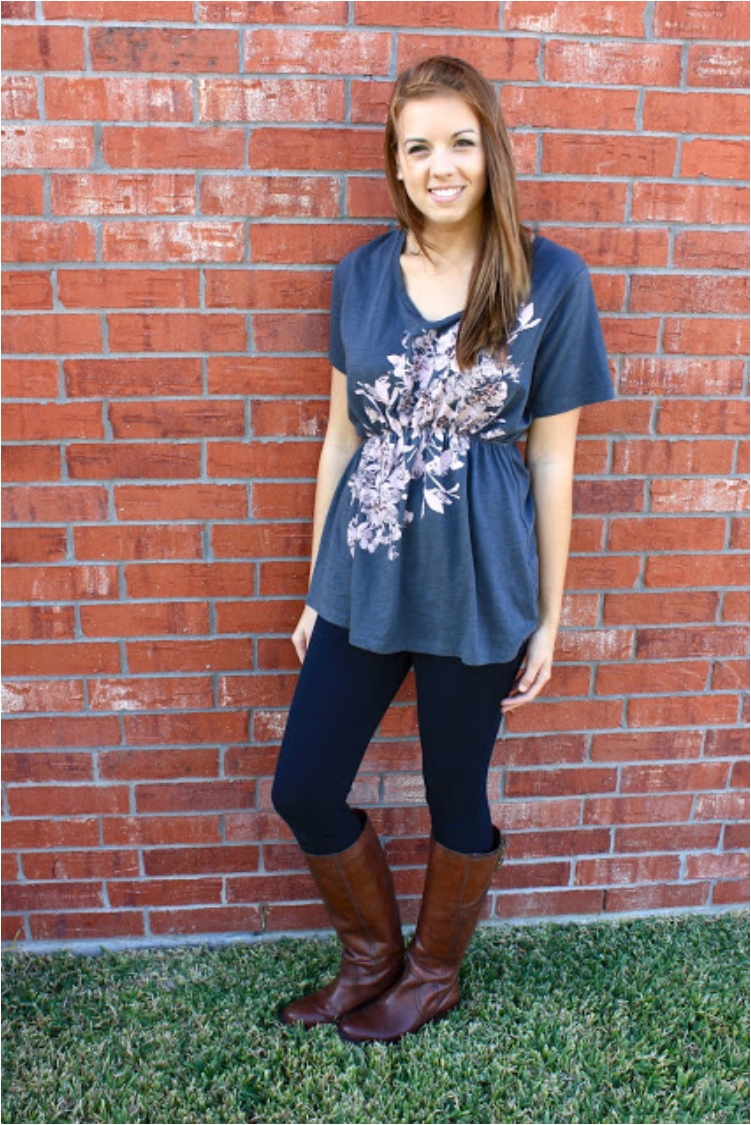 The best part is that you can use oversized T-shirts. And we all know that when the sale hits, oversized shirts are usually the ones left standing. Grab those oversized shirts, and make yourself a new and shiny tunic.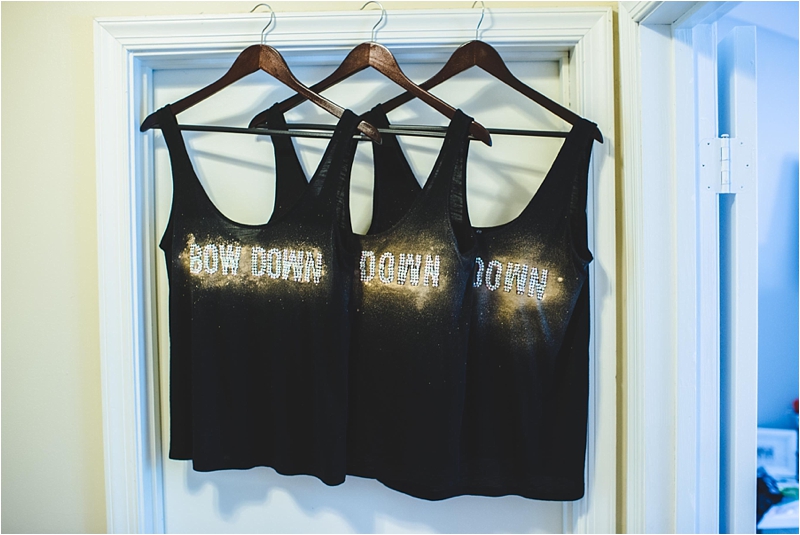 If celebrities can do it, why can't you? I've seen many celebrities with sprayed T-shirts. I don't know if they bought them like that or they sprayed them themselves. But I know for sure that you can spray a simple black tee and make it sexy.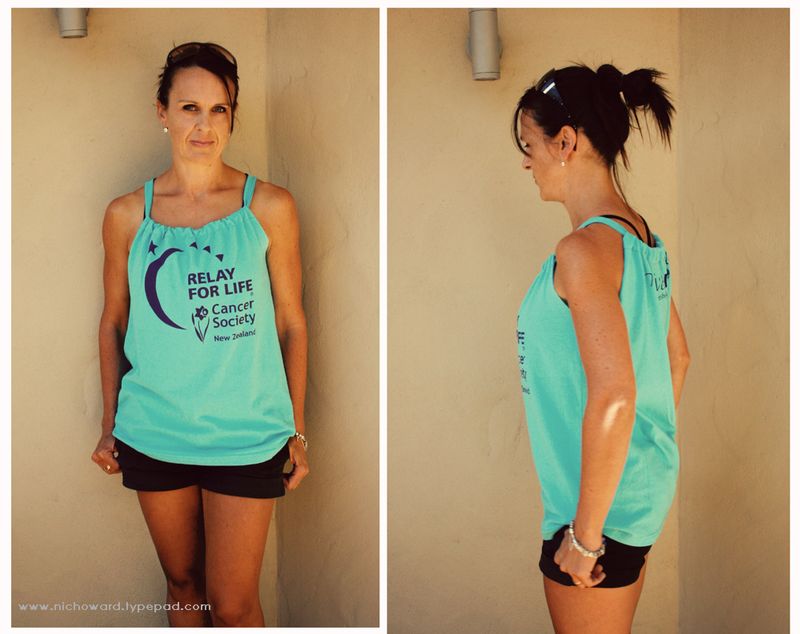 We all have those shirts with sleeves at home that are just hard to wear with pants or skirts. Well, I have the solution. And it comes in the form of a strapped top. All you need to do is cut the sleeves and work your magic.
The tunic top is the summer trend you'll love. It has been one of the hottest trends for few years now, and it's time for you to jump on the bandwagon. Even if you don't own a tunic top, I am sure you can make one.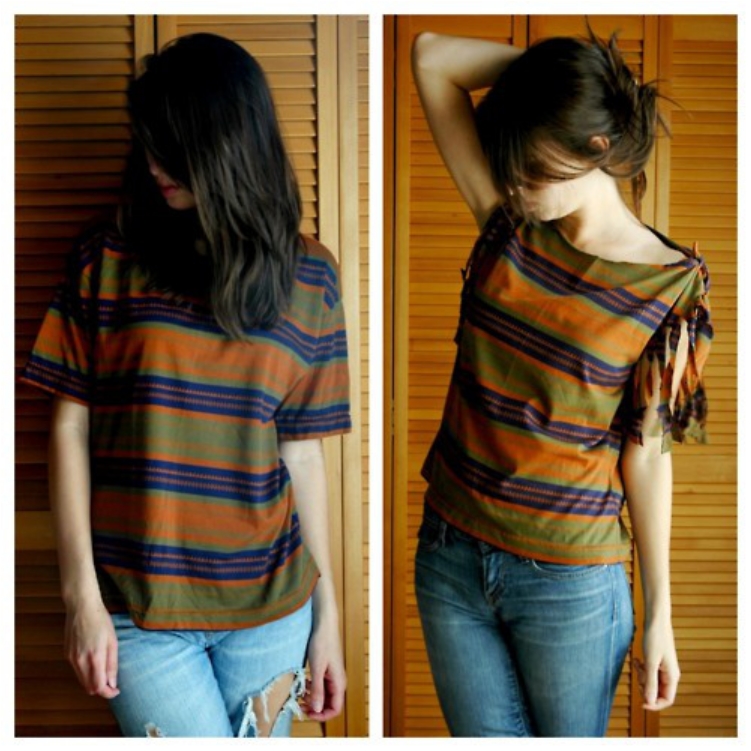 Be honest, the left picture looks boring, doesn't it? The right one, on the other hand, looks unique, chic, and sexy. You want to know how much time you need to make it happen? A little less than 20 minutes!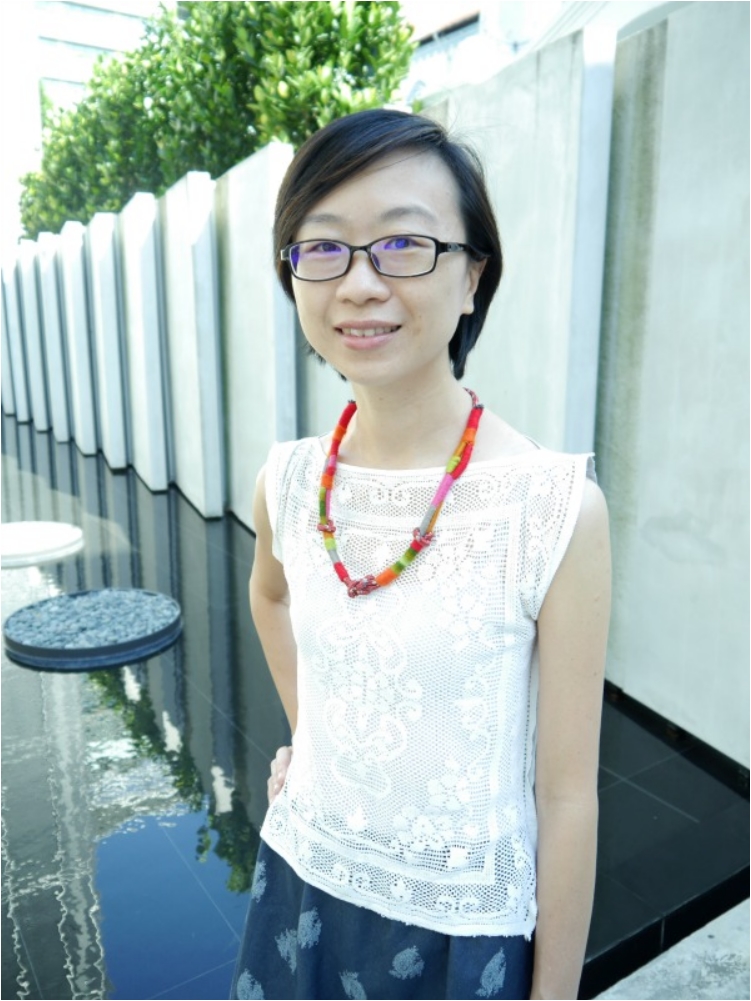 Lace is one of those trends that never goes out of fashion. Lace can look sexy, sophisticated and smart. So, what are you waiting for? I'm sure you have some lace at home that you can use to make a brand new T-shirt.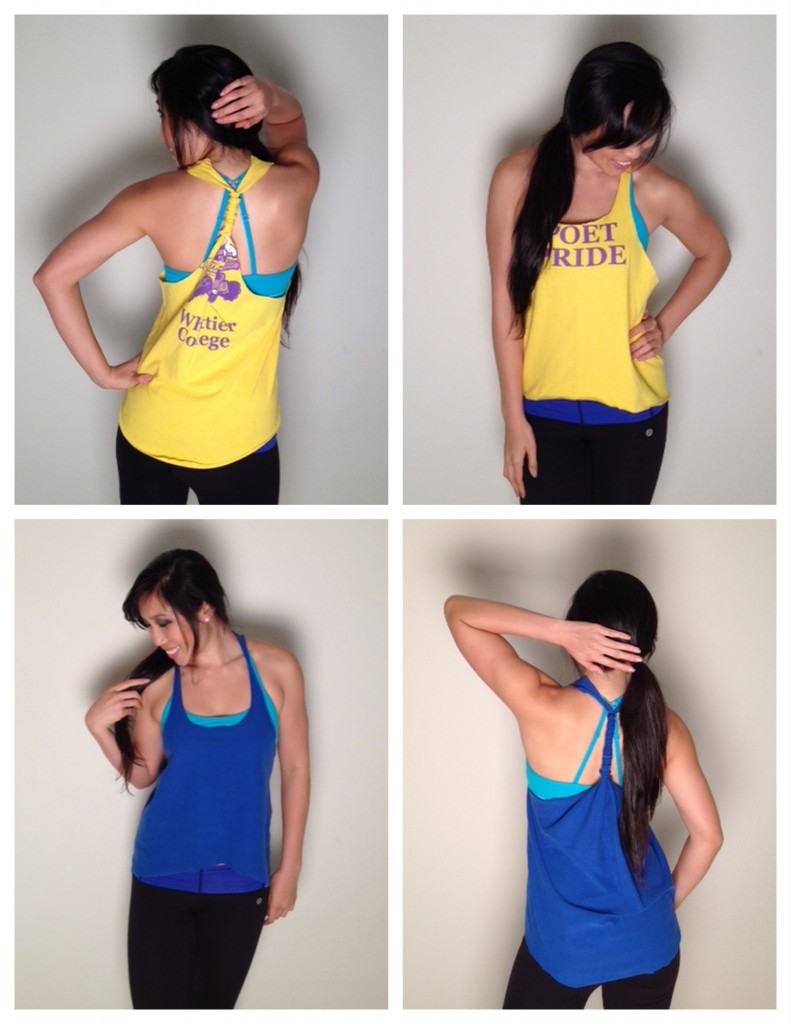 You've started to work out, and you need a sexy and fun shirt. You don't want to look boring and dull when you sweat your butt off, right? Don't worry, I can help you transform an old tee into a workout shirt that boys will love.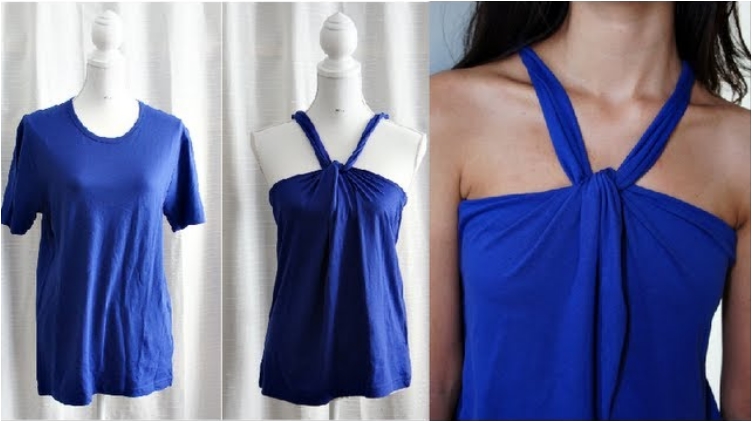 The best part about this shirt is that you need zero sewing. I know some of you have trouble sewing, as it is a skill not many have mastered. But thankfully, there is something even for the clumsy among us.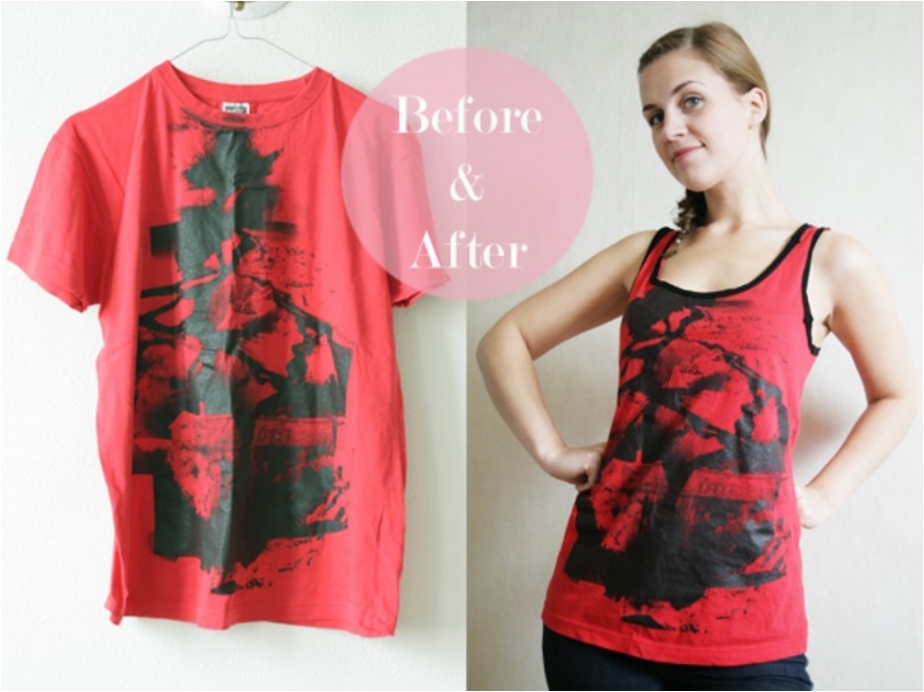 There is no wrong and right time for working out. I know you are probably wondering why you need a workout shirt when the summer is over. Well, with that attitude, you won't be looking sexy next year at the beach!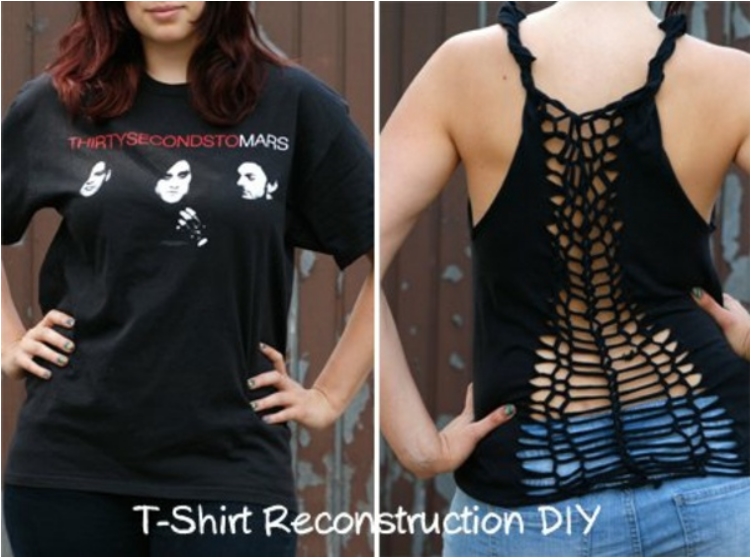 Shirts with music bands tend to be kind of big and voluminous. And that is one of the reasons why girls don't wear them too often. Not all of us want a shirt that is one size bigger than we need. But with this trick, you can make the shirt look slim and streamlined on you.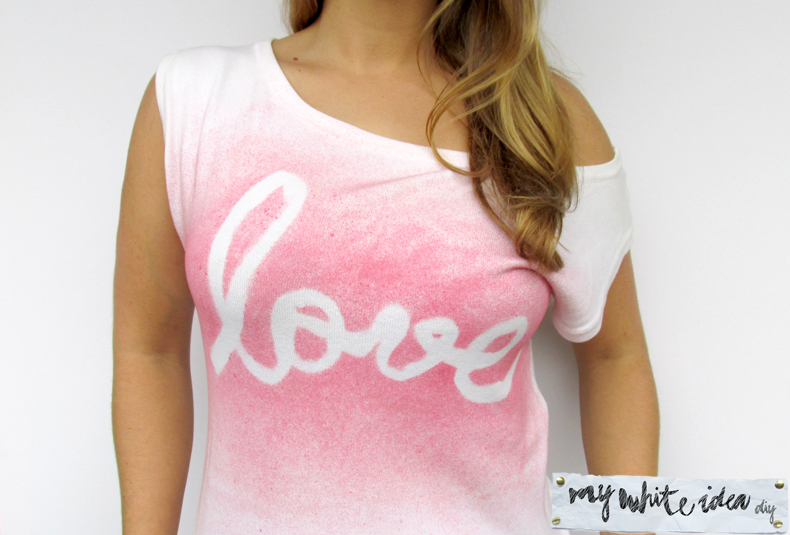 We've already talked about spraying your shirt. There are many ways to do it, and you can do it on a white tee as well as on a black one. It really comes down to what you like to spray. The sky is the limit, as well as your creativity.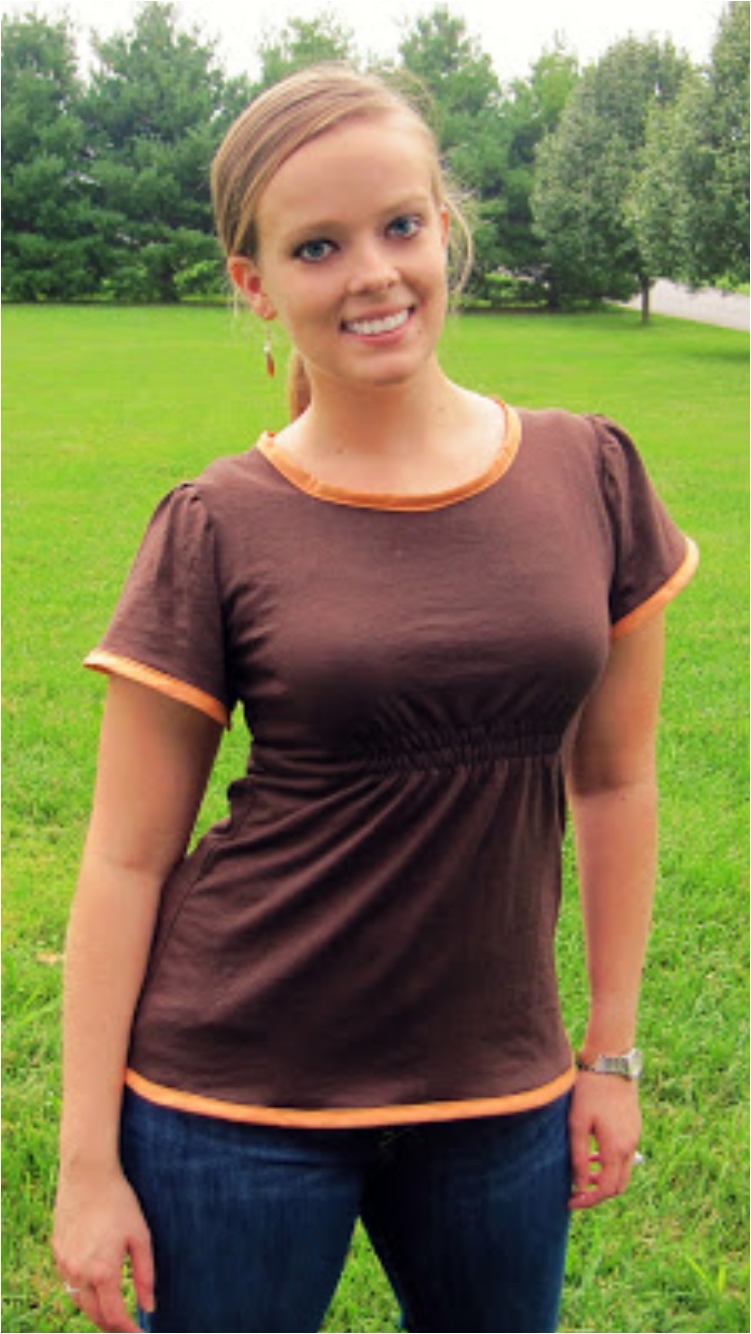 As you've noticed by now, many of the shirts we are recycling are actually a size larger than what we need. We lose weight, and when we do, our shirts are too big. The question we then ask is if we should throw these shirts away or resize them. I choose the latter.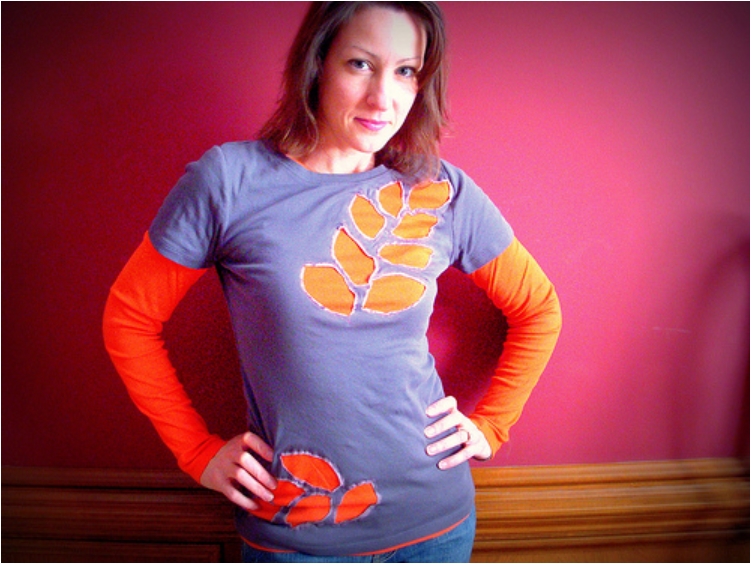 You'll need two shirts to make this happen, but in the end, you'll end up with a beautiful shirt. Let's be honest, two monochromatic shirts are boring. But one shirt with two vibrant colors is as sexy as ever.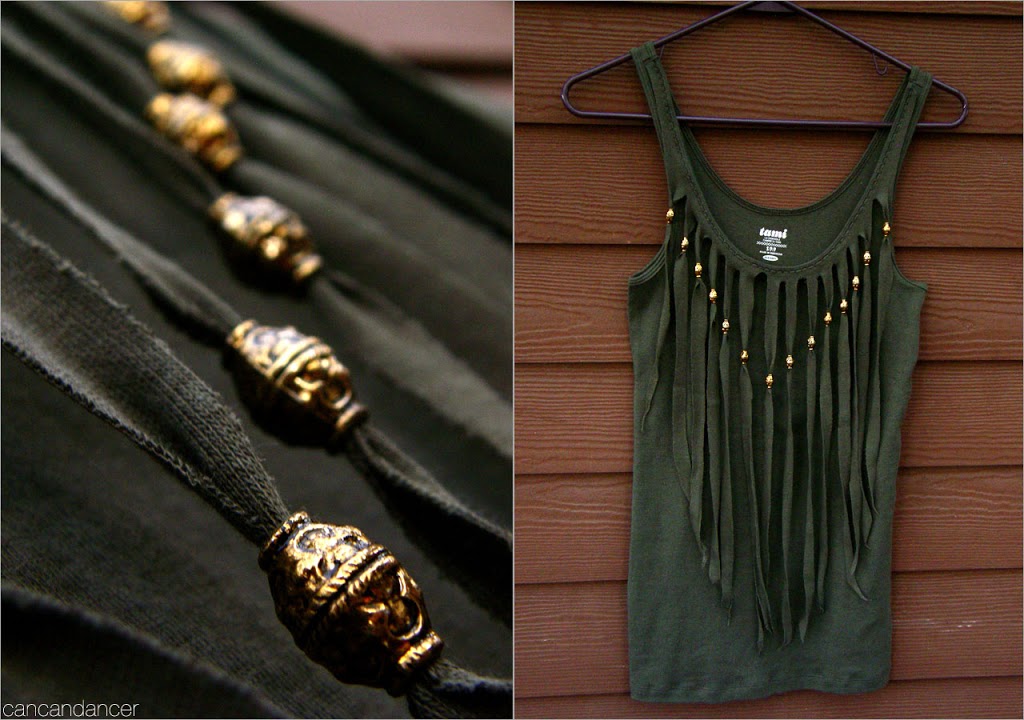 Fringe tops are really versatile in that you can go a number of ways with them. It really depends on your preferences. But I can promise you that it will take you no more than 20 minutes, no matter what you do.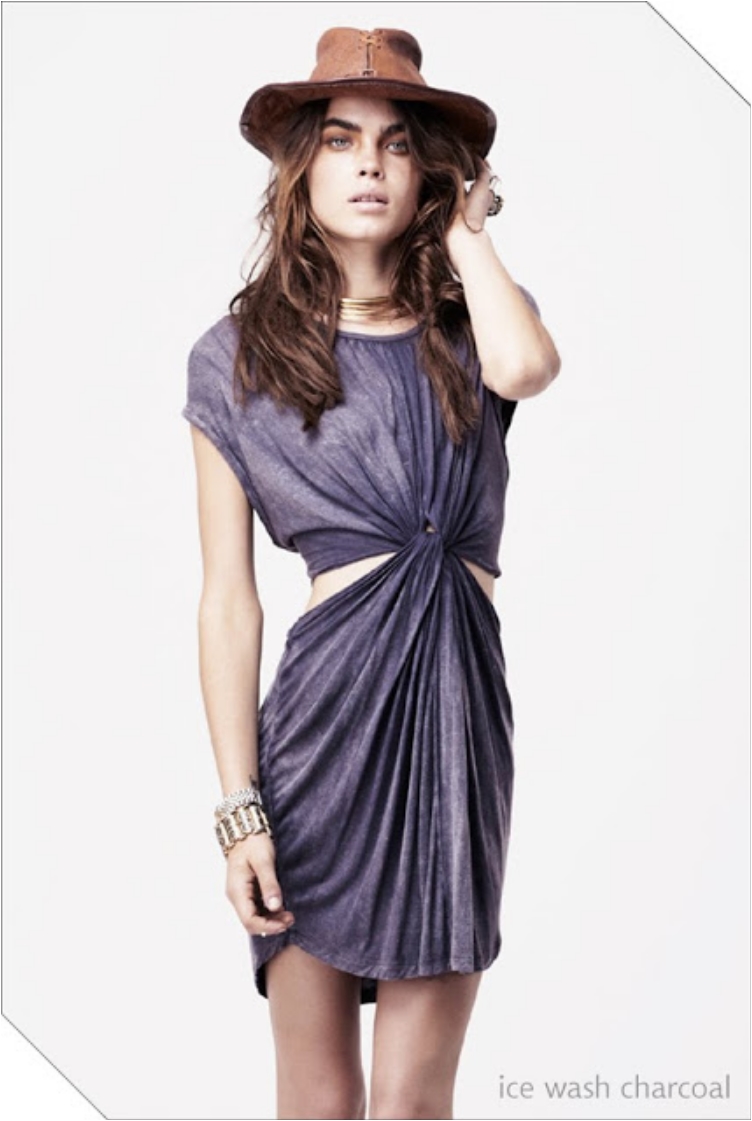 Dresses never go out of fashion, especially those with an interesting pattern and shape. And you cannot go wrong with this shakuhachi cut. I am fairly sure you'll have a harder time finding one in the store than making it yourself.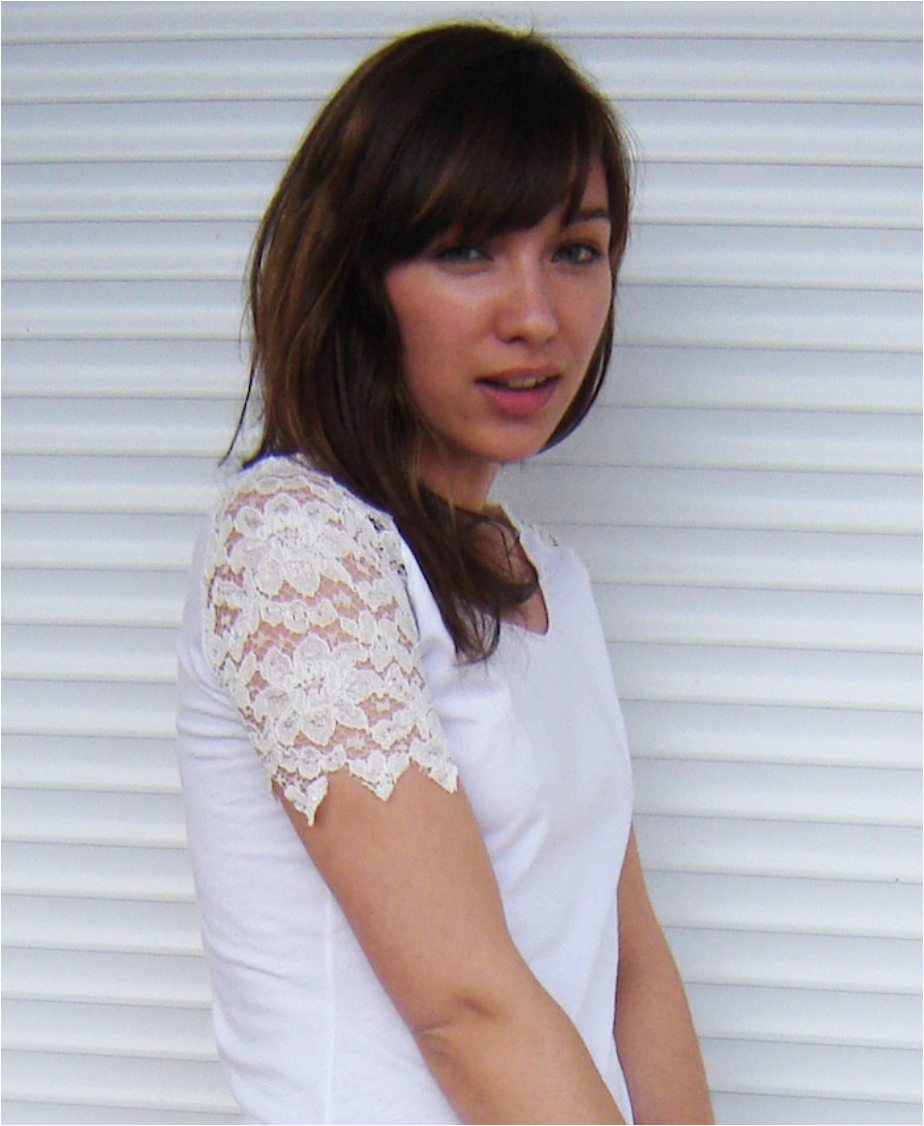 I can't tell you how many times I've walked through the stores looking for a shirt that has lace only on the sleeves. It's hard to find one. Most of them are long sleeved shirts. And very few are simple and sophisticated in the way I like them. Luckily for me, and others like me, there are tutorials that show how you can make one yourself.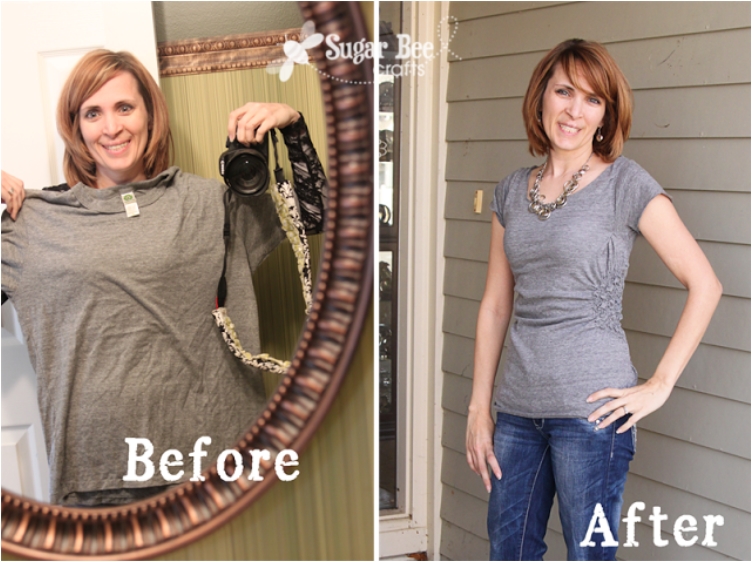 Doesn't the after picture looks sexy? You can combine it with jeans, but also with a nice skirt or leggings. Chic, elegant and sophisticated. That's the look you want.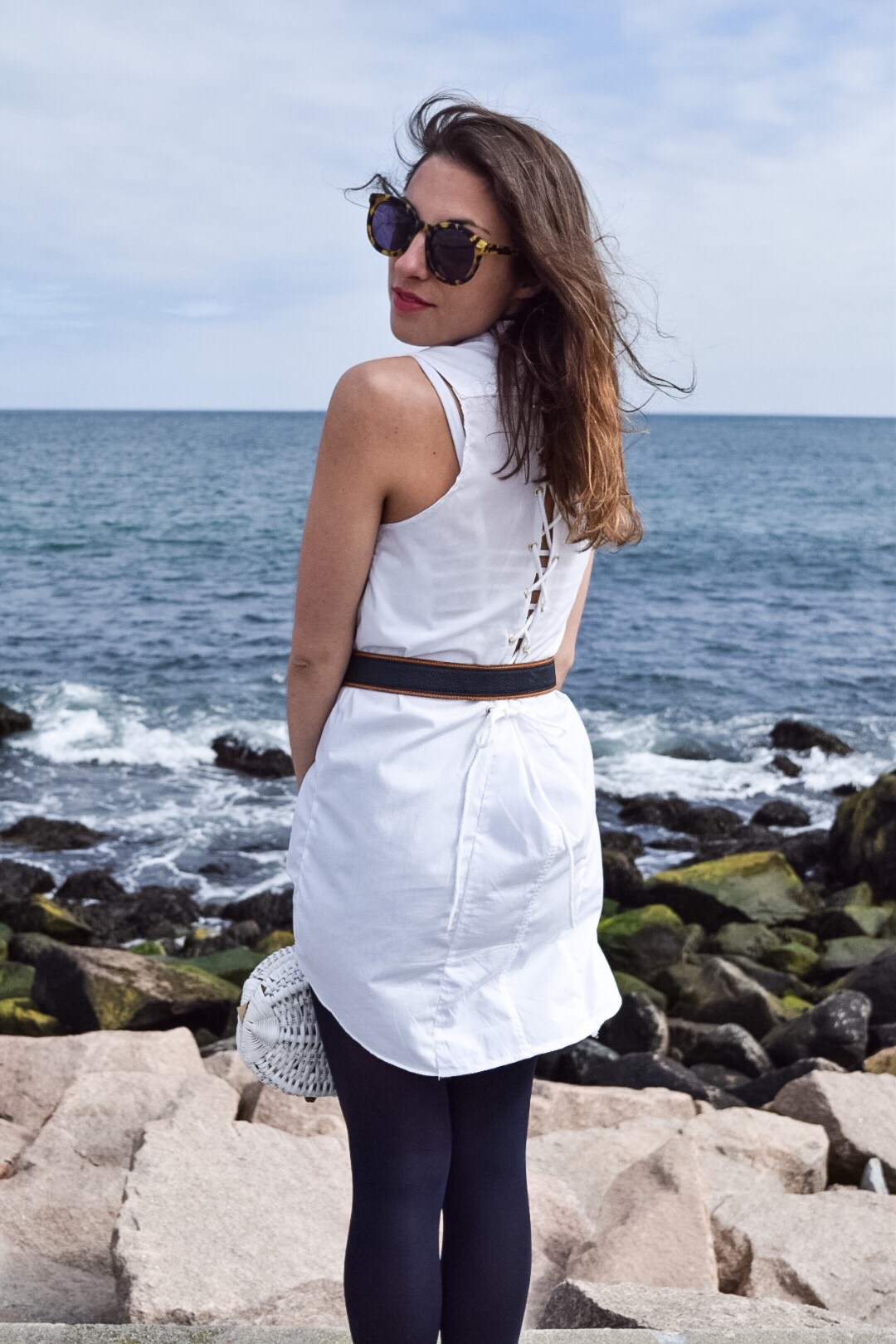 Even if you don't have a boyfriend who will lend you an Oxford shirt, you can buy one yourself. It will be cheaper to recycle one from your boyfriend, but hey. At the end of the day, you get a dress for the price of a shirt.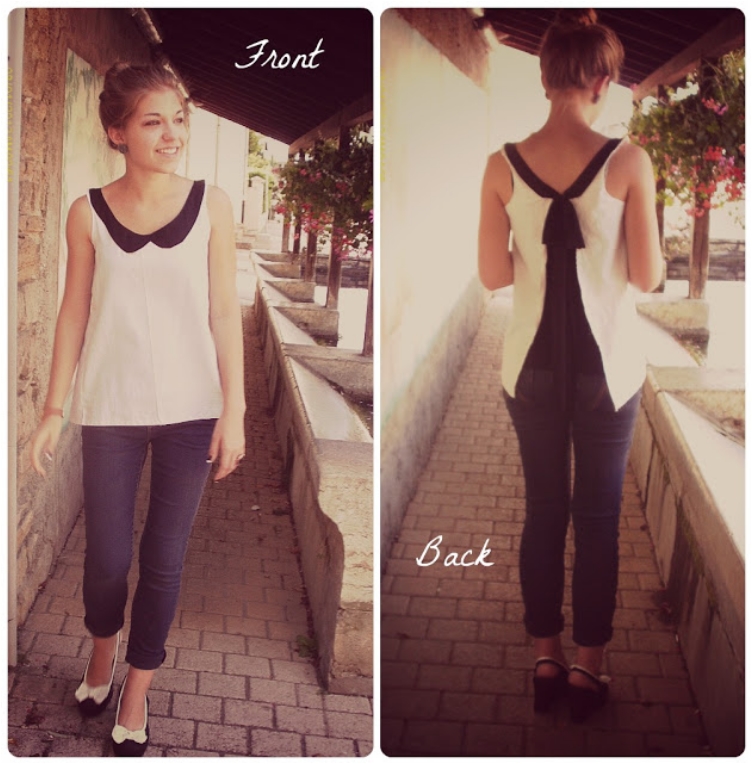 The Peter Pan collar has taken over the fashion world in the past three years. Men love it, and women love it just as much. The collar is just so chic, sophisticated and sexy at the same time, and you simply can't ignore it.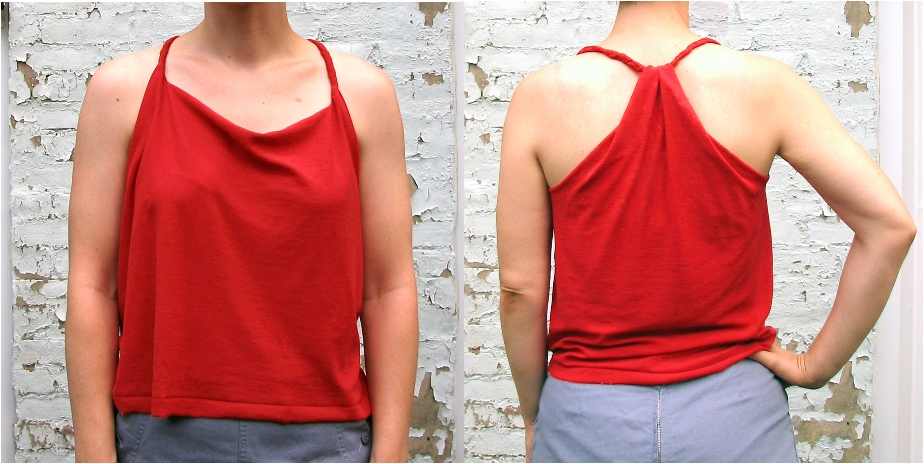 Even if you are a sewing newbie, you will be able to make this work. Luckily, this girl has made sure that we get step-by-step, clear instructions from start to finish.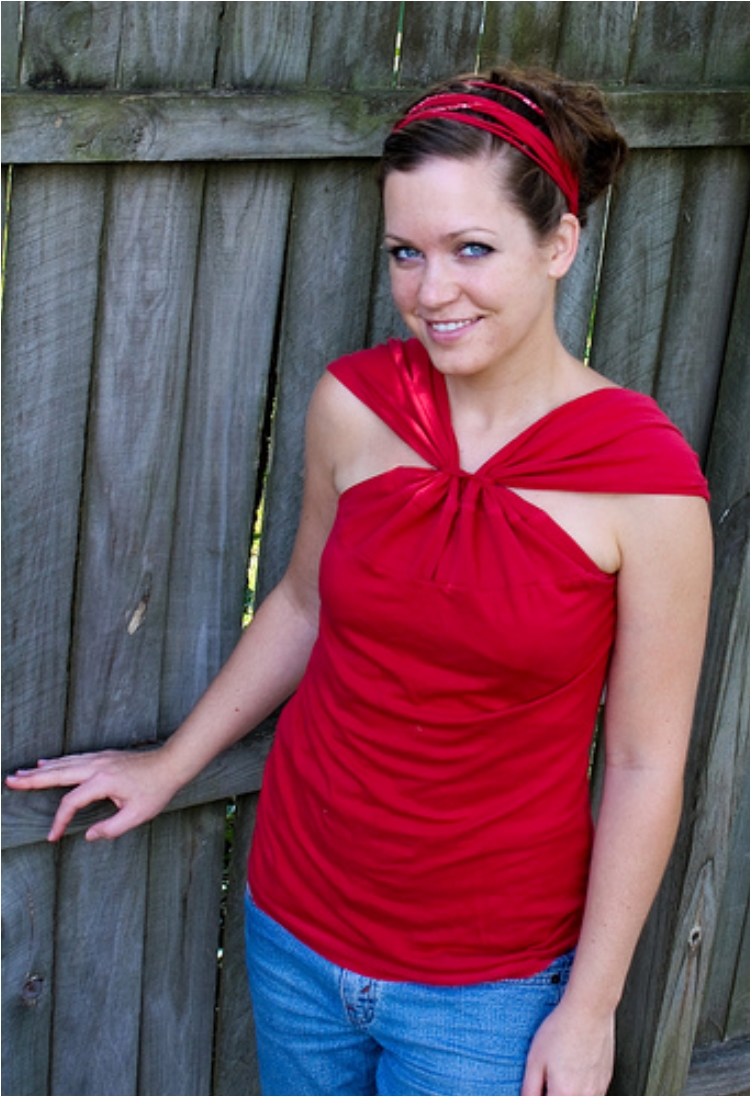 Doesn't this shirt look like something you would buy from a shop? Yes, it looks that fashionable. And the good news is you can make it yourself. Now how awesome is that?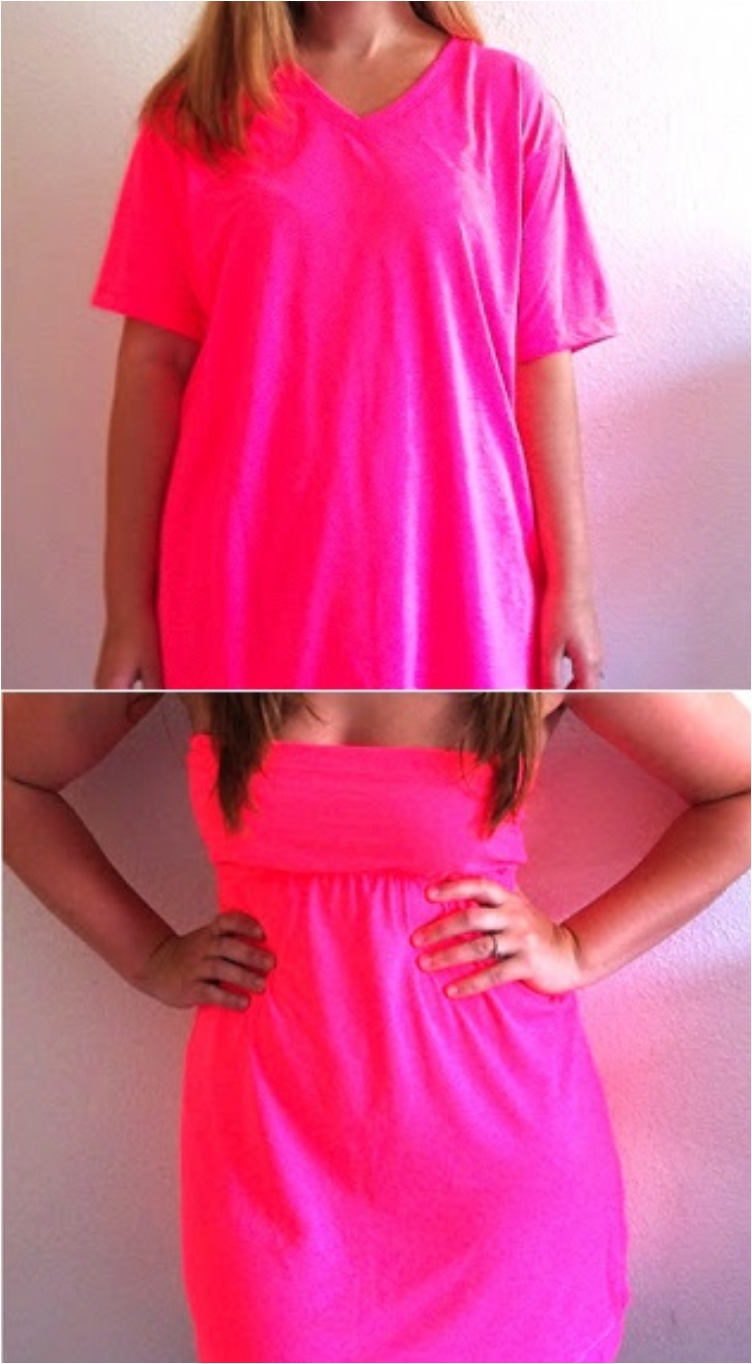 Another piece of clothing that doesn't seem to go out of fashion is the strapless top. If your shirt is long enough, you can even turn it into a strapless short dress. In the worst case scenario, you get a brand new top. In the best case, you get a tunic that you can wear with jeans and look sexy while doing it.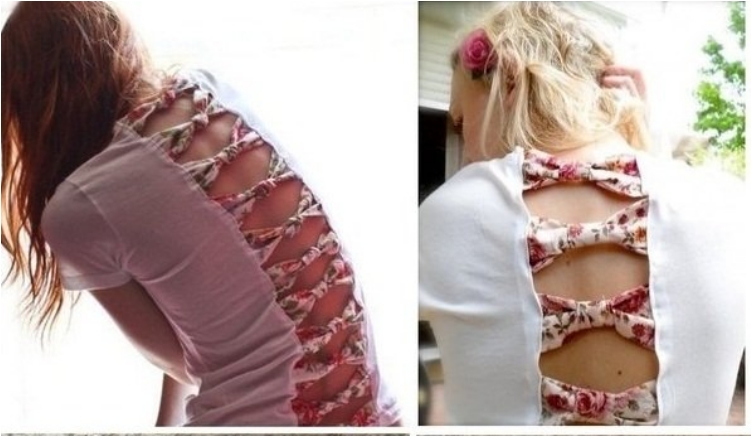 I have to warn you: This project will take some time, and you need to be skilled at sewing. But doesn't it look awesome? I am sure it is worth trying, even if it takes you two or three shirts to get the right results.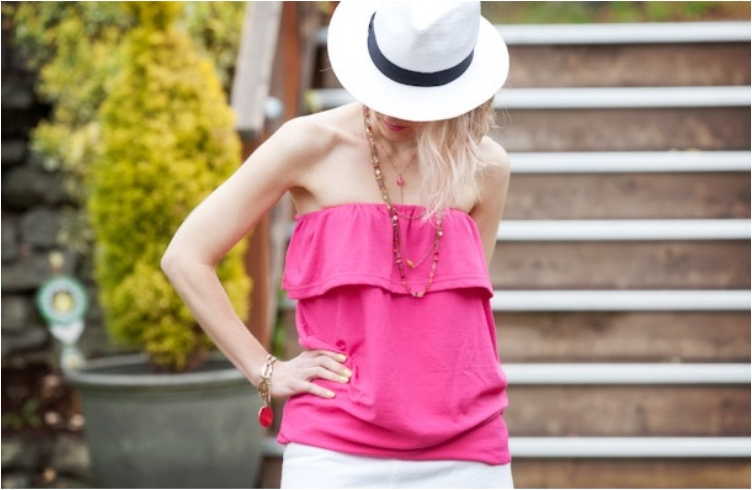 Have you noticed a pattern by now? Every simple, monochromatic and boring shirt can be transformed into a sexy looking one. You can pair this top with a skirt, jeans, or anything in between. The sky is the limit here.
I remember when one-shoulder shirts became popular, and I was such a fan. But even with their popularity decreasing, a one-shoulder shirt is still a piece of clothing you have to have in your closet. I even like when you combine two popular trends: navy stripes with a one-shoulder shirt. A perfect mix.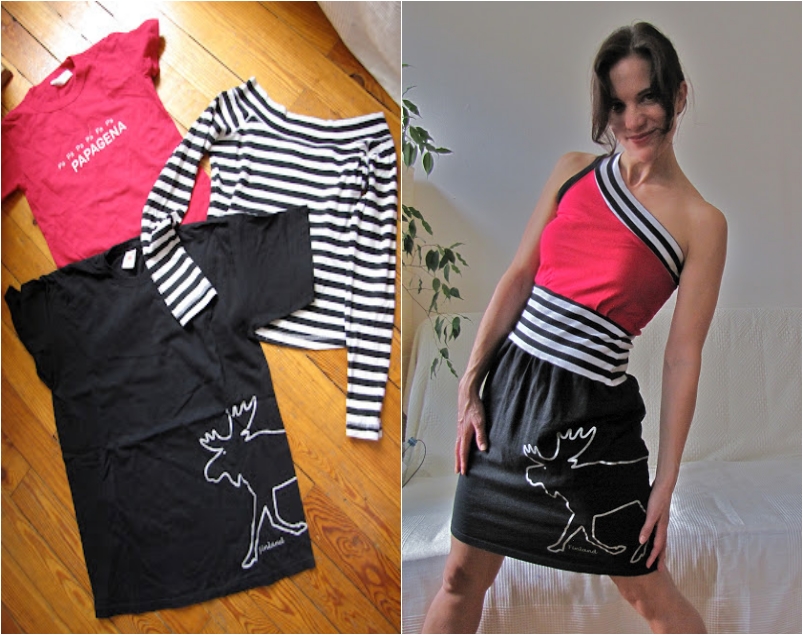 If you have too many shirts hanging in your closet, it might be time to reduce the clutter. And you can do that by turning three of them into one awesome dress. Just ask yourself: Are there three shirts in your closet you're not wearing?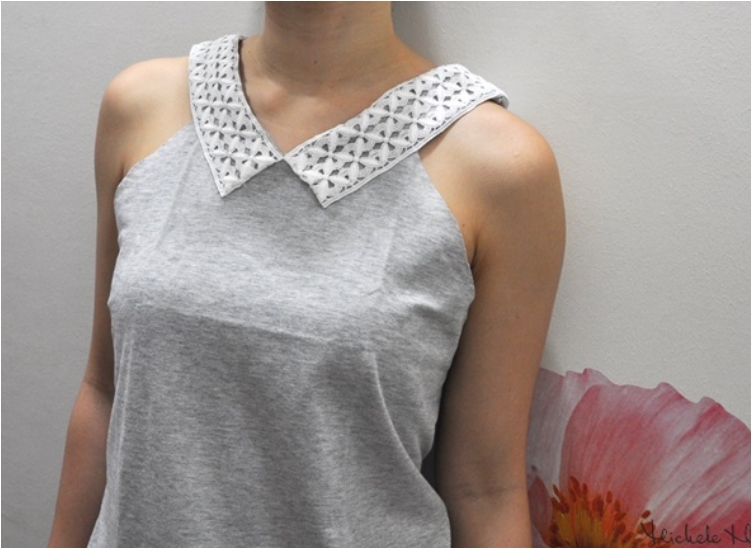 Just as I talked about a shirt with just a little lace on a short sleeve, a collar-laced shirt is also hard to find. The solution? Make one yourself, of course.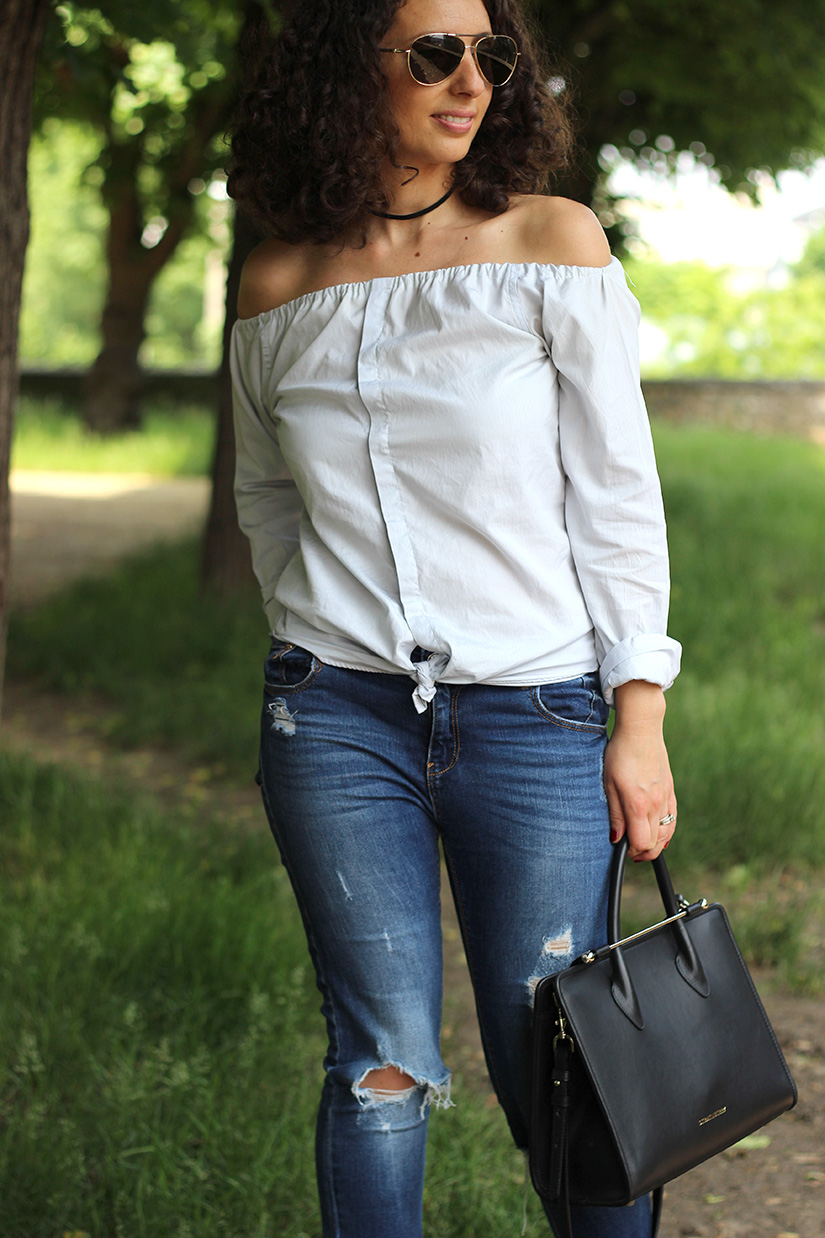 Just look at those lines. Urban, chic, sexy—you can wear this shirt for casual occasions but also for a semi-formal party. The elegance is there; it's just a matter of how you pair it.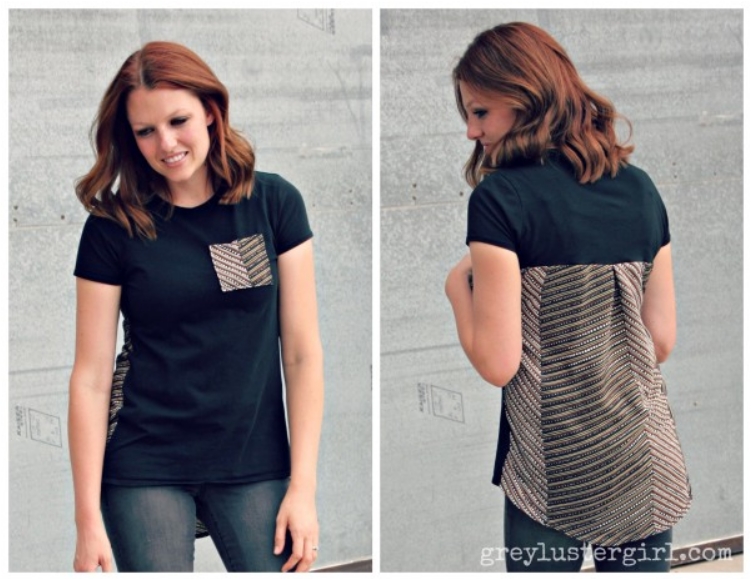 If you ever come across a fabric sale, grab as many as you can. Look for fabrics and patterns that you would wear. And then, try to find a good DIY project like this one to put those fabrics to good use.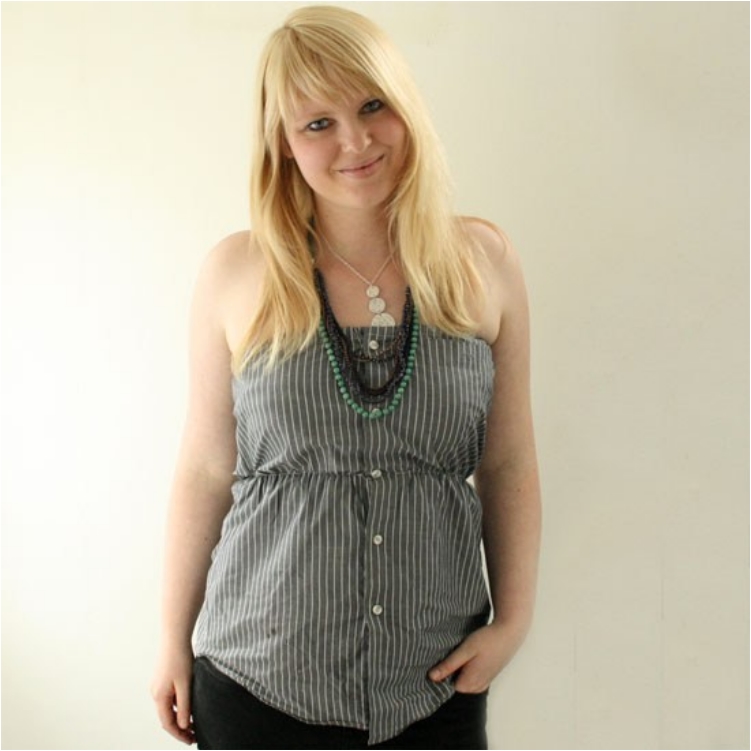 I've already said that strapless shirts are very trendy and sexy. Sometimes people make a strapless shirt from a classic and formal shirt. It doesn't matter; the end result is always beautiful.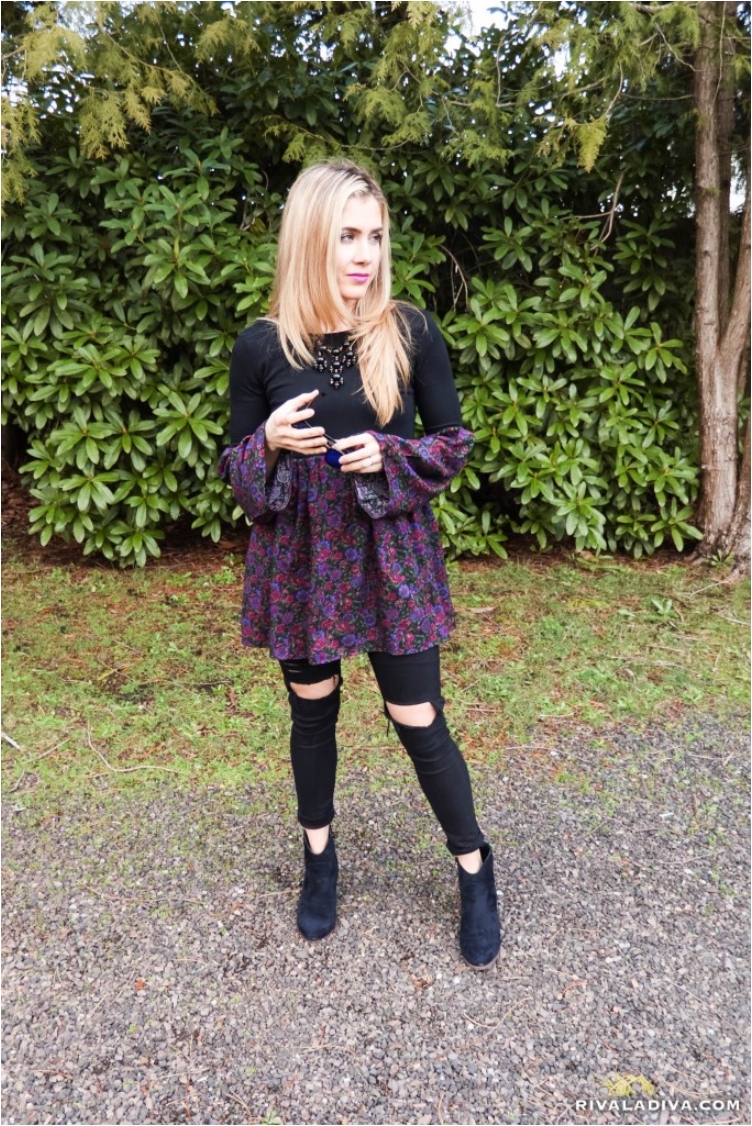 When you think of baby doll, don't think of something only teenagers wear. The fact of the matter is that baby doll blouses have been a popular choice among women of all ages. It just comes down to the event you are going to. Of course you can't wear a baby doll blouse to a formal event. But for casual coffee drinking, go for it!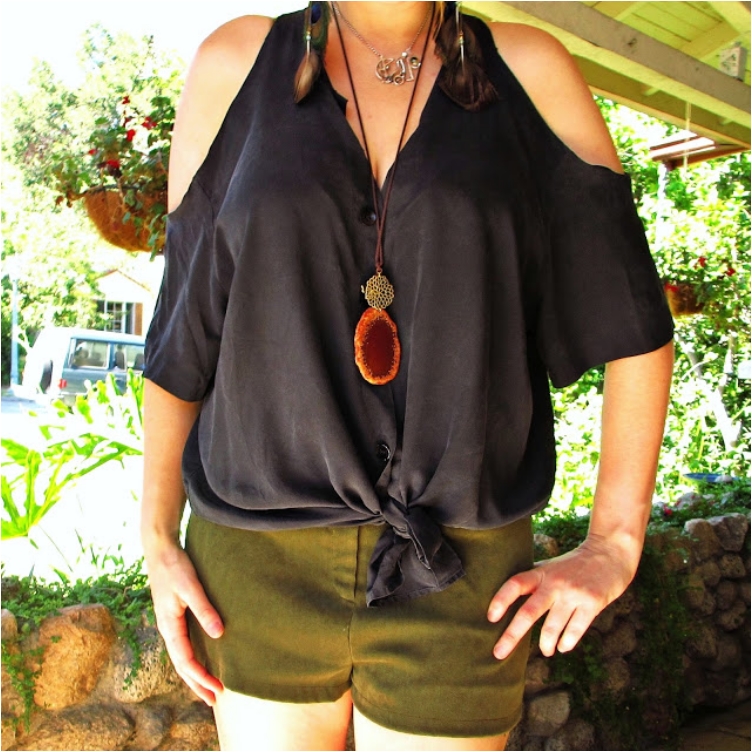 In most cases, when we get rid of the sleeves, we get rid of them completely. But in this case, only the shoulders have been removed, and the result is stunning. I love bare shoulders, I must say, so I can't ignore this shirt.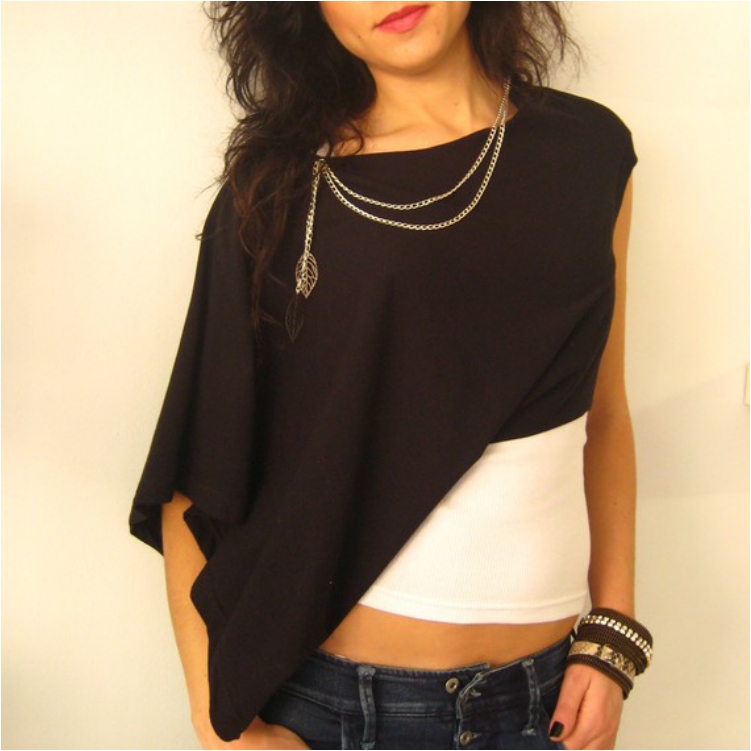 Here is another trend that entered the fashion world few years ago, and it doesn't seem to be going away. Asymmetrical shirts, dresses, tops—anything you can think of. And if you can find a two-color shirt, as in this case, you'll have a blast.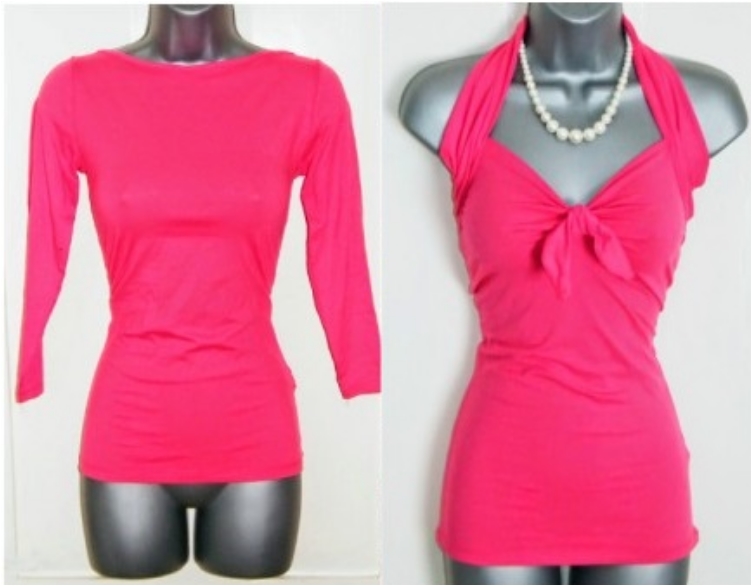 Don't worry, it's all right to show some cleavage from time to time. Don't be shy. I can't believe that this sexy top comes from a plain old T-shirt. The stunning new top is something you can wear even to formal and cocktail events. Can you say the same for the old T-shirt?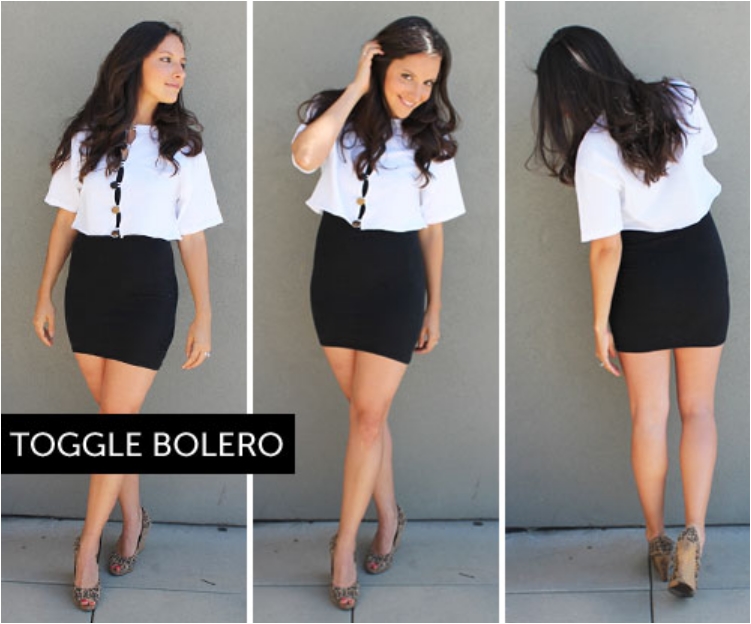 We need boleros for those chilly autumn days and nights. Or for the springtime. You can always put a jacket or a suit on, but a bolero looks more casual and chic.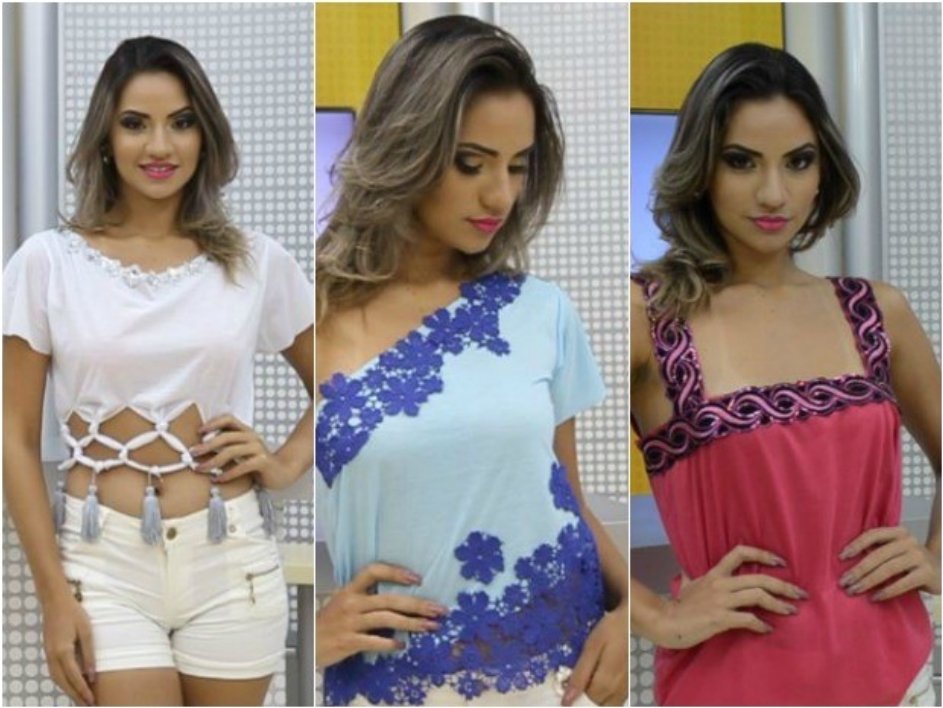 For the very last idea, I'd like to show you a three-in-one project.
I hope you enjoyed it, and if you have any other ideas for a DIY project that can transform your old T-shirt into brand new, sexy clothing, do share!