One thing I love when I watch Gordon Ramsay, Jamie Oliver, and other cooking shows is the kitchen. I just can't help but marvel at all that equipment. Let's be honest for a second: not all of us can afford a kitchen with all that equipment!
But one thing we can all do is dream. And today, I want to help you dream big about your kitchen. The kitchen is the place that brings the family together. That has been the case since ancient times. I remember when my grandmother cooked for the whole family. We all loved her dishes.
Cooking can be messy and tiring. But with a kitchen like any of the following, cooking becomes easier and more pleasant. So, let's dream!
1. Stone Decorated Kitchen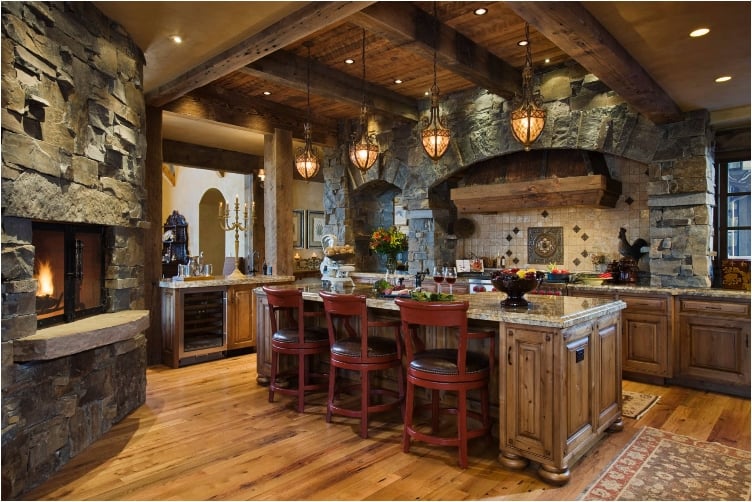 I start you off with a kitchen that brings back memories from my childhood. Back in the day, the baking ovens in the villages were all built in stone. Nowadays, we don't see so much stone in the kitchen, but it definitely brings back that feeling of tradition and warmth.
2. Sleek, Modern Kitchen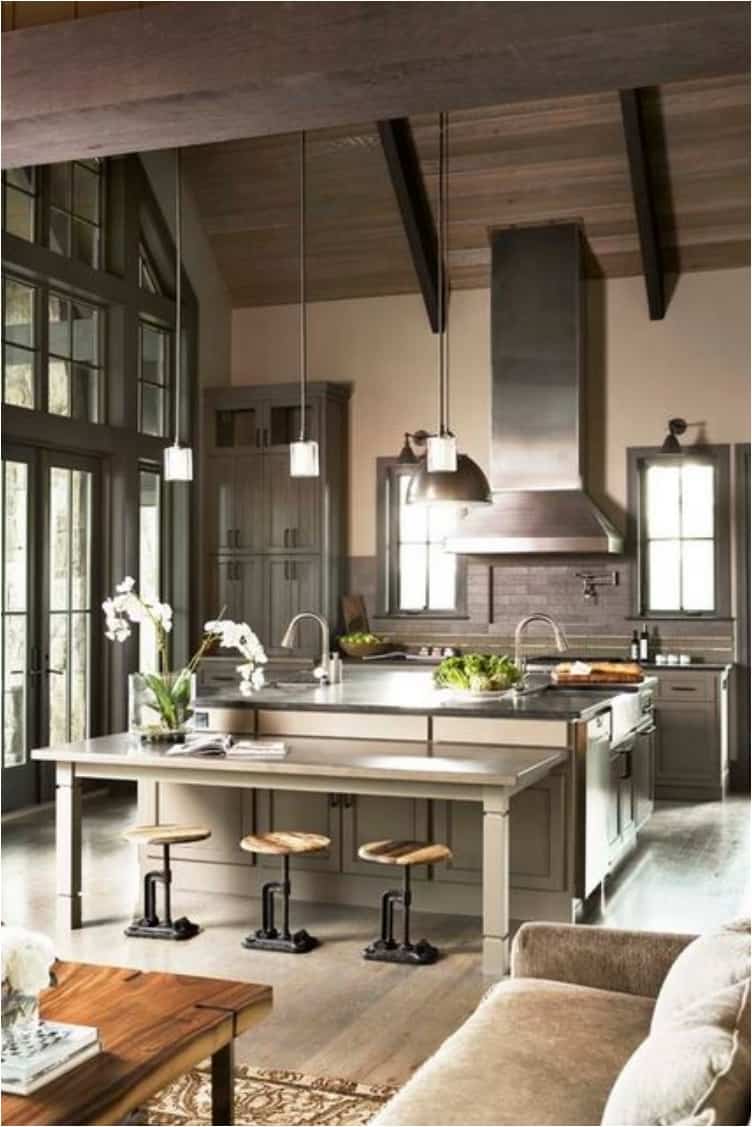 Now this is something you see often. Today's modern kitchen looks very similar to this one (or some variation of it). What makes the kitchen so elegant is the monochromatic color. And you just can't ignore the large kitchen island right in the middle of it.
3. Wood Kitchen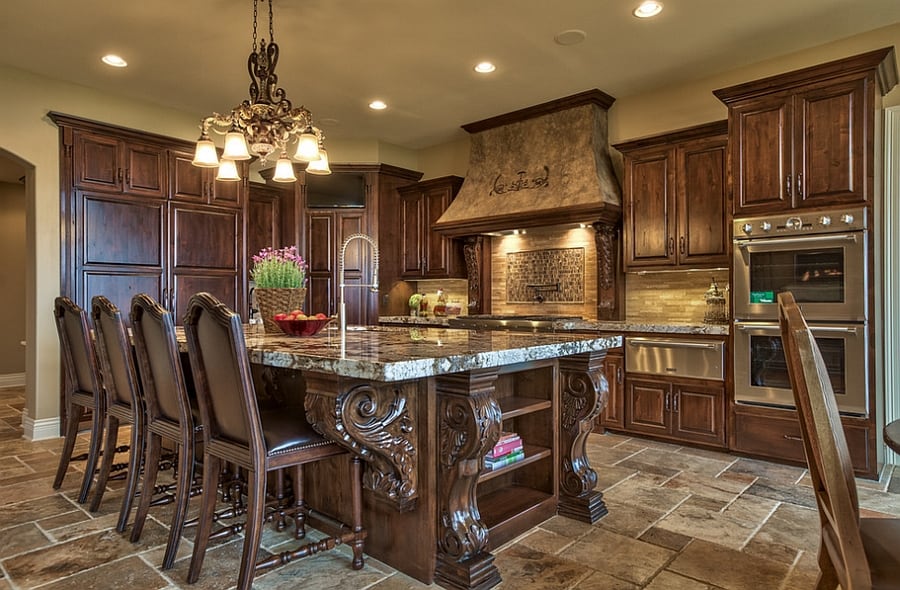 I'm a big fan of wood. Especially in the kitchen. I truly believe wood furniture belongs in the kitchen. And when I say wood, I think of solid wood like the one used here. The craftsmanship, the embedded elements—the kitchen is just marvelous. But what I love the most is how the chandelier brings everything together. You really get a sense of a traditional kitchen.
4. Spacious Kitchen with Dining Room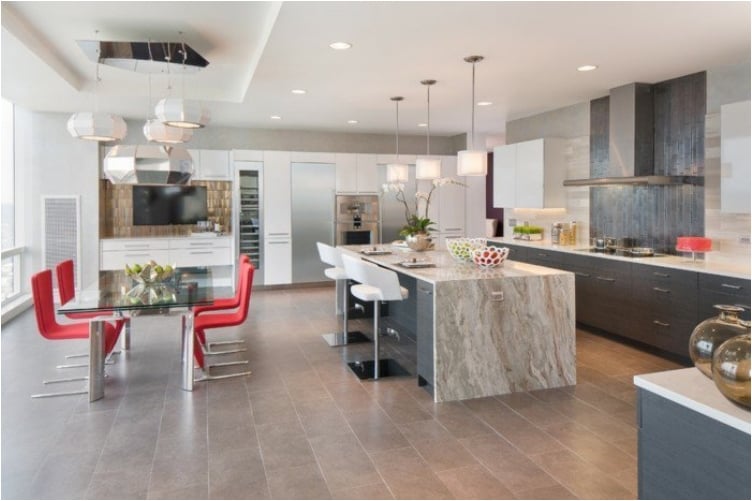 One trend you'll notice is that nowadays, the kitchen is part of the living area. Designers like to combine the dining area with the living area and the kitchen, giving you one big spacious room that serves several purposes. By eliminating the walls between the living area and the kitchen, you can add a big kitchen island and an even bigger kitchen. My favorite element is the red chairs, splashing some color in the interior.
5. Kitchen with Marble Countertop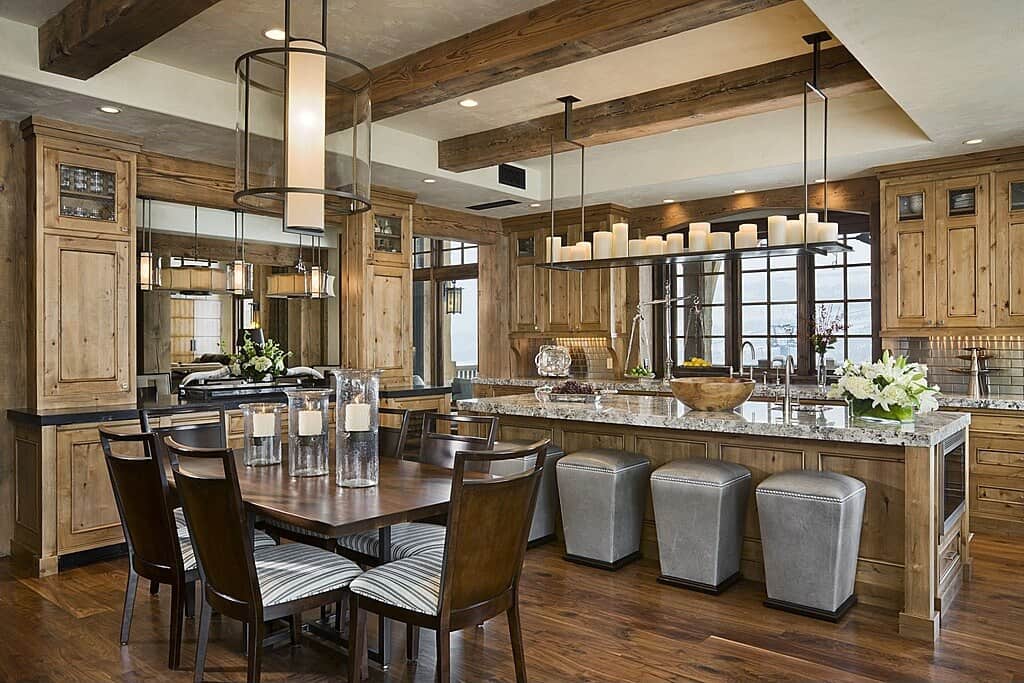 One of the biggest trends in the kitchen is to always have an element that pops. In this case, the countertop plays that role. We have a beautiful, simple kitchen with wood elements. But that marble on the countertop pops, instantly drawing your attention.
6. Rustic Kitchen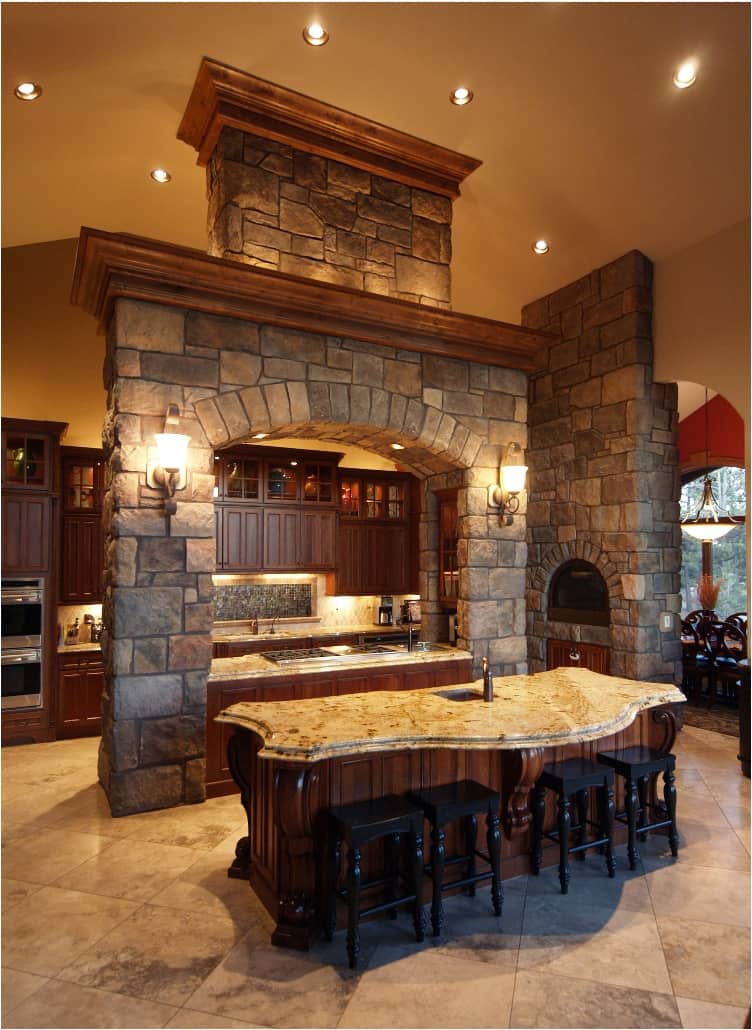 The rustic style is probably the most common style you'll notice in a kitchen interior. And that's logical. In the many variations you'll find, this design really stands out due to the faux entry to the kitchen that's connected with the kitchen island.
7. Black Interior Kitchen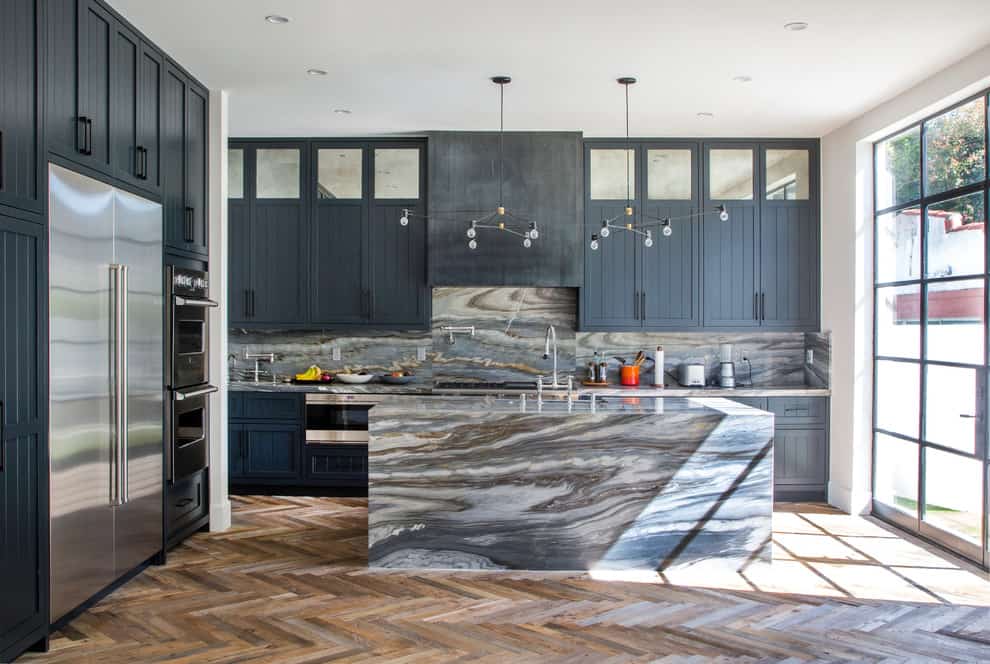 You'll rarely see black as a color in the kitchen. It's only natural that people don't like dark colors in the room where they do their cooking—you want your kitchen to be as bright as possible. But black works here because of the full floor-to-ceiling windows. This kitchen gets so much natural light!
8. Faux Ceiling Illumination in the Kitchen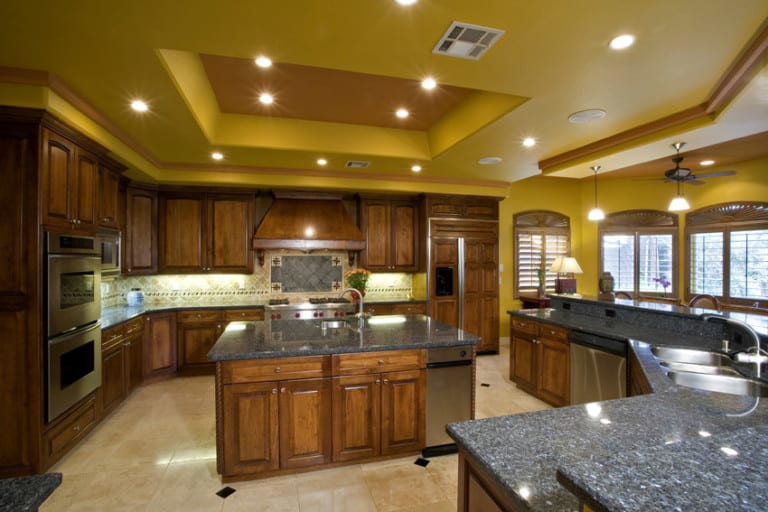 This kitchen is unique in so many ways. For starters, you'll rarely see a yellow ceiling in the kitchen. And definitely not this bright. But more than that, people rarely use faux ceiling illumination in the kitchen. A lowered ceiling is something reserved for the bedroom. But as we can see, it works in the kitchen as well.
9. Glamorous Kitchen Illumination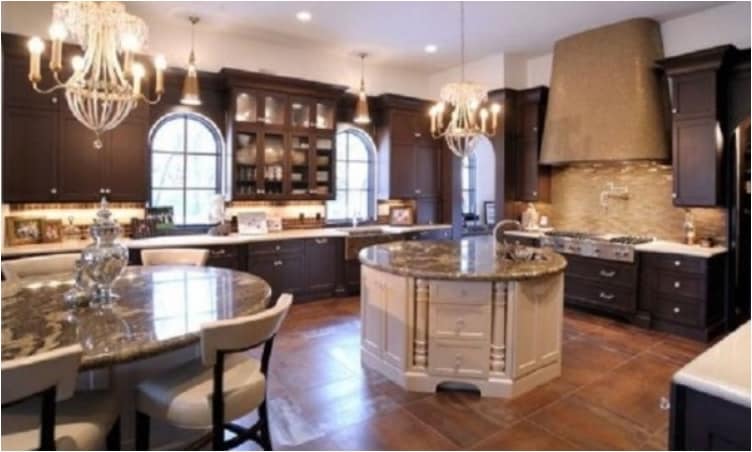 I'm sure most of you remember the chandeliers, and how they looked when you were young. For example, I'll never forget the luxurious chandeliers my grandmother had all around the house. Nowadays, we seem to take the more practical way to illuminate our rooms. But it's the chandeliers that make this kitchen so unique and special—they're a luxury you can't get with anything else.
10. Brick Wall in the Kitchen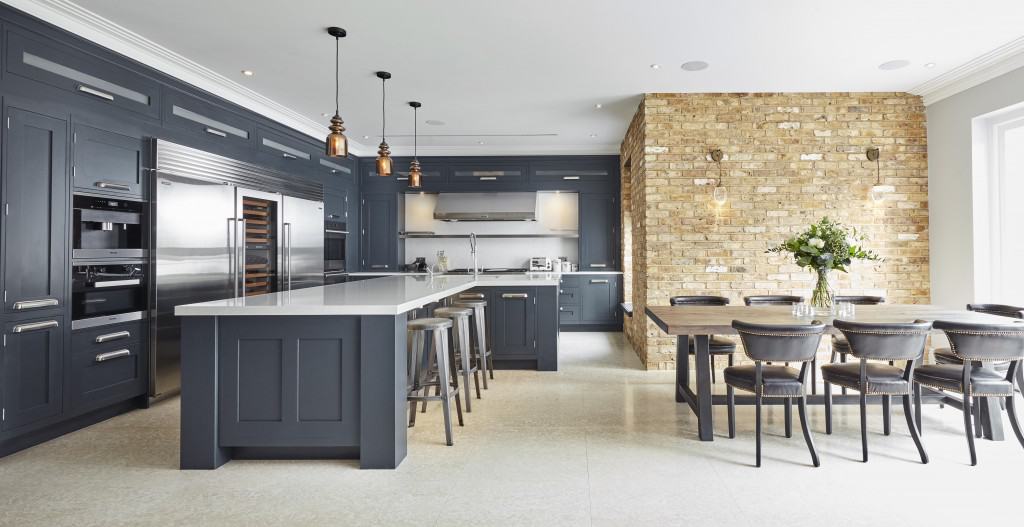 I'm a big fan of contrast. I love when people mix and match styles that are total opposites. I believe it gives the space and the interior a special feeling. And this kitchen definitely has a soul due to the brick wall that's a perfect contrast to the sleek and smooth black interior in the kitchen.
11. Irregular Shapes and Forms in the Kitchen
In most cases, the kitchen is a rectangular- or square-shaped room. But what happens when you have curves and irregularity in the kitchen? Well, the only thing you can do is to further emphasize the irregular shape and form of the kitchen. And that's what happens here with all the kitchen elements.
12. L-Shaped Kitchen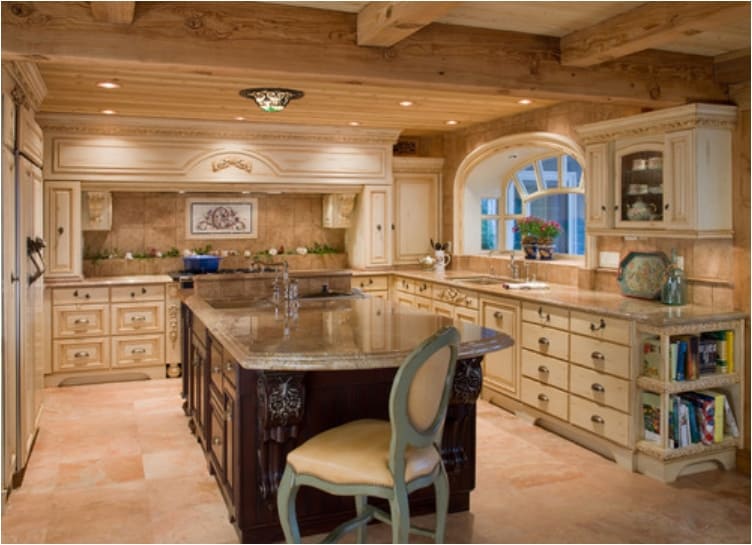 You can even say this is an extended L-shaped kitchen. Both sides of the kitchen are equal in length (something you can afford when you have so much space). But what makes this kitchen special is something you won't notice at first glance—the embedded parts on the kitchen elements.
13. Bold, Red Kitchen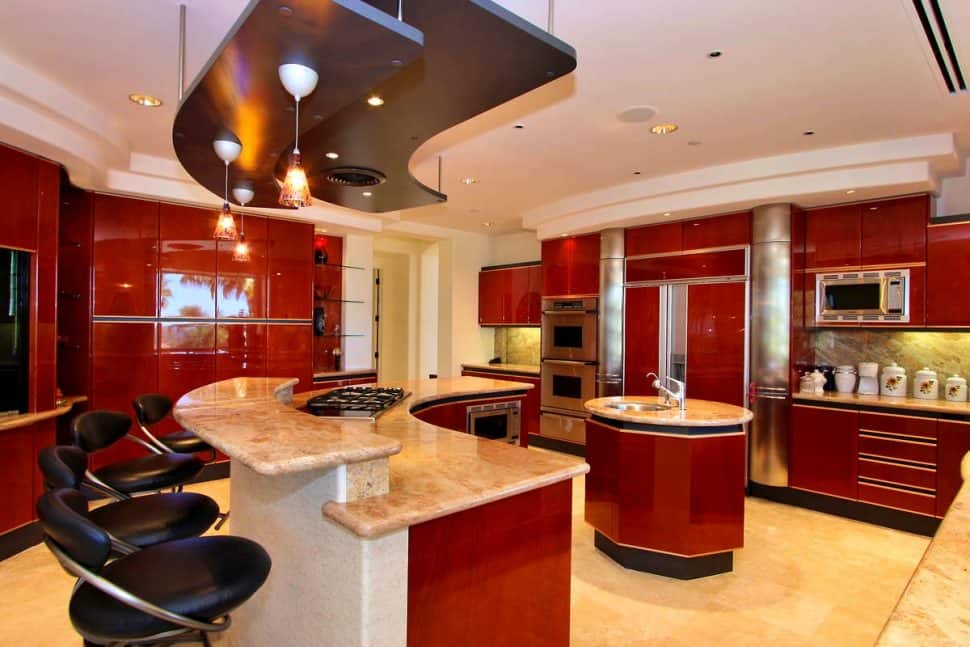 When you want to go bold, you go red. That's the rule. Red is a very high energy color for the kitchen, but some people just want it. The color gives the kitchen a true modern look. And when you combine the color with some irregular shapes for the kitchen elements, you have a true masterpiece!
14. Romantic Kitchen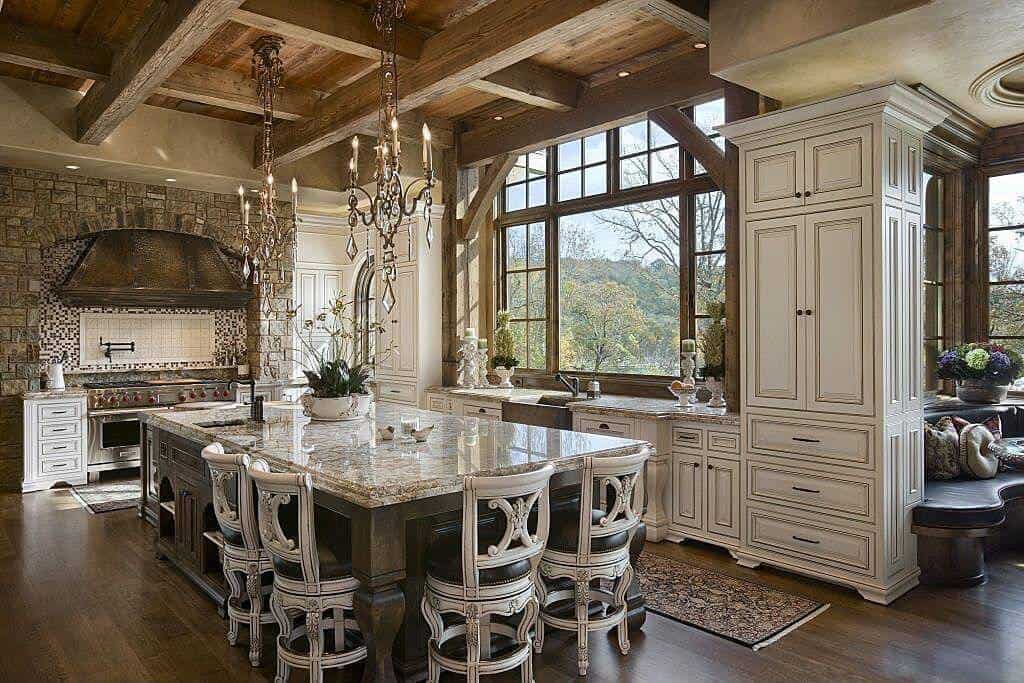 Inspired by one of the most romantic styles, French country, this kitchen will definitely make you want to spend some time there. The kitchen elements are in a vintage style, which goes perfectly with the marble kitchen island. Flowers are everywhere, and the room evokes feelings and emotions.
15. Classic Wooden Kitchen
We had several wooden kitchens with marble countertops. And that classic combination is executed in this case as well. The beauty of this kitchen is how everything is positioned to revolve around the kitchen island.
16. All-White Kitchen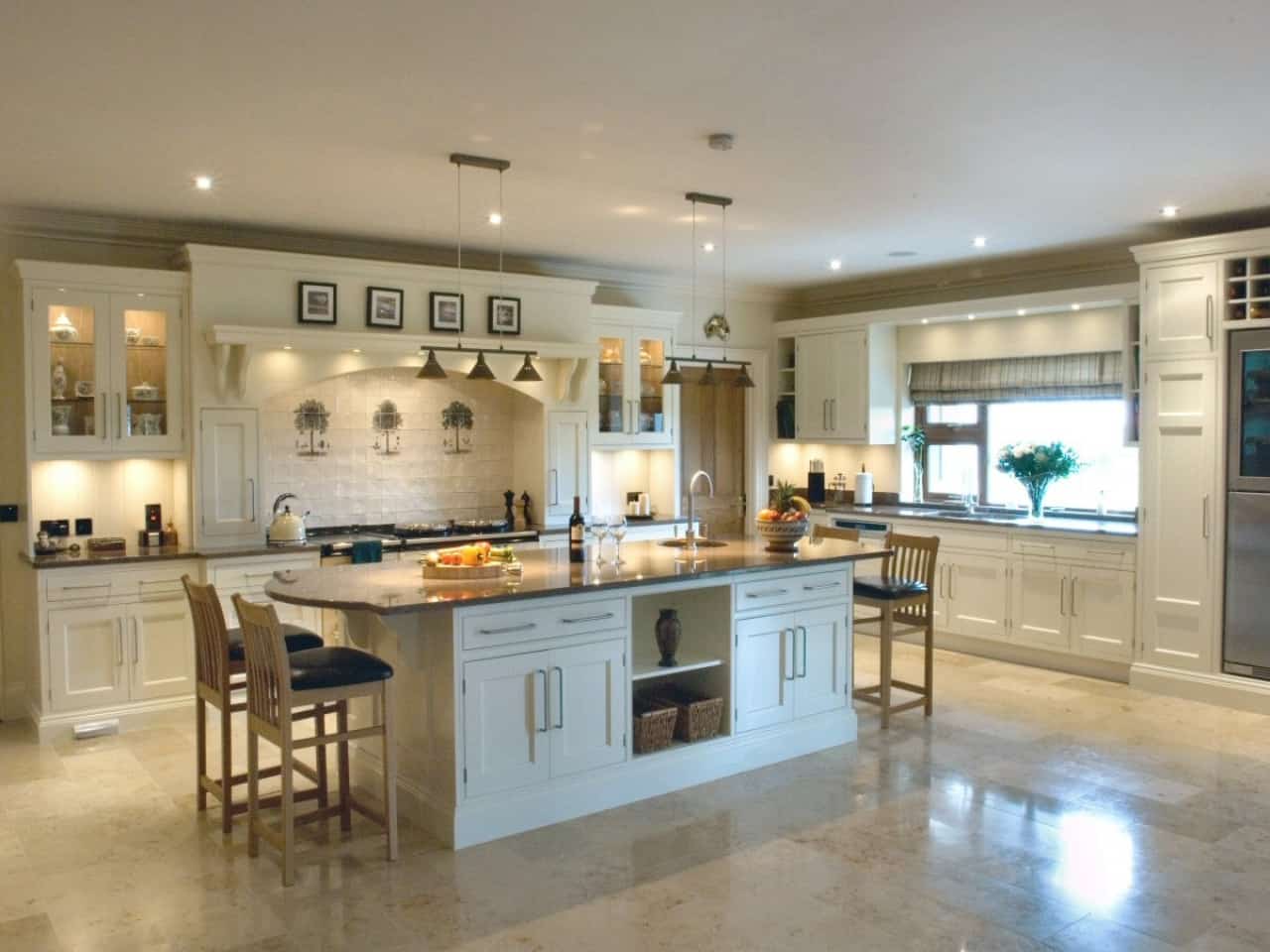 An all-white interior is great for people who want to achieve a clean, neat and tidy look, and the kitchen is definitely one room where you want exactly that. And you must appreciate the practicality of the room. In that regard, we are talking about the kitchen island and how it offers extra storage space.
17. Custom Wood Luxury Kitchen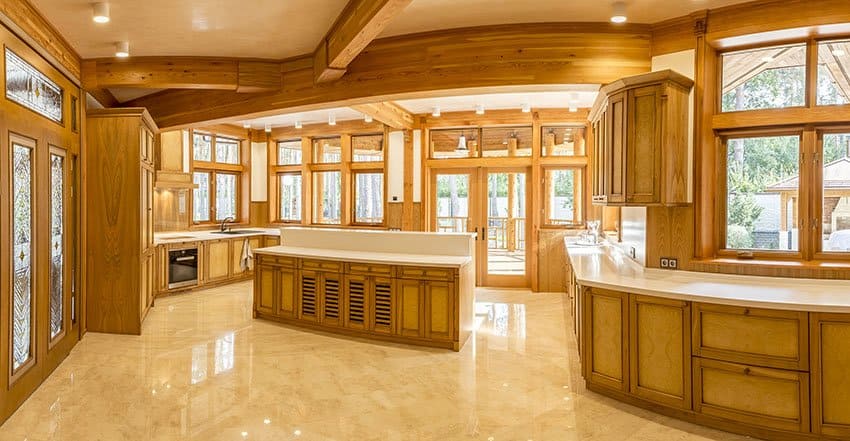 I don't know what to marvel at first. The wood craftsmanship is sensational. But what I love even more is how much natural light this kitchen gets. The entire kitchen is surrounded by windows, making it very pleasant to work in.
18. Antique White Kitchen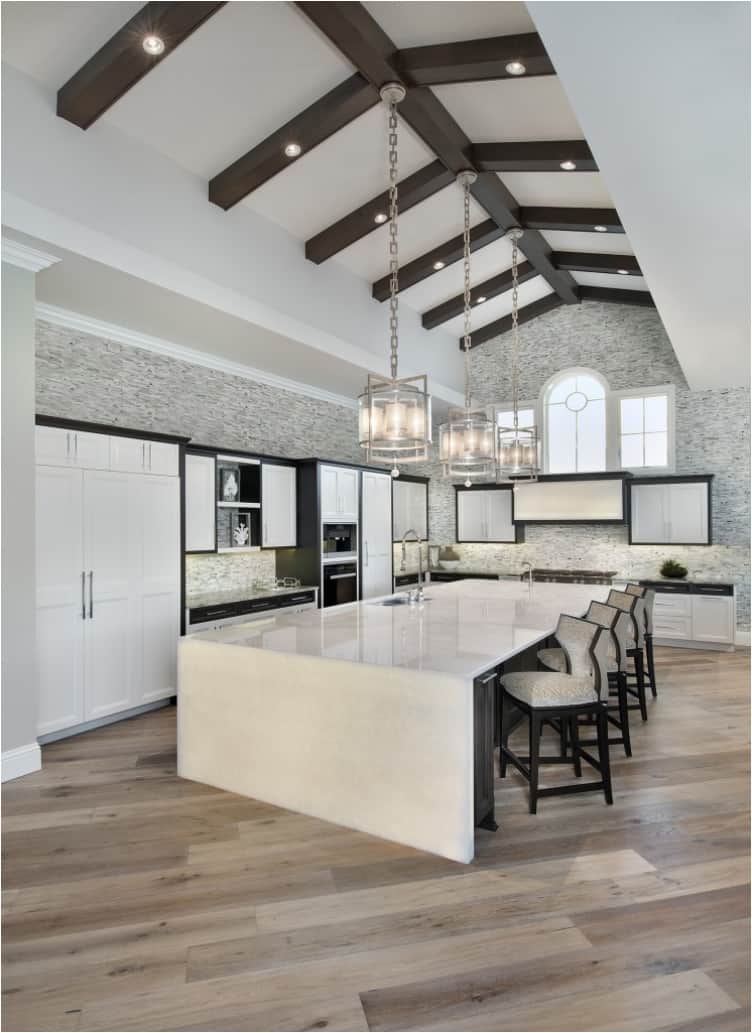 We had an all-white kitchen, and this is a variation of that design. The variation is in the material for the walls. Those little white bricks give this kitchen an antique look.
19. Luxury Rustic Kitchen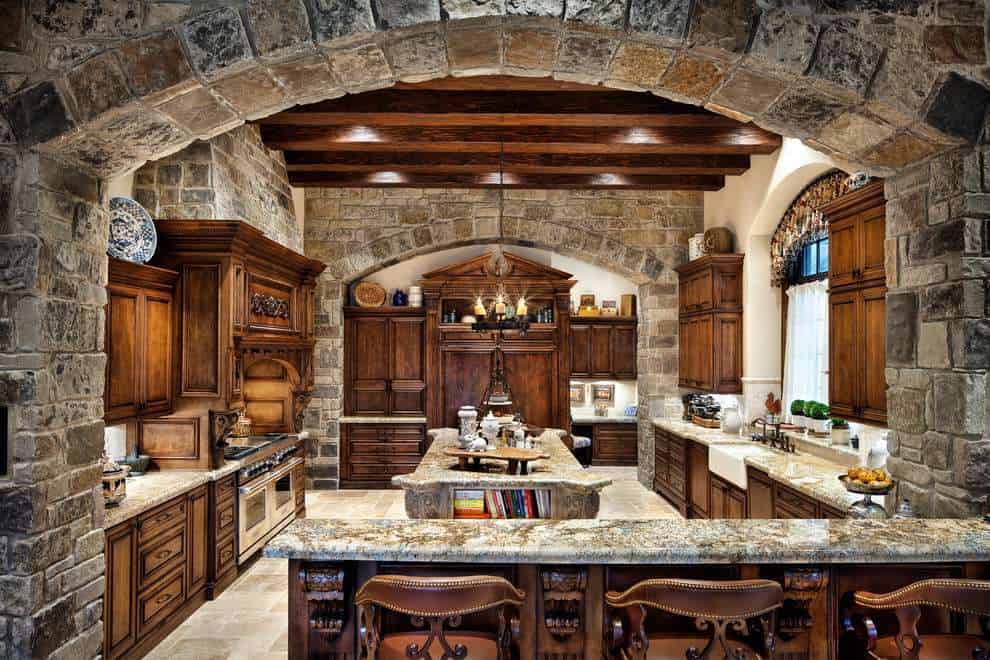 I mentioned at the beginning how I love stone in the kitchen. The problem is, you can't always incorporate it. But if you can add stone, the kitchen gets a completely new look. And I love how the stone is combined with the marble countertop for an even better look.
20. How to Decorate with White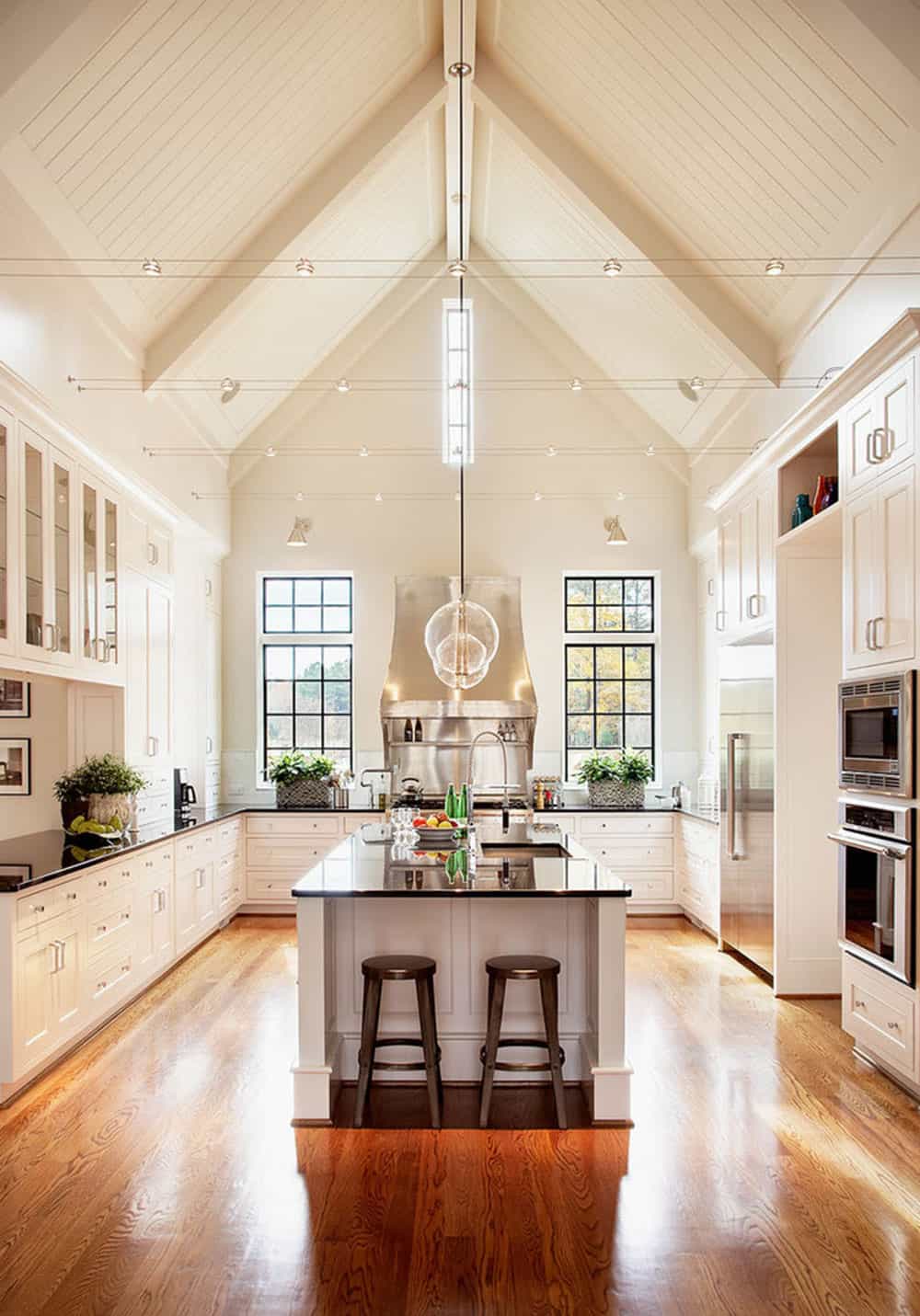 Many people fail to decorate well with mostly white. At first glance, painting everything in white seems simple. Well, it isn't. In fact, it's one of the more challenging tasks in interior design. Therefore, I want to give you some ideas for how to do it.
21. Mix and Match Styled Kitchen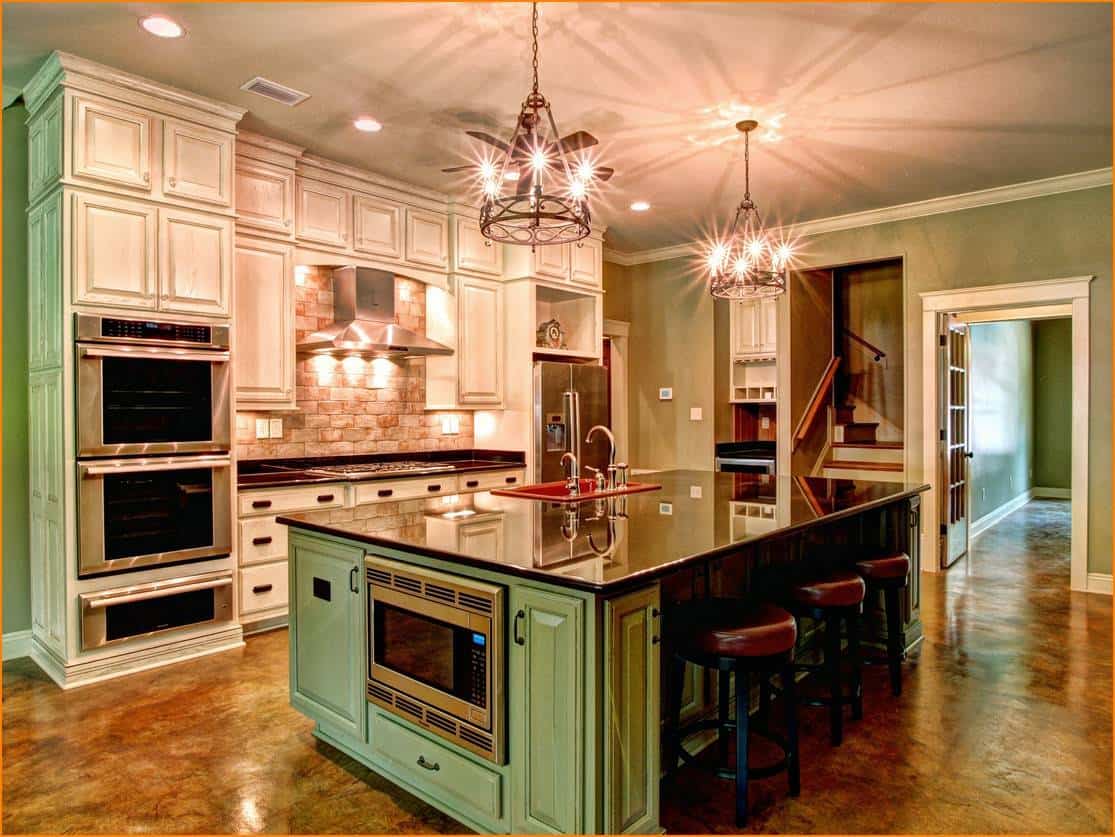 There are so many styles mixed and matched in this kitchen. Let's start with the vintage white cabinets. And then you have the modern kitchen island with vintage green doors on the sides. When you throw in the brick wall, there are so many elements, it is just a wonder how everything works together. Only a truly talented designer could pull this off!
22. Classic Round Kitchen
I noted previously that not all kitchens are in rectangular shape. Sometimes, we have round kitchens as well. I love how the designer has closed a full circle with the bar and chairs. The dark brown color for the kitchen elements is another great aspect that makes this kitchen look natural.
23. Large Kitchen Island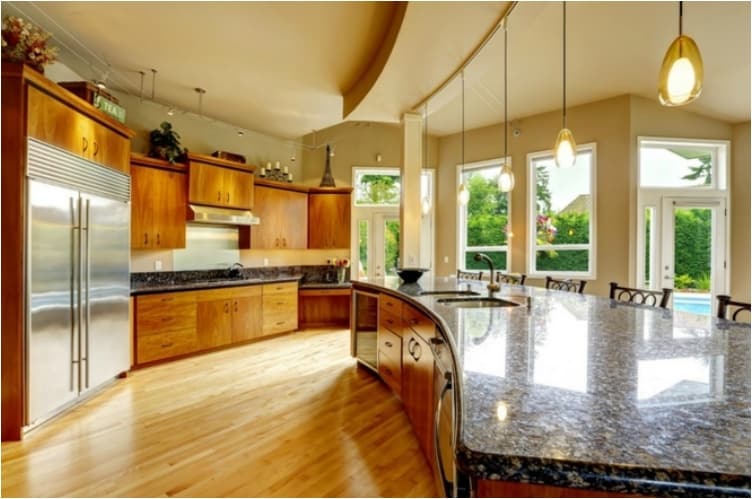 Some people just need a lot of space to operate in the kitchen. And in that spirit, they have a large kitchen island. You can even say that the kitchen island works as a bar and a dining table.
24. Double Kitchen Island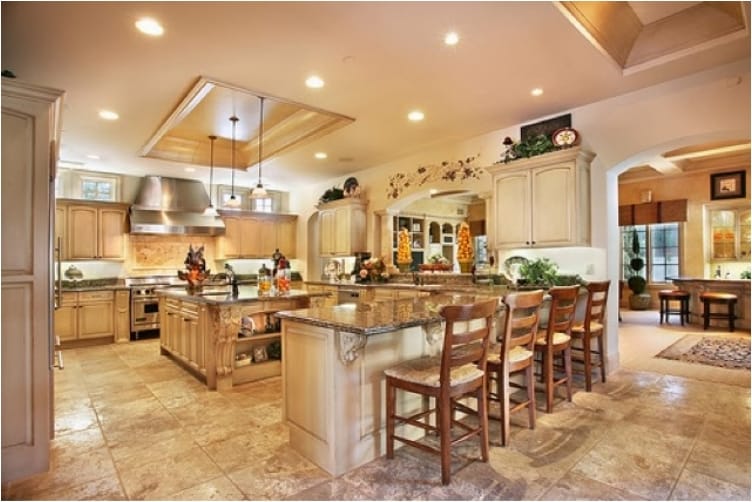 Speaking of kitchen islands, you can find kitchens with two of them. The second one works as a dining table. The first one is where the magic happens. But the best part with two kitchen islands is that you get twice as much storage room!
25. Two in One: Kitchen and Dining Room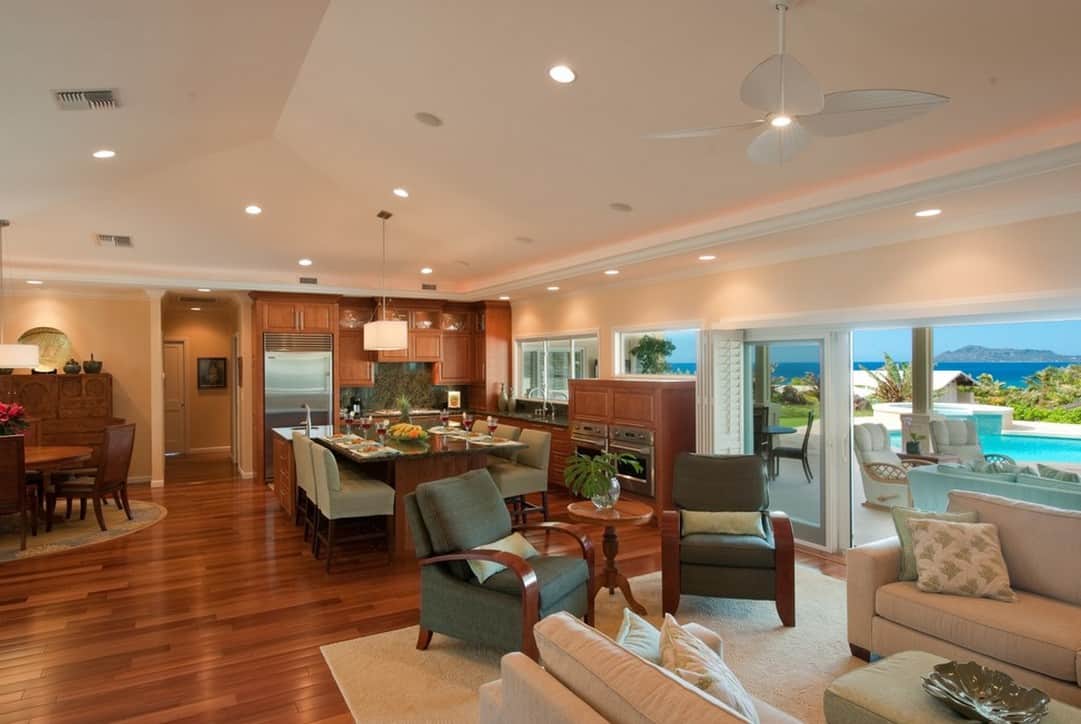 I discussed previously how some people combine the kitchen with the dining room and the living area. The difference here is that you actually have two dining tables. You can say that one of them is formal, while the second one is casual for a quick breakfast in the morning.
26. Luxury Vintage Kitchen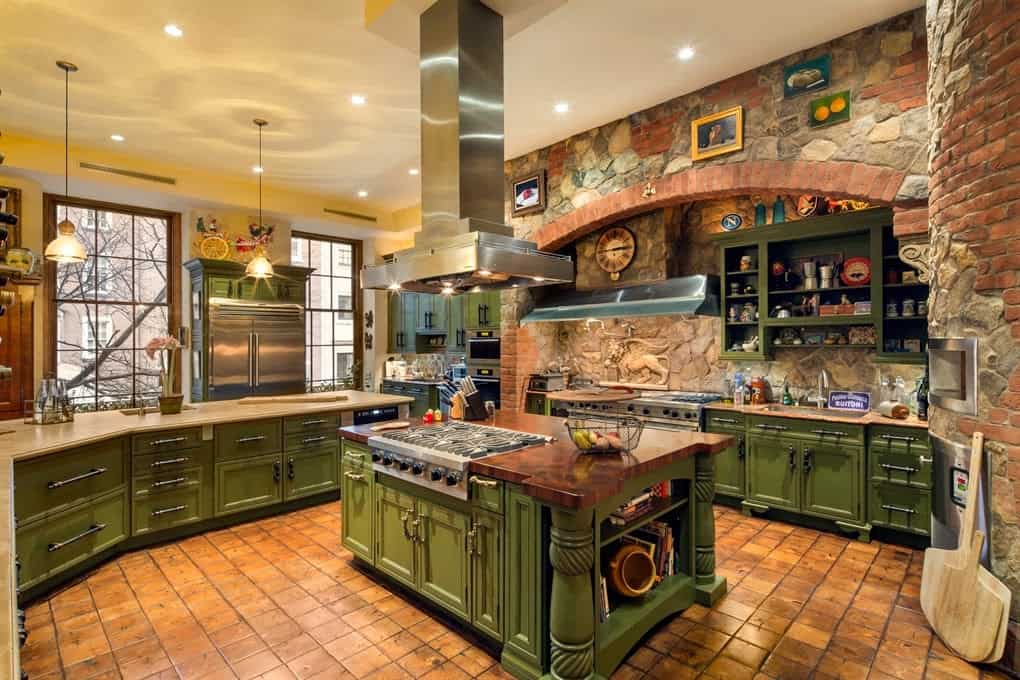 First off, props to the designer for opting to go green for the kitchen elements. It really gives the kitchen a natural vibe. And to be honest, it's not easy to pull off a vintage style in a luxury kitchen. What I love the most, actually, are the simple things. Like the photographs with oranges and bread.
27. Contemporary Black and White Kitchen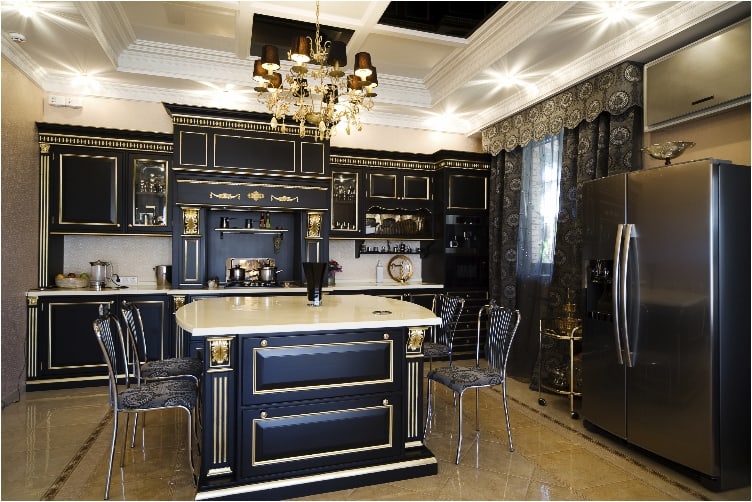 It's about time that we get into the contemporary style. Black and white is a perfect combination for the contemporary style. But this kitchen takes luxury to a whole new level, all thanks to the embedded elements. Plus, a luxury drapery in the kitchen? Now that is something you don't often see!
28. L-Shaped Kitchen Island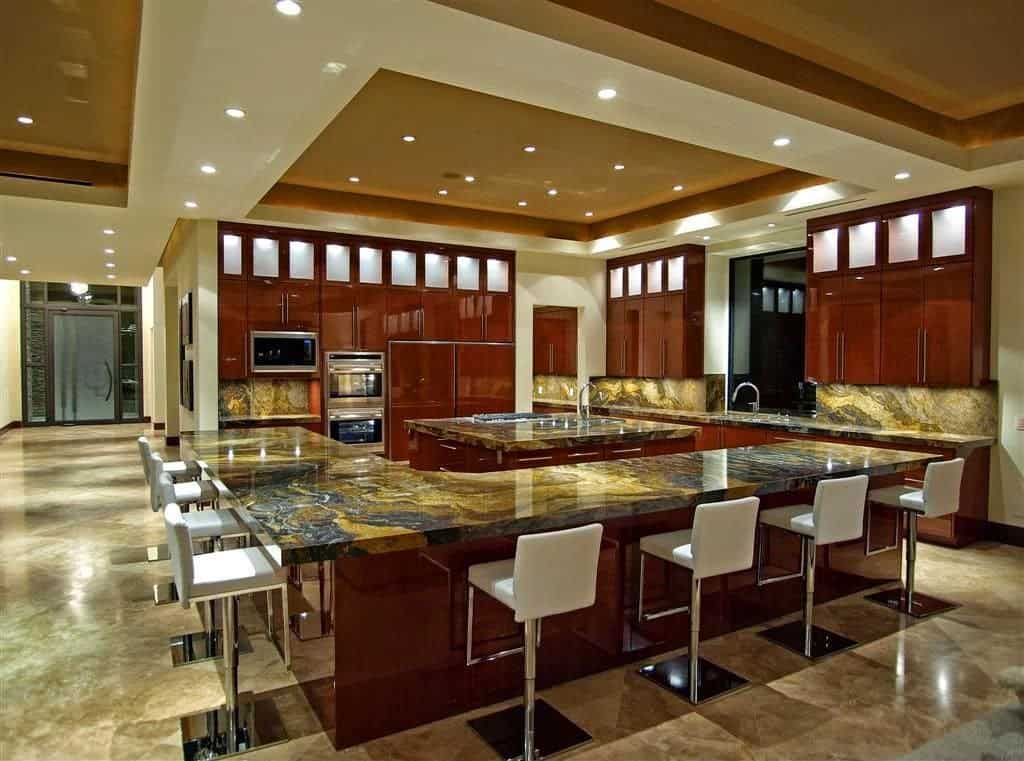 Again, we have a kitchen with two islands. And again, the second one serves as a dining table. To be honest, this kitchen reminds me of those Japanese food restaurants, where the chef cooks your food right in front of you. The seats are positioned in a way that everyone can see what's cooking here.
29. Vintage White Kitchen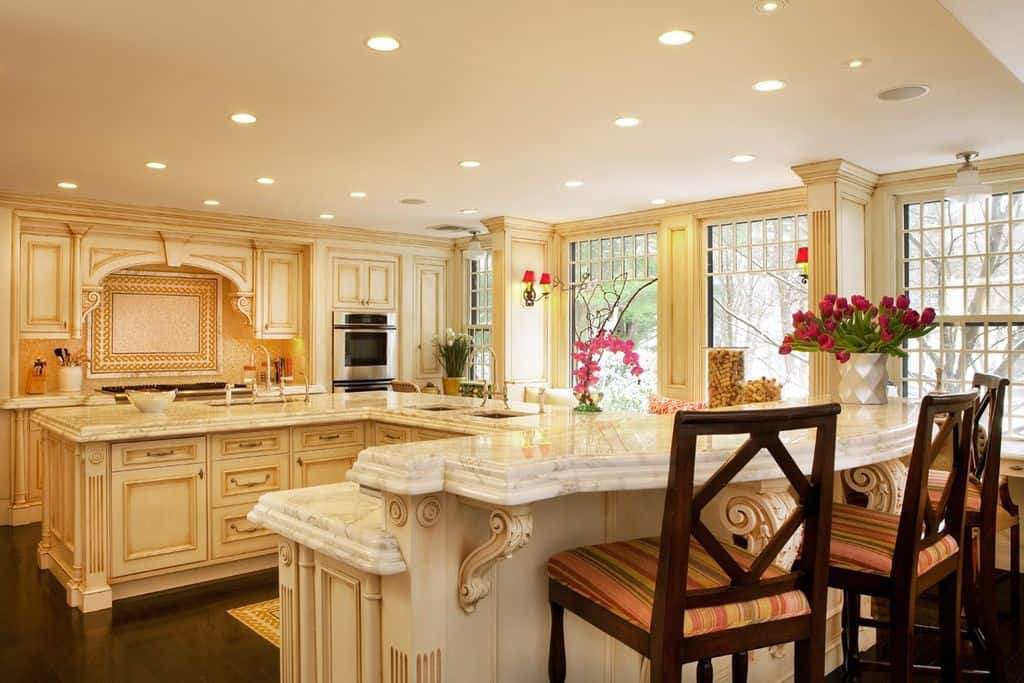 You probably noticed that we had quite a few vintage kitchen designs. Vintage is actually considered an expensive and luxurious style. And now we have it in an all-white design.
30. Traditional Kitchen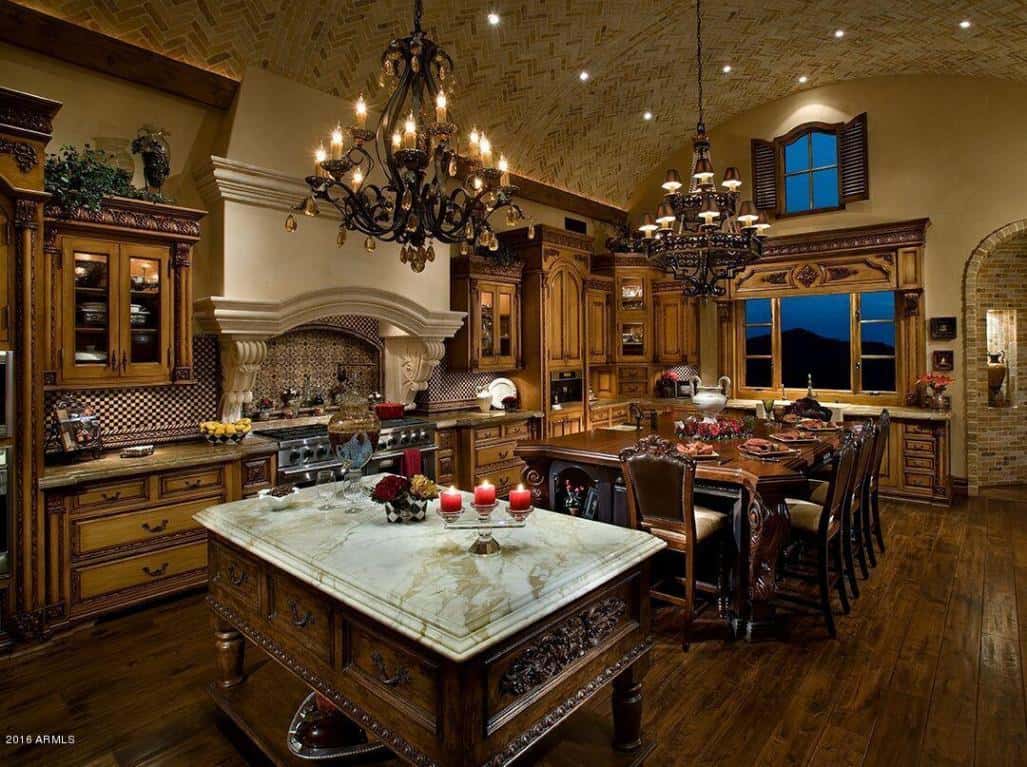 This is how a traditional kitchen should look like. You have a solid wood dining table and a kitchen island with embedded elements. But what I love the most here is the use of color for playfulness. Notice how there are several different shades of brown.
31. Classic Contemporary Kitchen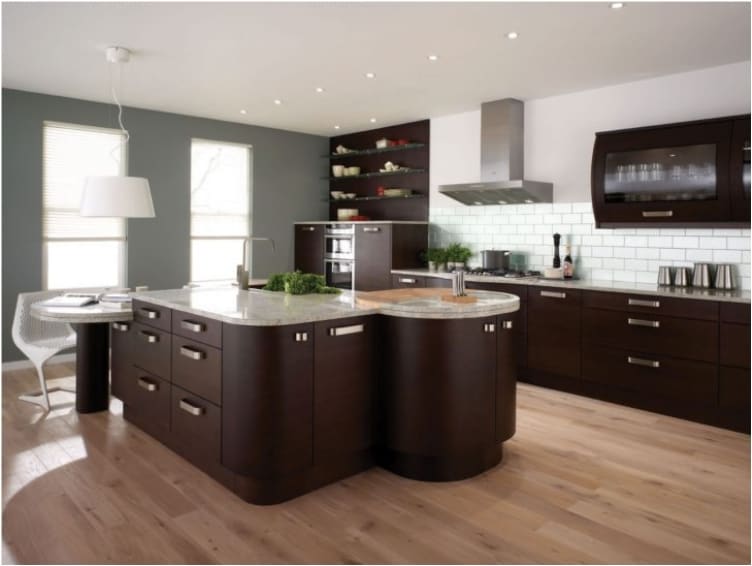 Sometimes, the best idea is to go back to basics. And that is exactly what you see here. I like how the kitchen island extends to a dining table. But the best part is the storage potential. Look at all those drawers and cabinets. You will definitely not need extra storage in this kitchen!
32. Luxury Kitchen with Faux Ceiling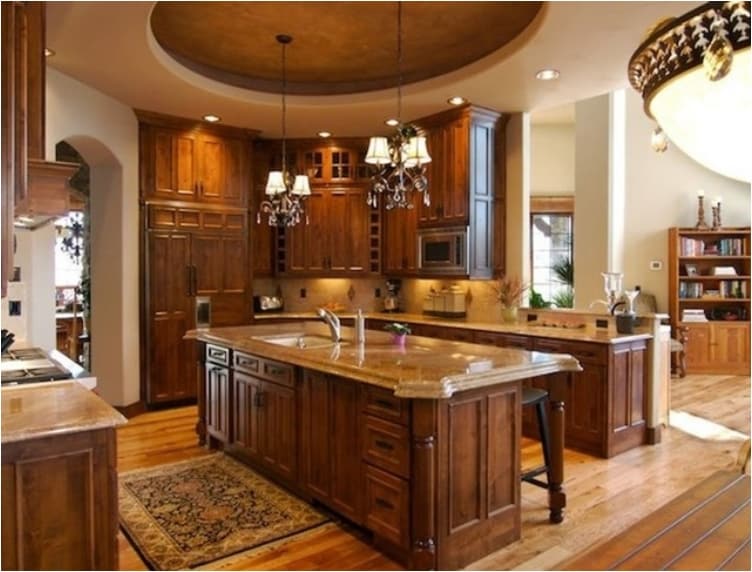 I like how the ceiling changes the shape of the kitchen. The kitchen itself is a square shape, but the round faux ceiling changes the appearance when you look at it from a distance
33. Traditional Kitchen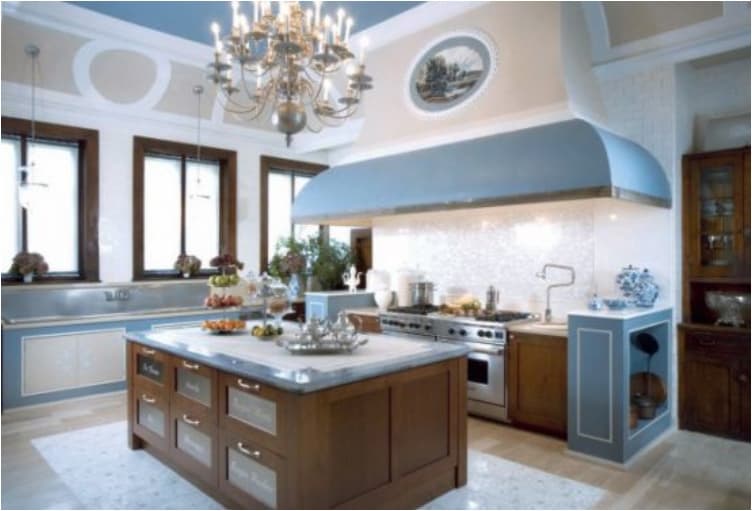 There is a bit of a nautical element in this kitchen. You might not notice it at first glance, but that's because the nautical element is the color—that calm blue color that reminds you of the sea. That's the same color that brings tranquility to a stressful room. And the kitchen can get stressful!
34. Granite Kitchen Countertop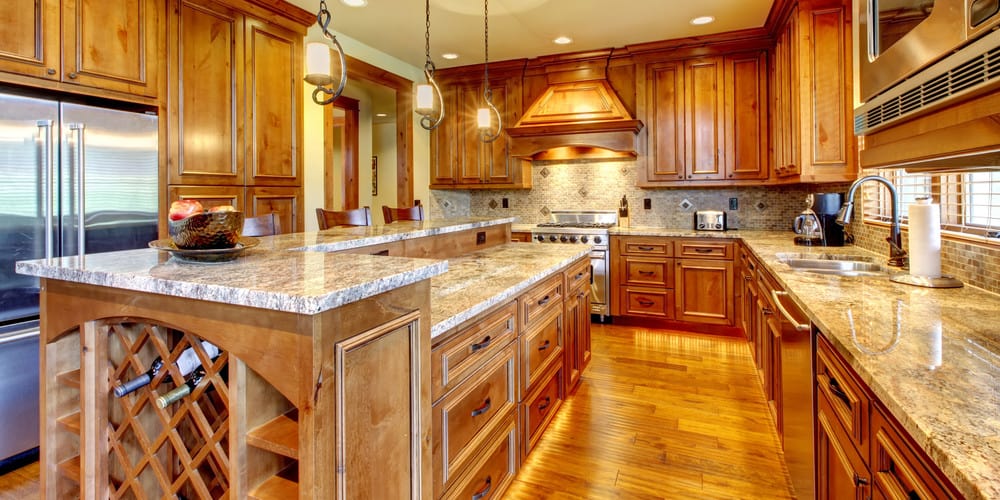 In most luxury kitchens, you'll notice a marble countertop paired with wooden elements. The difference is in the price. Granite is a bit cheaper, and people often save on the countertop. But granite looks as good as marble does—and granite is easier to maintain. Marble can be porous, and so can stain easily.
35. Dark Brown and White Kitchen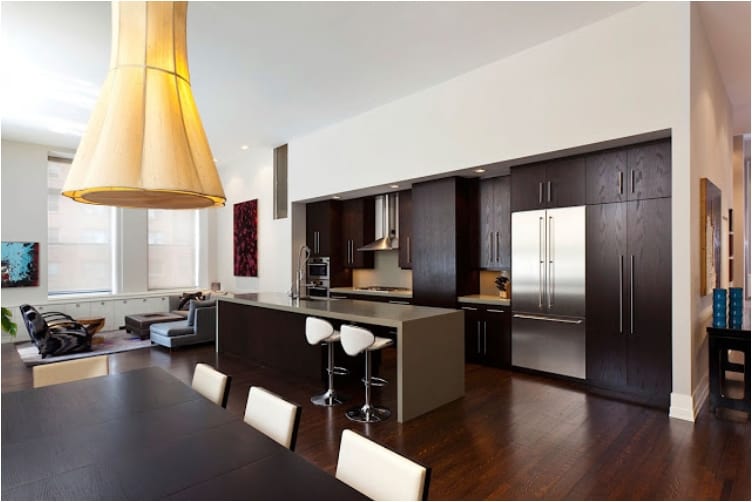 When you think of classic combinations, black and white is at the top of the list. But because it has become so common, some people are trying to spice things up. One variation is the dark brown and white combo. You get almost the same dark and bright contrast, just with a color other than black.
36. Spacious Kitchen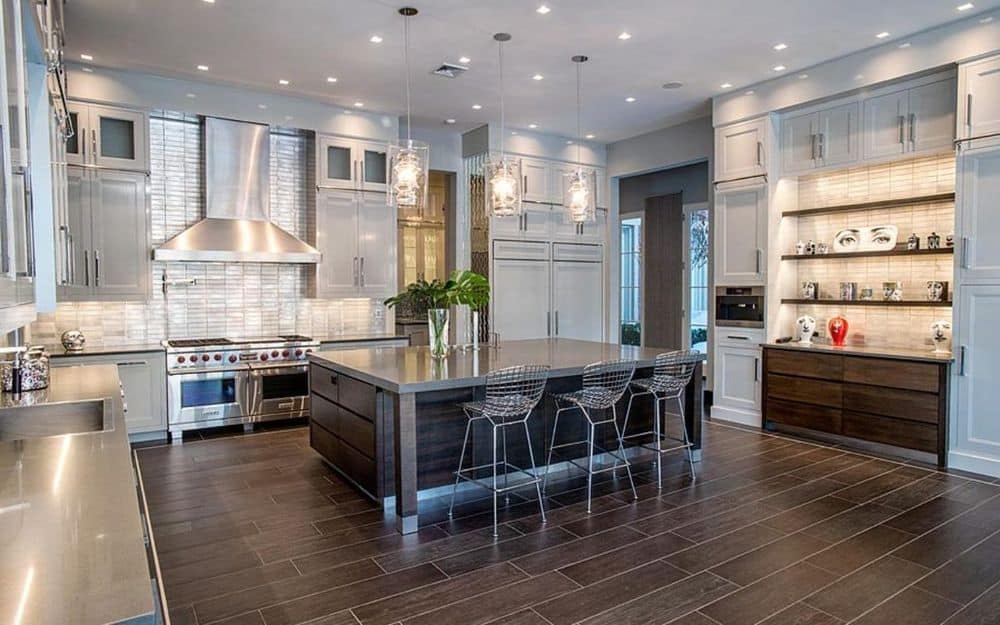 This is one of those kitchens where you have space for everything. You can even place a display cabinet in there and show off some of your favorite mugs and dishes.
37. Traditional Kitchen with Pendant Light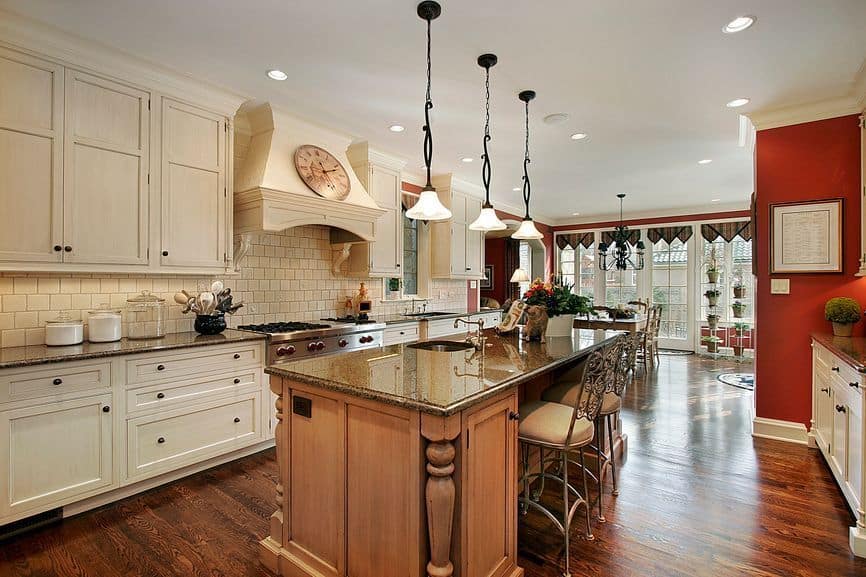 I don't think I've discussed pendant lighting in the kitchen. That's because chandeliers are the staple in luxury kitchens. People don't think pendants add a luxury element, but they're wrong. Sometimes, a simple pendant is actually what you need to make a kitchen pop. Not all of us want ravishing, glamorous elements in our kitchen.
38. Simple, Yet Beautiful, Kitchen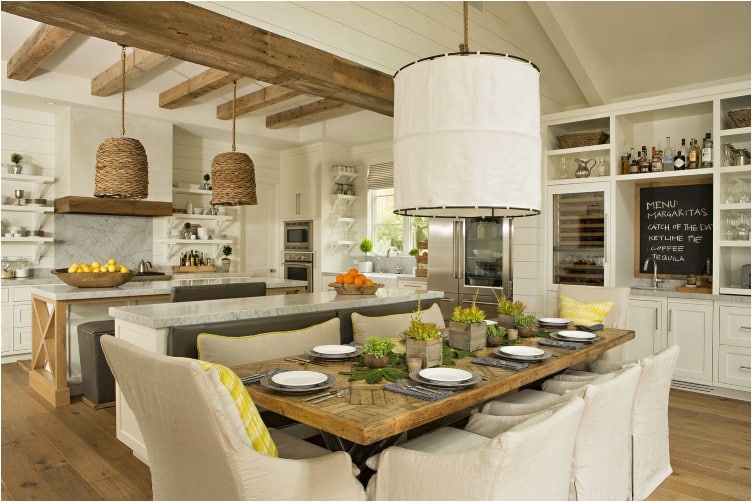 At first glance, this kitchen is the simplest you'll see when you search on luxury kitchens. But this kitchen has a sort of a natural vibe. It comes down to the materials used in the kitchen, and the craftsmanship of the elements. You get that beach vibe. And you just have to love the chalkboard!
39. Victorian-style Kitchen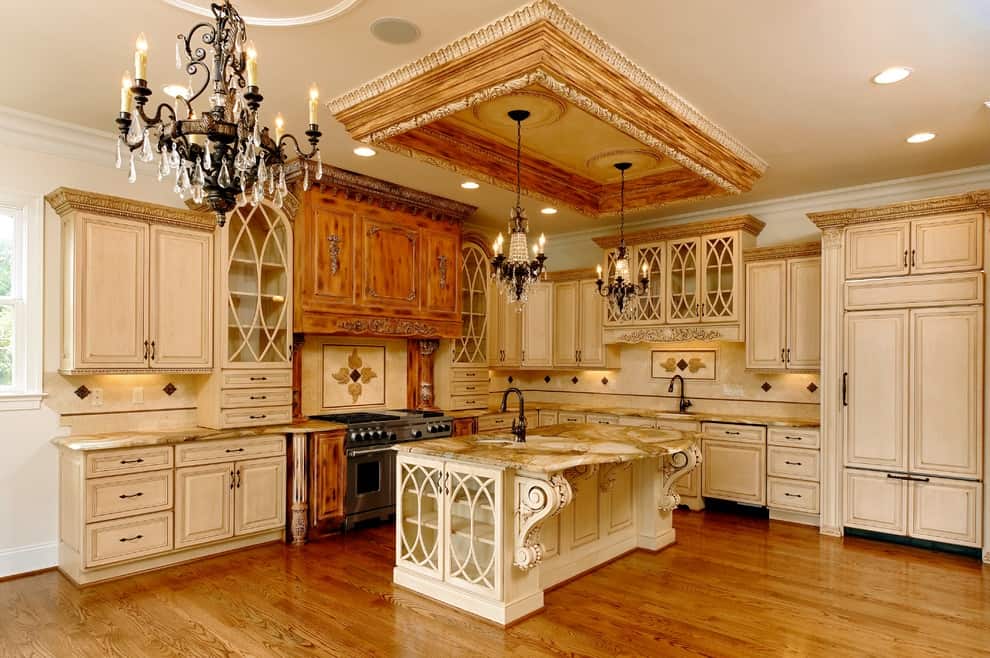 The Victorian style is known as one of the most luxurious styles. The whole Victorian period is just full of rich, luxurious decorations. So, it's only fitting that we finish off this list of luxurious kitchens with a Victorian-style kitchen.
I hope that you enjoyed it. And I hope you managed to dream for a little while and sail away into a land where you can have everything you desire in a kitchen!