Well, of all people you would expect to chime in on this drama, Lance Armstrong probably has the most experience. Ince a cycling champion, Armstrong experienced the full brunt of USADA and specifically Jeff Novitsky toward the end of his career…
Jeff Novitsky, current UFC vice president of Athlete Health & Performance, will appear on the Joe Rogan Experience later today. Appearing across the MMA headlines this week, Novitsky has been involved in the latest Jon Jones drama that has everyone talking.
Jon Jones, Jeff Novitsky, Lance Armstrong
"Bones" hit the headlines Sunday night with yet another detection of banned substances in his system. The fallout was more significant for the fans than it was for Jones this time, as USADA, Jeff Novitsky and UFC president Dana White proclaimed his innocence. Rather than receiving a ban, Jones was vindicated for the positive test without hearing.
Novitsky and White claimed the USADA scientists confirmed this was the same substance, Turinabol, but had remained in his system since his mid-2017 failure. This, in turn, led the Nevada Athletic Commission to refuse Jones' license to compete at UFC 232.
Rather than remove Jones from the main event, the UFC decided to up sticks and move the entire PPV card to Los Angeles, California, where the CSAC guaranteed Jones a license to fight.
Famed cyclist Lance Armstrong, who was busted in cycling's biggest juicing conspiracy by Jeff Novitsky, was seriously unhappy: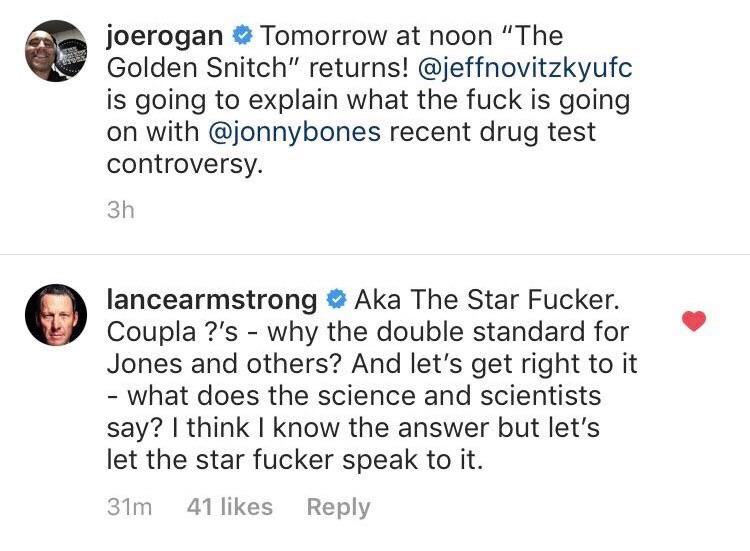 Lance Armstrong, Of All People, Calls BS
Armstrong was relentlessly pursued by Jeff Novitsky back when JN worked for USADA. The judge in Armstrong's case even criticized Novitsky for going as far as to search through Armstrong's trash for proof of his steroid use. Now, while Armstrong admits to his use of PED's, he is clearly unhappy about the perceived double standards being shown here.
Lance Armstrong wasn't the only one packing the comments section of Joe Rogan's Instagram with negative opinions. Here are a few more:
"Get a UFC employee to come tell everyone that USADA and UFC are doing everything right. Sounds like we will get a real unbiased explanation here"
Here's Jon Jones' former teammate and UFC middleweight competitor Tim Kennedy showing his disgust: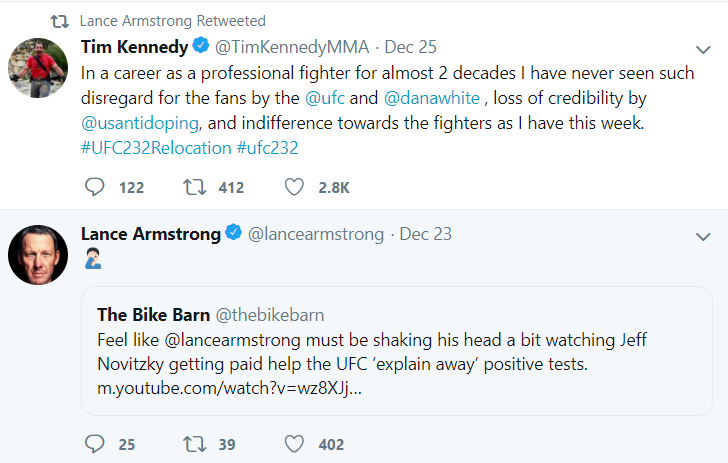 "So in 2016 he fails because of "dick pills", in 2017 he fails because his cocaine was cut with steroids and those same exact steroids lasted in his system all the way up until now? Jon has to be the most unluckiest person I have ever witnessed for that to be the case. It's even stranger because he was caught with more in his system this time."