I love kale, I just can't get enough of it. During winter, summer, spring, autumn, I always find a way to add more kale to my diet.
You ask why?
There is simply no other leafy green on the market that provides as many nutrients as kale. First off, vitamin K is hard to source, and kale gives me two times the daily dose. Now, the problem with kale is you cannot easily incorporate in your diet. The leafy green is not something you can add to your salad easily. That is why I add kale to smoothies.
I've got a couple of smoothies you can try, so stay with me.
1. Kale Honey Dew Melon Smoothie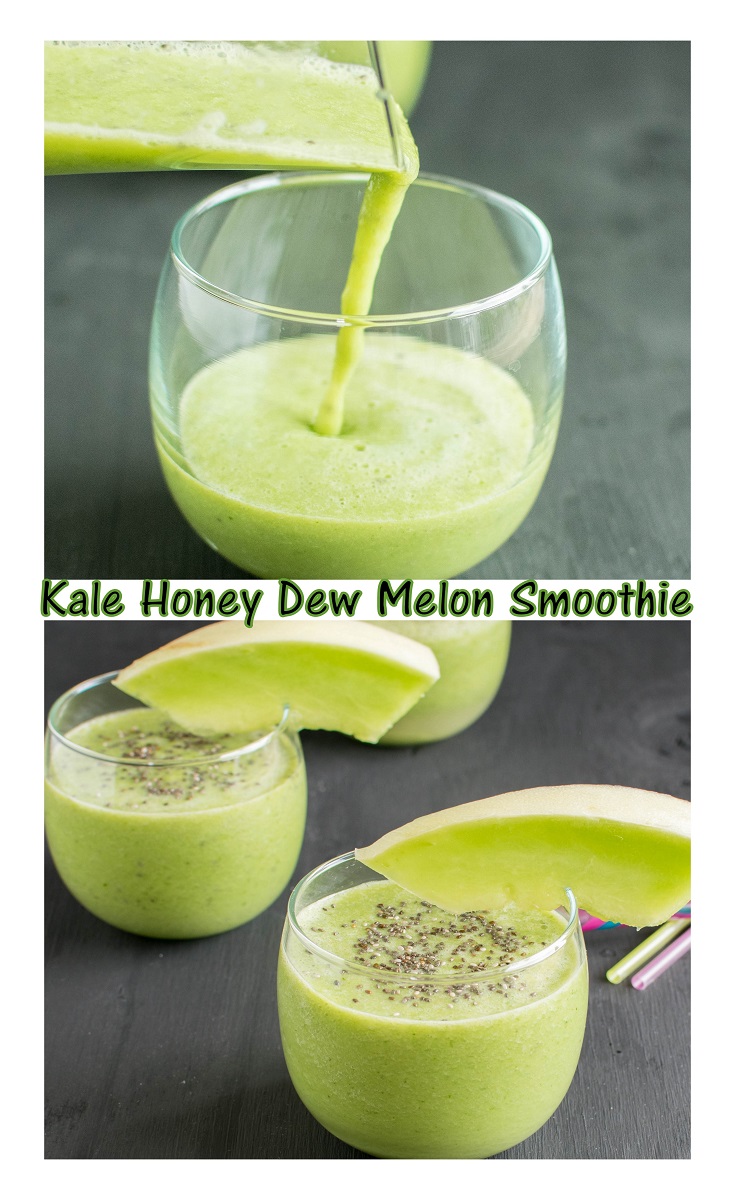 You want melon for density and to make the smoothie rich, and honey for extra sweetness. At the end, you get a smoothie that is dense enough and with enough fiber to replace your breakfast and keep you full.
---
2. Kale Green Smoothie by Charanya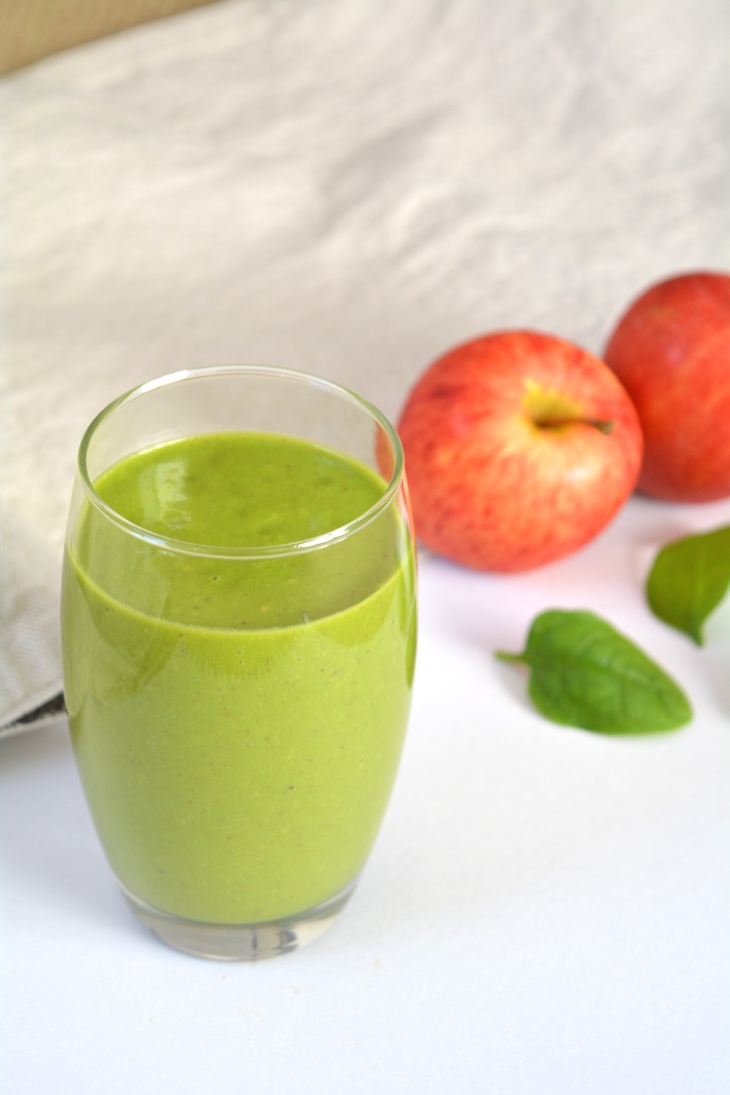 The only leafy green that can rival kale is spinach. With that being said, why not use them both in a smoothie? With some fruits like banana and apple, you get fiber to keep you full, and leafy greens to maximize your vitamin intake. I use almond milk for this recipe, but you can use regular as well.
---
3. Edamame and Kale Piña Colada Smoothie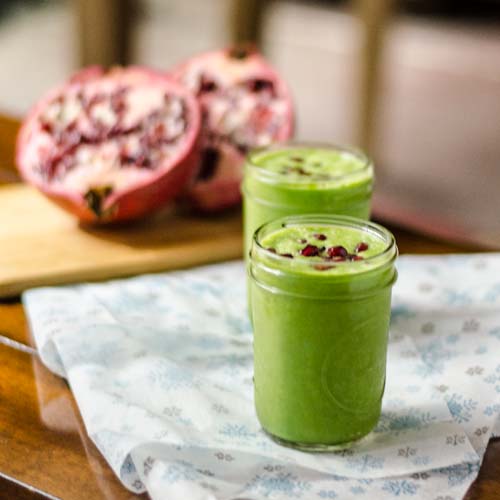 Damn I love this recipe. I even sometimes serve to my friends when we gather around, and they don't believe it is a non-alcoholic drink. With the proper decoration, this kale smoothie can look like a $20 cocktail.
---
4. Kale and Pear Smoothie with Herbs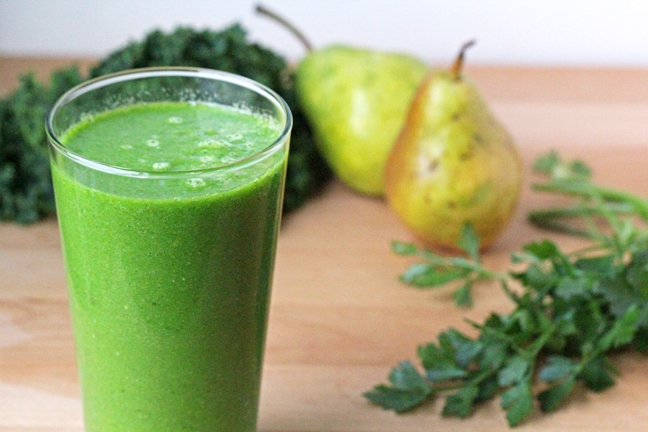 You thought you can add herbs only in soups and stews? Well, think again! Smoothies are another excellent way to add more herbs like parsley to your diet, and this kale and pear smoothie will work wonderfully as a detox drink.
---
5. Baby Kale Creamy Coconut Detox Smoothie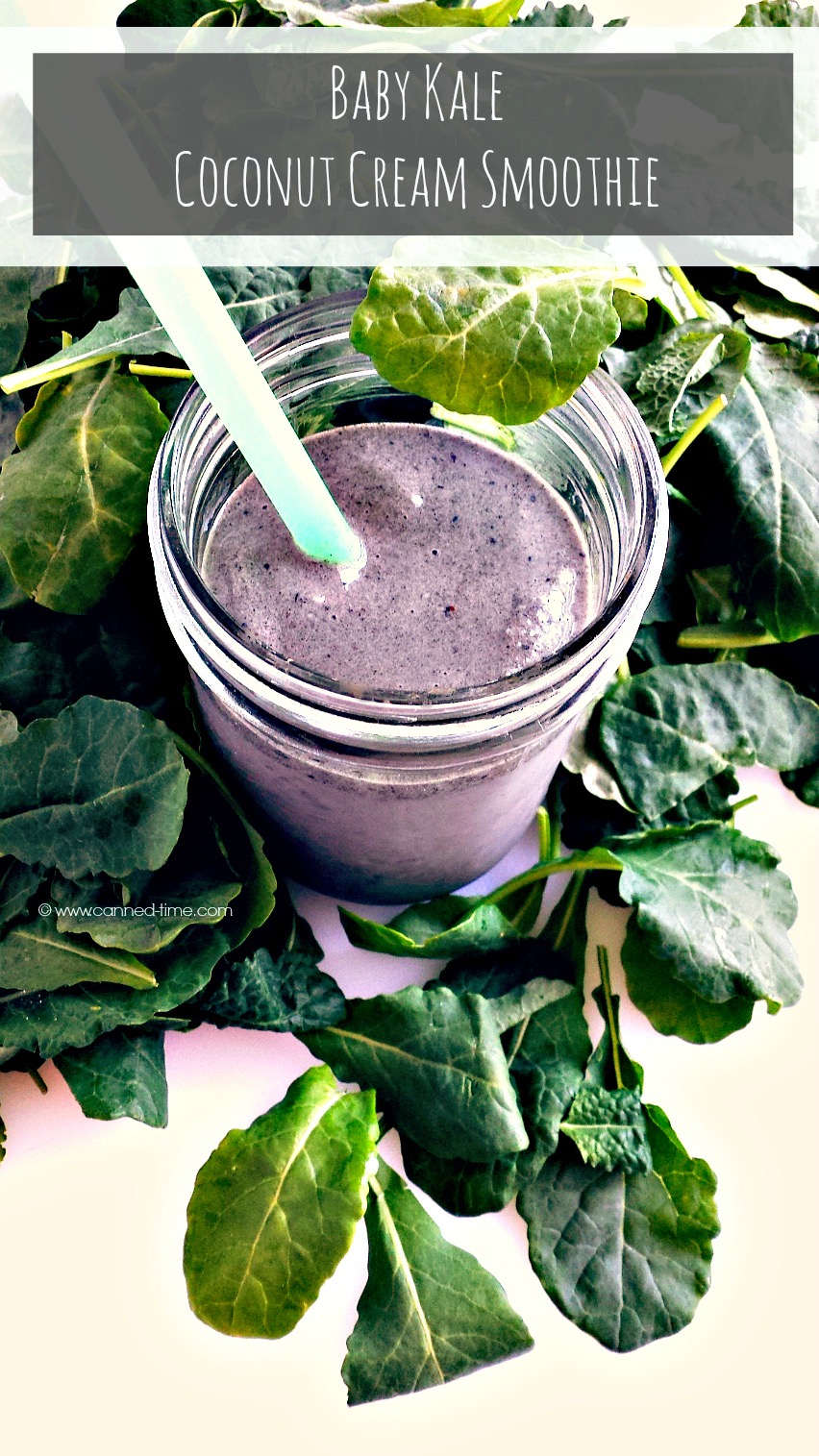 As you might have noticed so far, kale works wonderfully with fruits. The reason is simple, kale doesn't provide some bitter taste to your smoothies. This time around, you get a pinky cocktail thanks to the blueberries. And if you ask me, few recipes can rival this smoothie for antioxidants potency.
---
 6. Kale Avo-berry Smoothie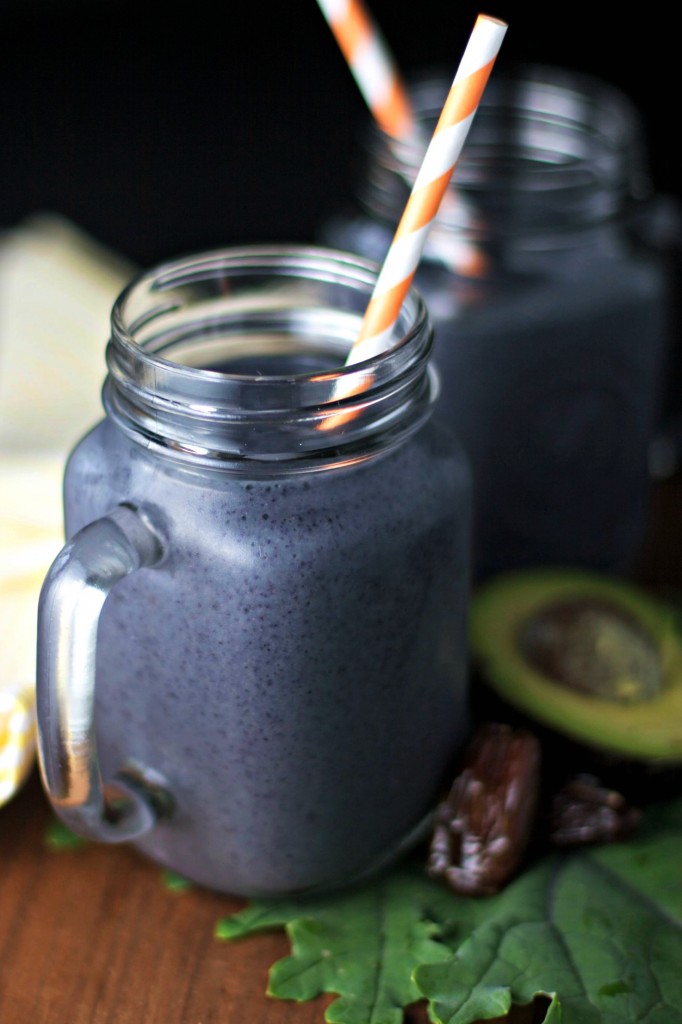 Four superfoods, and one smoothie. Now how is that for a perfect recipe? Avocado, blueberries, spirulina and kale, four foods that can be found on every healthy foods list make their way to this delicious and dense smoothie.
---
7. Kale Apple Smoothie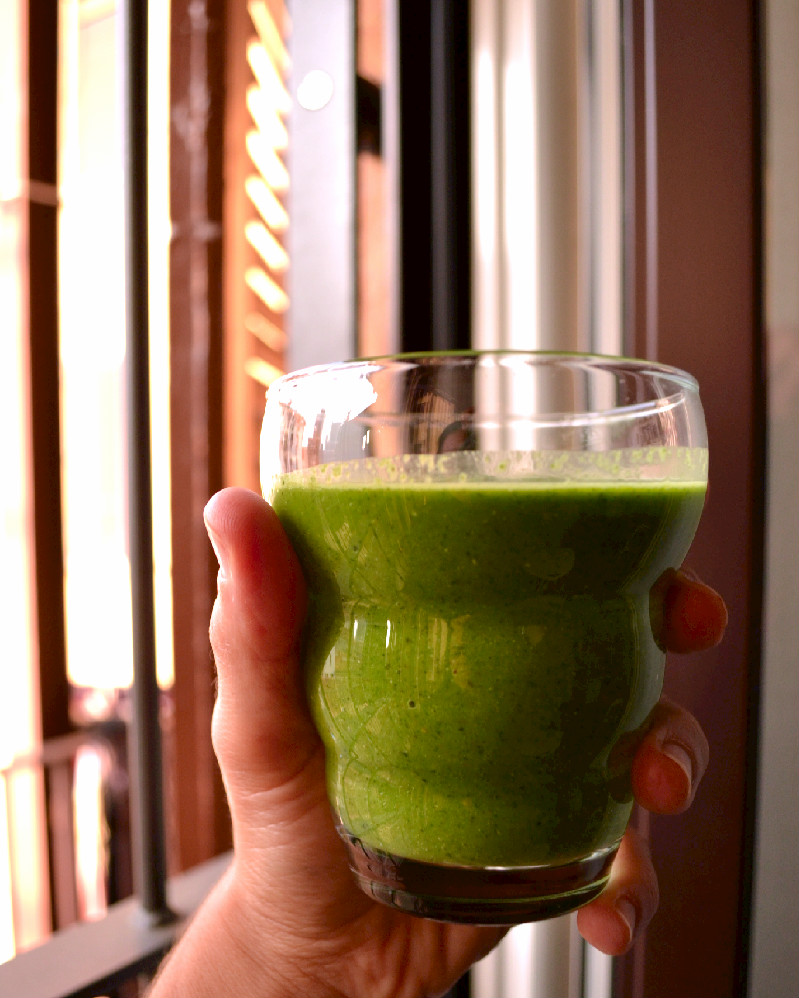 If you like to take things up a notch, coconut water is the way to go. But even without coconut water, this kale smoothie recipe packs enough healthy ingredients. With some chia seeds in it, you get a protein boost, vitamin C boost and energy boost. Perfect for a morning coffee substitute.
---
8. Frozen Green Cubes For Smoothies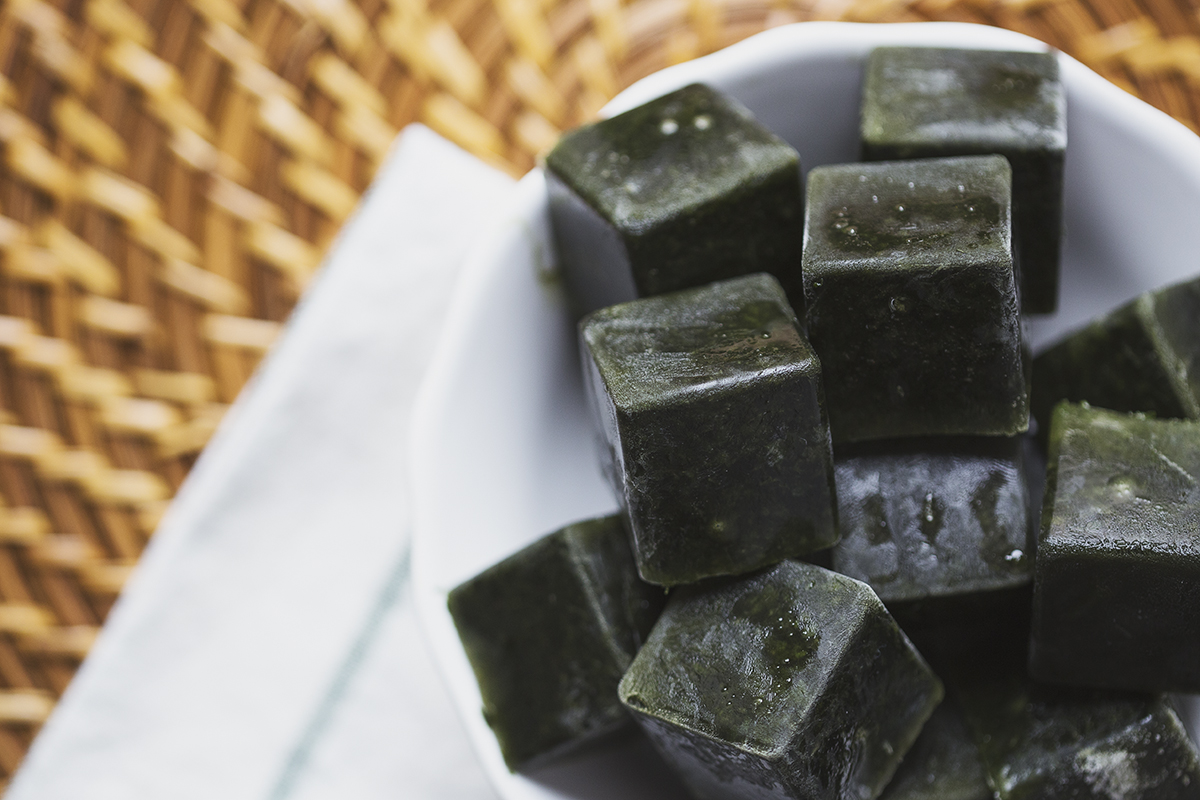 I said smoothies at the beginning, but I would love to throw in some frozen cubes here as well. The beauty of this recipe is you can store in your fridge, prepare it ahead, and throw out anytime you get guests at your house. Everyone will love the minty flavor of ice cubes.
---
9. Kale Pineapple Date Smoothie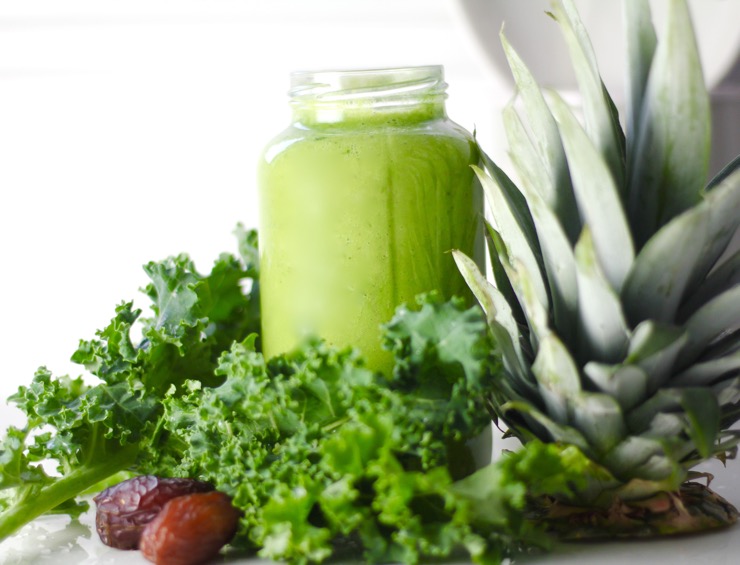 What I like about this recipe is that you get few unconventional ingredients to the recipe. Kale is a standard, but dates, that is something you rarely see in a smoothie. But medjool dates are probably the best fruits when it comes to sugars, because they pack little to no sugar. Translation: you can consume as many as you like without guilty conscience.
---
10. Kale Spinach Smoothie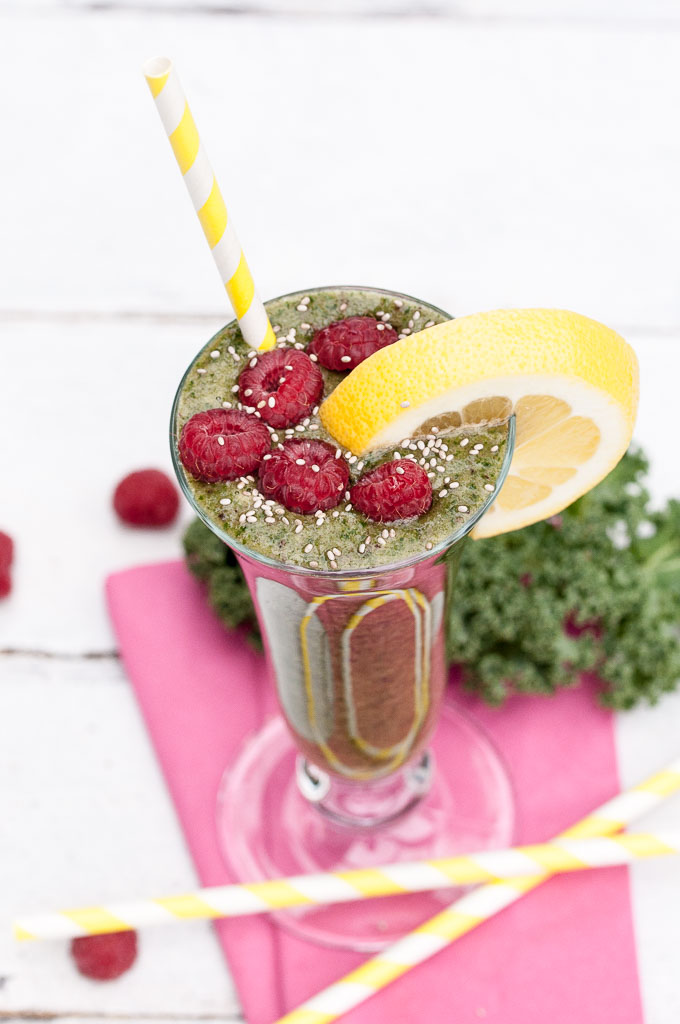 Getting your daily dose of leafy greens is as easy as it sounds with this green smoothie. Kale and spinach provide the healthy nutrients, while apples provide a base for the smoothie. At the end, you can decorate with some berries to serve your friends a cocktail-looking drink.
---
11. Beet Smoothie with Strawberries and Kale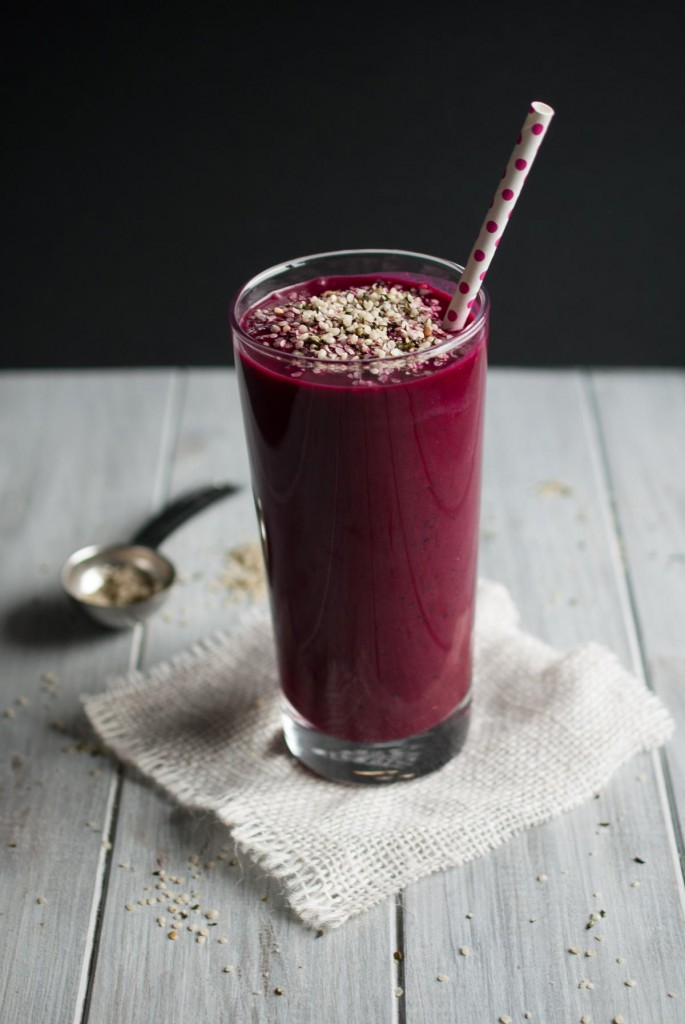 A gluten free, vegetarian recipe with all the good stuff from your yard. Beets and berries might not sound like a great combination, but their colors and flavors mix perfectly in this symphony of flavors.
---
12. Green Smoothie: Orange Greensicle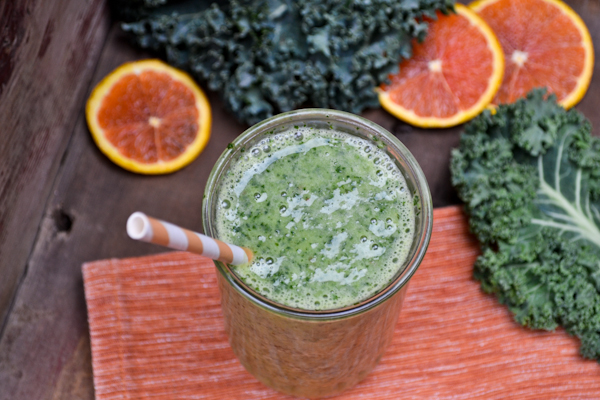 Here comes a recipe that is simple and watery. For those who want more watery smoothies, this is the one. With so many liquids from orange juice and almond milk, you are guaranteed a watery drink.
---
13. Vegan Kale Smoothie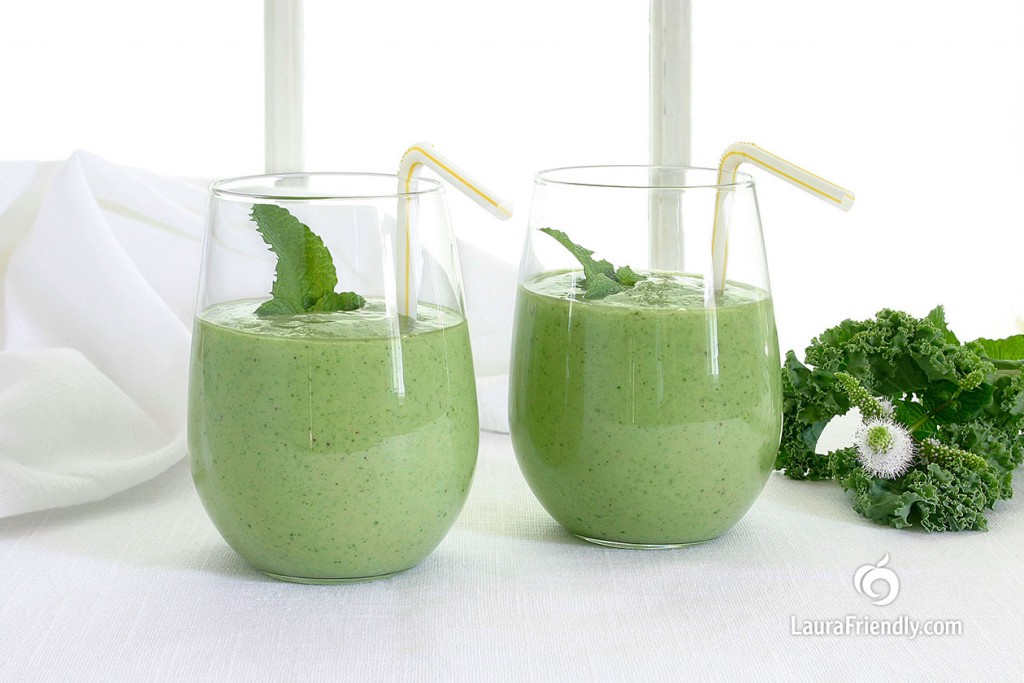 Now here is a recipe that is rich in fruits, and with so many ingredients, you can get two or three servings. And if you don't like the taste of kale, don't worry, you won't even notice it with so many ingredients in the smoothie.
---
14. Chocolate Kale Smoothie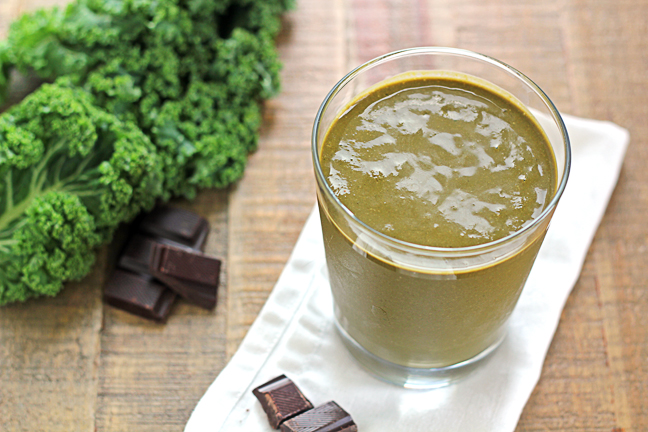 Why the smoothie is called lady-like smoothie? Well simple, this one is designed for ladies to balance their hormones during the days they feel like they can't get out of the bed. Be a gentlemen and serve your special lady friend a glass of this smoothie.
---
15. Mean Green Kale Smoothie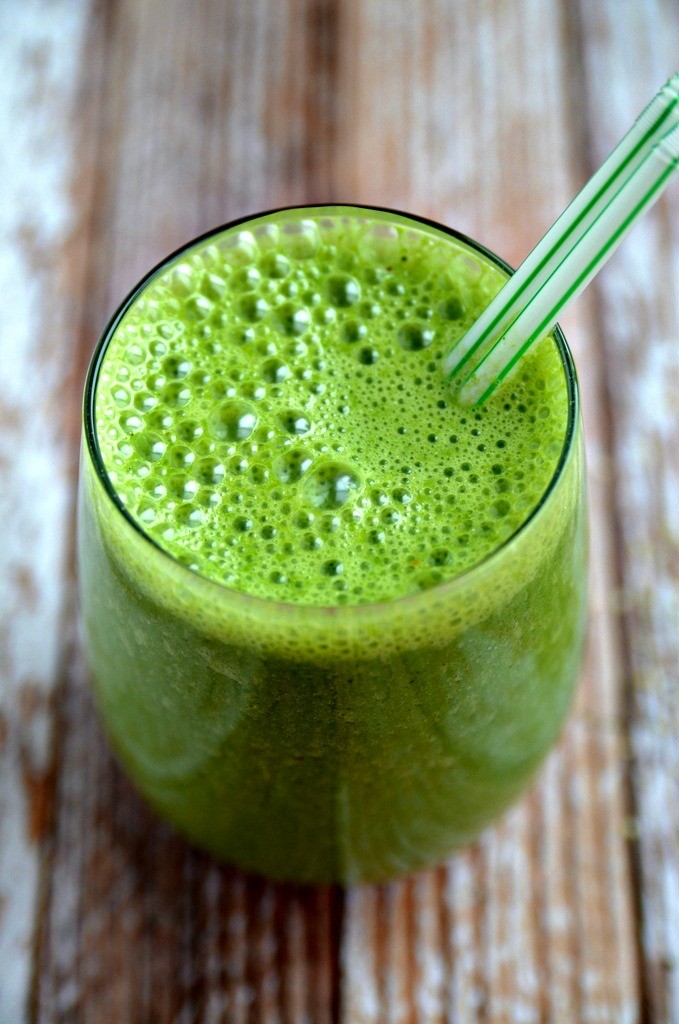 Simple, easy to make, without many ingredients, but a perfect look and taste. In other words, everything you would love to get from your smoothie.
---
16. Green Goodness Smoothie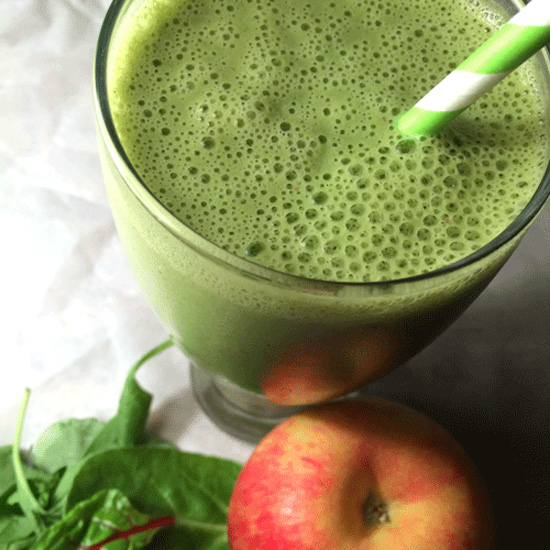 By now you'll notice that kale, spinach, apples and banana make their way into most of the smoothie recipes. You cannot go wrong with any of those four ingredients, and the difference between one or another smoothie is in the additions. For this recipe, we add little flaxseeds for more fiber intake and better digestion.
---
17. Mango Pineapple Green Smoothie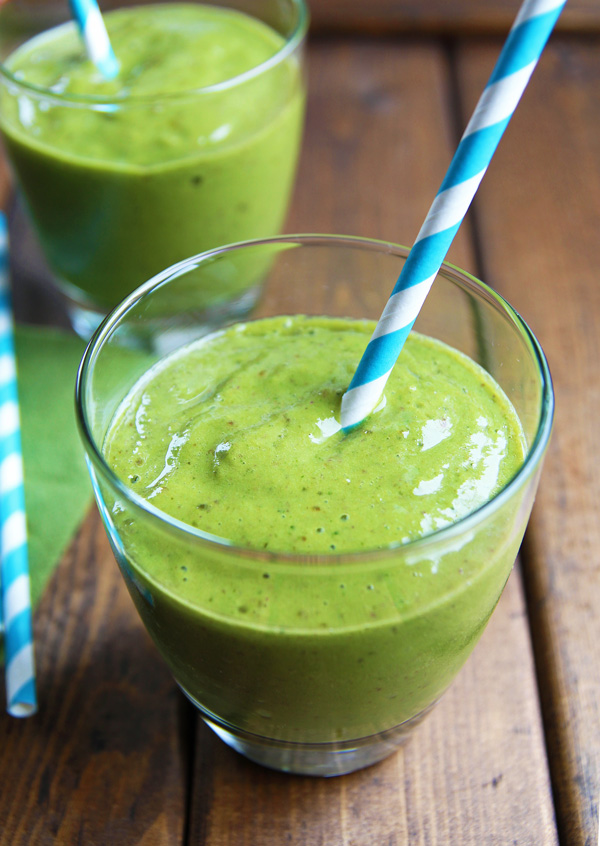 When you are feeling exotic, you cannot go wrong with mango smoothie. Mangoes and pineapples are not fruits you can find through the whole year, but when you get your hands on them, add them in a smoothie with some kale.
---
18. Strawberry Banana (and Kale) Smoothie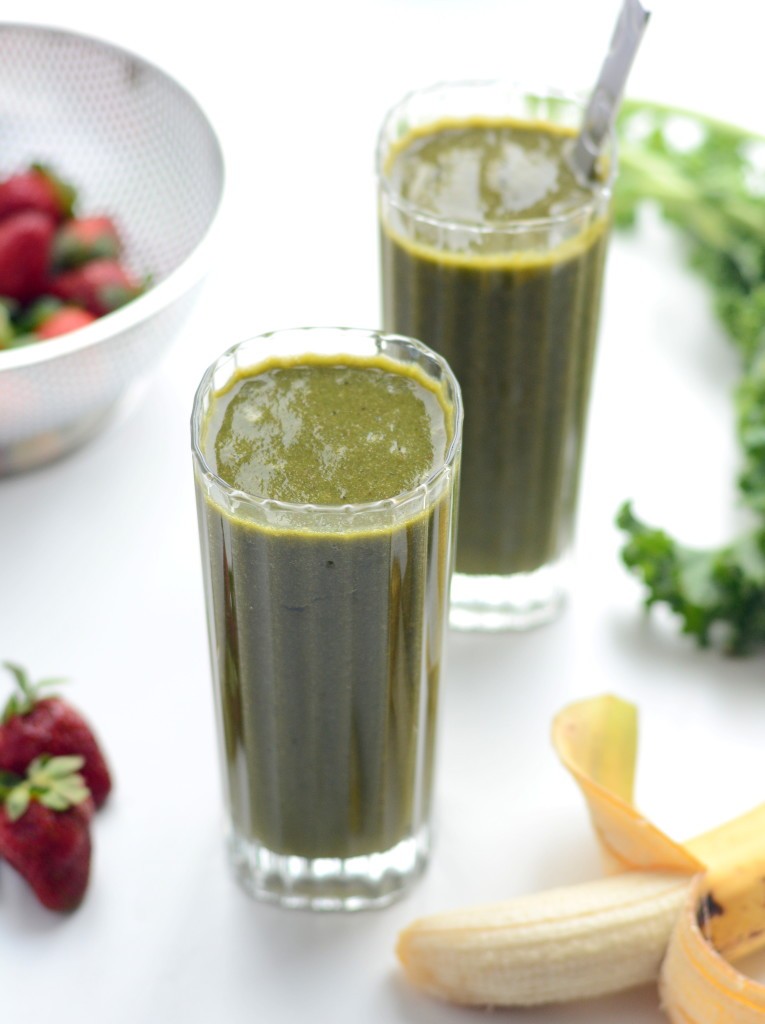 All it takes is 60 seconds to prepare this delicious smoothie that you can use as a breakfast alternative. With a simple recipe, you can make the most neglected meal of the day delicious and easy. So, kick start your day with some fruits and veggies.
---
19. Tropikale Smoothie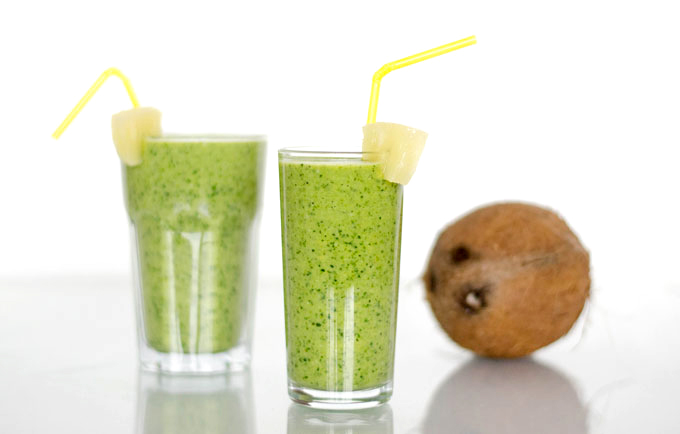 Another way to go exotic or tropical on the classic green kale smoothie recipe is with some coconut. Add some ice, and you get a perfect cocktail that will remind you of a sunny beach somewhere far from home.
---
20. Peanut Butter Kale Smoothie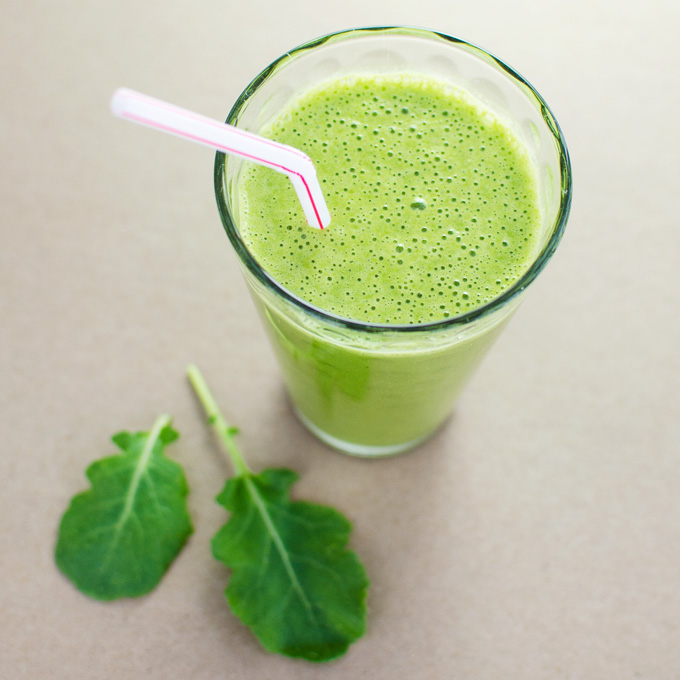 Kale is not sweet, which is one of the reasons why not many people prefer the leafy green. But that problem can be solved with some natural sweeteners. Banana is the first fruit that comes to mind, and for those who like even sweeter recipe, peanut butter helps.
---
21. Cucumber, Lime, and Kale Smoothie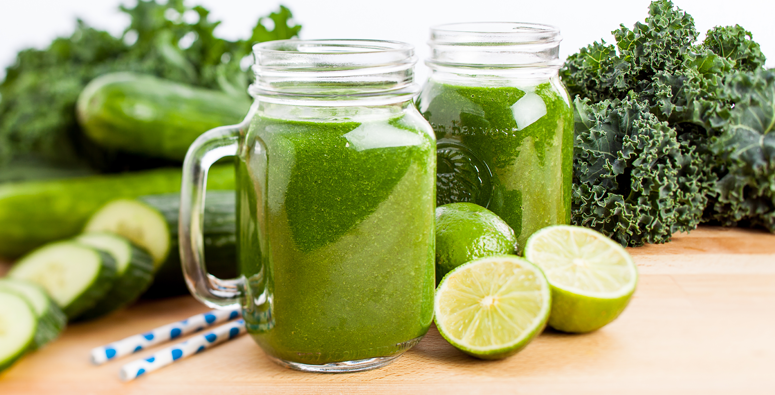 For those who want to lower their sugar intake, but still introduce kale to their smoothies, the cucumber recipe helps. You'll get more watery smoothie, but that is not a problem.
---
22. Super Food Kale Smoothie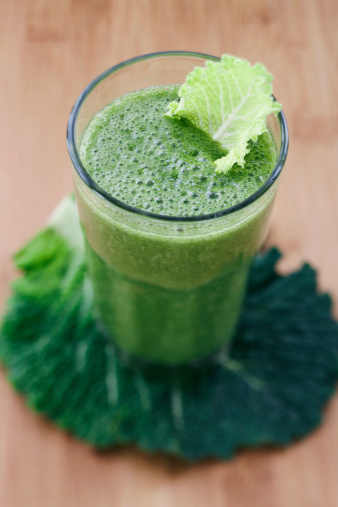 Kale is not the only superfood on the market, I am sure you know that by now. With blueberries, avocado and mango to go along, this recipe is a nutritional bomb that will keep you healthy.
---
23. Energizing Green Smoothie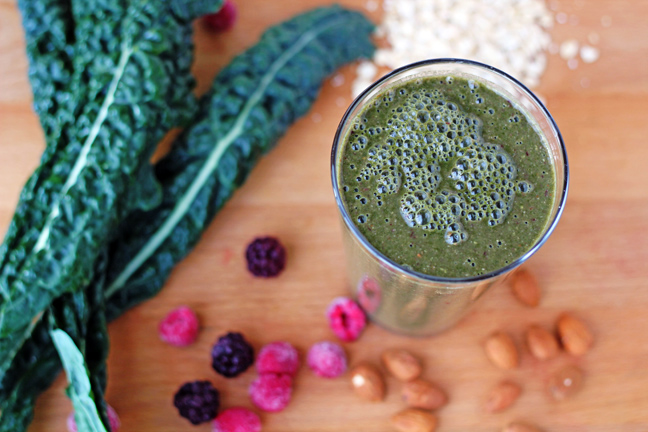 Here comes a smoothie that will provide you enough energy to last through your hard day at work and in the office. As a perfect breakfast substitute, this smoothie is packed with fiber to keep you full, and natural sugars to give you energy through the day.
---
24. Mocha Oatmeal Veggie Smoothie with Espresso (No Added Sweeteners!)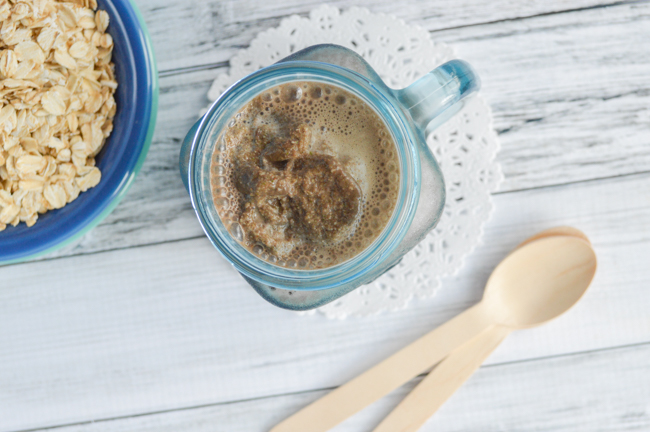 There are tons of coffee people out there that cannot imagine starting their day without a cup of coffee. Well, coffee is not as healthy choice, so why not go the extra mile and mask coffee into a smoothie? You still get your daily dose of caffeine, but also tons of healthy nutrients.
---
25. Kale Ginger Smoothie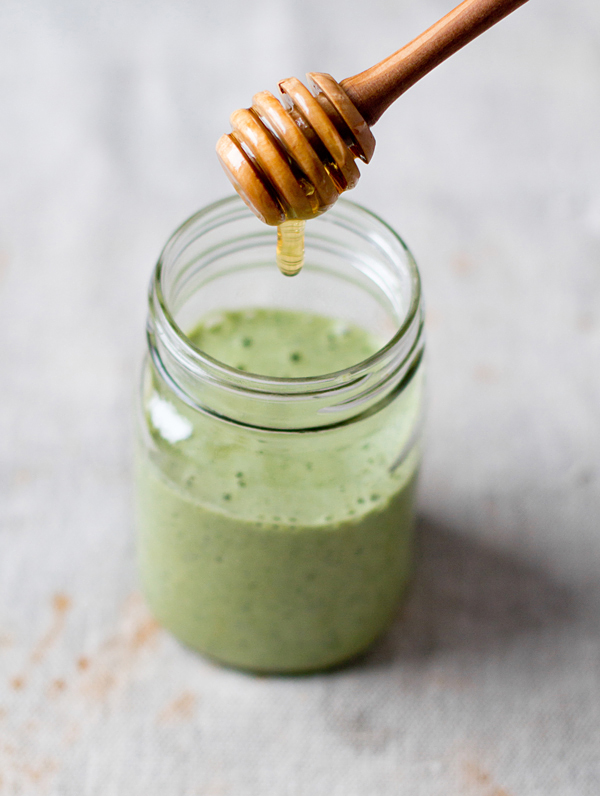 You want a smoothie that will help you lose weight, detox your body and provide healthy nutrients in the same way? Look no further. Thanks to the ginger in the recipe, this kale smoothie will kick your fat burning rate into overdrive, but don't worry, it is more than a weight loss drink.
---
26. Radiance Boosting Coconut Kale Smoothie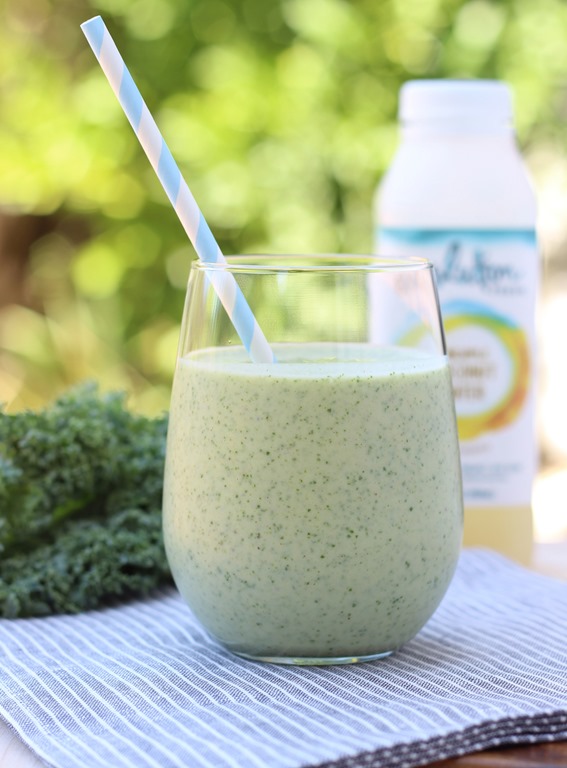 By now you surely know that coconut is one of the best ingredients for a healthy skin and hair? Adding coconut milk, coconut water or raw coconut to your diet is a great way to improve your skin health. But why not take things up a notch, and use coconut as a watery base for smoothies, more precisely, a kale smoothie?
---
27. Hot Green Smoothie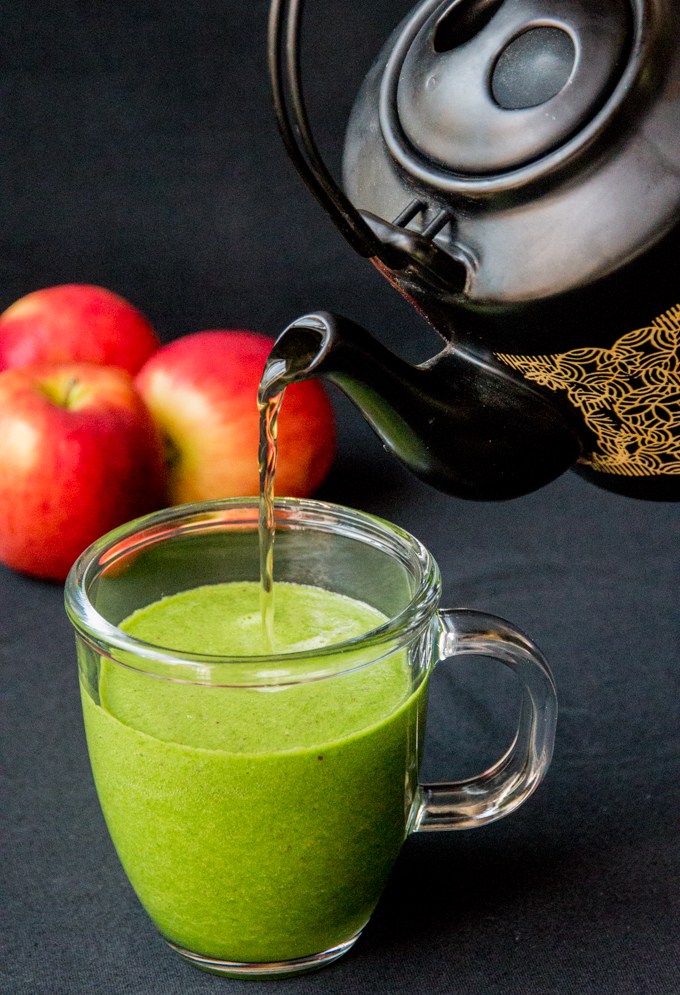 What I like the most about this smoothie is that you are actually consuming it hot. Now, while that might surprise some of you, I found out that it can be very pleasant. A word of notice, the hot tea comes at the end, just so your food processor is safe from harm.
---
28. Leafy Green & Avocado Probiotic Smoothie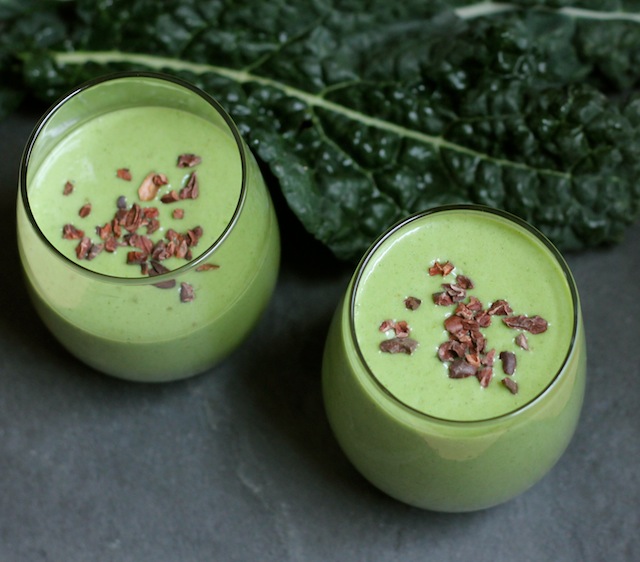 Probiotics, or good bacteria, is something you absolutely need in your daily diet. In order to fight bad bacteria, you need good bacteria, and probiotics provide that. You can get probiotics from yogurt, but I am going to share a healthy probiotics smoothie that has kale and spinach as basic ingredients.
READ NEXT: How to Cook Kale? 5 Simple Ways to Get Your Superfood